Post summary: a helpful list of easy ways to connect with nature for those new or moving to Seattle
Seattle has been my home for ten years now. The abundance of nature in every direction inspires me everyday — flowing waterways, majestic mountain peaks and green textures all combine to form a rich fabric of organic goodness.
My life living in the Capitol Hill neighborhood has been rich with the convenience that comes from a central location in the city. In fact, if you're looking for ideas for different neighborhoods consider my article, Where to stay in Seattle which is geared toward visitors booking places to stay but can also be used to learn the lay of the land.
Although I moved to Seattle from Portland, by way of a three-year stint in Washington, DC, there were adjustments to settling in the Emerald City. I learned to lean on the abundant natural world around me, which helped ease the nerves tied to learning a new job and building a social network.
I feel strongly that through connection to the land, we can invite in a tranquility that makes all the other adjustments to a new location easier, because there is a balance that comes from Mother Earth. This worked for me with both moves (to Washington DC and Seattle) to ameliorate stress that comes with such a significant transition.
As an Airbnb Superhost I continue to encounter new people moving to Seattle. I find that they want a "beginners guide" — from a natural perspective — to help build a fulfilling life here. This list is a starter kit to inspire your own version of connection to nature. If you're new to town (or even a local, busy in the rat race) I invite you to get started, today.
Table of Contents — Nature starter kit for those new or moving to Seattle
Learn about local Indian history and culture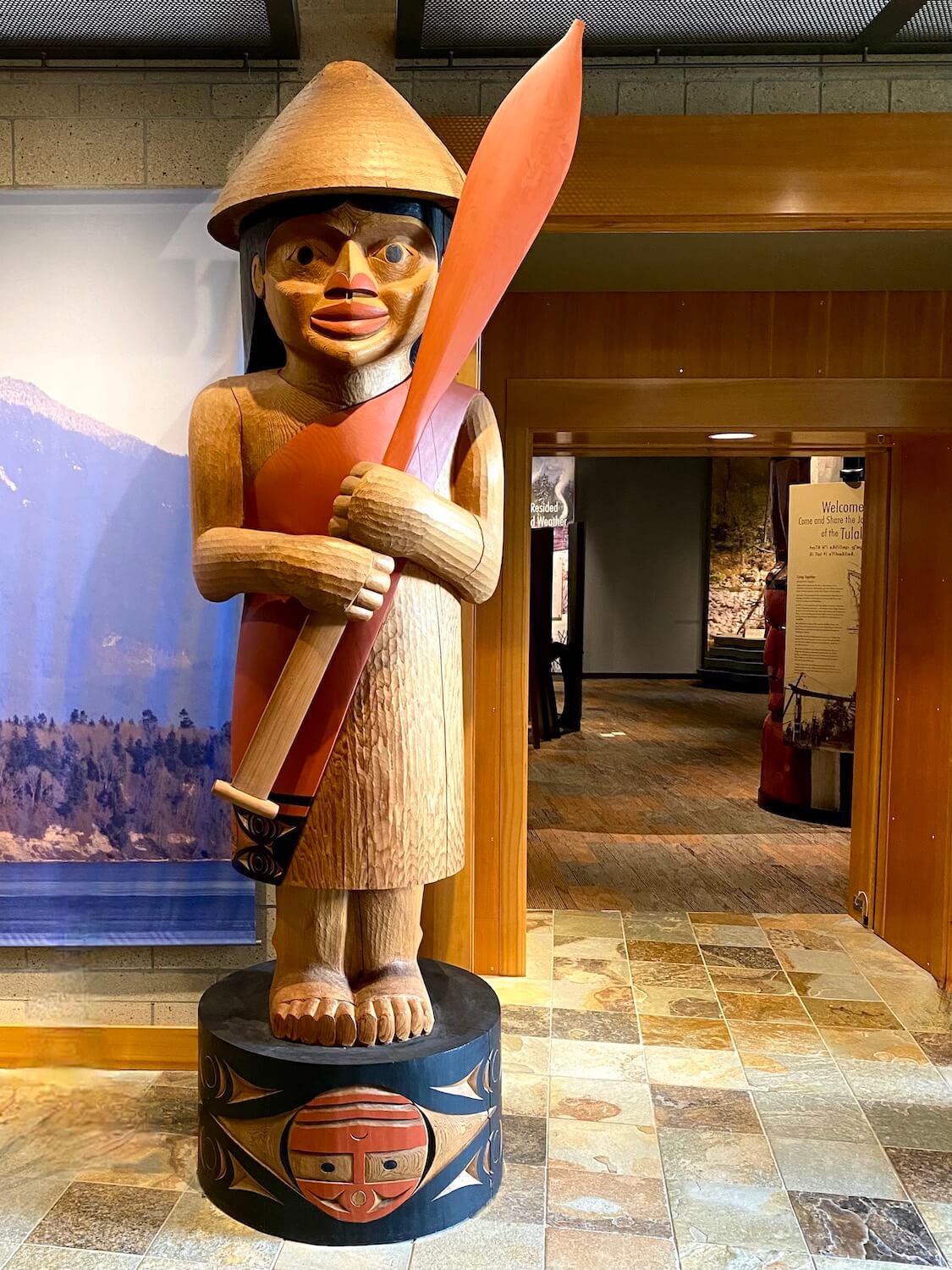 No matter where you settle in Washington State, rest assured that people lived on the land for millennia before European settlers began sifting through the area. Much has changed since the British vessel HMS Discovery entered the Salish Sea in 1792. It's important for anyone moving to Seattle to acknowledge the connection this land has to its original people.
There are a few ways to begin the journey of acknowledgement. Online research is a great place to start. If you're moving to Seattle, the host tribe of the area, including most of King County, is the Duwamish Tribe. Their website provides helpful information to learn more about the history of the people and the land. The Duwamish Longhouse and Cultural Center, located in West Seattle, is a place to visit to learn more about the traditions in this region. A number of sacred Duwamish artifacts are also housed in the Burke Museum at the University of Washington, along with other Northwest Native Art.
I've also gained a greater understanding of Native history by visiting the Hibulb Cultural Center and Natural History Preserve, just thirty miles North of Seattle on the Tulalip Indian Reservation. The exhibits are well-curated and great for visitors of all ages. Start in the simulated longhouse for an overview film and then work through the main part of the museum — which highlights the importance of cedar and salmon and the family and spiritual structures of tribal life. The conversation feels engaging, rich with detail, and amazingly comprehensive.
Take a Washington State Ferry somewhere
There isn't a more inspiring welcome committee for those moving to Seattle than the salty goodness of the Salish Sea. The rolling waves partner with stunning mountains to create outstanding inspiration that distinguishes the Emerald City from every other metropolis in the country.
There are many ways to enjoy this soul-nourishing body of water, but perhaps the most accessible (and my favorite) is taking a Washington State Ferry — to anywhere. No matter the routing, the giant marine vessels pass through sweeping vistas of islands, mountains and vast amounts of water. Look for giant kelp beds flowing in the sea while seagulls seem to escort the ferry to safe harbor. I love this mode of travel so much I wrote an entire article, All you need to navigate the Washington State Ferries.
From Downtown Seattle, hop on ferries to Bainbridge Island or Bremerton for a quick day trip from Seattle. The passenger fare is $9.05 for the round-trip and either destination offers easy walking options to restaurants and other attractions. While I love Bainbridge, the area just off the landing can feel very touristy in Summer and weekends. A less polished but soulful alternative involves venturing a little further to explore the US Navy bastion of Bremerton, Washington. The area is underrated, so I wrote an entire article, Bremerton day trip from Seattle.
Explore an island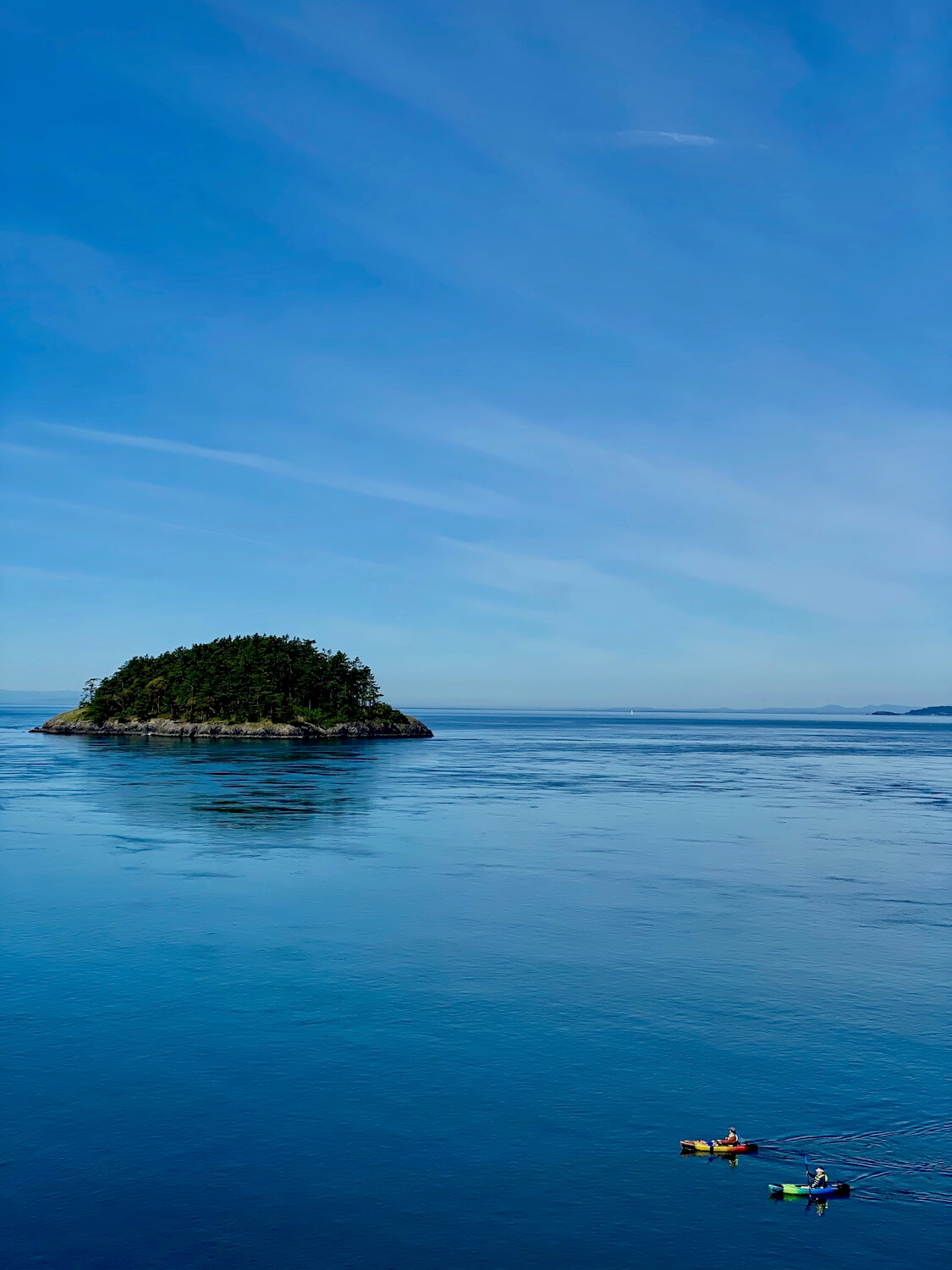 Speaking of islands, there are over 400 in the Salish Sea — many just waiting for your exploration. A great way to feel connected to the Seattle area is to develop a better understanding of the variety of nature and ways of life connected with the daily tides. An island experience makes for a perfect introduction and can be easily assessed with a vehicle. While I always love a ferry ride (read above), it's possible to explore islands, like Whidbey and Camano, entirely on roads and bridges.
My go-to island for out-of-town guests is usually Whidbey Island. The diversity of options and easy access (via ferry or bridge) makes the experience great for virtually any interest. In only 90-minutes from Seattle it's possible to be combing a quiet beach for seashells or dining on fresh mussels at a wharf-side eatery. Deception Pass State Park is also on this island and there's a reason this is the most visited State Park in Washington. The dramatic landscape that contains massive old-growth forests and jagged rock stacks holds space for all kinds of natural exploration and activities. For more information, check out my article on Things to do on Whidbey Island.
The most quintessential island experience in the Pacific Northwest is a visit to the San Juan Islands. The gateway to this little slice of heaven is the ferry terminal in Anacortes, Washington — about 90-minutes North of Seattle. This is not an easy day-trip option, so think about planning a multi-day getaway in a rental house on one of the islands. Be aware that the biggest obstacle to travel here can be passage on the ferry, so be sure to research your options before firming up plans. If willing to splurge a little (or a lot), it's also a joy to take a Kenmore Air flight from Lake Union (amphibious plane) or Boeing Field (wheeled plane) to various points amongst the islands.
Take flight above the Pacific Northwest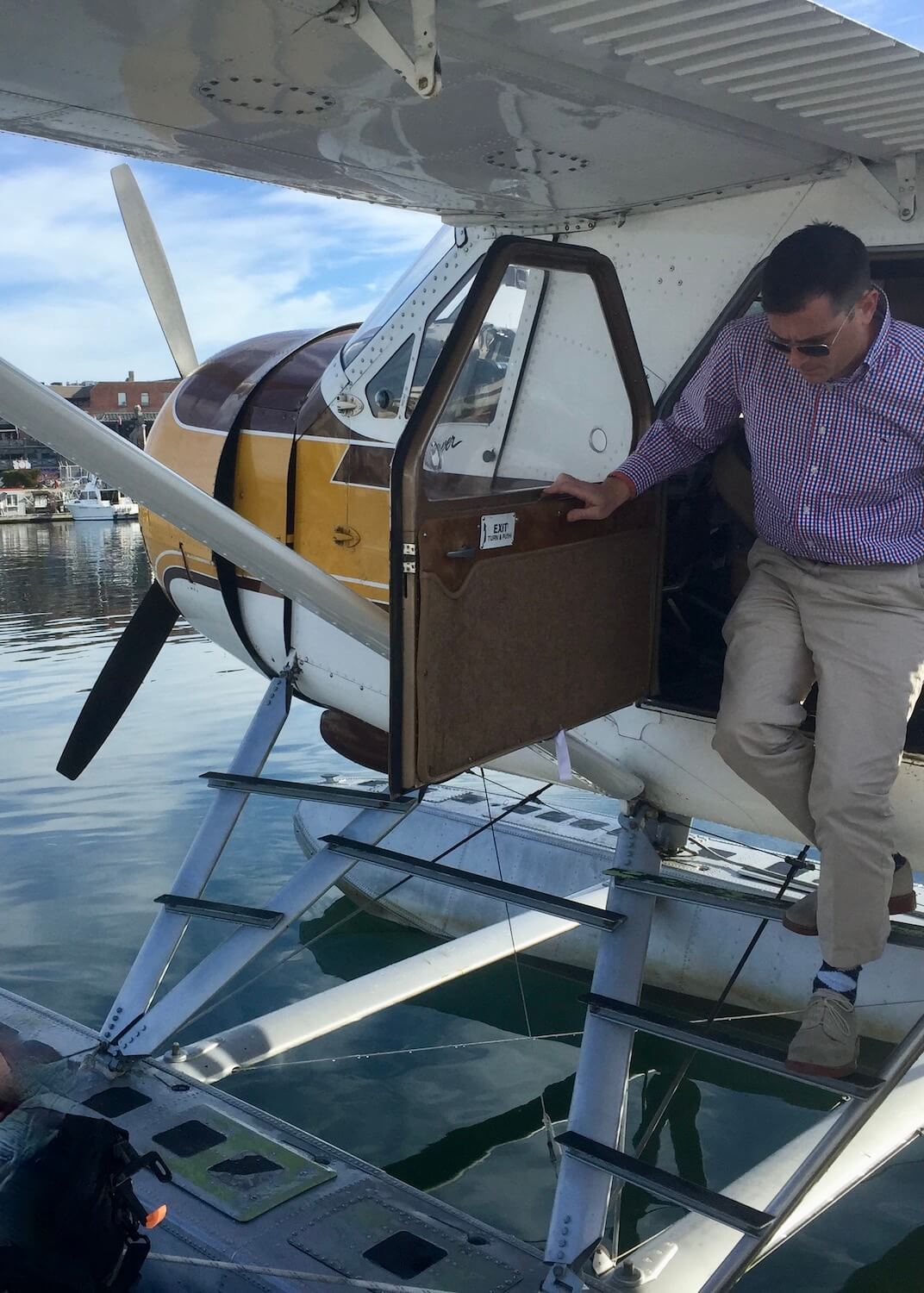 One of my most memorable experiences connecting with the beauty around Seattle was a flight on a Kenmore Air float plane between Lake Union in Seattle and Victoria, Canada. My out of town visitors wanted to visit British Columbia. We got up early and took an easy Uber to the tiny waterside air terminal. The pilot led us down a narrow dock to our float plane and before long, the aircraft was chugging to the center of the lake, ready to take off amongst all the activity on Lake Union. Lifting off right above Gasworks Park felt exhilarating as we floated above the skyline of Seattle and followed the outline of the Olympic Peninsula from a low altitude — landing in Victoria for the day. Our return was perfectly timed to enjoy the swirl of sunset coloring illuminating the Cascade Mountains.
This is not an inexpensive option, but for someone new to Seattle it's a great way to become familiar with the beauty of the Pacific Northwest. The weather is best May through September, but beauty exists year-round and the wonder of landing on a smooth patch of water drives home the feeling of connection to life in Seattle.
Both Kenmore Air and Seattle Seaplanes offer sightseeing tours of Seattle that start at about $100 per person for 20 minutes of flight-seeing. Check out the websites for more information, for specific charters, Mt. St. Helens tours and romantic flight+dinner excursion options.
When moving to Seattle be sure to create your special place in nature
Whether your soul is drawn to water or air, it's important to find tranquility in places easily accessible to your life. No matter whether you end up in a suburb or amongst the whizzing of life in Belltown, make the effort to create your own special place in nature. Organic components like water, rocks, trees and plants are grounding agents that serve to provide mental and emotional nourishment amongst daily noise — especially as you work to build a life in the Pacific Northwest.
The Seattle/Tacoma metropolitan area is bursting with parks, walkways, beaches and trees everywhere. No matter your location, venture out a few steps to locate your little piece of nature.
If the richness of ancient forests sounds intriguing, set out to discover the magic of places like Seward Park (the inner trails), Ravenna Park, or Schmitz Preserve in West Seattle. The Washington Arboretum has an entire ridge dedicated to interesting species of fir trees, including redwoods.
Maybe a walk along the water is your version of organic nourishment? Try Lincoln Park in West Seattle or Elliott Bay Trail from Downtown Seattle. Near the University of Washington I especially enjoy an Autumn stroll through the Union Bay Natural Area to soak up the Fall leaves and watch the water fowl.
Outside the city limits of Seattle, in Federal Way, Washington, for example, try out West Hylebos Wetlands or the Rhododendron Species Botanical Garden (fee to enter). Further South, Tacoma offers the stunning Point Defiance Park (venture to 5-mile drive area) or Wright Park (an impressive arboretum).
Use my checklist for the best outdoor things to do in Seattle
No matter the time of year, there are places to connect with the outdoors. To inspire and assist you with this venture into a new world, I've written articles on ways to bond with Seattle, based on each season. Check out Seattle in Summer — the best outdoor things to do which will lead you to similar articles for Winter, Spring and Fall. To make it easy, I've also created this checklist:
Explore other neighborhoods in the Seattle – Tacoma area
Once the moving van drives away and the boxes are unpacked, life gets busy and it's easy and comfortable to stick to what we know — especially when it comes to neighborhoods in the Seattle – Tacoma metro area. At the same time, venturing into different zones offers surprises that allow for a deeper connection to your new home in the Pacific Northwest.
If you settle in a suburb, open up to the idea of an urban walking tour of an inner-city neighborhood like Capitol Hill, Columbia City, Georgetown or White Center. Capitol Hill and Columbia City, in particular, are easily accessible via the Link Light Rail. You can learn more about this by visiting the Sound Transit website.
Of course, iconic attractions like the Space Needle and Pike Place Market draw a lot of attention, but you'll find walking through actual neighborhoods helps gain a better understanding of the fabric that binds humanity together. In Summer and Fall, be sure to check out Seattle P-Patches, which is the Emerald City version of community gardens — and these little parcels of sunshine are everywhere.
If you end up living in the city, consider venturing to either different neighborhoods (mentioned above) or farther areas around the urban core. For example, Edmonds is a cute waterfront hamlet with a thriving downtown area complete with restaurants and shops. The added benefit of this Northern Seattle suburb is access to public transportation via the Sounder (commuter train).
While it might feel like a world away, across the bay, West Seattle makes for a fantastic urban hike. Take the King County Water Taxi from the Coleman Ferry Dock in Downtown Seattle and explore the natural wonders of Alki Beach on foot. For more information about this option, check out my article, The best things to do in West Seattle, including Alki Beach.
South of Seattle, Tacoma is full of things to do and can be assessed via Amtrak, Sounder or of course, a vehicle. My mom was born and raised here, near Point Defiance Park, so I hold many childhood memories of this area and return regularly today as an adult.
Bellevue, on the East Side, can be a fun destination — especially wandering around the shops in the downtown core or exploring one of the gems of the region, Bellevue Botanical Garden.
New or moving to Seattle — discover your favorite botanical garden
Bellevue Botanical Garden reminds me to mention that anyone moving to Seattle will want to explore the abundance of outstanding botanical gardens in the region. Most are free to enter, adding to their accessibility for all.
I know what it can be like to move to a new place and try to get adjusted — especially socially. Seattle (or anyplace new) can be challenging for newcomers. Down days, especially under cloudy skies, will creep up and nature is there to help.
Streissguth Botanical Garden is near my house and one of my favorites, because the variety of plant life flows with each season all the while overlooking Downtown Seattle and Lake Union. When I have something heavy on my mind, I wander down the steep steps and find a bench nestled amongst thickets of blossom and rich ferns. I always leave in a better heart and head space.
I've spent a lot of time exploring gardens in the area, so you should definitely check out my post, Seattle botanical gardens, for local pointers. In addition to that article, I've written about the most inspiring Japanese gardens, Pacific Bonsai Museum and the internationally recognized Bloedel Reserve, which inspires visitors every day on Bainbridge Island. I challenge you to visit any of these magical places and not leave feeling reinvigorated.
Those new or moving to Seattle will want to explore the region on day trips
No matter which direction you venture, there are interesting options for the day — or even a longer weekend getaway. I've already mentioned places like Bainbridge, Bremerton, Vashon and Whidbey Island above. All of these are great day-trips because they're quick and relatively easy, and two don't require vehicles.
But consider exploring further away with a variety of options I've set up in the article, Day trips from Seattle — 16 of the best options. The curated list is based on personal experience and out-of-town guest feedback — realistic options that awaken the spirit.
For example, Big Four Ice Caves, North of Seattle in the Mt. Baker – Snoqualmie National Forest, gives you the variety of alpine plants and views without the crowds and a fraction of time commitment of other areas in the Cascades (Mt. Rainier).
Mt. St. Helens is a long day-trip, but rewarding to experience the blast zone up close. I write more details in this article, Circle of Life of a Volcano. Fairhaven (Bellingham) and Larrabee State Park make for a scenic drive through the fertile Skagit Valley that allows for enjoying oysters right on the farm along the Salish Sea. The key to any of these excellent adventures is to leave your house as early in the day as possible.
To help keep you on track to exploration in the Pacific Northwest, I've created this handy checklist to inspire spending a day away:
Essential overnight trips in the region
I know Mt. Rainier comes up a lot on lists of day-trips, but it is just too far and crowded (Summer and weekends) for many people to return feeling refreshed. At the same time, the iconic mountain on every license plate in the state is a must for those moving to Seattle.
As a "new local" you don't need to rush it. I suggest making the effort to wander up to the mountain during the middle of the week for an overnight (or two or three) experience. Paradise Inn offers an amazing historic alpine vibe. But if the lodge is booked (which is likely in Summer), there are lodging options in Ashford and Packwood that'll provide the advantage to get up early in the morning and arrive at key hiking trails refreshed and ahead of the crowds — who start to show up around noon. I enjoy visiting Mt. Rainier in September and October. A stay at Paradise Inn when they first open in May/June can be a wonderful option, just depending on the snow pack.
A tour around the Olympic Peninsula is also an essential requirement for those moving to Seattle. Keep in mind that Winter visits are just as magical as other times of year. As one of the largest temperate rainforests in North America, dense precipitation is a way of life year-round — serving up famous mossy ambiance.
In fact, I wrote about a three-day Winter itinerary in my article, Olympic Peninsula Loop. Especially if traveling between October and March, I recommend staying at Lake Quinault Lodge, where ancient old-growth forest meets pristine glacial lake. The iconic lodge regularly offers great "two nights for the price of one" promotions between January and March. A Summer experience at Lake Crescent Lodge, if you can book it, is sublime. No matter where your path winds, be sure to bring rain gear, especially in the non-Summer season!
Interactive Map
The map below outlines my favorite outdoor things to do in Seattle. If you're looking for other guides, visit my page, Pacific Northwest Maps, dedicated to the entire collection. Every item on each map is carefully selected based on my own experience or other locals, whose perspective I trust. An important note for restaurants and other attractions still coming out of the pandemic — many do not have correct information online so it's best to call ahead if there is a "can't miss" establishment.
New or moving to Seattle nature checklist
The Seattle area and the Salish Sea are very special to me, and I encourage you to get out and explore — especially because if you're new to town (or reinvigorated to look at home in new ways). To help with planning, print out this checklist (or save the pdf to your mobile device) in order to remember all the ways to connect with this great land.
Not ready to move to Seattle but find this information interesting? Pin it for later.