Where to enjoy Seattle forest bathing in the rain.
There is no better time to commune with nature spirits than in the rain — when the unseen realm is effervescent. 27 best mystical places in and around Seattle for forest bathing in the rain. Healing and well-being are closer than you think.
The wet season in Seattle can feel oppressive. Growing up in the Pacific Northwest and connecting with nature from an early age, I enjoy the healing and well-being that comes from forest bathing – rain or shine. But sometimes, this glee for mud puddles and wet cedar branches feels unique.
Now you might be looking outside your window, watching vast droplets of water flowing from the sky, saying, "yeah…right?" But give me a few moments to convince you that forest bathing can transform your life, especially in the rain.
After all, there is no better time to commune with nature spirits than in the rain — when the unseen realm is effervescent.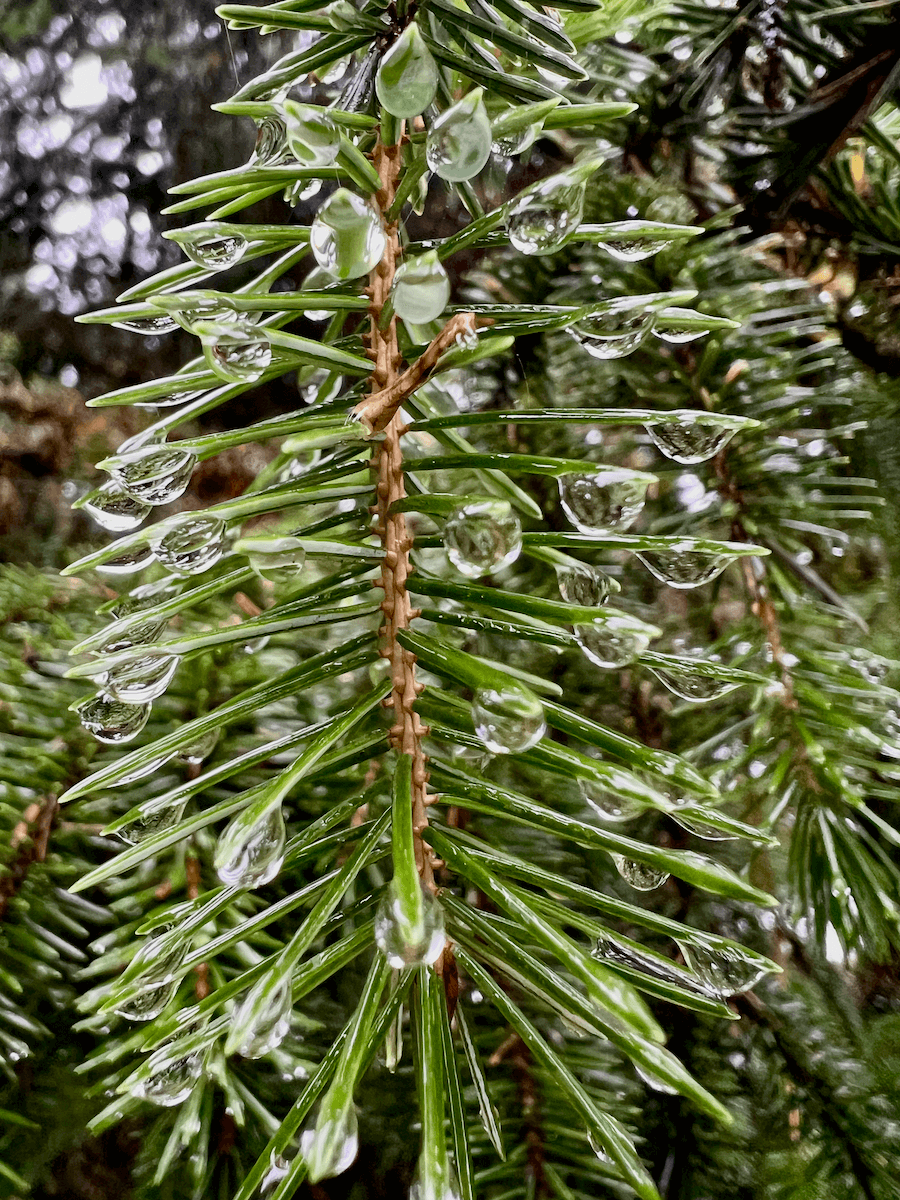 Seattle forest bathing in the rain — Table of Contents
What is forest bathing?
In 1982, to counter employee burnout, the Japanese Ministry of Agriculture, Forestry, and Fisheries created shinrin-yoku: "forest bathing" or "absorbing the forest atmosphere." The practice encourages people to spend time in nature — no bathing required. This low-impact activity is accessible everywhere and to everyone. The focus is to live in the present moment while immersing in the senses of nature.
The natural world was there to guide and support me through my life's ups and downs. Daily practice to even more meaningful nature connections empowers continuous transformation in my life — in ways that provide joy from growing purpose and meaning. So, I feel passionate about helping you find nature's healing salve by forest bathing in the Pacific Northwest — especially in and around Seattle.
Why forest bathing is helpful for healing and well-being
Research shows that two or more hours in nature weekly can favorably impact health by reducing stress and promoting healing. Some studies further clarify that immersive nature experiences are essential to produce lasting benefits such as lower blood pressure, higher concentration, and improved mental health.
In addition to the benefits of forest bathing in Seattle, adding the rain brings a more profound experience to a cleansing aspect of nature. As if the water allows you to let the static of daily life wash away down the rushing streams into the Salish Sea.
How to find the best place for Pacific Northwest forest bathing in the rain?
You might want help locating the right destination or specific thing to do to experience Pacific Northwest forest bathing in the rain. I have a growing body of content dedicated to natural locations in the Seattle area (and all over the Pacific Northwest) on my site, including a great reference guide to Winter in Seattle and a more specific article on Seattle botanical gardens.
But in rainy conditions, many parks and gardens are dormant and muddy, making it difficult for me to convince you to trudge outside. So instead, let me direct your heart to one of many forests in the region.
A forest is exquisite in the rain. Not only are you more protected from the weather, but entire ecosystems burst open with magic when the rain begins to fall. Forest bathing is quite literal these times, as water emerges from every direction. Healing and well-being are dripping from fir needles, and moss begins to take a conscious form.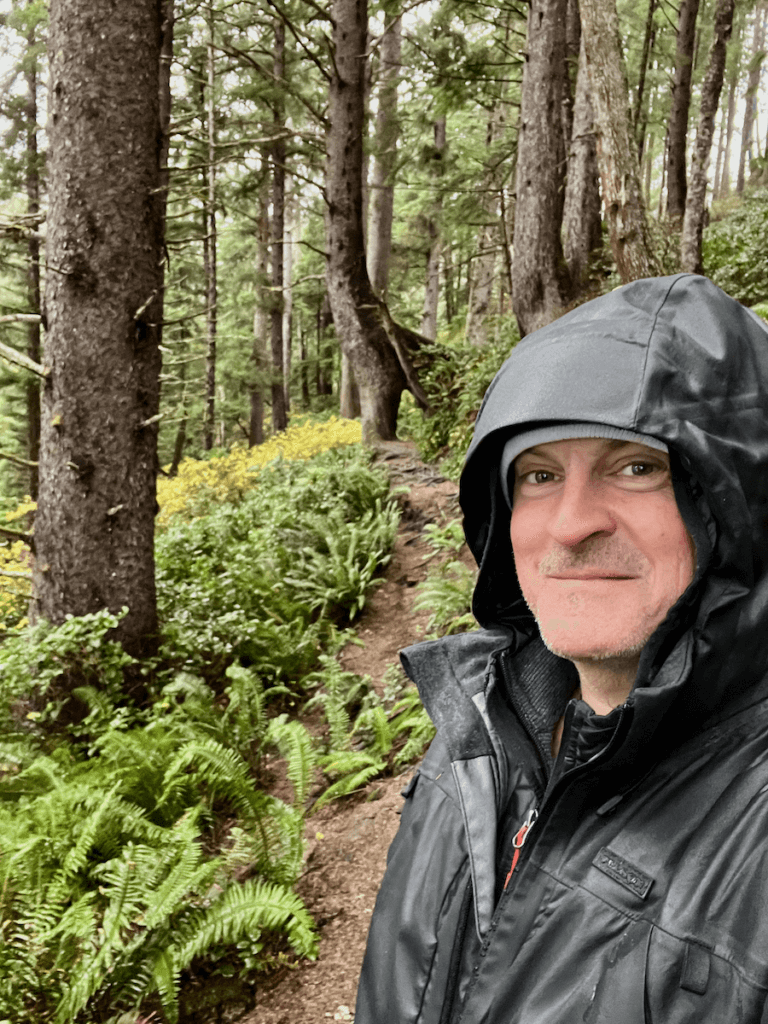 Mystic tested and approved.
Speaking of consciousness in forest bathing, I have lifelong experience as a practical mystic. A unique ability to stay grounded while also sensing a wide array of spirits of the land is a gift that allows me to guide myself and others into different realms of visible and unseen nature.
There is no better time to commune with nature spirits than in the rain — when the mystical realm is effervescent.
I've spent copious amounts of time traversing the Pacific Northwest in nature and have my favorite Seattle (and area) forest bathing locations. Follow my mystically tested and approved list to experience nature's magic coming alive!
While the content in this article is specific to Seattle forest bathing, if you're not in and around the Emerald City, consider these other guides:
How to get the most from your Seattle forest bathing experience.
I routinely run into other humans in these beloved Seattle forest bathing locations. So many people are missing out on nature's medicine because they are going too fast and not paying attention. That might sound judgemental, but it strikes within my core to guide you toward connecting your heart to nature. I want to help you elevate your access to healing and well-being in ways that might transform your life.
Living in the natural world helped me formulate six fundamentals to optimize my nature connection. You can find the details here. Practice these steps during forest bathing in Seattle or anywhere on the planet.
While you'll want to aim for two hours, the first 20 minutes are crucial to getting deeper into nature. So here are a few quick tips for going slow and paying attention:
Turn your phone off and wait at least 20 minutes before snapping photos (if at all).
Start on the trail by taking ten steps and stopping. Get acquainted with the nature items you see beside you. Take ten more steps — more slowly — and do the same. Challenge yourself to go slower each time.
Stay silent for the first 20 minutes, if only part of the experience. Listen to the raindrops and the birds chirping.
Look at it as a relaxing practice rather than a one-and-done. The more you quiet down and pay attention, the easier the benefits of nature can help you.
Nature is there to meet you exactly where you are on any given day, in any mood or state of mind. Increasing your connection with nature doesn't have to be complicated. As long as you are not hurting others (including plants and wildlife), there is no wrong way to do it.
In addition, elevating your meaningful moments with nature doesn't mean you are always happy or at peace. This article gives examples of what it means to meet rocks, plants, trees, and water right where you are.
Tips for those new to Seattle forest bathing in the rain
You may be new to Seattle or hosting out-of-town visitors. Remember a few tips for staying comfortable while forest bathing in the Pacific Northwest when it's wet.
Be sure your gear is waterproof. Labels describing the garment as "water-resistant" will leave you disappointed. Older jackets can have a new "seal" applied to keep the rain beading away.
Waterproof footwear is a must. Boots are helpful, but be sure to wear warm socks with them.
Wear layers. Start with a base that has something wicking and warm. Forest bathing can be different from usual outdoor activities because you'll go slowly and stop frequently. Apply one more layer than you think, and always have a hat.
Umbrellas? Connecting with nature means looking up, down, and all around. Spare the distraction.
If driving, take a change of footwear for the ride, including a dry pair of socks. Your feet will thank me.
I like to have a towel per person in my vehicle for changing or drying.
Please leave no trace.
It should go without saying, but I'll say it anyway, please leave no trace. For example, pack out all food items (if needed) and debris, including orange peels or pistachio shells, which are my pet peeves. Do not feed or disturb any animals. Refrain from taking rocks and sticks (unless the nature spirits give permission). Be courteous to other nature goers and avoid distracting activities — like talking on a cell phone or holding a speaker (this happens more often than you might think!)
How can I help you connect with nature?
If you'd like more instruction on how to make the most of your Seattle forest bathing experience, there are a few ways I can help.
First, I offer in-person Mystic Nature Experiences — guiding you for over 90 minutes in nature. The results can be transformational. I also lead an hour-long nature walk to help you take better photos.
Second, to get inspiration, you can read these articles with detailed, guided nature connections: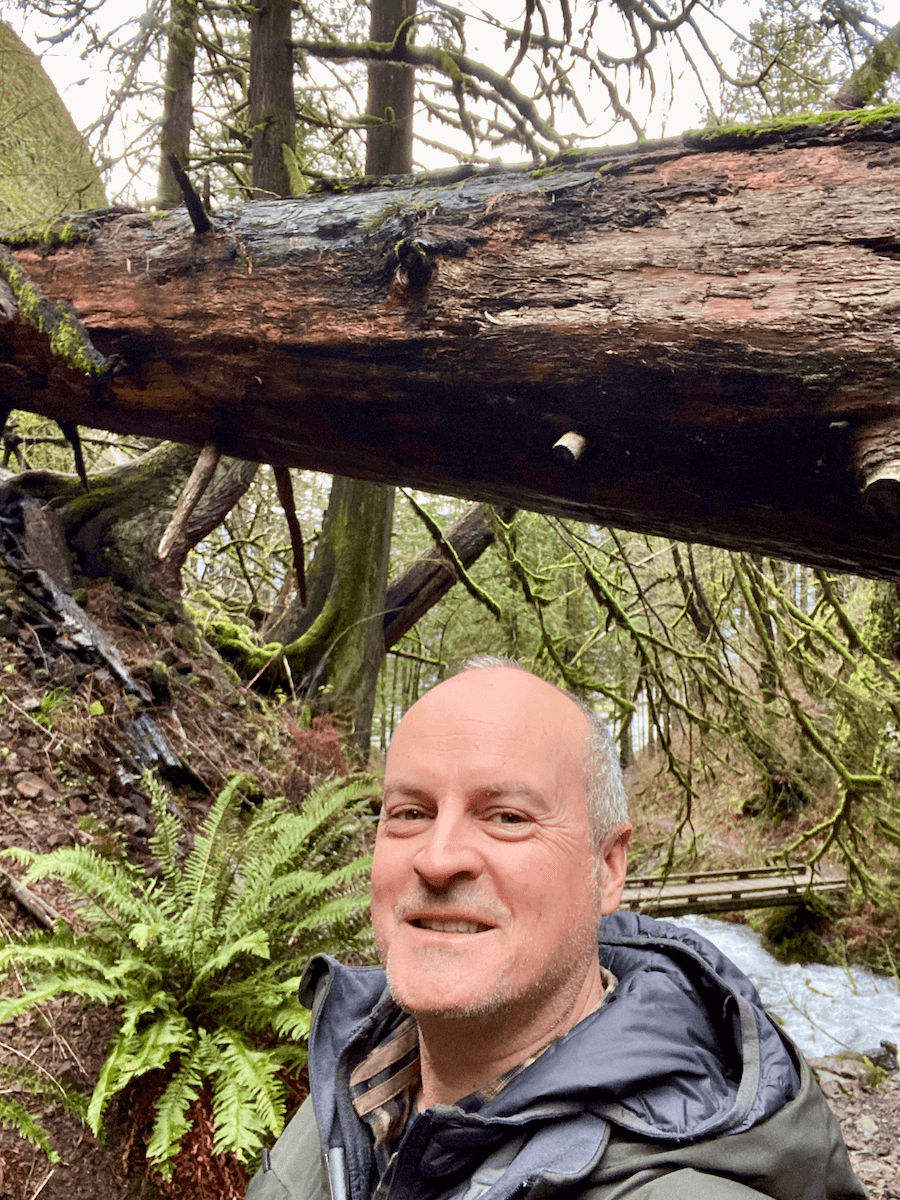 My 27 favorite places to enjoy Seattle forest bathing in the rain
So, have I convinced you to try forest bathing — in the rain or otherwise? Why not practice elevating your access to healing and well-being provided by the natural world?
Here is the curated list of my favorite Seattle forest bathing locations — featuring many options beyond the Emerald City limits. I prioritize places with mystic qualities that are easily accessed. Remember that the distance of trails is irrelevant because the point is to go slowly. You may never reach the trail's end — a sign of forest bathing success.
If you don't understand precisely what to do, start with this article about making a nature connection and then try meeting nature where you are.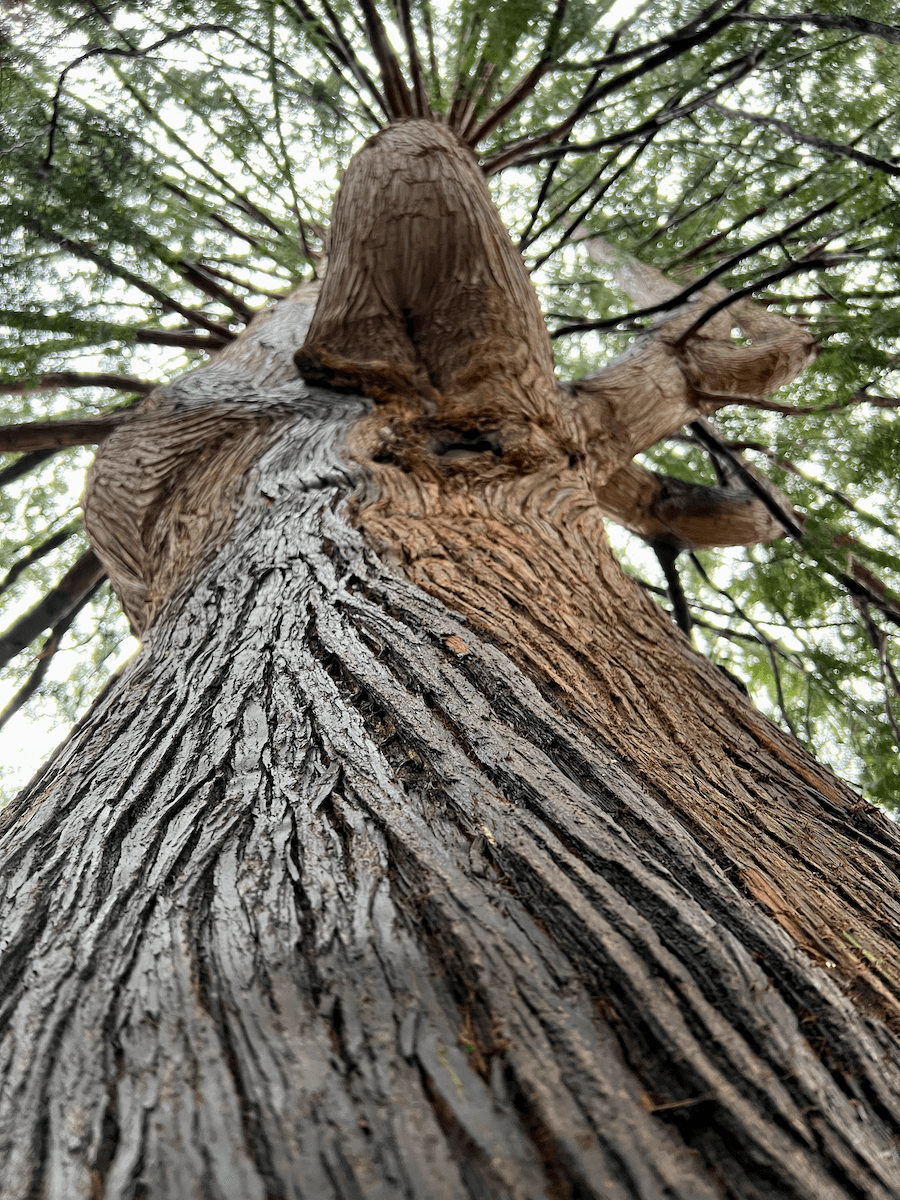 Seattle — Central forest bathing favorites
Ravenna Park
This urban canyon of trees is magical any time of year, but my go-to for Seattle forest bathing on a rainy day. So I created a detailed guide to help you experience the mystic beauty.
Interlaken Park
You can find me communing with nature weekly on this rugged slope of forest bathing goodness. While I enjoy winding woodland trails, a decommissioned flat roadway provides excellent, accessible options. The dense forest is true to native species, except in a few areas where beautiful redwoods were encouraged to grow 100 years ago.
Thomas C Wales Park
One of the six fundamentals I write about in the nature connection article is acknowledging the land; this park is a great example. Once a quarry extracted from a ridge on Seattle's Queen Anne hill, the compact greenspace was named to honor a former Federal Prosecutor killed in his nearby home. The industrial take on nature connection — including wired cages of rock resembling bird nests — encourages a thoughtful engagement with nature's magic.
Seattle — Outer forest bathing locations
Carkeek Park
A park in the northern sphere of Seattle is perfect for forest bathing. Focus on the forested hill south of bubbling Carkeek Creek, and don't let the avid runners deter you from going slowly. The orchard is also enchanting to sit and absorb soul-nourishing nature spirits. There is more information in the article, Five inspiring Seattle walks to elevate your nature connection.
Magnificent Forest at Seward Park
It still amazes me that while throngs of walkers circle the lakeside path at Seward Park, the Magnificent forest — deep in the center — remains largely undiscovered. Push beyond the obvious to find a fantastic Seattle forest bathing experience awaits — complete with towering cedar and fir.
Schmitz Preserve Park
Alki Beach in West Seattle is romantically beautiful year-round, but retreat to a nearby enclave of old-growth giants when the rain falls. An iconic bridge rises into the canopy like a cathedral while an enthusiastic creek engages the senses. For more details on this forest bathing destination, check out the article, five inspiring walks to elevate your nature connection.
Lincoln Park
This spirited slice of waterfront land provides abundant beauty to locals in West Seattle. But, while the beach walk is magical — especially ducking into rickety shelters made from driftwood — your forest bathing experience is best taking the high trail. Follow the ridge that provides views of the Vashon Island ferry and connection with a great wooded area.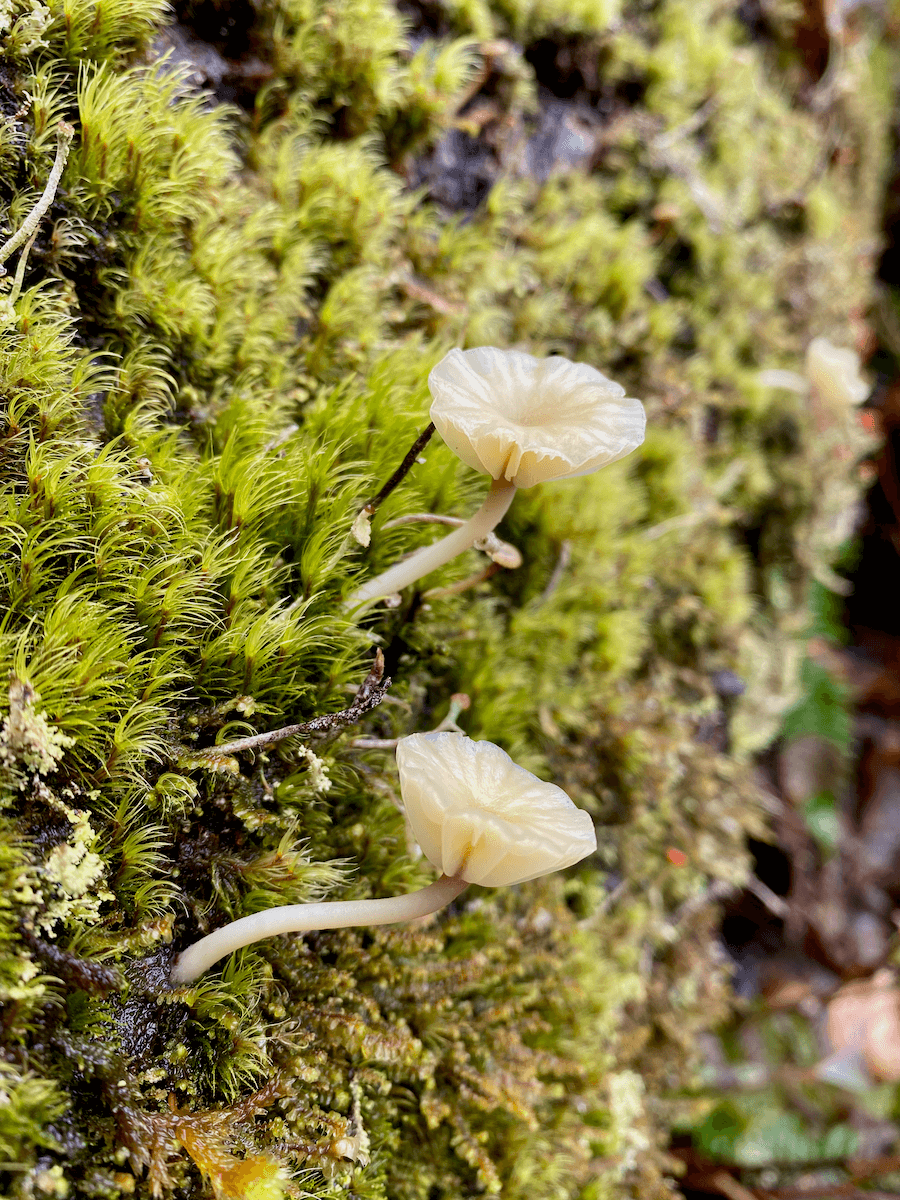 Forest bathing locations near Seattle
Bellevue Botanical Garden
Just as lovely as the spirit behind the formation of this urban gem are the variety of flowering plants year-round. While there are 11 horticulture zones, my favorite for a rainy day is the Ravine Experience. This article provides all the details for a memorable forest bathing experience.
West Hylebos Wetlands Park
If a portal into other worlds exists in the Seattle area, it is on this unspoiled land, wedged into suburbia. I've guided Mystic Nature Experiences here that participants described as transformational. This article provides more information.
St. Edward State Park
My great-uncle lived on this campus on his path to becoming a priest in the 1930s. The history lives on here, with soulful trails from the newly renovated Lodge at St. Edward Park descending through a thick canopy down to the banks of Lake Washington. Be sure to find the inspiring St. Edward State Park Grotto and spend time soaking up the nature spirits there. Note: A Discover Pass or $10 paid day-use parking from machines is required.
Kruckeberg Botanic Garden
This shady, exotic forest just north of Seattle in Shoreline, Washington, offers a comprehensive catalog of trees and ground plants inspired by Art and Maureen Kruckeberg. The couple met at UW in the 1950s and dedicated their lives to cultivating their 4-acre property with local and rare varieties of trees and plants. I'm adding this to the list because the concise forest atmosphere encourages you to go slow and savor the fascinating variety — perfect for forest bathing. This article talks about my other favorite botanical gardens in the Seattle area.
Forest bathing toward Mt. Rainier
Federated Forest
This majestic forest full of ancient fir trees unassumingly hugs the side of a busy road whisking people to and from Crystal Mountain ski area and Mt. Rainier. It could be a bad ski day. But stop on the way home and soak up the spirit. Or, plan this as the destination.
Tacoma, Washington nature in the rain
Point Defiance Park
My ancestors settled in Ruston, just on the fringe of this 700-acre urban wilderness in Tacoma, so I have countless experiences engaging with nature here. The five-mile drive is no longer open to vehicles, making an excellent walkway to keep feet dry in the rain. Read this article for all the details.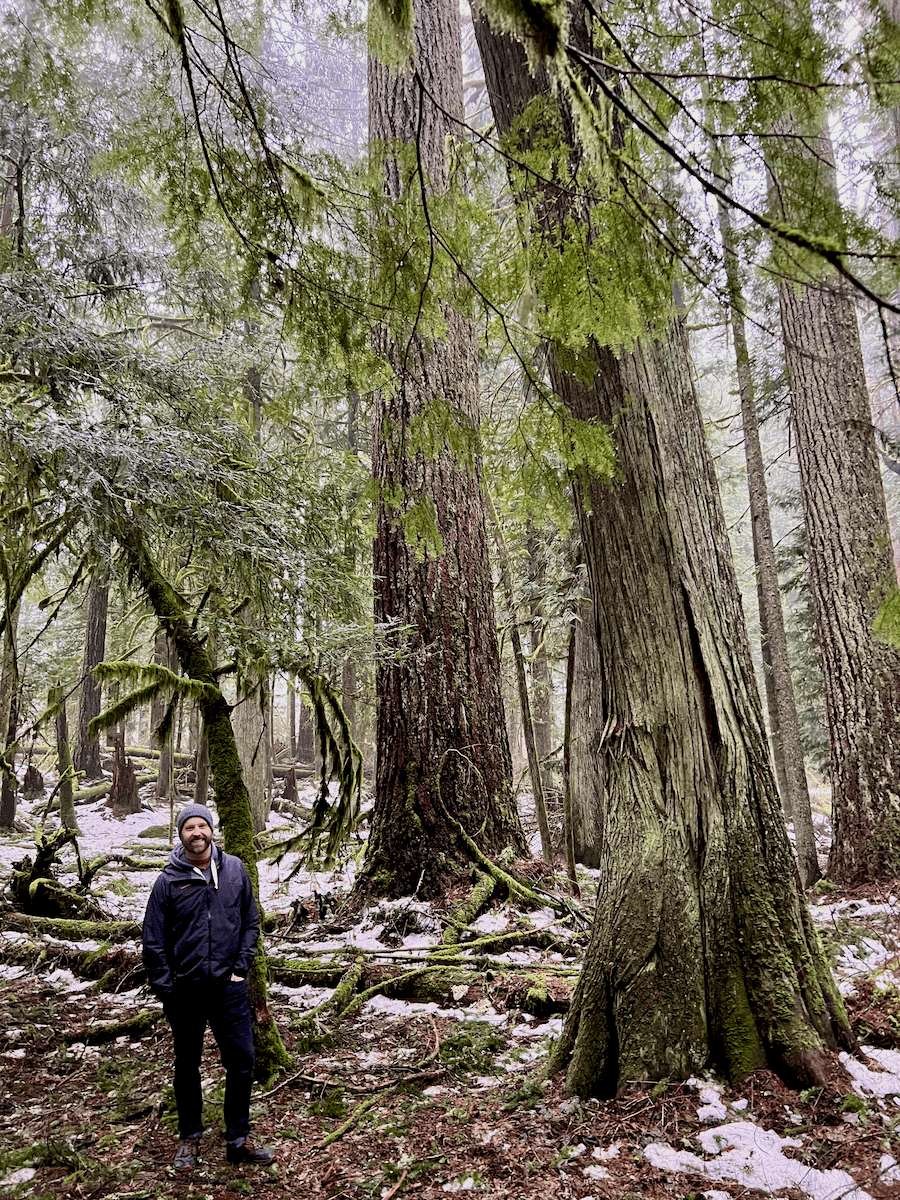 Forest bathing on Puget Sound islands
Bainbridge Island nature delights
Grand Forest West
The 30-minute ferry ride from Downtown Seattle will prepare you for slowing down. Then, only ten minutes from the dock, delve into the epitome of forest bathing goodness. There are many different options to immerse into the dense fir — so dive right in. I outline an entire day trip on the Kitsap Peninsula that helps you engage with the spirits of the land here.
Bloedel Reserve
Only some of the parks and gardens on this list require booking tickets or paying fees ahead of time. However, the Bloedel Reserve is worth the effort. The internationally recognized acreage surprises and delights around every corner — even in the rain. Forest bathing feels particularly indulgent in the moss garden leading to the magnetic lines of the Japanese Tea House. Although timed entry, each visit for me lasts over three hours once inside.
Whidbey Island forest bathing
Meerkerk Gardens
This botanical outpost on Whidbey Island is the legacy of Ann and Max Meerkerk and their dream to integrate rhododendron and companion plants into a peaceful woodland garden. While the 10 acres of display gardens wow visitors — especially in the blooming season from March to June — the 40 acres of woodland trails provide outstanding options to find inner peace. Be sure to stroll by the pond and consciously slow down — my favorite forest bathing experience on Whidbey Island.
Deception Pass State Park
This iconic park receives the most visitors in the State Park system for a good reason. Ancient douglas fir rises above a dramatic landscape that includes pristine beaches, a historic two-lane bridge, and impressive flows of salty tidewaters. While fewer people visit in the rainy season, I still prefer to venture just over the bridge to the Lighthouse Point Trail (Bowman Bay parking area) for more forest bathing seclusion. Note: A Discover Pass or $10 paid day-use parking from machines is required.
Forest bathing on the San Juan Islands
Washington Park — Anacortes
This greenspace isn't technically in the San Juans, but only a stone's throw from the ferry terminal dispatching vessels to the spectacular "America's fjords." I like to duck in here when returning from the San Juan Islands to let traffic dissipate and leave full of peace. However, Anacortes is more than a ferry terminus, so consider making this the destination. Check out this article to learn more about your options.
Moran State Park — Orcas Island
While the San Juan Islands feel like one giant capstone class on Pacific Northwest forest bathing, one magical place stands out. Robert Moran gifted Moran State Park in 1921. The wealthy Seattle shipbuilder and former mayor fell ill and moved to Orcas Island in 1905 after receiving the prognosis of living only a year. Later — after living 25 more years — he attributed his dramatic healing to the salve of the rocks, lakes, seashores, trees, moss, and general natural goodness on the island. There are many soulful places to walk in the forest, but my favorites are Mountain Lake and Twin Lakes Trail. Note: A Discover Pass or $10 paid day-use parking from machines is required.
Bellingham, Washington, forest bathing
Larrabee State Park
Just outside Bellingham — due east of Orcas Island — this park is the original in the Washington Parks system. Train tracks divide the pristine greenspace into two sections: rugged Salish Sea coastline and dense hillside forests. Fragrance Lake Trail is a magical place to forest bathe, but a challenging vertical gain — so go slow. Note: A Discover Pass or $10 paid day-use parking from machines is required.
Sehome Hill Arboretum
This green patch of goodness, adjacent to Western Washington University, is full of spirit. In the rainy season, the many maple trees might leave dramatic patches open in the canopy, but the symphony of moss and bark makes up for it.
Whatcom Falls Park
The waterfalls are stunning, primarily when powered by rainwater overflowing from a nearby reservoir. Since they are quickly accessed from a big parking lot, finding a quiet location might take a little effort to connect with the nature spirits. The stretch downstream from the main Whatcom Waterfall is an excellent place to begin.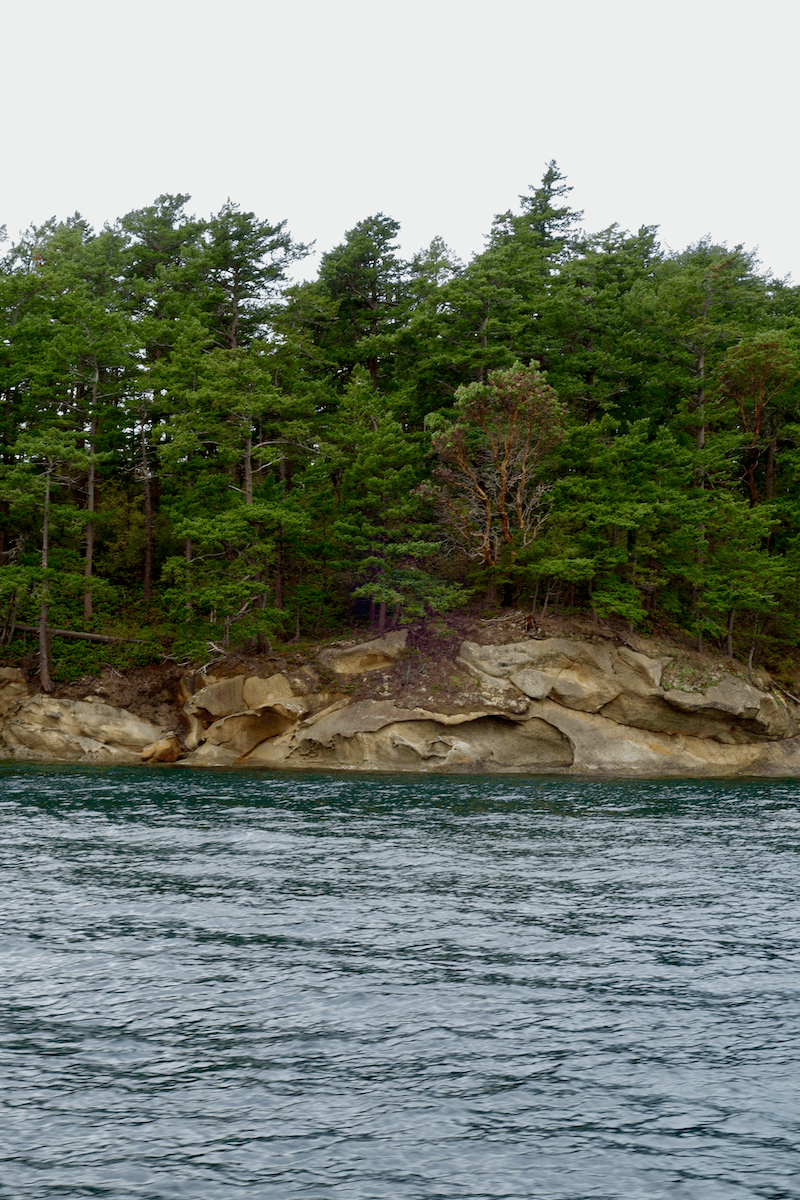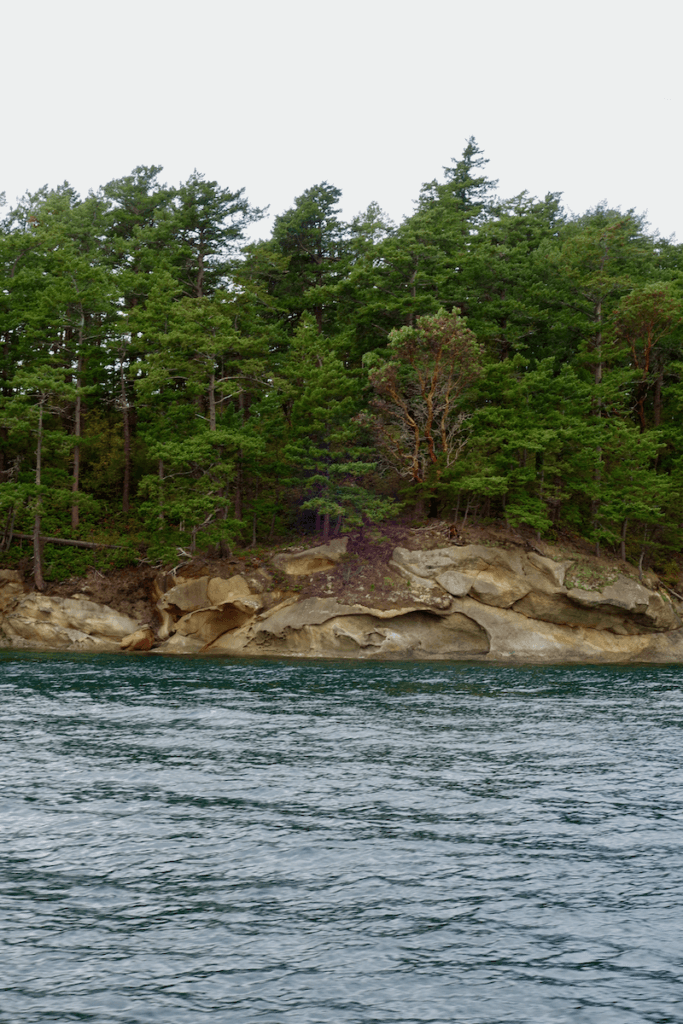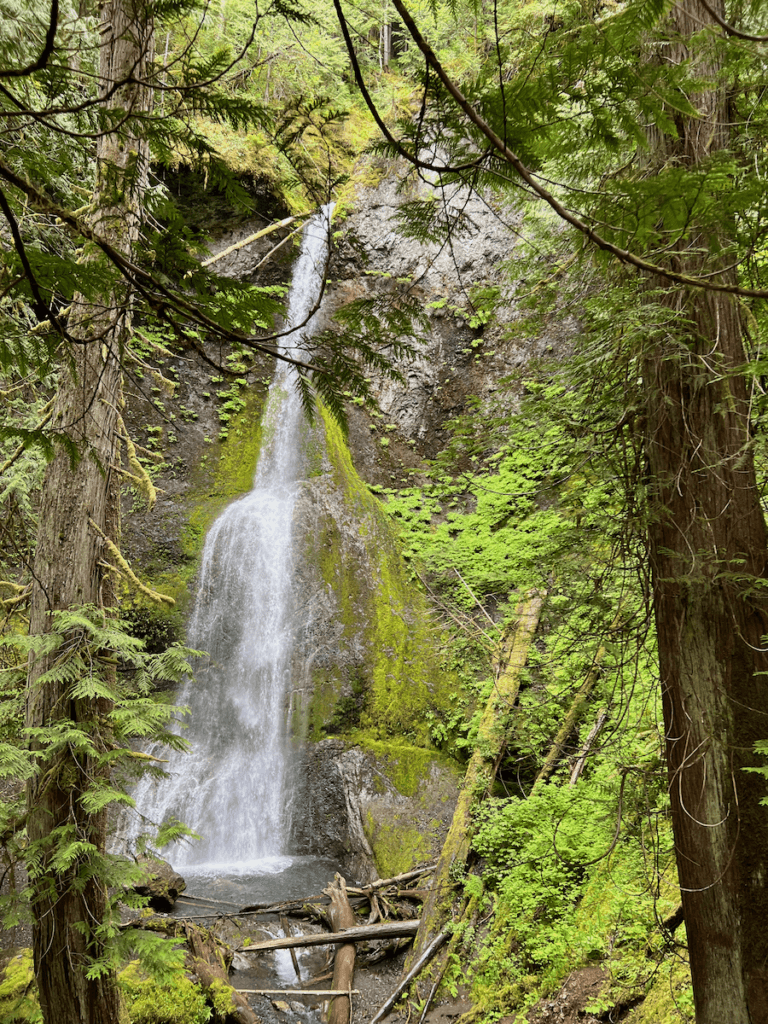 Forest bathing locations on the Olympic Peninsula
Is forest bathing in a temperate rainforest in a wild corner of Washington State a good idea? Yes, please! Did you know I facilitate nature retreats in the Olympic Peninsula designed to create a space for you to slow down and engage nature by seeing yourself more clearly? The results are powerful and can significantly impact daily life afterward. For more information, go HERE.
I've also put my experience guiding people in nature into a thorough planning guide. You can access the article, How to plan an epic Olympic Peninsula road trip.
Marymere Falls — Olympic National Park forest bathing
An easy 1.7-mile trail near the bygone-era Lake Crescent Lodge is my go-to for closer access (90 minutes further to the Hoh Valley Rainforest) to excellent forest bathing in Olympic National Park. Wander through waist-high sword fern while glancing up the lines of 500-year-old cedar, hemlock, and fir. Marymere Falls is pure magic! Day use does not require a National Park entry fee, and dogs are not allowed on trails in the National Park.
Quinault Loop Trail — Olympic National Forest rain delight
My favorite forest bathing trail on the Olympic Peninsula — combining ancient Douglas fir with lake views, marshy goodness, babbling brooks, and interesting mushroom and moss varieties. Plus, a love of mine, the statuesque Lake Quinault Lodge, stands at the start of the trail. Find all the details here. Because this is technically National Forest, leashed dogs are allowed.
As kids, my mom used to pump us up to view the Salish Sea for the first time on our routine drives between Portland and Seattle. She was probably trying to manage the attention spans of five kids, but this estuary opens up views from busy Interstate 5 to the beautiful Salish Sea skyline. The maples are quieter here in winter but still soulful in the walk. Take time to go slow along the rushing Nisqually River and nearby marshy ponds before strolling on the impressive boardwalk — partially closed from November to February for hunting season.
Rainbow Falls State Park
I love this quiet park, situated along WA-6 just 20 minutes from Chehalis Exit #77 on Interstate 5. A soulful forest bathing detour when the Seattle to Portland slog becomes too much. Park along the highway and check out the gushing water sliding over giant glacial boulders. Then cross the road and prepare for an exquisite immersion into old-growth forest goodness. Combine the Oxalis, Hemlock, and Deer Trail for a 1.3-mile path-less-taken experience.
Silver Lake Trail — Mt. St. Helens forest bathing
Only ten minutes from Castle Rock Exit #49 on Interstate 5 — heading toward Mt. St. Helens — this soulful trail opens the senses. Venture beyond the excellent Mt. St. Helens Visitors Center to trails that wind through fir groves toward a tranquil boardwalk area.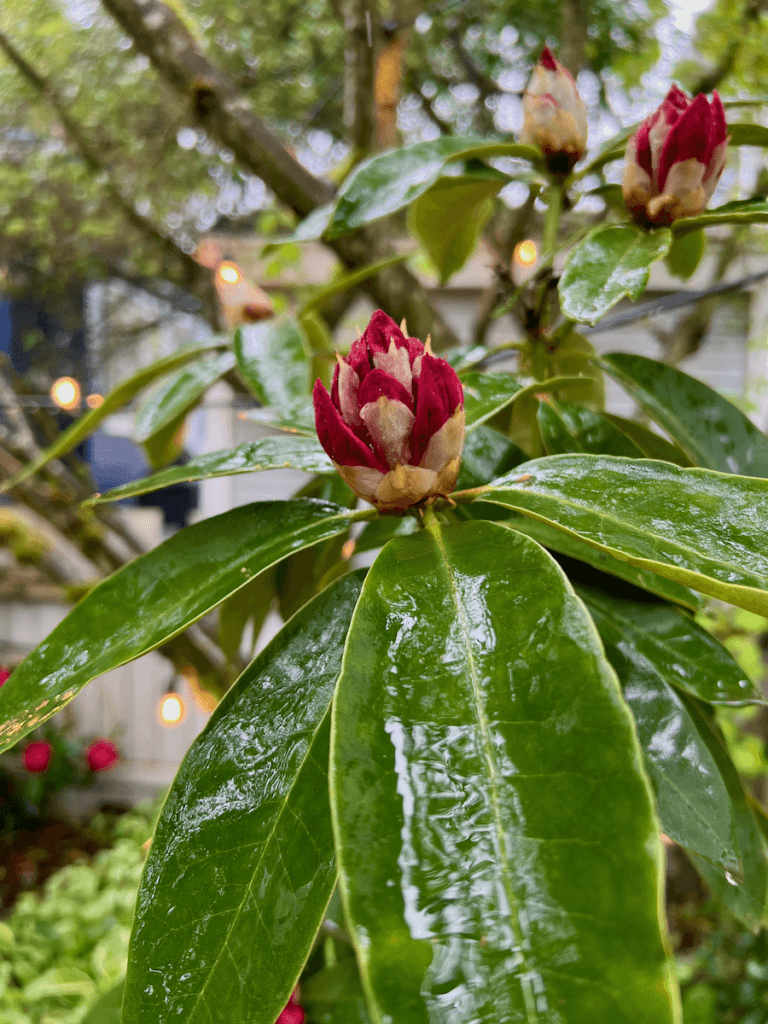 Not ready to head out into the rain? Pin on Pinterest for later.