Early morning day trips from Seattle can be the perfect salve to the soul. The stress of traffic is lulled away with the aspirations of exploring and experiencing all the magic the Pacific Northwest has to offer. Even thirty minutes into the voyage, the ratio of concrete to green vastly adjusts to fir trees and roadside patches of local shrubs. With a little more time, open spaces of farmland appear as mist rises up from the delicately layered horizon of foothills leading to rockier peaks that point to even higher snow-capped Cascade Mountain vistas. They stand proudly, as if to offer guidance towards a soul-nourishing day away from the pressures shackling us to our daily lives. Out toward the water a different world comes to life with local boating crews navigating the tides flowing in and out to reap a catch of the day. The Salish Sea offers a solace only available in the early morning hours on the brackish waters — creating a portal from rivers to the cleansing salt of the sound.
Day trips from Seattle offer a unique treat of a journey just as sweet, if not more beautiful, than the destination.
As life in Washington State navigates the shifting sands of opening up, perhaps a road trip is in store? No matter which way you head out of the city, a fantastic getaway is in store. I've curated 16 day trips from the Seattle area that break into three groups: succinct (places about an hour from the Seattle area), full day trip itineraries (not excessive mileage but lots of activities along the way) and extended day trips (long distances with scenic views). Of course these are sample itineraries that can be customized, depending on your pace and stamina. Favorite restaurants and coffee shops are mentioned and be sure to read through to the bottom of this article to find the interactive map.
Table of Contents — day trips from Seattle
Several of these day trips from Seattle have click through links to more photos, maps and details.
Purposely, several of my favorite places like Mount Rainier are not listed because they tend to be very congested in the Summer and weekends — making for exhaustingly long day trips from Seattle. For a stronger connection to such breathtaking sights, I suggest planning these into an overnight jaunt or long weekend, when arriving to the mountains early to beat the rush is realistic. Mt. St. Helens is a long drive, but well worth the time commitment. Leavenworth and Port Angeles (Hurricane Ridge) can be a day trip from Seattle but also very enjoyable as an overnight getaway too.
The outlines of each trip are ordered according to overall drive time to/from Seattle. The total duration of time depends on the starting point, curiosity, getting an early start, hiking stamina and overall day-trip endurance. Enjoy the day!
Hibulb Cultural Center — for Northbound day trips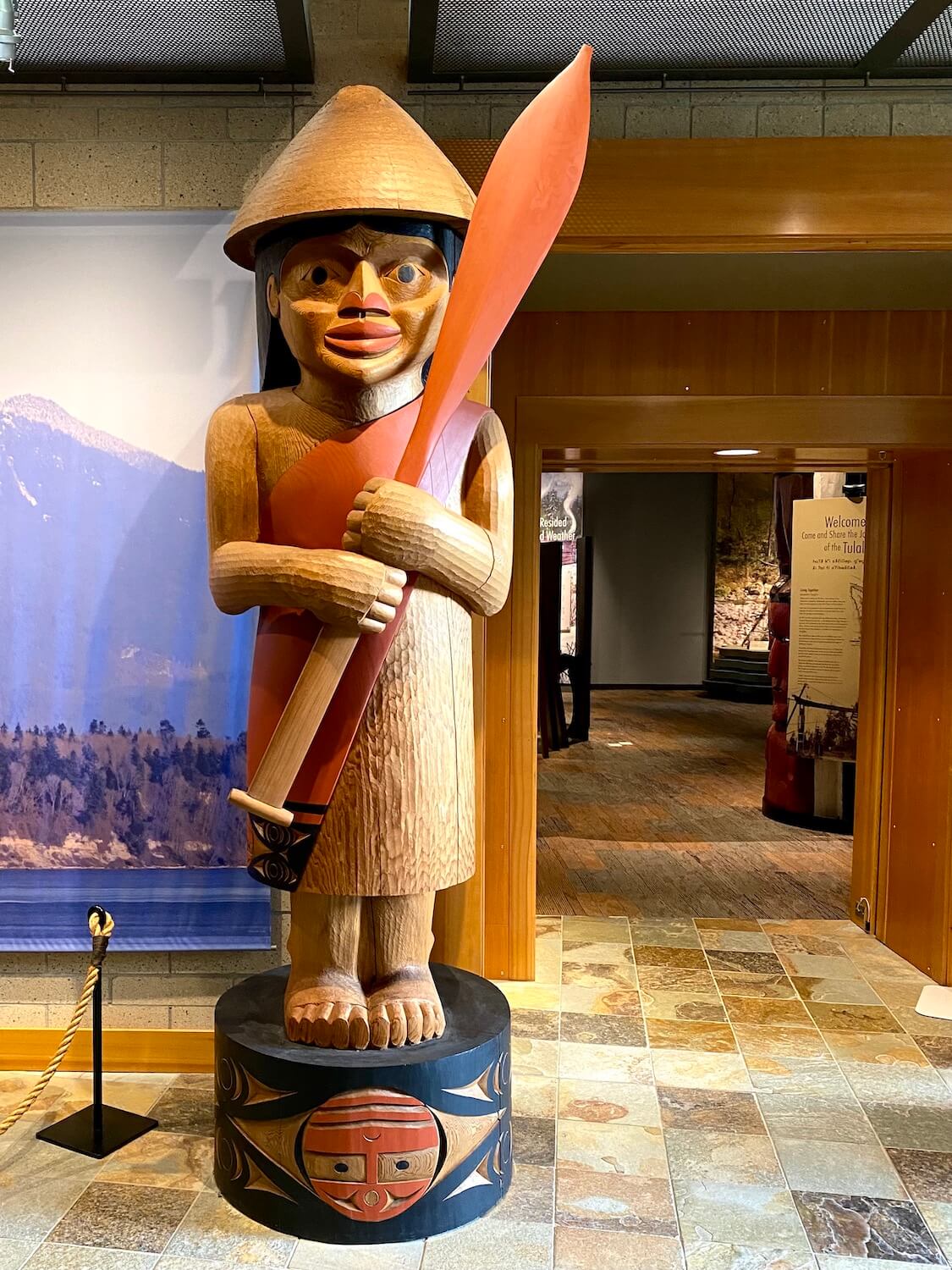 The watershed 1855 Point Elliott Treaty, signed near present day Mukilteo, Washington, drastically reduced Salish tribal lands. It was negotiated using about 300 Chinook Jargon words — which made nuances unclear to many of the signatories, who mostly spoke versions of Lushootseed.
The Snohomish, Skykomish, Snoqualmie, and other ally tribes were combined into the area that now makes up the Tulalip Indian Reservation — just North of Everett, Washington near Marysville. Today, the Tulalip Tribes own and manage a variety of operations centering around Quil Ceda, which include the Hibulb Cultural Center and Natural History Preserve (photo shown above).
With the motto "So we can remember," the living museum offers an important perspective, from the Indian point of view, into the fold. All of the destinations North of Seattle on my list (La Conner, Edison, Deception Pass, Anacortes, Larrabee, Big Four Ice Caves, Whidbey Island Loop) involve passing this cultural center — literally one mile from the freeway. A stop is essential for anyone wanting to push to develop a better understanding about the people of the land, before and during colonization by European settlers. You can also learn more by visiting the official website of the Tulalip Tribes.
The exhibits are well-curated and great for visitors of all ages. Start in the simulated longhouse for an overview film and then work through the main part of the museum — which highlights the importance of cedar and salmon and the family and spiritual structures of tribal life. The conversation feels engaging, rich with detail, and amazingly comprehensive. Plan to spend at least an hour here, if not more.
At the time of this writing (July 2021) adult admission is $10 (check other rates on the site). The museum is closed on Mondays and open until 5PM the rest of the week.
Succinct day trips from Seattle
The following six destinations are favorites of mine when time doesn't allow a full day of exploration — places great for a lunch date. Each is about an hour away from Seattle, just depending on traffic, and the rest of the day is up to you. The added benefit of Bainbridge and Bremerton is the ability to park the vehicle and jump on the Washington State Ferries (or Kitsap Fast Ferry to Bremerton) to enjoy a day exploring by foot.
If it's logistically challenging to stray too far from the city, consider checking out my article, Summer in Seattle — the best outdoor things to do (or my lists for each season), for local ideas big on nature and local fun.
Bainbridge Island
It's amazing to think that less than 9 miles away from bustling Downtown Seattle, a completely different world exists. A quieter environment surrounded by stunning beauty, all focused on the beating heart of the Salish Sea. From boarding the ferry at the Coleman Dock in Downtown Seattle, the slower pace seems to sink in as marine air gently blows on the outside decks. Be sure to find a railing facing the skyscrapers of the city as the marine vessel pushes off — the sweeping view of Seattle's skyline is worth the price of admission alone. The easy ride takes only 35 minutes and then it's off to exploring the welcoming village of Winslow.
Without a car, walk the easy half mile into town to window shop and grab food at Bruciato, which serves up outstanding flat bread and cocktails. Other favorites include Blackbird Bakery and Proper Fish (fish and chips). If seaside dining is your fancy, walk along the waterfront to Harbour Public House, which serves some fun seafood items along with a large variety of frosty beers on tap. In the opposite direction, when time allows, there is a great beachfront access about a mile northeast of the ferry terminal at Hawley Cove Park.
With a bike or car, a trip to Bloedel Reserve (20 minutes driving from the ferry terminal) is an amazing option. I write more about this 150-acre internationally recognized gardening wonder in a different article, Bloedel Reserve — the best of Bainbridge. Advance reservations are required and well worth the effort. Be sure to visit the star attraction — the Japanese inspired garden and tea house.
In addition to the Winslow options listed above, with transportation it's fun to check out the tiny enclave of Lynwood Center (20 minutes driving from the ferry terminal) and the small strip of eateries there that are yummy and less crowded. Try The Marketplace at Pleasant Beach, which has a number of offerings within one building. From Lynwood Center take Point White Drive NE West around the bend for unobstructed water views. At the point, the road turns into Crystal Springs Drive NE.
No matter which way the wind blows, an outing to Bainbridge Island is meant to be savored at a gentle pace for a few blissful hours away from the city.
At the time of this update (July 2021) the fare is $9.05 per adult passenger and $20.40 for a standard vehicle (includes fare for one passenger). Passenger tickets are only sold in Seattle on a round-trip basis (ORCA cards also accepted), so the Eastbound trip is as easy as walking back onto the ferry. Bicycle surcharge is only $1 sold as a round-trip ticket, similar to the passenger fare. Vehicles pay in each direction.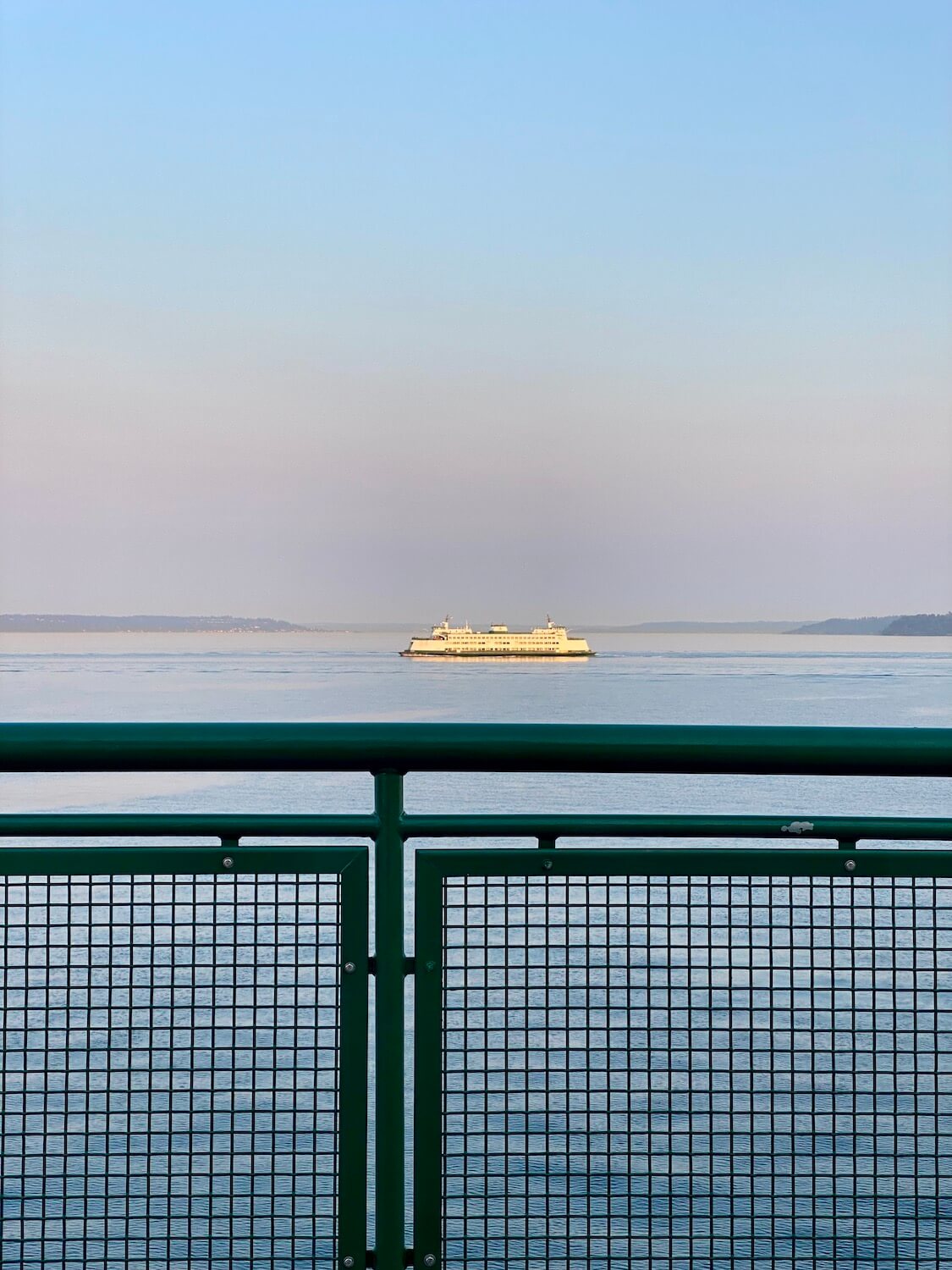 BAINBRIDGE ISLAND HIGHLIGHTS
Distance from Seattle: 35 minutes on ferry and 8.6 miles
Things to do:
Enjoy views of Seattle and Mt. Rainier on the ferry ride
Explore the shops of downtown Winslow
Relax by the Salish Sea at Hawley Cove Park
Visit Bloedel Reserve (easiest with bikes or vehicle)
Drive or bike along seaside roads
Food and Drink:
Harbour Public House
The Marketplace at Pleasant Beach
Planning details:
Foot passenger ferry tickets are only sold in Seattle as a round-trip and cost $9.05 per adult. Bike surcharge is $1. ORCA cards are accepted.
Bainbridge Island is a great jumping off point for the Olympic Peninsula Loop.
Bremerton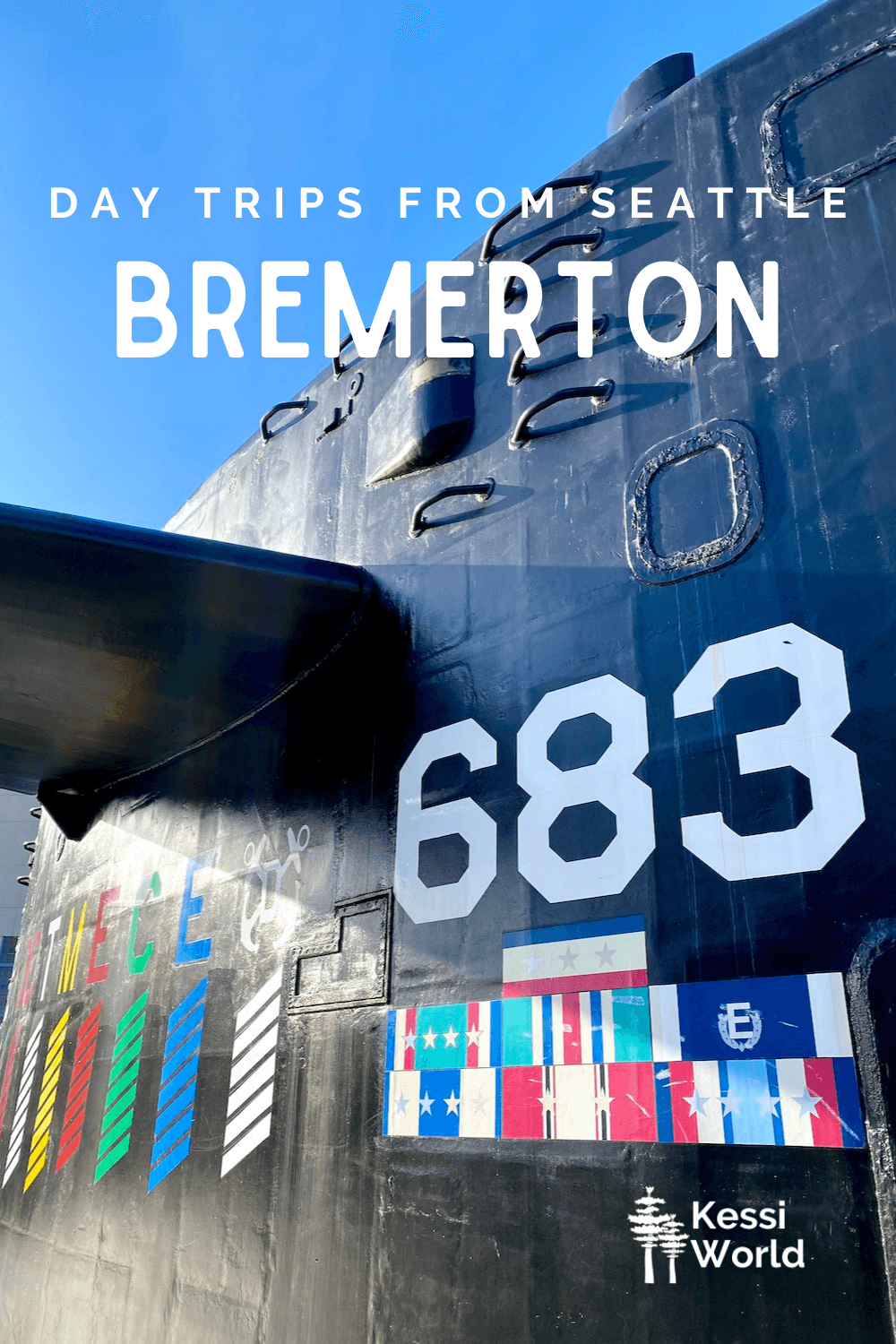 By now, anyone who reads my writing about Seattle and the flowing waters of the salty Salish Sea know that I love ferry rides. I write about navigating the system in an article, Everything you need to know to navigate the Washington State Ferries. Bainbridge is a fantastic day trip option but a less crowded, more local-feeling sister destination is the US Navy bastion of Bremerton.
The ferry experience is the same as mentioned above, including the fares, with the exception that the ride takes an hour, as the boat navigates through a channel that makes for interesting scenery. For Monday through Friday crossings Kitsap Fast Ferry also offers service between Pier 54 in Downtown Seattle and Bremerton ($10 Westbound / $2 Eastbound — cash or ORCA cards accepted) and the trip takes about thirty minutes.
The compact downtown area is right next to the ferry terminal, making walking a convenient option. Getting started in the morning, The Coffee Oasis offers up a delicious and friendly cuppa and then a walk down the commerce core of Pacific Avenue will open up all the options, including Valentinetti Puppet Museum, F.R.O.G. Soap and vintage clothing shops like Ish Vintage Clothing and Costume. I find the 9-11 Memorial in Evergreen Rotary Park very moving and enjoy delicious Thai food at Khao Soi, just across the Manette Bridge.
Bremerton isn't as polished as Winslow on Bainbridge Island (mentioned above), but I'm drawn to the authentic soul of the industrial town so much I wrote a separate article, Bremerton day trip from Seattle. In that piece you'll find an interactive map, photos and other details to help plan an interesting getaway that is off the tourist grid.
With a car, I'd head over to Albers Vista Gardens, or Elandan Gardens to check out the bonsai trees. Bremerton can also be a great jumping off point for exploring the Hood Canal area or pushing onward to the Olympic Peninsula Loop.
Supersize this experience and stay overnight at the Hampton Inn and Suites Bremerton, right in the marina complex.
BREMERTON HIGHLIGHTS
Distance from Seattle: 60 minutes on ferry and 16 miles
Things to do:
Enjoy views of Seattle and Mt. Rainier on the ferry ride
Explore the street art and sculptures, including 9-11 Memorial
Puget Sound Navy Museum and USS Turner Joy ship tour
Walk across Manette Bridge
Bremerton Fountains and Harborside Fountain Park
Food and Drink:
Planning details:
Foot passenger ferry tickets are only sold in Seattle as a round-trip and cost $9.05 per adult. Bike surcharge is $1. ORCA cards are accepted.
Bremerton is a great jumping off point for Hood Canal the Olympic Peninsula Loop.
Read more in another article, Bremerton day trip from Seattle.
Gig Harbor
Back in the day, we used to take my grandmother to lunch in Gig Harbor when visiting her in nearby Tacoma. I always loved the boats in the harbor and the fresh and tasty seafood — especially shrimp cocktail at Anthony's, which was a treat for me. Today the thriving downtown continues to hum to the drum of nautical beats, centered around the body of water bearing the same name.
A trip here requires crossing the expansive Tacoma Narrows Bridge, which levies a toll ($5 Good-to-Go or $6 cash) on the return trip heading toward Tacoma on Highway 16. It's worthwhile to park on either end of the impressively high bridge and walk out to the middle — be warned, the suspension cables are there for a reason and you will feel the bridge… suspending!
Start an adventure in the morning with coffee at one of the locations of local pride, Cutter's Point Coffee and then head to the downtown core to park and wander Harborview Drive (try to park near the intersection with Pioneer Way). I love urban hiking, and suggest the journey be conducted by foot. Head South to Old Ferry Landing for impressive Salish Sea views featuring Tacoma and Mt. Rainier on a good day. To really stretch your legs, set out North to the winding steps of Finholm View Climb and stop at Harbor History Museum on the way.
After a nice urban hike, set your sights on something delicious at age-old institution Tides Tavern, right on the water, or El Pueblito for yummy Mexican cuisine. Heritage Distillery offers their full line of products at a tasting room right in the heart of town. For my interactive map of all the favorites around Gig Harbor, including where to park to walk or cycle the Tacoma Narrows Bridge, go HERE.
Bicyclists can enjoy a great ride by parking on the Tacoma side of the bridge near War Memorial Park and heading to Gig Harbor via a system of well maintained trails.
GIG HARBOR HIGHLIGHTS
Distance from Seattle: 45-minutes to one hour each way (check traffic reports and avoid rush hour periods) and 44 miles.
Things to do:
Walk or bike across the dramatic Tacoma Narrows Bridge
Explore the shops and marina downtown around Jerisich Dock
Take in the view at Old Ferry Landing
Harbor History Museum
Visit a seaside park, such as Narrows Park
Food and Drink:
Planning details:
The Tacoma Narrows is a toll bridge with charges incurred in the direction heading to Tacoma — $5 with a Good-to-Go pass or $6 cash.
Great option for a quick day-trip or lunch date.
Gig Harbor makes a great stop on the way to Hood Canal and the Olympic Peninsula Loop.
My interactive map has many more local-approved locations. Check it out HERE.
Nisqually Wildlife Refuge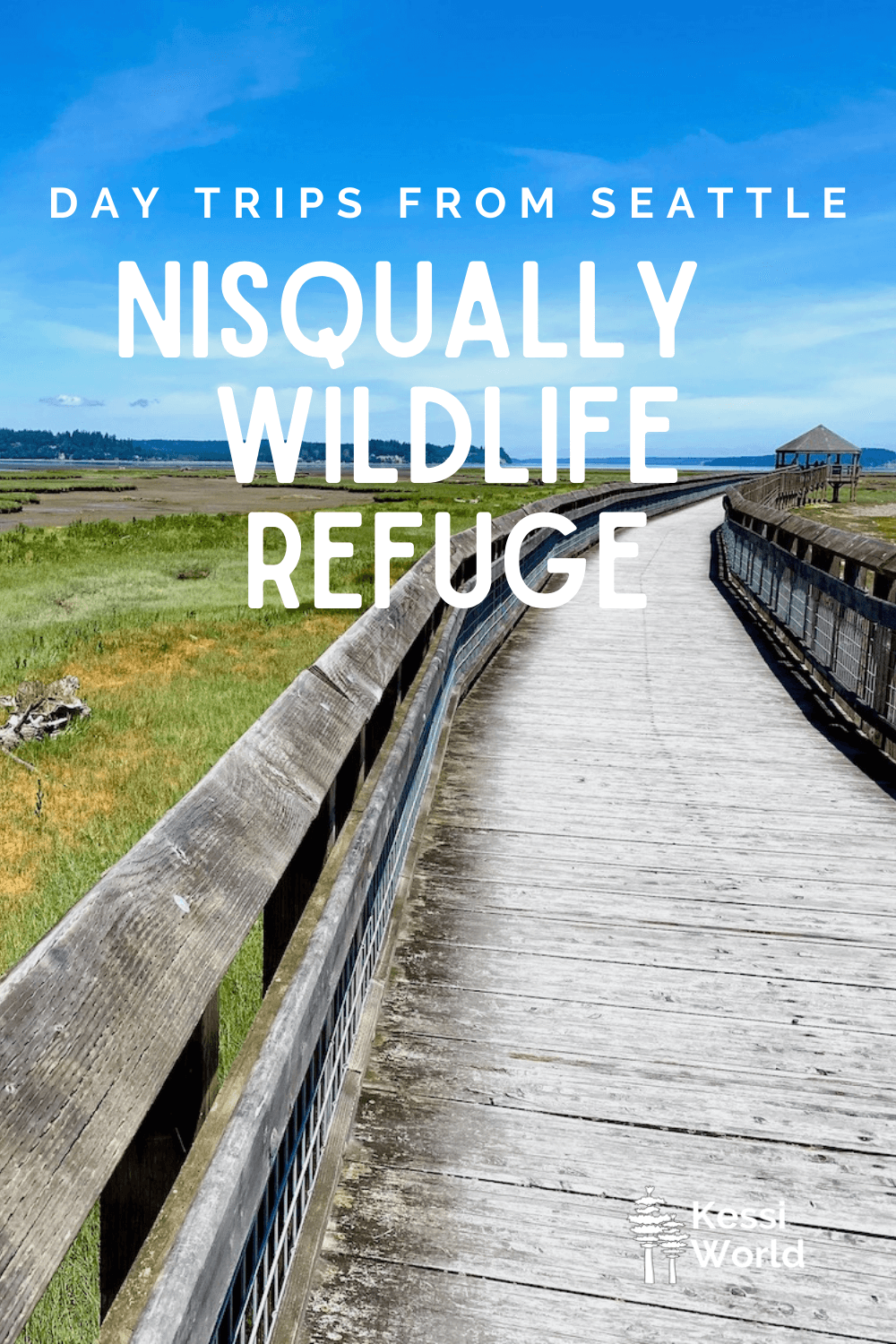 The star of this day trip from Seattle requires taking exit 114, which is about an hour South from the Emerald City (in normal traffic). Once situated at the Billy Frank Jr. Nisqually National Wildlife Refuge be sure to walk through the visitor center to the viewpoint of the marshy lake. From the parking lot ($3 per day), there are several trails with interpretive signs highlighting the plants and animals in the region. Head to the viewpoint of the rushing Nisqually River and, if time allows, continue on the spectacular boardwalk that winds over wetlands to a destination gazebo — complete with sweeping views of the Salish Sea, the estuary and the top of Mount Rainier on a good day. Plenty of birds, crabs, sea lions and other creatures await discovery along the way.
Olympia, Washington is just down the road and makes for a great stop to grab food at 5th on 4th Sandwiches and More or Tugboat Mary's. Check out the State Capitol Building and wander around the well-kept grounds, before returning home.
More information can be found in a dedicated article, Nisqually Wildlife Refuge — remarkable day access to nature's balance.
Normal drive time from/to Seattle one hour each way (check traffic reports and avoid rush hour times). Distance from Seattle 61 miles.
Inspiring day trips from Seattle — La Conner
La Conner, Washington gets a lot of attention around the famous Skagit Valley Tulip Festival, usually the month of April each year. That's for good reason, as the acres of farmland light up with a myriad of Spring colors. But this breadbasket of Western Washington is a great candidate amongst wonderful day trips from Seattle any time of year. Great food, scenery, art and native culture are all tucked into this historic pioneer town clinging to the Swinomish Channel.
La Conner is such a favorite of mine that I wrote a separate article, complete with an interactive map of favorites, photos and more detailed information, La Conner, Washington — the best of Skagit Valley.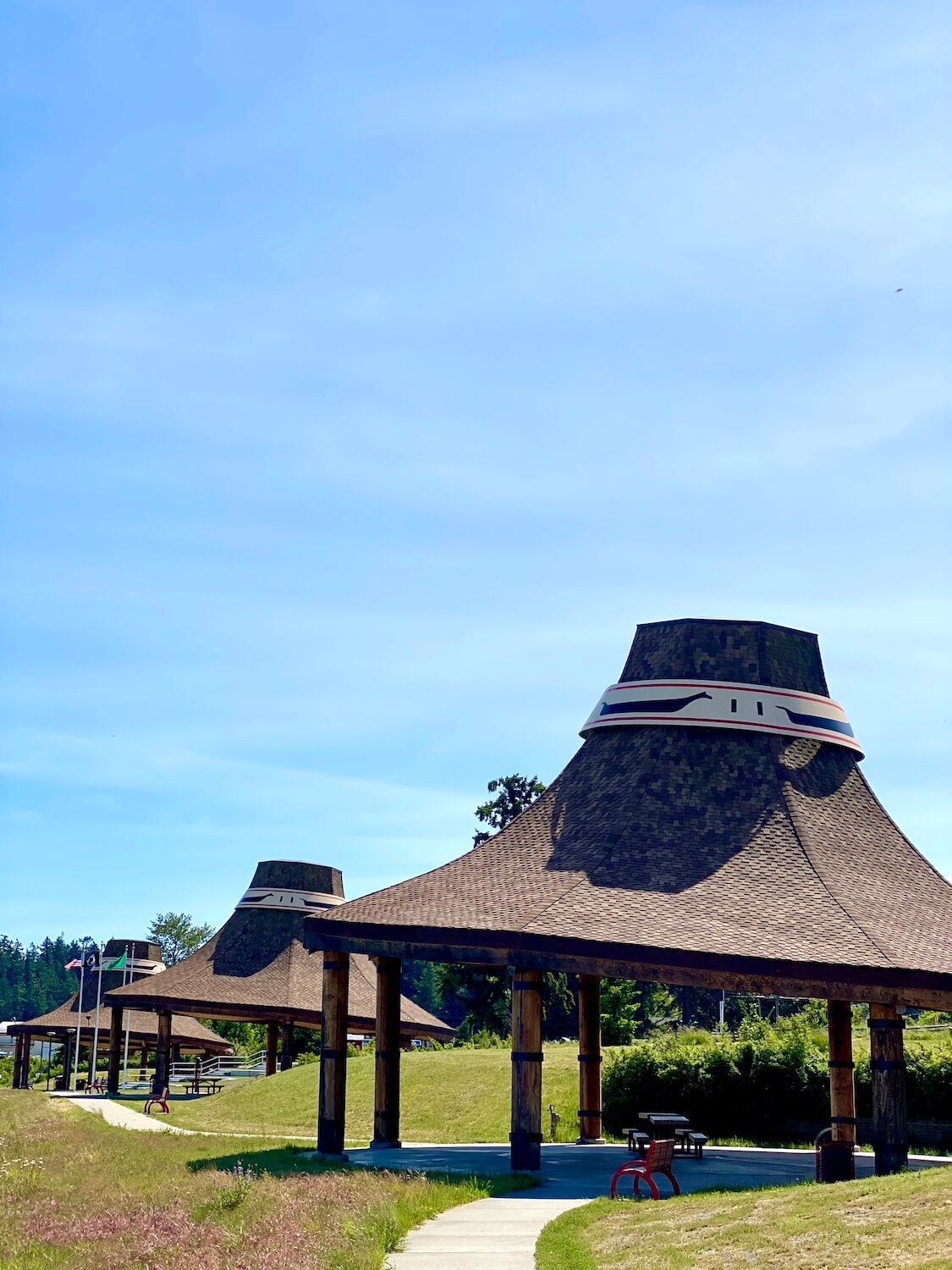 LA CONNER HIGHLIGHTS
Distance from Seattle: 1:10 hours each way (check traffic reports and avoid rush hour periods) and 67 miles.
Things to do:
Explore the Historic District, including art galleries
Go to a museum — quilting, art, or history
Visit the Swinomish Cedar Hats
Drive through farmland — visit Roozengaard Tulip Farm or Christianson's Nursery
Stop at Snow Goose Produce along a country road
Food and Drink:
Calico Cupboard
La Conner Brewing Company
Planning details:
Can easily be combined with a day-trips to Deception Pass, Edison and Anacortes.
Beautiful and very busy in April for the Skagit Valley Tulip Festival.
Hibulb Cultural Center, along Interstate 5, makes a great, convenient stop.
For more detailed information, including an interactive map, check out the article about La Conner, Washington.
Edison, Washington
The Skagit Valley is host to several day trips from Seattle listed in this article for good reason. There is active farmland producing riches from tulips in Spring to pumpkins in Fall — and providing a bounty for local restaurants to craft outstanding dishes. Scenery abounds in every direction from Mt. Baker to the waters of the Salish Sea. And except for the busy Skagit Valley Tulip Festival in Spring, motorists can get around fairly easily on well-maintained country roads.
Day trips from Seattle to Edison can take a few different routes, all beginning with Interstate 5. Since many restaurants are closed during the week, one option is to drop into charming Mount Vernon for a quick bite at Calico Cupboard or Shambala Ancient Grain bakery and bistro. Walk along the water for a few blocks, taking in the views before moving into the countryside to find Edison. During tulip season, Roozengaarde is right along the way, offering a stunning venue to frolic in the flowers — accomplishing every photo shoot possible amongst the vibrant colors.
Follow bucolic country roads North to Edison, Washington, population 147. The hamlet clings to Edison Slough, an inlet of the Salish Sea, where tides flow twice a day amongst the muddy banks lined with seagrass. This farming community is home to Smith & Valley Gallery and cabinet makers, a few antique shops and some delicious food options.
Although two favorites, Tweets and Mariposa Taqueria appear temporarily closed, I also enjoy grabbing some fun nibbles at Slough Food and baked goods from Breadfarm. While Slough Food appears to be just a liquor store selling delicate provisions to top an upscale picnic basket, venture further toward the back porch to find a table nestled amongst the seagrass lining the Edison Slough. The people here are friendly and the simple menu items perfect to curb day trip hunger pangs.
After exploring the main street of this cute town, options exist to continue up Highway 11 to seaside oasis Taylor Shellfish for afternoon oysters on the bay or back through Skagit Valley farming communities with stops at Christianson's Nursery and Snow Goose Produce for a sampling of the local agriculture bounty. My fully interactive map, with all the stops between Seattle and Vancouver includes Edison and the Skagit Valley and can be found HERE.
Normal drive time from/to Seattle 1:15 hours each way (check traffic reports and avoid rush hour times). Distance from Seattle 74 miles.
Full day trip itineraries (not super far in mileage but lots to do)
Vashon Island — Tacoma, Washington
This trip can morph into a variety of options, including spending some time in West Seattle before taking the ferry from Fauntleroy to Vashon Island. Since this journey involves not one but two ferries, be sure to plan ahead with an article I wrote about the Washington State Ferry system.
Washington State Ferry Pro-Tip: Fauntleroy = West Seattle. Vashon = North end of the island closest to Seattle. Talequah = South end of Vashon Island closest to Tacoma. Pt Defiance = Tacoma.
The island gives the feel of a rural tight-knit community literally only a few miles away from the hustle of Seattle. The main intersection of town serves up quaint island living and Ruby Brink and Hardware Store are local favorites for eats. A bit further down the main road, get your daily perk at Vashon Island Coffee Roasterie — housed in a building that harkens back to an era where the island general store was king. Vashon Island has an impressive collection of parks and areas for water recreation but I usually head to the green spaces on Maury Island (attached to Vashon Island), including Point Robinson Lighthouse and Maury Island Marine Park.
The ferry to Tacoma is the baby in the system, the M/V Chetzemoka. I remember taking this short 10 minute trip with my mom when we'd visit my grandmother, who lived just adjacent to the rolling green hills of Point Defiance Park. If the opportunity presents, go on deck and experience the salt air and broad Salish Sea views.
Tacoma is delightful. Once off the ferry hang a sharp right and park the car. Explore Point Defiance Park in every direction — worthy of a whole day in itself. Check out the Japanese Garden, Rose Garden, and Stairs and Slides before wandering through the rich forested five-mile drive area (car, hike or bike, depending).
Continue to the Wright Park, in the Stadium District and wander amongst an impressive collection of tree varieties — complete with placards to test your arbor knowledge. This neighborhood includes the mystical gothic Stadium High School clinging to the side of a steep hill. The views are incredible, and some good food options are in this area. Check out Shake Shake Shake for burgers or Indo Street Eatery. Coffee is moody and great at Cosmonaut Coffee Co. The drive back to Seattle doesn't take too long but if an overnight is desired check out quirky McMenamins Elks Temple.
VASHON/TACOMA HIGHLIGHTS
Total drive time to/from Seattle: 2:40 hours (with ferries) and 67 miles.
Things to do:
Scenic ferry rides
Point Robinson Lighthouse
Lisabuela Park
Point Defiance Park — 5 Mile Drive
Wright Park
Food and Drink (Vashon):
Planning details:
This day-trip loop involves two different ferry rides — leave early & plan accordingly.
For best traffic flow, it's highly suggested to begin with Fauntleroy to Vashon Ferry. For more details check out my interactive map.
Tacoma can easily be a great overnight or weekend trip. Consider McMenamin Elks for an unusual place to stay.
Big Four Ice Caves — Mount Baker Wilderness Area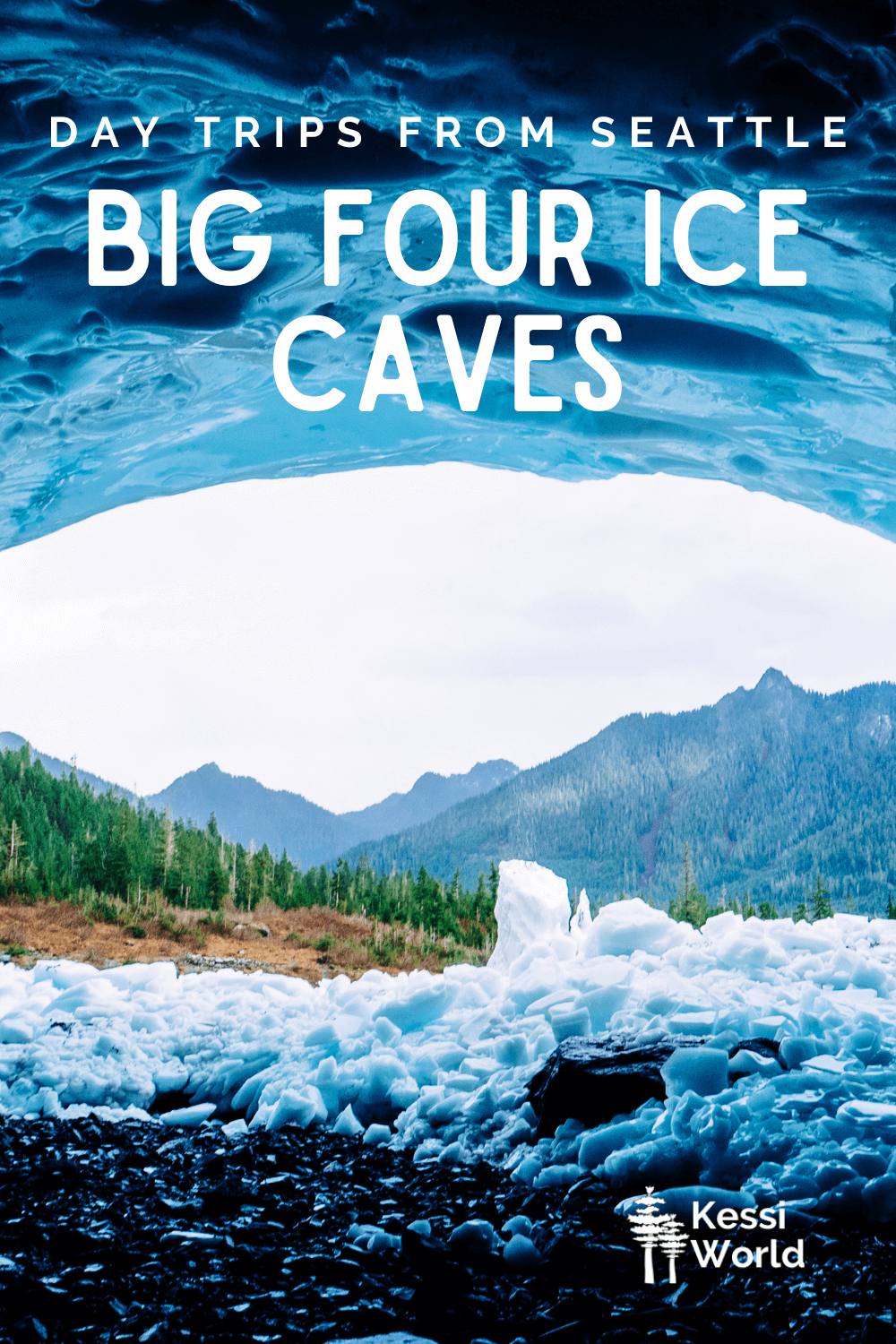 The winding Mountain Loop Highway traverses truly beautiful country within the Mt. Baker Wilderness Area, passing by many campsite options. The Big Four Ice Caves make a great destination with picnic options and easy trails delivering the ice caves. Although it might be enticing on a warm summer day, it's not suggested to actually go into the caves. Lake Twenty-Two trailhead is along this route, for a more challenging and beautiful trek. On the return, Granite Falls is the place to stop for refreshments, and Everett isn't that far away, either.
Total drive time from/to Seattle 3:04 hours. Total distance from/to Seattle 138 miles.
Roslyn, Washington — Snoqualmie Falls
Growing up I loved the show "Northern Exposure" which used the rustic downtown of Roslyn as the stunt double for a small town in rural Alaska. This hub of outdoor activity pushes options in all directions, including Speelyi Beach Park, with a beach facing the refreshing waters of Cle Ellum Lake. This town started as a salty Wild West coal mining community and remains a character-filled year-round outdoor recreation destination.
Check out The Brick bar, which is one of the oldest in the state — complete with a spittoon wash under the barstools. There are a number of shops and restaurants in this area, including the Heritage Distilling Company with craft liquors.
Snowqualmie Falls and Lodge are also TV stars, serving as the Great Northern Hotel in various shots of David Lynch's Twin Peaks, another favorite of mine. The area is historic in the fact that the falls provided some of the first regular power to Seattle, which was an early adopter of an electrical grid system, presumably because of the easy power supply fueled by the angry rush of water flowing over this 480 foot cliff.
This trip is very convenient due to the proximity to Interstate 90, flowing due East from Seattle. Just in case the desire is to make a night of it, the Roslyn Hotel is newly developed and in a great area for walking about town.
Total drive time from/to Seattle 3:06 hours. Total distance from/to Seattle 170 miles.
Larrabee State Park — Fairhaven (Bellingham)
I just love the early morning drive to Larrabee State Park — Washington's first state park. The sweeping view of the Skagit Valley offers awe any time of year. Jump off Interstate 5 in Burlington to join slower paced Highway 11 and wind through open spaces of farmland. The road eventually winds toward the coastal waters through thickets of dense forest. Depending upon the time of day (definitely not in the early morning) Taylor Shellfish makes a great stop for seafood on the side of the water.
Larrabee seems to have a little piece of nature for everyone. Bumble along a rocky shore that could easily be in Maine or drop a paddle board or kayak in the water at the nearby boat launch. View the San Juan Islands from a soft pebble beach as slippery seaweed flops onto dry land. On the other side of the highway, the Chuckanut Mountains await with only uphill options to pristine lakes surrounded by dense fir forest. The hike to Fragrance Lake is about 5 miles round-trip and challenging enough to get the blood flowing.
Larrabee can easily be an all-day destination, but if craving a little more activity, venture north into Fairhaven, which is a historic district in Bellingham, to check out the scene. Grab some food to go and head to the S-Bay Trail, near the beautiful Chrysalis Inn, which is a pier system mostly over seawater. Walk to Woods Coffee for a pick-me-up before chugging back to Seattle on efficient Interstate 5.
This area is fantastic, with nature in every direction and a relaxed human atmosphere. If more exploring is desired, then consider an overnight at Fairhaven Village Inn and visit Whatcom Falls Park or Sehome Hill Arboretum — or both. My fully interactive map, with all the stops between Seattle and Vancouver includes Fairhaven and can be found HERE.
LARRABEE/FAIRHAVEN HIGHLIGHTS
Total drive time from/to Seattle: 2:46 hours and 159 miles.
Things to do:
Drive through Skagit Valley farmland
Walk Larrabee State Park Viewpoint Trail
Hike to Frangrance Lake (5 miles roundtrip)
Walk S-Bay Trail/Boardwalk to Woods Coffee — Bellingham
Explore the shops in Historic Fairhaven — Bellingham
Food and Drink:
Taylor Shellfish — Samish Oyster Bar location
Sage Against the Machine — plant based food truck
Planning details:
This day-trip can be easily combined with Edison, or added to the drive between Seattle and Vancouver. Check out my Interactive Map with more details.
Larrabee State Park requires a $10 parking day-pass or the Washington State Annual Discover Pass ($30). Credit card machines are available.
Hibulb Cultural Center, along Interstate 5, makes a great, convenient stop.
Anacortes, Washington — Deception Pass
I always associated Anacortes as the gateway to the San Juan Islands, and, unfortunately, with the large oil refinery visible from the roadway into town, until a friend suggested I give this community another look. With fresh eyes, I experienced a completely different side of this seafaring village — enough nature, views, and services for a great day trip.
Start the day early to beat the crowds at Deception Pass, dramatically boxed in between Fidalgo and Whidbey Islands. There are all lengths of hiking available, but the perennial crowd pleaser involves parking once just across the bridge and walking across the suspension to gaze out into the water and then straight down. If prone to dizziness be sure to hold on to something tight — it's a powerful experience.
Once the adrenaline is pumping and energy is rushing, head north to Anacortes via Rosario Beach and quieter Rosario Road. Anacortes is situated perfectly to enjoy spectacular views in every direction and the area parks definitely take advantage. Cap Sante Park showcases sweeping views of Mount Baker and the marina. Washington Park offers a forested drive-around loop (driving closed on weekends) that includes several outstanding viewpoints of neighboring islands.
Dad's Diner is known for great BBQ and other tasty food while Adrift and ATown serve more farm to table fare. Naung Mai Thai Kitchen, Mama Wings and Vivis Kitchen also come highly recommended by the locals. For great cookies and picnic supplies I enjoy The Store. They serve coffee and also have a large selection of wines. If making an overnight, Majestic Inn and Spa would be a special treat.
There is simply too much information to write here, so for more head over to a dedicated article about this journey, Seattle to Deception Pass day trip.
ANACORTES/DECEPTION PASS HIGHLIGHTS
Total drive time from/to Seattle: 3:16 hours and 172 miles.
Things to do:
Walk across the Deception Pass Bridge
Visit North and West Beaches at Deception Pass State Park
Hike to Lighthouse Point from Bowman Bay (North side of the Park)
Eat a picnic lunch at Cap Sante viewpoint — Anacortes
Drive Washington Park — Anacortes
Food and Drink (Anacortes area):
Dad's Diner
Calico Cupboard
Planning details:
Deception Pass State Park is the most popular in Washington State so

get an early start

to beat the crowds — especially on weekends and in Summer.
For more details about this day trip, including the detailed map, check out the article, Seattle day-trip to Deception Pass.
Whidbey Island Loop can easily be added to this day-trip. Check out my Interactive Map with more details.
Deception Pass State Park requires a $10 parking day-pass or the Washington State Annual Discover Pass ($30). Credit card machines are available.
Day trips from Seattle — Whidbey Island
This is an excellent day trip for visitors to the Pacific Northwest and tends to be my go-to for Airbnb guests staying with me as well. The loop serves up similar sights to the suggestion above (Deception Pass and Anacortes), with more island flair. The ferry from Mukilteo to Clinton is a wonderful way to begin, with the open air and feeling of really shifting from mainland to Island life. Then begin the easy drive north along the island's main road, veering right toward the historic town of Langley. The cute downtown takes up a few blocks with a number of shops and restaurants that seem to hang on the edge of the sound. Wind through Coupeville on Penn Cove, home of the famous mussels and stop at Fort Casey to get in the obligatory military history experience. A side trip could be the ferry to Port Townsend and back around to Seattle, but I save that for another day, explained below.
Continue up the island to the showpiece, Deception Pass. Walk down to the water and then up to the bridge. Cross and be amazed at the sheer drop to the water far below. On the other side, Fidalgo Island, check out Rosario Beach first before venturing on to return to Seattle. Have more energy to burn? Make a detour by following scenic Highway 20 through La Conner before joining Interstate 5 home.
I've written a few articles with more details that include an interactive map with all my favorites on Whidbey Island. Check out, Tesla Road Trip, Captain Whidbey — all you need to know to enjoy the hotel on Penn Cove and The 8 best things to do on Whidbey Island.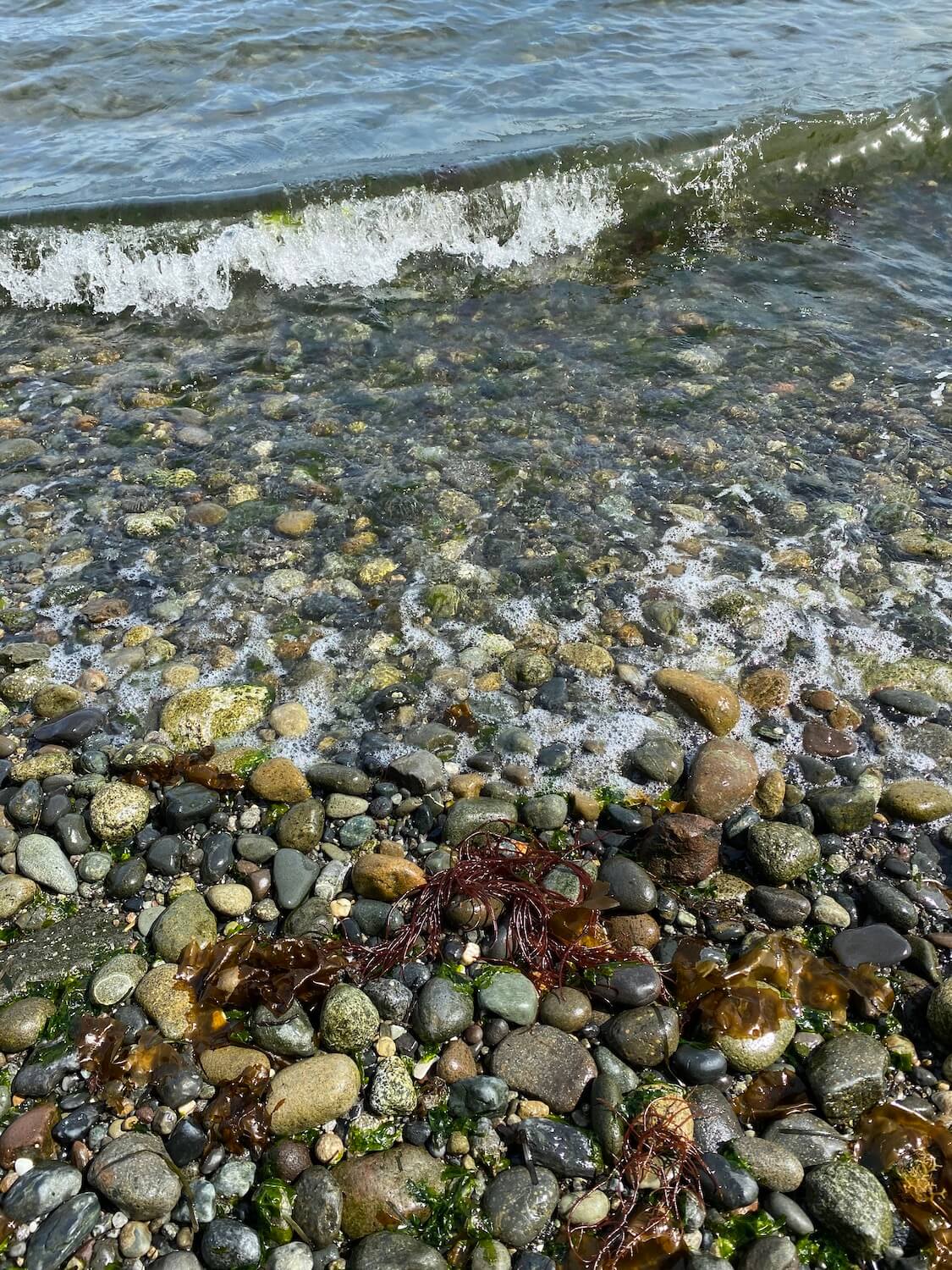 WHIDBEY ISLAND HIGHLIGHTS
Total drive time from/to Seattle: 3:39 hours and 161 miles.
Things to do:
Explore the shops at Langley (also abundant food options)
Enjoy a java and snack at Mukilteo Coffee and walk out to the airport landing strip
Walk to the end of the pier in Coupeville
Ebey's Landing National Historic Reserve
Deception Pass State Park
Food and Drink:
Planning details:
In Summer and weekends, drive up to Deception Pass via Interstate 5 first thing in the morning to beat crowds and work your way back South through the island the rest of the day. Other times of the year I enjoy starting with the Mukilteo to Clinton Ferry and driving Northbound.
For more details about Whidbey Island, including an interactive map, check out my article about Whidbey Island.
Washington State Parks require a $10 parking day-pass or the Washington State Annual Discover Pass ($30). Credit card machines are available.
Captain Whidbey is a special lodge that makes for a great overnight or weekend trip.
Extended day trips (scenic, quality time in the vehicle)
Port Townsend, Washington — Fort Worden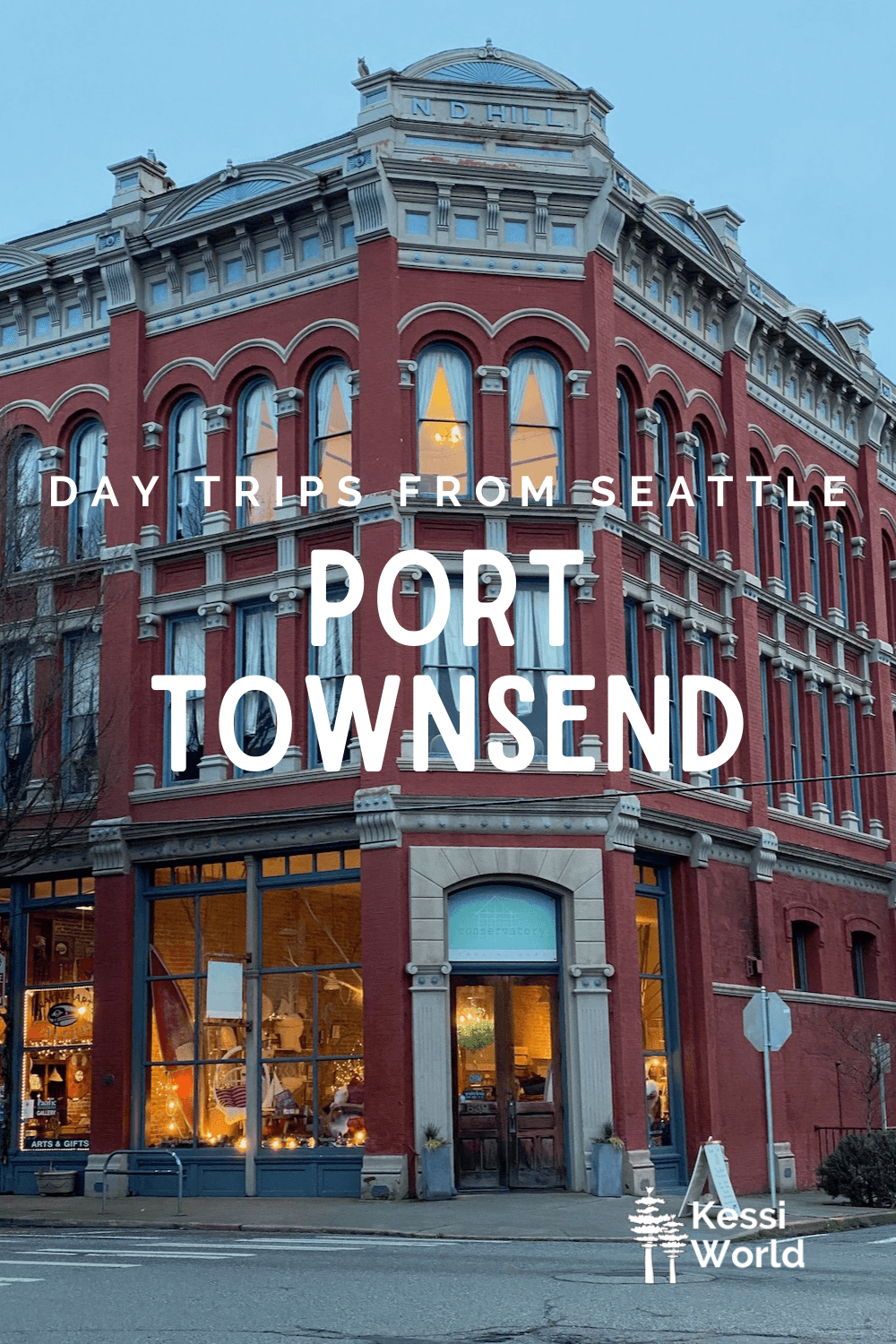 Back in the day, Port Townsend was a prominent city, serving as the gateway from the world to the Salish Sea. Industry tycoons gained fortunes from extracting giant cedar and fir trees, mining, and harvesting from the sea. So much wealth developed so quickly that optimistic city patrons erected fantastic Victorian-inspired buildings along the wharf in the downtown area in the early 1890s. This prosperity was short-lived though because in 1892 there was a global recession — causing the salty harbor town, and all the elaborate buildings, to slip into obscurity.
Today, the Victorian-inspired city is alive with quaint B&B's, tasty eateries, and famous festivals. The seaside is also one of the points on the intrepid Race to Alaska, a no-motor 700 mile cold water boating adventure. Try Fountain Cafe, Hanazono Asian Noodle or Finistere. The co-op is great and Pan d'Amore bakery and Better living through coffee are great morning stops. Port Townsend Brewery, with peanut shells on the floor, is iconic in these parts and serves up famous beer.
Nearby Fort Worden was established in the early 20th century as the first line of defense for enemies trying to penetrate the strategically important Salish Sea. Today, the Fort offers a picturesque lighthouse, hiking trails, beach access, and even a hands-on glimpse into fort life — a snarl of concrete and steel fortress still in good enough condition for climbing on like a jungle gym. The campus was used in filming the Richard Gere movie, "An Officer and a Gentleman" and the regal row of officer houses now are available for unique lodging. Taps at the Guardhouse offers brews in the former military jail.
If the area seems too good for just a day, consider staying overnight at iconic Manresa Castle, The Swan Hotel by the marina or Victorian elegant Bishop Hotel. Fort Worden, mentioned above, is the most unique lodging offering, also with campgrounds and options for large group functions.
This trip involves either the Bainbridge Island Ferry, with sweeping views of Seattle, or the Edmonds to Kingston run. Be sure to make it to one of the open decks for the joyride across the Salish Sea. A final more circuitous option, to combine with Whidbey Island, is the Port Townsend to Coupeville Ferry. Keep in mind this routing requires a second ferry between Mukilteo and Clinton (Whidbey Island).
There are too many things to mention in this brief excerpt, so check out my article, 23 interesting things to do in Port Townsend. All the information is there to help you plan, including a great interactive map that can be saved for use while on the road.
PORT TOWNSEND HIGHLIGHTS
Total drive time from/to Seattle: 4:10 hours (with ferry) and 112 miles.
Things to do:
Explore the historic Victorian-themed downtown
Jefferson Museum of Art and History
Walk around the harbor at Point Hudson
Fort Worden State Park, including Battery Kinzie and Point Wilson Lighthouse
Finnriver Farm and Cidery
Food and Drink:
Better Living Through Coffee
Siren's Pub
Planning details:
The Port Townsend to Coupeville (Whidbey Island) Ferry can be a nice option, but reservations on this ferry are highly recommended.
Washington State Parks require a $10 parking day-pass or the Washington State Annual Discover Pass ($30). Credit card machines are available.
Sequim — Port Angeles, Washington
Sequim (pronounced Skwimm) is unique on the very wet Olympic Peninsula for a climate anomaly that creates a very dry and sunny patch of area — caused by hiding behind the rising Olympic Mountain range. Lavender farms produce the sweet-smelling herb and beautiful waterside hikes are available around Dungeness Spit. The charming downtown serves up a community flavor that exudes both lavender and spirit.
There are two ferry options, Seattle to Bainbridge Island or Edmonds to Kingston, but I recommend experiencing the sweeping views of Seattle provided by the Bainbridge option. Once on the Olympic Peninsula, a round through the Jamestown S'Klallam Tribe and the associated 7 Cedars casino and hotel offers a start to this day trip. I enjoy a stop at the Jamestown S'Klallam Art Gallery (also a version of gift shop) that offers beautiful art and informative views into the lives of the indigenous people from the Salish Sea and resource-rich Olympic Peninsula.
Next up is Dockside Grill, on the outskirts of Sequim for a treat of a meal. If wanting to stay overnight, the nearby John Wayne Resort is a quaint, well cared-for option. Otherwise, push further into town, stop at a lavender farm, and check out Dungeness Wildlife Refuge.
Port Angeles is the gateway to the Olympic National Park and I write about a great 3-day loop around the peninsula in another article. The nostalgic downtown plays the welcoming role to visitors traveling to/from Victoria (at the time of this writing [July 2021] the US/Canada border is not yet open to non-essential travelers). Walk to the dockside city park and take in the action of the harbor. Country Aire Natural Foods is a great place to procure picnic type items to take up to famous Hurricane Ridge — about 17 miles into the park on a stunning, slowly winding road to what feels like the top of the world. The entrance fee is $30 per car for a 7-day period and note that it gets absolutely packed by the afternoon in Summer and weekends — go early!
To have enough time to enjoy the Olympic National Park (and Hurricane Ridge mentioned above), it really is better to stay overnight. The Red Lion Inn, which is directly on the water near the downtown core, is a solid option with inspiring views of the Strait of Juan de Fuca. Easily walkable to such eateries like New Day Eatery, The Great Northern Coffee Bar, and Next Door Gastropub.
Total drive time from/to Seattle 4:16 hours (with ferry). Total distance from/to Seattle 133 miles. Potential Add: Hurricane Ridge in Olympic National Park.
Bavarian alpine village of Leavenworth
There exists a mystical place, in the middle of the Cascade Mountains in Washington State, where unobstructed nature meets with Bavarian-themed celebration to create a magical balance. This world seems to perfectly ride the line between a tourist nightmare and charming mountain hamlet in an inviting way. German food and great bier amongst jagged peaks feel right at home and can be particularly comforting for those missing international travel.
The drive is stunning and worth the time it takes to wind your way through the Cascade Mountains. I suggest getting an early start and using Highway 2 via Stevens Pass on the trip to Leavenworth — then returning via Highway 97 and Interstate 90.
I enjoyed a wonderful long weekend here and wrote a detail-packed article about it, Seattle weekend getaway to Leavenworth — Bavarian charm in the Cascades. If you're interested in finding more fulfilling connections to nature, check out a second article about how to plan a nature-forward trip to Leavenworth.
Total drive time from/to Seattle 4:30 hours. Total distance from/to Seattle 252 miles.
Mount St. Helens National Volcanic Monument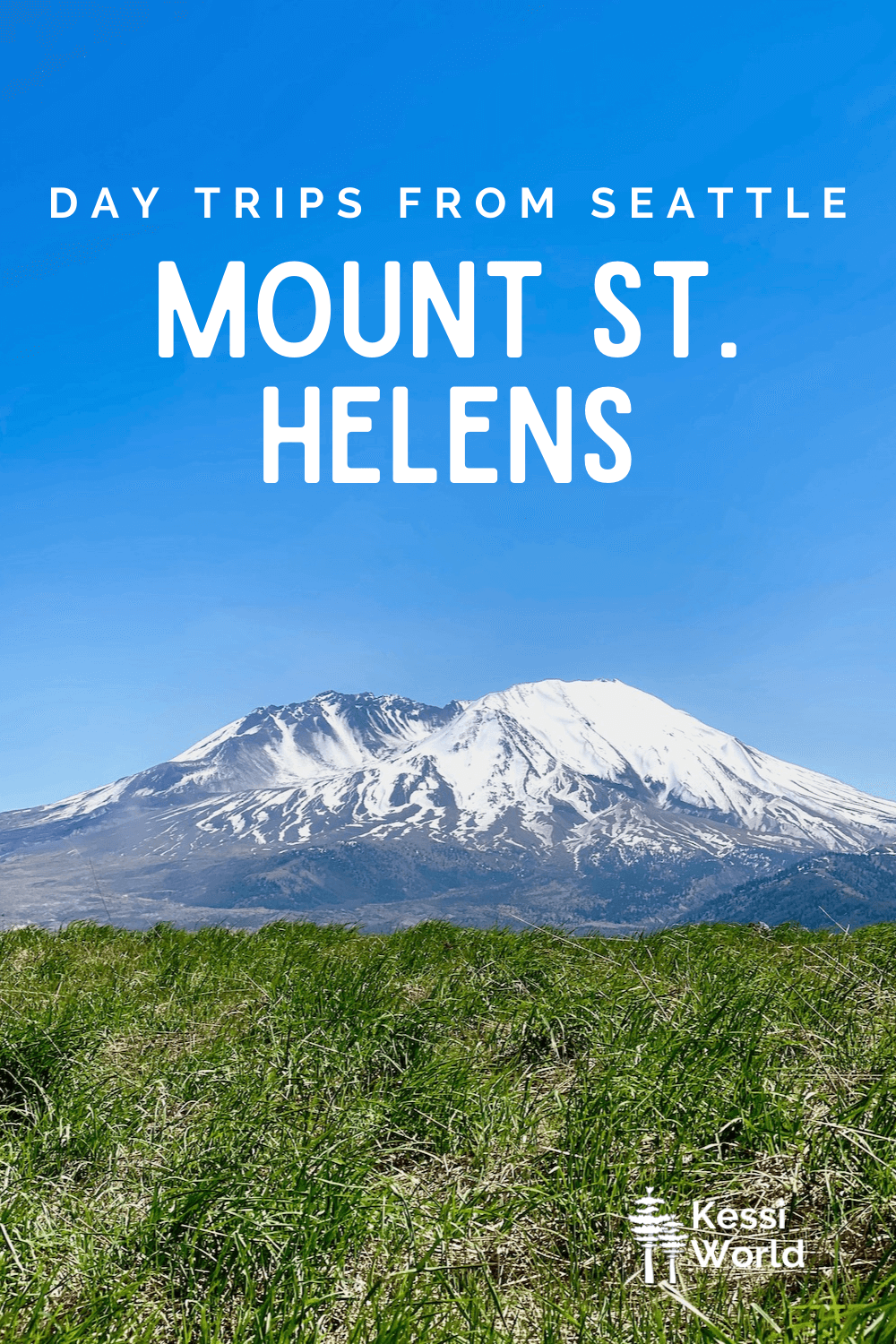 I love Mt. St. Helens and feel it an essential right of passage for any local or visitor to the Pacific Northwest. I've already written about this day trip of impressive and unique sites in the article, Circle of life of a volcano — day trip to Mt. St. Helens. This itinerary is also very "choose your own adventure" and really depends on the amount of hiking and threshold for visitor center exploring. This itinerary also lends well to expanding into a two or three day experience, staying at character-filled McMenamins Kalama and exploring the south side of the mountain, around Cougar. Since this area is on the outskirts of Portland, continuing on to the City of Roses is always an excellent option.
Another excellent version of a Mount St. Helens road trip is to visit Spirit Lake via the Windy Ridge Viewpoint — which is on the eastern side of the Volcanic Area. Although closed in Winter, the variety of topography and off-the-beaten-track feel is reinvigorating. I write about this day-long option in another article, Spirit Lake road trip — the secret side of Mount St. Helens. Note that this makes for a long day and if possible it could be more fun to break up the trip by staying the night in Stevenson (Skamania Lodge) or Bingen (Society Hotel), which are both on the Washington side of the Columbia River.
Total drive time from/to Seattle 5:30 hours. Total distance from/to Seattle 311 miles. Potential add: Kalama overnight and Cougar, WA area.
If you go — "Pro Tips" for successful day trips from Seattle
Day trips from Seattle — the interactive map
The day trip destinations are each listed on the map below, shown in purple. For even more information check out the page, Pacific Northwest Maps, that contains all the maps featured on this site. They provide much more regional detail for various locations in the Pacific Northwest — including Seattle.
Any itinerary you select amongst these day trips from Seattle will be filled with abundant scenic views, plenty of water and inspiring stops amongst nature.
Go forth and connect with the land!
Not ready to explore today but want a reminder? Save a pin for later.