All over Seattle there are patches of green. Parks, wetlands, greenways abound in just about every corner of the city. With an even more careful search, tinier spaces reveal themselves — maybe a vacant corner lot or a critical slope on one of many hillsides. These spaces are known as P-Patch community gardens, and they light up all summer, hosting everything from chard to zinnias to whimsical bird baths. Named after the Picardo family of the Wedgewood neighborhood, whose urban produce farm helped establish the first community garden in 1973, P-Patch gardens are now all over the city of Seattle.
I'm most inspired by the P-Patch concept in the way that community members come together to lovingly create a patchwork of green that, to me, offers a symbol of life formed through peace and collaboration. These tiny, yet powerful, gardens are open to the public to peruse, at whatever pace is suitable. Perhaps most poignant is the fact that while the summer months of 2020 brought strife and confrontation with the various protests around Black Lives Matter, members of the community were still coming together to create these green gifts of collaboration all over the city. Some of the spaces, composing a collective 14 acres, even grow enough food to help feed those in need, or raise money to help those in need. How better to showcase this collaboration with nature, and each other, than a display of inspiring photos from a special Seattle P-Patch?
Seattle manages 89 different P-Patch community gardens, covering 33 acres of land.
Today more than ever our country needs more community gardens
The other day while wandering in my neighborhood I came upon a magnificent corner lot profusely flowing with green textures of all kinds, interspersed with splashes of color. Some very flamboyant dahlias, proudly standing high on the stem while other patches, like the cosmos, remained understated but just as beautiful. The door was ajar, as if beckoning me, so I entered into this world of horticulture wonder. The large chunks of sawdust meticulously carpeting the paths in between the raised wood garden parcels welcomed me and for the next hour I was captivated by the treasures of all sizes waiting to be discovered. The following are photos of this garden experience.
Seattle P-Patch photos — nature's inspiring touch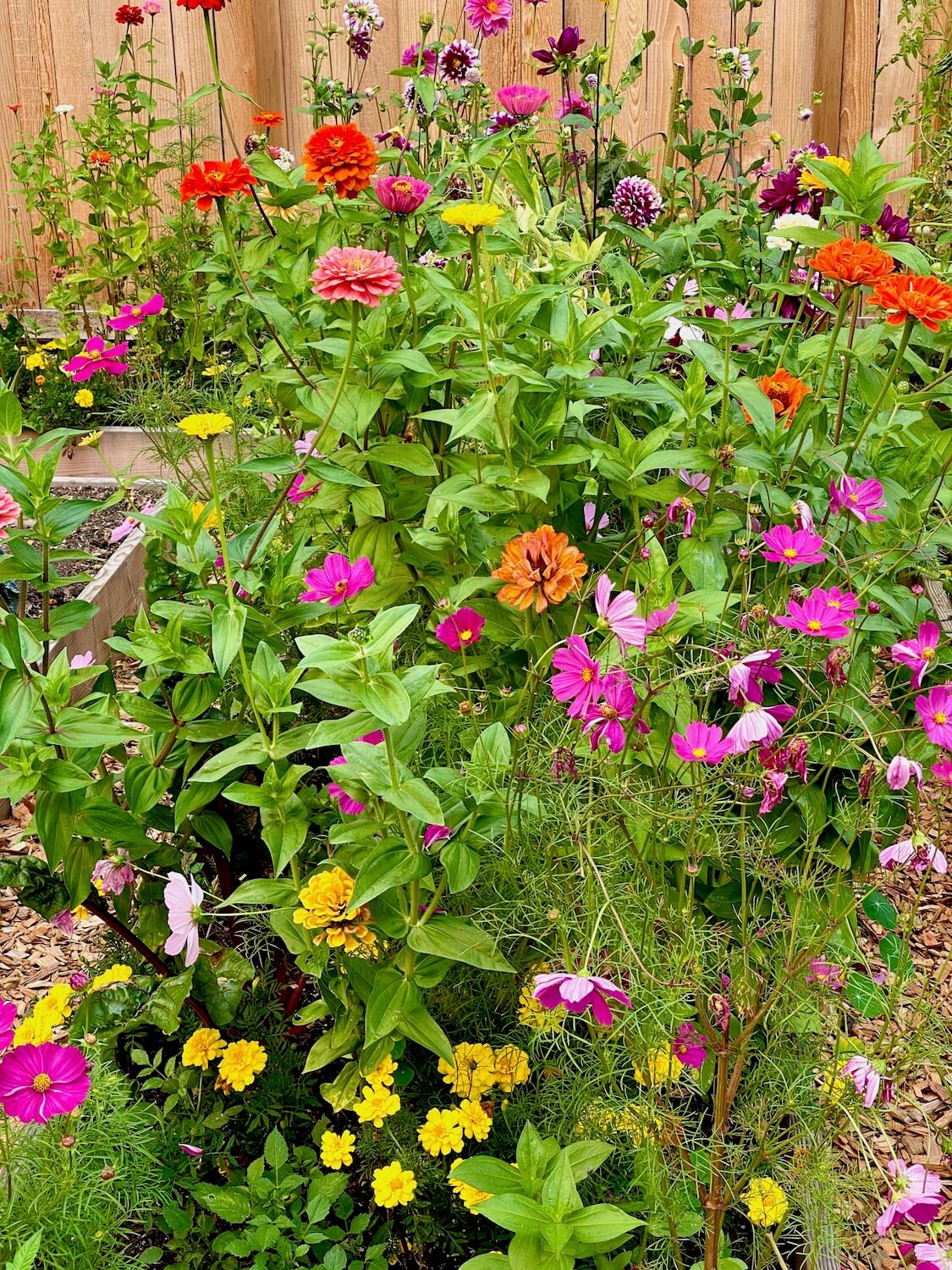 Create your own garden space — join the P-Patch program
If you live in Seattle, chances are there is a lovely patch of community garden near you. To learn more about the program, the mission and how to sign up, check out the official site. If you live in a different corner of the world, look into the local form of P-Patch because there's likely to be opportunities to play in the local soil and encourage new organic life. Now go forth and garden!
Hopefully these photos of a special Seattle P-Patch inspired a quest of urban nature. If you'd like more about parks and gardens, check out the page on the Pacific Northwest as well as this passage on my favorite gardens in the Emerald City.