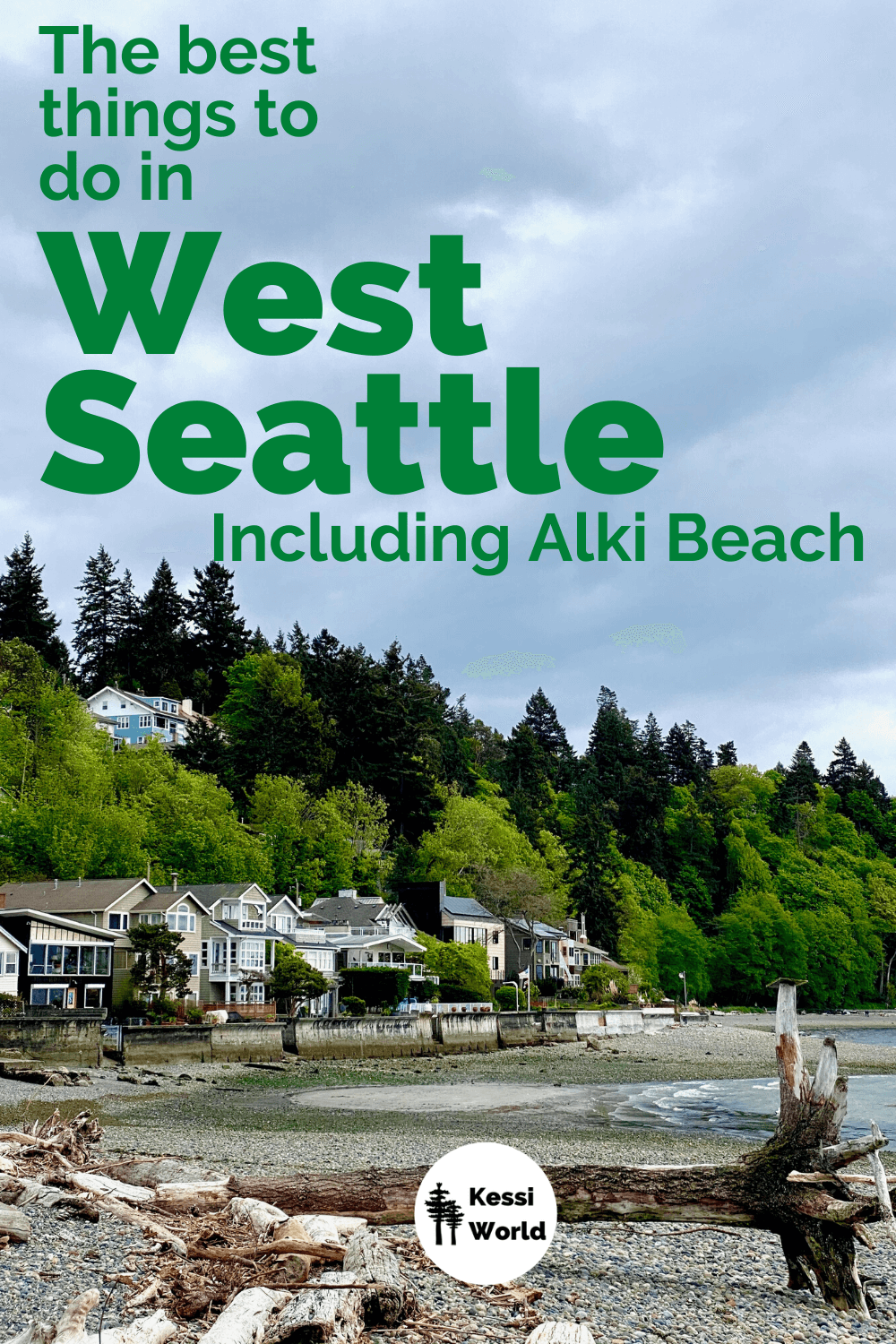 Go West!
The formal start of Seattle traces roots back to a group of settlers from New York who arrived on Alki Beach, at the point of West Seattle, in 1851. It's believed the eager pioneers chose to name the point of land jutting into Puget Sound "New York", and one of the Duwamish Indians added "Alki" to the end, which was a Chinook Indian term for "by and by." The name New York never stuck — and the group continued on to present day Pioneer Square to establish the formal start of Seattle, after Duwamish Chief Sealth.
Almost 170 years later, the geography of Seattle is set up in such a way that a great divide — physically and sometimes emotionally — can exist between the main core of the city center and outer boroughs. Much of this probably is because so much water flows in and around the city — bringing life, industry and awe-inspiring beauty. Ballard is separated by Lake Union, Univeristy District by Portage Bay / Montlake Cut, and Bellevue by Lake Washington. West Seattle is no different — even surrounded by water on three sides — Duwamish Waterway on the east, Eliott Bay the north and Puget Sound the west.
But looking past the marine boundaries, West Seattle is rich with history, abundant parks, excellent people watching and awe inspiring views. No visit to Seattle is complete without a day spent exploring the "beach community" of the Emerald City.
Table of Contents: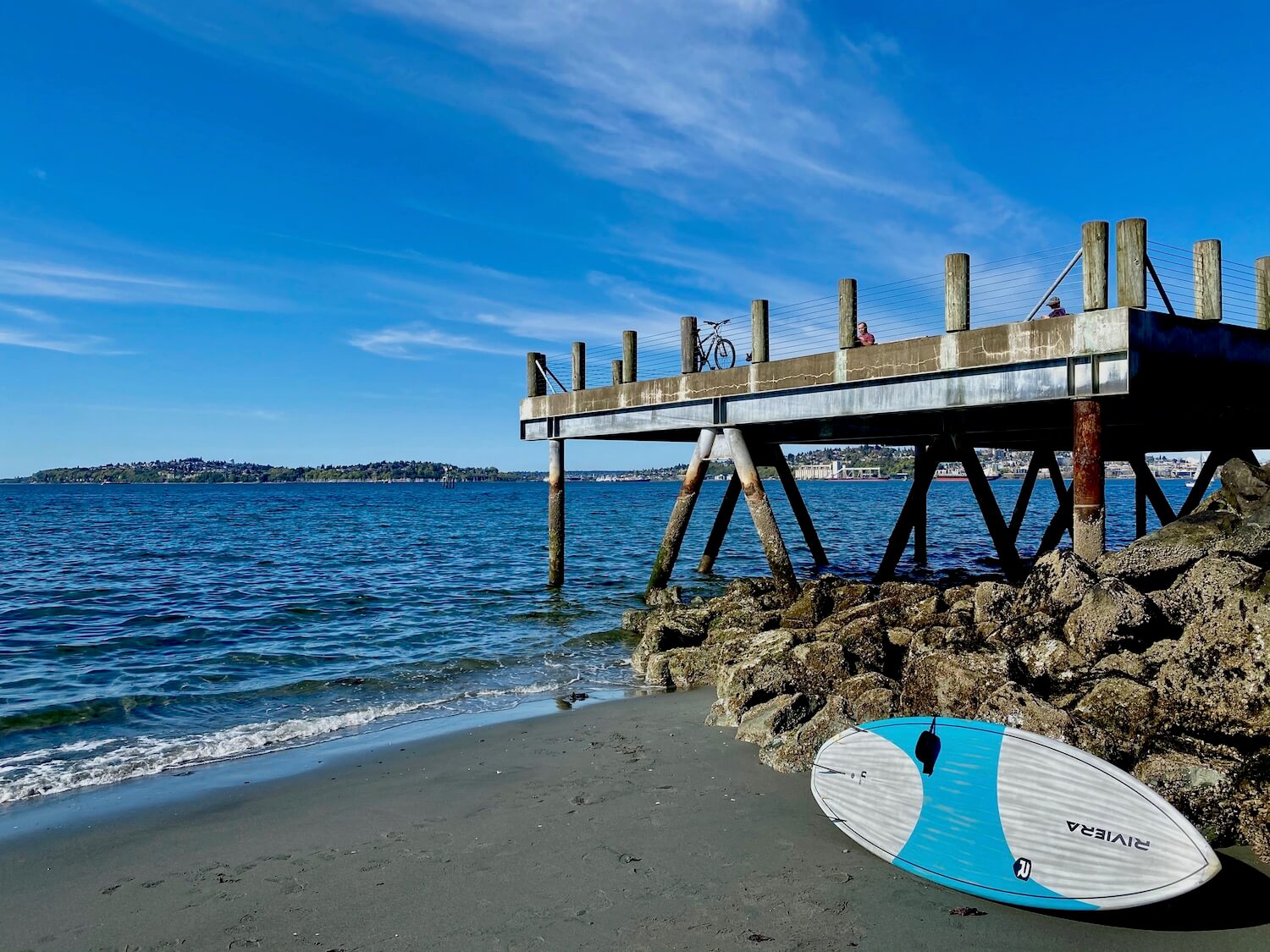 I owe my life to West Seattle
It was the summer of 1965 and a young 5th grade teacher lived in an apartment directly facing the Puget Sound — 3625 S.W. Beach Drive. She was drawn to the romantic sunsets over the Olympic Mountains and fresh sea air carrying scents of salt water, giant kelp and a hint of the creosote dipped wood. Her friend Mary wanted to make a Seattle start and her brother helped with the move from their small Oregon town to the big city.
This (photo below) is where my parents met — on Beach Drive in West Seattle — in late 1965.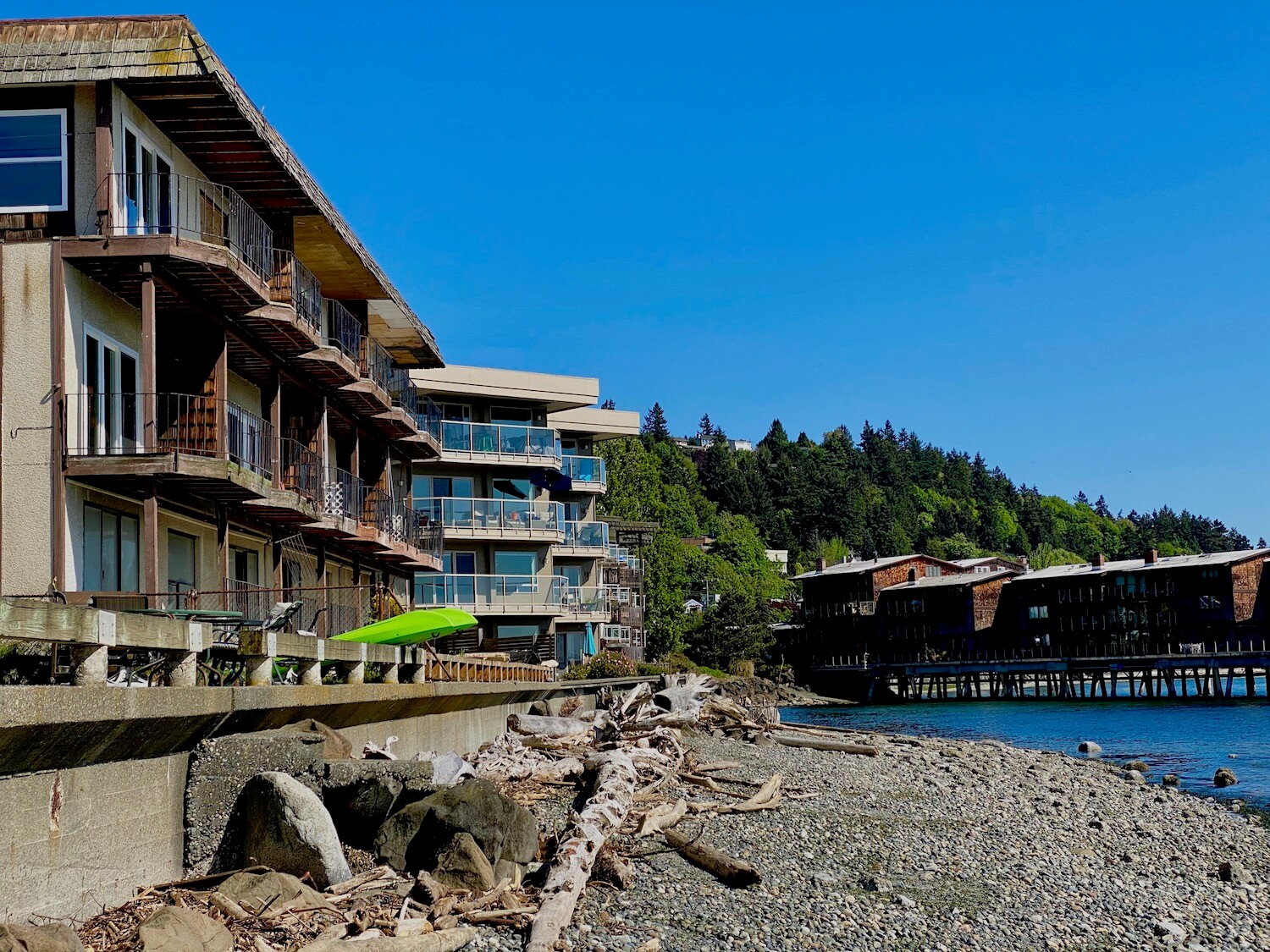 It didn't take long for the two to fall in love and my dad proposed on Valentine's Day 1966 and they were married in July the same year. Maureen McMenamin became Maureen Kessi and moved from West Seattle to the family farm in Scappoose, Oregon — the rest, as they say, is history.
Growing up, my mom spoke fondly of West Seattle and Alki Point, in a way that cemented the magical folklore in my mind. Gentle waves washing ashore — foamy water bubbling over a pebble covered beach with shards of seaweed entangled around the larger round boulders — hints of salt water mixed with a faint marine scent of kelp slightly fermented by the weak afternoon sun. Seagulls calling out to Puget Sound as a busy Alki Beach hum reverberates out to the greenish-gray rolling sound.
Just like my mom, I enjoy visiting West Seattle — seeing friends, watching people at Alki Beach and even attending gay pride festivals in White Center. Lately, I've enjoyed wandering through parks and hiking up the steep residential hills that offer some of the best views in the city. Wanting to help others experience this great area, I've created the following itinerary of the best things to do in West Seattle which includes, of course, Alki Beach.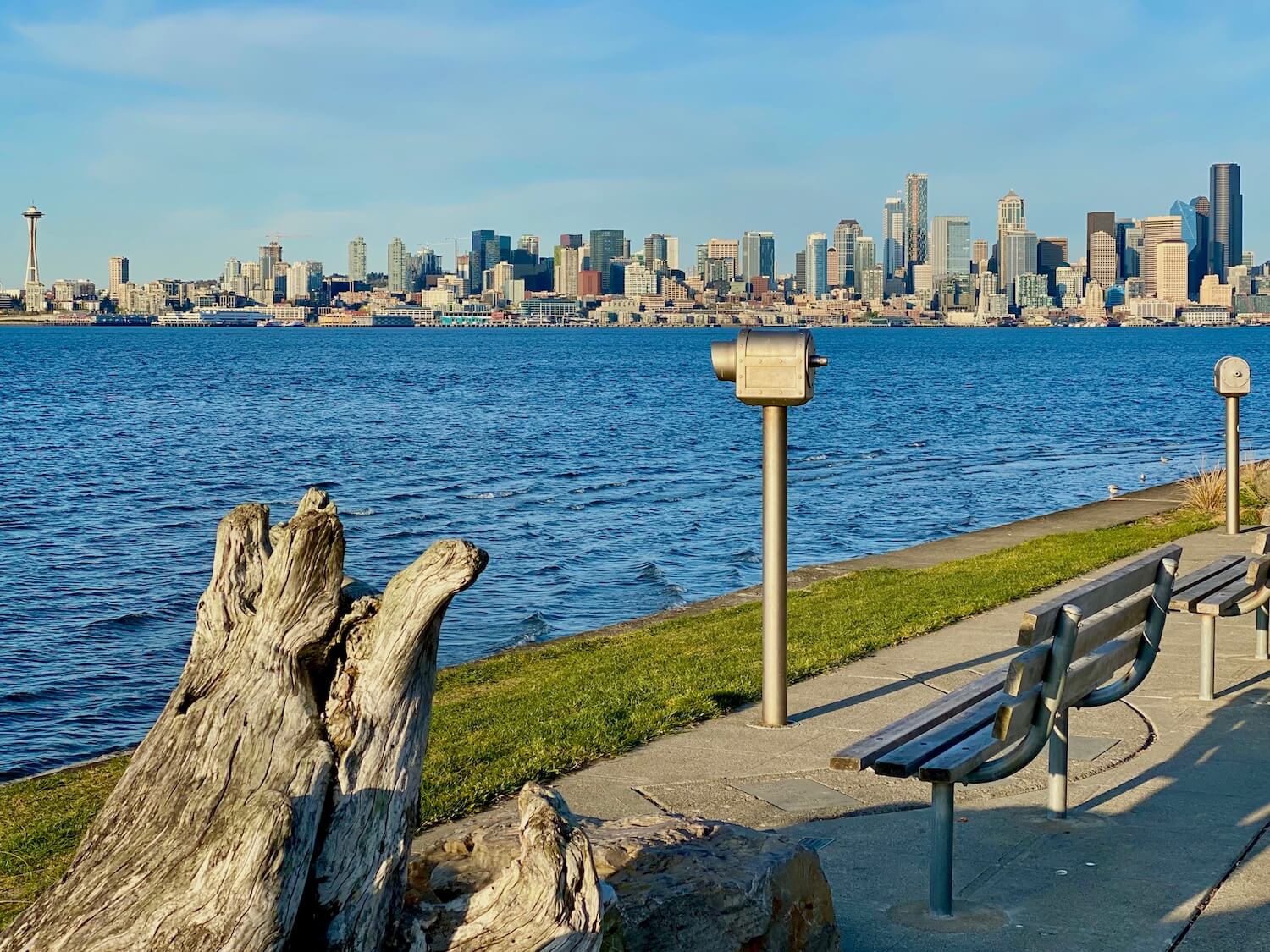 Great divide: considerations when making plans to visit West Seattle
West Seattle Bridge
Without a doubt, West Seattle is a land mass enveloped by water. Until recently, the best way to get from downtown Seattle (or other locations north) to this region was the West Seattle Bridge. Unfortunately structural flaws were found — rendering the bridge unsafe for usage until repairs can be made — and re-opening is expected after 2021. Since this is such an arterial route, alternatives are limited and funnel traffic into a few other tight options.
Don't let this deter you, as there are a few options to consider to help navigate the way:
Avoid rush hour times — think reverse commute.
Try the West Seattle Water Taxi — a passenger only ferry that docks near Marination Ma Kai. This option is for urban hikers and most conducive to exploring areas around Alki Beach. In a non-pandemic world, the pier area has rental options for paddle boards, bikes and skates, but today the best bet would be to rent a roaming bike through Uber Bikes – the bright red ones; or get ready for a great walk.
Think about a loop trip using the Fauntleroy – Vashon Ferry. Once at Vashon, drive the length of the island and take the quaint 15-minute ferry back to Pt. Defiance Park in Tacoma and freeway back to Seattle on I5. Or the reverse route. This way, there is only one way of potential bridge-related traffic. Also be sure to look up traffic patterns in and around Tacoma.
Beware of the tides
Depending on the time of year, the tides can sway as much as 15 feet in the waters around Alki and West Seattle — it really varies day to day. If planning a romantic picnic on the beach, walking out to the Alki Point Lighthouse, or even photography, be sure to look at a tide table for high and low tide so hopes and dreams don't float away.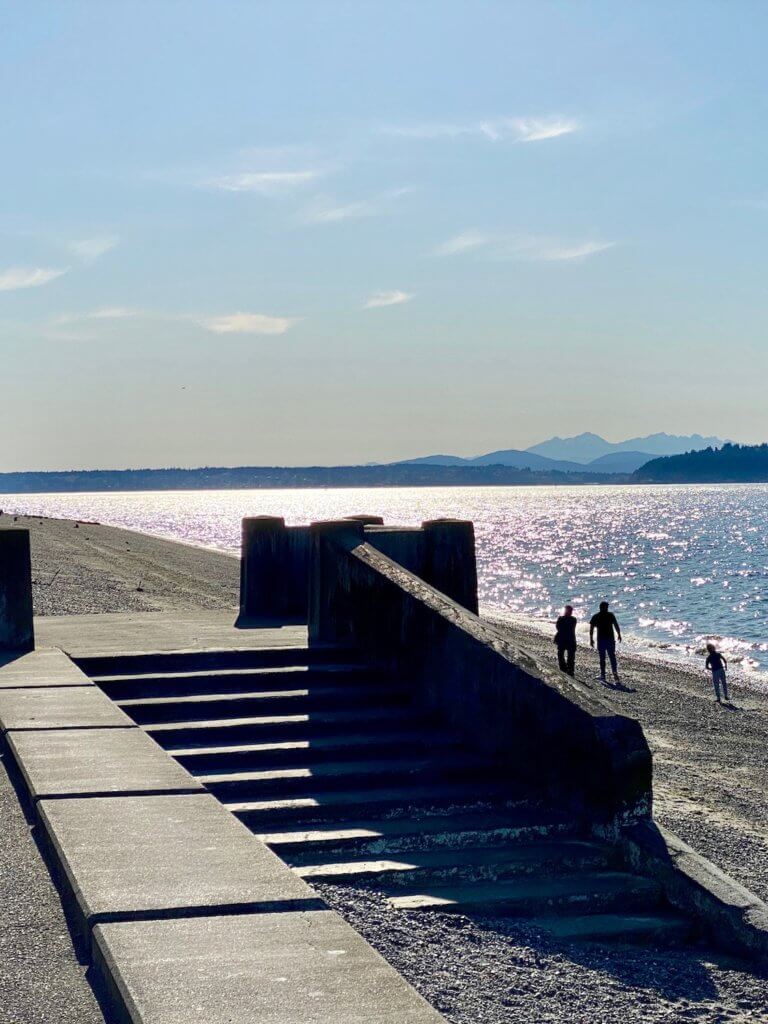 West Seattle Highlights
This guide provides a lot to see and do in one day, or zero in on favorite highlights. The map below outlines a counter-clockwise loop that begins at Joe and Jack Block Parks and circles around to White Center — which enjoys relatively direct access to Highway 509 — avoiding bridge traffic. Do what you will with the routing, but keep in mind my favorite stretch of road is SW Beach Drive, which begins around Cactus on Alki Beach and winds past La Rustica. Simply soul nourishing. Food and drink establishments are currently take out only and derived from my own experience and the recommendations of long time West Seattle locals.
Industrial Views – Joe and Jack Block parks.
All this talk of water is true — Seattle depends on it and there is no better place to take in the hustle and bustle of industry than a wharf-view park. While a serene park in the middle of a heavy industrial zone might seem like a paradox, this works. Don't be deterred by the closed chain link fence — the walking entrance is accessible during park hours and the lonely entry road involves walking past heavy machinery that might delight kids and construction geeks.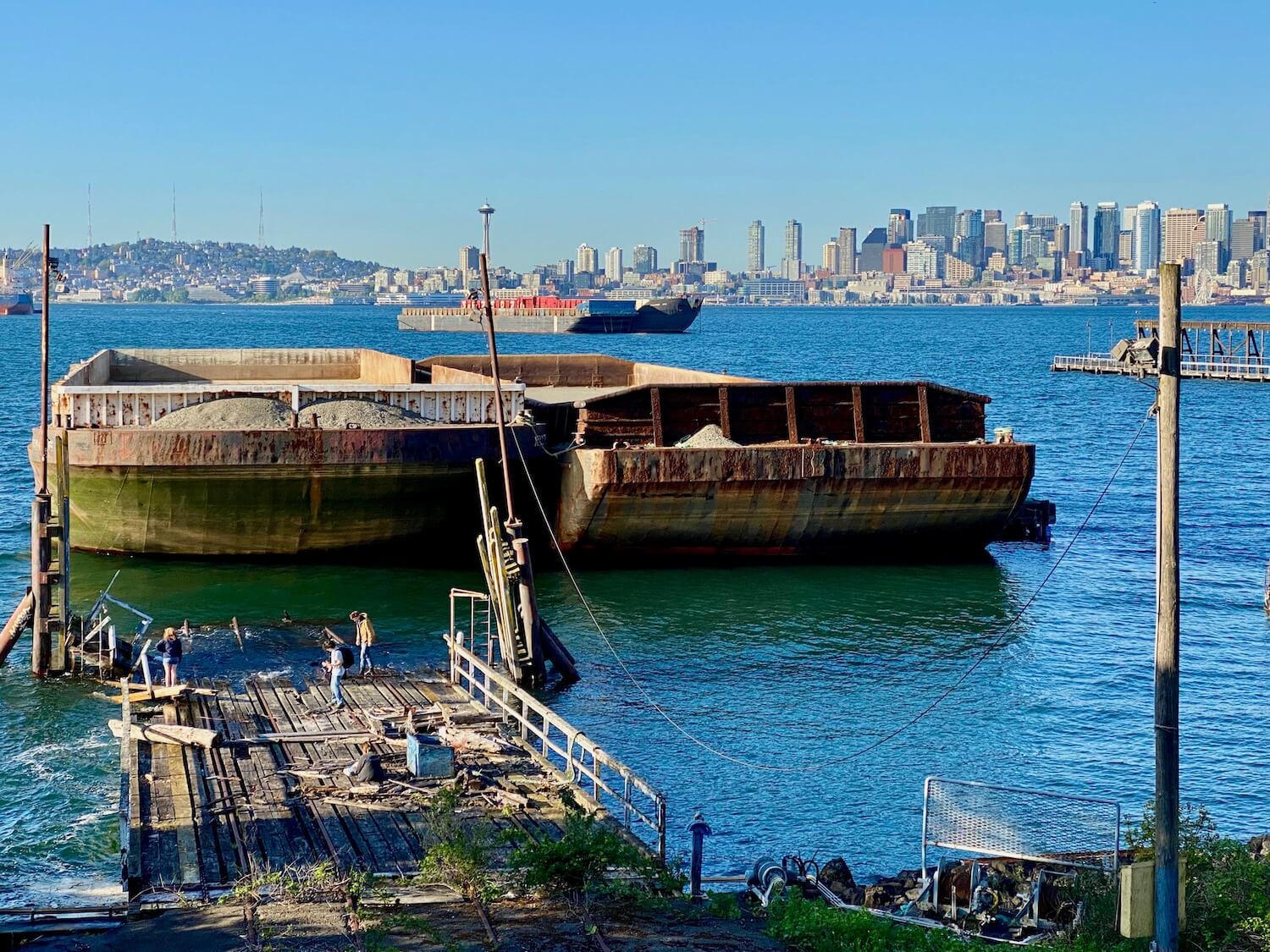 The two parks are adjoined by a bridge crossing an old railroad line that literally runs into the sound, waves crashing up against the creosote soaked deck planks and rested metal cables tightening and releasing with the pattern of the foamy water (photo above). Jack got a little bit ripped off, because Joe Block Park is way more magical of the two. The architecture design reminds of the 1997 timeframe, with large nautical nods and concrete shapes and ramps accented with metal — but the spirit here is whimsical and delightful once the pathway opens up to a tiny beach, complete with driftwood, pebbles, picnic tables and local wildlife.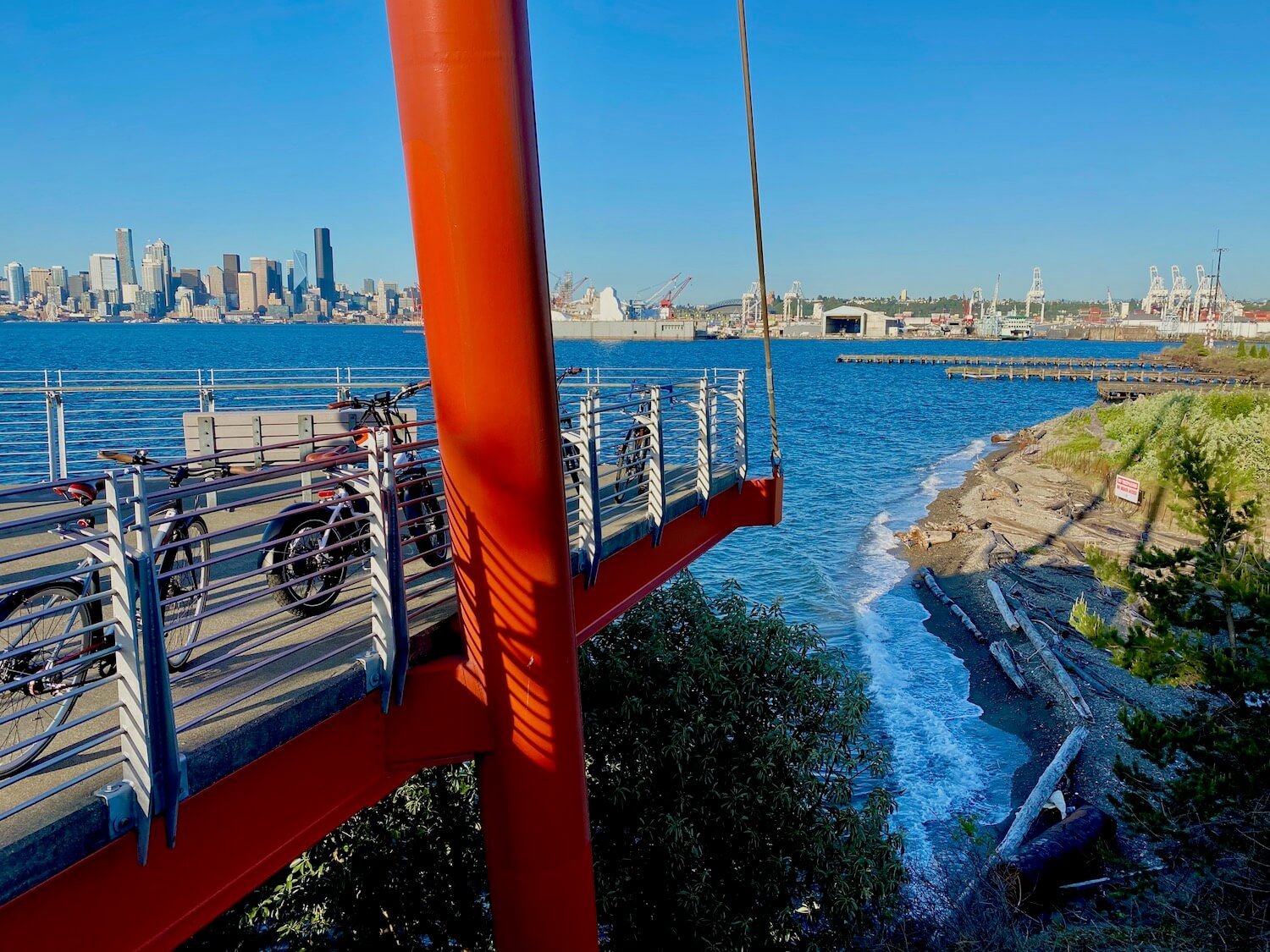 More people seem to take the upwardly inclined path to the fantastic orange tubed viewing tower, which is impressive with views of Downtown Seattle and the industrial harbors and the various vessels choreographed in and out at all hours. I find a special peace on the water level dock — oil stained pilings and all. While we're only getting started on great views of the Emerald City — this location feels more intimate and connected.
Speaking of great views, West Seattle has a lot of them. If you're interested in other vantage points in the city at large check out another post on the 10 best views of the Seattle skyline.
Harbor Ave SW and Seattle Water Taxi Route
The water taxi ferries people from Pier 50 downtown to West Seattle on a 15 minute boat ride. Marination Ma Kai is conveniently located at the pier and serves up delicious Korean-inspired food with a Hawaiian twist. The local chain of restaurants is closed during the pandemic, which makes me sad because their food is amazing. The same complex houses a rental company that, when open, is a great place to rent an assortment of sporting equipment like bikes, paddle boards and kayaks. Salty's on Alki is a wonderful high-end restaurant with sweeping views of the Emerald City, especially at the dinner hour.
The Seattle Water Taxi is operating on a full schedule, which includes weekends.
I appreciate this area of Alki because there are less people and parking seems easier. From here, the walk to the end of Alki Beach and back is a brisk 5 miles on a well-maintained flat path — about a two hour venture if no stopping.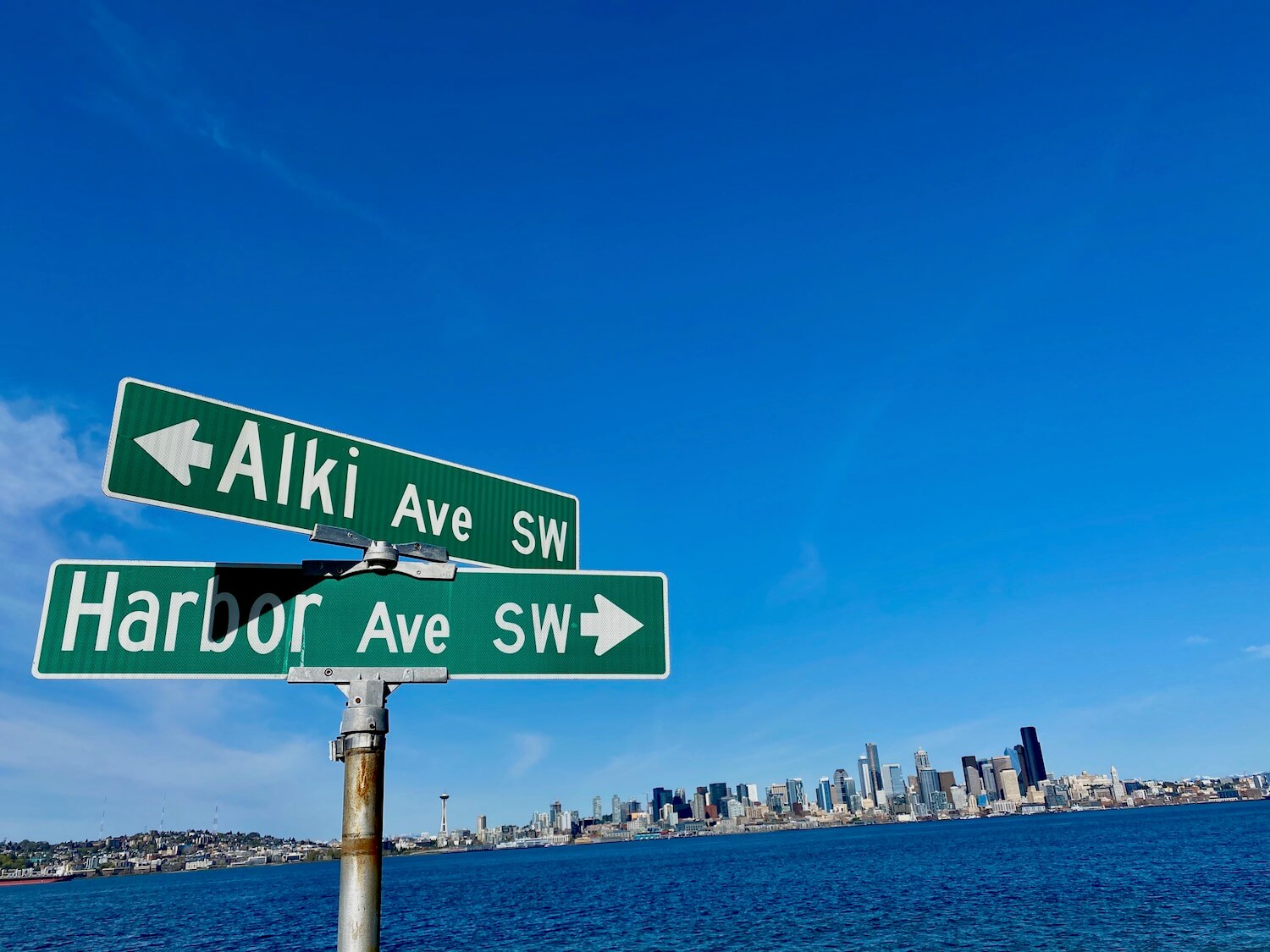 Bird's eye view of Seattle – Hamilton Viewpoint Park
Just up the steep windy roadway to the top of the bluff, Hamilton Viewpoint Park stands with full command of the city skyline. If on foot, get a workout running up and down the hill or in a car it's an easy drop-in location to get a feel for the land and snap a quintessential Seattle shot.
Alki Beach — the birthplace of Seattle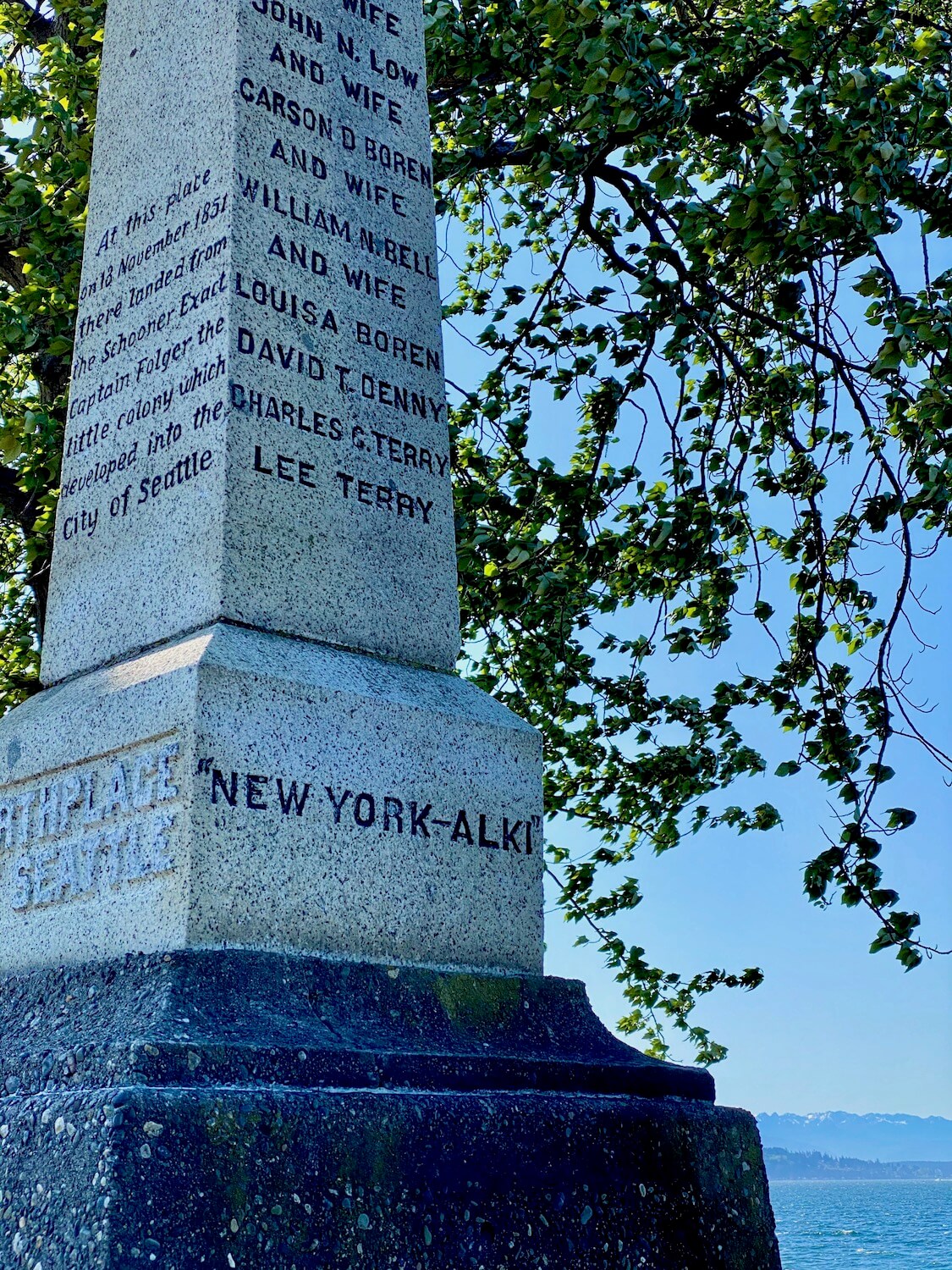 Alki Avenue – people watching
The main stretch of Alki Beach is the vibrant hub of visitor traffic to West Seattle, weaving water sports, condos, houses, restaurants, bars and fantastic people watching into the fabric of the historic neighborhood. This "Plymouth Rock" point in Seattle history is known for inspiring views of the Puget Sound and, on a good day, breathtaking Olympic Mountain scenes. Roller blades skate by as families wander on the beach and the roar of motorcycle groups churns the air. The area has year-round residents but swells up with transient energy in the best of weather. When the sun is shining I recommend establishing camp somewhere outside the main buzzing core of Alki Avenue and explore on foot.
Alki Point Lighthouse
The sharp angle of land that makes up Alki Point posed threats to the varied marine vessels chugging to and from the busy ports of Seattle, and a Lighthouse was eventually commissioned and completed in 1913. Today there isn't a need for such functions, so the building stands as a glimpse into a bygone era. In general, tours are available between Memorial Day and Labor Day.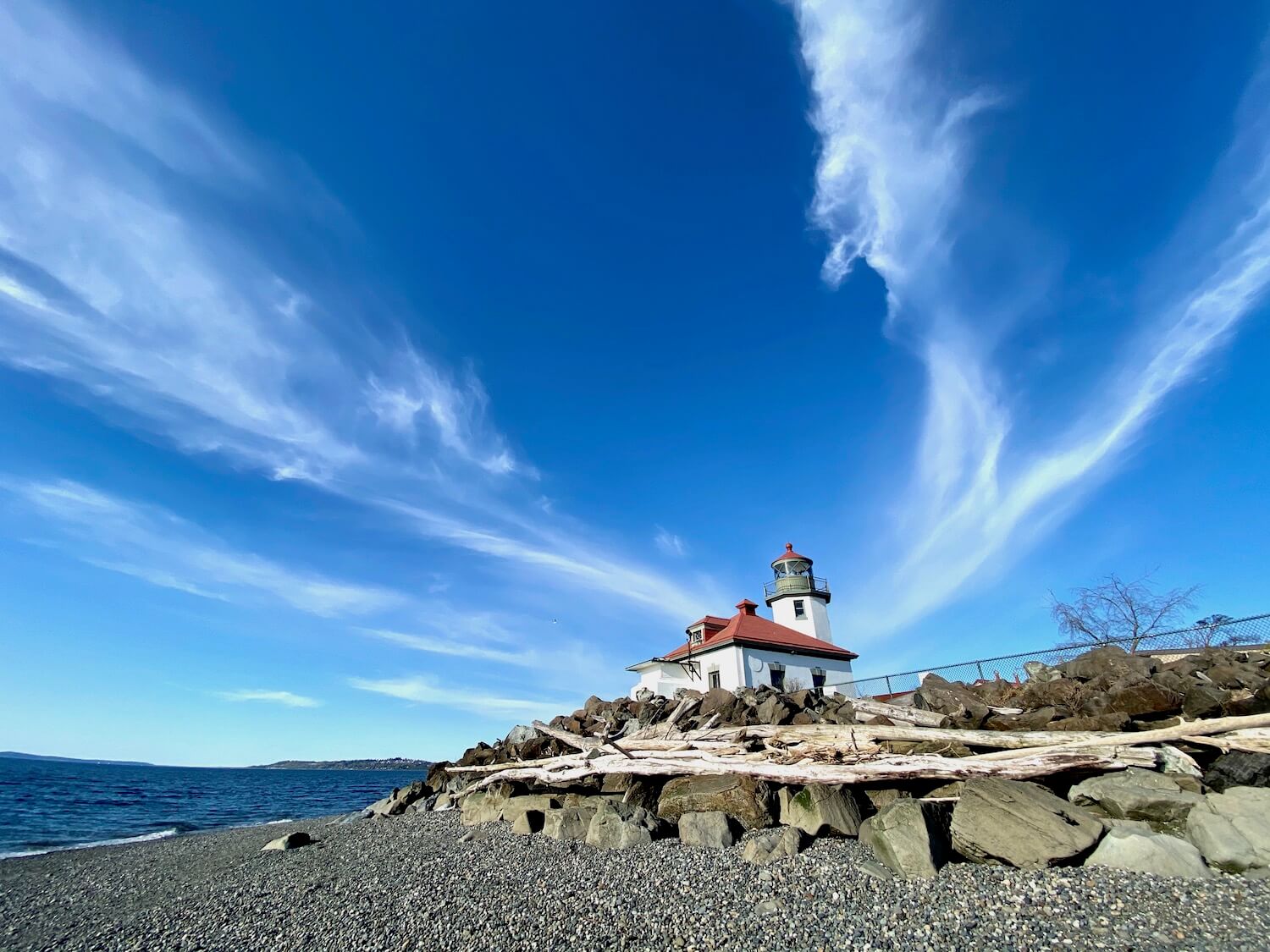 I love to walk past the park to the point, which really seems to be the exclamation mark of the city. Views of the Olympic Mountains seem to stretch across the entire skyline and the peaceful sound of water, gently lapping onto the agate-sized sand, lulls visitors into a relaxing salt air trance. Sunsets are particularly stunning here, making a very romantic place to socially distance with a loved one, or a potential loved one. REMINDER: tides change twice a day and can easily conceal the walkable beach — plan ahead.
Alki food and drink
These are not normal times, so I won't reminisce. Most of the restaurants on this strip are slowly coming to life with take-out options, so think of easy things to put in a to-go box. My two favorites are Blue Moon Burgers and Cactus because their systems are straight forward and food easy to eat on the beach across the street. The Washington State Liquor commission recently approved the sale of to-go adult beverages, with a bunch of fine print, and while it's technically not legal to consume in public, I'll just leave it at that.
Schmitz Preserve Park
Only a few blocks inland from Alki Ave (turn at Blue Moon Burgers), this gem of a park preserves some of the city's best collection of old growth timber. Starting from nearby Alki Park, the roadway eases into a green space nestled into a ravine leading toward the top of the steep hill.
Layer upon layer of native Pacific Northwest trees and plants come together to form a magical mosaic of green delight. The paved roadway flows under the statuesque Admiral Way Bridge (stairs to the top), and once past the array of shadow graffiti the path narrows to dirt (or mud in rainy season). Entering this thicket feels like transitioning to another world — the forest feels undisturbed and original despite being in the middle of a heavily populated area. Age old western cedars hang above, creating a tight canopy that only allows glows of light rays through to the babbling brook, tucked in with skunk cabbage.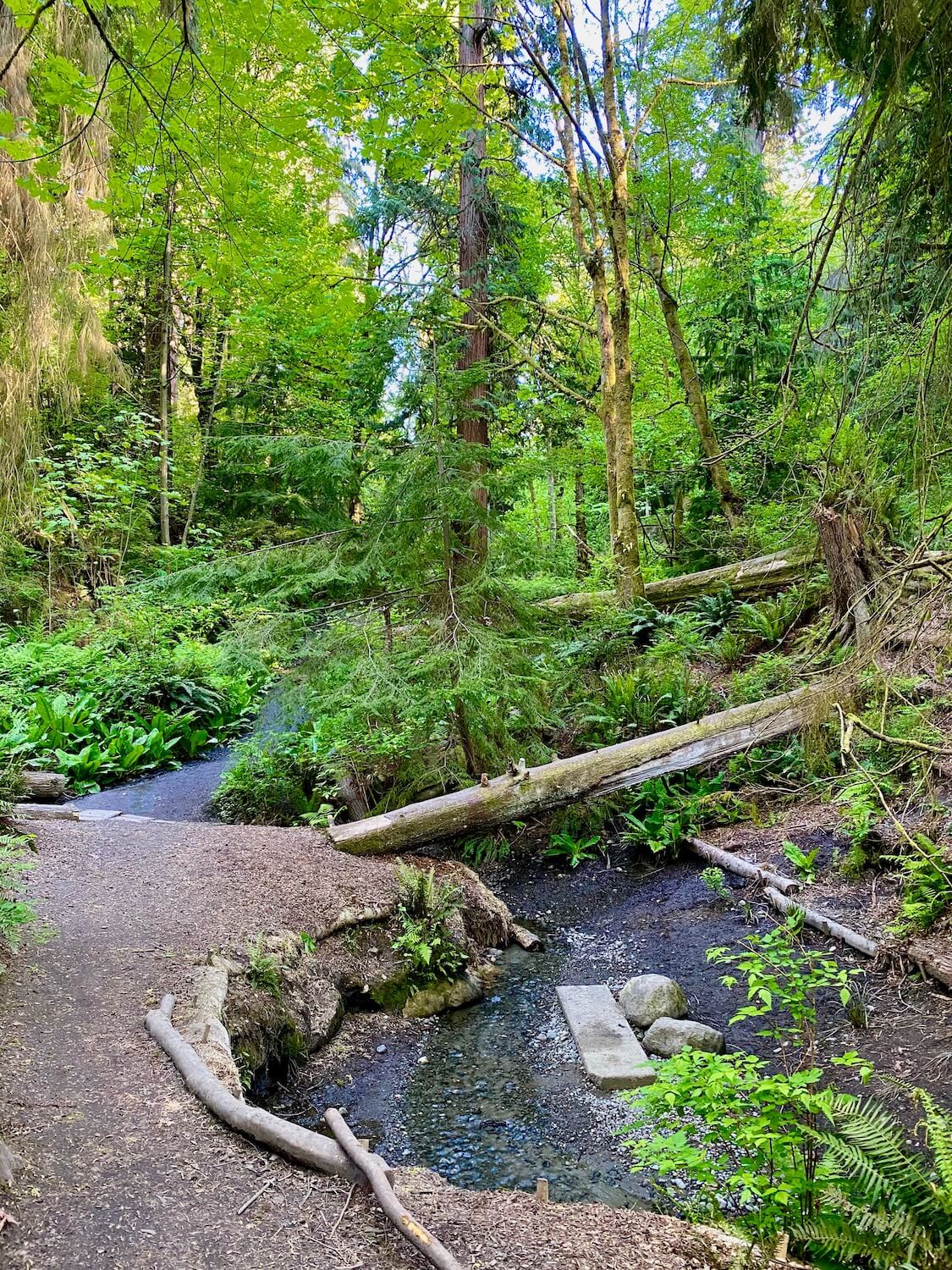 The sounds of high school aged kids doing high school kid things along the maze of trails only adds to the charm — mostly giggles and shenanigans. Once at the top the options exist to return back through the greenery or set out down one of the steep residential streets with sweeping views of the Puget Sound and Olympic Mountains. If this is the choice look for dramatic Spokane Street.
California Avenue
The Alaska Junction area of California Ave is the commercial life blood of West Seattle — the Main Street USA version of this sector of the city. Central to the peninsula, this landmark intersection offers a convenient stop to recharge with food and fuel before continued exploration. It's worthwhile to park and wander a bit down this avenue, find some food, and continue walking on. Further down the street to the south, C&P Coffee is practically an institution and Little Prague European Bakery is a fierce favorite with locals. This strip takes about 15 minutes walking end to end, so get out of the car and explore on foot.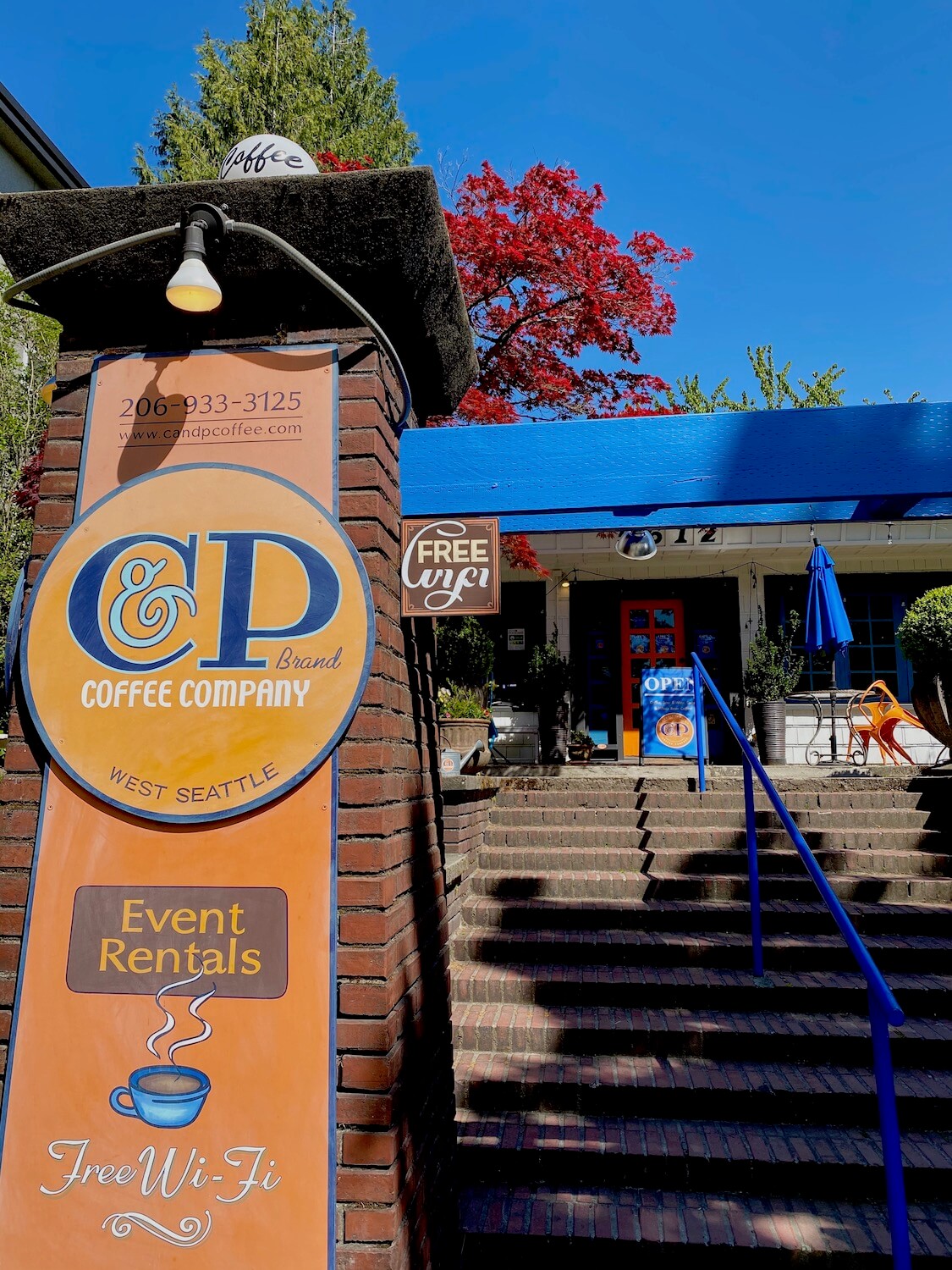 Lincoln Park
This park has it all! Definitely my favorite in West Seattle and top five in the entire area. While the full service recreation options like playing fields, picnic areas and a swimming pool abound, the scenery is simply fantastic on all accounts. I like to park at nearby Lowman Beach Park and walk down Beach Drive SW to the trail head — North Beach Trail — which starts out along the gravel boardwalk which hugs the line of a half-moon agate beach. Greenery overflows above the path, creating ample shade while joggers whiz by and children play in the creative formations of driftwood assembled along the concrete sea wall.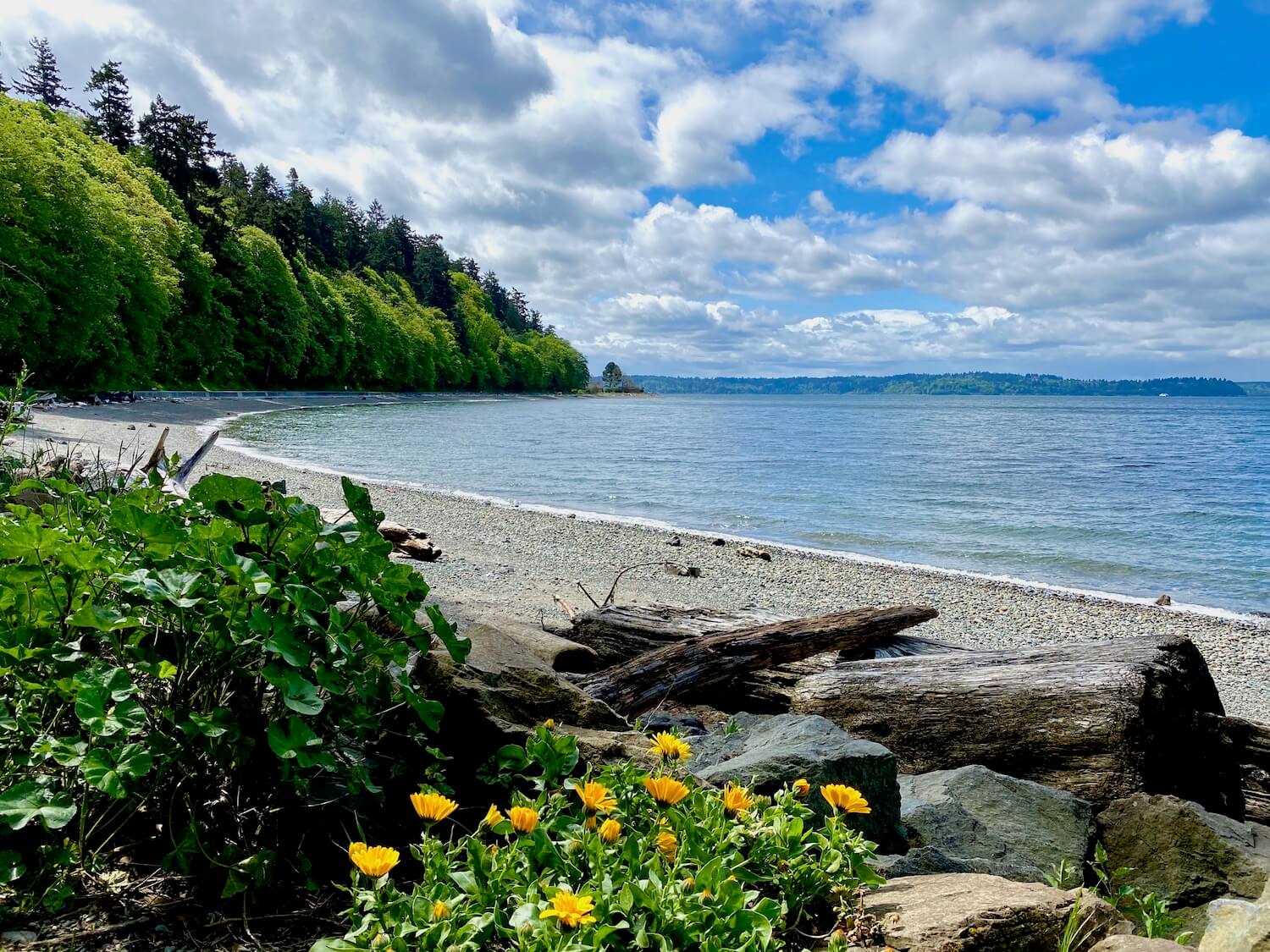 Once at Colman Pool check out the triangular lean-to's made from upright driftwood (photo below) and continue on the path or beach towards the efficient Fauntleroy Ferry Terminal. The workhorse marine vessels move between here and Vashon Island all day long and offer a peaceful reminder of island life in the Puget Sound.
When the beach transitions to private property continue on the path up a driveway-like road and find the Bluff Trail for the return trek. A rich weave of western cedar, maple, madrone and douglas fir form a hedge and it feels like a trip deep into the woods — until the vegetation opens up to spectacular views of the beach below, water ahead and mountains afar. Every now and then ferries glide by and all seems right with the world.
Fauntelory Ferry Dock — to Vashon Island
It can be fun to continue the journey onward to Vashon Island, which is island living in the best of all worlds. There is regular ferry access to two mainland points (Fauntleroy to the east and Pt. Defiance Park/Tacoma to the south) and the feel of the island is that of a tight knit, rural community. Nature, views and a disconnect from the busy city all make Vashon a very special place. For more information, check out my article about navigating the Washington State Ferry system.
White Center
If riding a boat to a Puget Sound island is not in the cards, continue up over the hill to check out White Center. This up-and-coming neighborhood fuses a cross cultural atmosphere with eclectic optimism — and two gay bars are the sprinkles on top. The few blocks of the commercial core are alive with colorful building murals and coffee shops and restaurants are starting to wake up after hibernation with various forms of take-out available. While to some this neighborhood still has quite an edge to it, I enjoy the feeling of a community invested into their own future.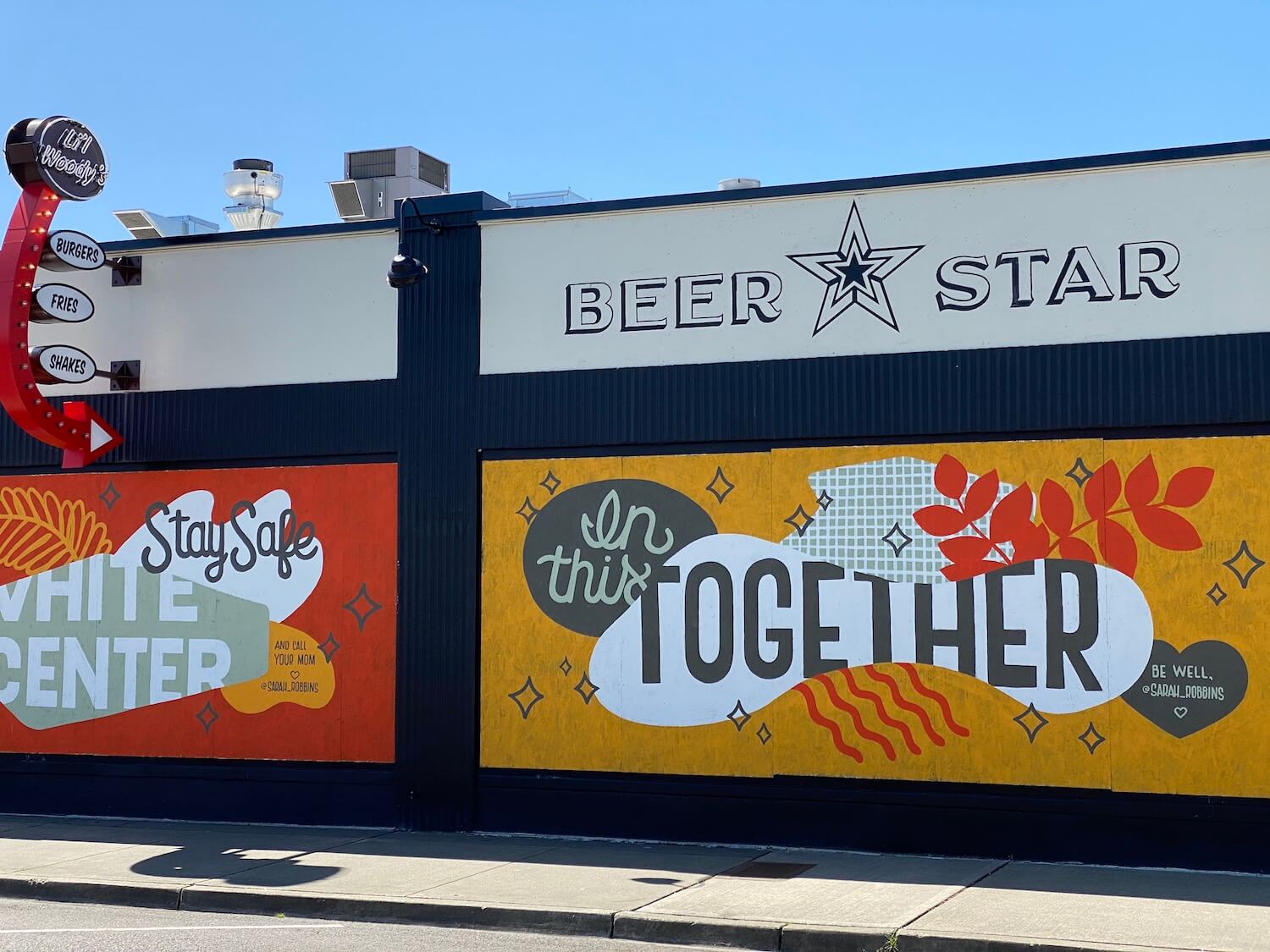 Since this neighborhood holds camp on the south side of West Seattle, it's quick and easy to exit to Highway 509, which leads back into the city or to Interstate 5.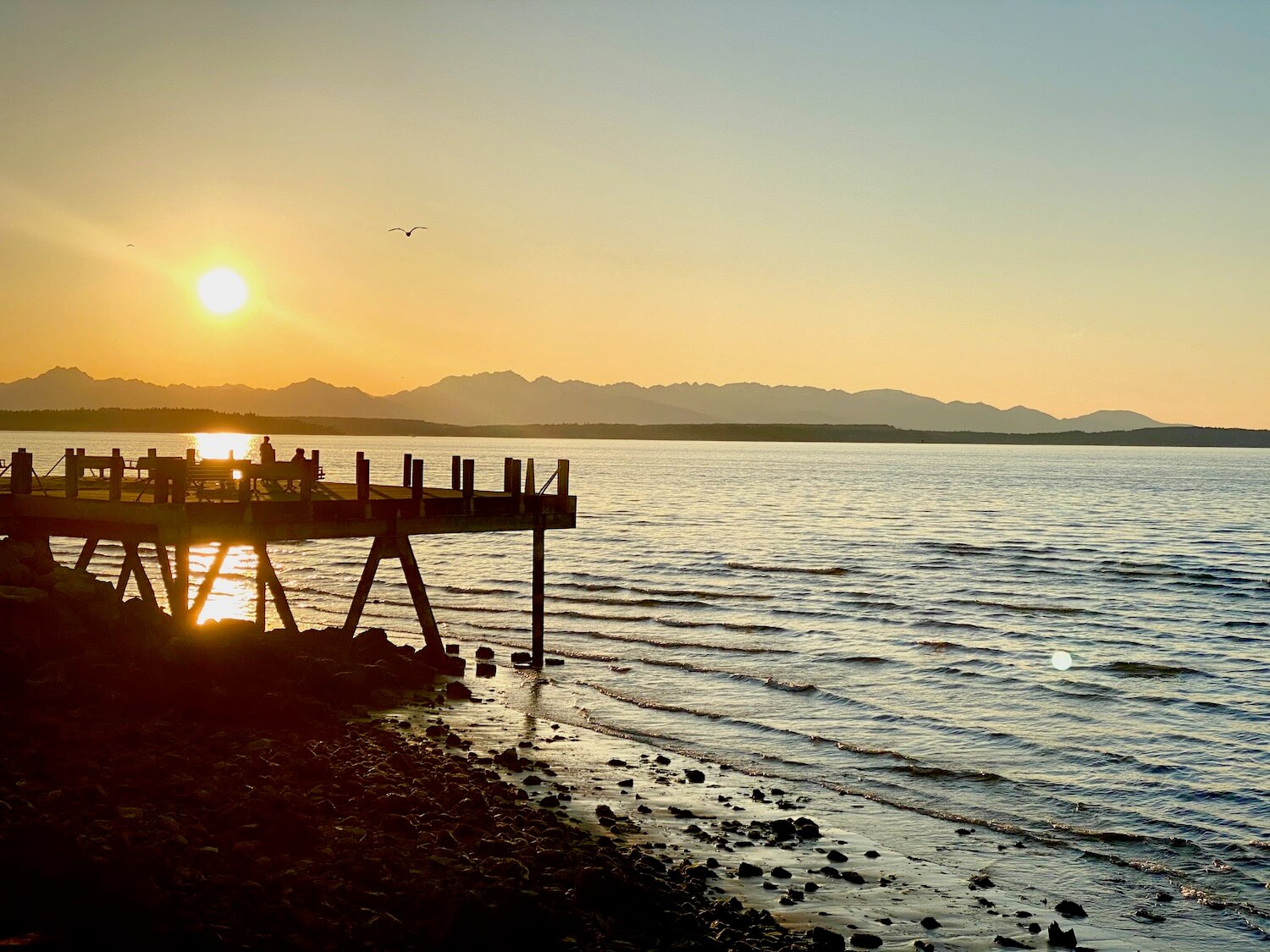 Until next time, West Seattle, it's a wrap!
This is a long day but lots to see and do and experience, even in the time of a pandemic. Even though she lived here 55 years ago, the spirit of Maureen Kessi is alive in the beautiful patchwork of variety here — nature, inspiring views and the feeling of a cohesive community. Make it a magical day.