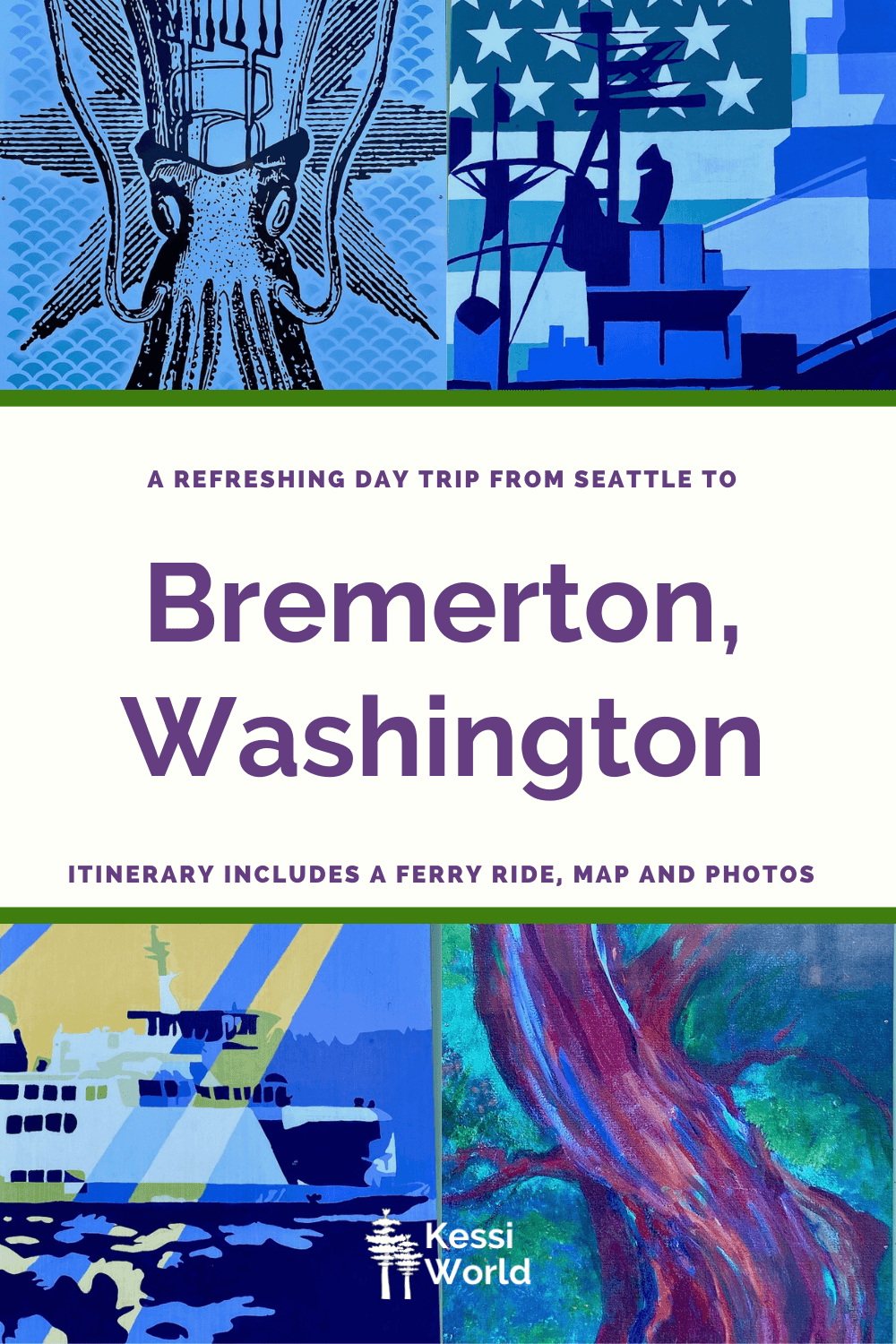 The coronavirus lockdown is taking a toll on the mental stamina of people all over the world — and it's no different in the Pacific Northwest. Especially in the Seattle area, primarily because the cold and wet weather does not lend itself well to hanging out in parks or eating in outdoor spaces. At the time of this writing (Jan 2021), Washington State is shutdown for virtually any indoor activity (including museums) besides shopping. My mind began to wander last week for a "Covid Break" and all kinds of ideas entered my brain — where to take a day trip from Seattle in Winter?
I wrote a comprehensive list of day trips from Seattle last summer that require vehicles, but I really just wanted a quick getaway on foot that included scenery, art, urban hiking, tasty food and a quality jolt of java along the way. Since ferry rides are a joy any time of year, I narrowed in on an option for a day trip from Seattle across the water. Bremerton, on the other side of the Salish Sea — just an hour Washington State Ferry ride away — seemed like an interesting option.
How was the experience? Well if you're dying to learn more about a break away from the city — ferry rides, urban hiking, street art, Thai food and just the right amount of espresso to keep spirits warm on a chilly Winter day — you're in the right place.
This article outlines an excellent day trip from Seattle to Bremerton, Washington, including a beautiful ferry ride, itinerary, map and lots of photos
Table of Contents
With 40,000+ citizens, Bremerton is the largest city and industrial hub of Kitsap County — the gateway region leading to the stunning Olympic Peninsula that also includes Bainbridge Island, Poulsbo, Port Gamble and Port Ludlow. The Puget Sound Naval Shipyard is located there, employing thousands of both Navy service members and civilians since the 1890's, and the local economy is solidly military based. Despite the image of heavy industry, I was curious to see what else existed in this community, directly under the statuesque snow-covered Olympic Mountain range.
I put my plan together, threw some Winter staples into a backpack and set out to explore for the day.
Winter weather and what to wear for a day trip from Seattle
By the way, when preparing for a day trip in Winter, or really any time of the year in the Pacific Northwest, it's important to plan ahead for any kind of weather, especially rain. Always wear waterproof footwear (not just water resistant) and take an extra pair of warm socks. For clothing, I like to put on a base layer of silk or other tech fabrics and then add from there — usually a thick button down shirt and a wool sweater. For areas around the Salish Sea (like Bremerton) a waterproof shell seems preferable to heavier jackets, especially if working up heat while urban hiking — rain tends to be the culprit of misery verses super cold temperatures. I got lucky on this particularly sunny, blue sky day, but it was a brisk 45F and I carried extra reinforcements just in case.
Map of Bremerton, WA, including my itinerary for the day trip from Seattle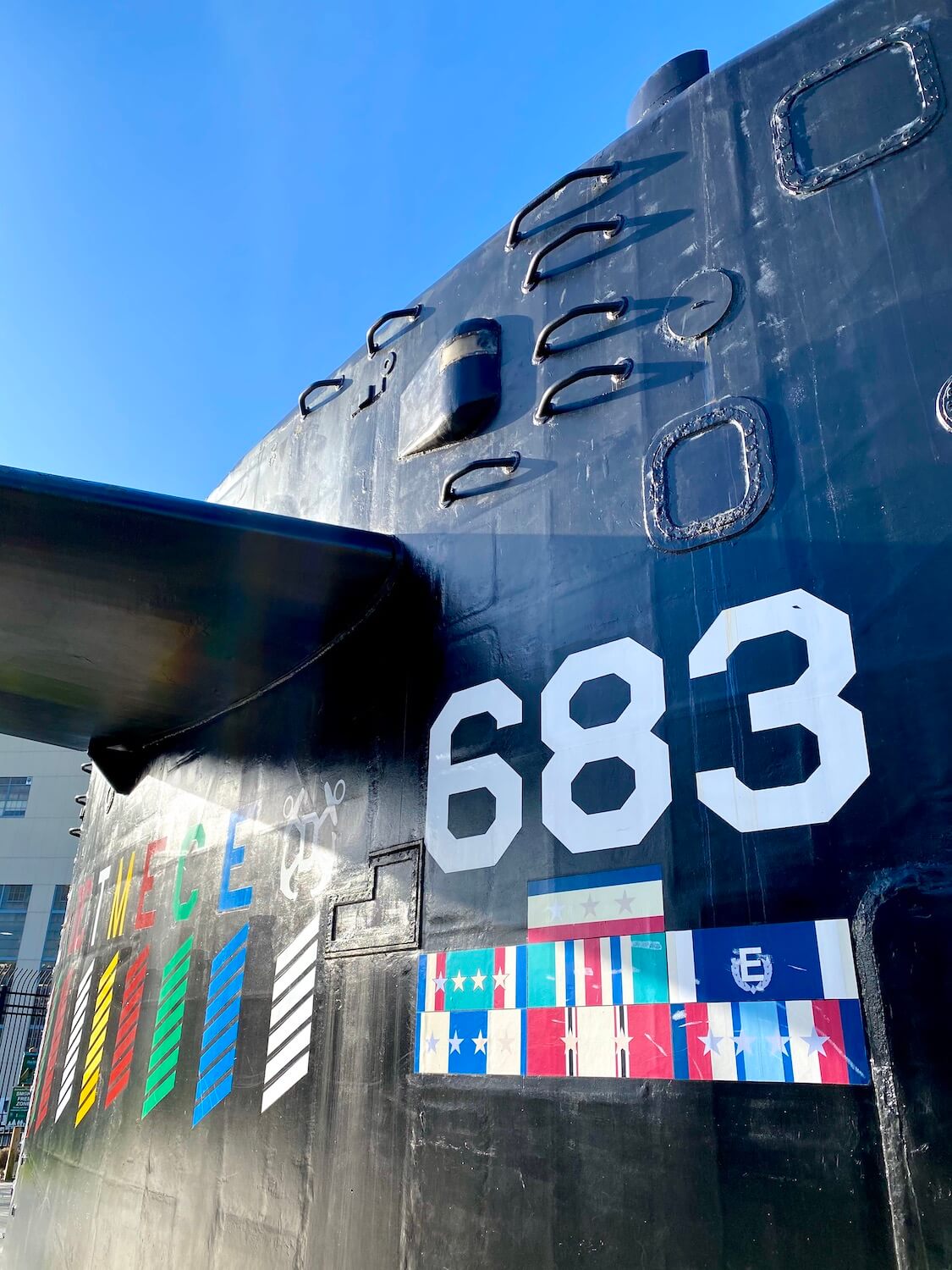 The Google Map below shows my walking itinerary starting from the Coleman Dock in Downtown Seattle. Although I took an Uber from my house on Capitol Hill ($10-15 from close-in Seattle neighborhoods), public transportation runs regularly and the dock is about a half mile walk from the Pioneer Square Link Light Rail stop. There are also parking garages in the area that are somewhere north of $20 depending on the day of week. For more information on getting to Bremerton, including public transportation, see the Planning Section below.
Items in blue on the map are buildings/indoor features or other logistical things like public restrooms. Green items are outdoor features, like parks or noteworthy pieces of art. Red items are places to get refreshment. Once on dry land in Bremerton this itinerary was 5.8 miles over six hours, with an hour "lunch break." Riding a bike (an additional $1 ferry fee), would open up more options to venture out into the community, but there were plenty of things to do within the downtown core area.
Seattle to Bremerton Ferry
After a high-octane Winter storm blowing all night long, I awake to hues of pinks and purples hovering over the Eastern sky. The sun is rising to welcome a clear blue Winter ceiling — it's going to be a great day to take a day trip from Seattle to Bremerton! I jump in an Uber ($15) and head to the Coleman Dock in Downtown Seattle. I'm aiming for the 8:35am departure and the quiet waterfront is calm and easy to navigate despite the major construction taking place. Foot passengers ascend a few flights of stairs off of Alaskan Way between Marion and Columbia Streets.
The ferry terminal is very quiet on this Wednesday morning, likely because I'm traveling in a reverse commute pattern. Although there is a ticket booth and kiosks available that take credit cards, I use my ORCA card (public transportation payment system in King County) to pass through the unmanned turnstile when the ferry departure is announced.
In busier periods (weekends and commuter hours), because they can depart around the same times, it's important to be clear on which ferry goes to Bainbridge verses Bremerton — and get in the correct line. At the time of this writing (Jan 2021), masks are required everywhere on board, and the round-trip adult passenger fare is $9.05 (youth $4.50).
There are only a few passengers on the vessel and I immediately head out to one of the small outside decks to take in the view of Downtown Seattle, just waking up for the day. The F/V Kaleetan detaches from the creosote-soaked pilings exactly on time for the hour-long crossing of the Salish Sea.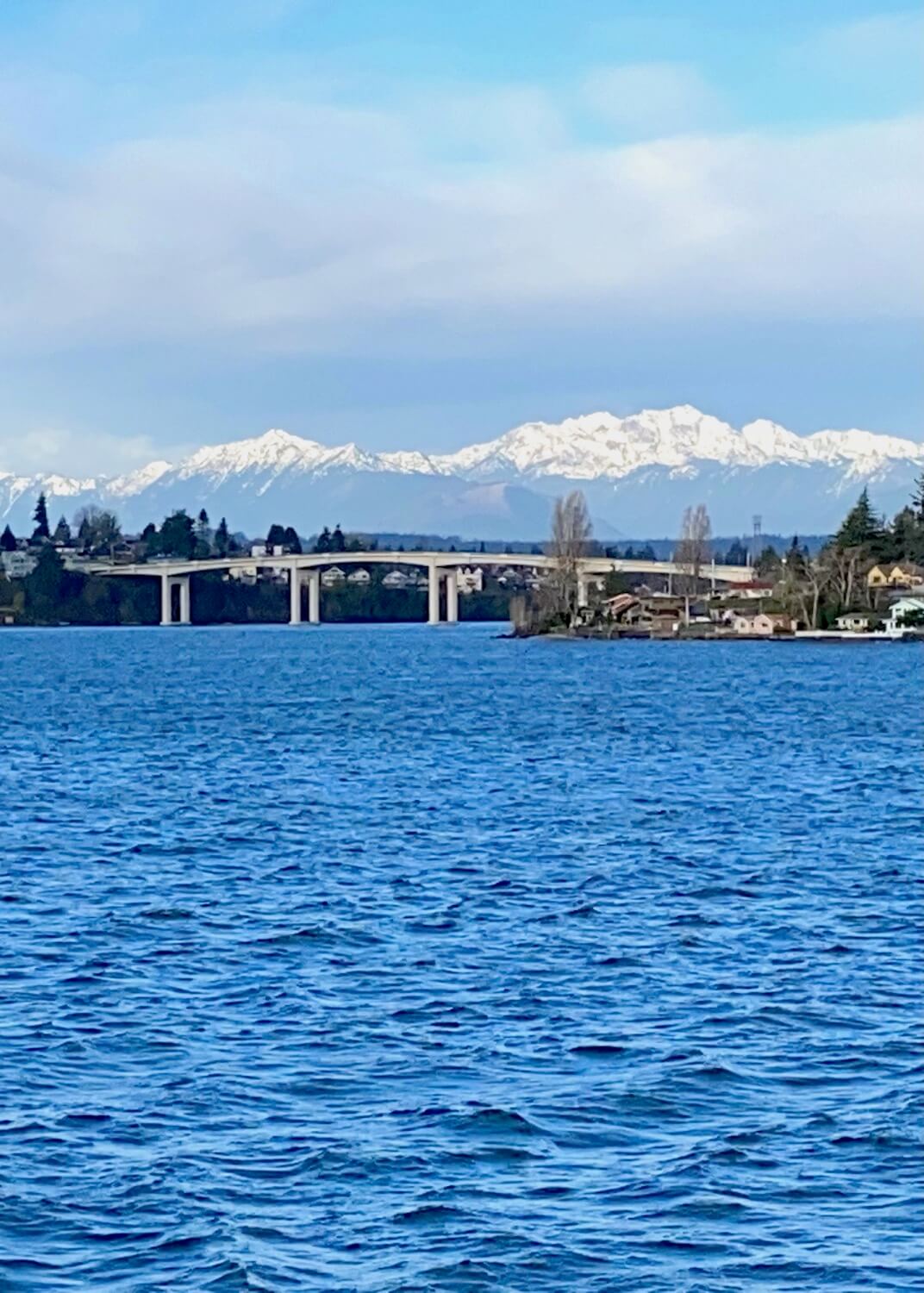 For $9.05 this is the best harbor cruise ever! The ferry chugs with a one-track mind to float toward Bremerton while the city skyline slowly compacts together enough to fit within my camera viewfinder. The few clouds on the horizon swirl amongst the vibrant blue in ways that make the many skyscrapers, joined by the playful Space Needle, pop in contrast. About 15 minutes into the voyage I move through the inside passenger deck of the workhorse ferry toward the bow. It's much windier on this side, and several seagulls fight the breeze to fly with the boat. We're directly facing the dramatic Olympic Mountains, freshly covered with a dumping of snow. They seem to sing out to the heavens in beauty that is hard to capture with a camera.
Pulling into the Bremerton Ferry terminal offers a great survey of the naval shipyard and city buildings. The impressive mountains now feel closer than ever. Disembarking is easy and the glass window gangway leads me to an enclosed waiting room with passengers ready for the return trip to Seattle.
By the way, since round-trip tickets are only sold on the Eastern side of the Salish Sea (Anacortes, Mukilteo, Edmonds, Seattle, Fauntleroy, Pt Defiance), nothing is required when boarding the Bremerton to Seattle portion of the journey.
It's 9:40am and time to seize the day!
Things to do in Bremerton, WA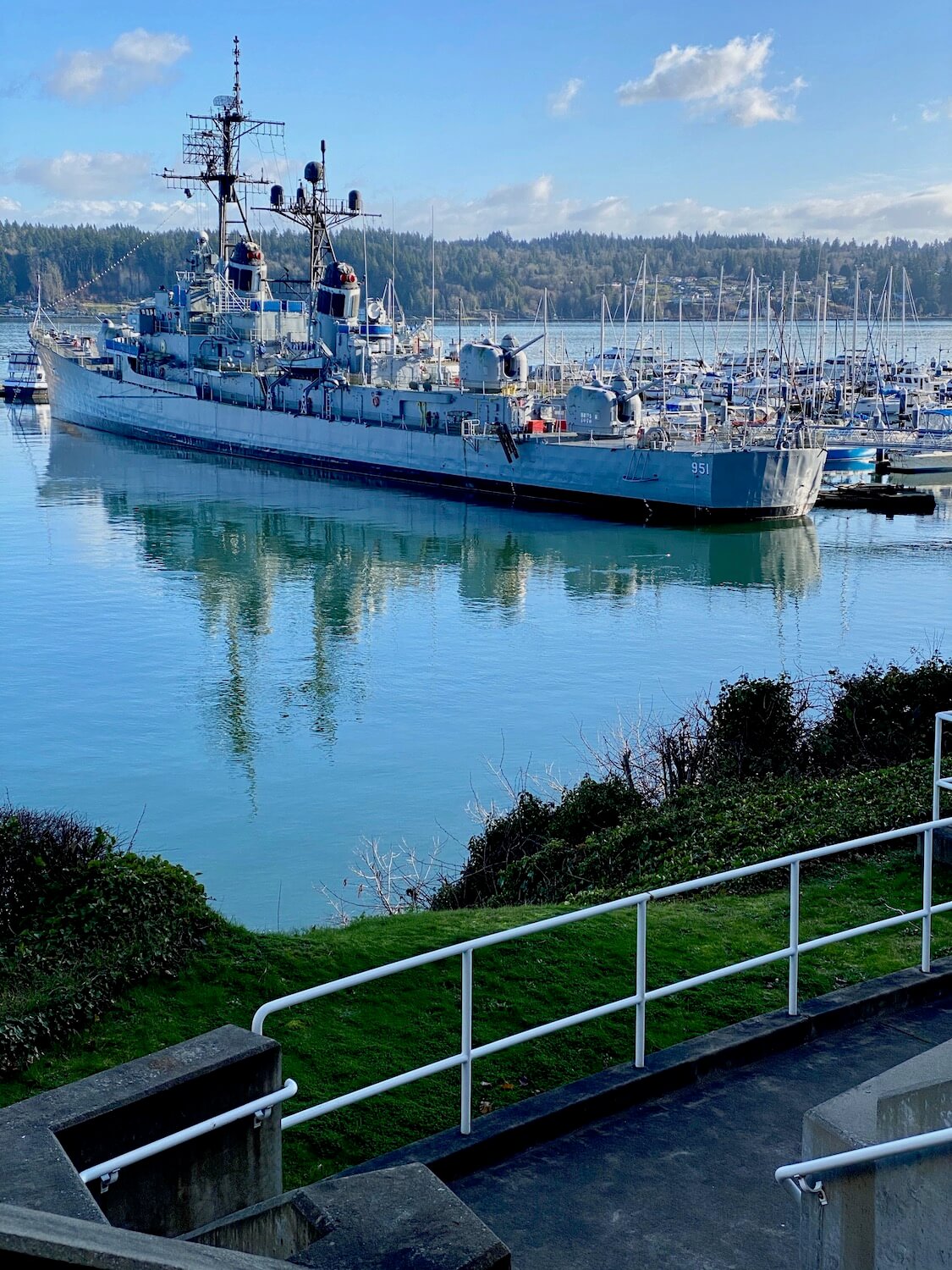 First stop — a morning perk and light breakfast snack at The Coffee Oasis, just up the street from the Ferry Terminal. This is the type of joint that formerly held open-mic nights and acres of tables filled with computers clicking away. Now, the furniture is consolidated — roped off with bright yellow tape accompanied by handmade "You cannot sit here" signs. Nonetheless, caution tape won't adhere to personality and human interaction, and, even behind masks, I can tell the college-age staff are smiling along with me in our jovial conversation. Plus, the espresso is strong enough to fuel the next six miles of urban hiking.
I was prepared ahead of time with the understanding that any indoor activity would be closed due to current restrictions around COVID in Washington State. So, it doesn't come as a surprise that all museums and ship tours are… closed due to COVID. As always, nature and art are my dear travel companions.
Outdoor art in Bremerton — day trip from Seattle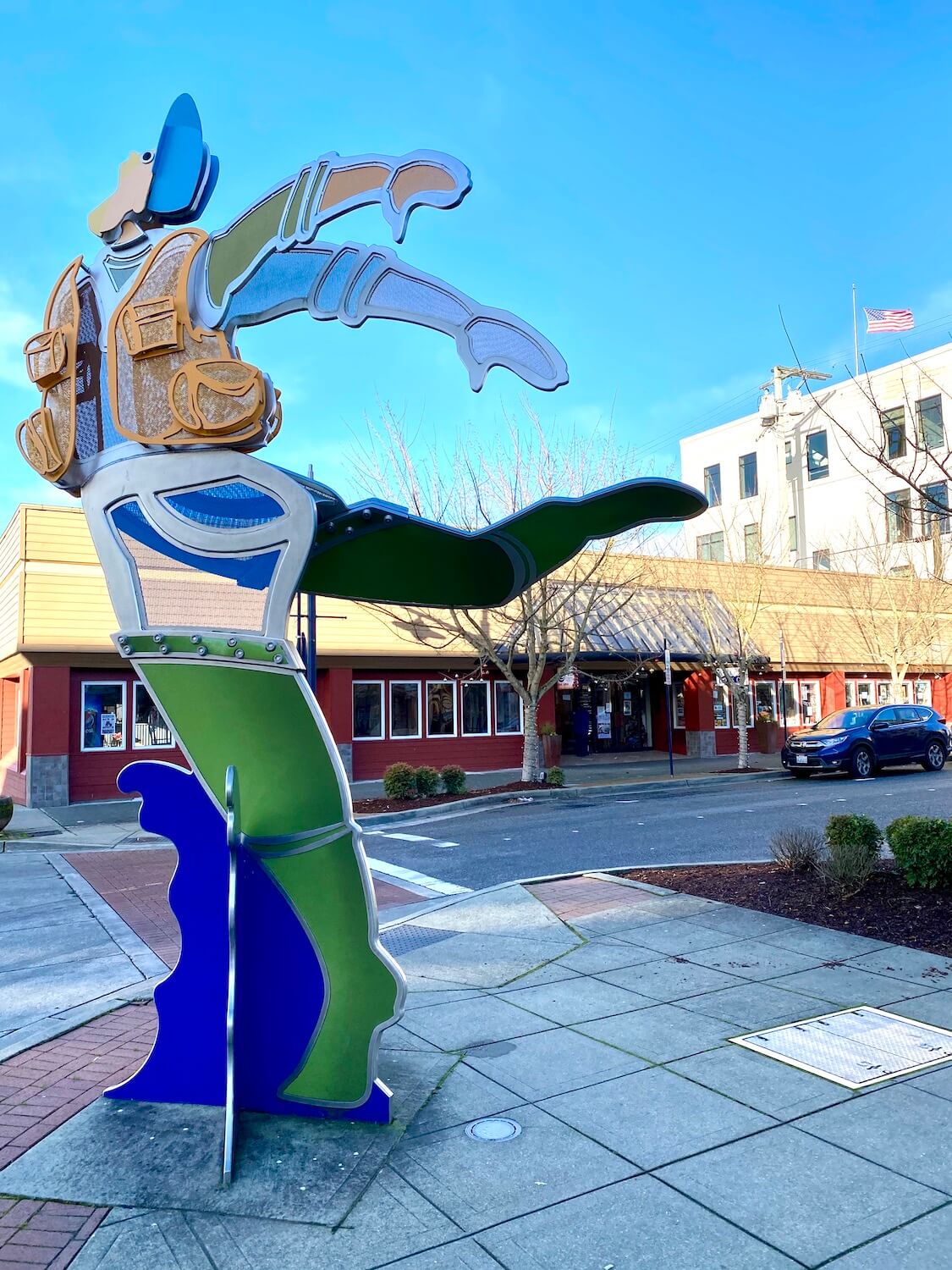 Traveling anywhere these days, art and civic creativity is the saving grace to exploration, as many sculptures and wall murals are outside and still accessible. I think back to a recent article I wrote about strolling through Seattle University and how it brought me joy to be able to experience the beautiful outdoor art available to the public. Civic creativity exists everywhere, including Bremerton and more specifics on the art is provided by a Kitsap Peninsula Art Outdoors map. The interesting art installations along Pacific Avenue (the main drag) seem to play with me while wandering toward Rotary Park, an open green space situated along a quiet shoreline.
Rotary Park 9/11 Memorial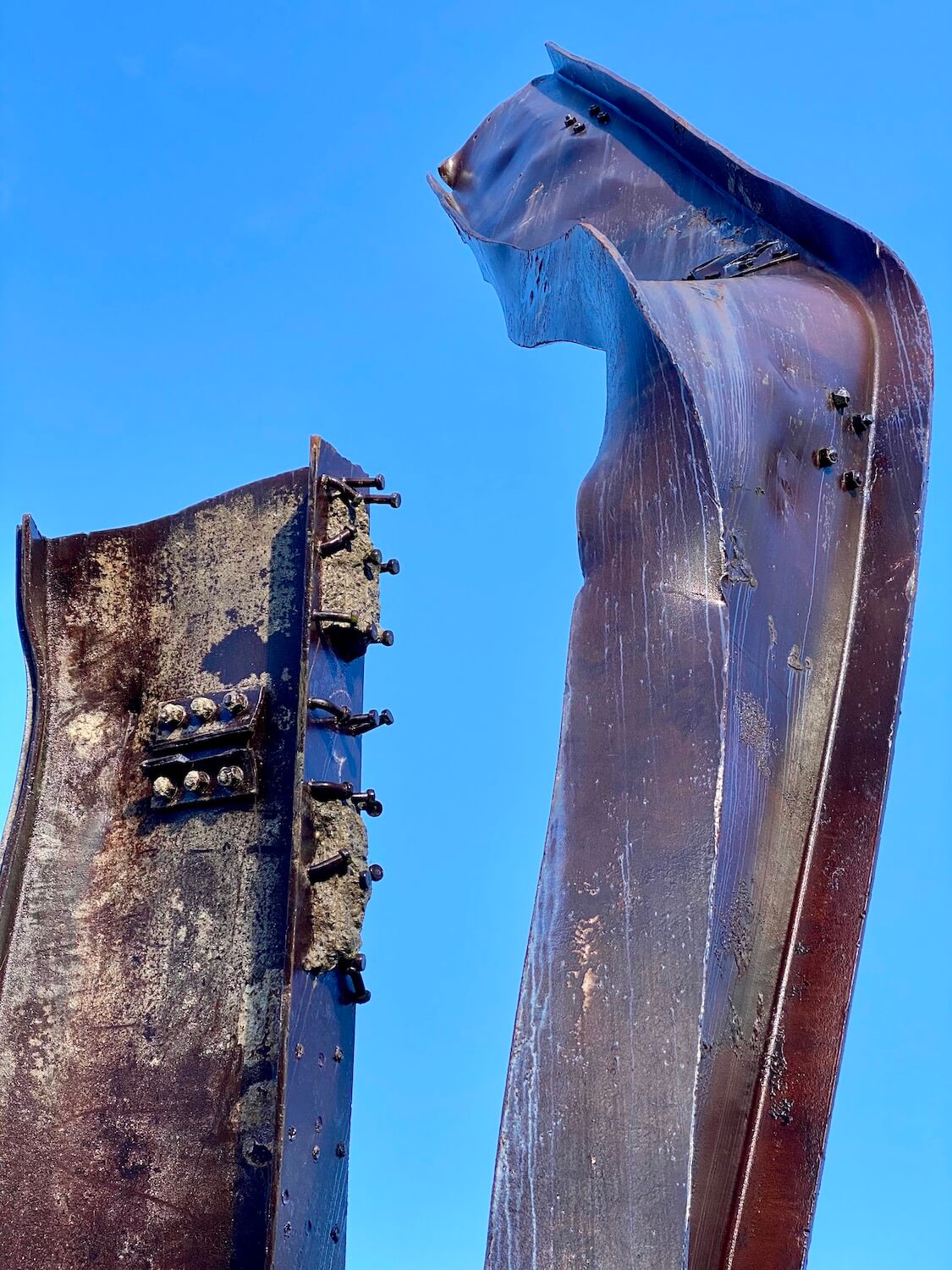 The peaceful park is home to an inspiring 9/11 memorial, and a woman walking her dog says hello to me as my fingers follow the torn rivets of the two pieces of steel girders salvaged from Ground Zero and donated to this poignant remembrance. The park is lively with locals out for a late morning walk, as if everyone is emerging from under the rocks after a blustery week of rain punctuated by a furious windstorm the night before.
Manette Bridge
I walk onward to the base of Manette Bridge, where eight plywood sized weatherized paintings are proudly displayed. The Washington Street Open Air Gallery highlights local artists and I snap photos to create the title collages at the beginning and end of this article. At the center of the bridge I turn around to take in the view, which seems to expand on all sides with water, shorelines and beautiful mountains. The salty, cool air feels fresh on my face — now warming up from walking in the sun.
Tasty Khao Thai in cozy Manette
Out of the corner of my eye I spot a tiny building on the Manette side of the bridge that looks abuzz and wonderful subtle smells of coconut and lemongrass start wafting toward me in the air. It turns out that Khao Thai has a cozy outside seating area and outstanding food. I order a specialty curry with a delicate flavor panel that comes ornately decorated and revel in the ability to eat from a real plate while sitting at a restaurant table. The staff are friendly and judging from the constant beehive of delivery drivers and locals stopping in, this is a staple in the community.
Bremerton Harbor Walk — day trip from Seattle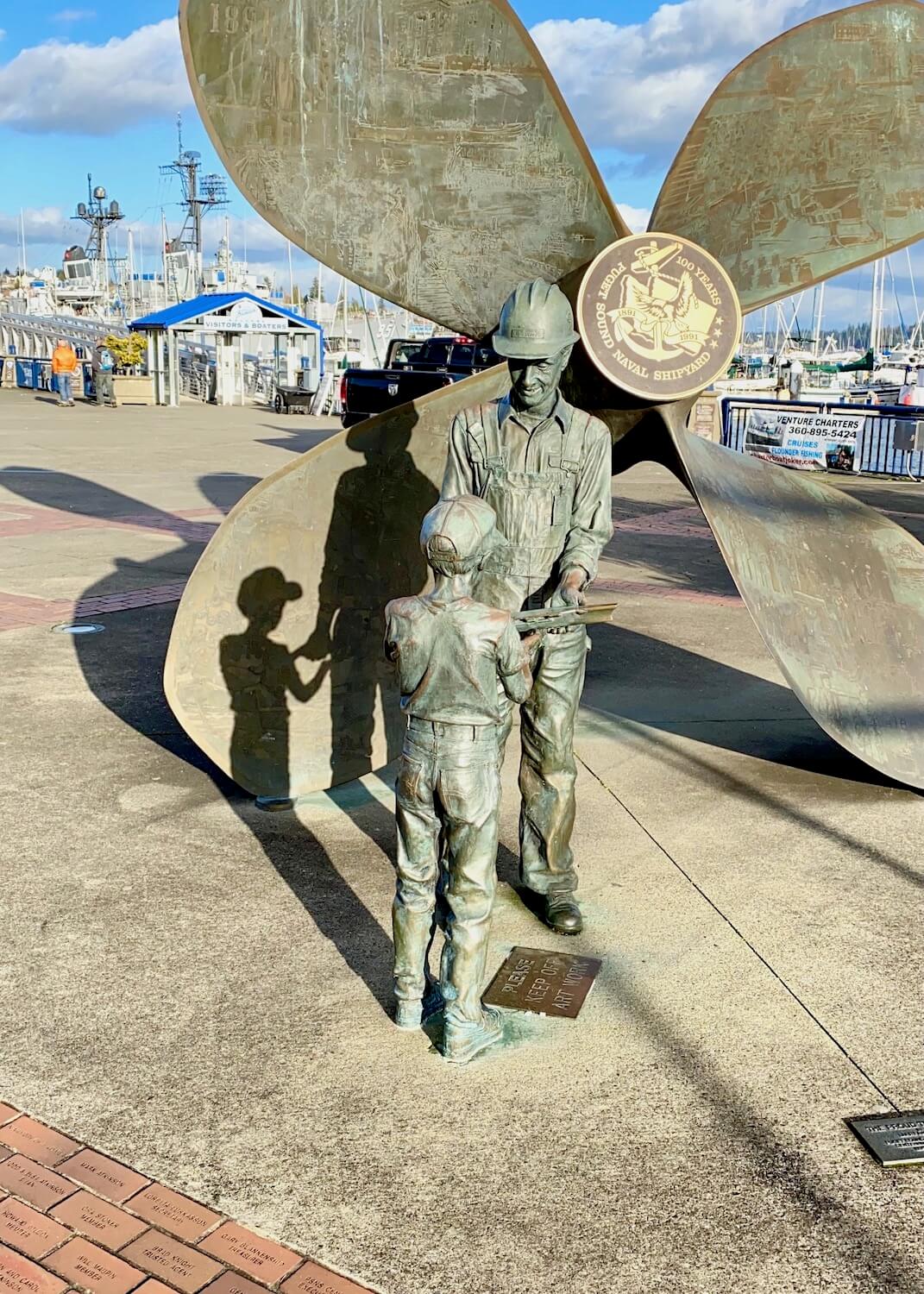 By now, the vintage shops I passed earlier (Ish Vintage Clothing and The Dusty Pug) have open doors and I check out some retro threads before winding my way along Bremerton Harbor Walk, passing the marina, the "Proud Tradition" sculpture (one of my favorites, shown above) and the Kitsap Fast Ferry and Foot Ferry terminal.
Harborside Fountain Park
Perhaps saving the best for last, I tour Harborside Fountain Park, a thoughtfully designed series of stone and metal installments following the border of the Puget Sound Naval Shipyard from the sail of the USS Parche (the most highly decorated submarine in the history of the navy) to the shoreline next to the ferry dock. Although the water from the fountain is emptied for Winter, the sequence of "spouts" magically walks the line between submarine and whale, with a nod to the volcanic nature of the Pacific Northwest. I love this installment and look forward to a return to see the water flowing.
Leave no trace and take nothing but memories — Bremerton day trip from Seattle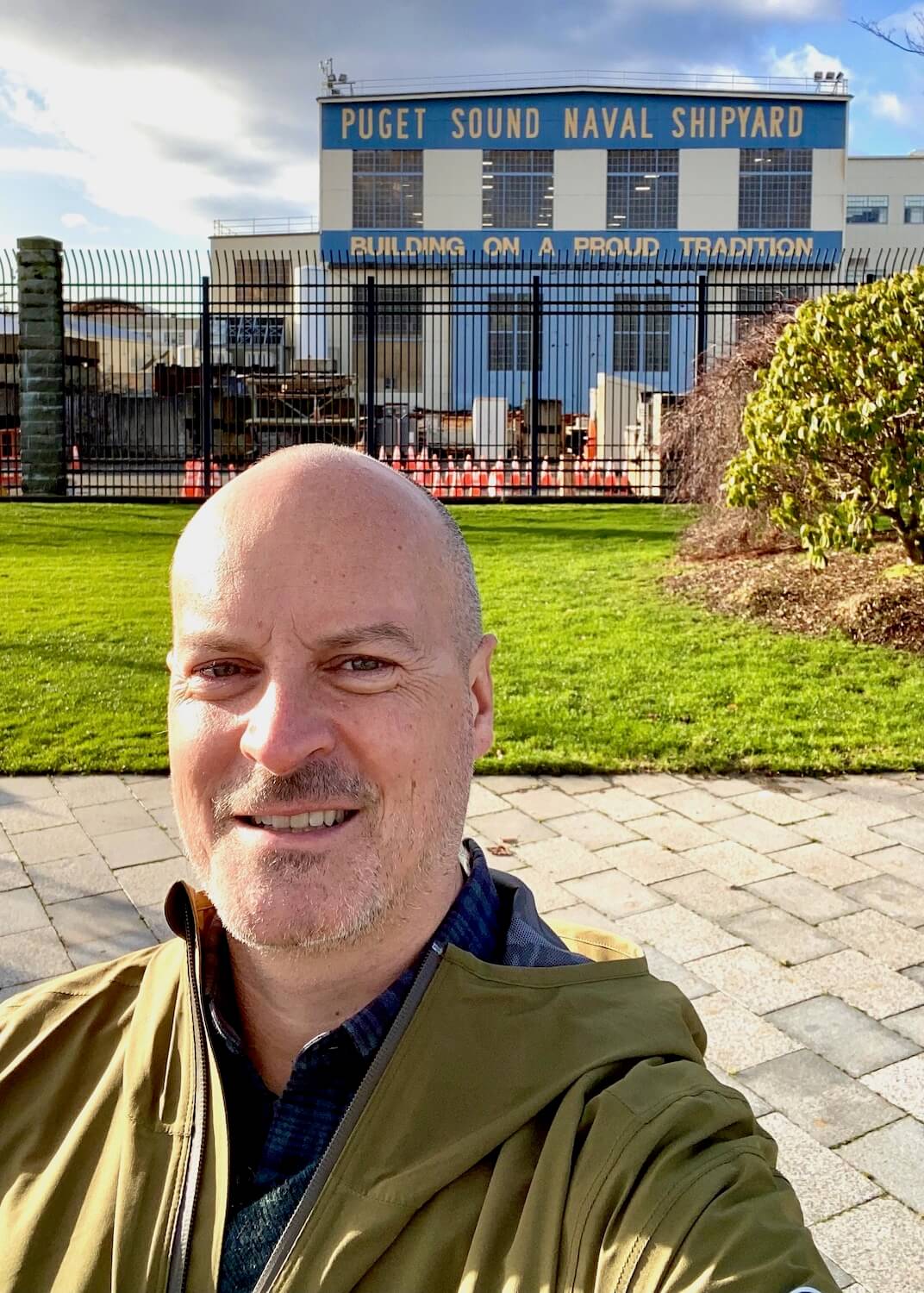 The loyal F/V Kaleetan chugs up to the dock just adjacent to the narrow elongated park — my ride for the 3:30pm departure back home. The sun shining on my face is exuberant and I'm thankful for my six miles in six hours — an urban hike full of parks, bridges, art, sculptures, buildings, vintage clothing perusing and tasty food and drink.
Day trips, especially on foot, are a perfect way to break for a change of scenery, get some exercise and experience new places right under the nose. I hope this article inspires your own exploration in the Seattle area or wherever you call home.
Planning Section — Getting there, Bremerton hotels and other useful Kitsap Peninsula information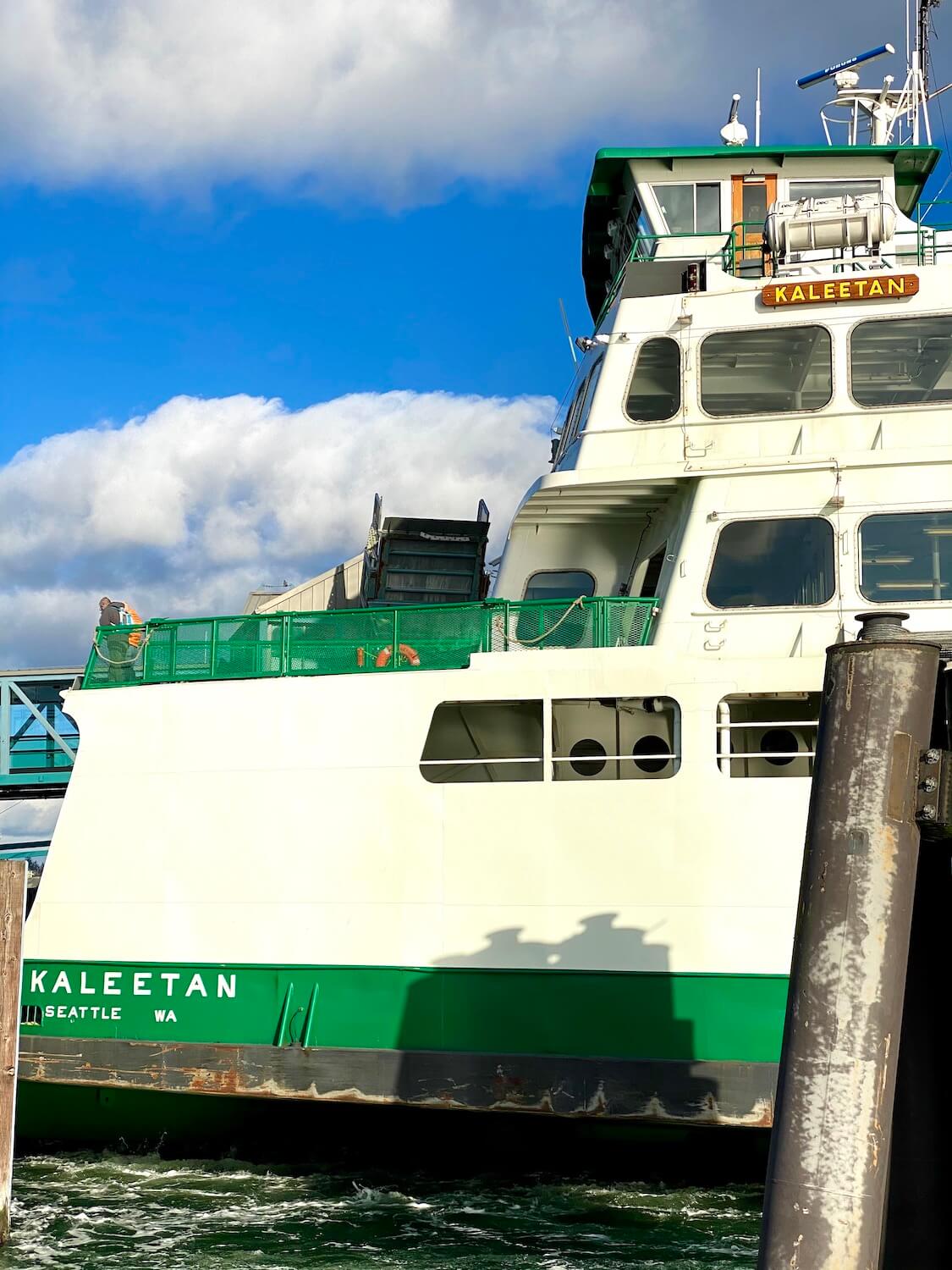 Getting to Bremerton by Car — day trip from Seattle
Since Bremerton is located on a peninsula, access via car is available from the Seattle-Tacoma area but checking traffic patterns is always advised. Making this drive (Westbound) between 3-7pm on a weekday is never advised.
Seattle (downtown) to Bremerton: 1:09 hours, 65 miles
Bellevue to Bremerton: 1:18 hours, 69 miles
Seatac Airport to Bremerton: 1 hour, 57 miles
Tacoma to Bremerton: 39 minutes, 33 miles
Getting to Bremerton by Washington State Ferry
I write about Washington State Ferries in a dedicated post to this vital part of the transportation system in the State. No matter the time of year, or the weather, a ferry ride across the Salish Sea is magical. At the time of this writing (Jan 2021), there are 14 daily ferries each way between Seattle and Bremerton and the crossing takes about an hour. Some key pricing information is below and more specifics, including ferry times, can be found on the WSDOT Ferry Site.
Seattle to Bremerton foot passengers (round-trip): $9.05 adult; $4.50 senior/youth
Seattle to Bremerton standard vehicle (under 22′ for driver only): $16.40 one way; $32.80 round-trip
Bicycle fee: $1
Getting to Bremerton by Kitsap Fast Ferry — day trip from Seattle
The Kitsap Fast Ferry is designed for foot traffic commuters and operates times accordingly. The trip takes about 30 minutes and operates from a separate terminal just next to the Ferry terminals on both ends of the route. The Fast Ferry terminal in Seattle recently moved to Pier 54. Although they accept ORCA cards, Washington State Ferry tickets are not interchangeable with Kitsap Fast Ferry. The information below is accurate as of the time of this writing (Jan 2021). Kitsap Fast Ferry schedule. Kitsap Fast Ferry FAQ.
Weekday Kitsap Fast Ferries between Seattle and Bremerton: 13 each way
Weekend Kitsap Fast Ferries between Seattle and Bremerton: Weekend operations suspended until this freaking pandemic is over
Seattle to Bremerton fare: $10
Bremerton to Seattle fare: $2
Current ferries hold about 12 bikes on a first come, first served basis
Getting from Seatac Airport to Bremerton by public transportation
The Link Light Rail operates regularly from Seatac Airport and takes about 45 minutes to reach the Pioneer Square stop in Downtown Seattle, which is about a half mile walk to the Washington State Ferry terminal. The total trip, including ferry, takes about 2 hours and costs $12.05 ($3 for light rail and $9.05 for ferry). The return from Bremerton to Seatac would cost only $3 for the light rail. It's best to buy an ORCA card at the Seatac light rail station and load enough money for the round-trip to make boarding the ferry more streamlined.
There are also bus options from Seatac Airport to Bremerton that cost from $23 each way. I like to use Rome2Rio to research more nuanced ground transpiration.
Bremerton Hotels
Why not make it an overnight? Since Bremerton is not a top tourist destination, hotels are limited when compared to other areas around the Salish Sea. Still, there are enough options to plan a fun overnight trip without requiring a vehicle.
Hampton Inn and Suites — located steps away from the Bremerton Ferry Terminal.
Fairfield Inn and Suites by Marriott — a few blocks from the Ferry Terminal and just adjacent to the USS Turner Joy.
Airbnb — use the widget on the side of this webpage (or below if using mobile) to search for options.
Roadside Motels near Oyster Bay — a few miles away from the downtown core.