These are challenging times. I won't give specific negativities airtime in this article, but it's hard to deny the calamities that seem to exist in every corner of our local atmosphere and across the globe. When I get the urge to just bury my head into the sand, I know it's time to reconnect with the land.
What do I mean by reconnecting with the land? I mean that nature and local history are standing by to help us get grounded in what's truly important in our lives. For me, that means connecting to what has deep heart and meaning. No matter where you're reading this, you have access to nature, somewhere outside your door.
If you're not quite convinced, I get it. There is so much going on in a rat race world that it can seem impossible to pause for a few hours — or long enough to take a day trip — to Bainbridge Island and the Kitsap Peninsula, for example.
But as I wrote in a recent article geared toward people new to the Seattle area, I found so much personal happiness from connecting with nature when I moved to the Emerald City ten years ago — amongst major personal and professional changes.
Key takeaway: This day trip itinerary to Bainbridge Island and the Kitsap Peninsula will help you recharge, by finding calm in your life through connection to the land.
When I say Bainbridge Island, this time I don't mean simply taking the ferry from Downtown Seattle to Winslow. Window shopping and enjoying outstanding pizza at Bruciato does make for a wonderful getaway — but today we'll dive deeper and get off the tourist grid quickly.
This guided day trip to Bainbridge Island is my personal version of guided meditation, told through the experience of inspiring nature and acknowledging overlooked history. Similar to other wellness journeys, consider limiting "outside noise" for the day.
Of course, like all my day-trip itineraries, this is completely customizable, but I suggest trying to take into consideration my helpful hints along the way to get the most impact.  I'm also a huge advocate for leaving as early as possible in the morning to get a fresh start.  And if you need tips on taking the ferry, check out my article, All you need to know to take the Washington State Ferries.  
Be sure to read all the way to the bottom to find the interactive map that posts this itinerary — save it for help along the way. There are also hints for soul-nourishing food, on Bainbridge Island and the Kitsap Peninsula, when you feel a little peckish.
Day trip to Bainbridge Island — Table of Contents
Downtown Seattle to Bainbridge Island Ferry
As you wait in the ferry line, make a conscious decision to leave the pressures of the day behind in the busy hustle of Downtown Seattle. Try to make an intention for the day. Do you want to learn more about native history? Perhaps convene with nature, or maybe just not answer any emails for a few hours?
Once on the ferry, leave your vehicle and wander up to the highest floor. Bring warm enough clothing to stay outside on the deck as the large vessel crosses the Salish Sea. Take in the fresh breeze and wave goodbye to Downtown Seattle as you get further away from whatever you've left there for the day. Allow this day to liberate you from all the noise — if only for a few hours.
Japanese American Exclusion Memorial — Bainbridge Island day trip essential
Just off the ferry, bypass the business of Winslow, and continue to the Japanese American Exclusion Memorial, across from the ferry docks. (Optional stop: If you need a little perk or a breakfast treat, make a quick run to Coquette Bake Shop, which is a rustic kiosk set up in a mini-mall right on Winslow Way E.) The rural roads on Bainbridge Island offer spectacular colors in Autumn, or a pleasant drive any time of year.
Learn about the history of this land, where Japanese-American citizens, many born in the United States, were required to liquidate their land and belongings. The 276 (estimated) people in the Japanese American community, thriving on Bainbridge Island, were the first group to be sent away to Manzanar in California… and then Minidoka, in Idaho — during the years of World War II. "Let it Not Happen Again" is the overarching theme of this setting.
Especially because of current times, this is an important way to stay grounded with local, often overlooked history — by acknowledging the lived experiences of those who endured this atrocity.
Halls Hill Lookout & Labyrinth
(Optional stop: Just up the road is Rockaway Beach, a simple city park with a small parking lot, one picnic table, and a rickety staircase leading to beach access.)
Continue a few more miles to Halls Hill Lookout & Labrinth and use the time here to further clear your mind of any pressures mounting. The design was created by a Portland artist and is based on the 13th Century French Chartres Cathedral labyrinth. There are handouts available that describe the symbolism amongst the turns in the path — made from locally sourced stones from Bainbridge Island.
I find it really soothing to walk the entire path, into the center and back out, much like monks in the middle ages using these designs for meditation. Notice the different colored shells and geodes embedded into the stoney path. (Optional stop: Head over to Lynwood, a quieter more local alternative to frenetic Winslow, to forage for food at one of the eateries — I like the Marketplace and Hammy's Burgers are well known and loved.)
Grand Forest West — the forest soul of Bainbridge Island
Make your way to a magical forest hiding within the interior of Bainbridge Island. This space is mystical in rainy weather, but great year-round for solace that comes from a Pacific Northwest forest.
The parking area holds about ten cars.  Upon arriving don't overthink it, just get out of your vehicle and start walking. The trails are well-marked and the loops make it almost impossible to get lost.  Whether you walk a little or a lot, breathe in the forest air and try to notice a few more details than usual — moss growth patterns, interesting lichen, and different varieties of trees. 
Speaking of moss, this youngish forest hosts plenty of trees covered with the lime green drapery and can be a great place to take in the mystical shapes if you're not able to venture further out to Olympic National Park.
Somewhere along the trail stop for five minutes and remain silent. Let your mind wander up into the thick canopy. The maple leaves are particularly stunning in Fall.
(Optional Stop:  Bainbridge Gardens offers a sprawling campus that's a gardener's delight.  It's just up the road from the Grand Forest West parking area and makes a great stop if you love shopping for plants.)
Suquamish Museum and Chief Seattle gravesite
Reconnect with the main roadway that shuttles you off Bainbridge Island, and immediately at the other end of the bridge turn right to drive toward the Port Madison Indian Reservation, home to The Suquamish Tribe. They are also known as the People of the Clear Salt Water.
The Suquamish Museum (open 10 AM – 5 PM daily) is housed in a modern-looking building that resembles a great longhouse inside. The main exhibit offers an in-depth timeline of events which is really helpful in order to learn about the history of Coast Salish tribes and, in particular, that of the Suquamish people.
Learn about Chief Sealth (anglicized to Seattle) — who lived in this area in Winter — and his heroic work leading his people through unprecedented change and challenge. Just up the road you can visit the cemetery that hosts Chief Seattle's final resting place.
More information can be found on The Suquamish Tribe website.
Heronswood Garden — day trip bliss
Drive another 9 miles through country roads with voluminous layers of maple leaves draped over the roadway — winding through peaceful pastures and family farms. Eventually, you'll cross an arterial roadway and come upon stunning Heronswood Garden.
The Port Gamble S'Klallam Tribe owns and operates this elegant garden, effortlessly flowing with native favorites that fold in more exotic species from across the globe.  (Normal operating hours: Wednesday through Sunday, 10:00 AM to 3:00 PM — closed in the deep Winter.)
Step into the recently expanded exquisite fern garden and notice the innovative fern table display amongst a wooded area. Survey the added "pioneer elements" and put together your own narrative about how the stumps, kettles, stove, and jalopy convene with the lush greenery. Let the dilapidated piano, situated under the protection of a proud cedar, evoke your own experience, being absorbed by the magical power of nature.
The Pacific Northwest garden is the next zone of discovery, and it is very well done with a variety of paths giving options to explore the thickets of vegetation. No matter the time of year, this parcel surprises and delights with erupting textures and colors.
Don't forget to visit the show-stopping formal garden, complete with stone pathways that lead to quirky fountains framed in by profuse flairs of colors that vary from reds and oranges to the muted flow of lavender and sage. This garden is perhaps the most inspiring I've seen this Summer season in the Pacific Northwest. Speaking of gardens, if you're interested in more of my favorites check out the article, Seattle botanical gardens — the best-kept secrets.
Optional stops on the Kitsap Peninsula
Port Gamble:  Former logging camp turned into a historic enclave of buildings.  Scratch Kitchen is a solid option for food.  
Point No Point Lighthouse:  The historic location of the famous 1855 Point no Point Treaty signing.  
Hansville:  A tiny hamlet housing a bakery/deli and quintessential country general store that can provide picnic provisions.
Foulweather Bluff Preserve Trail:  Fairly simple forest hike to a wide beach sitting underneath a dramatic tree-lined bluff (photo shown above).
Kingston to Edmonds Ferry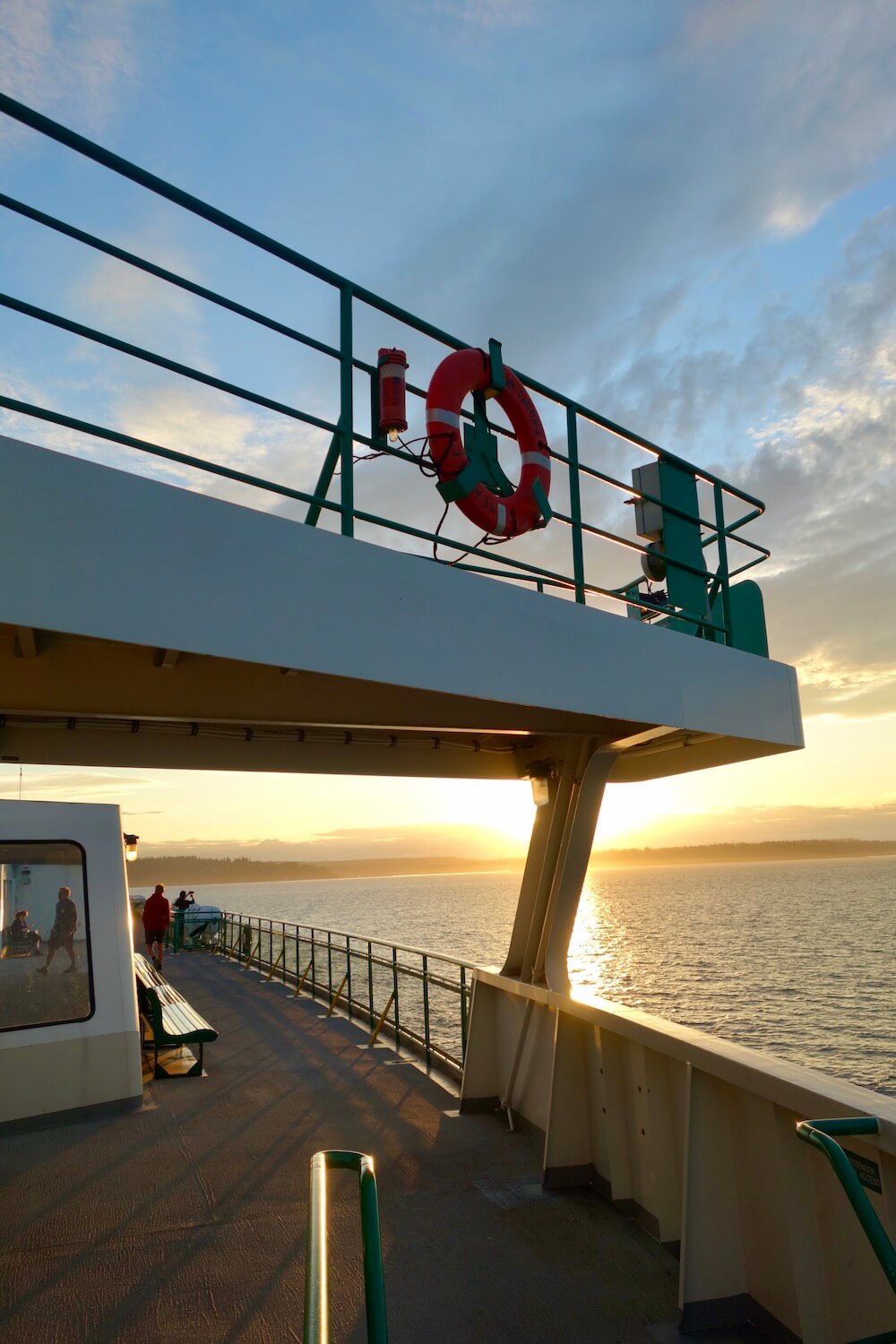 At this point (if you don't want to make the optional stops listed above) you can head to the Kingston Ferry Dock, which is only 4 miles away. There are a number of restaurants and cafes within walking distance of the car lanes, which is why I like to end up here when waiting for the ferry as opposed to Bainbridge Island.
Make your way to the upper decks of the marine workhorse and as you breathe in the salty air, reflect on the peace of the day before returning to life on the other side of the Salish Sea.
Day trip to Bainbridge Island and the Kitsap Peninsula — Reflection and connection
This day trip to Bainbridge Island and the Kitsap Peninsula offers moments to connect with nature and reflect on the history of the land — offering a perspective that can help you feel more connected to life in the Pacific Northwest.
Whether that connection comes via refreshing waves of the Salish Sea lapping onto quarter-sized pebbles or poignant moments of reflection around often overlooked history, may the day help deliver a pause in daily life that brings peace and connection.
Interactive Map — day trip to Bainbridge Island and the Kitsap Peninsula
Pin this trip for later