The Puget Sound is a commanding body of water that encapsulates a rich diversity of plants, trees, animals and interesting nooks and crannies — all changing with the rise and fall of the daily tides. Where high tide exudes a water world of salty goodness, the low water mark reveals the underwater secrets — uncovering giant kelp beds, mud flats and mollusks bathing in the summer sun. While there are many options for day trips from Seattle — to get out of the city for day of nature — I really love exploring the understated world south of Tacoma. This area includes the majestic Nisqually Wildlife Refuge, the state capitol Olympia, and old growth forests of Rainbow Falls State Park.
This article offers an awesome day trip from Seattle with focus on Nisqually Wildlife Refuge and Rainbow Falls State Park.
While a complete day trip from Seattle could be contained within the Nisqually Wildlife Refuge, including a food stop in nearby Olympia, I've combined another adventure into this itinerary to make the outing packed full of nature. Rainbow Falls State Park is further down Interstate 5 near Chehalis and worth some time exploring. Feel the spray of the thundering water on your face as the current flows over a large formation of rocks, and then wander amongst giant old growth fir trees in a mossy forest wonderland.
The following itinerary includes about four hours of driving to/from Seattle with a number of great stops to break up the day. I suggest stopping along the way and then one nonstop return trip home, but the sequence can be adjusted to suit the amount of time available and hunger.
Total drive time from/to Seattle 4:03 hours. Total distance from/to Seattle 227 miles.
Weather and planning in the Pacific Northwest
If living anywhere in the Pacific Northwest, you know that the weather can always be wet west of the Cascade Mountains any time of year. Take layers, especially because early mornings any time of year can be cool, opening up to warmer afternoons and evenings. Once the sun sets the usual is back to hoodie conditions. The Pacific Northwest doesn't present with obvious heat and beach-like conditions, but the sun still has power, especially in the summer. Be mindful of the rays and be sure to wear sunscreen and take plenty of water if planning longer hikes.
It might also be a good idea to have a cooler bag along to store snacks and drinks for picnic areas, in addition to water, cups and extra hand sanitizer. The Pacific Northwest is in various phases of re-opening the economy, depending on the county. Most restaurants offer take-out and some degree of dining that involves outside seating and/or open windows/doorways to keep air flowing. Still, keep in mind there could be limited services available along the way and plan accordingly.
As for fees, the Nisqually Refuge costs $5 cash to park in the lot. Rainbow Falls State Park requires a $10 fee to use the parking areas inside the park, although it seems you wouldn't need to pay if parking along Highway 6. The Discovery Pass (good at any Washignton State Park) is $30 for the year where you buy fishing and hunting licenses. In general, when traveling around the Pacific Northwest, I always try to have small amounts of cash available, preferably in $5 increments, to pay city and county parking fees if/when they arise.
Seattle day trip — get an early start
The earlier, the better, especially in the summer and weekends. This itinerary revolves around Interstate 5, which can get notoriously grid-locked around the Joint Base Lewis-McChord area of Tacoma. Keep these three tips in mind:
Traffic is much lighter in the reverse commute morning hours, making it very easy to quickly leave the metropolis.
Crowds start to thicken at about 11am, making it much more uncomfortable to navigate social distancing.
Departing later in the day makes it easier to lose energy and then potentially miss some of the best sights.
Billy Frank Jr. Nisqually National Wildlife Refuge — an excellent day trip from Seattle
I've driven Interstate 5 so many times in my life I can almost recite every exit and place to stop for Starbucks along the way. So it surprised me when I finally visited this wildlife wonderland, tucked in between the freeway and the flow of Puget Sound tides. The Refuge is named after a famous member of the Nisqually Tribe, Billy Frank Jr., who was an outspoken advocate for preserving nature in and amongst the traditional tribal lands. This swath of land was used for dairy farming for many years before the property was procured for a refuge in the 1970's. Since then, wildlife enthusiasts and state caretakers have worked to turn back the tides of human development — releasing the 4,500 acres back to the wild.
The drive from Seattle takes about an hour without heavy traffic, so a stop in Tacoma for breakfast would work. I like to exit at Dupont, since this area marks the end of the majority of traffic associated with the military bases. The refuge sits just a stone's throw from the interstate, and parking lots are easily accessible with a $5 day use fee.
It's a "choose your own adventure" kind of place, with walks along sturdy wood boardwalks that cater to energy levels and amount of time. The longest, most scenic, route involves strolling on a two-mile raised platform that leads to a charming gazebo at the end. The top of Mt. Rainier is visible on a good day and the sway of the tides can be as much as 14 feet, creating entirely different experiences between low and high marks. Check the tides.
Once underneath the point of the gazebo viewing station, get ready to witness a plethora of wildlife — mostly birds chirping near and far. Finches land on the sloped railings and herons wander the estuary floor, seeking fish to eat. When the tide is out, wide spaces of mud flats carve a winding path through flowing green grasslands that seem to quiver as a light wind blows down the Puget Sound. This wildlife refuge is at the southern end of the life bearing system of lakes, islands, bays, mud flats, estuaries, bridges, cities, ferries, boats. In and around this salt water haven are seals, sea lions, salmon, seaweed and an array of fish, including five varieties of salmon.
The plank walk rewards with fresh saltwater air, fantastic views and inspiring interaction with the theater of nature — and all-in would take about 2.5 hours for the round-trip.
Olympia, Washington and the state capitol building and campus
Next up is lunch in the downtown area of Olympia and a brief stroll through the well-kept campus that surrounds the commanding Washington State Capitol. The grounds host several fountains and a variety of gardens and wide expanse of lawns. Take the historic exit from the freeway.
Rainbow Falls State Park Washington — wander amongst old growth giants
Once fueled back up, take a deep breath and hop back on the ever-humming interstate, south this time bound for exit #77 in Chehalis, en route to rustic Rainbow Falls State Park. Highway 6 winds through some lovely rolling hills with small family farms. Not far from the freeway it seems as though time turned back to slower days when pioneers first appeared and farming was localized.
The state park named after that powerful flow of water that creates a beautiful spectacle is divided into two pieces by Highway 6. Years ago there was a bridge connecting the two areas that was washed out in a big flood. The official entrance to the park requires a bit of back-tracking and unless a picnic is desired, I suggest parking near the waterfall on Highway 6 to view the waterfall and then head across the road to the gem of this understated Washington state park.
Soggy disintegrating wood posts stand where welcome signs once hung and there are a few picnic tables and wearing down shelters that harken back to the days when more travelers used parks to cook food and gather together with friends and family. Venture further into the old growth forest and pick a trail to explore. The paths all loop around in circular fashion making it nearly impossible to get lost. I enjoy the Oxalis/Hemlock trails in a counter-clockwise approach.
Pe Ell, Washington — pioneer goodness within a day trip from Seattle.
They say Pe Ell (pronounced pee-L) got its name from one of the founders who was named Pierre and mingled amongst the Chehalis Tribe in the mid 1800's. Today this sleepy little pioneer town offers one street of goodness with a few sandwich shops, an all-American Post Office and the type of tavern frequented by locals. The people seem to be friendly and the town store stocks a comprehensive mix of camping supplies, booze and an abundance of rest-stop oriented food and snacks. This makes a great place to grab a bite before turning around toward home. Or, push onward from here out to Tokeland or Westport on the coast for an overnight or two.
Return home from a Nisqually Wildlife Refuge day trip refreshed
This itinerary won't be found on the greatest hits of Washington, but I love the slower pace and non-touristy fashion of true nature steeped destinations — only a stone's throw from the convenient interstate. From bird watching at a peaceful refuge to dancing around age old fir trees in a magical forest, this day will provide fresh air, few crowds and open road that frees the mind to bask in a refreshing road trip.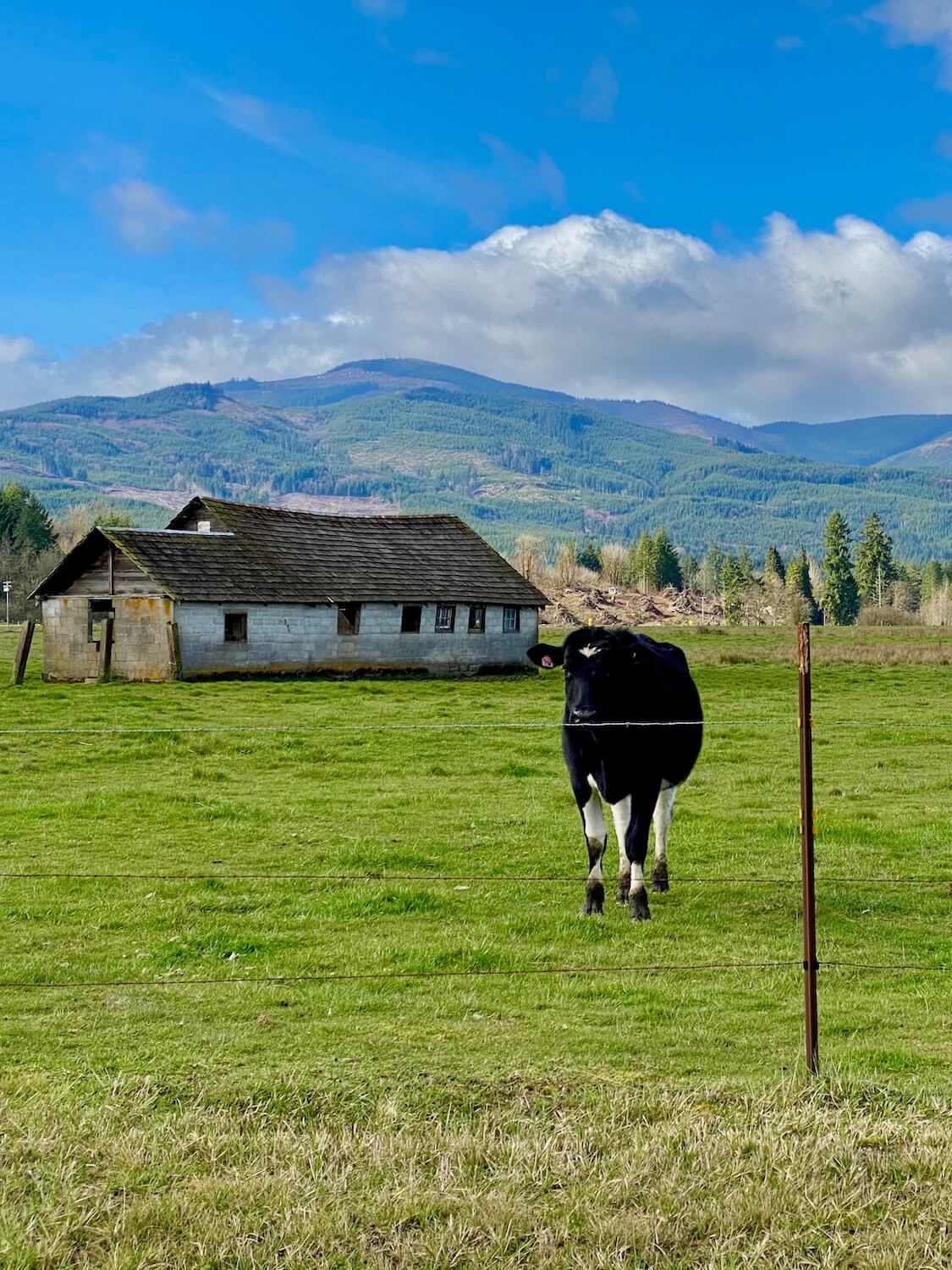 Follow me on Pinterest or pin one of the tiles below to your board.