An all-inclusive retreat that deepens your relationship with the Natural World — in ways that can transform your daily life.
This three-day retreat is an opportunity to safely go into an "altered state" within the realm of the Natural World in an inspiring location on the Olympic Peninsula. We'll be staying on a private beach in a temperate rainforest — in a wild part of Washington State three hours from Seattle.
With heightened senses (increased intuition), the spirits of the land and place are available to help you enjoy healing and well-being — by reaching more profound clarity about your life. What you put into the experience is directly related to the outcome, which can be transformational.
This retreat is for you if you're curious and willing to step toward deepening your relationship with the Natural World, and yourself.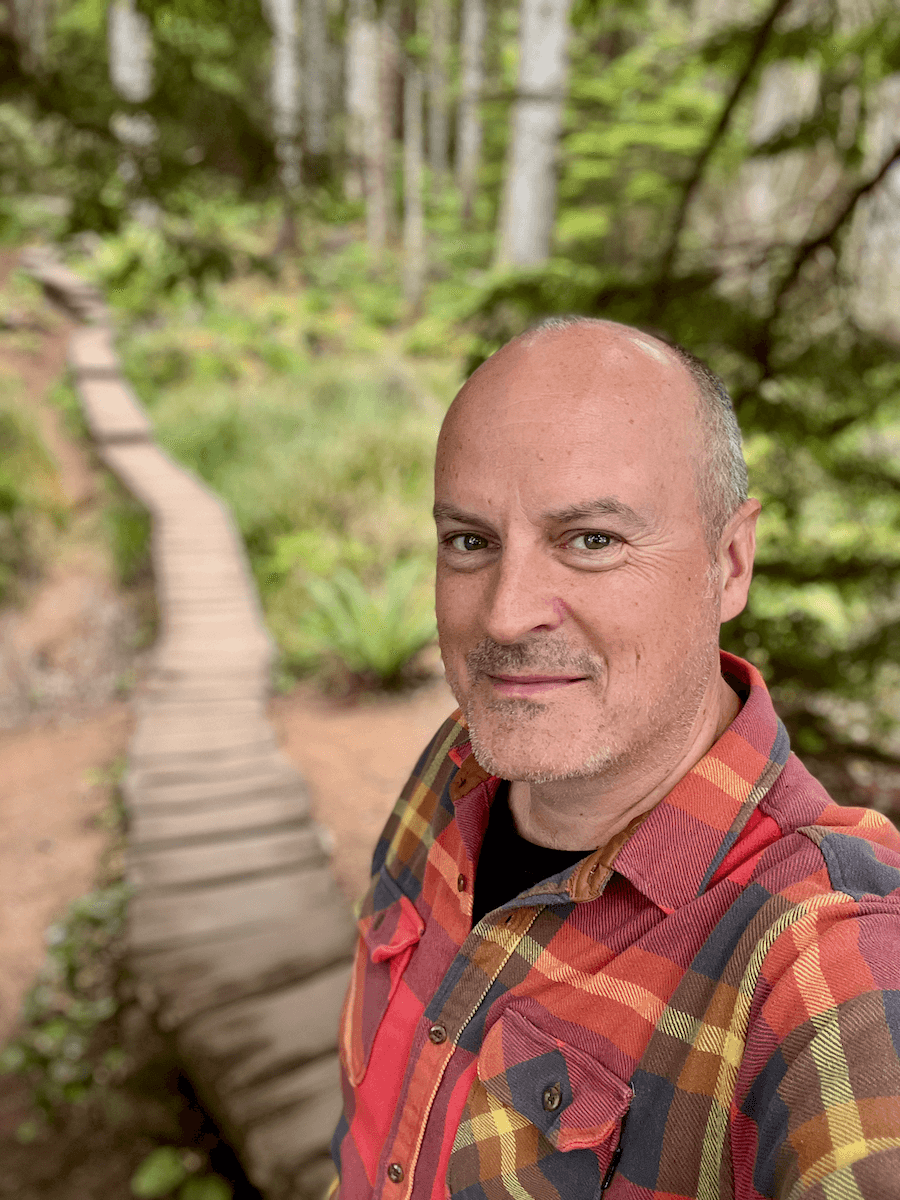 "Matthew Kessi is gentle, kind and compassionate. These three qualities alone make him an excellent guide in the outer and inner worlds. How these virtues become exceptional has to do with the what he attracts to him from Nature: the spirits of land and place. If you are seeking something deeper than sightseeing, Matthew is your person. He'll take you to places on the land and in yourself that are truly remarkable."
Patrick O'Neill | The Four Directions
What is an "altered state," and why is it essential for nature immersion?
Communing with nature has abundant rewards that humans sense on a primal level. For example, the marvel of sunset seems to cast a "spell," if only fleeting, of understanding we're interdependent with something more significant. This "spell" could also be considered an altered state. Think of it as advanced intuition.
Advanced intuition in the organic world allows you to see yourself in more precise and fulfilling ways — leading to a feeling of belonging, healing, and transformation.
A growing body of research points to the beneficial effects of exposure to the natural world on health, reducing stress, and promoting healing. Some studies further clarify that immersive outdoor experiences are essential to produce lasting benefits such as lower blood pressure, higher concentration, and improved mental health.
Imagine that nature exists in frequencies from 1-5, and most of society lives in a frequency between 5-10, where "10" is "frenetic." So if you're living at an "8," to get to a nature-forward connection, you need to find ways to lower the frequency — by increasing grounding & staying present — to reach "5," which is just on the overlap with nature.
Now, if you want to go even deeper into the magical places of healing nature spirits, it might require lowering to a "3" in frequency. Deepening into an altered state can help you sustain these lower frequencies. To do this, steps like intention, reaching out to the land, removing distractions, going slow, and paying attention will reliably and safely help you get there.
Once you've reached level "3," for this example, it is also crucial to softly return to daily life. For this reason, reflecting afterward is an essential tool for softer re-entry because it allows you to integrate healing and well-being into the daily version of your life. So your new normal might be level "6."
I use my mystic gifts developed over a lifetime to guide you to access nature's intelligence at a slow frequency.
This retreat is about learning and practicing the steps to safely and reliably enter an altered state in nature — where healing and well-being lead to transformation in your life — no matter the place or time.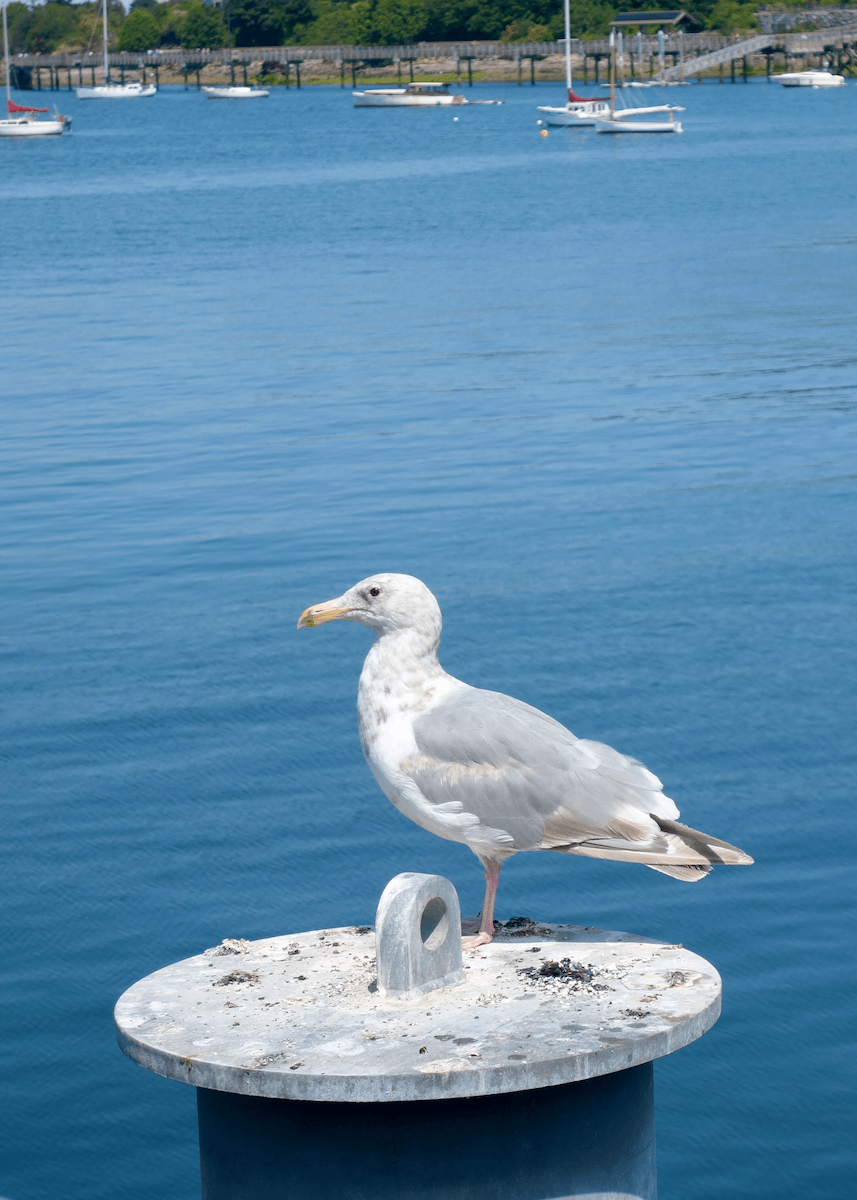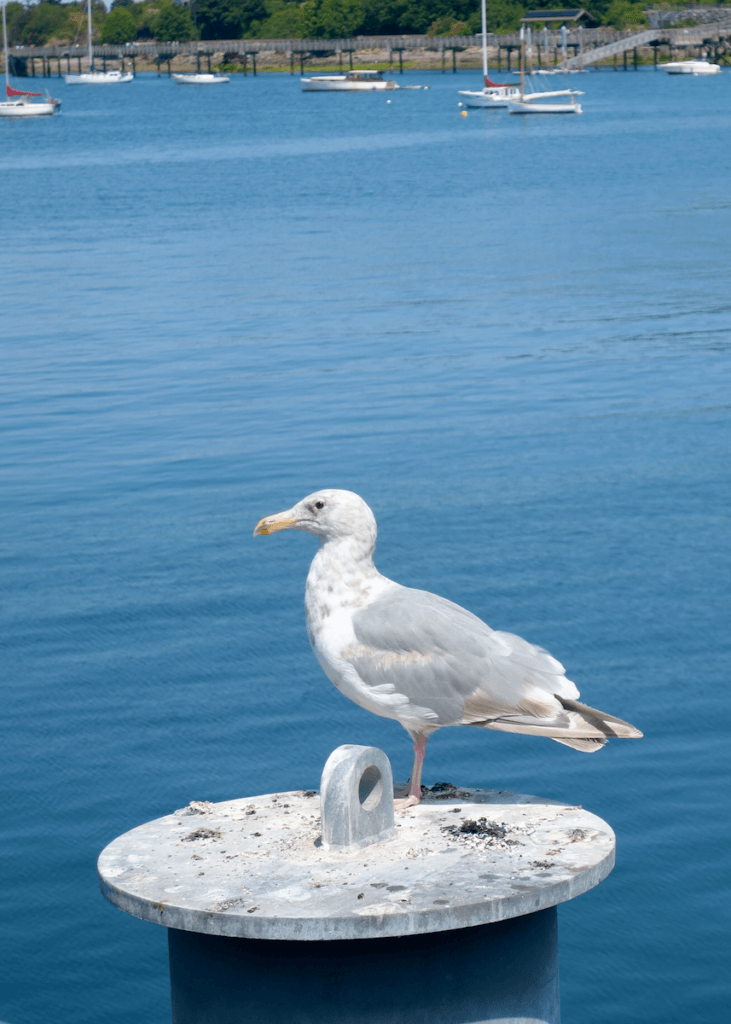 What's included
An experienced mystic guide.
Customized group vibe — up to 6 participants.
2 nights accommodation in comfortable cabins on a private beach on the Olympic Peninsula.
Clean eating meals: 3 lunches, 2 breakfasts, and 2 dinners.
Non-alcoholic beverages.
Entrance fees to Olympic National Park.
Planning assistance for up to 2 days before/after retreat.
What's not included
Transportation to/from the Olympic Peninsula.
Ferry fares ($21.40 each way for vehicle and driver).
Transportation to/from our activities in the Olympic National Park.
Souvenirs or additional snacks/drinks.
Meals or entrance fees before lunch on day one and after lunch on day three.
Travel insurance (recommended)
Day 1 – Arriving at the Olympic Peninsula
Leave "daily life" behind and slow down at the doorstep of Olympic National Park.
Noon Meet for introductory lunch at Turnip the Beet in Port Angeles, WA. Then, a 30-minute drive to Strait Surf Cabins.
1:30 pm Arrive at Strait Surf Cabins. Walk the land and get settled.
2:00 pm Begin Nature Immersion with Unit 1: Have Intention.
5:00 pm Unit 2: Reach out to the land.
7:30 pm Sunset, Dinner, and free time.
*This is an estimated itinerary. Slight modifications may be made.
**Sunset on the Olympic Peninsula in the fall is around 7 pm.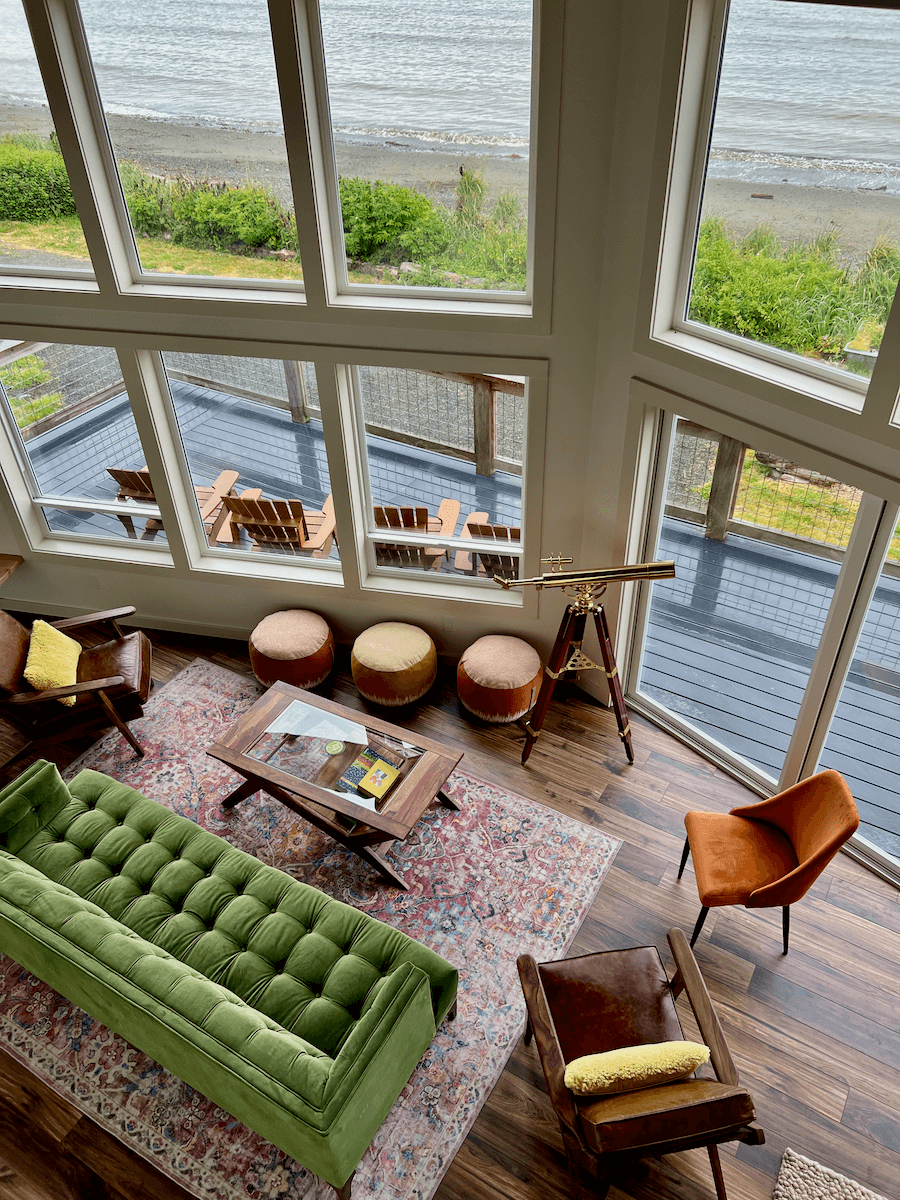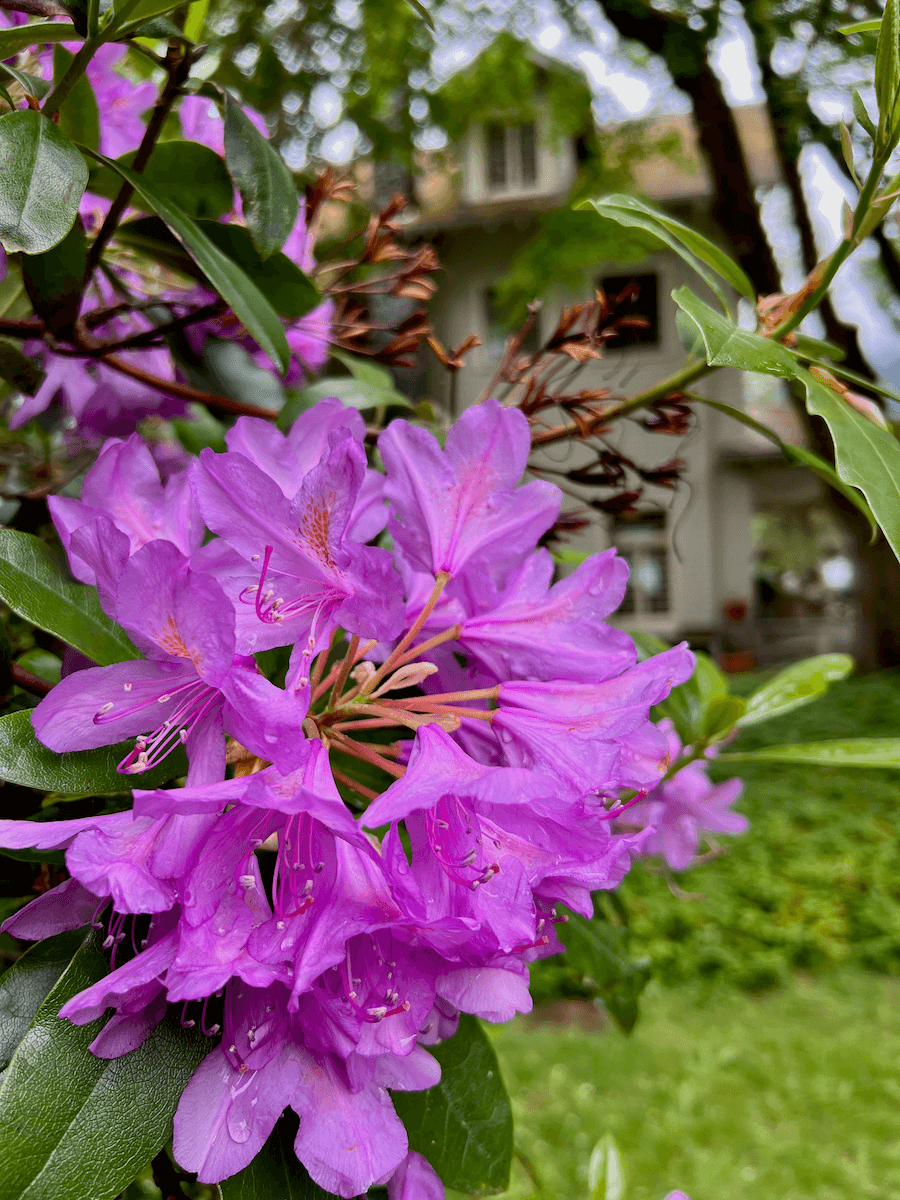 Day 2 – Explore the Olympic Peninsula
Practice the six fundamentals for elevating your nature connection
7-9:00 am Join me for "morning pages" (three longhand) quiet time and breakfast.
9:00 am Unit 3: Keep present.
10:30 am Lake Crescent — Marymere Falls Trail. Unit 4: Slow down, and then go slower.
Noon Lunch on the shores of Lake Crescent.
2:00 pm Unit 5: Pay attention: Short hike to Second Beach in LaPush, WA.
6:00 pm Coaching sessions back at Strait Surf Cabins. How is your intention working?
7:30 pm Dinner, free time, and sunset.
*This is an estimated itinerary. Slight modifications may be made.
Day 3 – Reflection and return
Integrate your nature immersion into daily life
7-9:00 am Join me for "morning pages" (three longhand) quiet time and breakfast.
9:00 am Capstone Nature-forward immersion experience.
11:00 am Unit 6: Reflect afterward.
Noon Lunch (or grab-n-go).
1:00 pm. Closing to nature immersion retreat. Farewell!
*This is an estimated itinerary. Slight modifications may be made.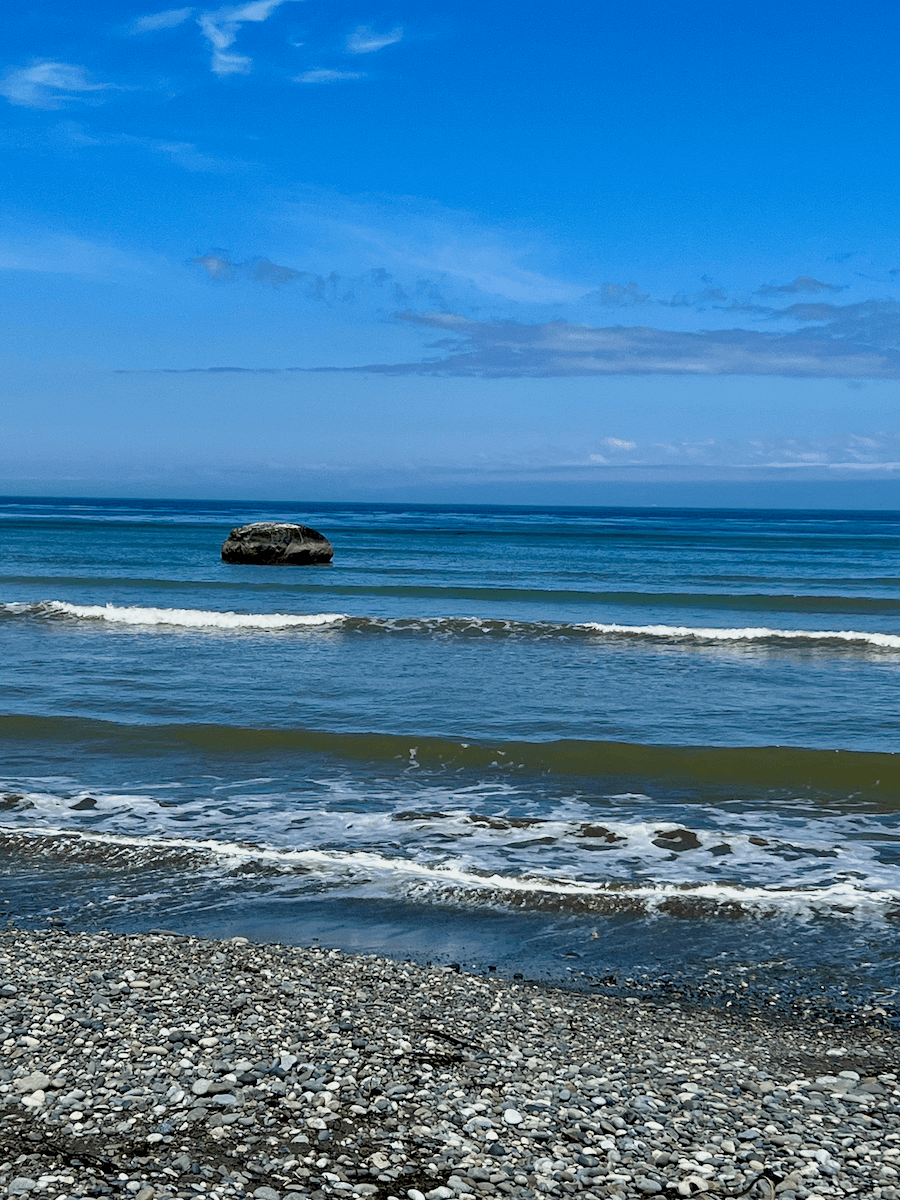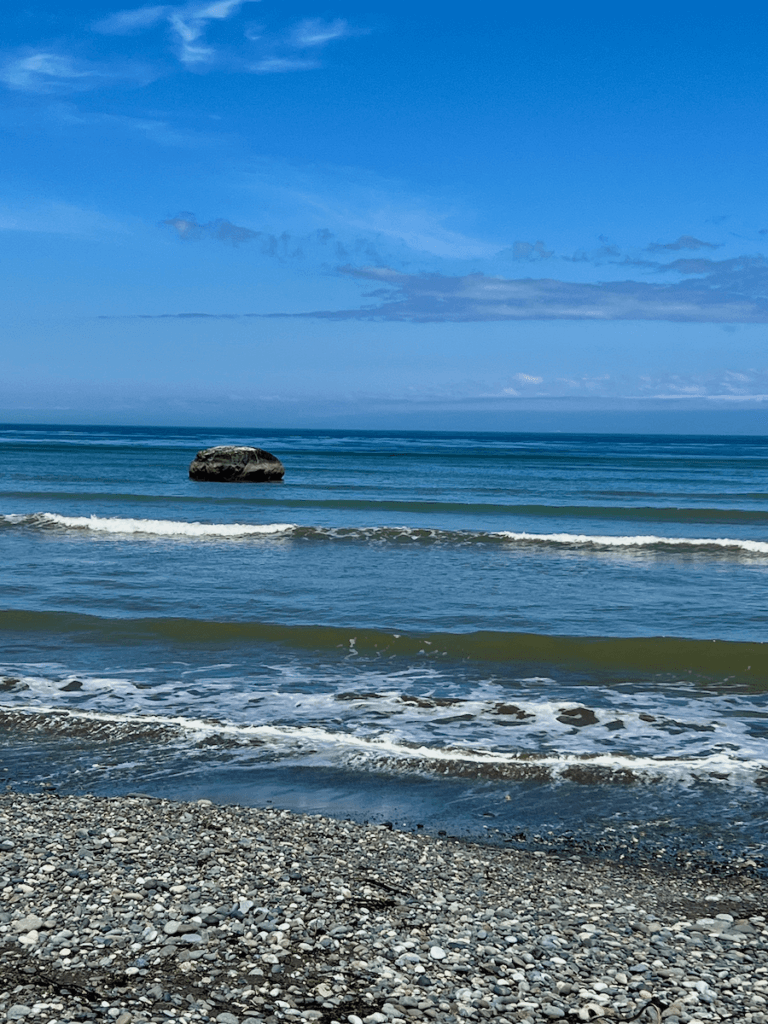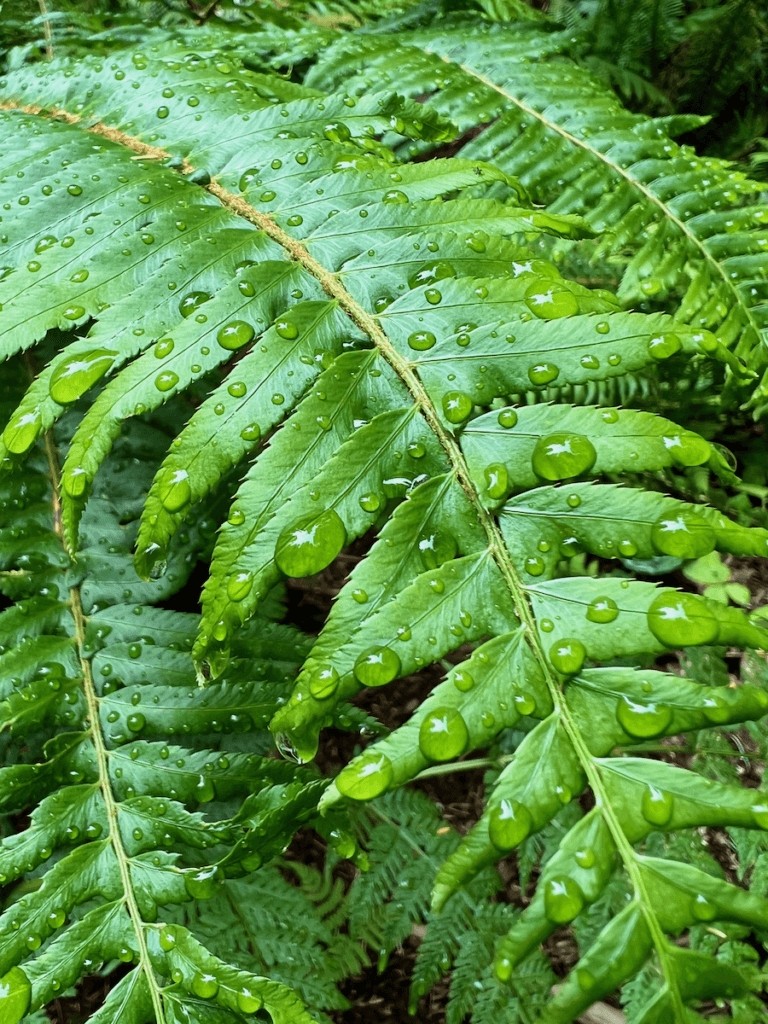 Why this nature immersion retreat?
Not just a forest bathing experience in a pristine corner of Washington State, this retreat on the Olympic Peninsula gives you unique access to nature spirits safely and intimately.
---
Walk with a Mystic
This is a rare opportunity to experience the spirits of land and place with a guide rigorously trained in the mystery of the Natural World.
Deeply spiritual location
Such soulful comfort on a private beach is not easily found in the undeveloped wonderland of the Olympic Peninsula.
Intimate group vibe
The group size is limited to six people, allowing more bandwidth to customize your nature experience.
Practical curriculum
The six fundamentals to elevate your nature connection are incredibly empowering yet accessible and straightforward.
See what they're saying.
Healing and wellness abound. Take it from these recent testimonials.
I recently attended Matthew Kessi's 3-day Nature Retreat on the Olympic Peninsula, a profound experience. He skillfully curated a curriculum that allowed me to embrace Nature's beauty while helping me to slow down and establish a deeper awareness of my surroundings. His approach emphasizes the importance of noticing the world around you, listening, and reflecting — allowing integration of many learnings.
What surprised me the most was how Matthew's concepts seamlessly integrated into my daily routines and management style. With his advice and recommended habits, I've fostered stronger connections with office colleagues and led with a newfound sense of purpose and mindfulness — something I needed after an intense year at work.
If you are struggling to balance the demands of modern life (work, personal, community, etc.), I recommend you try Matthew's guided experience. It's a holistic approach to embrace Nature, slow down, rediscover your inner self, and unearth the answers you seek. Having needed insights emerge through reflection in the Natural World is empowering, and they feel incredibly tangible.
I'm grateful for Matthew's guidance and impact on my life — he has contributed to many positive outcomes and increased my capacity to handle change and manage stress.
His guidance can help you awaken your intuition to unlock potential and renew your purpose.
Elliott
The experience Matthew created on our walk was extraordinary. Matthew helped deepen my level of presence and attunement to nature. He didn't know it then, but his guidance helped me gain insights about some challenges in life. Toward the end of the walk, I noticed I was moving more freely in my body. I highly recommend a nature immersion experience with Matthew.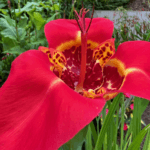 Scott
I came to Matthew's nature immersion on the heels of stressful events, and the experience was transformative! Walking through the trees and relaxing with the natural world around me melted away my concerns, and I emerged joyful. Thank you so much!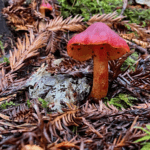 KK
This past June my partner and I followed Matthew into the coastal forests to participate in the Kessi World – Olympic Peninsula 3-Day Nature Immersion retreat.
The experience was suprisingly powerful and naturally fostered the introspection to address the different needs and desires we brought to the weekend. While my partner was pondering some significant work issues and career opportunities, I had the chance to reflect and work through some residual grief after my mom's recent death.
It's a great testament to Matthew's innate ability as a spiritual guide that we both experienced distinct and beneficial outcomes despite going through the exercises with the same directions in parallel.
This immersion retreat and the restorative power of the natural world can benefit anybody in any place in their life. It can create the perfect space for focusing on career challenges and opportunities or processing personal life struggles.
Even for those in a great place with life, work, and family, it offers a perfect opportunity to pause and offer gratitude to the abundant and beautiful planet around us.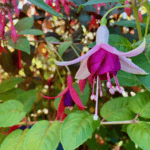 Brian
As I started my nature forward immersion, I carried the obligations of my work and the responsibilities of being a mother, wife, and daughter; they were heavy. There was skepticism; how would I be able to let it all go and connect with nature? There was a shedding with every step, and soon I understood what Matthew meant by "talking to trees." I am now practicing how to ground myself using nature when feeling overwhelmed. The reconnection between my soul and nature strengthens, allowing me to breathe.
Catherine
At the time when Matthew and I started working together, I was in a pivotal season in my career and personal life.
His guided nature walks brought deep grounding, healing and clarity when I needed it the most. As Matthew guides you through a nature walk he tailors each practice to your level of comfortability.
As someone who has a mind that is constantly running at 150mph I was appreciative of him teaching me to ground my mind and connect with Nature. Through the clarity I gained in these immersion walks I was able to make very important decisions in my career and personal life.
Matthew, is a true gem. Filled with so much peace, introspection and wisdom. I highly recommend anyone to take a part in his workshops. It is so vital to disconnect from our everyday lives and give the space to tune in with ourselves.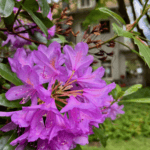 Fatima
Walking in the woods with Matthew gave me a deep sense of well-being and healing. Being lovingly guided in a new way of interacting with nature was a wonderful treat for this life-long nature lover. I recommend leaving your expectations in the car and exploring what messages Mother Nature has for you.
David
I was thrilled to finally get the opportunity to enjoy Matthew's Nature forward immersion. We met in the Arboretum. Matthew welcomed us with a warm smile and then provided an overview of what we could expect during the tour. As he shared the details, I could tell just how passionate he is about our natural world and all it holds. The time was divided into three parts; sight, listening, and touch. My favorite part of the tour was the listening practice. I was in awe of all the subtle and delicate sounds around us. This tour was a fantastic opportunity to be reminded of the beauty surrounding us. And that it's important to take moments to pause and appreciate all that natural beauty. I highly recommend this experience!!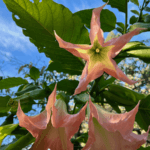 Michael
Maybe you have more questions? Let me help you find the answers.
Who should attend this nature immersion retreat?

Every human belongs in nature, so the ages and backgrounds vary, and anyone can connect with this inclusive curriculum. As a queer person, I understand the importance of creating and holding a safe and affirming space for you to embrace your nature.

People who are kind, courteous, and open to meeting new people have the best time on small group retreats. Since this experience heavily focuses on your emotional and spiritual curiosity and open-minded relationship with nature, an interest in slowing down and deepening your connection to the outdoors will ensure the best possible outcome.

Recreational drugs and alcohol are not permitted — they'll encumber your ability to get and stay grounded with nature spirits. For best outcomes, I suggest avoiding alcohol and recreational drugs for at least a week before our time together. While those who smoke will have access to smoking areas, our accommodations, and all stops are non-smoking.

Just in case, I reserve the right to decline or remove guests whose health or actions impede the operation of our retreat or the welfare/enjoyment of fellow participants. May we all remain respectful and open to the outcome of this time together, immersed in nature.
Where is the retreat, and how do I get there? Does it require a ferry?

The Olympic Peninsula is in a wild and beautiful area of Washington State. It is home to Olympic National Park and separated from the Seattle/Tacoma area by the Salish Sea and hundreds of islands. Traveling from Downtown Seattle will take about three hours (3.5 hours from Seatac Airport), while driving from the Portland area is about five hours.

Our home base will be near Joyce, WA, 30 minutes from Port Angeles and Olympic National Park.

If coming from Seattle, a Washington State Ferry is a scenic and powerful way to begin a nature immersion. Imagine leaving daily life behind the moment the ferry rumbles from the dock.

There are two ferry options: Downtown Seattle to Bainbridge Island or Edmonds, WA (a northern Seattle suburb) to Kingston. As of Summer 2023, standard vehicles and drivers fare $21.40 each way. Additional passengers are $9.45 for the roundtrip. Specific ferry information can be found here.

Plan extra time to queue for ferries, especially busy on Fridays and Sundays and during commute times. Being in line at least 45 minutes before posted sailing time is recommended.

It is possible to drive the entire way to the Olympic Peninsula via the Tacoma Narrows Bridge (toll bridge) or via Highway 101 coming from Portland, the Washington Coast, or Olympia.
Will transportation be provided?

You are responsible for getting to the nature immersion retreat in Washington State's Olympic Peninsula and for all transportation between activities. A car is required since this is a rural part of Washington State. I can help arrange carpools with other guests. Just let me know when you register!

This is usually ample parking at the various retreat activity locations.
When/Where should I plan to arrive and leave?

Plan to arrive at Turnip the Beet in Port Angeles by noon on the first day. We'll enjoy a farewell lunch (or grab and go if you want to visit the Olympic National Park on your own) that ends by 1 pm on the final day. This offers enough time to explore Hurricane Ridge (not part of the retreat program) and make an evening ferry on your return.

Unfortunately, I can't provide discounts or refunds if you can't make the whole retreat or some activities.
Can we go to the Hoh Rainforest and Hurricane Ridge?

Olympic National Park is beautiful and vast. Driving times are long between attractions, and we need more time to see everything. However, Lake Crescent and Second Beach are among the world-class highlights in the Park — we'll enjoy deep nature immersion here.

I've added information on this site designed to help you plan additional activities before or after the retreat. Access the article, How to plan an Olympic Peninsula road trip, and check the section with an itinerary designed to enhance this retreat.

ABOUT HURRICANE RIDGE

Hurricane Ridge is an awe-inspiring experience that involves a winding drive along 17 miles of breathtaking scenery. It is also a very busy tourist attraction that sometimes requires waiting at the entrance to the Olympic National Park, near Port Angeles.

Due to a tragic fire, entrance is limited, so please refer to the Olympic National Park website for up-to-date information.

Since the road usually closes around noon for private vehicles, I suggest overnighting in Port Angeles after the retreat and visiting Hurricane Ridge the following morning before traveling onward.
How's the weather on the Olympic Peninsula?

The Olympic Peninsula is famous for being one of the most extensive temperate rainforests in the United States. So, year-round, remember to bring waterproof footwear and coats and always have layers of clothing.

Fall and spring have cooler weather, more clouds, and possible rain on the Olympic Peninsula. For example, temperatures can still be in the low 60s in October but as low as the low 40s at night. Spring is similar with more rain.

The summer is typically mild with little rain. Temperatures in the 70s to low 80s are typical, with temperatures around the 50s at night.

Winter is magical in this part of the world, albeit very wet and sometimes cold. The spirits of land and place come closer to us, and we benefit from traveling to the Olympic Peninsula during a time with fewer visitors and dramatic beach scenes.

You may prefer house slippers or thongs for walking between workshop sessions at the Cabins, but please bring solid footwear for our time in the Olympic National Park.
Will we have free time?

Not much. The itinerary is well curated to offer you an engaging three-day curriculum that makes the most of your time immersed with powerful nature spirits. It will be full.

Since the point of this retreat is keeping present in order to deepen a connection with the magic of the terrain, please refrain from leaving the retreat premises independently, or deviating from the coordinated drives between activities.
What is the rooming situation?

Strait Surf Cabins provide a peaceful oasis to practice your deepening in nature on a private stretch of beach with five vacation homes. We'll utilize three bedrooms among two beach cabins with coastal and modern vibes. Both are stylishly appointed with linens and towels and offer sweeping beachfront views.

Everything focuses on the spirit of the terrain, and the energy of the experience is more akin to "friends sharing a beach house" than hotel room seclusion. However, between our nature immersions and workshop activities — you will only spend a little time in your room!

The area is gated and very secure, and we can lock each cabin when heading to Olympic National Park, but the individual bedrooms do not have locks. To be safe, I encourage you to leave valuables at home.

Here is more information about each room, including the bed configuration:

"Coastal Cozy" One level – Sleeps 2 with a queen bed.

This welcoming one-level cabin boasts beautiful views of the Strait of Juan de Fuca from a comfy couch and deck hosting a coastal vibe. The full kitchen will be where we'll prepare and eat most meals, and an adjacent bedroom sleeps two with a queen bed. The bathroom across the hall has a shower and may be used by the group during our "workshop" time together.

"Modern A-Frame" Two levels – Sleeps 4 with two beds (queen and king.)

A newly renovated beach home hosts sleeping accommodations for four people in two areas. There is an en-suite bedroom on the main level with a queen bed. The expansive loft above overlooks the living room with beautiful water views. It also has an en-suite bathroom with a tub and shower.

I can make accommodations for specific room requests, but I can't guarantee you'll get the room you'd like because the final room assignment will be based on our group's needs.
Can you accommodate dietary restrictions?

For the most part, yes. Please let me know at the time of booking. I strive to provide nourishing meals that focus on clean eating. No discounts or refunds are provided if you skip any meal during the Olympic Peninsula nature retreat.
How much physical activity is required?

This Olympic Peninsula nature immersion retreat doesn't require advanced athletic or endurance abilities. The whole purpose of our time together is to slow down enough to let nature teach us.

The hikes are usually around 1.6 miles roundtrip on gradual terrain that may involve sporadic steps, and you are encouraged to take it slowly. We will also walk on the beach, which has uneven areas of rocks.

There are stairs leading to the lodging areas. However, one of the sleeping options is only a few steps with a gradual ramp. Please contact me if you have additional questions.
What about safety?

The Olympic Peninsula, in general, is very safe, but leave valuables at home. Our accommodations are in a very secure gated community, and we can lock each cabin when heading to Olympic National Park. However, the individual bedrooms do not have locks.

We will stay in an area with adequate mobile phone reception (depending on the carrier). Our hikes might fall in and out of cell service, but we will always have reasonable access to communication (Lake Crescent Lodge or the community center in LaPush.)

In the event of a medical emergency, the Cabins are 30 minutes away from Olympic Medical Center in Port Angeles, WA. A basic first aid and snake bite kit is also available at the Cabins (and I carry it in a backpack when we hike). Forks Community Hospital is also 30 minutes from LaPush (near Second Beach.)

As for our work getting to an altered state in nature, it is emotionally and spiritually safe. I've guided myself and others in the outdoors my entire life. My mystic gifts arrived at age six, and I've been a diligent student of the mystery since then — developing my gifts and talents through rigorous daily training.

When we gather on the Olympic Peninsula for our nature immersion retreat, I've already devoted many hours calling upon the spirits of land and place to guide and protect us on the beautiful terrain.
What about wild animals?

Nature abounds on the Olympic Peninsula, but there are no human predators around the Cabins, and we'll be hiking in busy enough areas to scare away undesirable critters. We'll likely encounter deer and elk, among other wildlife.
Can I arrange a private nature immersion retreat?

Yes. All you need to do is purchase six spots (full occupancy). I can work with you on other dates, too — contact me.
Can you help plan my trip before/after the retreat?

Yes! Please peruse this website and check out my nature immersion planning resources that are only available to participants of this retreat. I've already written an article, How to plan an Olympic Peninsula road trip, with specific itinerary ideas to incorporate into this retreat.

Your nature immersion retreat registration also includes complimentary help planning travel within two days of the retreat dates. This service includes my experienced recommendations but does not include me making any bookings or purchases.
Is this nature immersion retreat on the Olympic Peninsula a replacement for other therapies?

I, Matthew Kessi, provide the programs and services that are alternative or complementary to healing arts services licensed by the State of Washington. I am not licensed to provide medical services as a healing arts practitioner. I am not a physician. I do not diagnose, cure or treat diseases, injuries, or illnesses. I also do not prescribe or administer prescription drugs or controlled substances. Persons requiring medical diagnosis and possible treatment should seek out medical diagnoses. I do not recommend discontinuing medical services or medication while working with me or the programs.

The information on this website is provided as an information resource only. It should not be used or relied on for medical advice, diagnostic or treatment purposes. This information is not intended to be patient education, does not create any patient-physician relationship, and should not be used as a substitute for professional diagnosis and treatment. Please consult your healthcare provider before making any healthcare decisions or for guidance about a specific medical condition.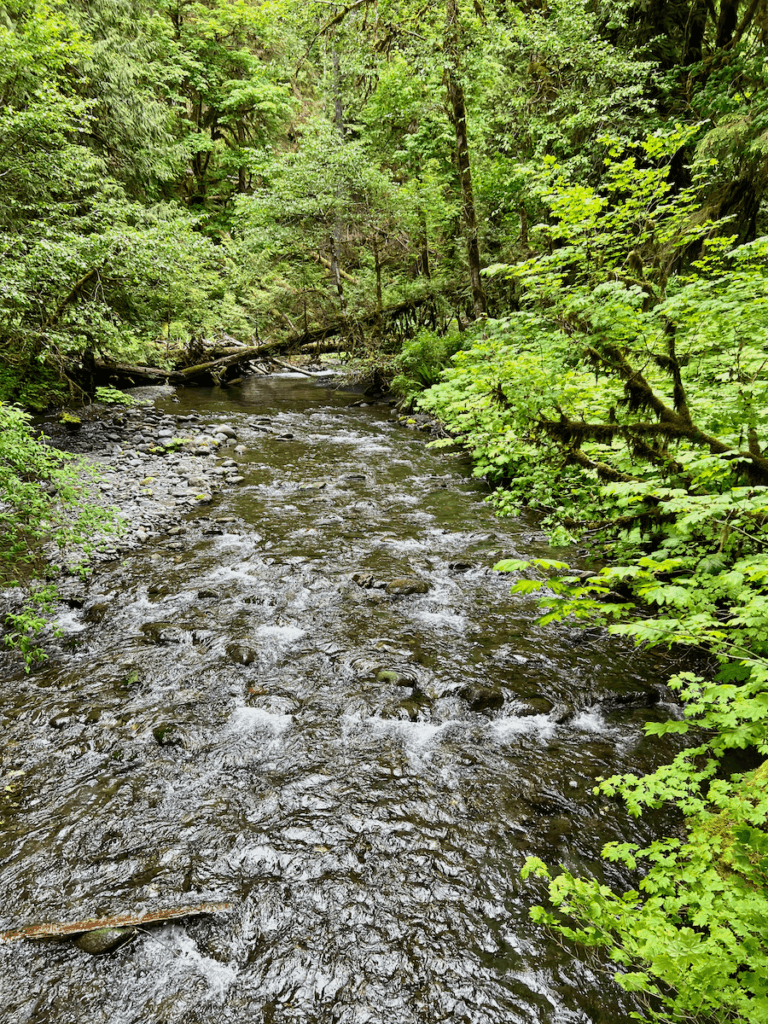 What to bring to this Olympic Peninsula nature retreat?
Open your heart and mind to slow down and practice developing your unique relationship with nature.
---
Layered outdoor gear
Comfortable clothing for light hiking, including waterproof footwear and outerwear (jacket and pants.)
Reusable water bottle
This is part of our efforts to leave no trace. I will provide refillable water during hikes.
Sundries, Medications & vitamins
There is still sun on the Olympic Peninsula! Don't forget sunscreen, bug spray, hats, and sunglasses.
Retreat casual clothing
Our workshops will be inside the cabins, so dress comfortably. Consider bringing easy on/off footwear to walk between buildings and on the beach.
Our curriculum: Six fundamentals to elevate your nature connection.
I'm enthusiastic about presenting this curriculum because its simplicity is its strength. Each step is safe and dependable, empowering you to engage with nature wherever and whenever. Let's delve into these fundamental principles that enrich your relationship with the Natural World.
Module 1: Connecting with the Land
Discover the Olympic Peninsula's 13,000-year history, where people's stories intertwine with the land. Acknowledge their presence, much like you would a respected family elder.
Module 2: Cultivating Intent
Your journey starts with intent—your mind, heart, and body aligning as you embark on this nature experience. Visualize the retreat's emotions and concepts. How can nature contribute to your healing?
Module 3: Embrace the Present
Create tranquility by shedding distractions. Step back from modern noise for lasting contentment. Manage "Monkey Brain" by seeing it as passing clouds or unwinding springs.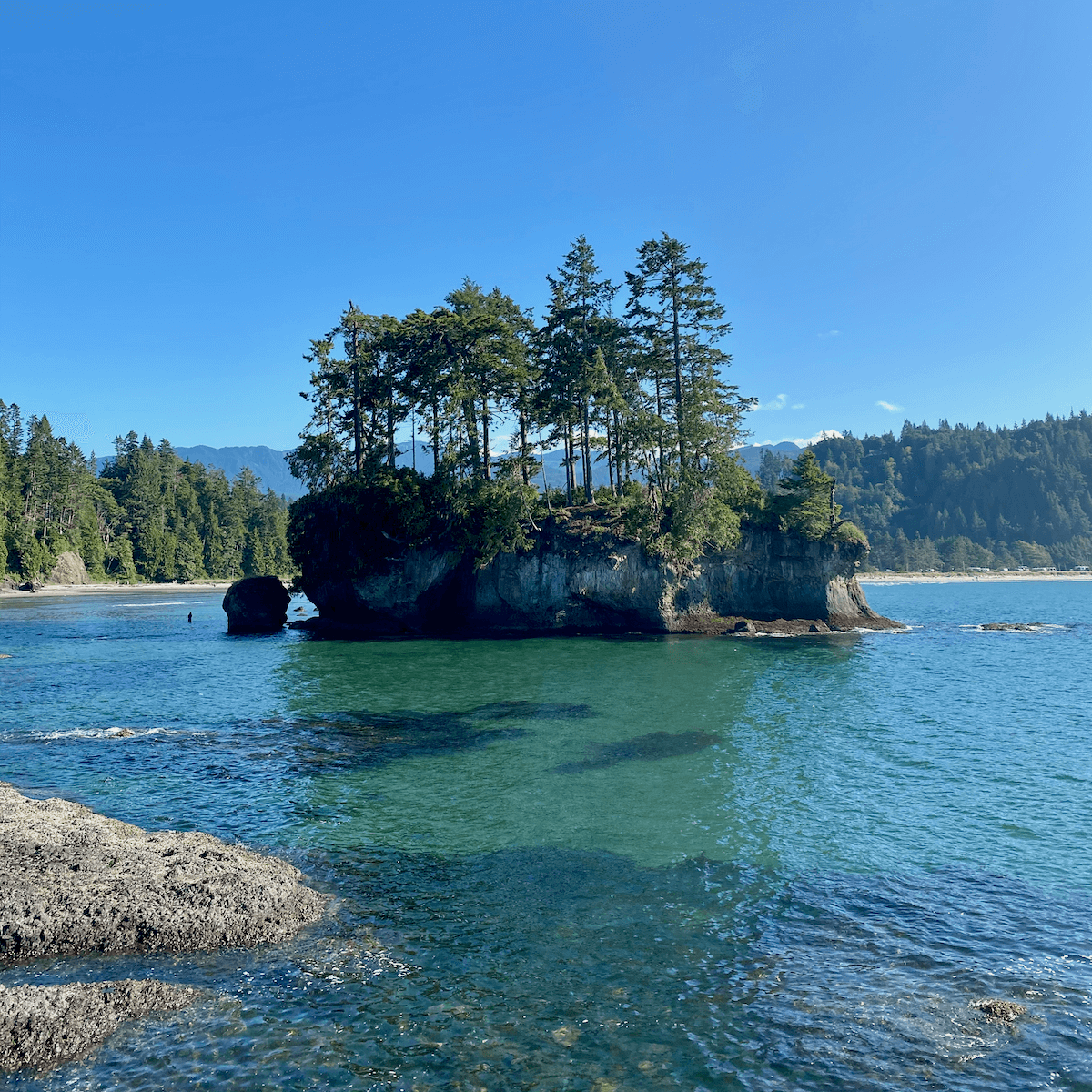 Module 4: Nature's Pace
Align with nature's gradual pace—neither rushed nor stagnant. Imagine quality conversations with nature akin to cherished friends.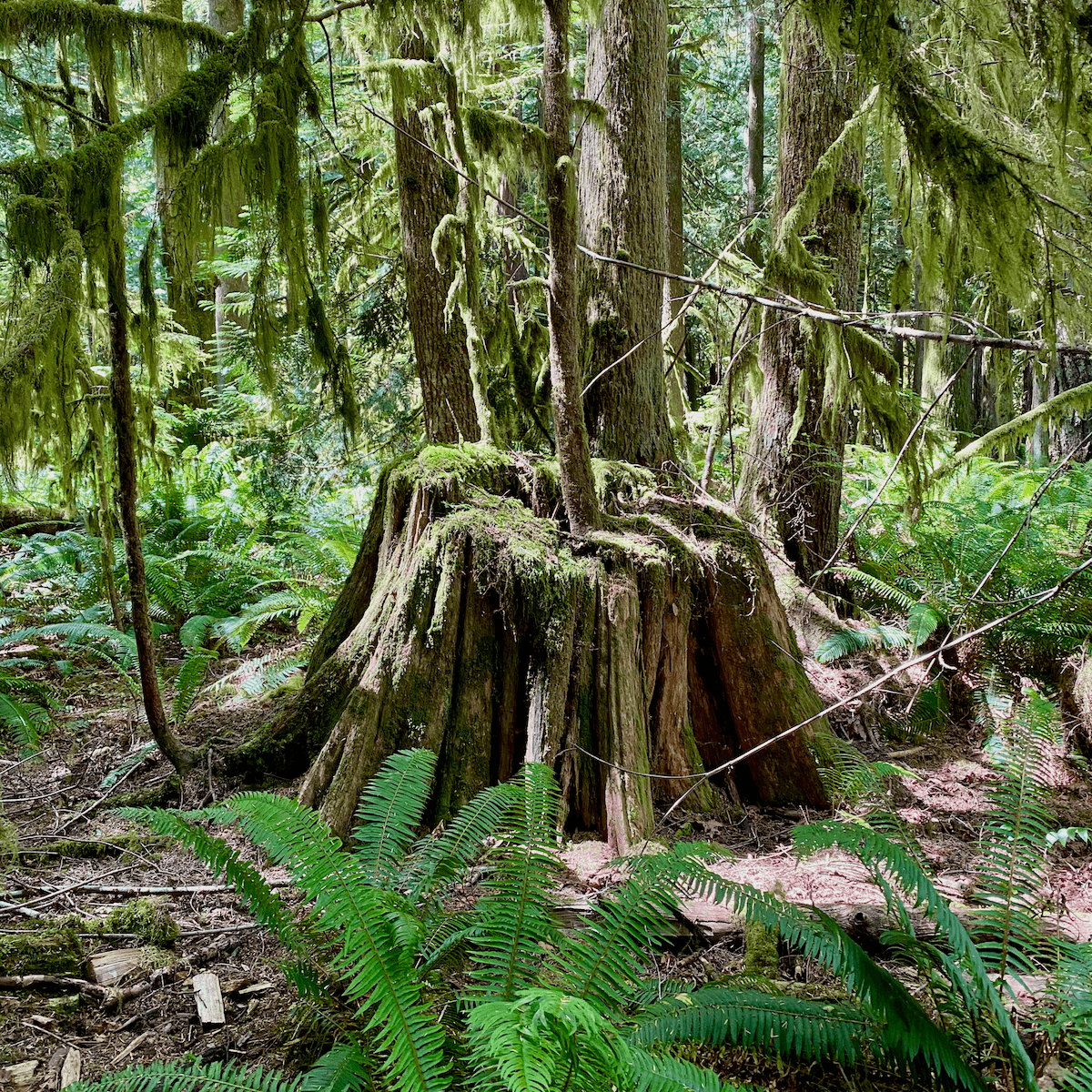 Module 5: Tune into Surroundings
Engage with nature's wonders. Heightened intuition reveals insights and healing. Nature holds answers; stay attentive for guidance.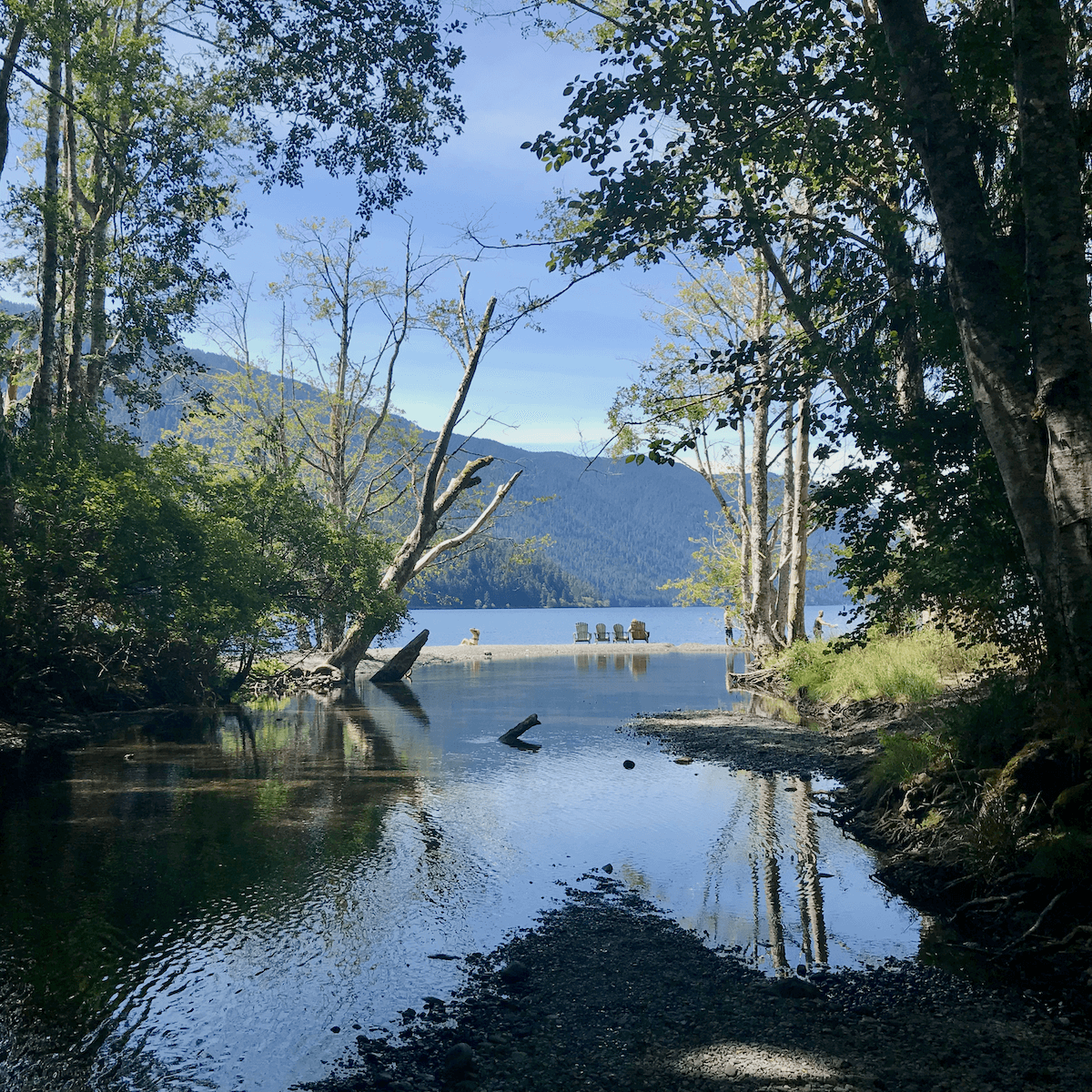 Module 6: Reflect and Integrate
Merge weekend experiences with life. Reflect each evening, share insights on day three, align outcomes with intent, and embrace ongoing insights.
Break Free from the Status Quo: Join me on a retreat that will change your life.
$1500 all-inclusive per person based on double occupancy. Additional $400 for single occupancy. Register by selecting a weekend below.
Want to let nature's power ignite your potential but need more details?
No problem.
I want you to feel comfortable and ready for an extraordinary adventure connecting you with the spirits of the land! Click the link below to learn how this retreat can help you with tangible healing, well-being, and transformation.
Do you have more questions? Please let me know. If you live in the Seattle or Portland areas, schedule a $25 nature immersion guided walk with me to sample the experience. It will last about two hours. Or, we can chat via Facetime or Zoom.