Connecting with nature where you are
Nature is there to meet you exactly where you are on any given day, in any mood or state of mind. Let me show you how to connect with nature in ways that will increase your health and well-being.
We are interdependent with nature. But what does that mean to you? How can Mother Earth assist you?
My life calling to help others connect to the healing salve of nature comes from lived experience. When I deepened my connections to plants, trees, rocks, and water, I experienced profound transformations. Yet, when I share my passion with others, I'm often met with an intellectual understanding of the benefits but reluctance to engage.
For those not used to really looking at nature as a partner in life, it can seem silly to try to forge deeper connections. So what does meaningful work with natural elements mean?
We can see examples of what it is on social media. For instance, an image of a person meditating on the bald spot of a mountaintop might feel peaceful. But we are conditioned to take those cues and assume that's what communing with nature looks like.
That may be, but there are countless other ways to get the exact benefit nature has in store for you — a customized medicine for your life.
Increasing your connection with nature doesn't have to be complicated. As long as you are not hurting others (including plants and wildlife), there is no wrong way to do it.
Elevating your meaningful moments with nature doesn't mean you are always happy or at peace.
But my most profound moments in nature come from subtle interactions — often on my back patio staring at a favorite rhododendron.
This plant is ubiquitous in the Pacific Northwest and known for giant showy flowers in springtime. But year-round, it is a gem that provides soul for the forest, gardens, and humans.
Let me take you on a simple journey to align your current mental state with this beautiful evergreen shrub.
When I say connect with this plant, you might not know what that means. I could also say, "just stare at it for a while and see what changes with you." This works — the concept of forest bathing and my Mystic Nature Experiences. Nature always connects with us in unseen ways, so spending quiet time looking at a rhododendron shrub is a valuable medicine.
I have some examples of how to engage nature that might help you gain confidence in meeting the organic world where you are.
Let's assume you're following my guidance in another article about "easy daily connections to nature," where I suggest spending time with a local shrub. You might say, "things are already going well in my life," or, "I feel like crap today." In either case, nature is there to meet you exactly where you are on any given day, in any mood or state of mind.
Let's use my friend, the rhododendron, visible a few feet from my patio table in a tiny yet soulful garden. This exercise would be a five-minute meditation.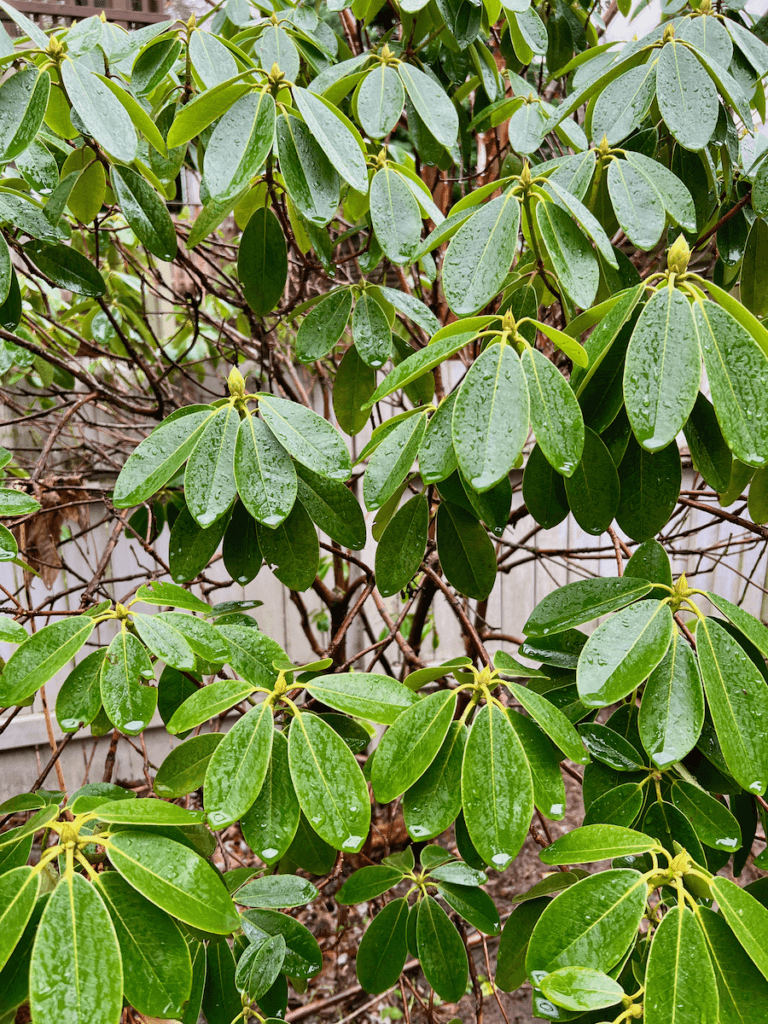 A linear type could begin the five minutes engaging with the multiple buds — the beginnings of prolific white flowers.
First, count all the buds on the rhododendron. Then, figure out a way to string them together with decorative garland. This activity strengthens the connection with the bush while aligning the experience with your personality.
Someone with a shorter attention span could touch each bud — literally or figuratively- in a whack-a-mole fashion.
A creative thinker might survey the oval shape of the leaves and delve into the richness of greens, paying attention to the lighter veins and brighter, almost yellow blooms. Pondering what in life mimics these blooms. They might imagine painting this experience on canvas.
People in the sea of profound sadness might watch raindrops dripping from the leaves, falling to the muddy ground.
Then, they could either imagine water dripping down the waxy green or spray the bush with a hose to replicate raindrops if there isn't rain.
An observer in a state of peace may stay still and get lost in the collage of green tones, devoid of any particular engagement.
Those having a "bad day" with pent-up energy could imagine taking a branch and snapping it in two (don't actually do this).
Or, if there happens to be a stick on the ground, feeling it snap in hand is powerful — the strife can transfer from you to the branch and into nature. It's therapeutic. But even imagining this helps because, in unseen ways, you're giving this energy to the plant to realize healing medicine.
And yet, another person who feels futility in life can release the pessimism back to nature by focusing on the dead leaves on the bush — either still clinging or already fallen on the ground. Fall and winter are symbolic times of death because nature gives us many hints. This is an example of Mother Earth meeting us (or society) during a particular season.
A person feeling optimism and joy could imagine each future bloom as a bouquet.
At the same time, dreamers would picture themselves as a fairy jumping from bud to bud in a playful manner.
No matter the mood, the idea isn't to change in nature but to meet nature head-on — as you are.
In this process, you can release emotions, thoughts, and the static of daily life to the natural world. And when these tensions are released, space becomes available for healing, inspiration, and growth.
The give and take described above is nature's medicine. Even as little as five minutes begins to make a difference.
So next time you engage plants, trees, rocks, and water and want to embrace the healing salve of the natural world, allow yourself to begin where you are. From there, maintain an openness to the flow of energy, thoughts, and emotion and let the experience help you.
This willingness to let go and trust nature to see your life differently empowers transformation.
Engage nature's medicine and transformation at the moment.