How to make a nature connection in Bellevue Botanical Garden
A how-to guide, including favorite mystical places in the 11 horticulture zones, bridges you to a Bellevue Botanical Garden nature connection.
This article inspires a visit to Bellevue Botanical Garden. It guides how to elevate your nature connection with this 53-acre greenspace in the heart of a Seattle area urban beehive. Eleven distinct zones of botanical goodness patch together — inviting discovery that can go deeper than the magenta hues of Fuschia lining the main lawn.
My life is all about nature. I take time every day for some form of connection, whether a 20-minute meditation or several hours playing in a local park or garden. Bellevue Botanical Garden is a regular stop for me. Every season provides a new perspective — magical textures and changing hues to remind me nature is right on time. I've enjoyed countless hours in this wonderland, which inspired this article to help you make the most of your nature connection here.
This beloved park is conveniently located in downtown Bellevue, open between dawn and dusk, and free to enter. While popular year-round, especially on weekends, you can enjoy a quieter pace in several locations I'll explain below.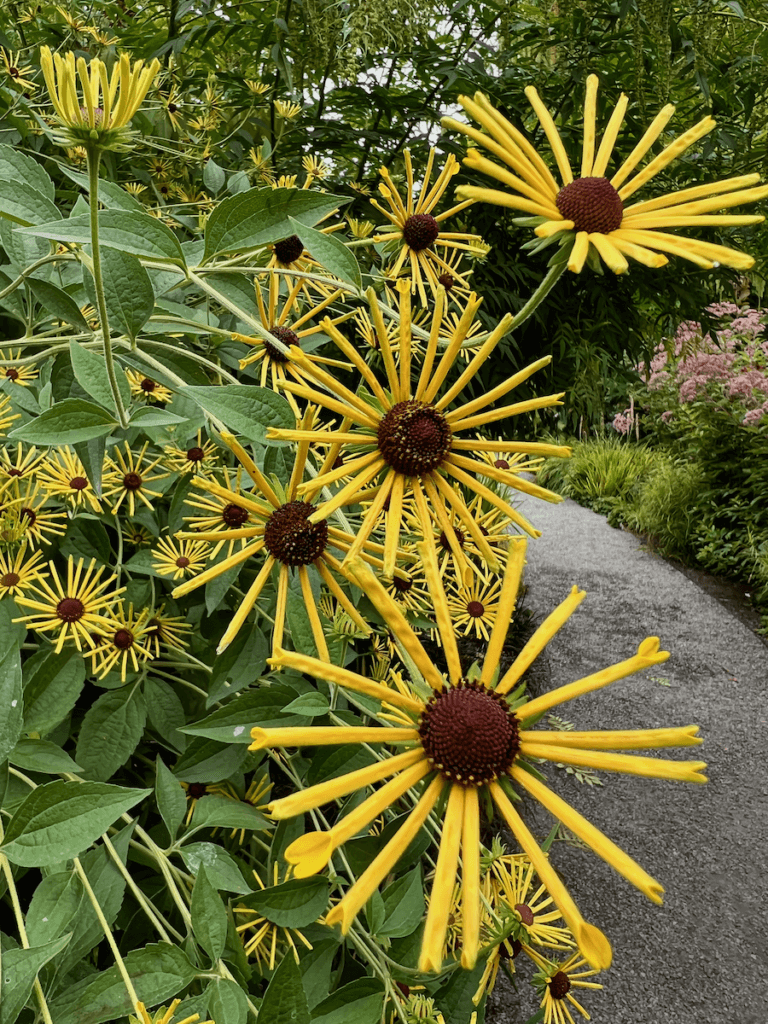 What's in this article — all about Bellevue Botanical Garden's nature connection
While this flagship park is not a secret, the true secret is how to go deeper into your nature connection — in ways that can change your life. This is your guide to exploring Bellevue Botanical Garden, with specific steps to the mystic way of taking in all Mother Earth wants to offer.
If you're interested in joining me for an in-person Mystic Nature Experience, read to the bottom of this article for more information.
Follow these sections below, and you'll be on your way to elevating your nature connection. If you're an interactive learner, check out my TikTok videos, featured at the end of this article. Warning… I'm in them!
How to make a Bellevue Botanical Garden nature connection
Yes, the eleven zones of this botanical garden offer exquisite colors and textures that can catch your heart just as much as your eyes. It's all part of enjoying the experience.
But how about pushing further to new, more enlightening experiences in the organic world? No matter your mood or energy level, Mother Nature wants to help. Try these six steps guaranteed to elevate your nature connection.
These fundamentals were developed over my lifetime, guiding myself and others through nature. For more details on this, jump over to another article, Six steps to elevate your nature connection.
Perhaps you're interested in a more detailed outline of what finding a deeper nature connection looks like. Look at another recent article: 5 inspiring walks this Seattle Autumn.
Have intention

Take a few moments to engage with your purpose by walking in the beautiful nature of Bellevue Botanical Garden. What outcome would you like? Are you healing from something? Do you want more inner peace?
Reach out to the land

Nature will hold you tighter when offering a thoughtful gesture of respect. Ask for permission to enter as if knocking on a neighbor's door. You could say, "I come with an open heart," or something similar.

The walk starts on a bridge-like ramp because formations like this help the mind, body, and soul all engage with a transformation into another realm. The symbolism is essential — especially if you're beginning to explore entering nature in new ways.
Remove distractions

Yes, that means putting your phone away! It's okay if your mind isn't clear, but try to set yourself up for success. Technology will be waiting when you return, but give yourself the gift of space from the frantic world.
Go slow

The first 15 minutes are crucial in setting the pace of your nature experience. Make a conscious effort to do everything slowly — maybe as you'd imagine slow motion. Try to stay as quiet as possible.
Pay attention

You're walking in a world with millions of little miracles — smell the leaves and look up at the trees.
Reflect afterward

Allow your experience to integrate into your life. On the way home, review your favorite nuggets of gold. Maybe the childlike joy felt from bouncing on the suspicion bridge inspired an idea? Go a step further and write down notes.
Bellevue Botanical Garden nature connection — go slow.
I'll reiterate number four on my list above — go slowly. I've curated this itinerary based on the concise natural beauty that helps you focus on deeper connections because large hiking distances aren't required.
Make this experience about the quality of time… and take your time. The magic with elevated existence in nature is how linear time morphs into something else. During my latest visit to this garden, I spent three hours wandering about two miles — but it felt like thirty minutes.
Aside from attempting the six steps mentioned above, allow yourself grace to do what feels right. Sit down, stand up, close your eyes, or open your mouth to taste the rain — this is your connection to Mother Earth.
Understand that everyone's experience is unique to them — it's okay not to feel monumental changes when new to this approach to nature. Be patient and keep on practicing.
Beginning your walk into urban nature.
Beginnings are essential to any experience — and especially going into nature. There is plenty of free parking in front of the garden. Take a few moments before crossing the entrance threshold to determine your intention to spend time here.
Continue these thoughts in the entrance breezeway (photo shown) as you find a fountain. Take a few minutes to follow the sound of water gushing over linear stacks of bricks. Allow your gaze to wander gently over the layers of colorful flowers in the raised planter lining the walkway.
Use this time to prepare for your experience. Remove all potential distractions — duck into the restroom, put away technology, and try to quiet the mind as much as possible.
Follow the ramp to the left of the fountain, which curves up and to the right. Imagine you're crossing into a deeper realm of nature. Try walking as slowly as possible, and move your head as if it's in slow motion.
At the divide in the path, take a left, following signs to the Yao Garden. Stop at the brook flowing downhill and slowly take in the scenery — flowing textures of groundcover transition into shrubs that lead to giant cedar and maple canopies above.
Descend into a new mystical world — ensuring your Bellevue Botanical nature connection.
Continue veering left (signs to Yao Garden) and downhill to the waterfall's lower end. You'll pass by a path leading to a tiny Hobbit-like door. Stop and take a look.
Cal and Harriett Shorts previously owned this land, nature enthusiasts who lived here from the 1940s to 1982, when they donated the property to the City of Bellevue for a park that would be open to all people.
"Our objective was sharing the beauty of
the place with as many people as possible."

Cal Shorts
The Shorts propagated various versions of rhododendrons and lovingly farmed and raised a variety of plants. Cal Shorts wintered his prize bulbs in this subterranean cubby.
"A lot of those rhodies, you see, we grew on the
kitchen counter, and so they
were our children, actually.
And here they are so beautiful."

Harriett Shorts
Find a comfortable place near this area to sit or stand to reflect on the legacy of the Shorts and what your legacy might be. Stare at the waterfall or flowing grasses — try to be still here for 20 minutes if possible. This is the opportunity to acknowledge the love put into this land that continues to this day.
Yao Garden — great spirit comes in compact places.
This Japanese-inspired garden was built to commemorate the relationship between Bellevue and Yao, Japan. Enter the traditional gate and take time to walk the loop slowly.
Eventually, stop at two large stones. One is at ground level leading toward the pond, while the other is situated next to it but higher (photo shown), providing an excellent viewpoint. Take time to sit or stand near the stones — staying on the path. Try to keep still for 10 minutes. If you find it difficult, just push for one more minute.
Reflect on the balance between elements — water, stone, wood, flowers, trees, lanterns, gates, and how humanity interacts with it all. When others stroll by, keep focused on something organic — maybe the still water of the pond.
Do any reflections come to you about your own life?
A ravine runs through it — deepening your connection with the forest
Take your time walking the path — slowly paying attention to all the details of plants and trees and artwork on the way to the Ravine Experience. The shortest round-trip experience from Yao Garden is about half a mile. If this seems too far, simply pull off and enjoy a seat at the Native Discovery Garden.
Once at the grand entrance to the 150-feet suspension bridge, take the wood chip trail to the left (don't cross the bridge yet). Find a bench well situated to view the mystical beauty of the ravine — and the bridge from afar.
There is a lot of great medicine for you here, so work as hard as possible to remain quiet for 20-30 minutes. Look around the forest and imagine how each piece fits together in an interdependent puzzle. The cedar tree needles are toxic, discouraging animals from disturbing growth so their roots can prevent the bank along the stream from eroding, while the tall maple trees shed leaves in the fall that provide new nutrients to the soil.
Think about the bridge and what that means to you at this moment. It's not only a fun attraction — bouncing your way to the other side — but an opportunity to delve deeper into your interior.
What does your world look like on the other side? Maybe you want to shed some drama in your life or gain confidence to have a difficult conversation. Ask the forest and the bridge to help you with this intention.
Now it's time to cross the bridge. Keep your intention in mind and proceed with an awareness of the surroundings. If you can muster the nerve, look down into the ravine from the middle of the bridge. What do you notice? Look up into the canopy.
Absorb the colors and textures of Bellevue Botanical Garden
This itinerary is designed to save the big splashes of color and textures for the latter part of the experience. Instead, you've engaged in the more subtle beauty — slowing down and taking time to detach from everyday distractions quietly.
By now, you're in a space to enjoy the more popular flower gardens with refreshed eyes. Stroll back to the Perimeter Border Garden to witness the well-curated combinations of plants, trees, and ground cover. Summer through fall, be sure to pass by the lovely Fushia garden.
Keep going to explore what suits your heart.
Other nature connections in and near Seattle
If you're seeking other options around Seattle, consider reading another article Gardens in Seattle, that offers 18 soul-nourishing parks & gardens in the entire region. For a short list of my favorites that combine deep spirit and stunning natural beauty, consider these suggestions: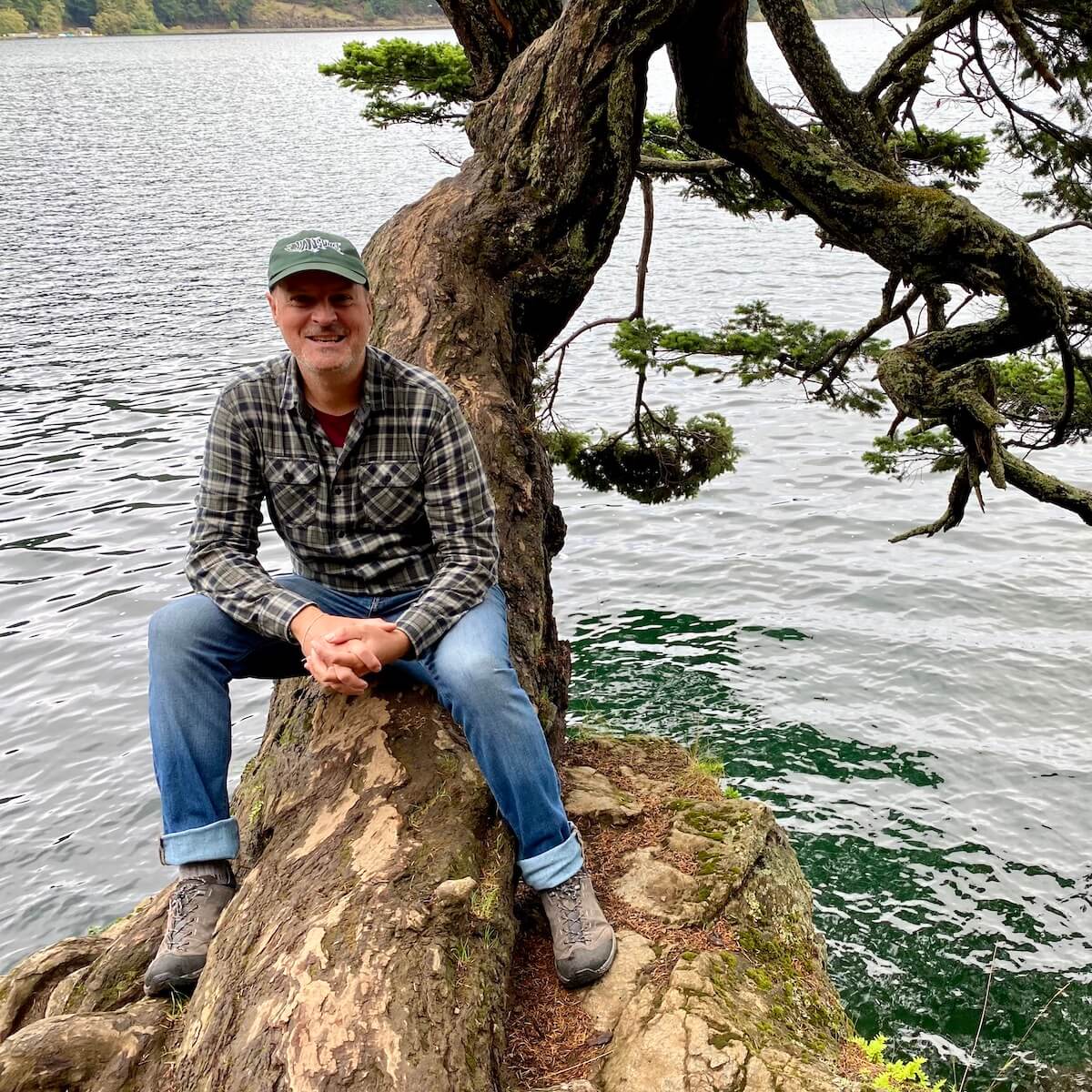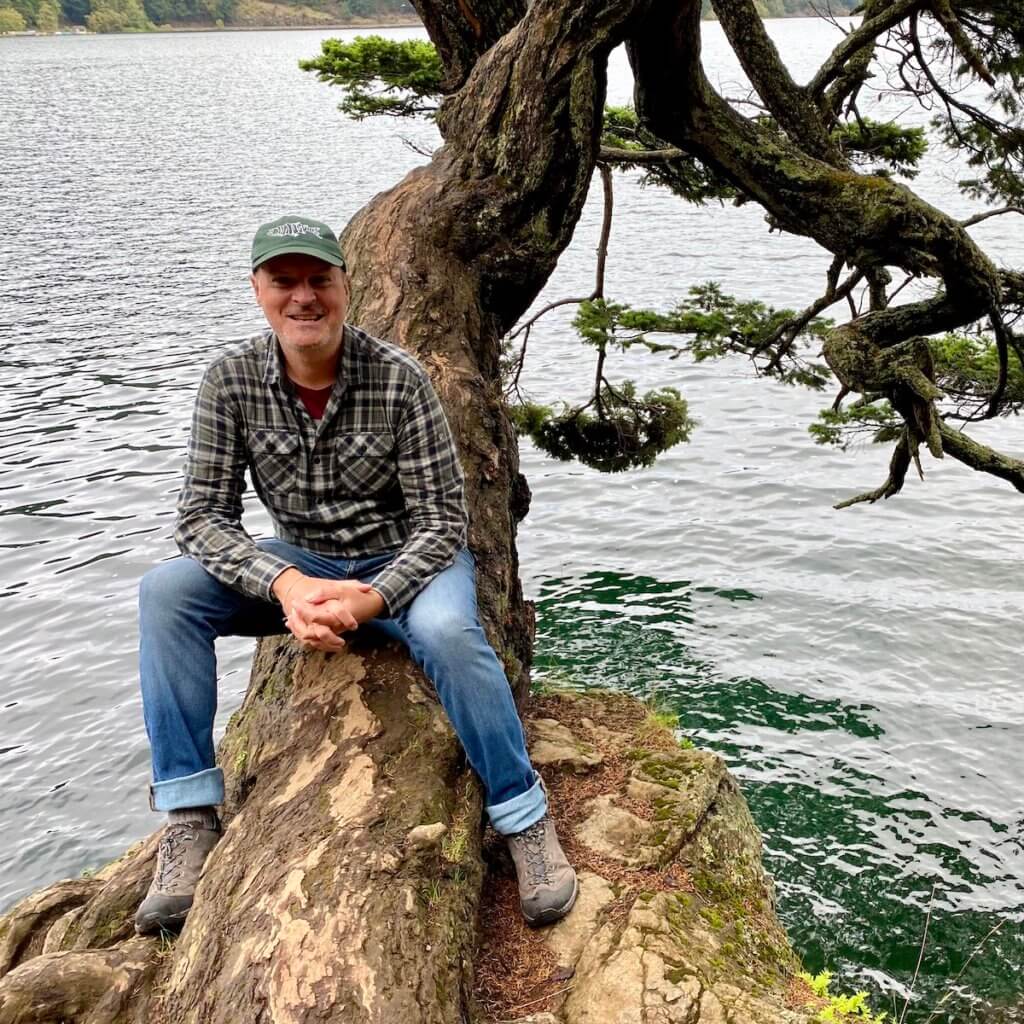 Do you want to take your relationship with nature to the next level?
Let me show you how paying attention to nature opens the door to seeing yourself — and the world — differently. Transformation is closer than you think.
I offer Mystic Nature Experiences, 90-minute in-person guided journeys in select parks and gardens in Seattle, Tacoma, and Portland.
Save this article for later.
Add a pin to your Pinterest Site.
Night Blooming — Art of Bellevue Botanical Garden.
The beauty of a nature connection.
Taking your time at Yao Garden.