10 Oregon Coast Hikes to reclaim your soul
Local knowledge: the ten best Oregon Coast hikes to balance time with the spirits of nature.
The Oregon Coast is a stellar example of nature's forces joining in inspiring the human heart to open. Majestic fir trees line steep foothills grounding the earth while different versions of moss grip forests floors like a cozy shag carpet. Rough waves churn their way through ornate rock stacks — proudly standing as a testament to resiliency. Wide open beaches allow space for the soul to roam, and the whipping wind seems to blow away all the residue of a hectic world.
The coastline is famous for stretches of sand that flow as far as the eye can see, but many people don't realize the value of shifting focus for a few hours inland.  There is easy access to an abundant variety of forest walks that will open up new experiences not always associated with an Oregon Coast visit. 
I'm passionate about sharing the best places to find meaningful connections with the land on an Oregon Coast visit.  If only for one day.  Thus, I've created a short list of essential trails that can help you balance limited time with quality experiences in nature
All are relatively short Oregon Coast hikes. The value is not in the distance but in allowing a slower pace to enable your heart and soul to open and connect to the spirits of the land.
New: Look for my TikTok videos in this article, showing you many inspiring hikes in nature.
Finding spirit on an Oregon Coast hike — Table of Contents
Whether driving the entire Oregon Coast on a road trip or visiting a particular destination, these soulful walks will inspire the senses — also making the most of your time.
While none of these are hidden spaces, the real secret is how to slow down enough to experience the mystical spirits of the land — waiting for you in abundant nature. Here are the best examples on the Oregon Coast: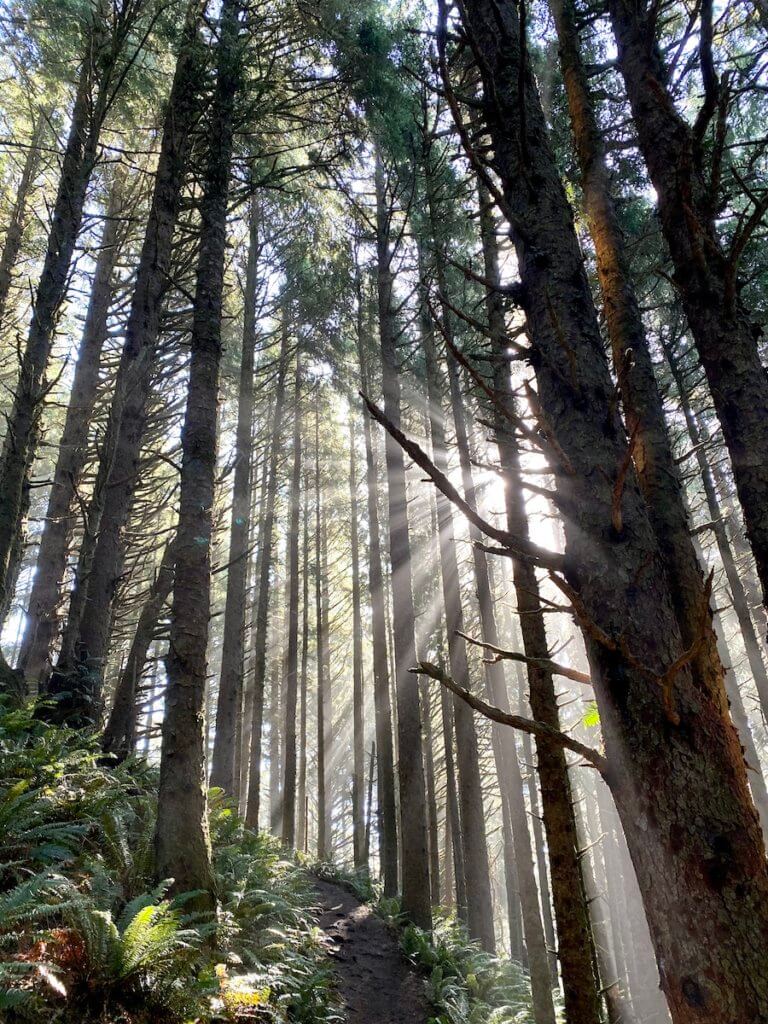 What is an Oregon Coast hike?
The word "hike" is a relative term for the Oregon Coast. Many enjoy the magic of wandering along an endless beach for miles. I'd consider this a hike. Others want to climb mountain peaks overlooking the churning sea. I'd also consider this a hike.
My definition of "hike," for the sake of this article, is an outing steeped with the spirit of nature that involves some walking. The distances are not long in many cases because the magic comes from strolling and paying attention to trees, plants, and animals along the trail. A spiritual hike is a wander.
These suggestions are short — from 30 minutes to 2 hours — but I recommend doubling the posted times (or even more time) to get the most from nature.
You could stop at all ten on an Oregon Coast road trip and get the best of all worlds from your experience — crashing waves, rock stacks, dunes, beaches, lighthouse, eagle perches, waterfalls, suspension bridge, old-growth giants, and even redwood trees.
How to make a nature connection on an Oregon Coast hike
Everyone can connect with nature profoundly, but it takes an open mind and patience. Since I practice all the time, I can assure you that this regimen will help elevate your relationship with Mother Earth.
Follow these six fundamentals, developed over my life as a mystic — guiding myself and others through nature.
Have intention

Take a few moments to engage with your purpose by walking on one of these beautiful trails. What outcome would you like? Are you healing from something? Do you want more inner peace?

Resist the urge to see this as a check-the-box or an exercise experience.
Reach out to the land

Nature will hold you tighter when offering a thoughtful gesture of respect. Ask for permission to enter as if knocking on a neighbor's door. You could say, "I come with an open heart," or something similar.

Try to find something near the beginning of the Oregon Coast hike — bridge, archway, or two trees side by side — that remind you of a gateway.

Formations like these help the mind, body, and soul all engage with a transformation into another realm. The symbolism is essential — especially if you're beginning to explore entering nature in new ways.
Remove distractions

Yes, that means putting your phone away! It's okay if your mind isn't clear, but try to set yourself up for success. Technology will be waiting when you return, but give yourself the gift of space from daily life.
Go slow

Slow down, and then go slower.

The first 15 minutes are crucial in setting the pace of your nature experience. Make a conscious effort to do everything slowly — maybe, as you'd imagine, in slow motion. Try to stay as quiet as possible.
Pay attention

You're walking in a world with millions of little miracles — smell the leaves and look up at the trees.
Reflect afterward

Allow your experience to integrate into your life. Later in the day, review your favorite nuggets of gold. Maybe the sound of the stream gurgling through a downed tree provided a feeling of peace. Go a step further and write down notes.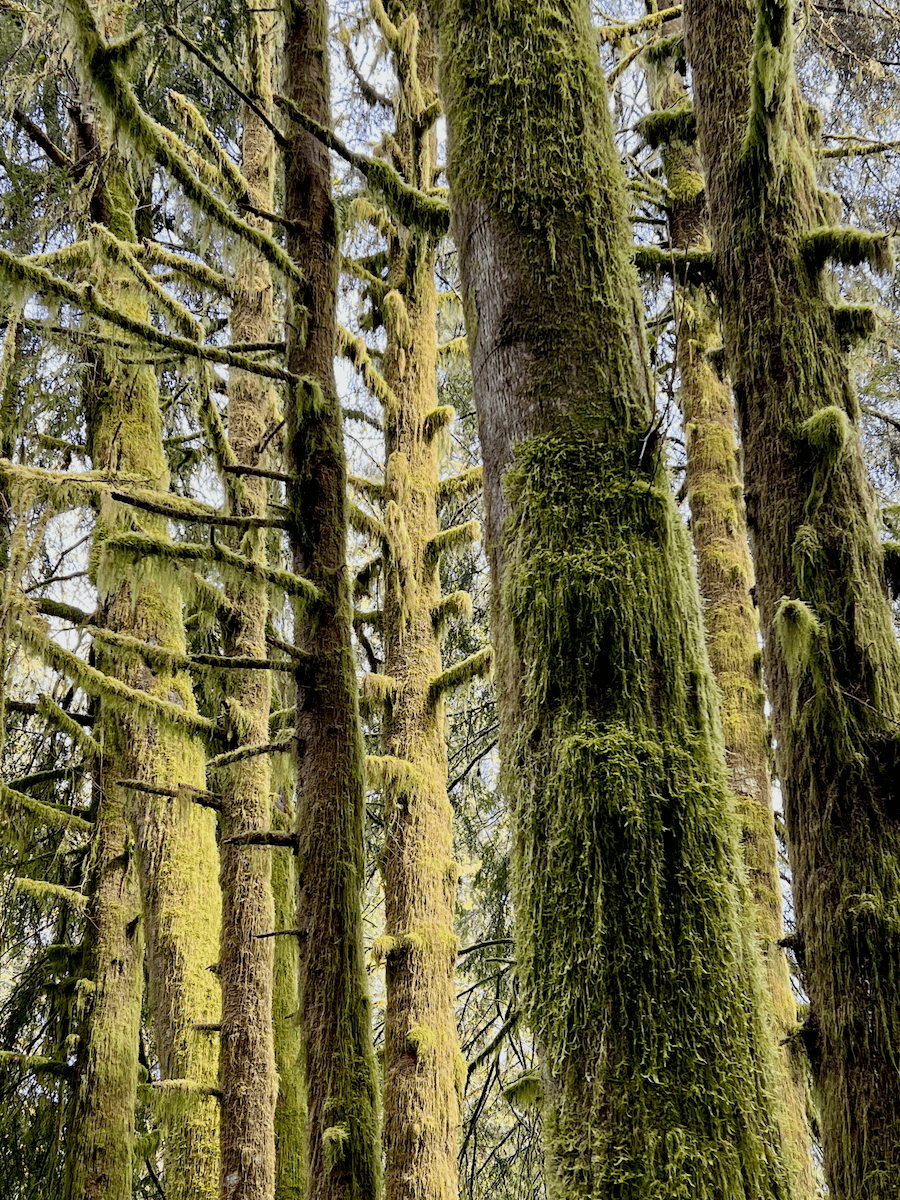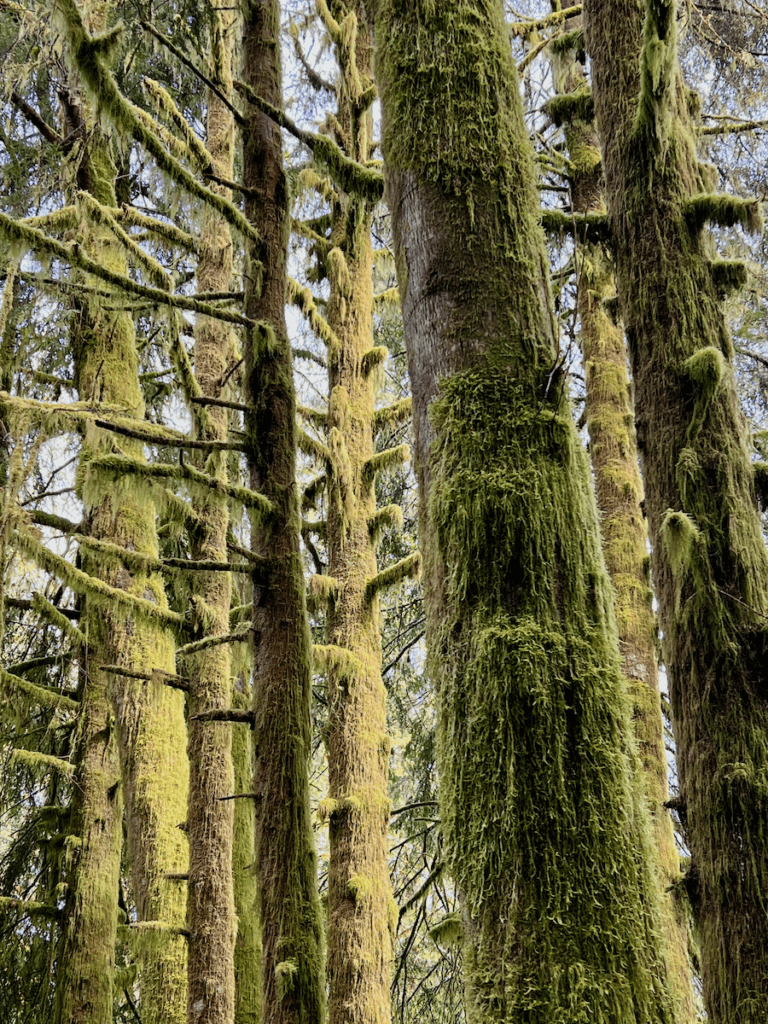 Cathedral Tree Trail — Astoria
Location: Astoria, Oregon
Distance: 1.6 miles out and back; about an hour.
Terrain: Steep uphill, stairs
Attractions: Astoria Column
Dogs: On a leash.
Parking: Astoria Column is $5 per vehicle, or street parking at the trailhead is free.
I love this trail because it succinctly combines the spirit of nature with an Oregon Coast icon. While this can quickly be done in an hour, I recommend doubling the time and going slowly. The trailhead is only a mile from downtown Astoria, and there are unofficial parking spots on the side of the road.
While the Cathedral Tree is an impressive 300-year-old Sitka spruce, the magic in the trail is how the boardwalks and stairs connect you with damp forest goodness (picture shown above). Try to count the different varieties of fern and moss along the way.
You'll eventually push through the forest to the site of the 125-foot-tall Astoria Column. The views from this location are sweeping, and I suggest you take a perch in one of the Adirondack chairs overlooking a flowing lawn.
Indian Beach Trail — Ecola State Park
Location: Cannon Beach, Oregon
Distance: 3.8 miles out and back; 2 hours.
Terrain: Moderate up and down.
Attractions: Iconic movie views and beaches.
Dogs: On a leash.
Parking: Oregon Parks Pass or $ 5 day pass (by machine).
Ecola State Park is an iconic place. Even the drive along a narrow winding road offers a feeling of immersion into a magical realm of nature. I've been coming here my entire life and always find a little nugget of something new to experience.
The Indian Beach Trail is a great Oregon Coast hike because it soulfully incorporates several iconic features — beaches, rock stack views, and coastal forest. If you want to reduce the overall mileage and time and have two vehicles, this can be done point to point between Indian Beach and the Cannon Beach overlook.
Start by exploring Indian Beach, where dry-suit-clad surfers convene to ride the foamy surf. Head over a gentle footbridge and follow the signs. The trail can be muddy, so be sure to have sturdy footwear.
This is a popular trail, but don't let that detract from your experience. Allow others to pass by and walk with a mindful desire to go deeper into connection. I use this hike to train myself to be in-distractable from outside influences.
Challenge yourself to stay focused on nature. Follow the twisting roots to the flaky bark of Sitka spruce and watch for mushrooms and lichens emerging from different directions (yes, look up) to say hello.
The reward at the end is the flagship Oregon Coast view (photo shown) that continues to expand my heart.
Rockaway Big Tree Boardwalk — Oregon Coast hike in Rockaway Beach
Location: Rockaway Beach, Oregon
Distance: 1.2 miles out and back; 30 minutes.
Terrain: Flat, accessible boardwalk.
Attractions: Marshy habitat for eagles; Ancient trees.
Dogs: On a leash.
Parking: Free
Rockaway Beach is famous for its seven-mile-long beach — but a recently created boardwalk won over my heart on a recent drive up the Oregon Coast. I stopped to stretch my legs after a bit of driving. While I'm very familiar with beaches, an inland exploration intrigued me.
This flat trail is accessible and offers several benches and places to enjoy a picnic. The marshy terrain is home to many birds and some wise old fir trees — all waiting for you to take time to see them.
The parking lot is tiny and understated despite being across the highway from the beach. It can be a popular place, but take your time slowly and pay attention to nature, not the other tourists.
This is an excellent way to "reset" while driving a road trip or an exciting change from beach activities if staying in the area.
Finding spirit hiking Cape Kiwanda State Natural Area
Location: Pacific City, Oregon
Distance: One mile; 30 minutes.
Terrain: Steep dune.
Attractions: Giant dunes and beaches.
Dogs: On a leash.
Parking: $10 at several locations.
Pacific City is a quieter version of Cannon Beach, featuring a wide sandy beach and a version of Haystack Rock (shown in the photo). The food is excellent here, and I mention Headlands Coastal Lodge and Spa in my article: 25 hidden hotels in Oregon and Washington — well worth a splurge for special occasions.
If you arrive in the morning, be on the lookout for the fleet of dory boats used to fish for a variety of creatures from the sea, like crabs and tuna. The boats are uniquely designed to be launched on the beach, and Haystack Rock protects them from otherwise dangerous currents.
Then, take a deep breath and make your way up a giant sandstone dune. It feels like an epic journey and seems well worth it once peering from the top. This is a healing location, so take the time to walk out to the cliff's edge and focus on the churning sea for 15-20 minutes.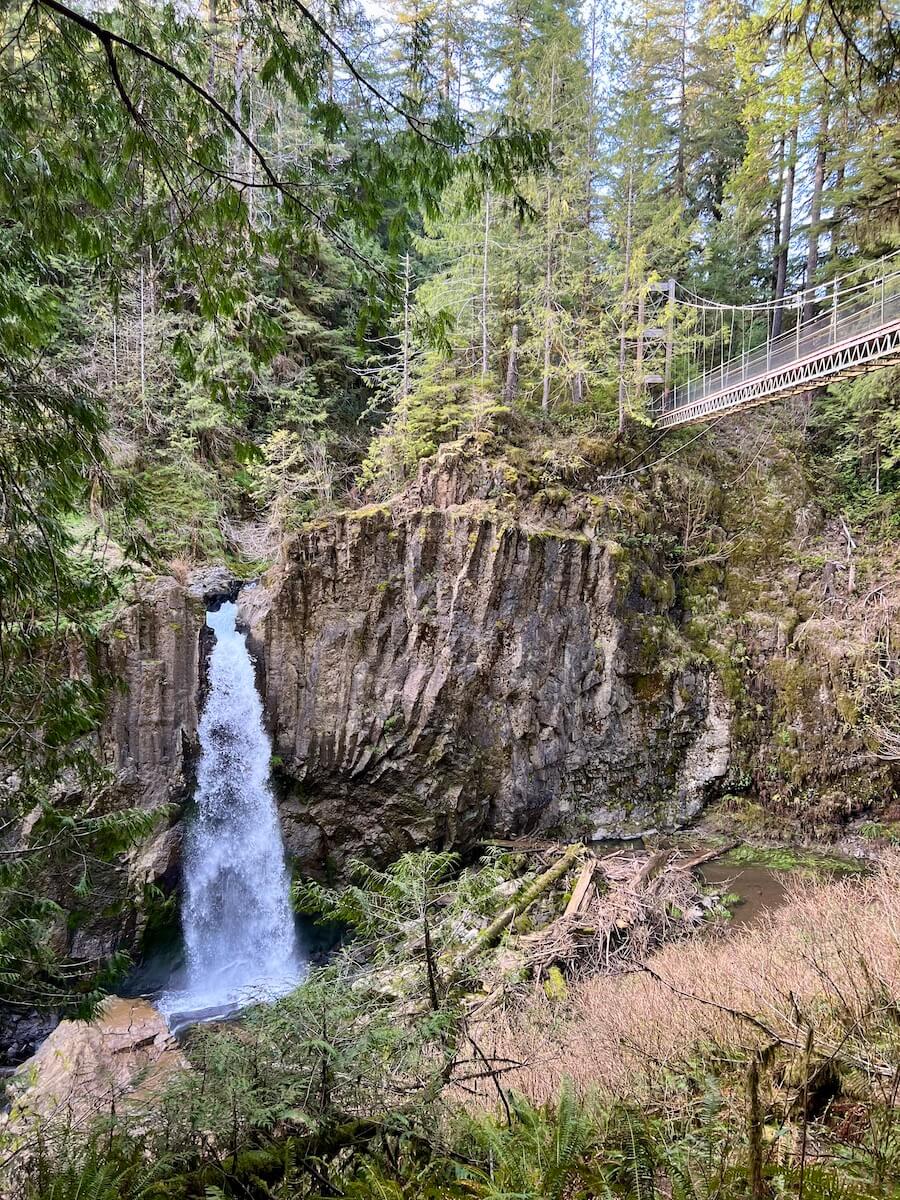 Drift Creek Falls — Lincoln City nature connection
Location: Lincoln City, Oregon
Distance: 3.2 miles out and back; 90 minutes.
Terrain: Easy to moderate forest trail.
Attractions: Suspension bridge and waterfall.
Dogs: On a leash.
Parking: $5, but a little complicated; go here for more info.
This trail in the Siuslaw National Forest is about 40 minutes from Lincoln City. I suggest taking the route from the North that passes by a charming covered bridge. This hike is unique for the Oregon Coast because it offers a refreshing forest experience with a thrilling finish.
The hike begins straightforwardly forward, but I encourage you to take a few moments to run through the six fundamentals I mention above. Use the first half mile to ponder an intention for the time with this land- particularly, what you'd like to leave behind here. This is a healing place that will support your wish.
When you arrive at the suspension bridge, mentally release the items to leave behind before crossing the bridge. This excellent purging experience can be followed up by connecting with the dramatic waterfall flowing through ancient basalt lava.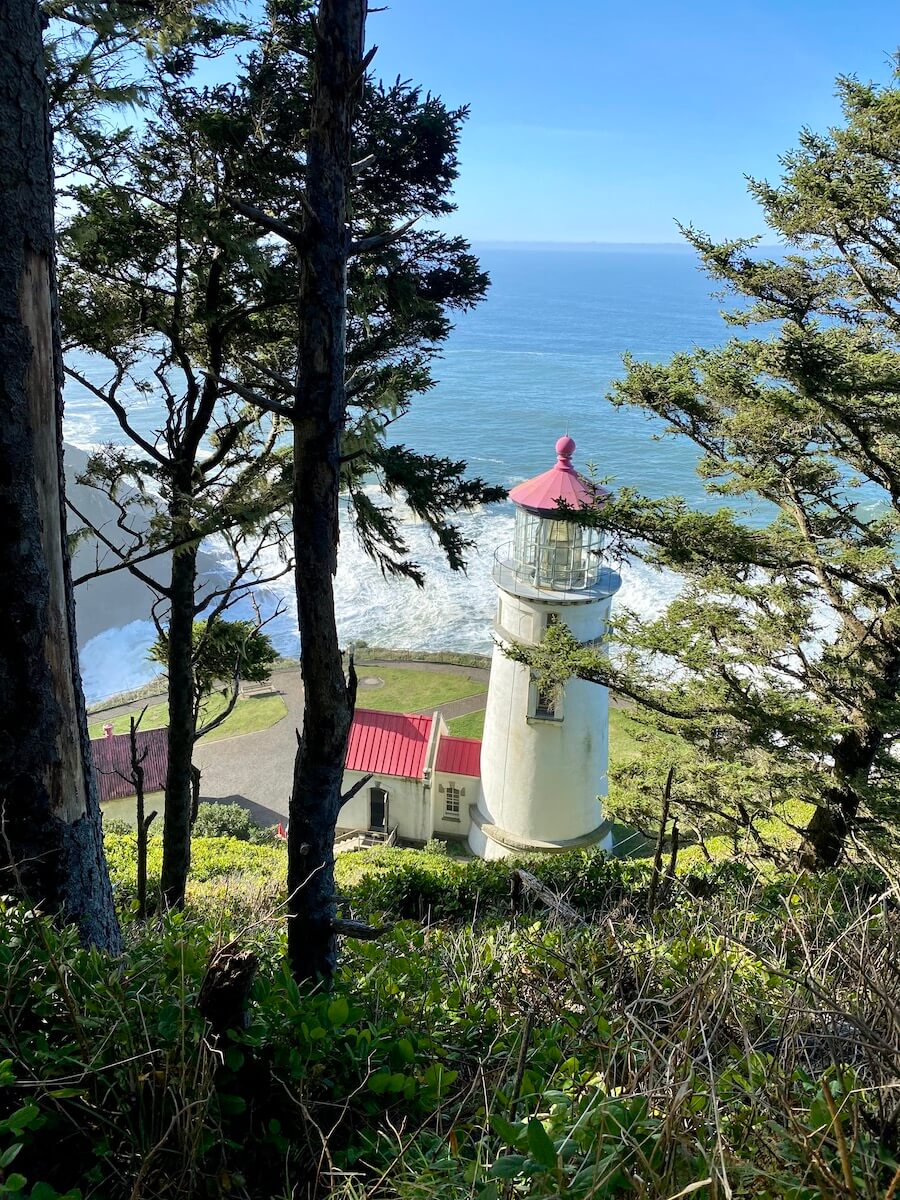 Heceta Head Lighthouse to Hobbit Beach — Oregon Coast spiritual hikes
Location: Heceta Head, Oregon
Distance: 3.6 miles out and back; 2 hours.
Terrain: Moderate forest trail. Steps.
Attractions: Lighthouse and secluded beach.
Dogs: On a leash.
Parking: $ 5-day pass (credit card machine)
This epic trail seems to have all the examples of Oregon Coast magic. If there is one iconic trail to take with healing spirits, this is it. I write about this statuesque location in articles: Heceta Head Lighthouse experience and Heceta Lighthouse Bed and Breakfast.
The Hobbit Trail is a great way to describe the feeling of this journey. The trail starts at a whimsical cove focused on the churning sea, meeting the bluff holding the proud lighthouse. Once at the lighthouse, take 15-20 minutes to absorb the crashing waves.
From here, a mystical world unfolds in the forest. The trail flows up and down in a series of switchbacks and stairways. Enjoy magical paths etched through dense salal and rhododendron thickets to an expansive beach.
Sunsets are stunning from the viewpoint above the lighthouse (photo shown).
Dellanback Trail — finding your soul in the Oregon Sand Dunes.
Location: North Bend, Oregon
Distance: 5.5 miles; 2 hours.
Terrain: Moderate — Dunes and boardwalk.
Attractions: All-encompassing Oregon Dunes experience.
Dogs: Some off-leash areas. Others on-leash.
Parking: $ 5-day or other recreation passes, like America the Beautiful.
Although this entire hike offers an epic experience in nature, it is easy to customize to a shorter duration if necessary. But I love the final push to the ocean as the sound of the waves increases in intensity. A boardwalk cut through the winding brush delivers a unique path amidst a feeling of deep spirit.
Frank Herbert's time working in the Oregon Dunes in the 1950s inspired his creation of the seminal classic Dune. It's not hard to picture that world while persevering up and down giant mountains of sand.
Be sure to take a photo of the trail map and follow the marked signs — it is easy to get off course when not paying attention. While this isn't a deadly scenario, you could walk extra miles to find your way back to the parking area!
Challenge yourself to go slowly and pay attention to all that's living in this sci-fi scene.
Shore Acres State Park — the dramatic edge of the Oregon Coast
Location: North Bend, Oregon
Distance: About 2 miles; one hour.
Terrain: Flat, with some accessibility.
Attractions: Botanical Gardens and dramatic rock stacks.
Dogs: On a leash.
Parking: $ 5-day pass.
Three waterlogged Oregon state parks form an enclave of inspiring hiking, about 30 minutes from Coos Bay and Highway 101. For those interested in taking a dip in the healing waters of the mighty Pacific Ocean, Sunset Bay is known for water temperate enough to make this swim. Cape Arago offers dramatic views of the churning sea.
Among them, the most lively place is Shore Acres State Park — my recommendation for a "connected" walk on the land. Use the big parking lot and walk to the observation building to learn about the history.
Spend 20 minutes surveying the throbbing waves that methodically come and go. Notice the massive shift in the Earth's plates that produce a 45-degree angle among the worn-down rock stacks. Next, follow various trails along the cliffs, allowing the resounding thumps of the surf to radiate through your being.
Finally, do not miss a tour through the Shore Acres Botanical Garden. Find a bench, connect with the botanical artistry for a spell, and walk around the placid pond.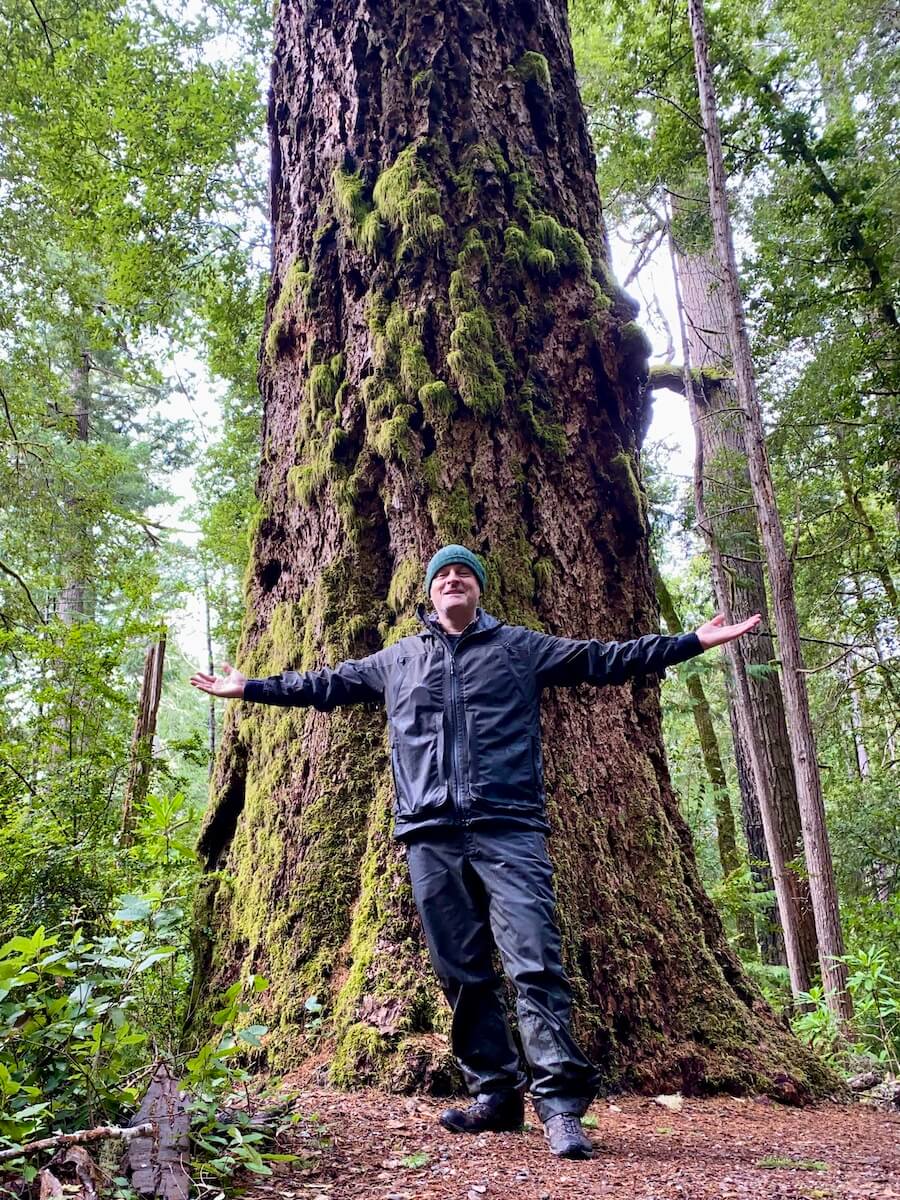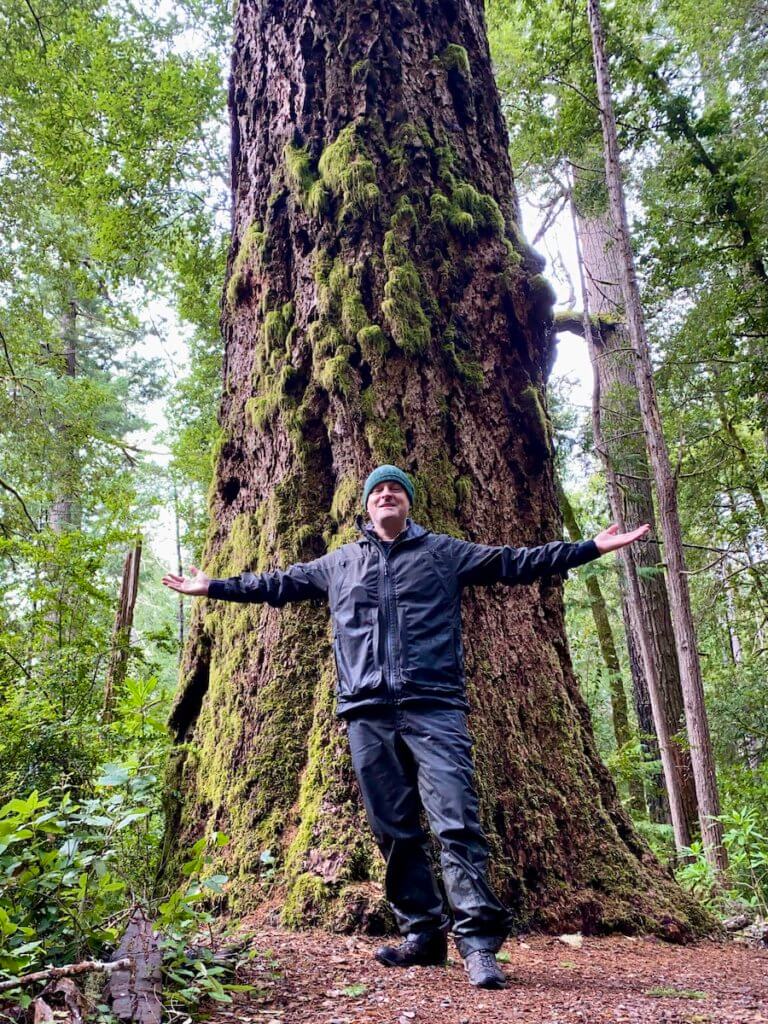 Francis Shrader Old Growth Trail — inland magic of Gold Beach, Oregon
Location: Gold Beach, Oregon
Distance: .8 miles; 30 minutes.
Terrain: Relatively easy forest trail loop.
Attractions: Giant trees integrated forest in relative seclusion.
Dogs: On a leash.
Parking: Free. Primitive lot and no facilities.
I learned about this gem of a forest walk from a TikTok follower of mine who lives in Southern Oregon. This is a local favorite in a remote part of the Oregon Coast known for the wild coastline and broad beaches — just 30 minutes inland from Gold Beach on a scenic road following the Rogue River.
Tu Tu' Tun Lodge is nearby, and I mention this in an article about hidden hotels. With an overnight stop in Gold Beach, this is a must. Even driving through Highway 101, make it a point to visit to connect with the soaking dampness of old-growth douglas fir and Port Orford cedar.
Although a loop trail not even a mile long might not seem worth the effort, please reconsider. This is a prime location to go slow on purpose and soak up nature's salve. I spent over two hours in the mystical realm of this alcove of the Rogue River – Siskiyou National Forest.
Transport yourself to another world, getting lost under a canopy of wise old fir and cedar — while invigorating tanoak and rhododendron shrubs frame in a jungle feel. Take time to touch the salal and ferns and notice how the mossy forest floor keeps the moisture alive for the entire ecosystem. Two creeks pass through, adding the ambiance of flowing water.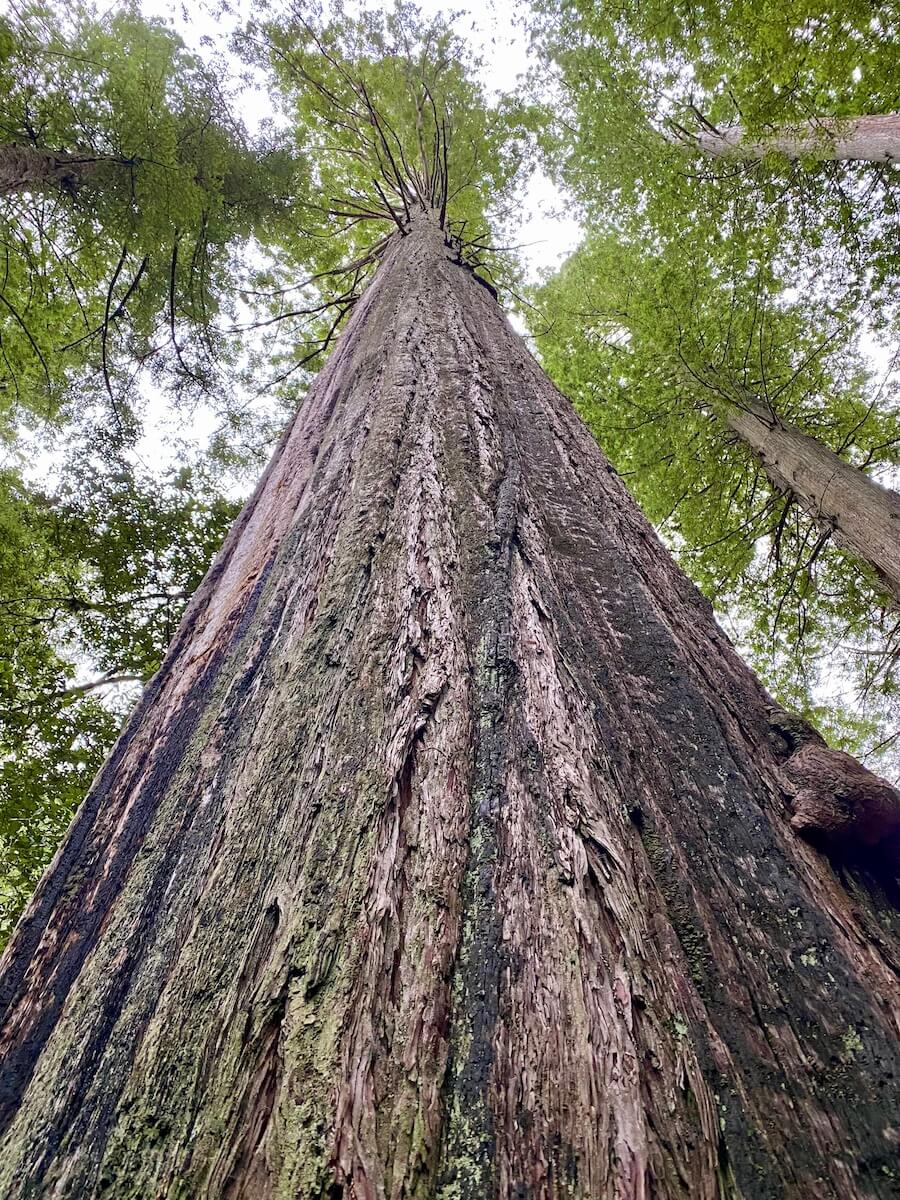 Redwood Nature Trail — hiking on the Southern Oregon Coast
Location: Brookings, Oregon
Distance: 1.1 miles; 40 minutes.
Terrain: Easy to moderate forest trail loop.
Attractions: Redwood and Myrtlewood trees flourish in an integrated forest.
Dogs: On a leash.
Parking: Simple gravel lot.
There are beautiful ways to access nature in Brookings, Oregon, but many people race through this Oregon Coast town — eager to reach the California redwoods. That is a mistake.
I write about the Oregon Redwoods in another article that has more specifics. While they are not the most prominent examples of Sequoia species, what I appreciate about this area is the elegance of forests integrating a variety of both Oregon and California varieties.
This is a place to wander under the textures of maple, douglas fir, cedar, and redwood that make up a collage of an inspiring canopy. Rocks and water add elements of interest, and the rest of the forest community comes alive. Breathe in the fragrant Myrtlewood scent, touch the gritty salal leaves, and allow the mind to wander through webs of dangling moss.
Are you making an Oregon Coast road trip? Add these two experiences to your tour.
If you plan a road trip down Highway 101, these two flat walks should be added to my list of ten Oregon Coast hikes. You'll be ensured to experience just the right amount of quintessential road trip magic.
Seaside Promenade
There is no other Oregon Coast town with a similar vibe. Stroll down and back along a flat and accessible paved path. Take the beach vacation energy and breathe the ocean air while seagulls fly overhead. For more on this carnival meets tranquil refuge, read my article, My favorite things to do in Seaside.
Newport Harbor
There is no better example of harbor action than in Newport, Oregon. There is still an active fishing industry, so witness the deep sea vessels rocking in and out while workers buzz around processing plants. Listen to the sea lions call in the distance and smell the electric freshness of saltwater mixed with creosote from the wood pilings holding up the docks. There are great restaurants and people-watching to complement a relaxing walk.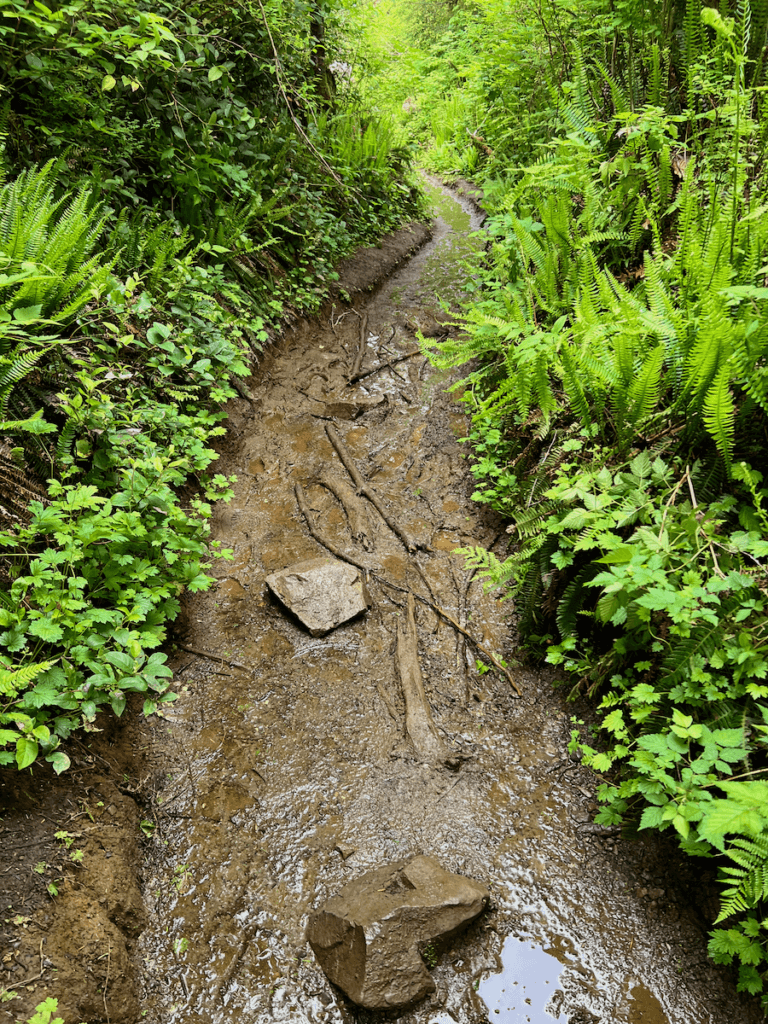 What to bring & wear for Oregon Coast hikes
Like the rest of the Pacific Northwest, the weather varies by season and time of day. These are items for any hike on the Oregon Coast.
Layered clothing. The temperature changes along the way.
Waterproof footwear. It can be muddy in places and generally wet year-round.
A waterproof coat or outer shell. This is a rainforest, after all. Even if the weather appears mild, have some kind of shell readily available.
Walking poles. Optional but helpful.
Camera, water, sunscreen, bug spray.
Gators can be helpful in sandy places, like the Oregon Dunes.
Interactive map of Oregon Coast Towns
This map is a collection of my favorites on the Oregon Coast. I've either been to all the places or have it in good faith they are worthy of a mention.
Remember, in many regions of the Pacific Ocean coastline, cell phone service is unpredictable — just depending on the carrier — plan.
These suggestions are my point of view — I do not receive compensation for placement on the map or written articles unless expressly noted.
Have more planning questions?
How to get to the Oregon Coast
Since Oregon Coast Towns cover territory over 363 north/south miles, directions are nuanced. The following guidelines should help you plan the best way to visit. Most people travel by either rental car or personal vehicle, but public transportation to the Oregon Coast is available, albeit limited.
Summer is very popular with visitors and highways can get congested with RVs and general traffic. For best results leave early in the morning. The shoulder season (April, May, September, October) still remains busy on the weekends. For more pointers on traveling the Oregon Coast, check out my article (coming soon) Oregon Coast Pro-Tips for visitors.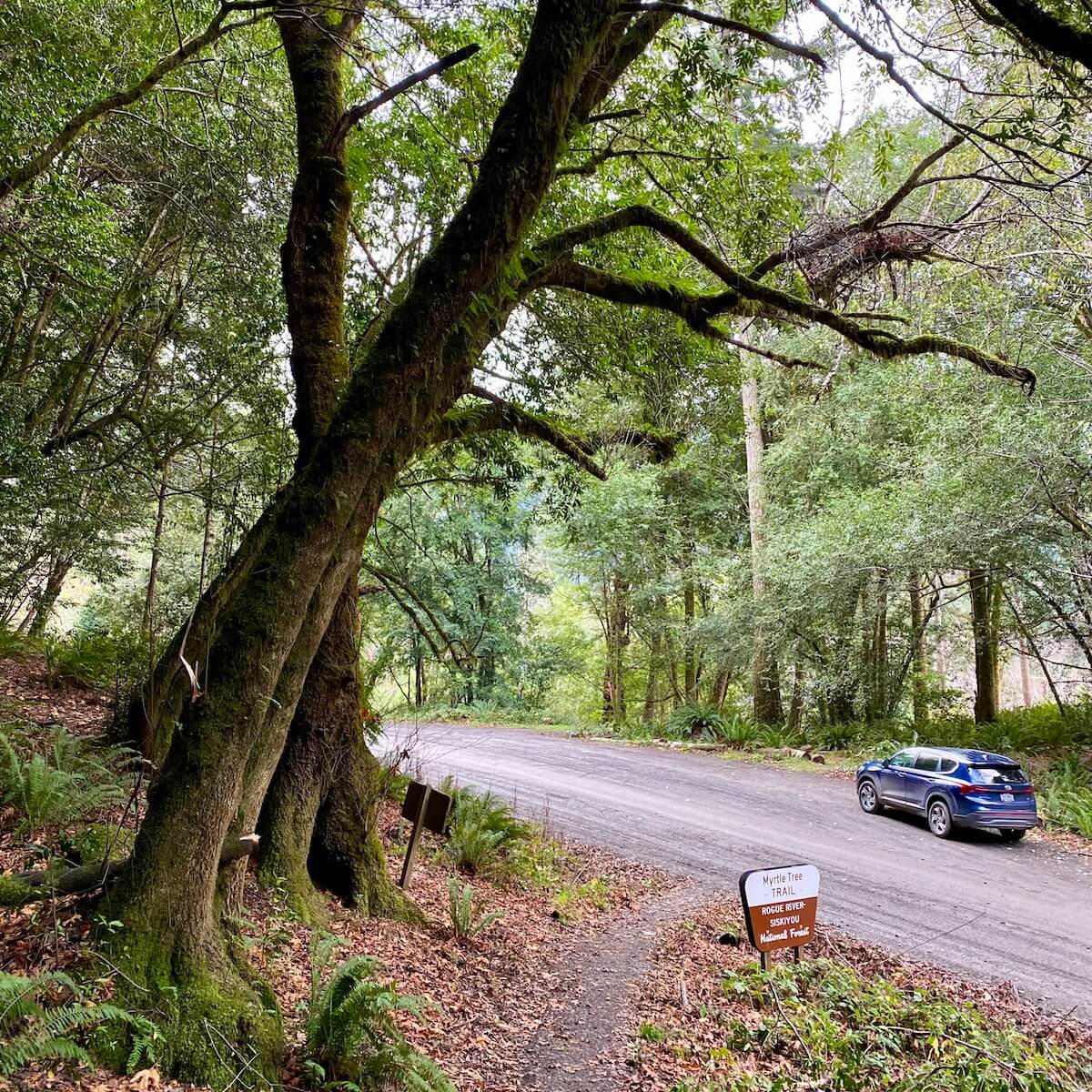 Public transportation
Service is available but limited.
Daily options exist between Portland and Astoria, Seaside, Cannon Beach and Tillamook; Salem and Lincoln City; Eugene and Coos Bay. From these locations there are regional networks. Go here for more information.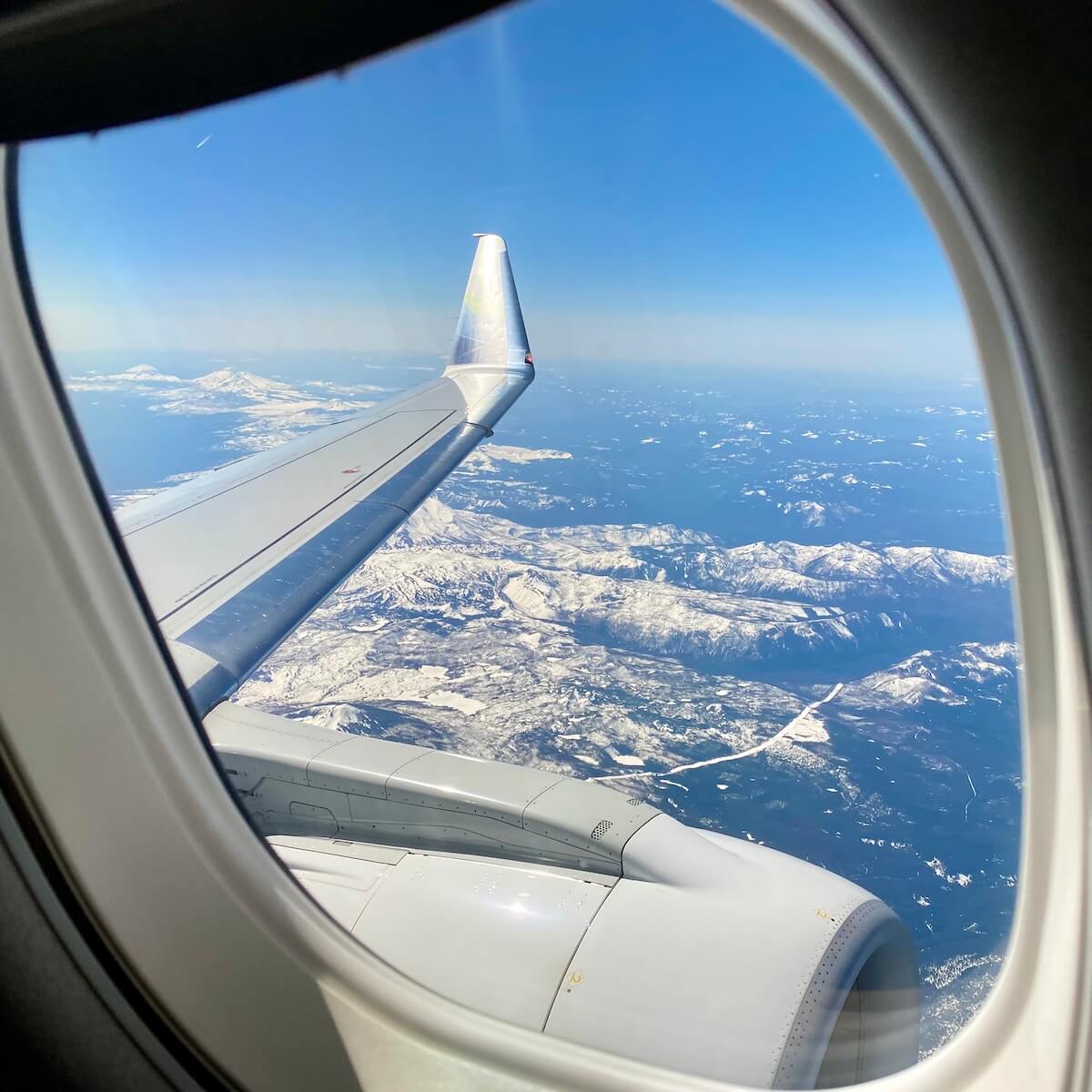 By air
Three Oregon airports (PDX, EUG, MFR).
Portland International (PDX) offers the most flights on every US carrier plus some international airlines like British Airways and Icelandair (seasonally). But check Eugene (EUG) and Medford (MFR) for visits to Central & South Coast areas.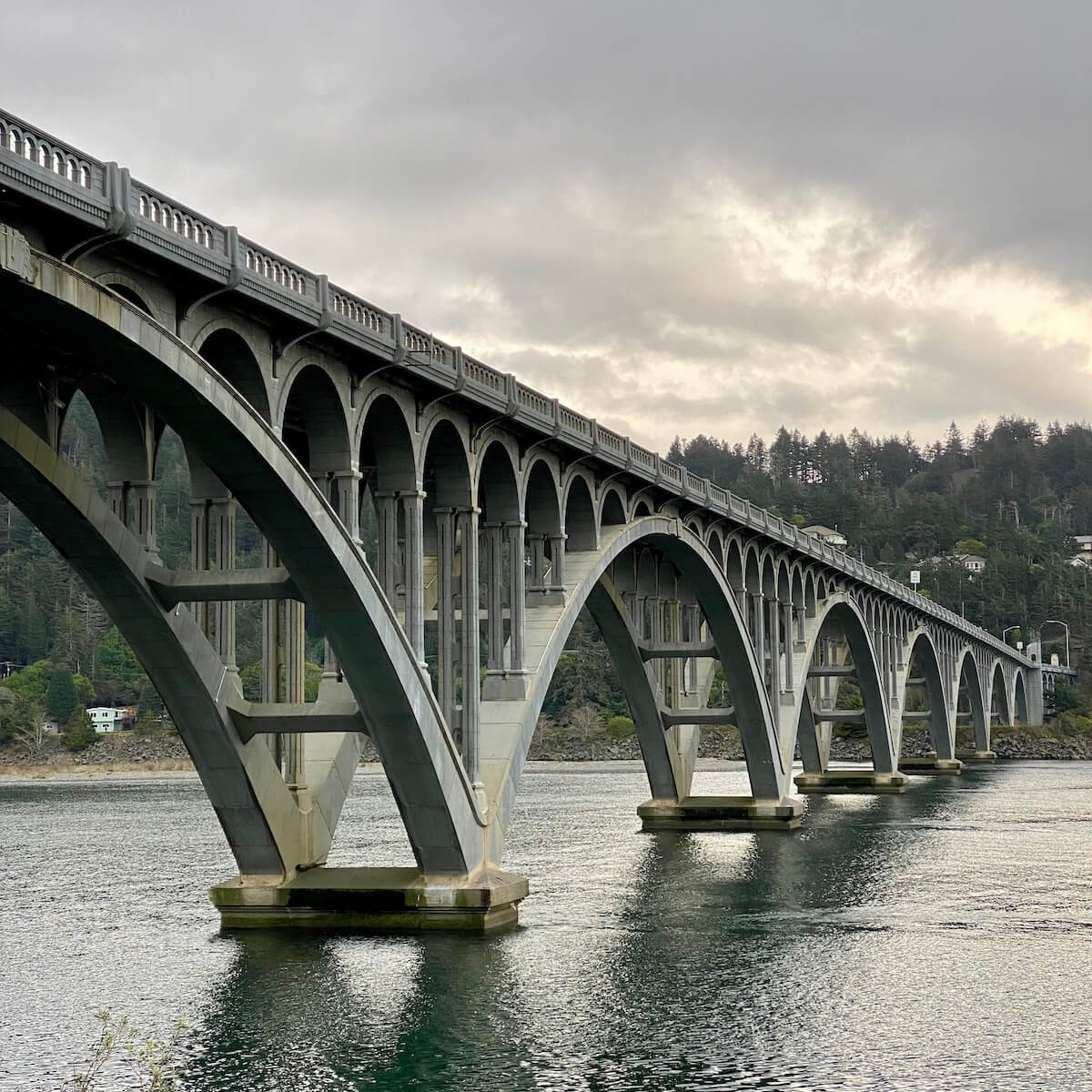 Road trip Highway 101
Astoria to Brookings takes 7 hours.
Don't race through the Oregon Coast. At the very least, spend a night in each of the three zones — North, Central, and South. Look for my Road Trip Highway 101 guide, coming soon.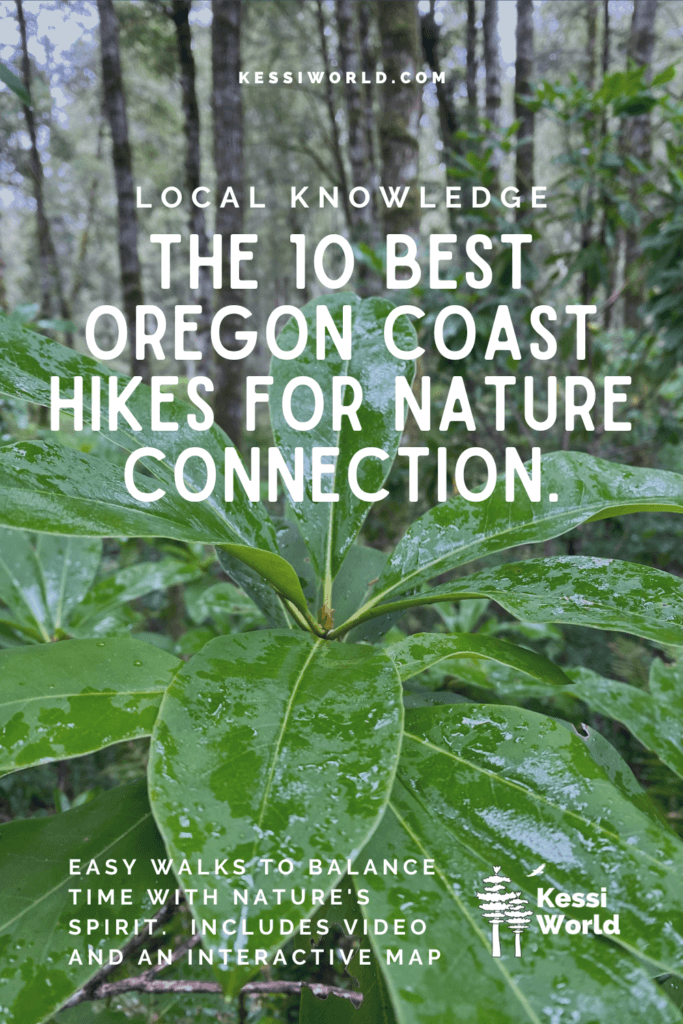 Save this article for later.
Add a pin to your Pinterest Site.