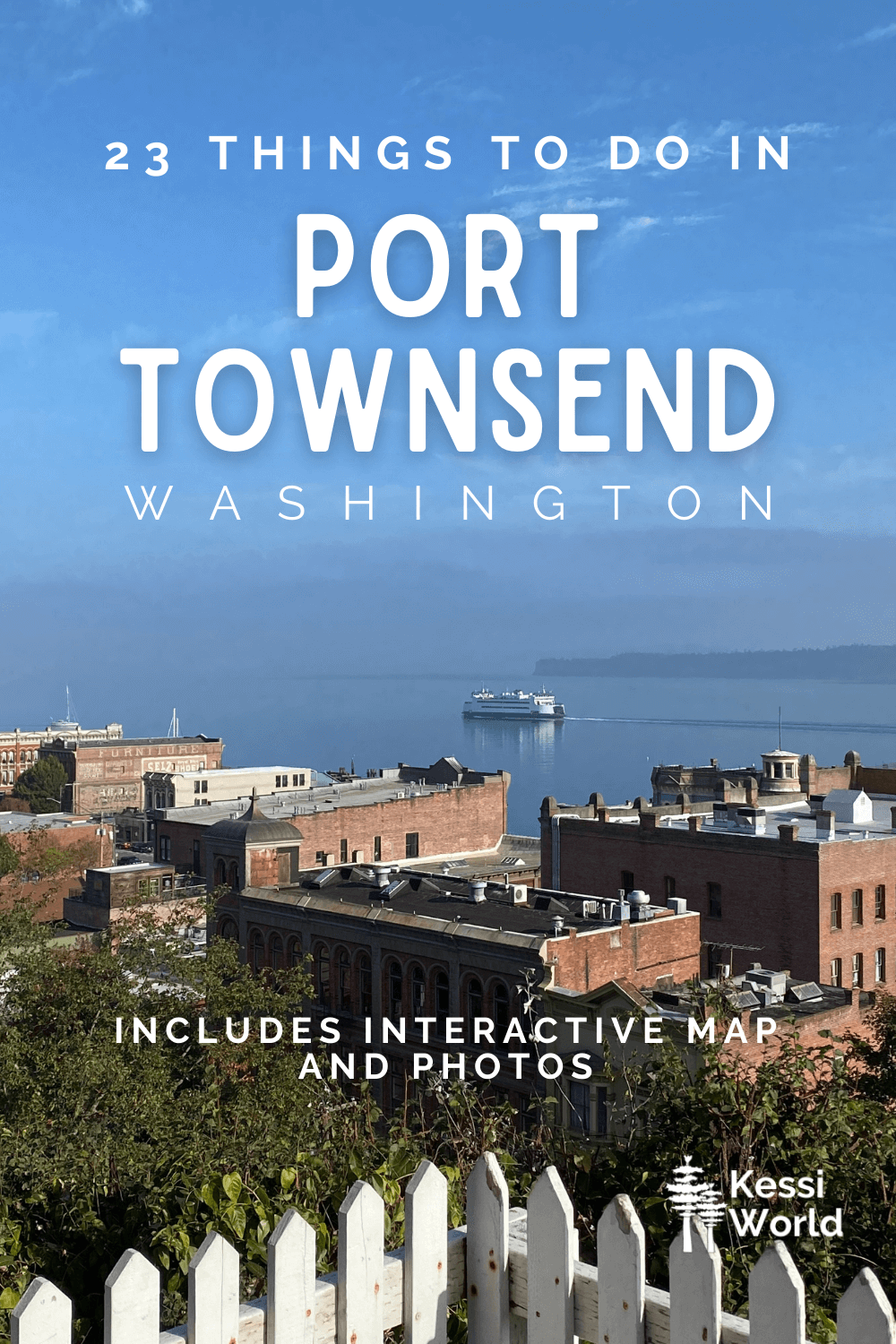 A historic harbor exists in a place where the tidal sways of the Salish Sea wash daily to fold into the powerful Pacific Ocean. They meet along the Strait of Juan de Fuca — separating the United States and Canada by 12 miles. Here, it seems that all the elements unite to create a balanced ecosystem, complete with proud cedar and fir trees leading to the pebbly shores. Just off the coast, flocks of migratory birds crowd onto preserved island habitats while all kinds of water creatures glide through the salty goodness. Within pristine nature, a port city established a commanding presence with Victorian-inspired buildings and a colorful, complicated maritime legacy. Because of this interesting mix between nature and seafaring culture, there are many interesting things to do in Port Townsend, Washington.
My first visit to this harbor town was in February, many years ago, making for a stormy impression. Between the salty air blowing rain sideways, a spirit rang through the downtown streets — lined with elegant beauties from the 1890 era of fleeting optimism. It seems that no matter what time of year I visit (Summer is the best weather of course), there are unique experiences waiting to surprise and delight.
The recently completed čičməhán trail offers a soulful option to hike up to 12 miles through the city to visit 18 historically significant sites — a coming together of native tribes and the entire community. Fine dining establishment Finistere provides mouth-watering options while a local jolt at Better Living through Coffee offers a one-of-a-kind experience sipping a cuppa on a pebble beach only a few feet from stately Water Street. Fold in the echoes of Fort Worden and the world-famous Wooden Boat Festival and you're off with a plethora of options for things to do in Port Townsend, Washington.
Article overview: plan the best things to do in Port Townsend, Washington
Port Townsend, Washington is about 60 miles and two hours North and West from Seattle and can be reached by one of two ferries crossing the Salish Sea — Downtown Seattle to Bainbridge Island or Edmonds to Kingston. Some people add the seaside destination to a loop journey including Whidbey Island. For more information about an action-packed three-day itinerary I took that included Port Townsend and Whidbey Island read, Tesla road trip…
Be sure to check out the map at the bottom of this article, with tons of details about my favorite places to stay, food and drink, museums, and green spaces — and remember to save it for future reference on the road. The map also includes favorites on Whidbey Island and Kitsap County (near Bainbridge Island and Kingston ferry terminals), in case you need ideas for the journey there and back.
To help you get organized, I offer a downloadable checklist of things to do in Port Townsend, Washington at the very end of this article. And remember, if you need more planning ideas, ask away, I aim to help: [email protected]
Oh… all the tales I have to tell you about things to do in Port Townsend, Washington
Learn about native history — the čičməhán trail (cheech-ma-han)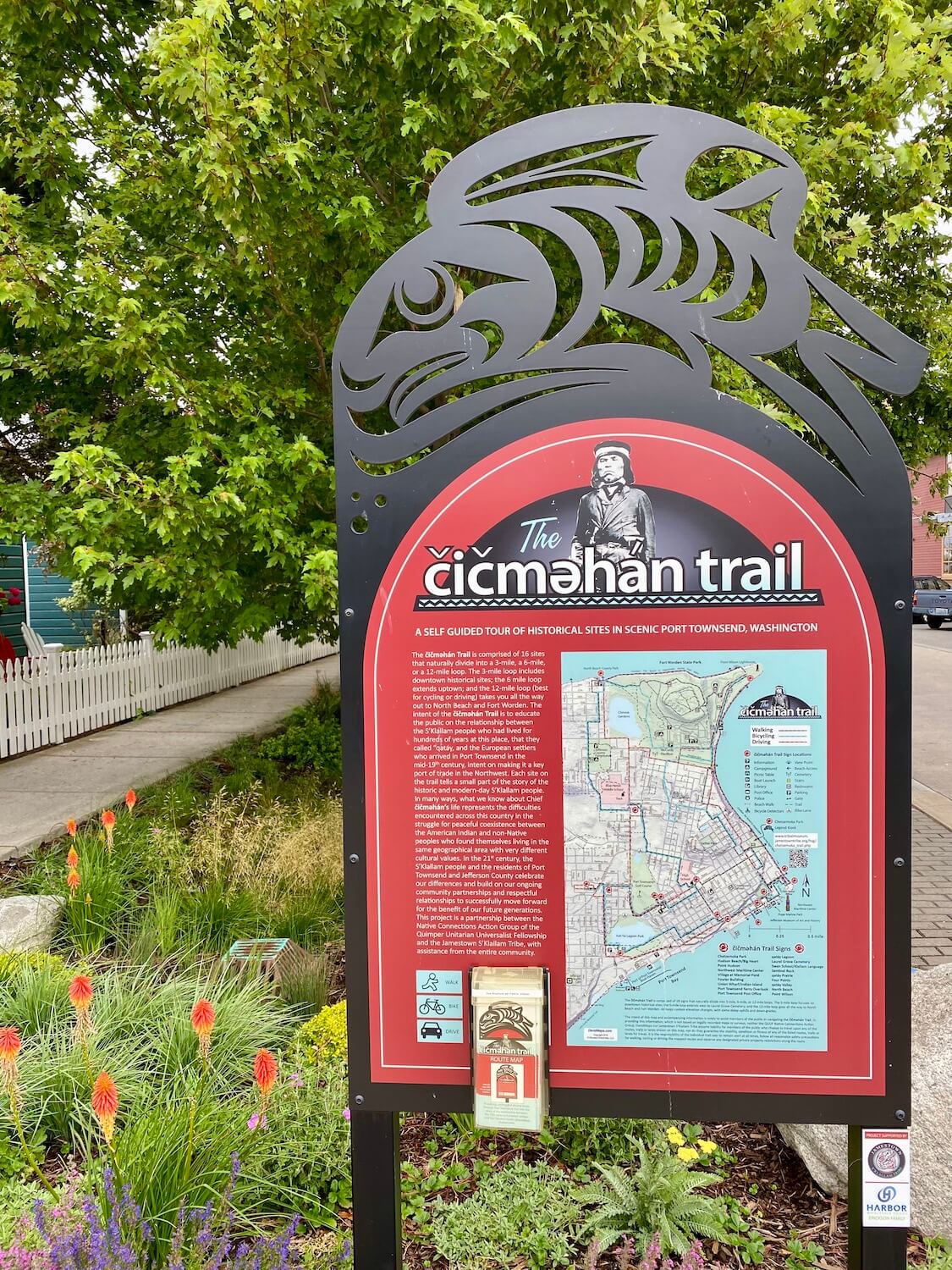 S'Klallam means "strong people" and the Jamestown S'Klallam Tribe is one of the three bands that primarily lived in the area around present-day Port Townsend for time immemorial, including the era of the first contact with European explorers — believed to be in the 18th century. Port Townsend received an English name by early explorer George Vancouver, in 1792, for the English Marquis of Townshend.
The abundance of age-old cedar and fir, as well as a rich salmon and shellfish bounty from the sea, encouraged new settlers to take up residence adjacent to (or on top of) established villages. Traditional homes were burned and native people were displaced and the S'Klallam tribe entered into the Point No Point Treaty with the United States in 1855. However, it would take almost 150 years for the Jamestown S'Klallam tribe to gain official federal recognition — which came in 1981.
The transitional years around the Treaty were filled with strife, and čičməhán, (anglicized to 'Chetzemoka'), provided leadership, working to help bridge the harbor-sized gap between native culture and that of the new settlers.
Recently an educational trail throughout the city was completed, highlighting 18 stops significant to local native history — looping from Downtown Port Townsened around to Fort Worden. I recommend purchasing the čičməhán trail booklet — which provides additional information to the featured trail signs — sold in the Maritime Center. It is $10 and proceeds go to the Jamestown S'Klallam tribe. The Maritime Center also makes for a great place to start the trail.
The 12-mile trail is meant for walking or biking, but there is a driving route for those with more limited mobility. Three and six-mile versions of the trail also exist. Each stop features a trail sign providing important, often overlooked, perspectives on local history.
The Jamestown S'Klallam tribe welcomes investigation into more information and has quite a resource of reading materials on their website, library.jamestowntribe.org.
Walk through downtown Port Townsend — Victorian-inspired history
The modern-day harbor oasis of Port Townsend was founded as a seafaring village in 1851. Timber and fishing were early industries here, and the area boomed toward the turn of the 20th Century, as the harbor thrived in all the activity of vessels traveling across the world with goods going to and from the Salish Sea.
Industry tycoons gained fortunes from extracting giant cedar and fir trees, mining, and harvesting from the sea. So much wealth developed so quickly that optimistic city patrons erected fantastic Victorian-inspired buildings along the wharf in the downtown area in the early 1890s. This prosperity was short-lived though because in 1892 there was a global recession — causing Port Townsend, and all the elaborate buildings, to slip into obscurity.
Today, the city exists almost as a living time capsule to the early European history of the Salish Sea. The area on Water Street between the ferry dock and the Point Hudson Marina comes alive with brightly decorated cornices and turrets. For an expansive birdseye view of this historical port city, venture up the Taylor Street stairs to Historical Bell Tower Park taking command at the top of the hill.
Visit the county jail — Jefferson Museum of Art and History
The historic building that houses the compact, but very informative, Jefferson Museum of Art and History was built to be a civic building. Today, the brick and stone fixture of the downtown still functions as the center of the local government. In fact, if you pop upstairs to use the restrooms you'll see the active city council chamber, complete with rich polished wood doors and podiums.
There is usually a traveling art exhibit on display as well as the permanent collection of Jefferson County history — on a sunken level. You'll find interesting information about all the facets of maritime functions from the "mosquito fleet" of ferries to the wide array of fatal shipwrecks in the region. Speaking of death, there's even a 19th-century horse-drawn hearse on hand. The experience in the lower-level county jail makes for a creepy way to end the tour.
Hunt for unique treasure — antiques and art in Port Townsend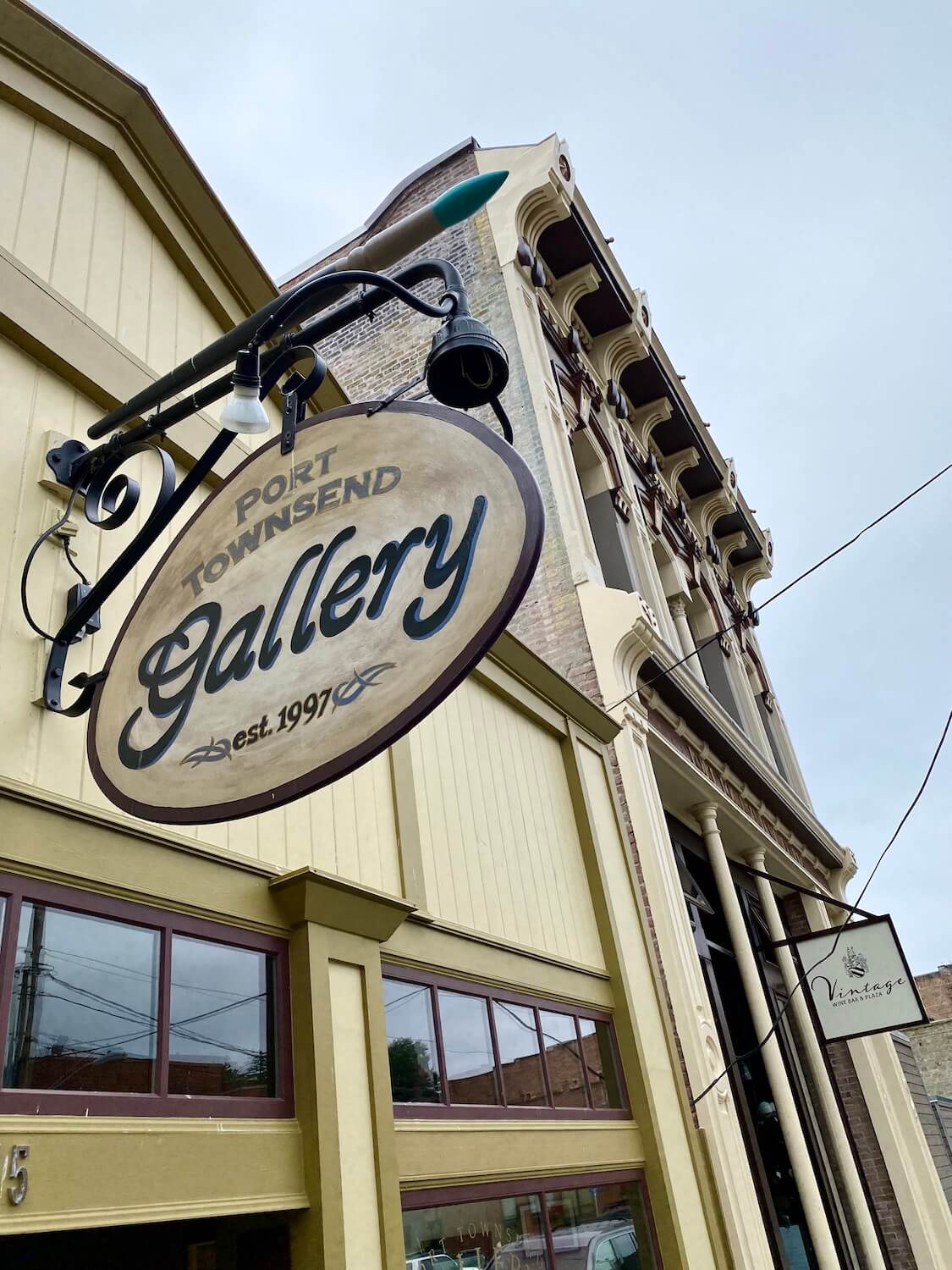 It makes sense that a Victorian-inspired town would offer one-of-a-kind treasures or "found items" and Port Townsend doesn't disappoint. Port Townsend Antique Mall is a consignment shop with an endless labyrinth of cubbies serving up all kinds of trinkets and memorabilia. Directly across the street is Bergstrom's Antique and Classic Autos, a fascinating car shop turned informal museum with sprinkles of auto nostalgia for sale as well.
There are other antique stores in the area, but this is your best bet if walking around downtown. The downtown area is also full of colorful art galleries and other shops providing new treasures for sale — mostly along Water Street.
Enjoy delicious food and drink in Port Townsend, Washington
The lush farming region at the foothills of the Olympic Mountains provides a great source for farm-to-table quality ingredients that make eating and drinking here a joy. For nibbles try Pan d'Amore Bakery, or Aldrich's for a modern take on an 1895-era general store.
I recently enjoyed a fantastic meal at La Finistere with some of the best oysters to date, not to mention indulgent ricotta-stuffed ravioli and devilish deviled eggs. Hanazono is a tasty noodle shop downtown and Sirens Seafood Bar has pretty solid pub fare. Fountain Cafe is also a favorite, the crab stuffed mushrooms are delicious, and it's fun to devour loaded sandwiches on the deck at Howell's — watching ferries glide to and fro.
Plant-based feeders will also find plenty of quality options with Owl Spirit Cafe and The Cellar Door (both downtown) serving tasty vegan options. One thing to keep in mind is that while the stately downtown provides a "big little city" feel, this is still a relatively sparsely populated area and restaurants are often closed during the week. It's helpful to do a little research ahead of time if there is a "can't miss" place.
Drink coffee on the beach
The Pacific Northwest standard for coffee, really great coffee, is generally high — and certainly appreciated by this java addict! You'll find plenty of independent espresso joints in interesting nooks and crannies, but my favorite is Better Living Through Coffee, right on the pebble beach downtown. Not only is the coffee fantastic — the setting, with gentle waves washing up on the shore as the ferry transports to and from, combines the best of city life with a bite-size slice of maritime charm.
Go cider tasting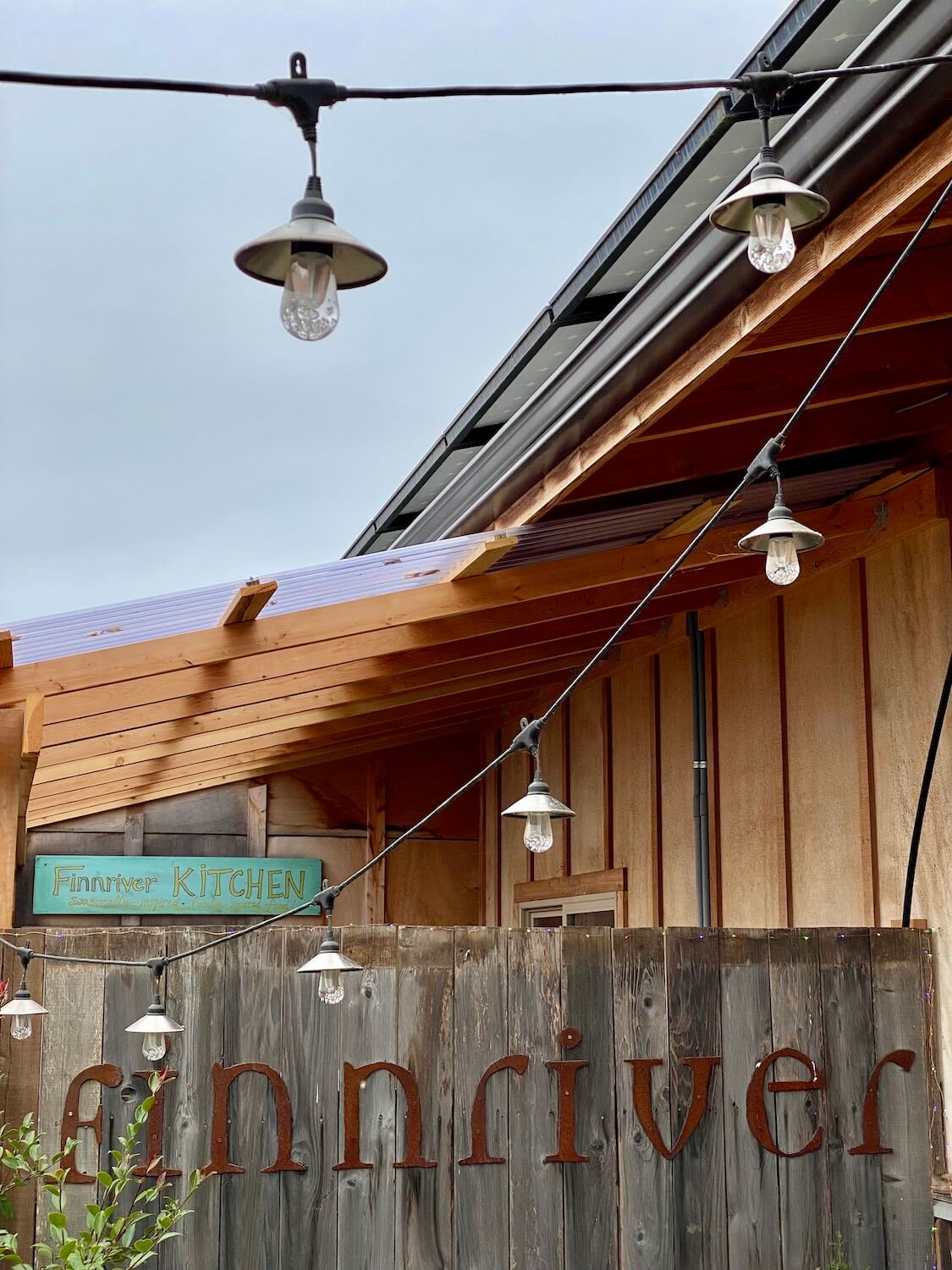 For a fun outing, head 20 miles south to the hamlet of Chimacum to experience the country farm appeal of Finnriver Farm and Cidery. Try their suite of products along with revolving food menus or pizza from Dented Buoy Pizza. The feel is very relaxed with tables spread out over an orchard-view lawn. Hanging lights adorn a covered area with picnic tables. Wander around the grounds to survey what was (and still is) a working farm.
See a retro-style film in Port Townsend
Port Townsend seems to be able to pull off nostalgia so well, even movie watching experiences offer longstanding fixtures of the community. Try the Rose Theatre downtown for modern-day entertainment with a twist. Instead of movie previews, the charismatic owner offers her interpretation of the upcoming film. It harkens back to the reading of the local newspaper to loggers and miners before silent films. It can be a fun option, especially in the rainy season, to spend an evening.
If the sun is shining, head to Wheel-in drive-in, one of the last operating in the Pacific Northwest — since 1953. They offer a double feature that begins around sundown and a restaurant on the premises suited to complete the bygone experience. Be sure to wear comfortable clothing and bring the accoutrements to keep cozy.
Bask in beautiful botanical gardens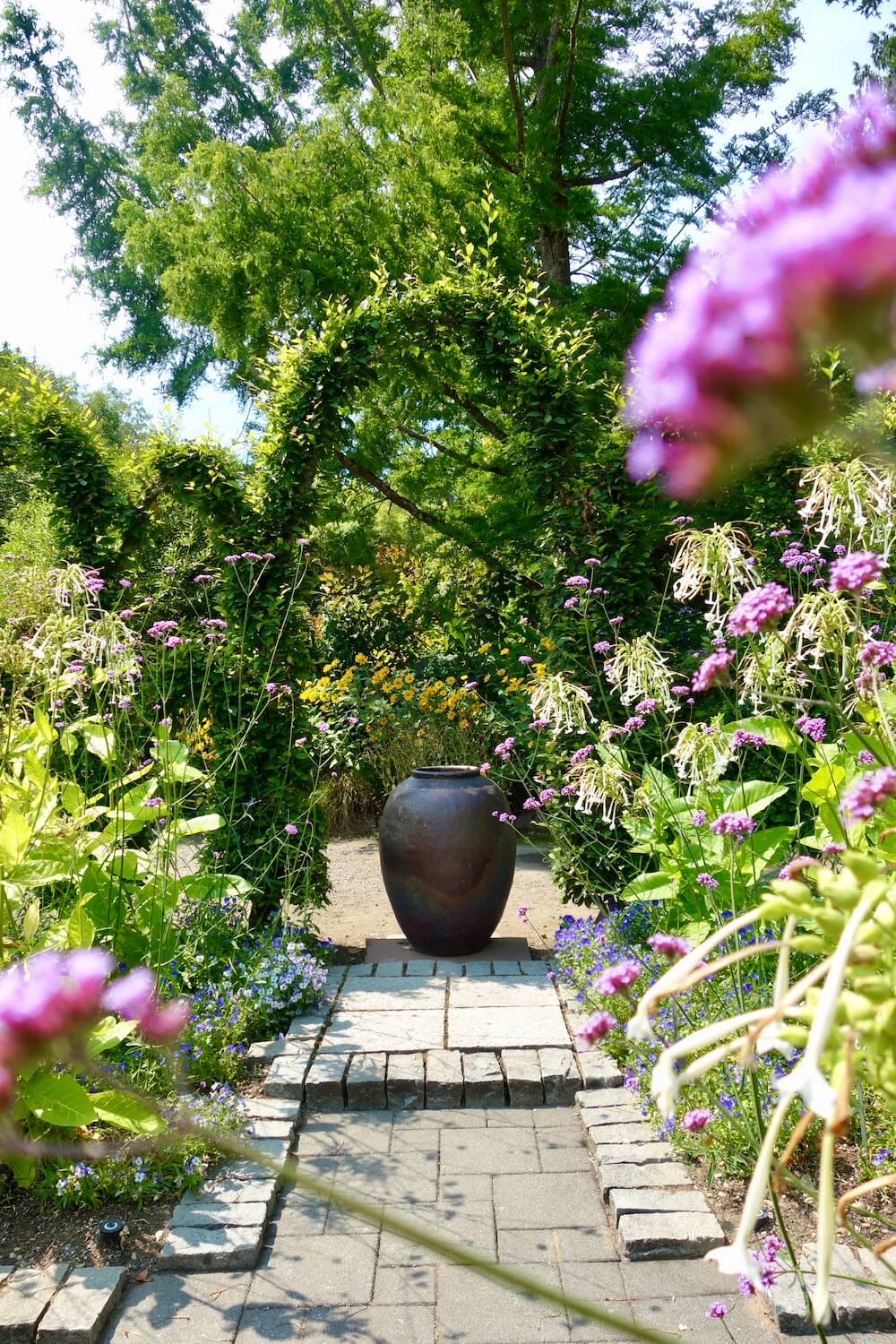 The Pacific Northwest has amazing examples of botanical gardens that seem to effortlessly incorporate local treasures with varieties from all over the world — in particular from Asia. If you're driving from Seattle and take the Bainbridge Island ferry, Bloedel Reserve is a fantastic treat. This is a favorite of mine, so for more information check out my article, Bloedel Reserve — the best of Bainbridge Island.
On the way from the Kingston Ferry and about 45 minutes from Port Townsend is the native-owned Heronswood. The 15-acre gardening oasis features three key zones, each exhilarating in its own way. Start at the recently added fern garden and wander down paths that comment on the history of logging in the area — incorporating pioneer-ish artifacts mostly made from metals. You'll stumble upon an old piano secured under the protection of a cedar tree, seemingly waiting for the world of ferns to overtake the janky wooden keys.
A canopy of fir holds the Pacific Northwest favorites expected in a regional garden, and fountains and interesting art installations blend perfectly into the scene. A grand finale is waiting towards the end of the walk — near what looks like a former residence (and restrooms). A formal garden held together by geometric lined shrubs and stone pathways ushers visitors into a world of color and textures. This is the best Summer garden I've seen in some time. If you want to know more about my favorite gardens, read my article about Seattle botanical gardens — best kept secrets.
Cut lavender at a local farm
The area around Sequim, Washington (pronounced SKWIM) is within a rain shadow from the towering Olympic Mountains. The range siphons off so much moisture that some areas of the Olympic Peninsula, like Forks, are among the rainiest places in the world. Not Sequim, just a 45-minute drive from Port Townsend. Instead, this area boasts a unique pocket of sunshine and a Mediterranean climate, perfect for growing lavender. While Jardin du Soleil Lavender Farm is a local Sequim favorite, there is another option within Port Townsend.
Wilderbee Farm makes for a delightful escape to the farm, complete with lavender fields, fruit stands, and other country fun. On weekends they also offer tasting of their property-made mead. Drop in for a wander through lavender or flower beds and procure your own fresh cuttings of each.
Hike through parks in and around Port Townsend, Washington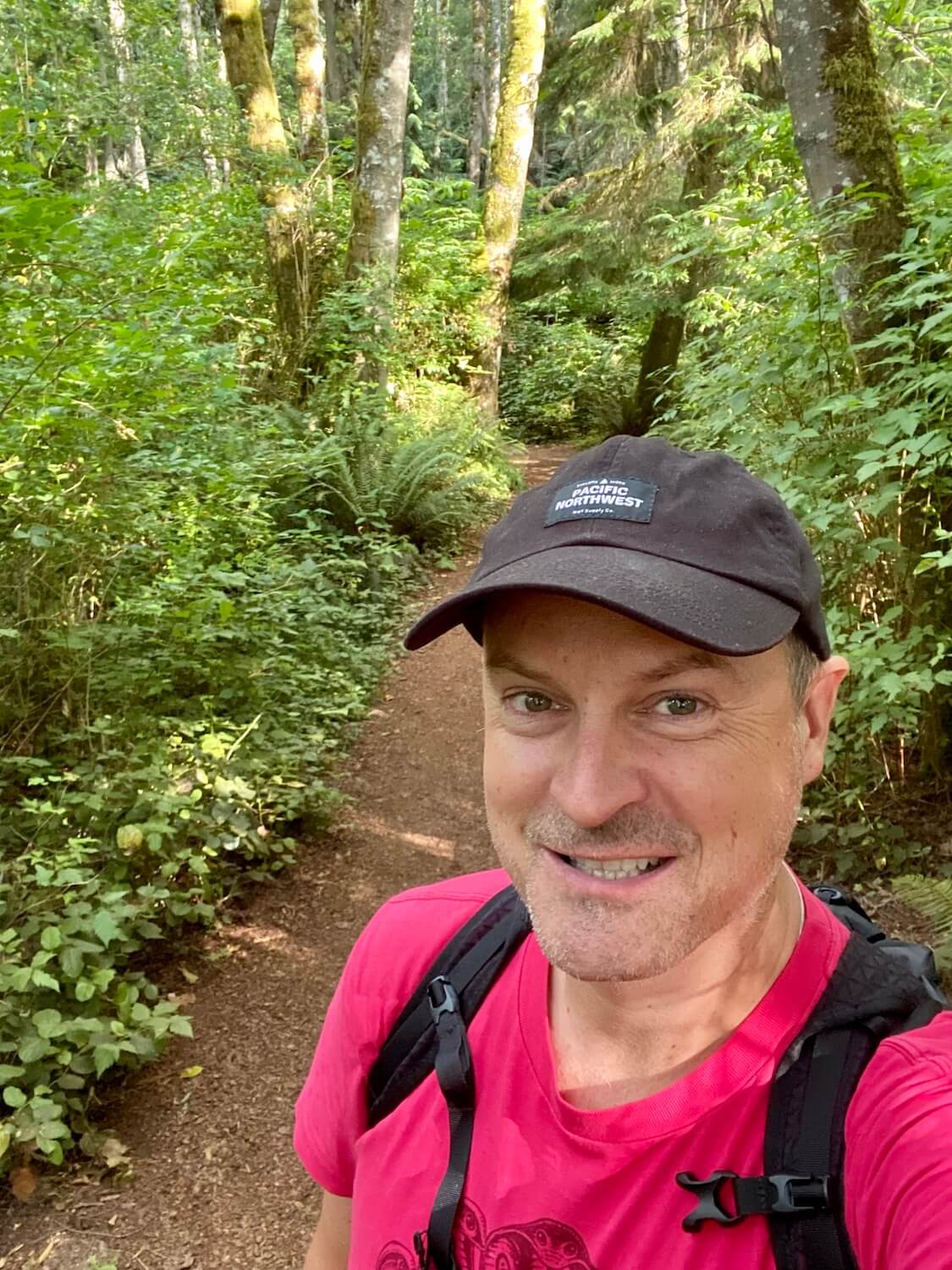 The area hosts numerous places to convene with nature, especially green areas in nearby forests. A great place to explore is Cappy's Trails, a giant green area reclaimed by the city for residents to use to bike, hike, run, walk and be with the wild. The three former forts turned Historical State Parks in the area, Fort Flagler, Fort Townsend, and Fort Worden, also make for interesting hikes. For more information check out this great hiking and walking map provided by Port Townsend.
The ghosts of military history come alive — explore Fort Worden State Park
Those who've watched the academy award-winning "Officer and a Gentleman," starring Debra Winger and Richard Gere, would recognize this WWI-era former army fort as one of the site locations of the film. Rows of restored buildings, including statuesque officer housing overlooking the quad, create a camera-ready set. The Fort was an active army location from 1902-1953 but today is a Washington Historical State Park, complete with campsites and a comprehensive series of trails that touch various outbuildings and beach walks.
Washington State Parks require a $10 daily parking pass or a Washington State Discovery Pass ($30). This includes all the areas within Fort Worden (unless otherwise marked) closest to the beach, campsites, and hiking trails.
Tour military batteries
Part of the impressive expanse of Fort Worden includes former military batteries created to protect the US from attacking forces. These fixtures of concrete and steel were designed and built just as the world of "fort-based battles" started to transition to mobile forms of combat, including the dawn of aviation. This fort was never used in any kind of ground (or sea) combat, but the chutes and ladders complex of Battery Kinzie, for example, is fascinating to explore. The glow at sunset offers a particularly eerie hue to Juan de Fuca's beauty.
View a lighthouse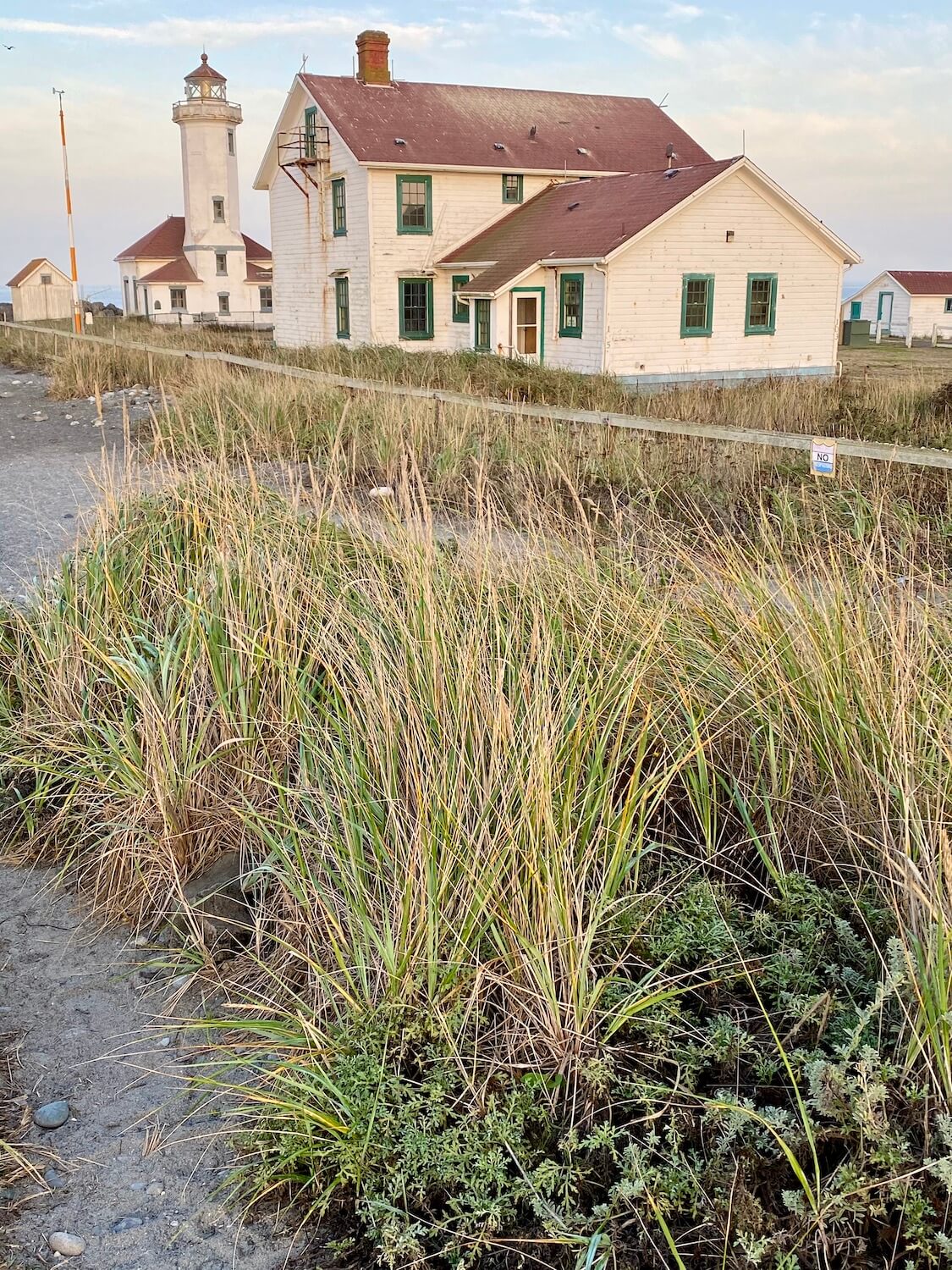 Just up the road from Battery Kinzie, the Point Hudson Lighthouse hangs on the end of the spit. Although tours are only offered at very limited times, it's still possible to walk around the focal point on the beaches — depending upon the tides.
Walk the beaches around Port Townsend
Speaking of beach walks, Port Townsend, Washington offers lots of possibilities. Almost half of the čičməhán trail (mentioned above) traverses beautiful beaches. The 5.4-mile walk from North Beach County Park to McGurdy Point can be a great place to spot sea glass. Another option is the Larry Scott Memorial Trail — a 7.3-mile adventure that covers a variety of terrain, including a beach walk for the first mile. You'll find this trail in the southern part of the downtown, departing from the Port of Port Townsend Boat Haven.
With proper planning, miles of coastline exists for a refreshing connection to the sea. Be sure to research the tides, because they can swing up to 11 feet, which often conceals beaches in the area.
Witness a working dry dock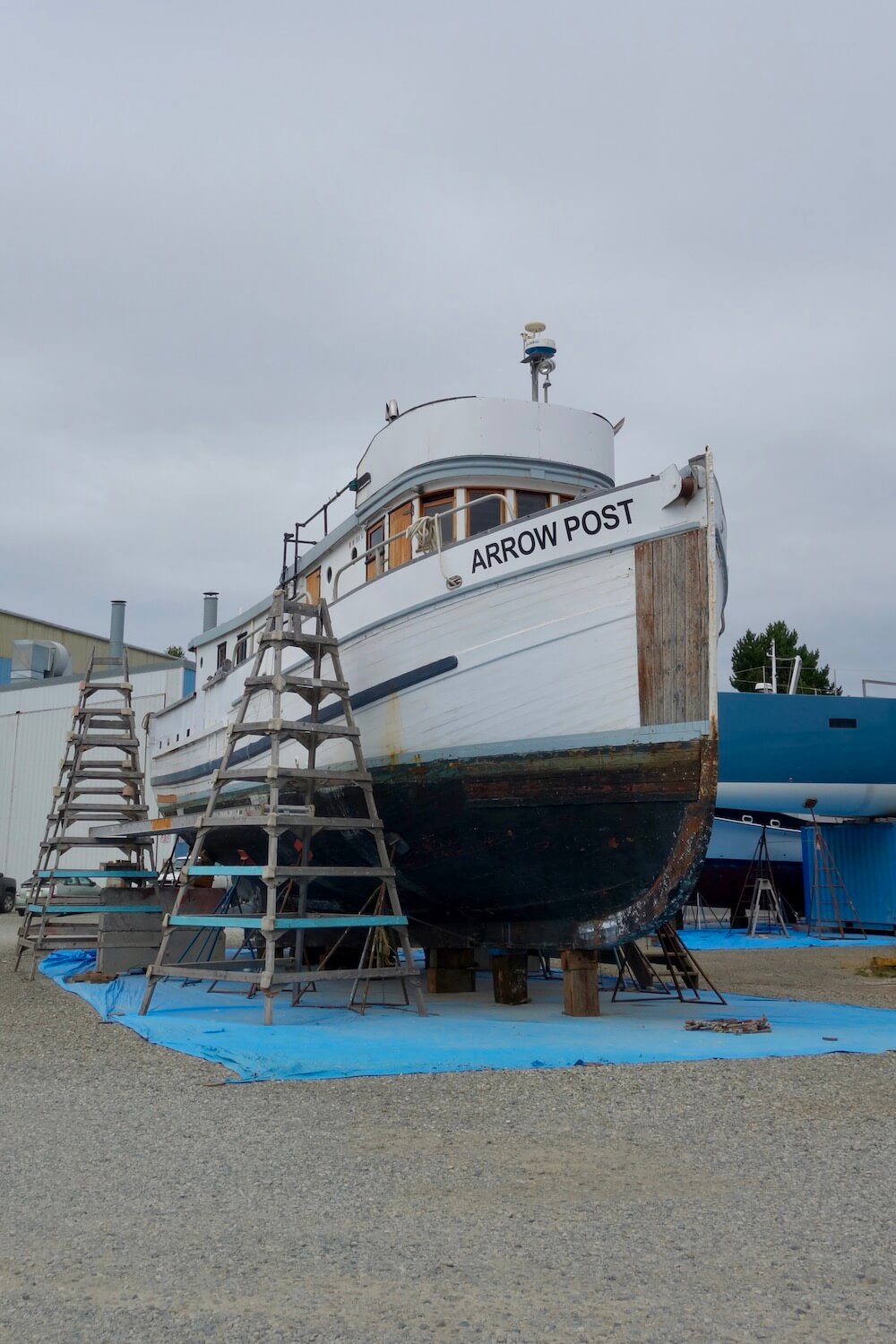 A favorite thing of mine to do in any maritime city is hang out with the boats. The Point Hudson Marina, on the north end of downtown, is a fun place to see them floating in the water. The same goes for the Port Townsend Boat Haven. I'm also intrigued by the process of refurbishing vessels — the massive dry dock adjacent to the harbor is fascinating to witness all the activity.
Be sure you're not in the way of the giant cranes on wheels, gingerly maneuvering through the rows of sea-weathered hulls. They seem to magically pluck massive vessels from the water to be teetered onto dry land. The area has marine supply stores as well as salty Port Townsend Brewery, where locals are known to discard peanut shells on the floor. Explore several other port-side eateries that look simple but serve up tasty bites from the sea.
Learn about wooden boat building — a Port Townsend, Washington specialty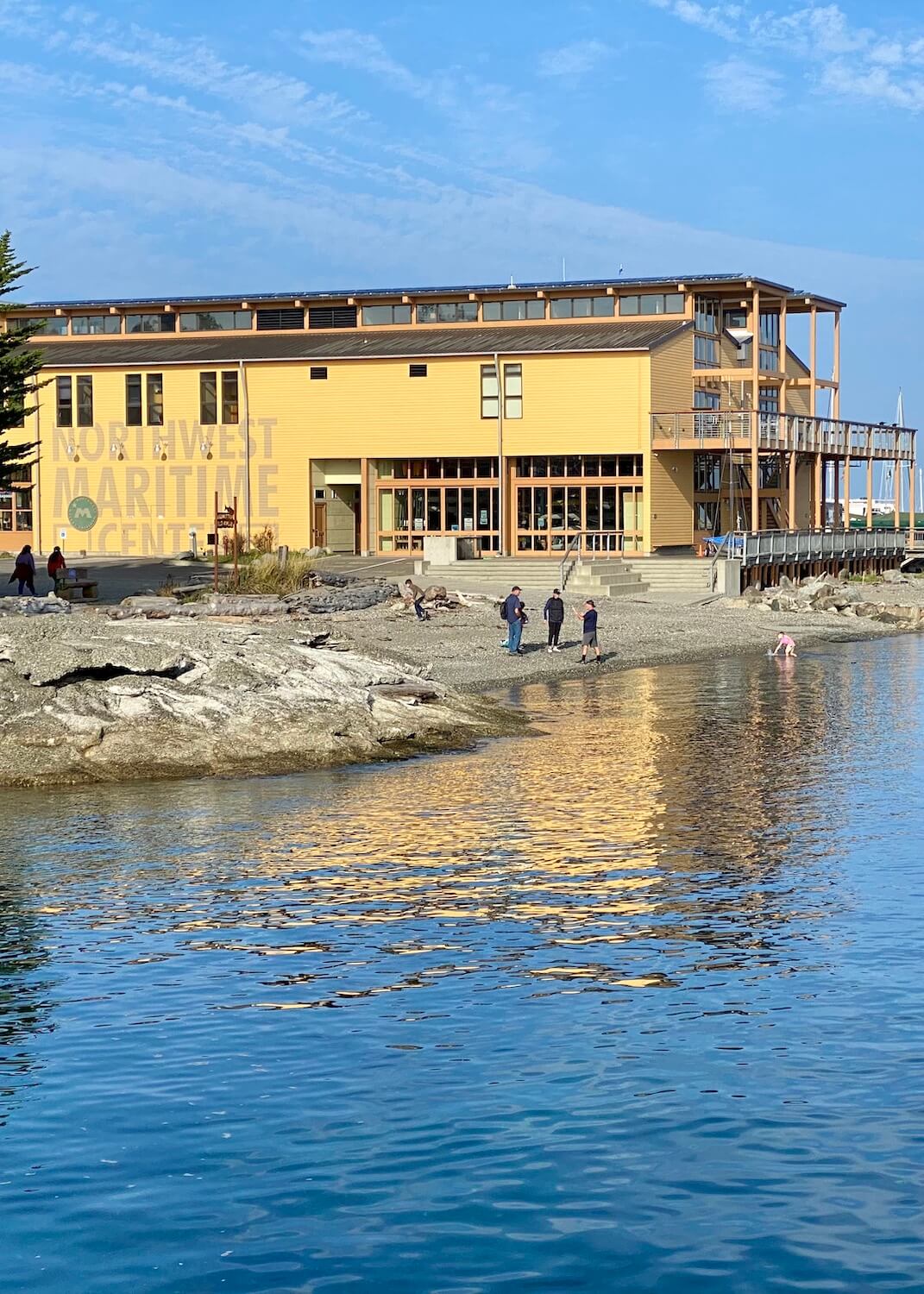 The maritime world certainly didn't pass by this seaside enclave. Instead, Port Townsend hung onto the water-based legacy, including the building of seaworthy wooden boats. Today, the Maritime Center downtown offers a glimpse of a thriving trade school and if you're lucky you might find doors to the workshop open. Glance in and witness the magic that comes to life in this age-old practice. If you'd like to build your own boat, check out the full lineup of Boatshop classes and workshops on the Northwest Maritime Center website. There is a load of other information about marine races and festivals.
Take in a concert or festival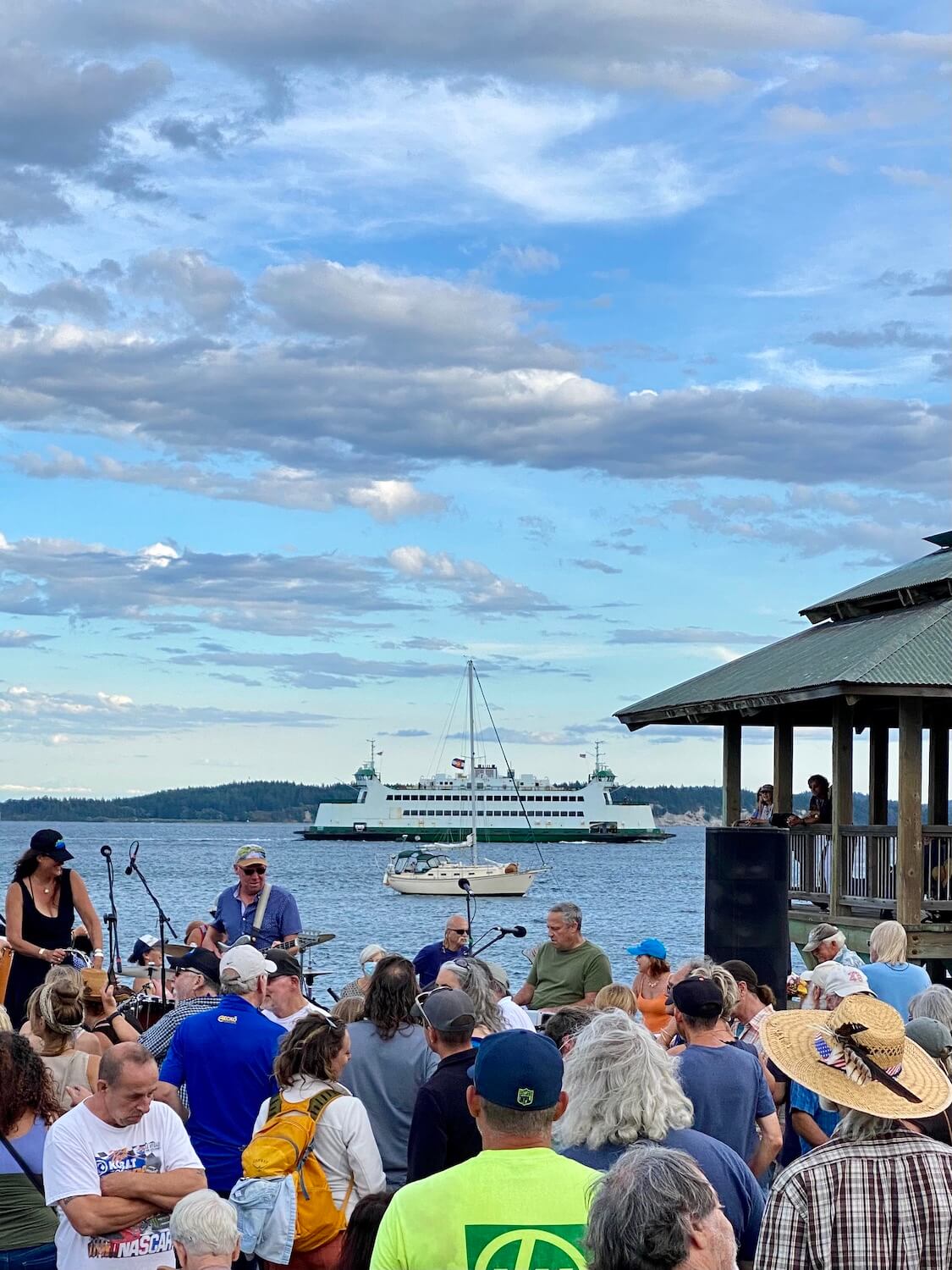 Port Townsend enjoys festivals and outdoor concerts. The Wooden Boat Festival takes place in September each year and is the largest in North America — a mesmerizing display of an intricate trade. Some of the impressive vessels even offer rides in the harbor. For a lineup of all the events — farmers markets to the famous Race to Alaska — check out the Enjoy Port Townsend site for more information.
Even recently, in Summer 2021, I got in on "Concerts on the Dock" at Pope Marine Plaza. We rocked out to a retro-punk band working for their crowd while ferries glided through the waters directly behind the stage. It is quite a stunning place to enjoy live music! The concert series takes place on Thursdays in the Summer months and is free to the general public.
Visit Port Townsend Marine Science Center
Within the grounds of Fort Worden, on a pier jutting out into the bay, you'll find the resource-rich Port Townsend Marine Science Center. At the time of this writing (August 2021) the museum is only open on weekends. Outside of the museum operation, there are a variety of other activities available, like low-tide seashore walks and wildlife boat trips. Check out their website for updated calendars of information. Even when the museum is closed, it's still fun to walk around the pier that extends into the crashing saltwater waves — I make the walk around the dock with every visit to Fort Worden.
Go whale watching — leave from Port Townsend — explore wildlife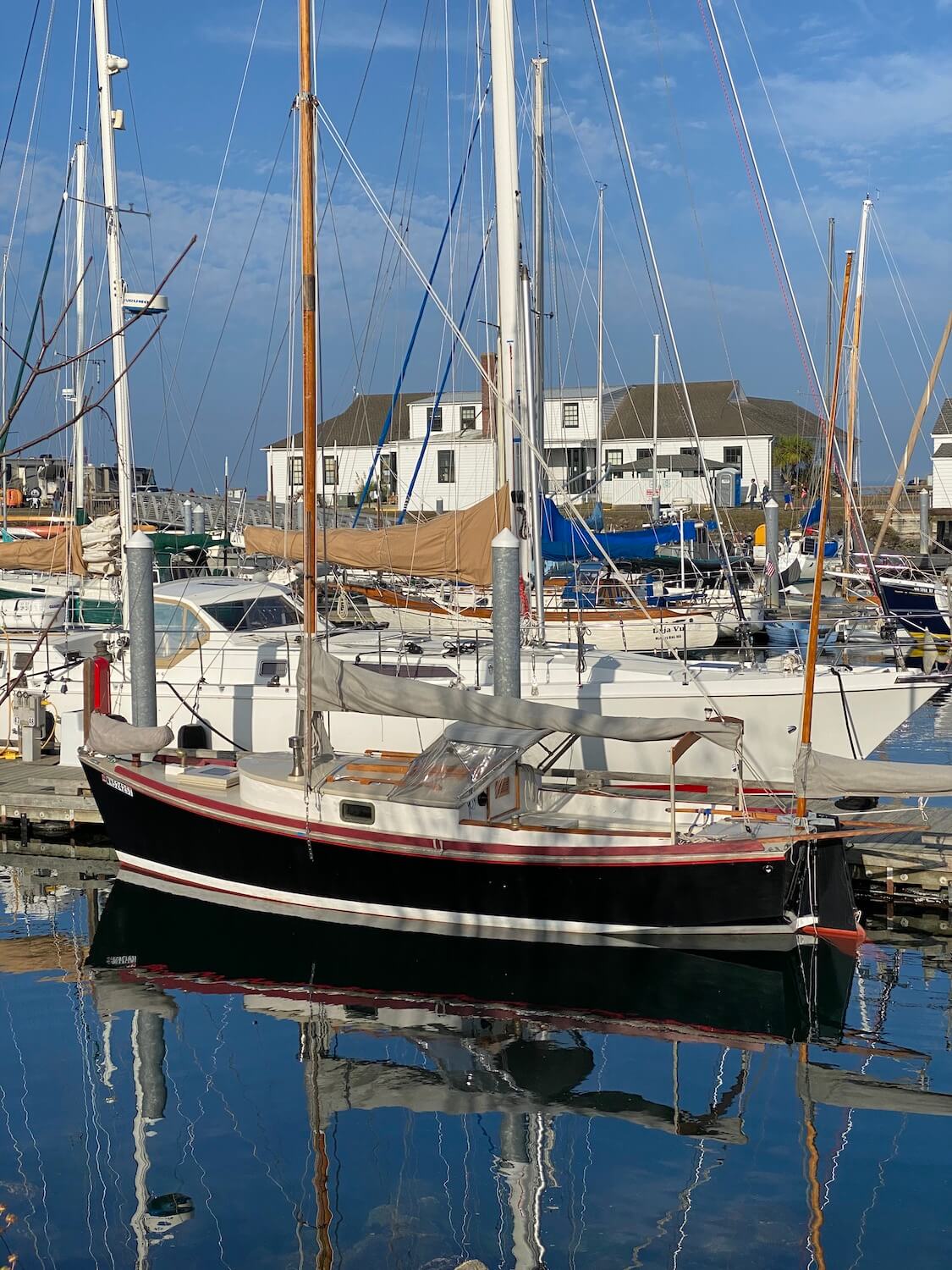 Speaking of marine science, the water just beyond the harbor of Port Townsend, Washington is chock full of all kinds of marine wildlife, including whales. Consider taking a four-hour Whale Watching Tour with Puget Sound Express. Since the giant mammals migrate South for the Winter, the best opportunity for viewing is between April and October. Most tours leave around 10 AM with additional options available on weekends. In addition to whales, the boat can visit other areas known for interesting species of birds, seals, otters, and other wildlife.
The tour company also offers day-long adventures to the San Juan Islands, with a port of call at Friday Harbor (on San Juan Island). This can also serve as a ferry to the San Juans, and one-way journeys are available as well (foot and bike traffic only).
Port Townsend Marine Science Center (mentioned above) offers wildlife cruises that focus on Spring and Fall bird migrations and Summer fun with puffins. There are also trips to Protection Island available on a historic schooner sailboat. Day trips start at $60 for members.
Take the Ferry to Whidbey Island
Something about floating over the rolling saltwater of the Salish Sea recharges my soul, and taking a ferry ride is an excellent way to connect with the water. One such option in the Washington State Ferry system is the brief 35-minute hop between Port Townsend and Coupeville (on Whidbey Island).
If you're interested in things to do there check out my article, The 8 best things to do on Whidbey Island. In this article, I talk about my fun experience at Callen's Restaurant just across the street from the Coupeville Ferry Dock. We enjoyed Dungeness Mac-n-cheese and delicious fish-n-chips with yummy Bloody Marys while the house played Abba records on a vinyl stereo.
Fort Casey, a similar vintage as the forts around Port Townsend, is an easy walk from the dock and has the benefit of stunning views of the Strait and the Olympic Mountains from the dramatic gun battery. There are also easily accessible beach walks in the area too. It costs $.50 extra to take a bike onto the ferry, which would open up more options to explore. If biking, then definitely head up a little further North to Ebey's Landing National Historic Area for fantastic views from inspiring protected nature areas.
It's easy to walk onto the ferry and costs only $3.80 each way for adult foot passengers. There are 10 ferries a day each way between the two cities that serve up marine bliss, as views of the Olympics rise up in one direction while the Salish Sea flows around what seems like endless islands. The schedule makes it easy to jump over for a meal and catch the sunset on the way back. (All this specific ferry information is current as of the time of this writing, August 2021.)
Of course, it's also an option to cross with a vehicle and keep going on a loop. I explain such a journey in my article, Road trip on Whidbey Island. If you plan to cross in a vehicle reservations are highly encouraged, especially in the busy Summer months. Check out my article, All you need to navigate the Washington State Ferries, for more information on how to make reservations.
Enjoy a romantic sunset over the Strait of Juan De Fuca
Sunsets on the water are particularly romantic and a great thing to do in Port Townsend. Since the historic waterfront faces East, there won't be the oohs and aahs of color there compared to the West-and North-facing directions from the Peninsula. Fort Worden offers delicious sunsets from Kinzie Beach and a quieter off-the-beaten-path area is North Beach County Park, just West of the park. Fort Flagler, on the other side of the harbor, is super scenic around the dusk hours.
Stay in a castle, army barracks, or Victorian B&B
Port Townsend serves up very unique options for places to lay your head. Fort Worden has converted officer quarters and barracks into lodging in a tiered offering. Rent an entire two-bedroom "corporal's" row house along a tidy boulevard or one of the larger former officer cottages. It's fun to stay on the base because of all the very walkable options within such a unique setting. Parking around the lodging is free.
There is also Manresa Castle, which was built in 1892 as the home of Charles and Kate Eisenbeis — designed to resemble a European-style castle. Mr. Eisenbeis was a prominent citizen who eventually became the mayor of Port Townsend. The residence started with 30 rooms (the largest ever built here). Over the years different owners expanded and updated this property, which is reportedly haunted.
Port Townsend is also known for charming Victorian mansions-turned Bed and Breakfasts. Enjoy quaint quarters with friendly innkeepers who'll offer afternoon tea and biscuits along with delicious morning meals. Try the highly awarded Old Consulate Inn or search for many others in the region. Airbnb also offers many forms of interesting options in the area.
Interactive Map of things to do in Port Townsend, Washington
The map below offers you my tried and tested favorites and covers a lot of great options in Port Townsend, Washington not mentioned in the article above. I've added food and things to do on Whidbey Island, as well as in the areas around the Kingston and Bainbridge ferry landings — in case you need suggestions for the journey to and from Port Townsend.
Downloadable checklist of things to do in Port Townsend, Washington
Pin this article about things to do in Port Townsend for later