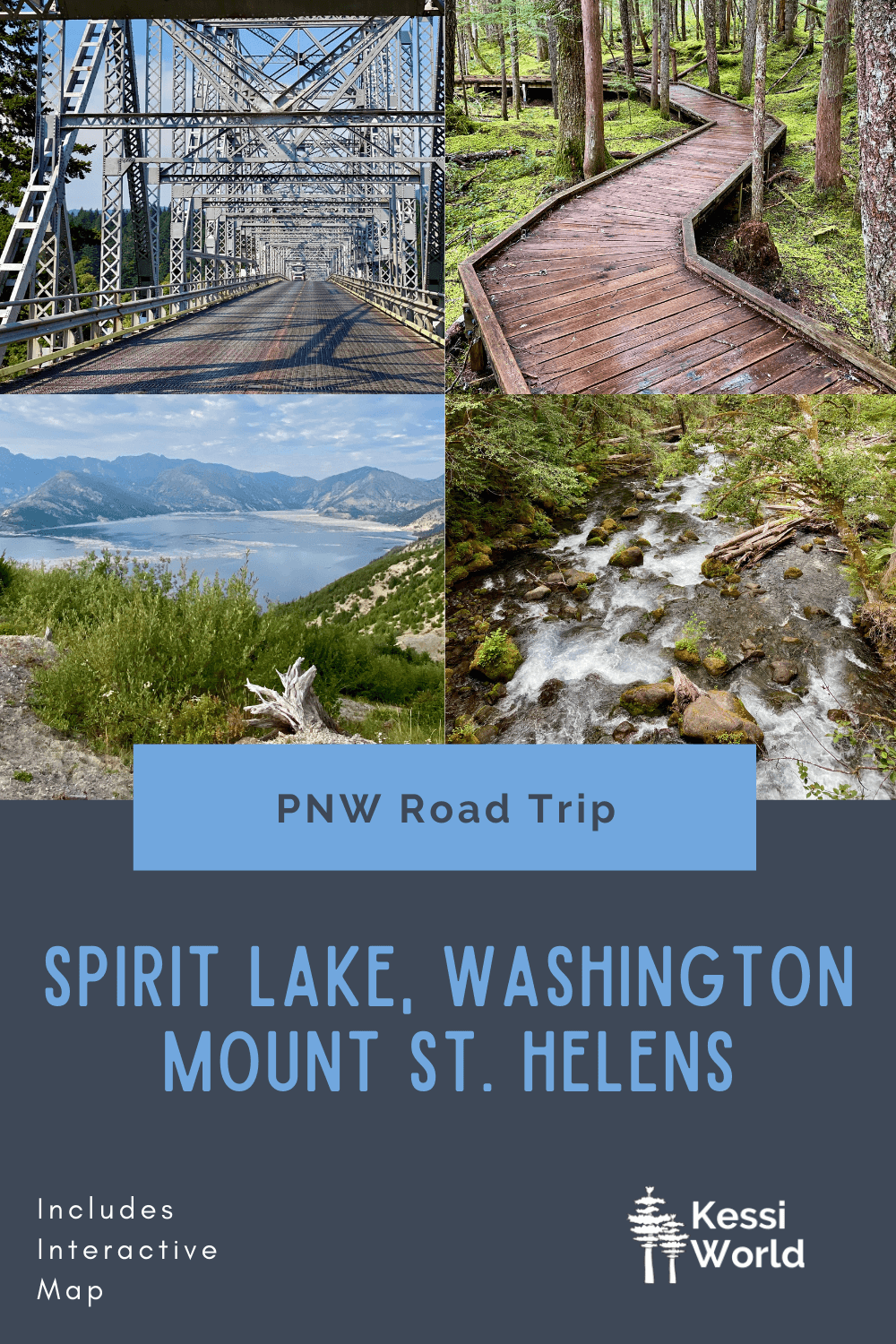 Mount St. Helens is a captivating area of the Pacific Northwest, combining the volcanic mystique of the famous 1980 eruption with uplifting examples of Mother Nature's regenerative ability. She also happens to be located directly East of the only major North/South roadway in the Pacific Northwest, conveniently between Seattle and Portland.
There are many ways to enjoy her allure — helicopter tours, horseback riding, mountaineering, hiking, and boating come to mind — but one of the easiest ways is on wheels on a scenic road trip. And, while often overlooked, the Spirit Lake, Washington side of Mount St. Helens offers a quieter connection with this "living museum".
Recently I decided to deviate from the path of busy Interstate 5 on my return drive from Portland to Seattle. I've written about the many things to do on this road trip in my article Seattle to Portland drive — ways to make the day unique. There are also more options, including taking the train between Portland and Seattle.
Having made this journey countless times in my life I felt the calling to try a new route — even if it did take most of the day. From the iconic Columbia River Gorge to deep forests and sweeping vistas of Mount St. Helens, the experience left me feeling recharged. Perhaps this drive to Spirit Lake, Washington will leave you feeling the same way.
All that's in store for you Spirit Lake, Washington road trip through Mount St. Helens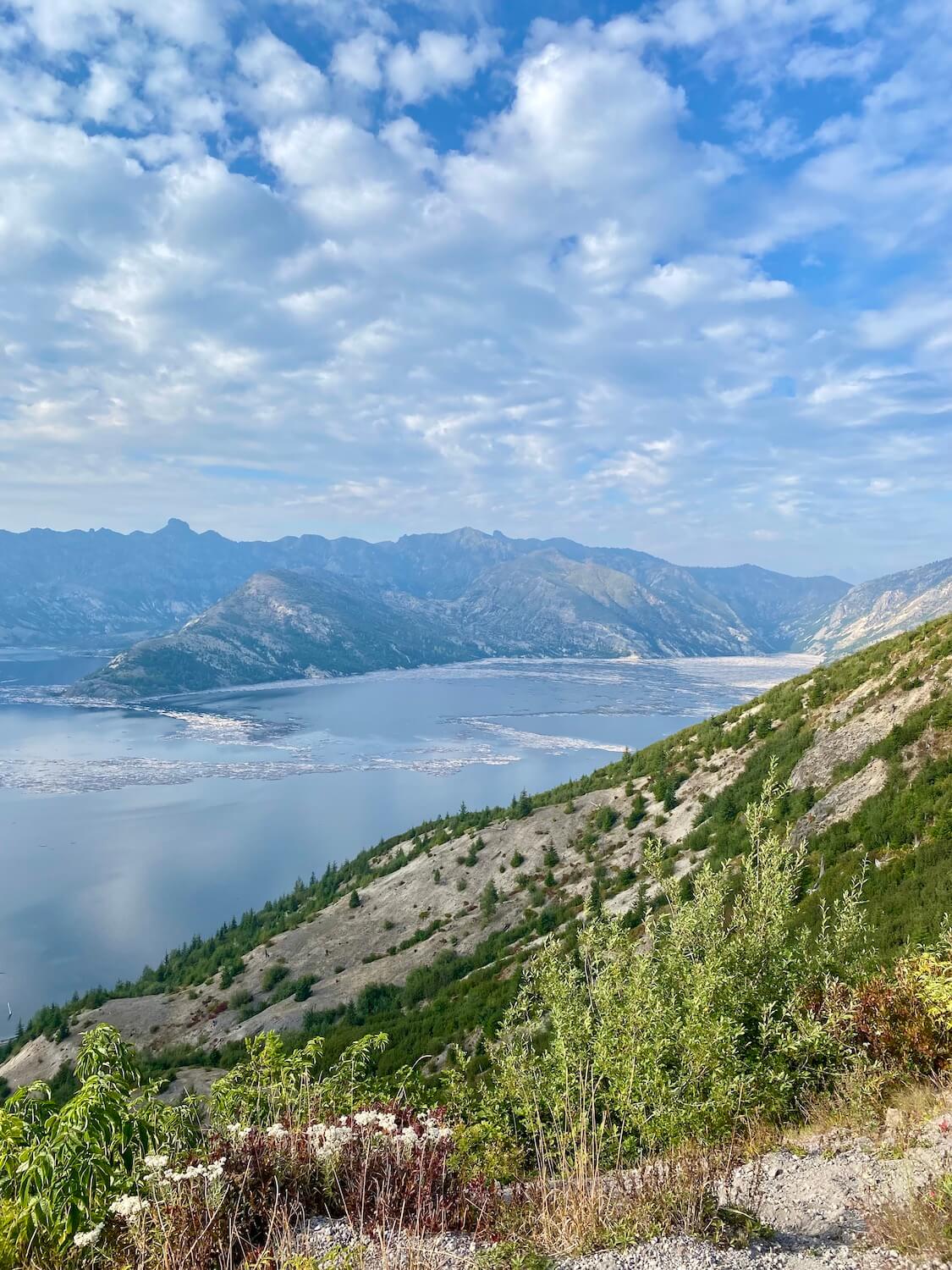 This trip starts in Portland and ends in Seattle, but can easily be reversed and customized to be shorter. Either way, the total drive time for this itinerary is about ten hours, so plan for an all-day outing. It is also possible to make this day trip, beginning and ending in Portland, in about 7 hours. There are more helpful planning tips at the bottom of this article, as well as an interactive map.
A brief history of Spirit Lake, Washington, and Mount St. Helens
Mount St. Helens is an active volcano in the fiery Cascade Mountain range that goes back about 40,000 years. She is accompanied by Mt. Rainier to the North, Mt. Adams to the East, and Mt. Hood further South in Oregon.
She exhibits an eruptive personality, over 2800 years in the making, that earned the name Louwala-Clough (anglicized to the Smoking Mountain) by the native populations who were constantly relocating out of harm's way. Eruptions on the record include 1800, 1801, 1842, and continuously through 1857 before the modern-day spectacle on May 18, 1980.
I grew up just 40 miles from Mount St. Helens and remember May 18, 1980, vividly. I write about my personal reflections in an article, Where were you when the volcano blew.
After a dramatic buildup of seismic activity over a few months the pressure grew too strong to be contained and at about 8:30 AM an earthquake launched a massive landslide and a cataclysmic steam explosion spewing volcanic gases and debris miles into the air for over nine hours. Glaciers and snow melted instantly, rushing toward nearby Spirit Lake and forcing a wall of mud and debris down the helpless Toutle River — eventually clogging up the Columbia River near Longview, Washington.
Spirit Lake was a Pacific Northwest icon, set just below the majestic snow-covered mountain. Generations of campers experienced the blissful ecosystem — fabrics of nature interwoven between old-growth timber groves and pristine alpine waters. There were several youth camps on the shores of the lake as well as two lodges.
Harry R. Truman owned and operated the Mt. St. Helens Lodge, at Spirit Lake, for many years. At 83 years of age, he refused to leave the mountain when everyone else evacuated on May 17, 1980. This is a romantic tribute to him. The Seattle Times produced an interesting piece about the couple owning the other lodge on Mt. St. Helens, Spirit Lake Lodge. Both are very heartfelt, human reads.
The intense heat and huge volume of debris ended up killing all visible life (the water temperature in the lake went from 51 degrees F to 98 degrees F) while raising the surface level of the lake by over 200 feet — almost doubling the footprint. Following the eruption scientists couldn't fathom any life appearing in the bacteria-filled bubbling soup.
Within three years Mother Nature was active, reviving the lake and surrounding landscape. The 2021 version of Spirit Lake, Washington actually has more aquatic life than before the eruption.
Spirit Lake, Washington road trip — starting out in the Columbia River Gorge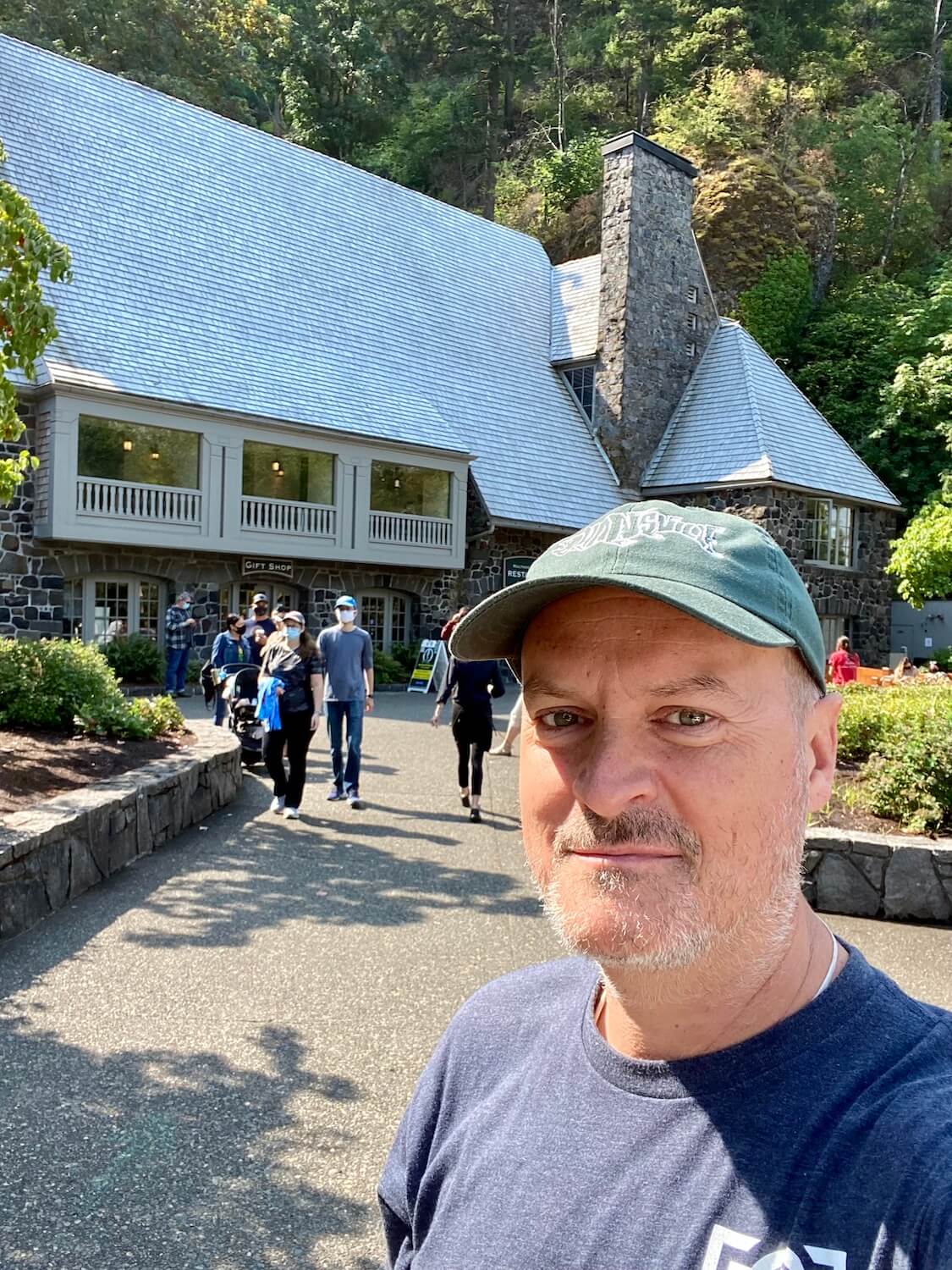 No matter how many times I cruise through the Columbia River Gorge, my heart skips a beat at the commanding landscape of towering mountains juxtaposed with a wide river. Interstate 84 is the most efficient roadway, but I also enjoy the more relaxed pace on the Washington side with Highway 14. If you're looking for something to do right out of the gate, stop at Beacon Rock (Washington side) or the very popular Multnomah Falls (Oregon side). The nice thing about Multnomah Falls is the convenient exit #31 (left-hand side) to a parking area.
Multnomah Falls is an iconic feature that receives over 2 million visitors each year — making it Oregon's most popular attraction. While it is touristy (for Oregon standards) there is just something so appealing about the majestic flow of water over a dramatic basalt cliff.
While it isn't compulsory to trek up the steep switchbacks to the top (but I love this hike), be sure to walk up to the whimsical bridge supported by a flowing arc. At this location, you can sometimes feel the mist grace your face.
These days, with elevated crowds, a timed-entry ticket is required to walk past the historic lodge that houses a restaurant, gift shop, and coffee cart. Use the website recreation.gov before heading out because cell service is spotty at best in this area. I recommend downloading this app since it works for attractions across the country (including Lower Lewis River Falls mentioned below). During high season (May-October) alternate parking areas are utilized so check parking guidance before travel.
Stevenson, Washington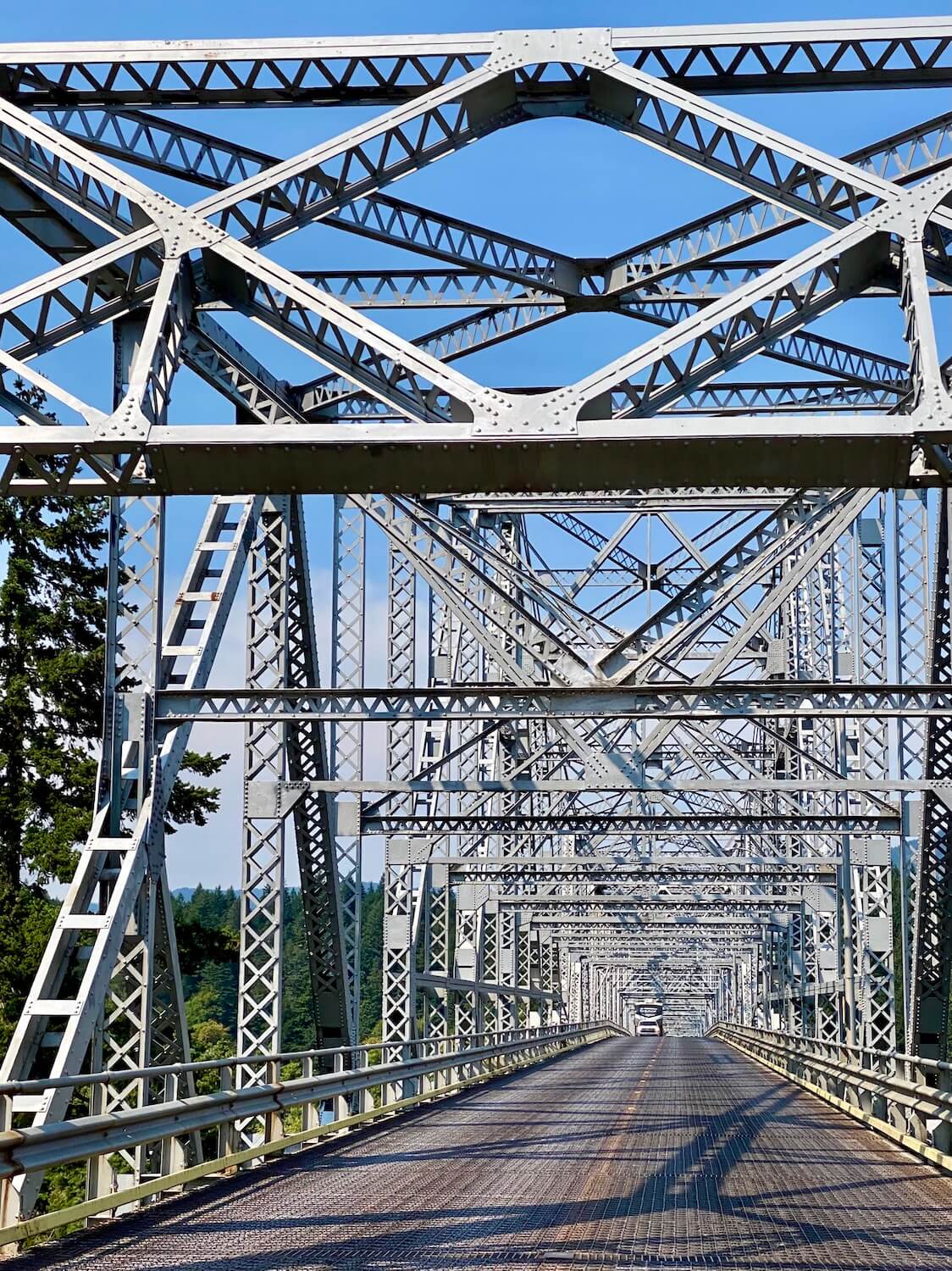 Continue along the highway and take exit #44 to Cascade Locks and Bridge of the Gods. If you're on Highway 14, disregard this step, because you're already in Washington State. There is a $2 toll for most normal size vehicles to cross the bridge, and the fee is collected on the Oregon side of the river.
The rickety erector-set contraption of steel wouldn't be so dramatic were it not for the narrow grate of a roadway 141 feet above the Columbia River. The views in either direction are spectacular — but keep your eyes on the road. To the left, notice the fishing platforms traditionally used by members of the Nez Perce, Umatilla, Warm Springs, and Yakama Tribes to harvest salmon returning up the river to spawn.
Continue to Stevenson, Washington, which is a charming town hugging the cliffs leading down to the Columbia River. This is the hub of wilderness-covered Skamania County, population 12,000. The area historically depended upon a logging and fishing economy, so you'll see references to Sasquatch lurking in the forested areas around Mount St. Helens and Mount Adams. Keep your eyes peeled for a sighting.
Use this opportunity to fuel up — with both java and gasoline — and grab a bite to eat at the quality establishments. I love the food at Big River Grill and Walking Man Brewing is also well regarded. From this point, services dwindle quickly.
Optional overnight: If you'd like to turn this into a multi-day adventure, consider staying at Skamania Lodge.
Lewis River Recreation Area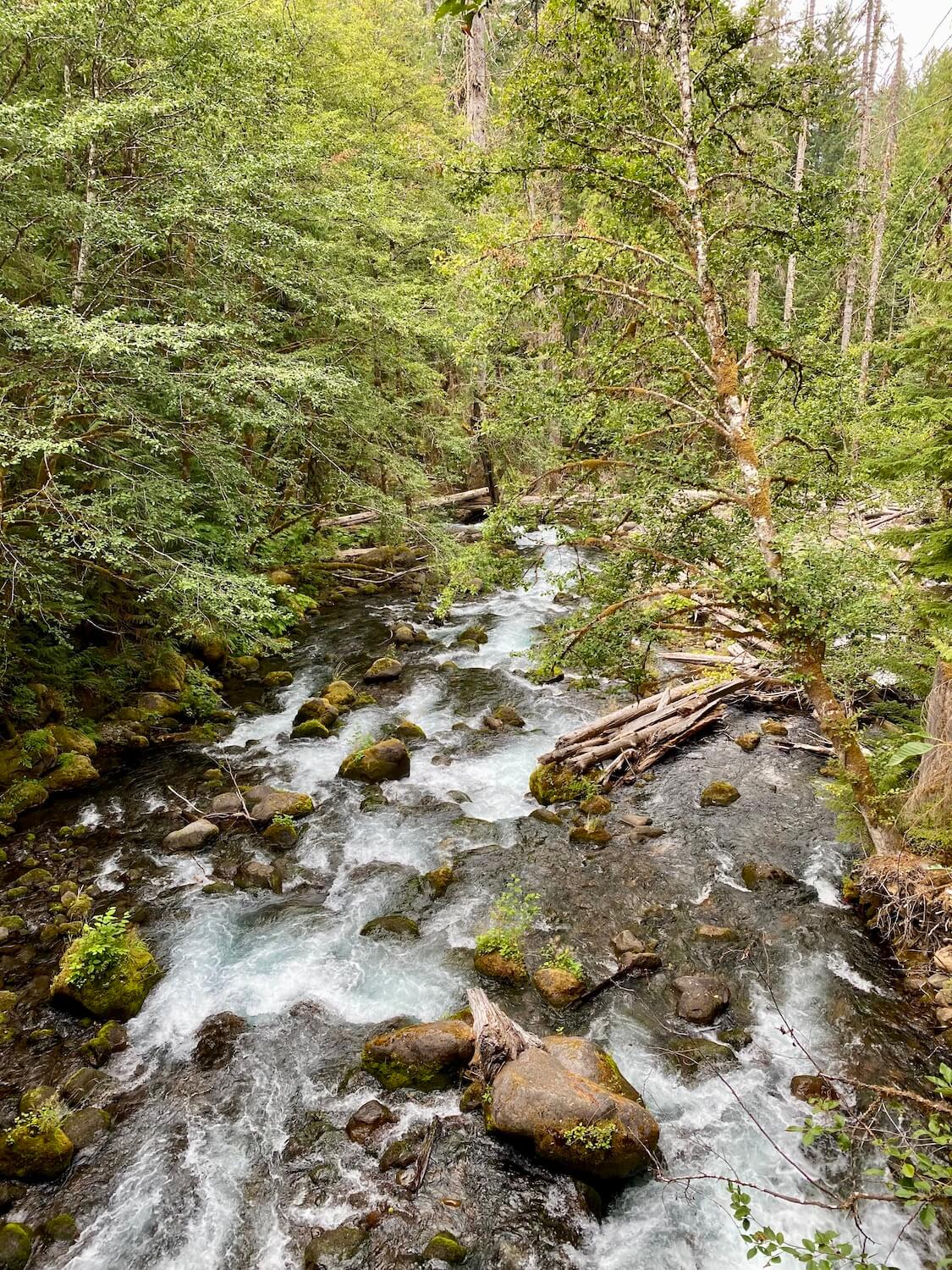 The Lewis River begins in remote regions of thick timber stands in the Gifford Pinchot National Forest, between Mt. St. Helens and Mt. Adams. The fresh runoff flows through a series of dramatic waterfalls and then reservoirs before reaching the Columbia River across from St. Helens, Oregon (near where I grew up). The pristine playground of natural beauty encompasses trails, waterfalls, and campgrounds in this region known as the Lewis River Recreation Area. One of the most elegant of the waterfalls, which is also easy to reach by vehicle, is Lower Lewis River Falls.
Important Note: between June 15 and Sept 15 a parking reservation is required to use this area. Recreation.gov is the place to obtain the reservation, which must be printed on paper and displayed on your dash. There is also a $2 convenience fee. Do this ahead of time, as there is virtually no cell service for miles.
Even if this is a spontaneous trip and a reservation isn't purchased, there are other trailheads and visible waterfalls that can make for an enjoyable drive in this area. Plus, the Autumn leaves are amazing in this portion of the itinerary (Stevenson to Lower Lewis River Falls).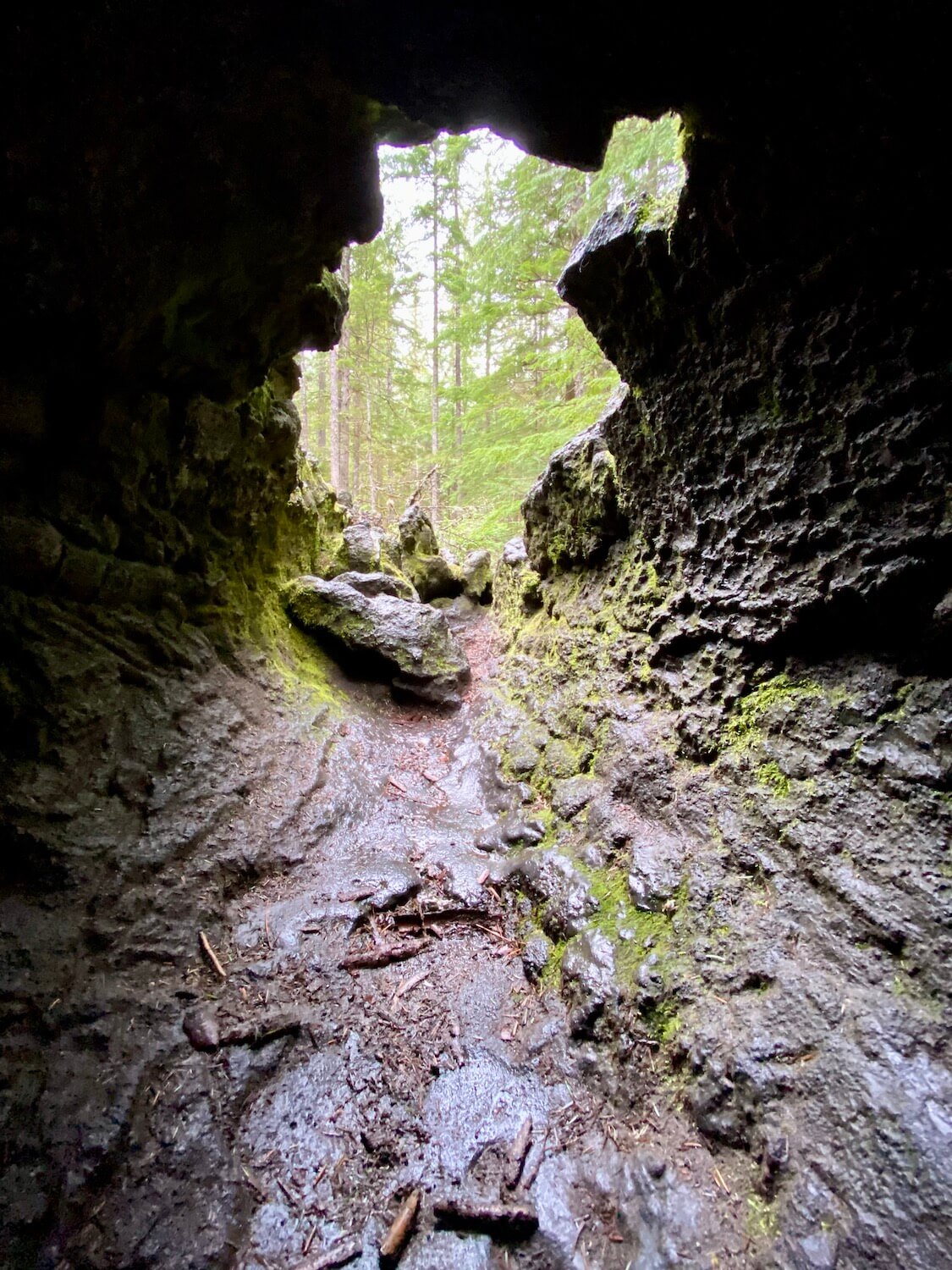 Optional attractions: Ape Cave & Trail of Two Forests are two potential activities to add to this day. I've written about this as a day trip from Portland in the article about the South Side of Mt. St. Helens. This option adds about an hour's drive time to the itinerary. Timed parking reservations using the Recreation.gov app are required at the Ape Cave (through September 30). April 1 – November 30, a $ 5-day pass or valid Recreation Pass is required to park in both areas.
NFD-25 — road to Spirit Lake, Washington, and the secret side of Mt. St. Helens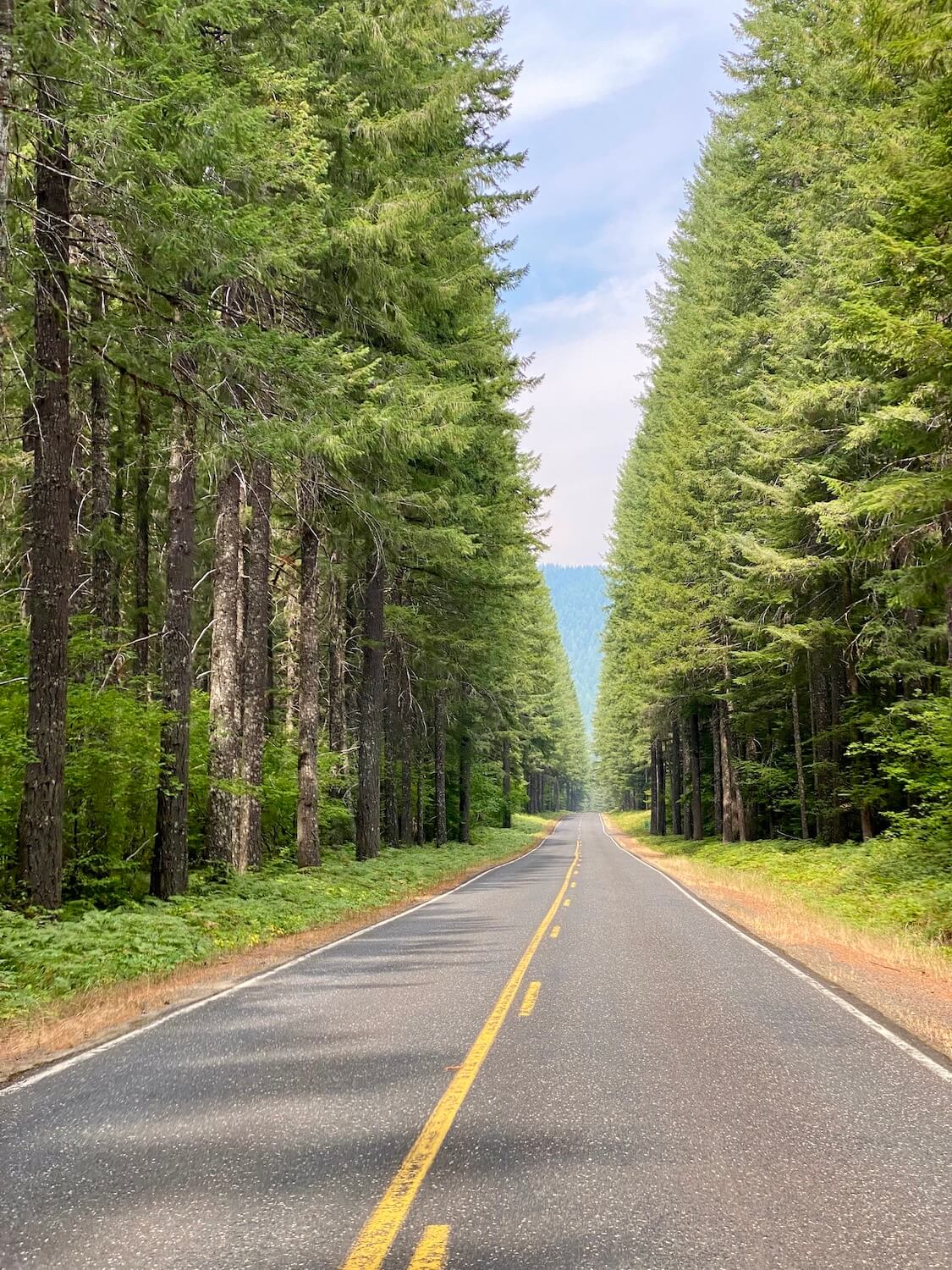 National Forest road 90 (NF-90) will take you back from the Falls to the intersection with NFD-25. The two forest roads convene near the only stop for miles, Eagle Cliff Store and Campground. The general store provides normal camping supplies and convenience food and there is a pizza joint across the gravel parking lot. The people are friendly and if you're lucky some cell service will light up your phone with push notifications.
Important Note: The Forest Service closes NFD-25 in Winter through June, due to harsh driving conditions on the remote roadway. If traveling between October and May check with the official website to confirm the passage is possible. Also, be aware of the many dips and potholes in the road.
The drive along NFD-25 offers some of the most soul-nourishing forests, combining leafy maples with proud fir groves. Because the May 18 blast pushed sideways to the North and West, this region was spared destruction and still holds the quiet secrets of ancient forests, mixed with more recent exhibits of timber management.
The colors in the Fall are stunning. With each corner in the road, wait in anticipation for views of Mt. St. Helens in all her glory, or endless folds of timber in the other direction. This North-South connector is mostly locals, motorcycles, and forestry rigs and traverses remote wilderness for 26 miles (about 45 minutes).
Explore the views of Spirit Lake, Washington — Mount St. Helens sweeping vistas
The passage to Windy Ridge Viewpoint, overlooking the devastation zone of Spirit Lake and Mount St. Helens, feels like a passage into another realm. A few remaining trees stand tall, long stripped of life and leaves, while the evidence of rebirth frolics through the ridges and canyons. This area was covered with 9-14 inches of ash, so it's taken years for enough soil to emerge to foster regrowth. Small trees and shrubs are coming up as if to remind us that Mother Nature has the power needed to rehabilitate — on her timeline.
You'll want to turn off NFD-25 where the signs for NF-99 direct and continue toward Windy Ridge Viewpoint, which is the end of the line for views of Spirit Lake and vehicle exploration of Mount St. Helens. From this junction, the distance is another 16 miles (or 40 minutes) to the final viewpoint. The road is paved and in generally good condition but take care driving — there are many unexpected dips in the road and areas with potholes and sinkage.
Miner's Car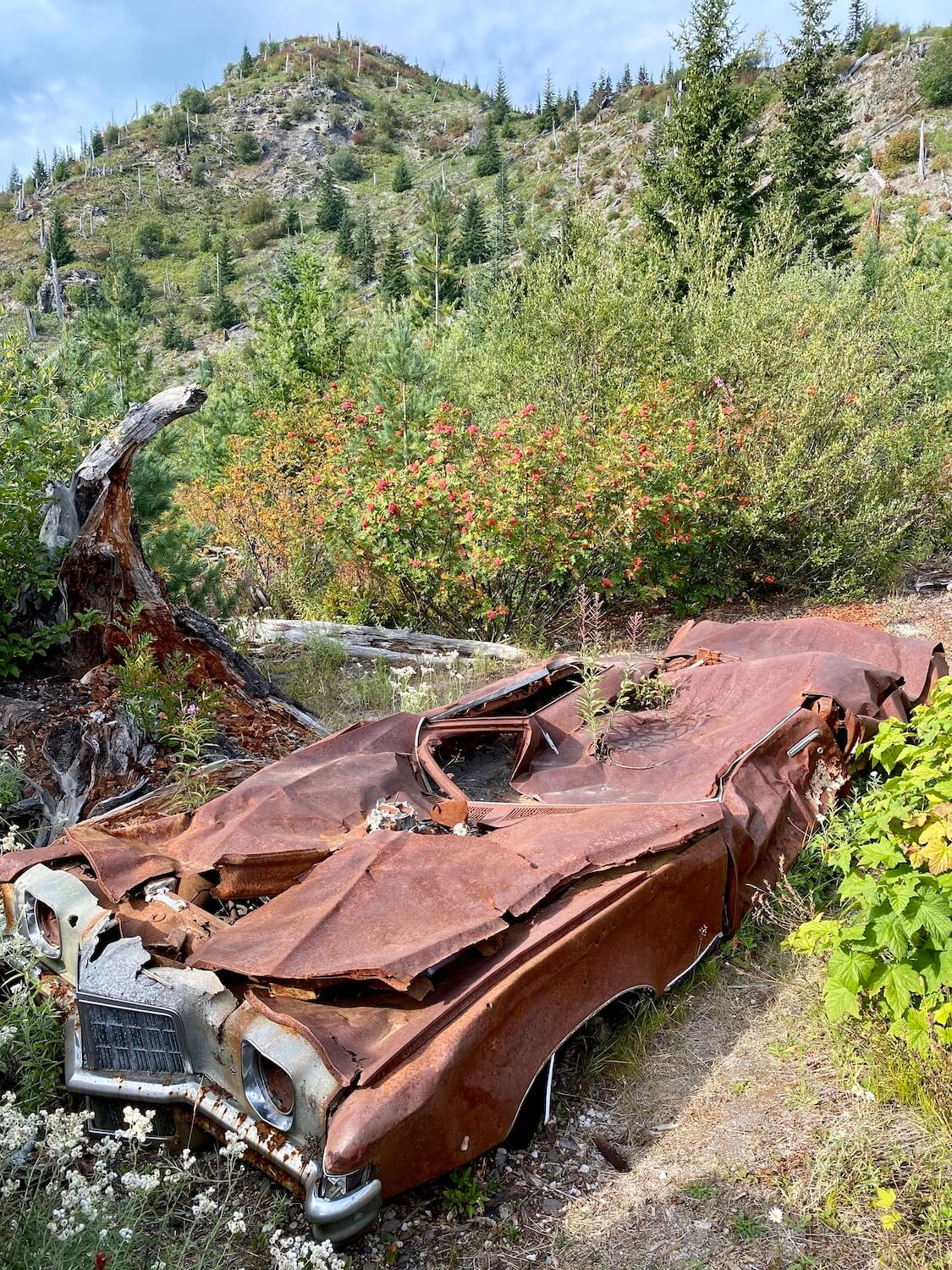 Just after the intersection of NF-99 and NF-26 comes a pullout of the humble kind — be sure to make this poignant stop. While the parking lot might not appear to offer much, read the interpretive placards and stumble upon the shocking carcass of a 1972 Pontiac Grand Prix, left by Donald and Natalie Parker, and nephew Rick when they parked and walked to their nearby mine to camp the weekend of May 18, 1980. All three perished in the seismic blast but their vehicle remains as a monument to the 57 lives lost in this event, as well as a reminder of the brutal power of nature.
Windy Ridge Viewpoint — witness Spirit Lake, Washington and Mount St. Helens up close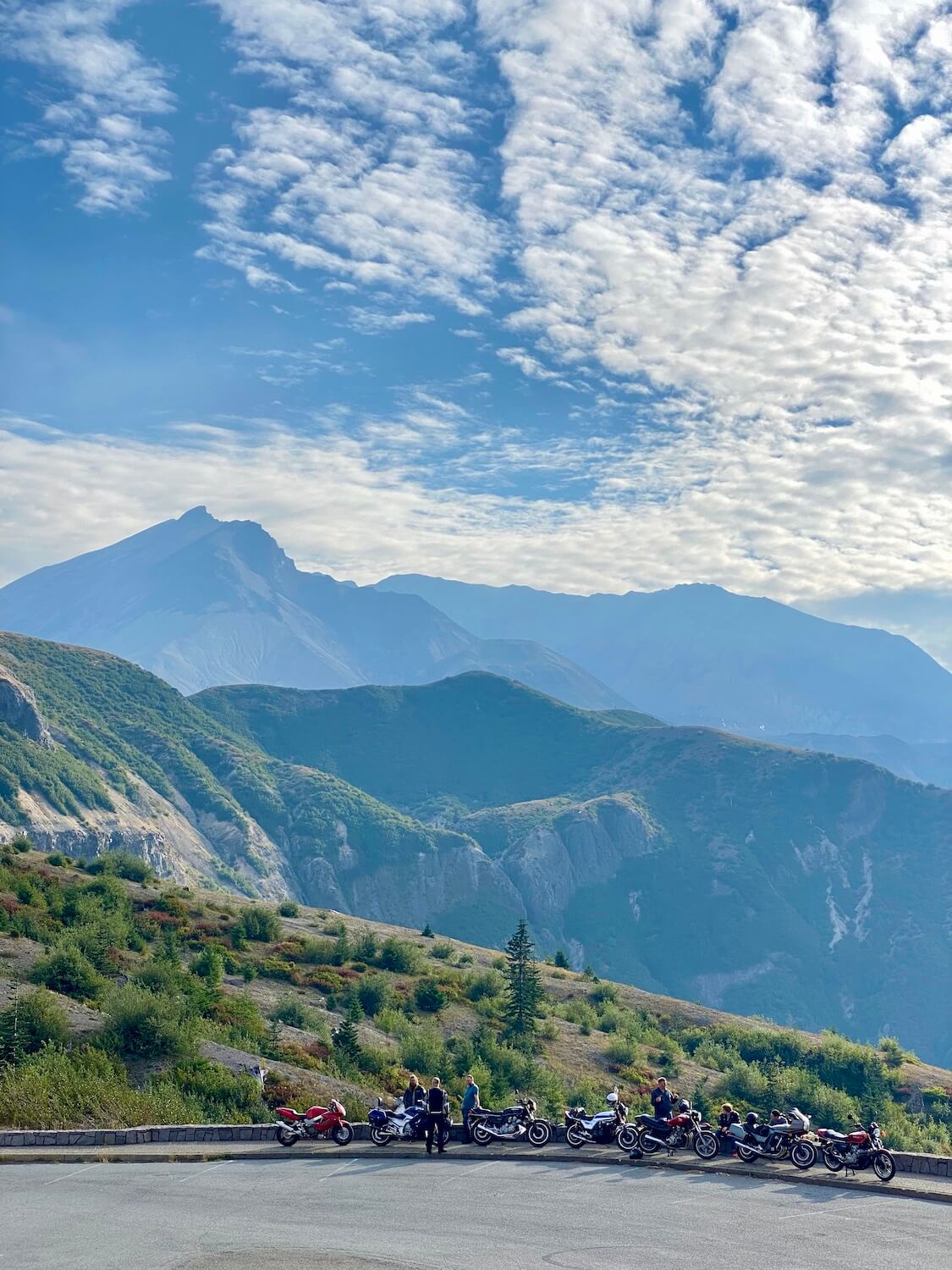 I prefer to head all the way to the end of the road and work stops into the return drive. The parking area is large at Windy Ridge and all parking in the Mount St. Helens National Volcanic Monument requires either a Northwest Forest Pass (An annual pass is $30 or $5 a day) or an Interagency Pass ($80). This viewpoint offers wide views of the North rim of Mount St. Helens as well as a good portion of Spirit Lake. Climb up the zigzag of steps to the top of the ridge for even better views.
The trail continues 1.5 miles to the Upper Smith Creek trailhead along NF-99. To the south of the parking area is another trailhead for longer options, such as the 8-mile hike across the destruction zone to Johnston Ridge Observatory.
Harmony Viewpoint and trailhead — Spirit Lake, Washington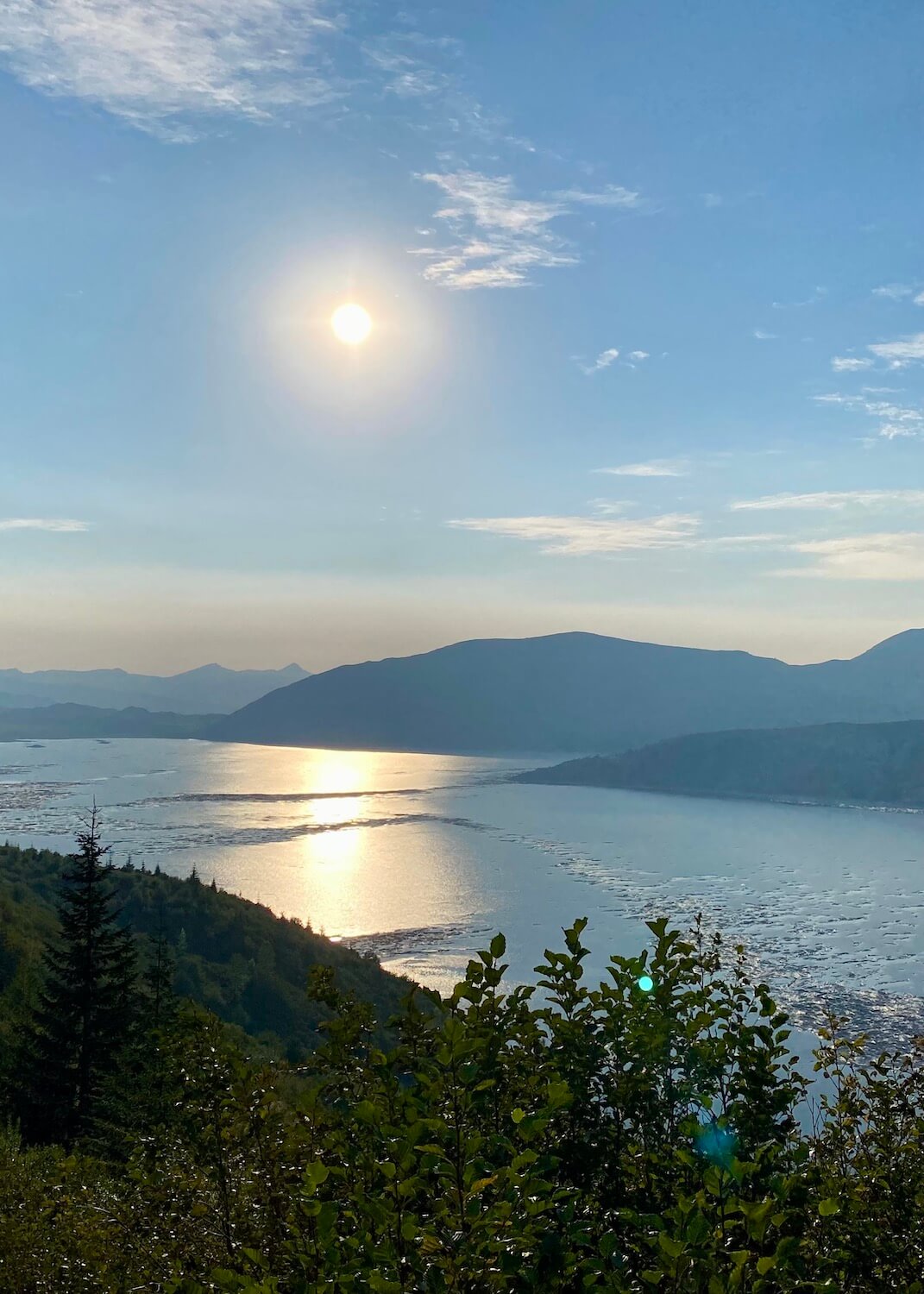 The Harmony Viewpoint is a smaller area for cars but serves as a trailhead to hike 1.5-miles to the shore of Spirit Lake. This can be a beautiful spot to take in the sunset over the ridges around the blast zone of Mount St. Helens.
I like to stop at each viewpoint to read the placards and take in a slightly different angle. The whole experience is stunning to me.
Randle, Washington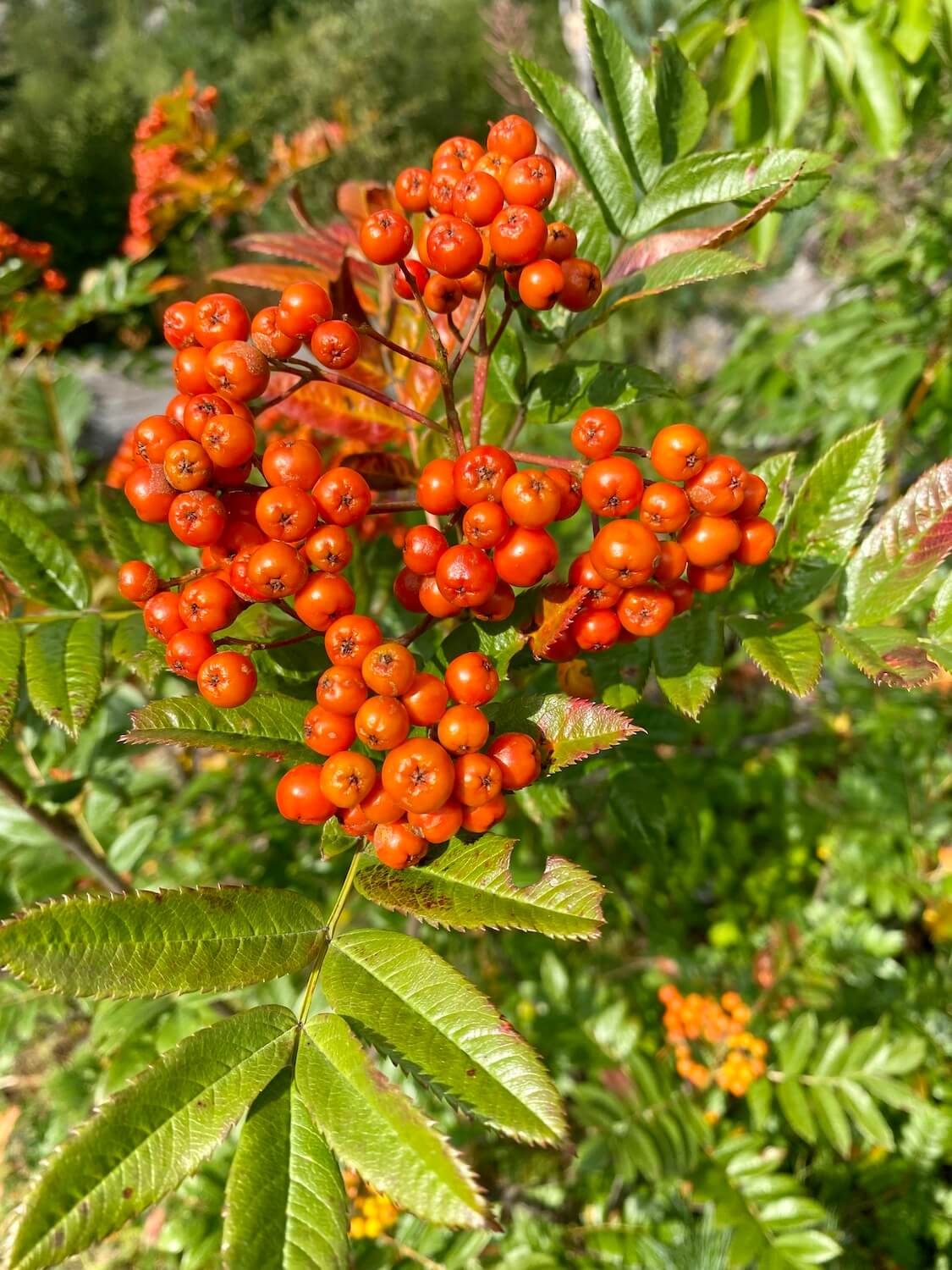 While it's possible to drive along NF-26, beware it becomes a gravel road rather quickly once leaving NF-99. I suggest backtracking to NFD-25 and making the drive north from there. There are a few stops along the way if you are interested in falls or hikes, but otherwise enjoy the winding roads that dip into a tree-covered universe that sometimes seems like the edge of the world.
Randle is a utility stop and also the junction that could provide alternative routes to Packwood, Washington (White Pass Ski Area), as well as an approach to Mt. Rainier that's only open in Summer. If by chance you're looking for places to stay here, check out my list of Airbnb's in the region:
The rest of the journey winds through mixtures of farm and forest, peaceful enough to allow the soul to adjust to the transition to suburbia. Elbe is a fun intersection with an old-time train yard turned restaurant and lodging option. From here you can turn toward Ashford, which serves as the primary gateway to Mt. Rainier National Park.
The drive connecting Elbe, Washington to Seattle takes about 90 minutes through unavoidable suburbia. But by this time you'll be relaxed from spending a day with Mother Nature.
If you go — Spirit Lake, Washington, and Mt. St. Helens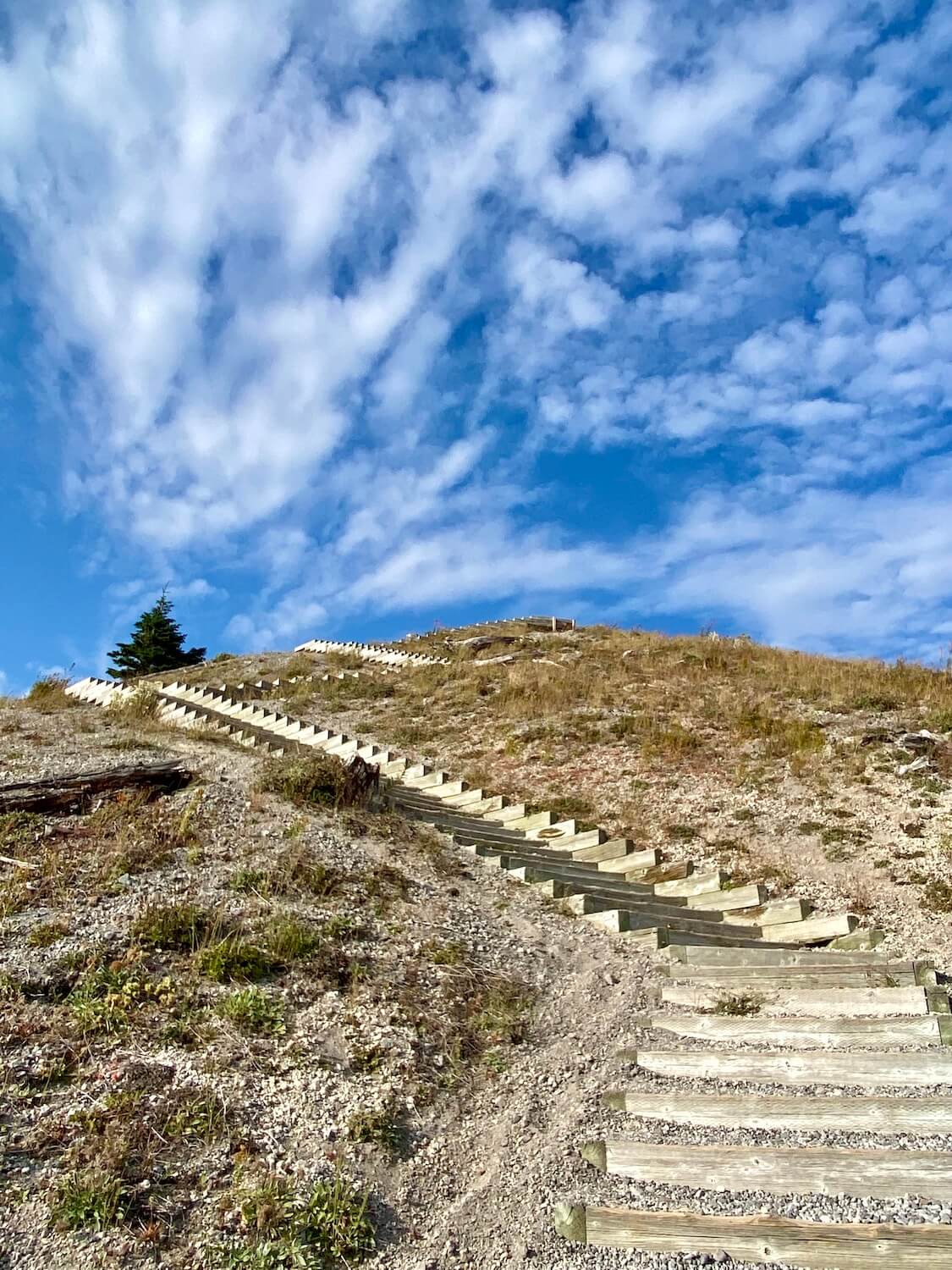 This itinerary is only really plausible in the Summer season between June and the first sustaining snowfall, usually in November. Since NFD-25 is closed for Winter, the drive is not realistic.
Removing Lower Lewis Falls from the itinerary shortens the trip by three hours.
Leave early and plan to spend the entire day enjoying blissful nature.
Take a cooler with snacks and plenty of water.
Have non-digital navigation on hand because cell service is spotty at best and these areas are remote. Also, forest roads are managed by multiple state and federal departments with differing designations (NF, FS, FR, NFD).
While you shouldn't leave valuables in your vehicle, I do advise taking a few small bills ($5) for parking areas that might require cash payments.
The roads are paved and generally in good condition, but be aware of potholes and dips in the road. This is especially important in the dusk/dawn hours.
Watch out for animals, including deer and elk — espeically in the dusk/dawn hours.
Always check road conditions ahead of time.
Expect limited to no cell coverage between Stevenson and Randle.
Download the Recreation.gov app to use for attractions along the way and make reservations ahead of time, where you have reliable WIFI.
Driving from Seattle to Portland
Leave early to get through all the suburban areas without snarling traffic that comes later in the morning and afternoon.
Use Elbe or Randle as your food stop (breakfast or early lunch).
Stevenson makes a great evening stop for food/beverage — the hour drive from here to Portland along I-84 is a scenic, easy adventure.
Mapping devices might suggest taking Highway 503 from Cougar to Woodland to connect with I-5, but I think Stevenson and the Gorge is a more iconic option. Both are about the same distance.
If you want to expand this itinerary, espeically if traveling to and from Seattle, consider spending the night at Skamania Lodge near Stevenson or Society Hotel in Bingen. There are many options in the Bingen/White Salmon/Hood River area as well.
Spirit Lake Washington Mount St Helens Interactive Map
And now… for the TikTok version of this trip
Not ready for your Spirit Lake, Washington road trip? Pin an image for later.