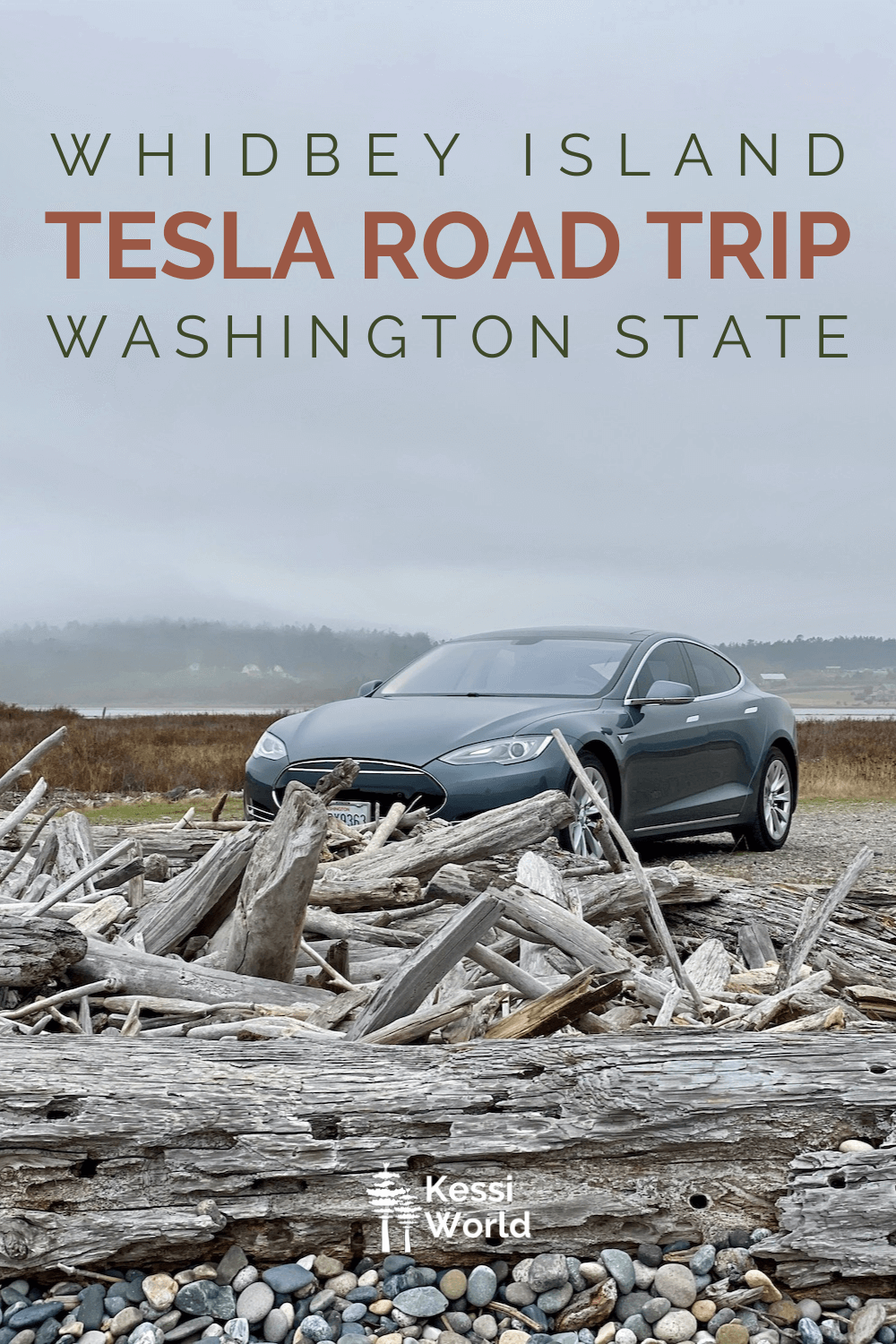 The Pacific Northwest is my home, and nothing brings more joy to my heart than exploring the vast diversity Oregon and Washington States have to offer — pristine waters, majestic mountains, soulful forests and quirky cities. Yet, I wonder sometimes if my impact to the environment could be less in and amongst all the traveling across the state. In fact, about a year ago when I was concentrating on wide global travel, I wrote an article about 10 ways to reduce travel carbon footprint. So when my childhood friend Michael suggested I take his Tesla for a drive, the part of my heart that desperately wants to go green perked up. I immediately thought of all the beauty around the Salish Sea, inspiring the 3-day itinerary for a Tesla road trip on Whidbey Island.
I've been Tesla-curious for quite some time as friends and family have slowly embraced the sexy all-electric technology. In fact, a current guest in my Airbnb owns a Tesla and opened me up to the concept of long-distance touring in a sleek electric ride — he drove across country from Boston to Seattle without problem finding locations to recharge. But before I go out and buy an electric vehicle, how do I test out the concept of depending upon charging stations to fuel a road trip? In a conversation with Michael, I learned that about the only way to experience a Tesla (without borrowing or buying) is through the "Airbnb for car rentals," Turo.com.
Table of Contents — Tesla road trip on Whidbey Island
Rent a Tesla — turo.com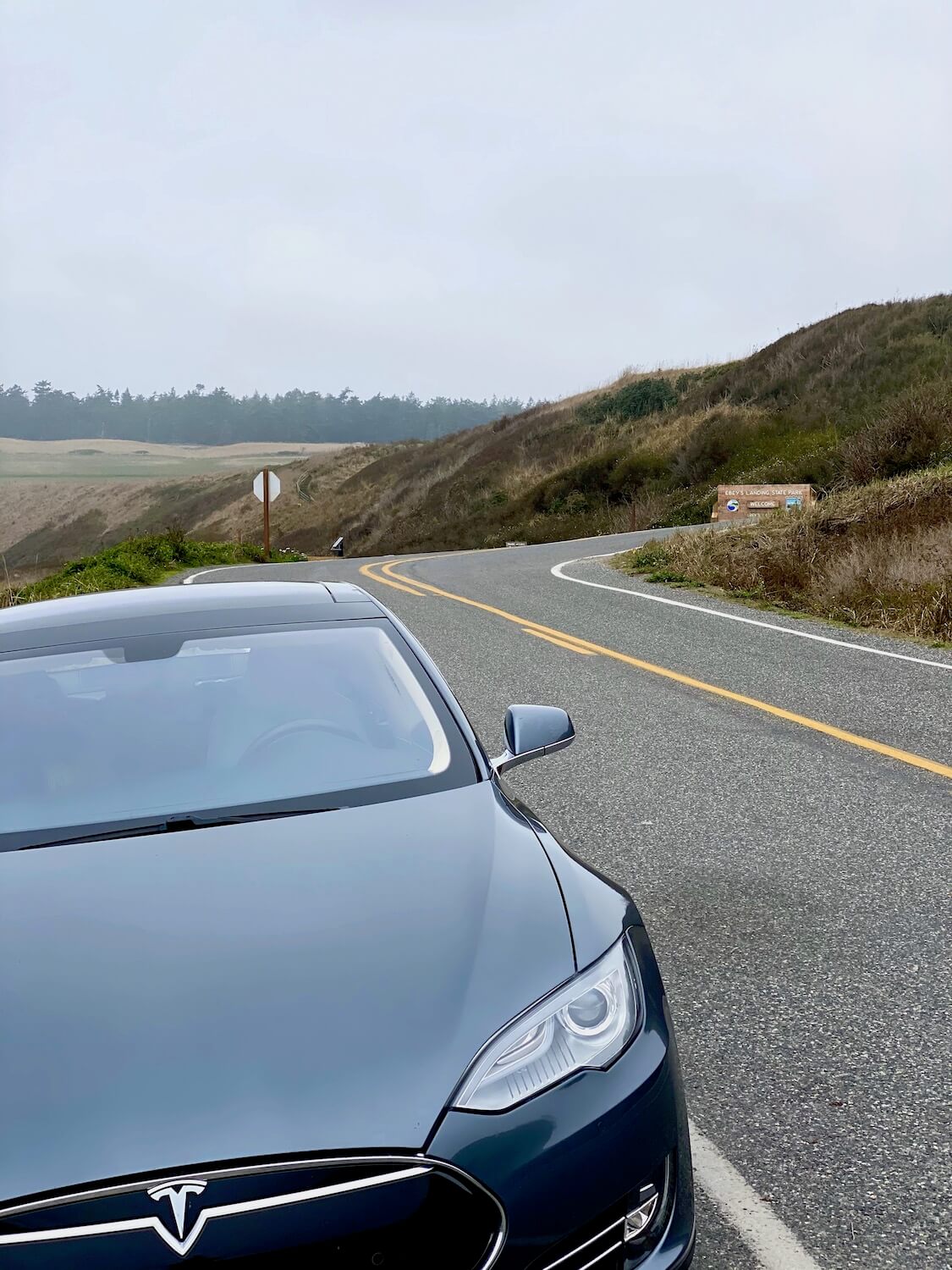 Turo.com is intuitive and feels like a perfect hybrid between a traditional rental car site and a sharing economy application like Airbnb. The booking path is straight forward and, like traditional car rentals, provides a variety of packages that bundle mileage and insurance options. Although Michael offers an additional fee for returning the Tesla without recharging, we stopped in Bothell, WA at a Tesla Supercharger location (12 miles from Michael) to top off before returning. After the closing of the rental period, both driver and host leave reviews that are visible to the public. By the way, look for a Pinterest tile below with the information for Michael's specific car, which is available for rentals from the Seattle (Bellevue) area.
Tesla range anxiety on a road trip is a real thing
Before I continue on with the story, I must admit that right out of the gate I had what my friend Ben calls "range anxiety." While most electric vehicle owners simply plug their cars in at home each night, a plan to keep the battery charged is necessary for overnight road trips. Knowing that we'd be traveling to some rural areas — on a long narrow island — I did some prep work on charging stations. But as a newbie to this technology and the Tesla mindset, I didn't know the questions to ask and made a few miscalculations when it came to the juice required for our tour. I wrote about this experience from my personal growth point of view in another article Tesla Travels. The article is an honest account of dealing with "range anxiety" for the first time. Rest assured, having one trip under my belt, I'm already planning an adventure very similar to this 3 day loop around the Olympic Peninsula, only from the electric vehicle perspective. If new to electric vehicles, like me, check out the Tesla Planning for Beginners section at the bottom of this article.
Weekend getaways from Seattle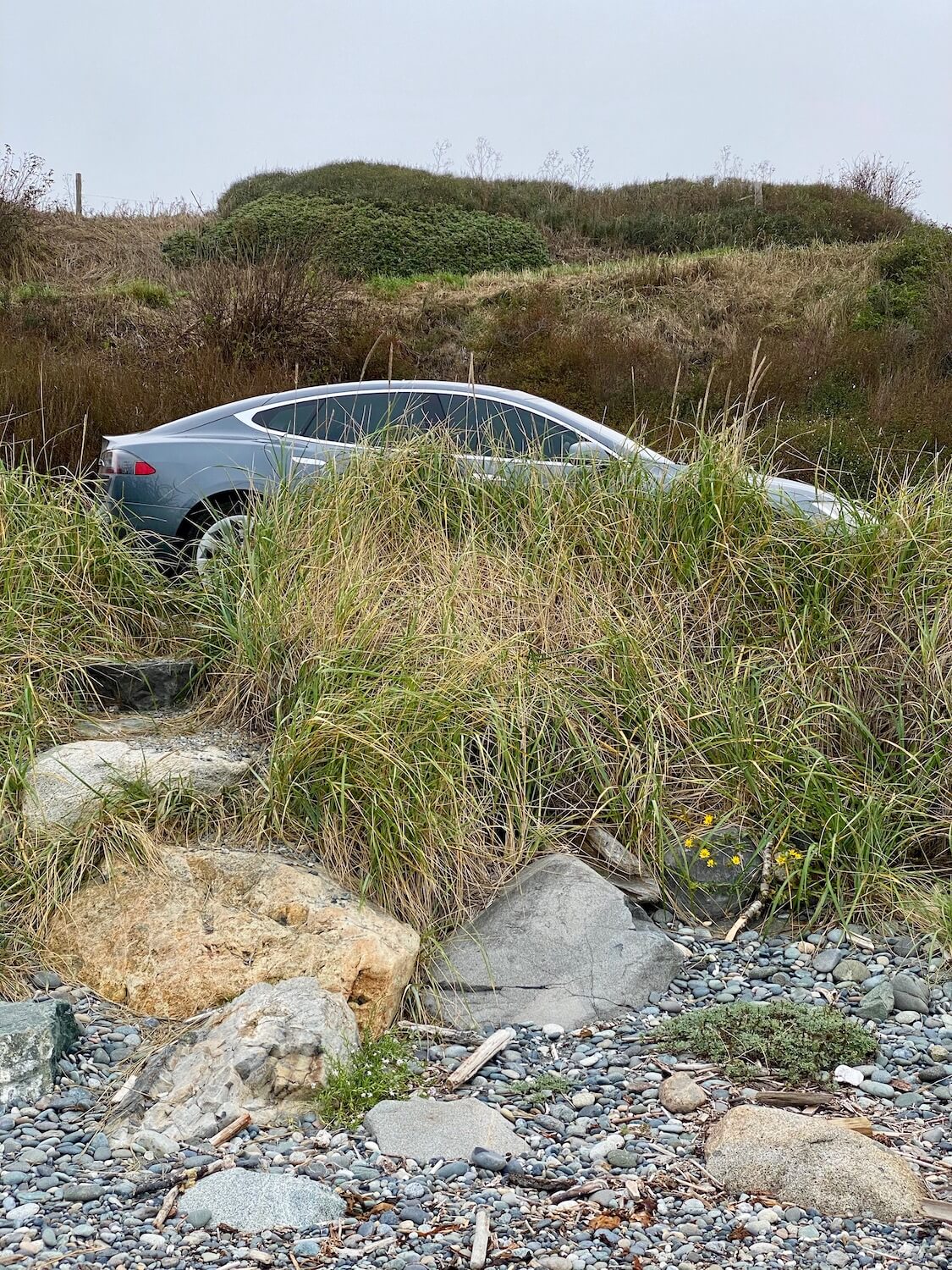 Deciding where to go for a getaway from Seattle could be a difficult decision, since there are so many fine options — all within a few hours from the Emerald City. I wrote about my 16 favorite day trips from Seattle, which could all be expanded into a refreshing weekend getaway. This journey combined the Whidbey Island and Port Townsend day trips, and was a perfect mix of natural beauty, historic buildings, ferry travel, food options and quirky accommodations.
Whidbey Island Ferry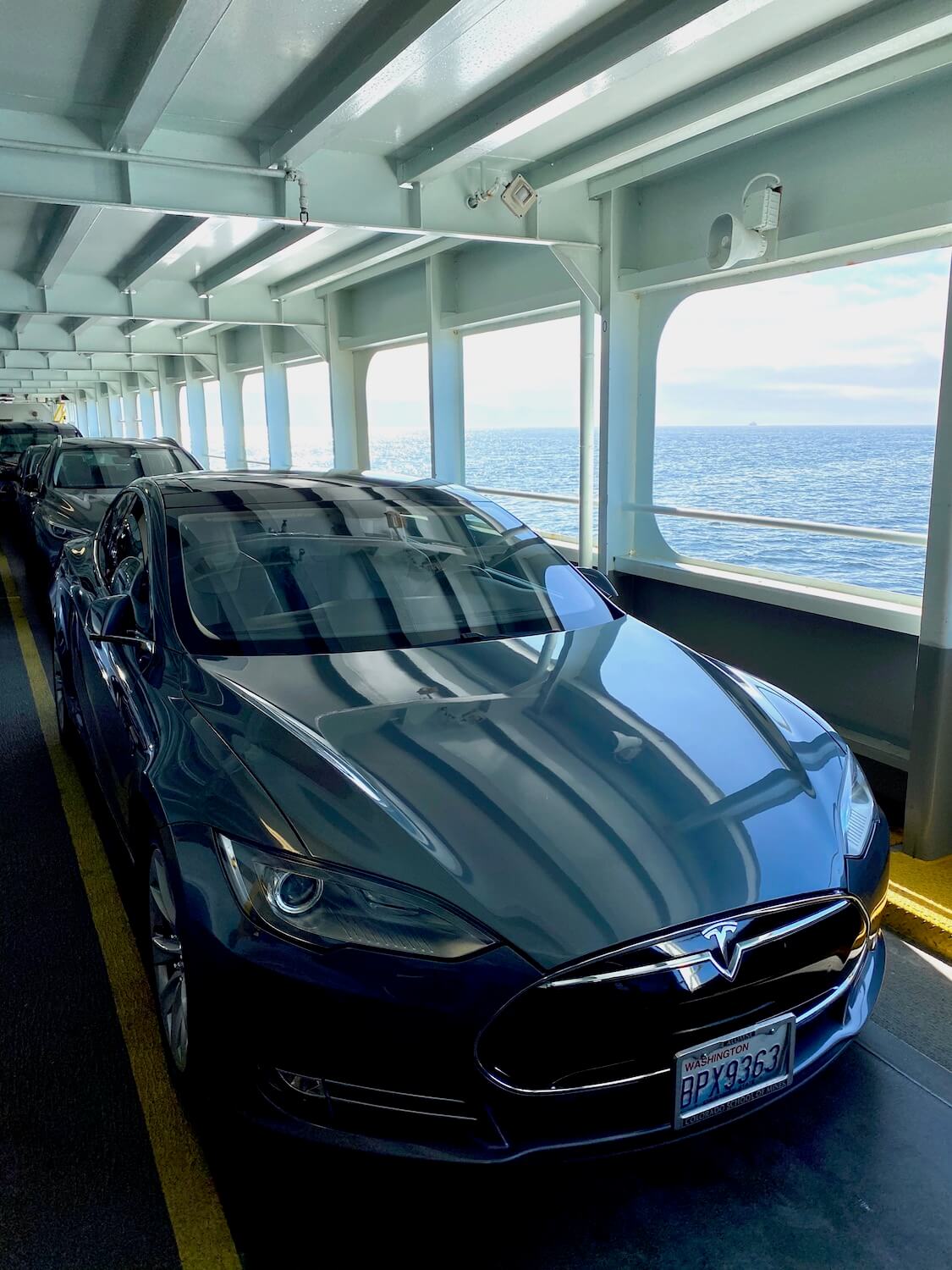 One of my longest loves in the Puget Sound is the Washington State Ferry System, and I wrote about everything you need to know to navigate the system. This itinerary involved three different ferries — Mukilteo to Clinton Ferry, Coupeville to Port Townsend Ferry & Kingston to Edmonds Ferry (although Bainbridge to Seattle Ferry is my preference here.). The Mukilteo Ferry operates almost every 30 minutes and is usually open unless during peak commuter times. The Port Townsend Ferry is a smaller vessel with less sailings and reservations are available and encouraged. Both the Bainbridge Ferry and Kingston Ferry operate similar schedules and it really just depends on the times and whether or not the desire is to land in the northern suburb (Edmonds) or in downtown Seattle. The total ferry cost for the Tesla for two was $56.40 (including the $8 reservation fee for Coupeville to Port Townsend.)
Activities on Whidbey Island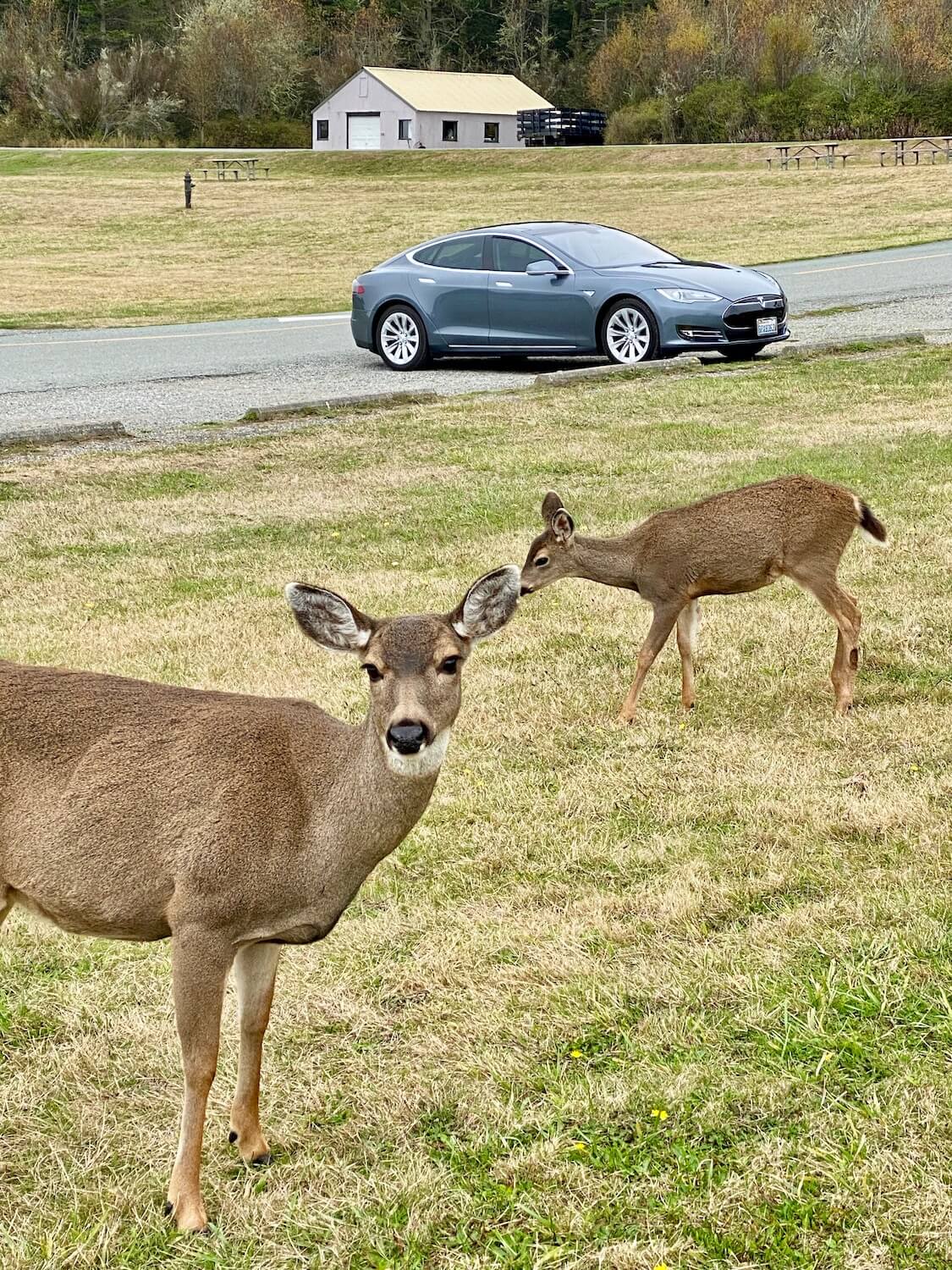 My friend Steven and I got up early and started Day 1 by receiving the car in Bellevue, WA at Michael's. In my case, I drove my car there and left it in his driveway, but Michael mentioned it's common for out-of-town guests to take an Uber from the airport to his place (about $50) to begin the rental. The ease of placing the foot on the petal and response to get up and go was surprising at first, but I quickly adjusted and loved the quiet handling — I mean, really quiet. The Mukilteo Ferry was a breeze, complete with everything I love about a Puget Sound crossing — salty air, seagulls floating above the boat and endless amounts of aquamarine colored seawater.
Whidbey Island has many different types of things to do, and we set off to explore them all — beaches, seafood and historic forts. In addition to the Tesla road trip favorites listed below check out the accompanying article to this piece, The 8 best things to do on Whidbey Island, for more ideas, in addition to the interactive map below.
Nature on Whidbey Island
It's really amazing that this island, a mere 30 miles away from downtown Seattle, is so different — steeped in natural beauty in all angles. Since the island is long and narrow, the main road weaves from side to side, showcasing many Pacific Northwest greatest hits. The eastern shore views feature regal Mt. Baker and the Cascade Mountains while the views to the West open the heavens to the Olympic Mountain range. Access to water is all around, and we enjoyed beaches at Maxwelton, Double Bluff, Fort Ebby and Ebby's Landing Historic Reserve. South Whidbey State Park offers rich forests and peeks out to the Strait of Juan de Fuca. The stairs down to the beach are washed out, but some of the locals seem to find ways to get down there. Remember that Washington State Parks required a Discovery Pass ($30 annual fee where hunting licenses are sold) or $10 day permit sold in automated machines (or sometimes cash envelopes) at most of the popular locations.
Coffee on Whidbey Island
Imagine taking a "road trip" with your own airplane over the Puget Sound for morning coffee. Well… this is more normal than it might seem in this part of the world. Mukilteo Coffee Roasters provides guests with a tiny general aviation runway, or maybe it's the other way around? Either way, find sugar highs and perks at this coffee roaster taking refuge amongst a fir forest just steps from a small landing strip. Wander out to see a weightless "sky-Tesla" take off or land. Everyone seems to know each other here and the goods are legit.
Historic Whidbey Island
Whidbey Island was known for seafaring people and whaling back in the day — alongside native Salish tribes that harvested seafood and carved canoes from the cedar trees of the land. The whaling villages of Coupeville and Langley still stand today, hugging the water shore with 19th century historic wood buildings that harken back to a wilder time when the "mosquito fleet" of small vessels ferried passengers and goods throughout the Puget Sound. Today these charming shacks host touristy options for tchotchkes and inspiring water views. Check out the whale museum in Langley and the old pier in Coupeville — offering breathtaking sunset views.
A changing world order in the early 1900's fostered establishing key strategic forts on Whidbey Island, of which one remains active today. The others were decommissioned and folded into the Washington State Park system. Fort Ebby is a beautiful stretch of greenery perched atop a steep cliff overlooking an army of flowing kelp beds that seem to wander around the Strait of Juan de Fuca with the changing tides. There is also beach access from a lower parking lot in the State Park where powerful waves brush up against a steep pebble beach — amongst driftwood and battered sitka spruce trees. Fort Casey still holds the WWI era charm with barrack buildings and a massive gunnery hosting a restored artillery cannon that was never used in battle.
Food and drink on Whidbey Island
A Tesla road trip around Puget Sound in the time of Coronavirus has its challenges — many restaurants and bars are either closed or operating limited hours. It's essential to call ahead, everywhere, to determine service hours and offerings. The food at Captain Whidbey is delicious (see below) and we enjoyed the seafood at Front Street Grill in Coupeville. Brunch at Flower House Cafe is delightful and tasty and lunch in Langley, at Prima Bistro, provides a full range of seafood options and drinks. The cheeky staff at Callen's Restaurant & Co. helped make our final meal on Whidbey Island both delicious and fun. We listened to old ABBA albums from a vinyl record player while watching the ferry come in to dock. The Dungeness Mac-and-cheese there is amazing as well as fish and chips and homemade cookies.
Whidbey Island Hotels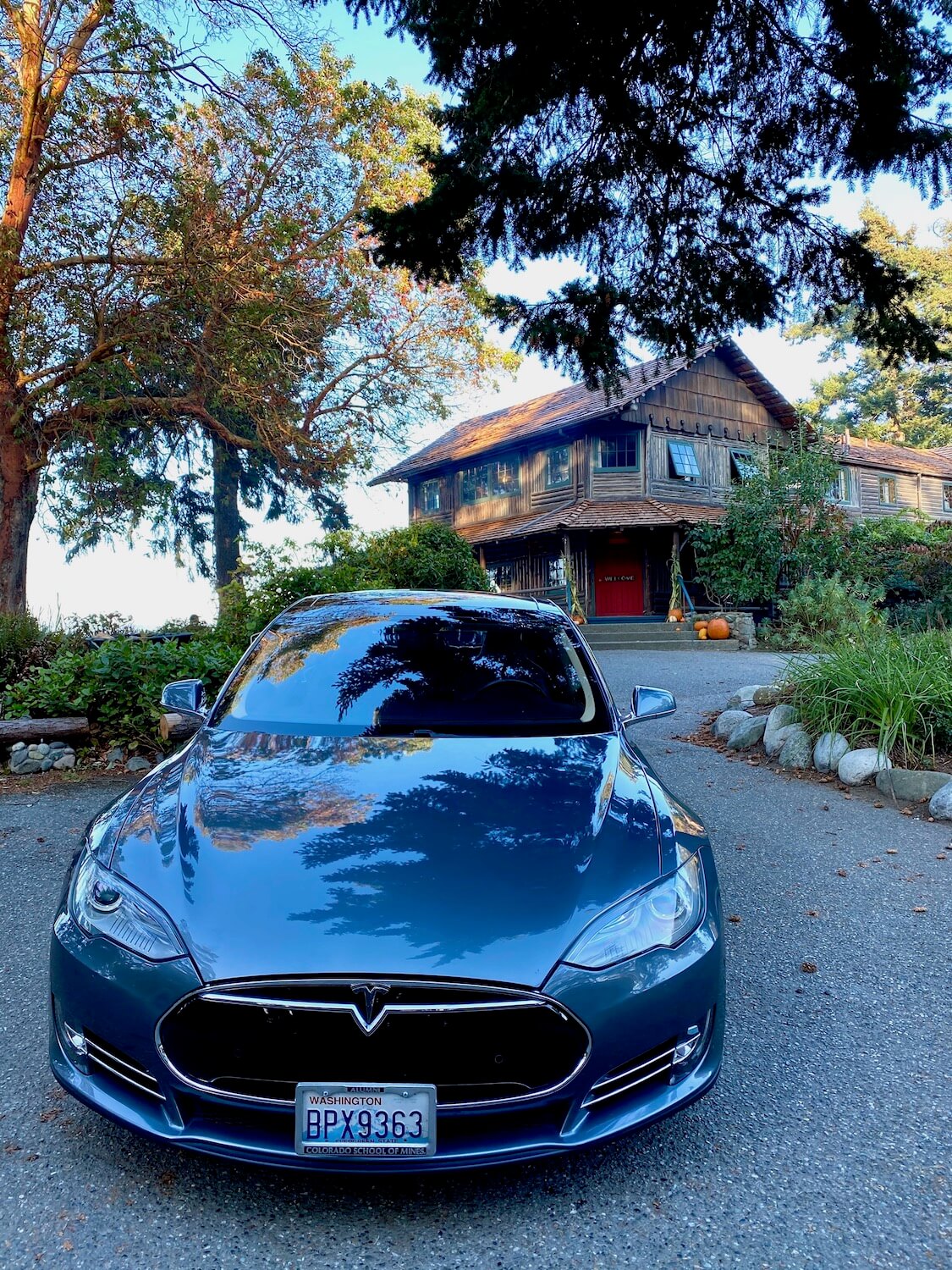 The island is host to a naval air base near Oak Harbor on the North end of the island and is inhabited mostly by the troops and families. There are a few modest chain hotels in this area. In order to be closer to the main island attractions, search near Coupeville, Freeland and Langley, where there are a number of charming B&B's, both the traditional versions and Airbnb options. The Inn at Langley and Country Cottage of Langley are a few prominent Whidbey Island hotels. We opted for the timeless Captain Whidbey Inn, near the center of the island on the shores of Penn Cove, which is famous for seafood production, including world-class mussels. The inn is also near the tiny strip of restaurants, shops and bars in the quaint seaside village of Coupeville, WA. The cozy, eclectic inn also provided an opportunity to hitch up the car at night to recharge, easing the worry about having enough juice to get to Port Townsend on the ferry.
Coupeville to Port Townsend ferry
Our time complete on beautiful Whidbey Island, we headed to the tiny ferry terminal and enjoyed a fun and delicious lunch at Callen's Restaurant & Co. (also mentioned above.) Fort Casey is just a stone's throw from the dock — and can also provide a scenic location for a picnic before crossing. Soon enough we were passing through the gate for our 2:40 PM ferry time. It's recommended to reserve a spot on a sailing since the vessel is one of the smaller in the fleet and sailing times are less frequent. It was a foghorn kind of day as the ferry courageously chugged directly into the mist. On a good day the Olympic Mountains and other key landmarks would be rising to greet our marine vessel. Soon enough, about 20 minutes later, Port Townsend, WA emerged from the fog. We rolled off the boat, landing in the compact downtown that looks and feels like a throwback to the seafaring days when this wharf town grew up fast to become the fancy Victorian flagship gateway to the world from the Puget Sound.
Fort Worden State Park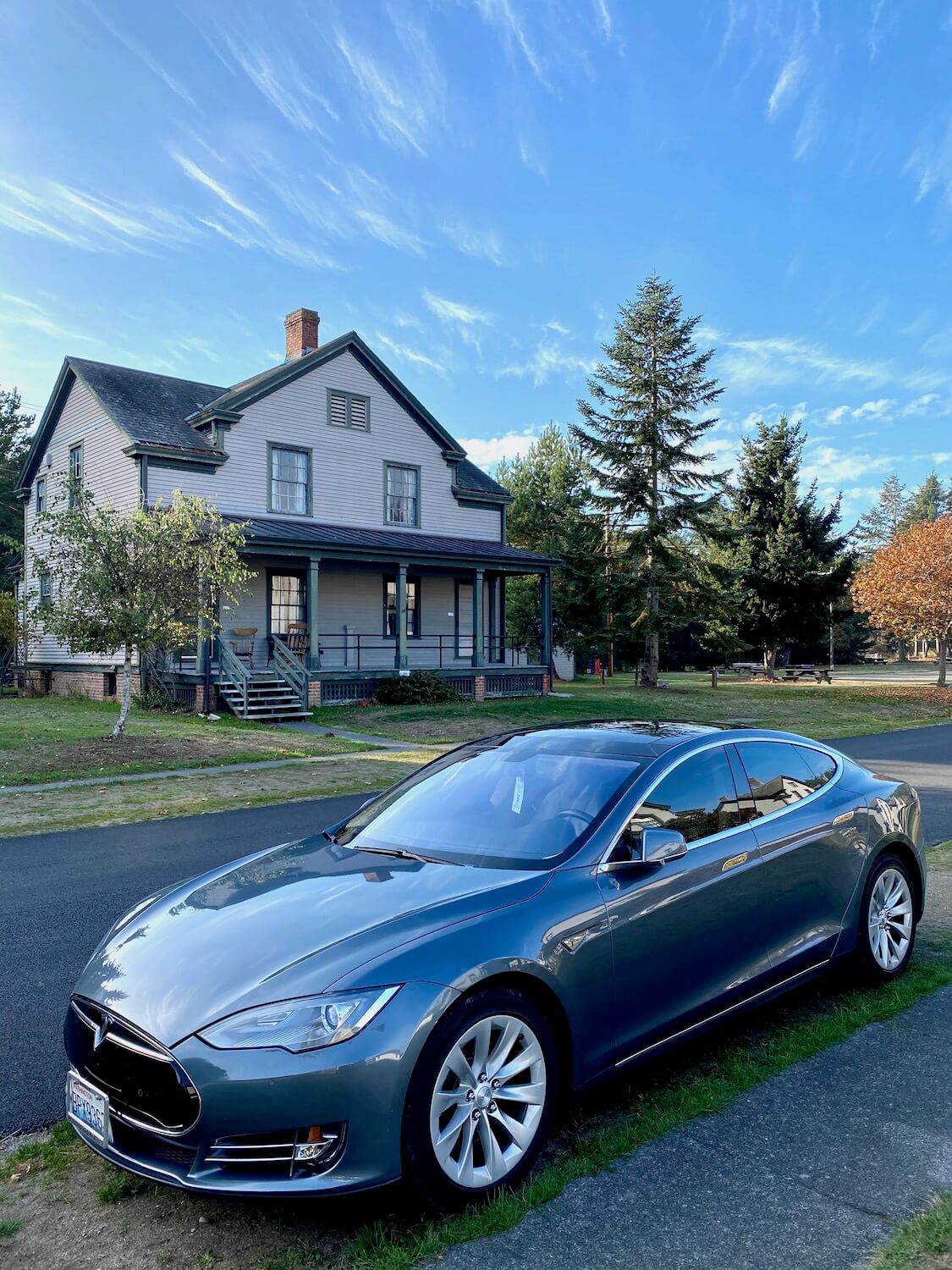 Those who've watched the academy award-winning "Officer and a Gentleman," starring Debra Winger and Richard Gere, would recognize this WWI-era former navy fort as the site location of the film. The timeless military base now hosts present-day lodging, which is available amongst the left behind officer quarters and barracks. We stayed in an officer's home, which included a full kitchen and two bedrooms. I imagined waking up at Oh-5 hundred hours to report to the central lawn to yell at some incoming privates, making them drop and give me 100 pushups. The former jail has been converted to Taps, a brewpub with food. The Fort is now a Washington State Park, complete with campsites and a comprehensive series of trails that touch various bunkers and beach walks. Remember, a Washington State Discovery Pass ($30) is required to park cars in the areas closest to the beach, campsites, and hiking trails. The hospitality group that runs the hotel offered me a few options for overnight charging, again making it convenient and stress-free to keep a "full tank" along our journey.
Things to do in Port Townsend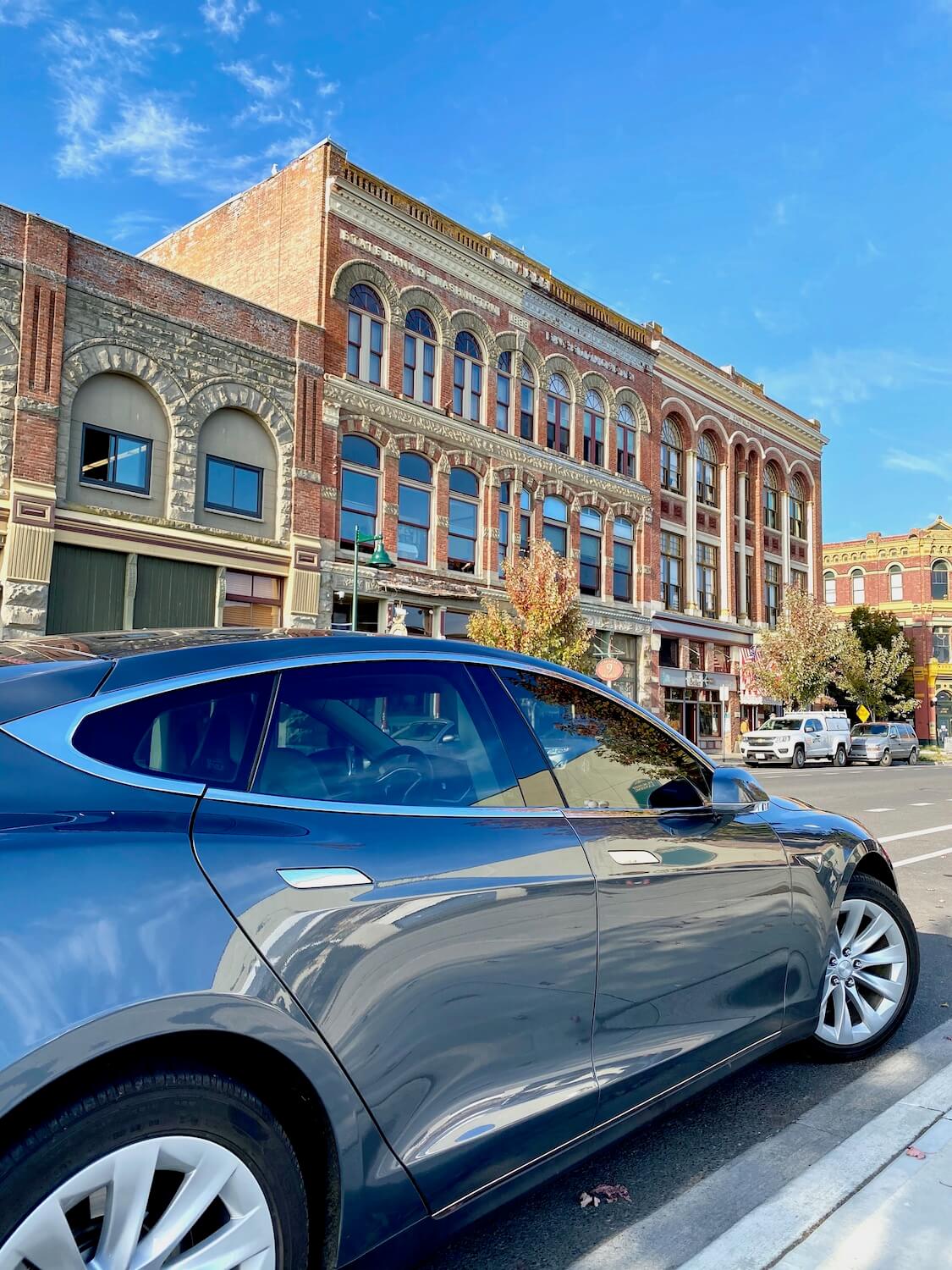 Our final morning was open to wander around this fabulous time capsule of a 19th-century shipping hub. The downtown is compact enough to explore in a few hours. Be sure to check out the maritime museum and head up the graceful steps extending from Taylor Street to the restored Historic Fire Bell Tower, where the bird's-eye vista offers one of the best views in the city. The restaurant scene is tasty and ample and there are two great co-ops available for delectable picnic supplies. For breakfast, we enjoyed yummy pastries from Pane d'Amore and beach-side coffee from Better Living Through Coffee.
There are too many things to mention about this harbor town in this brief excerpt, so check out my article, 23 interesting things to do in Port Townsend. All the information is there to help you plan, including a great interactive map that can be saved for use while on the road.
Returning to the mainland from a Tesla road trip around Puget Sound — with one stop along the way
Finnriver Cidery is a must-stop on the return back to the Seattle area, and we made our way to the festive outdoor environment to sample the cider and pub grub — excellent all around. The relaxed atmosphere makes for a great way to end a fun weekend getaway from Seattle. Although my preferred route would be a stop at the Bloedel Reserve and the Bainbridge Island Ferry, we opted to head toward the Kingston-Edmonds ferry in order to use the Tesla Supercharging Station in Bothell on the way to returning our temporary spaceship.
Tesla thirst quenched — an electric getaway from Seattle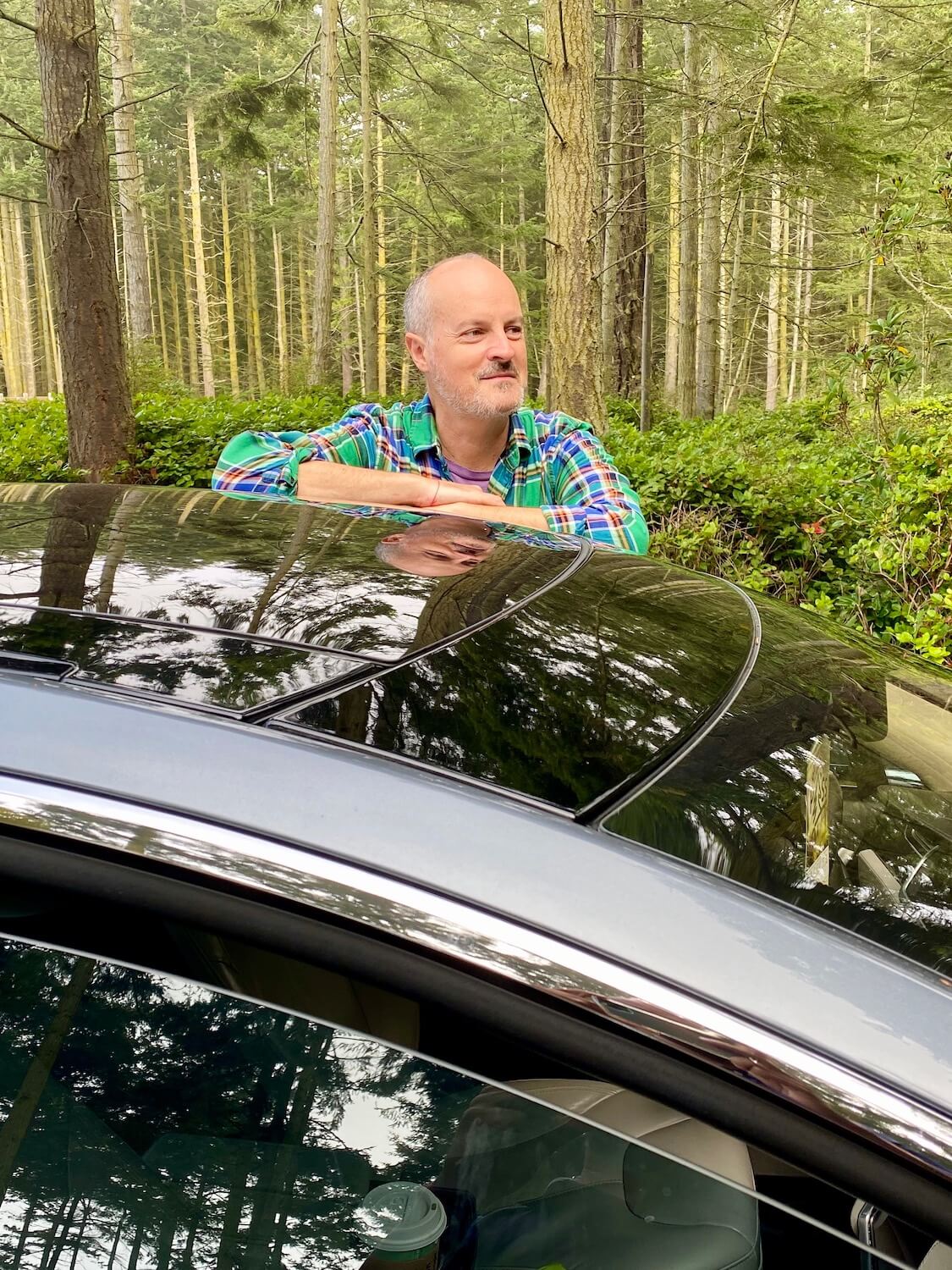 Driving a Tesla is quite an amazing experience, akin to the 2020 version of a spaceship, complete with instincts so fast it might seem like she responds directly to brain waves. The electric vehicle is really a car designed by engineers for engineers — every detail seems painstakingly thought out. The large iPad-like screens display a variety of information fairly intuitively and having the power structure located under the vehicle leaves lots of room for storage in the "frunk" and truck. Despite some patches of newbie anxiety along the way as mentioned in my writing, Tesla Travels, we enjoyed the road trip — and I LOVED the driving experience. I'm much closer to purchasing an electric vehicle and excited about the ways this technology can help shift our dependency on fossil fuel in the road trip arena. First timer nerves brushed off, I'm already planning my next Tesla tour around the Olympic Peninsula, similar to my article about a three day loop around the Olympic Peninsula, but from a Tesla point of view.
Tesla planning for beginners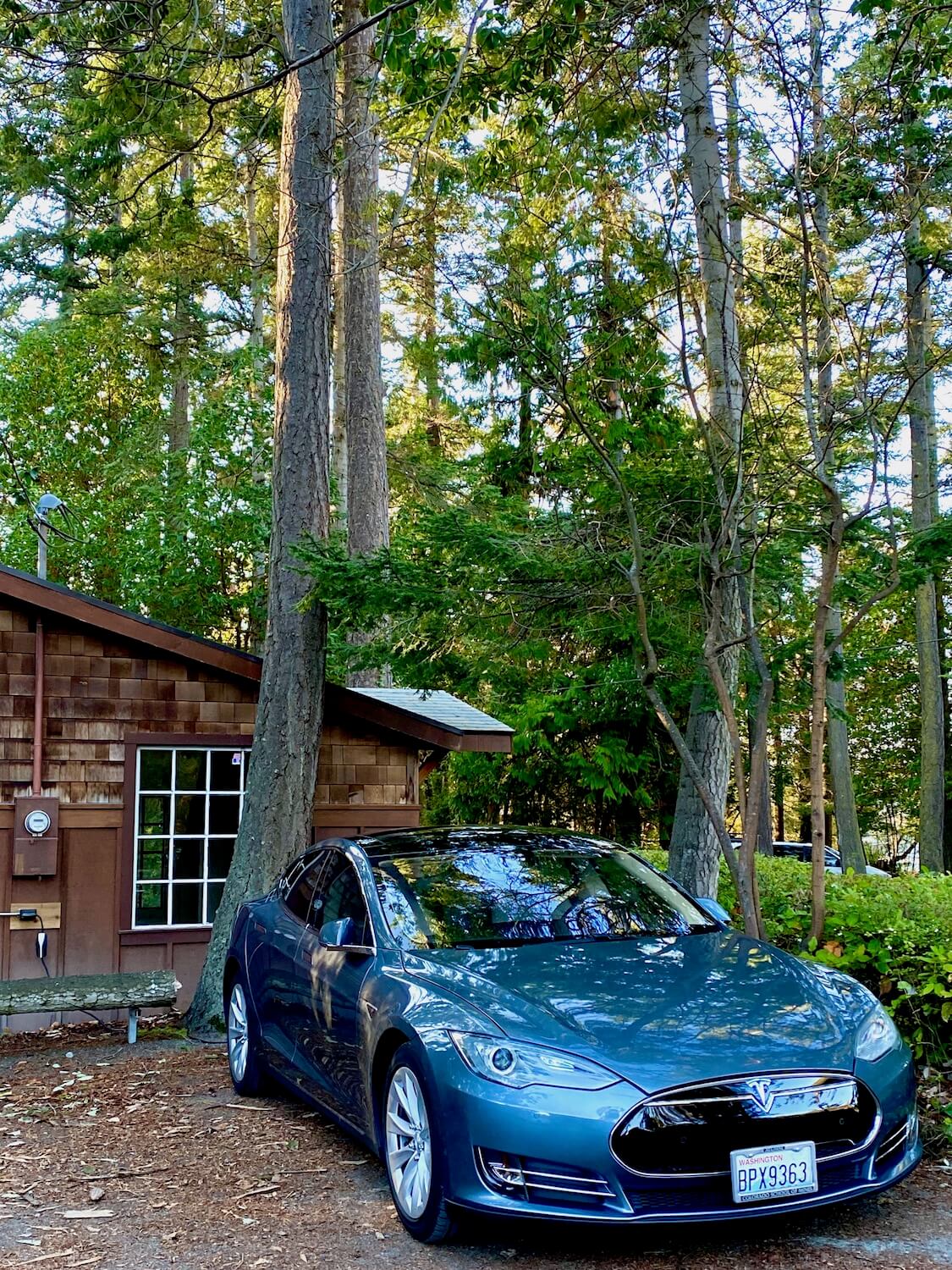 Tesla is adding charging stations every day, mostly on major highways on the outskirts of large metropolitan areas — and even around the Olympic Peninsula in Sequim, Forks and Aberdeen. But if traveling to more rural areas and/or islands in the Puget Sound, to avoid the anxiety that might arise with the battery energy display omnipresent in the display, here are some planning suggestions for beginners based on this recent first-time experience and Michael's feedback after I returned the car.
Tesla offers a planning app and mind blowing technology that allows for very detailed charts, but be mindful that spontaneous side adventures along the way can greatly skew the initial energy plan. For example, since Whidbey Island is long and narrow we found ourselves backtracking to visit different attractions — taking unplanned battery power.
Research charging stations ahead of time. When searching Google Maps, "Tesla Supercharger" locations will display as well as "Tesla Destination" chargers. The main difference between the two is charging speed (Superchargers provide about 150 miles per hour while destination chargers pump out about 25 miles per hour) and access to the facility. While Tesla Supercharger locations are open to any Tesla vehicle (some exceptions and plans vary between free or pay structures), Tesla Destination chargers are typically provided by a private entity that requires patronage at the hotel or restaurant in order to use.
The car can plug into any 110v outlet, anywhere. This is really handy as a backup, but the charge rate is around 4 miles per hour. If a worst-case scenario arises, stop at a nearby farm and ask for mercy to hook up to an extension cord from the barn. Be sure to have all the plugs and adapters in the car.
Contact your lodging provider ahead of time to make arrangements. Most hotels have some way to provide at least access to an outside 110v plug and it really makes a difference to "top it off" each evening while sleeping. In our case, both places had a way for us to reach power, which contributed about 50 miles of battery power each night. After calling a few days ahead, the staff at Fort Worden (Port Townsend) rigged up an extension cord from a telephone pole near our officer quarters accommodation.
Electric vehicle charging is a growing but new technology so be sure to be persistent with hotel staff. In our case, with Captain Whidbey Inn, the employee at check-in wasn't informed about their charging capability and suggested we could go to Langley to charge there. Upon further research (see bullet #2), the 17 mile drive to Langley would've come up short because the chargers were only available to hotel guests. The second day when I asked a different employee abut chargers, she perked up and walked me out to the location where they had 110v plugs set up on an out-building conveniently near four parking spaces.
The technology on these amazing chariots allows the Tesla to recharge using the energy from the brakes or when topping out at higher speeds that no longer required battery. So, for example, if traveling downhill for a good portion it's possible to see the battery juice increased rather than deplete. But then, of course, going uphill will drain at a faster clip.
Interactive map — Whidbey Island & Port Townsend — three night Tesla road trip itinerary
This trip can be done in a shorter amount of time, and technically, at 150 miles, on a full "tank" electric charge. The itinerary below reflects the beginning and ending in Bellevue, WA because of the location of the Tesla but it's easy to adjust to starting and stopping in Seattle. Our two nights on Whidbey Island, with an additional night in Port Townsend seemed perfect. Note on the map below that while my preference is always the Bainbridge Island Ferry, mostly because of the spectacular view of the Seattle skyline and central location in the metro area, we opted to use the Kingston-Edmonds Ferry in order to more directly reach the Tesla Supercharger Station in Bothell, WA — to return the sleek spaceship with a topped-off battery.
Rent a Tesla for a road trip around Puget Sound
Are you Tesla-curious but have no way to try out this electric ride? Take Michael's Tesla-S for a trip from Seattle. The rental is handled completely through the Turo.com website, which is similar to Airbnb for cars. This is a great way to explore the innovation of an amazing vehicle. Click the tile below to jump to the full listing and all the information.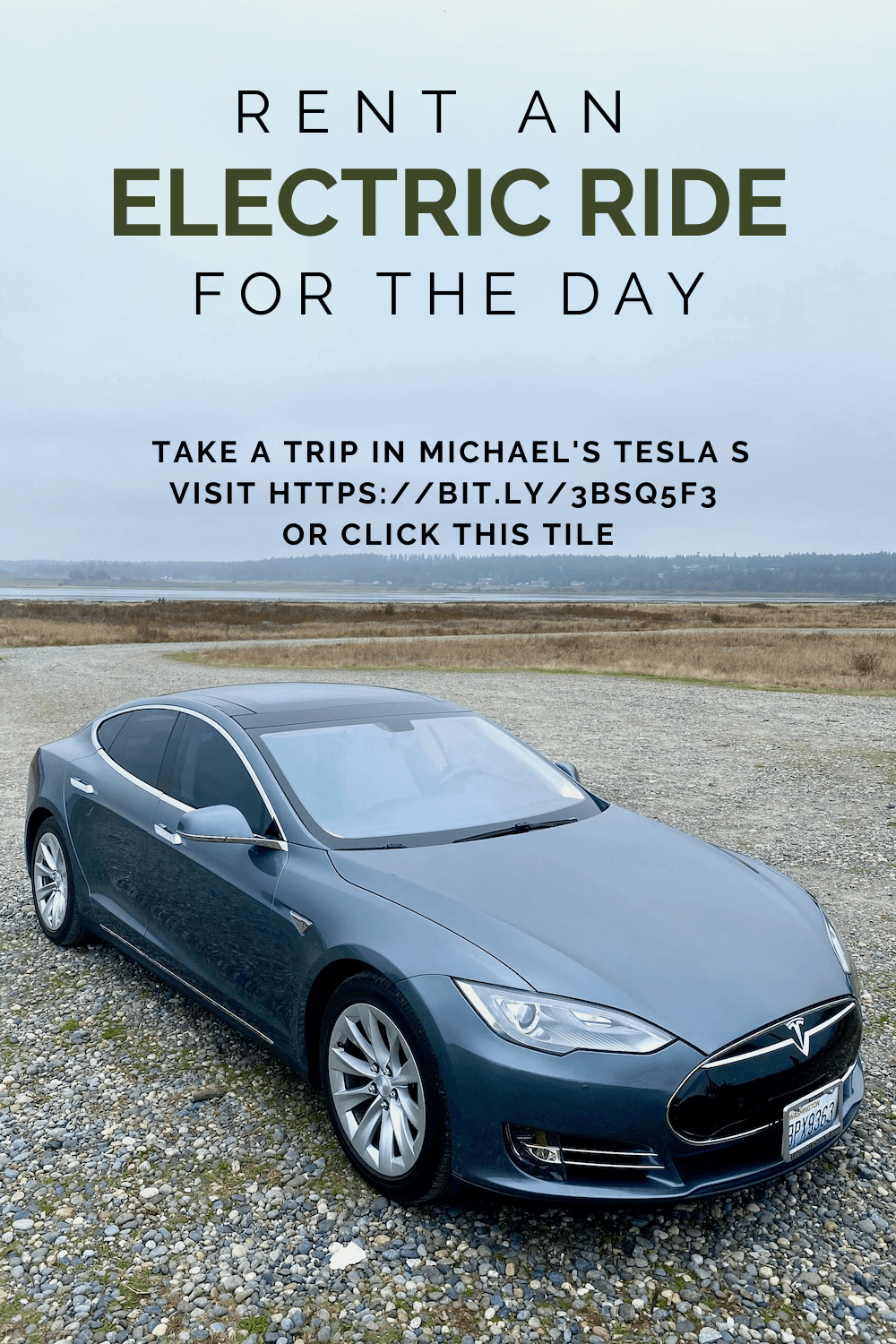 Follow me on Pinterest and pin one of these tiles to your board.