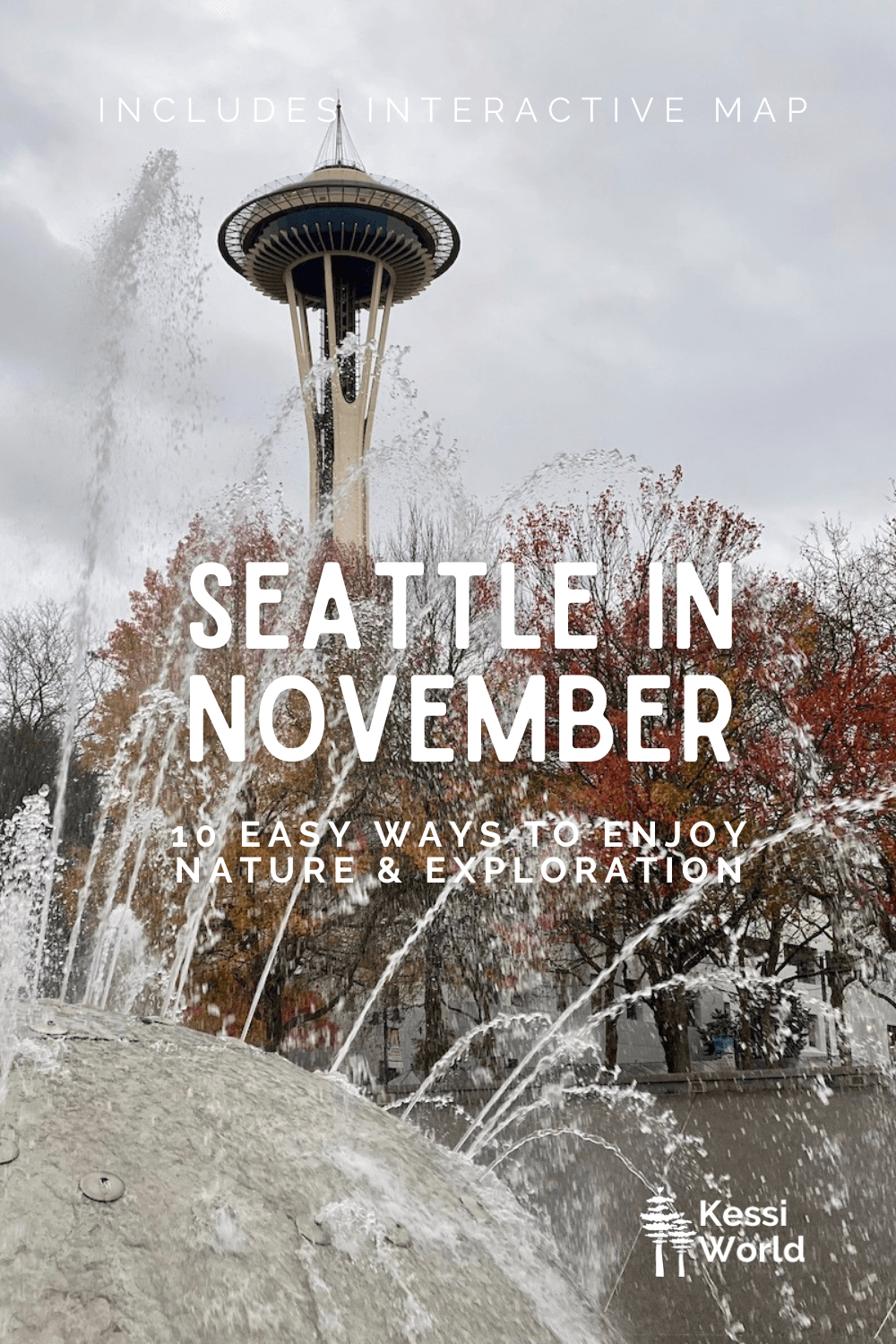 Mud puddles the size of cars are not an uncommon sight in the down season of the Pacific Northwest. When the wind howls and rains fly sideways it can feel like entering into another realm. And with a few more minutes of darkness each day, it might seem like the world is closing in. But November in Seattle can be full of a regenerative spirit, refueling your soul with subtle beauty soaked in nature.
If you're reading this you might be planning a visit to Seattle in November to spend time with loved ones over one of the two holiday weekends — Veteran's Day and/or Thanksgiving. The elongated weekend at the end of the month has always been my favorite — not only for the extra days off from my work but also for the opportunity to spend more moments of quiet outside.
Seattle in November comes alive with my list of 10 favorite retreats into nature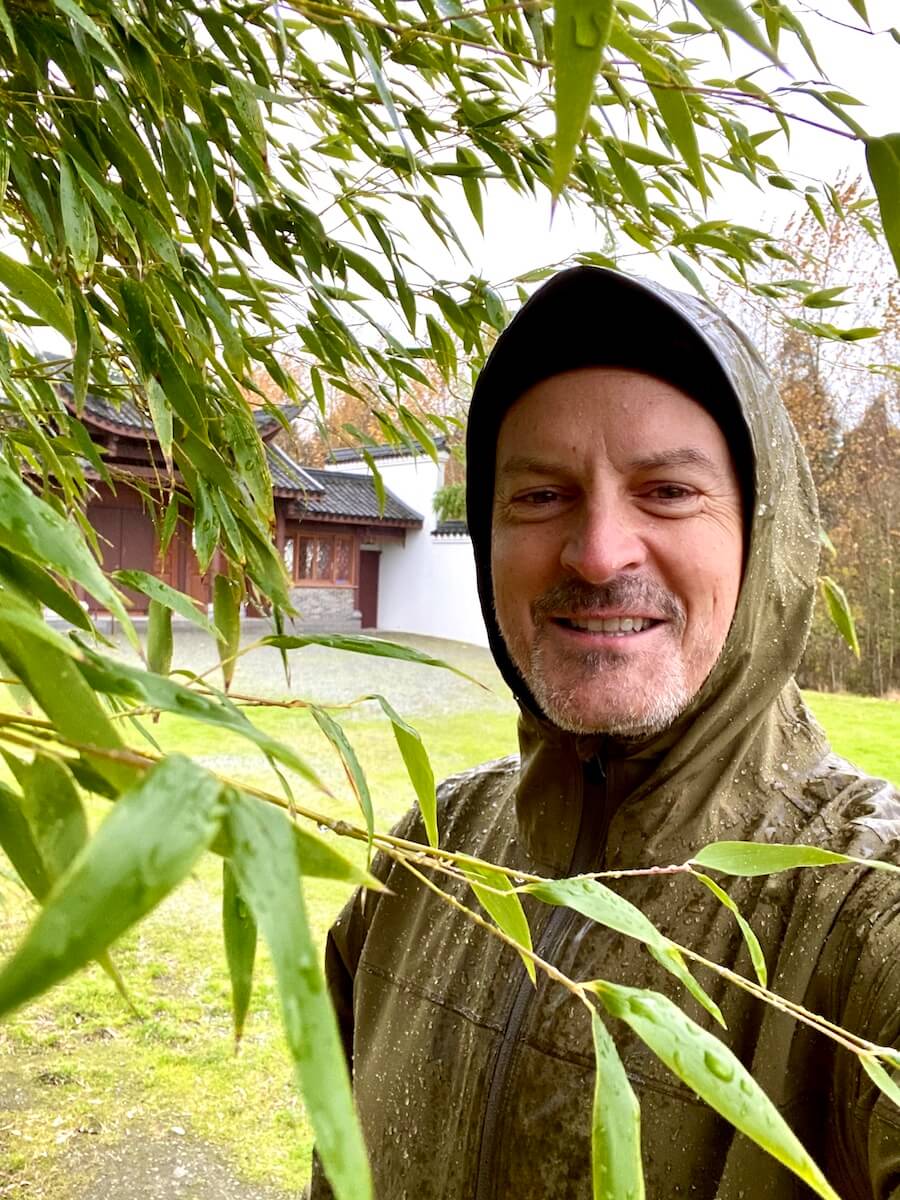 The following articles provide very thorough lists of things to do in Seattle around this time of year. Take a look, because even though people in the Midwest and Northeastern US laugh when we speak about winter (meaning, it's all the same except summer), there are definite nuances based on the month. These are designed to help both locals and visitors plan things to do in Seattle in November.
Technically, Seattle in November is considered to be fall, but by this time most of the leaves have parted their trees and it feels closer to winter to me. November is also the rainiest month and it can feel very dark and gloomy. Be prepared with proper waterproof hiking shoes or boots and a warm coat, preferably waterproof. Terrain will likely be muddy in places — you know, rainforest and all. If you're visiting, remember we don't use umbrellas — especially not in parks, gardens and hiking trails! 
Table of Contents
Now that all the gray and gloom is out of the way, let me talk about the parts that light me up about Seattle in November. They're listed below for easy reference. These are my favorite places to go wandering, specifically in November. The list represents locations across the Greater Seattle area that offer options — especially if you need a little break from concentrated family time. Why not take a drive to Bellevue or ride the ferry to Bainbridge to play in the Grand Forest West?
Seward Park — South Seattle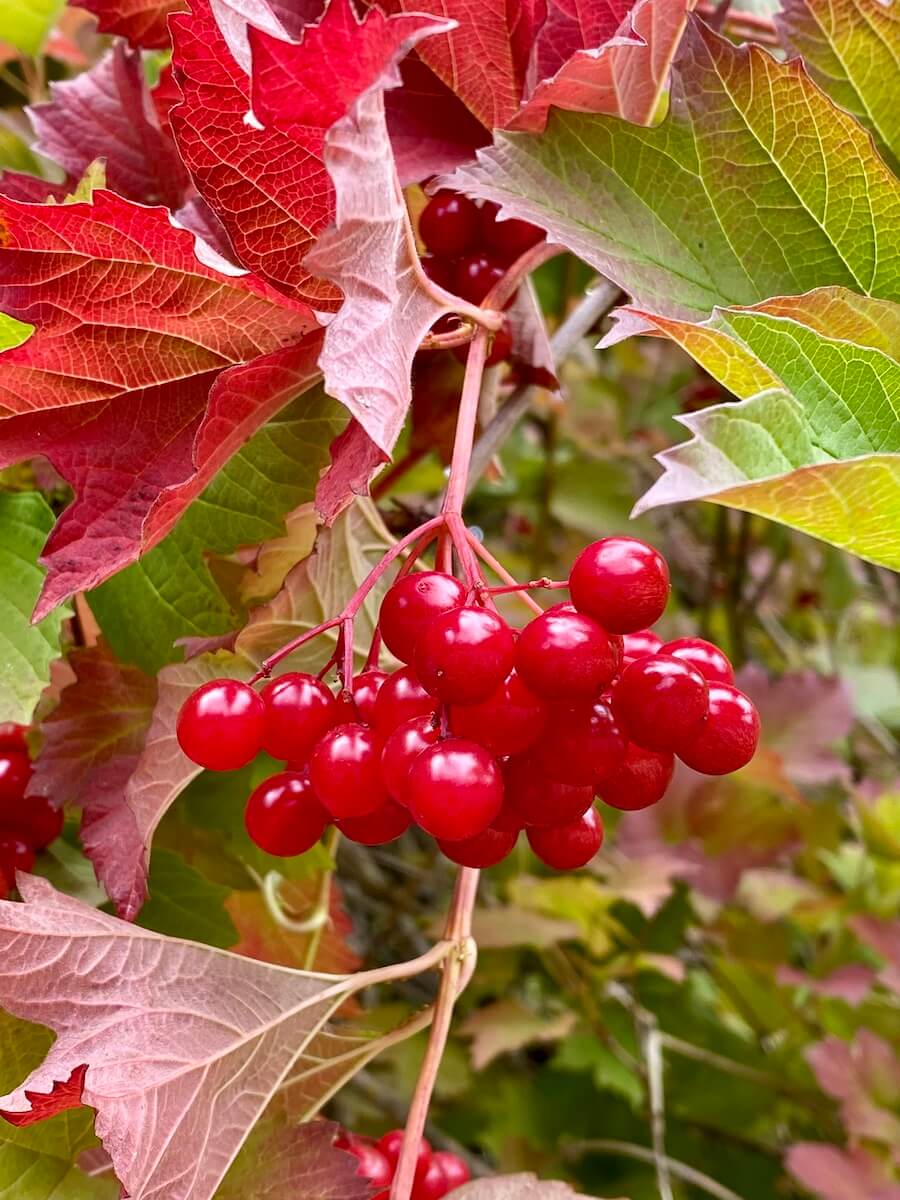 This isn't a huge surprise because locals love this park, located on a peninsula projecting into Lake Washington. The two-plus-mile paved roadway that follows the shoreline tends to be popular on weekends and most days in the summer. The water views are fantastic any time of year but venture into the Magnificent Forest — an internal area of the heavily forested park — and a dense November surprise awaits.
In the forest, you'll find different varieties of trees reaching up to a broad canopy — some without leaves — opening up like a skylight to the heavens. Rain is your friend here, trickling from moss to create a rainforest paradise. I like to wander the trails without a plan because it's difficult to get lost and there is always the beach roadway offering an easy backup.
When you've had enough of the elements jet over to the shops of Columbia City, only a few miles away. Grab java at Olympia Coffee or eat wonderful comfort food at Geraldine's — the chili and mac-n-cheese are particularly yummy this time of year.
Ravenna Park — North Seattle delight in November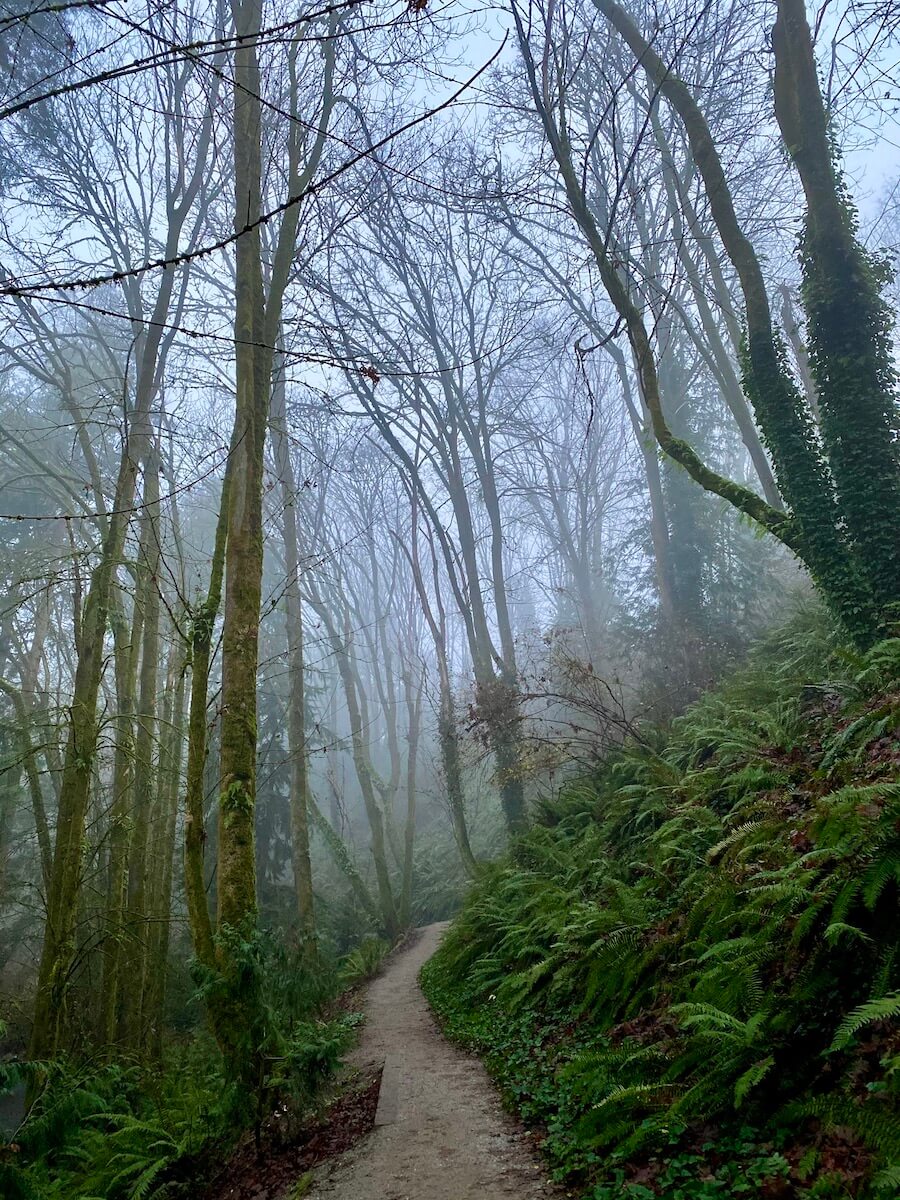 This park occupies a deep ravine racing through an elegant neighborhood of Seattle, just north of the University District. Last November, I enjoyed a rare sighting of a snowy owl, apparently taking shelter "south for the winter". She was perched on a branch of a giant redwood tree (for Seattle) on the floor of the ravine. There always seem to be nuggets of surprise in this bastion of nature tucked within an urban core. Listening to the rain sift through the mixture of fir and empty maple branches is heavenly to the senses.
A fun way to experience this part of Seattle is taking the light rail to the brand spanking new U District Station (on Broadway and NE 43rd Street) and explore the shops and restaurants on the mile walk to the park. Duck your head into quirky second-hand stores or snack on a variety of international flavors. The area is edgy indeed, but full of interesting, authentic Seattle life. I enjoy two vegan restaurants in this area — Araya's Place and Broadfork Cafe — that serve up the type of food meat eaters appreciate too.
If you'd like a full-day itinerary, add in The Burke Museum, also near the light rail station. It's a fun place to learn about native art & culture and the natural history of the Pacific Northwest, including dinosaur bones. Off the Rez Cafe, inside the east entrance to the museum, is a tasty native-owned eatery serving great Indian tacos and delicious fry bread (entrance fee not required to eat here).
Union Bay Wetlands Area — University of Washington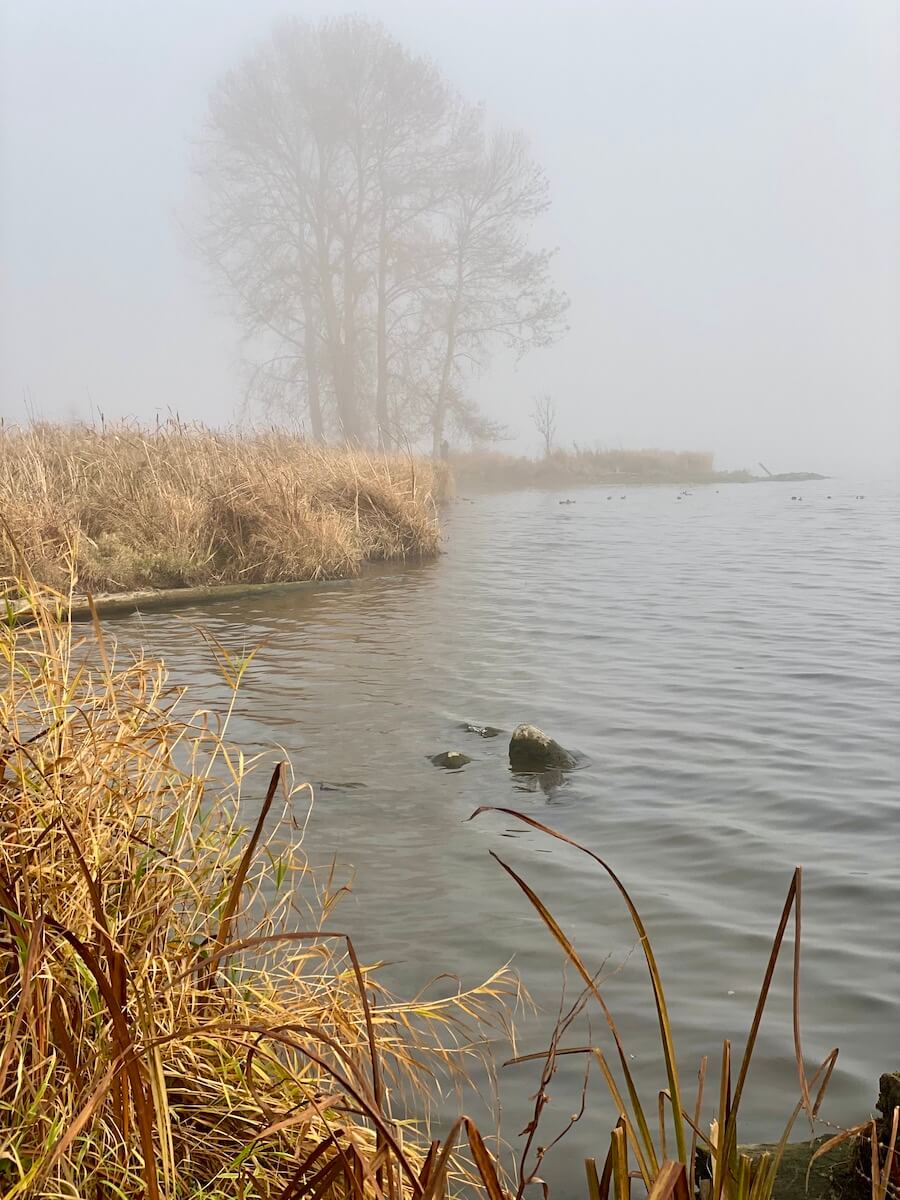 This is a popular option for families exploring Seattle in November during the Thanksgiving holiday, and for good reason. The UW Botanical Gardens still have enough interesting organic options hanging on to the last semblance of fall and the more wild Union Bay Wetlands Area hosts a variety of birds — both local and the migrating kind. Be sure to investigate the succinct boardwalk on the northern end of the green space. There is a way to take the trails directly to the UW campus or head in a different direction to the Burke-Gilman trail.
You can easily pair this outdoor adventure with the U District (mentioned above) or explore University Village, an upscale outdoor mall. The mixture of modern stores and eateries — mostly chains — are tucked within delightful gardens that are meticulously crafted year-round. The seasonally festive outdoor space is definitely worth a wander in November, and tempers the mall vibe for me (I'm not really into malls).
Elliott Bay Waterfront Trail — Downtown Seattle in November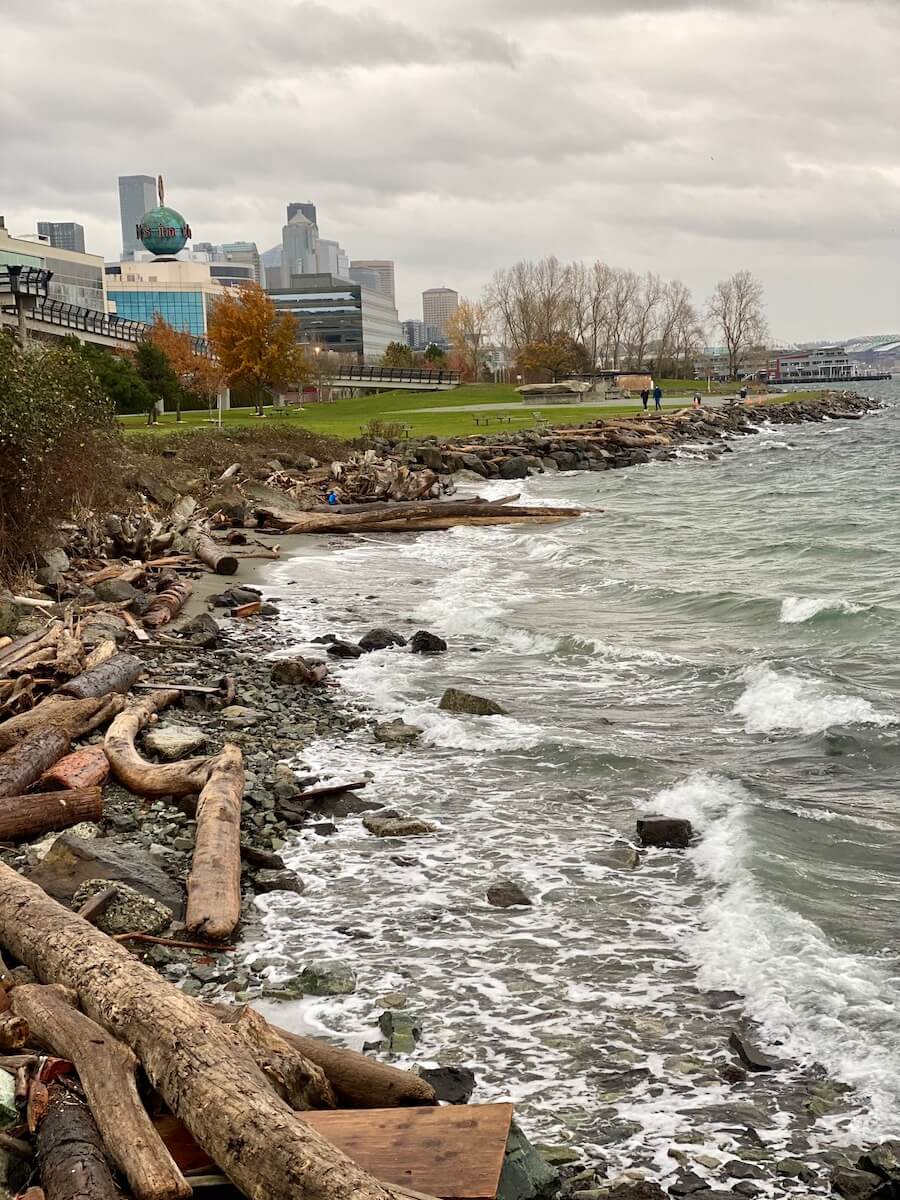 The whipping wind adds to the flavor of this trail that teeters between industrial Seattle and the churning beauty of the Salish Sea. Although a very good jacket is required (the winds along the sea can be strong and colder than places inland), the feel of the wet, salty air exfoliating the skin is a perfect right of passage to Seattle in November.
The trail starts at the Olympic Sculpture Park and follows paved paths popular with wheeled pastimes to the new Beach at Expedia Group and Elliott Bay Park. The mounds of seagrass frame in strategically placed logs that lead to a pebble beach.
Getting from here to food is a little involved, so I suggest walking back on the 1.5-mile trail and venturing to the area around the Seattle Center for refreshments or more things to do. The only time I sanction an umbrella in Seattle is using it to walk into the jets of the International Fountain, which was recently renovated to include interactive LED lights.
Schmitz Preserve Park — Alki Beach and West Seattle natural oasis
What makes me most happy about this dense labyrinth of vegetation is that the 53-acre parcel was donated, between 1908 and 1912, to purposely preserve some never-logged land in Seattle. What seems like an obvious idea today to not cut down every single old-growth cedar and fir in Seattle, feels like a cute novelty back in the day. As such, my heart thanks Ferdinand and Emma Schmitz for their foresight.
The park begins just a few blocks from the hustle of Alki Beach (near Alki Elementary School) and winds through a myriad of vegetation under the commanding Admiral Way Bridge. Beyond the graffitied concrete columns of the bridge duck through a thicket leading to the peaceful bubbling Schmitz Park Creek. I particularly love the ancient cedar, contorting massive trunks to find their spot in the canopy between sun-loving douglas fir.
The beauty of this park is the plethora of other things to do in this area. I love West Seattle and Alki Beach so much, I wrote an entire article, which includes a great interactive map. Take a look to plan the perfect nature-meets-food adventure to explore West Seattle in November. Of note, Cactus is a good Mexican joint overlooking the beach, Blue Moon Burgers is also delicious, and Ampersand Cafe on Alki is a good coffee shop option.
Remember, the traffic gets a bit ugly driving to West Seattle right now — consider riding the King County Water Taxi between Pier 50 in Downtown Seattle and Seacrest Dock in West Seattle. The views of the city are wonderful on the quick 20-minute ride and there are shuttles from the pier and/or wheeled things to rent (I enjoy the walk along Harbor Drive though). If you take this route, definitely stop for a bite at Marination Ma Kai, which is right on the pier. They serve sliders on Kings Hawaiian Sweet Bread — delicious!
West Hylebos Wetlands Park — Federal Way
This understated wetland epitomizes Seattle in November to me. It feels like a magical portal to another world. The 120-acre wonderland is the kind of place that remains embedded in the heart long after a visit. Don't be deterred by the busy, uninspiring suburban thoroughfare leading from Interstate 5 toward the sprawling neighborhoods of Federal Way. Look for an awkward renovated log cabin — built by the Denny family (first European settlers in Seattle) — which was moved from the original location near Lake Union in Seattle. The parking lot will not reveal much about the experience but keep the faith.
Continue through to find the series of raised wood planks that lead to a 10,000-year-old sinkhole, an ancient Sitka spruce tree, and finally, a peaceful pond surrounded by a mixture of old growth evergreens and ground covers that come to life in the marshy conditions here. This is a perfect activity in the rain, which seems to cast a mystical spell over the area — just be careful not to slip on the planks! For more information read my article, West Hylebos Wetlands Park.
Point Defiance Park — Tacoma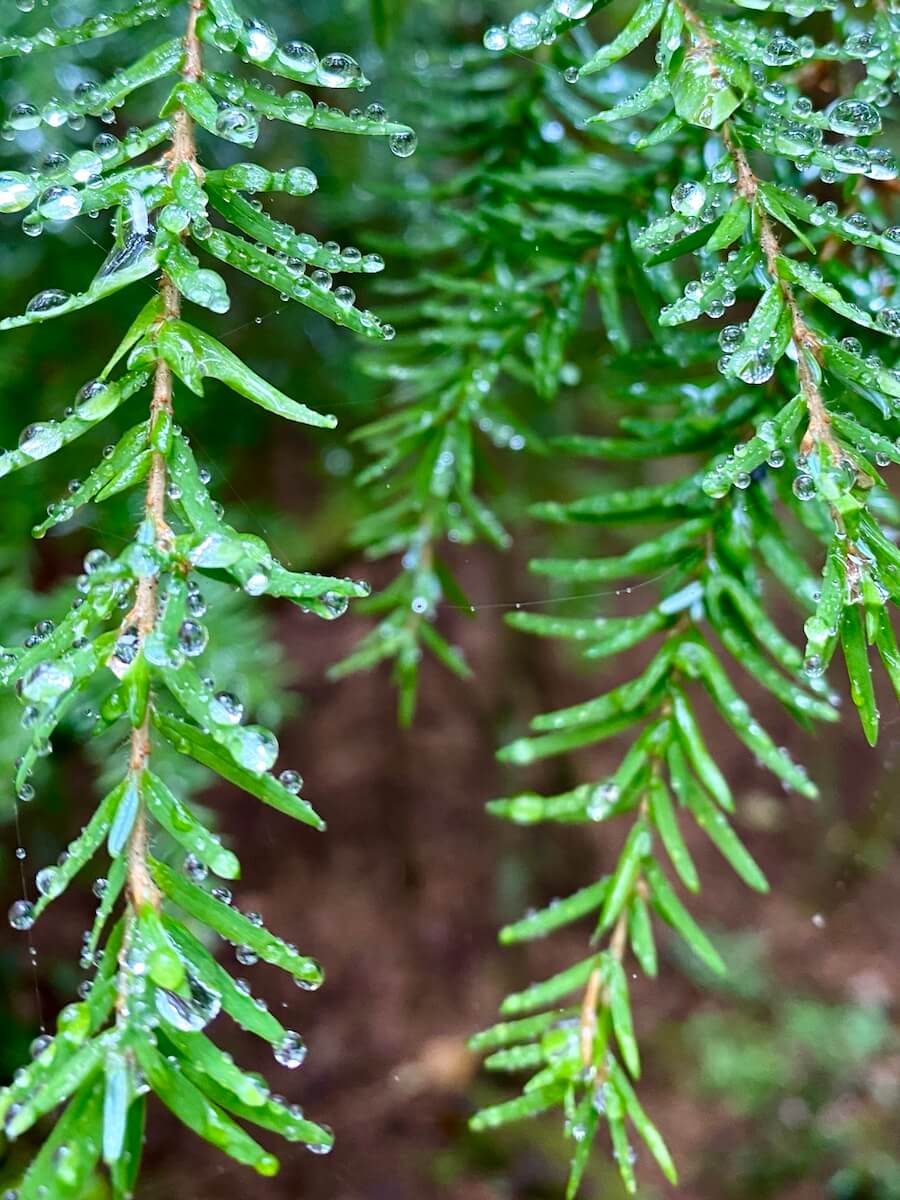 This statuesque park naturally combines acres of native rainforest with all the attractions of a world-class city park. Since my mom grew up literally across the street, this urban oasis represents a lifelong happy place for my heart. Once the fall leaves are mulching into the dense cover of sword ferns, the mood grows contemplative, and a hike inside the wonderland of this park feels regenerative. Check out my article, Point Defiance Park — Tacoma's urban wilderness, for all the details about every aspect of the park.
For those not familiar with the Seattle area, Tacoma is about 40-60 minutes from Seattle. If you'd like to add activities to exploration around the park, consider hanging out in the Proctor District or venturing to Point Ruston, which has a variety of things to do from movie theaters to restaurants to ice cream. I also love Wright Park, a gorgeous arboretum near the Stadium District.
Bellevue Botanical Garden — Bellevue
The Bellevue Botanical Garden is a fantastic experience any time of year. I love the rock garden, which comes to life with November storms and offers a variety of interesting plants that seem encouraged by the changing weather conditions. Wander amongst the gravel paths and ascend the strategically placed stone slabs to the original mid-century style residence of Cal and Harriet Shorts, who generously deeded the land to start this garden in 1981.
Much of the flower beds that produce flowing colors all Summer lay dormant in November, but do not fret. Continue on a path through the forest environment that passes by the little "Hobbit" door etched into a shallow bank where Mr. Shorts wintered his bulbs. Explore the delicate balance of the Yao Japanese Garden before wandering further into the forest through reclaimed native wetlands toward a full-size suspension bridge that seems to magically float above a deep fern and rhododendron-covered ravine.
The garden is free to enter and is located only a few miles from Downtown Bellevue. The urban core covers a compact grid of buildings, shops, and restaurants that can be fun to explore, especially around the holidays. Speaking of holiday, a spectacle not to miss is the Garden d'Lights attraction taking place at Bellevue Botanical Garden from November 27 through December 31, 2021. Entrance is $5 per person (kids under 10 are free) and operates until 9:30 PM every evening. Tickets go on sale October 15, 2021.
St. Edwards State Park — Kenmore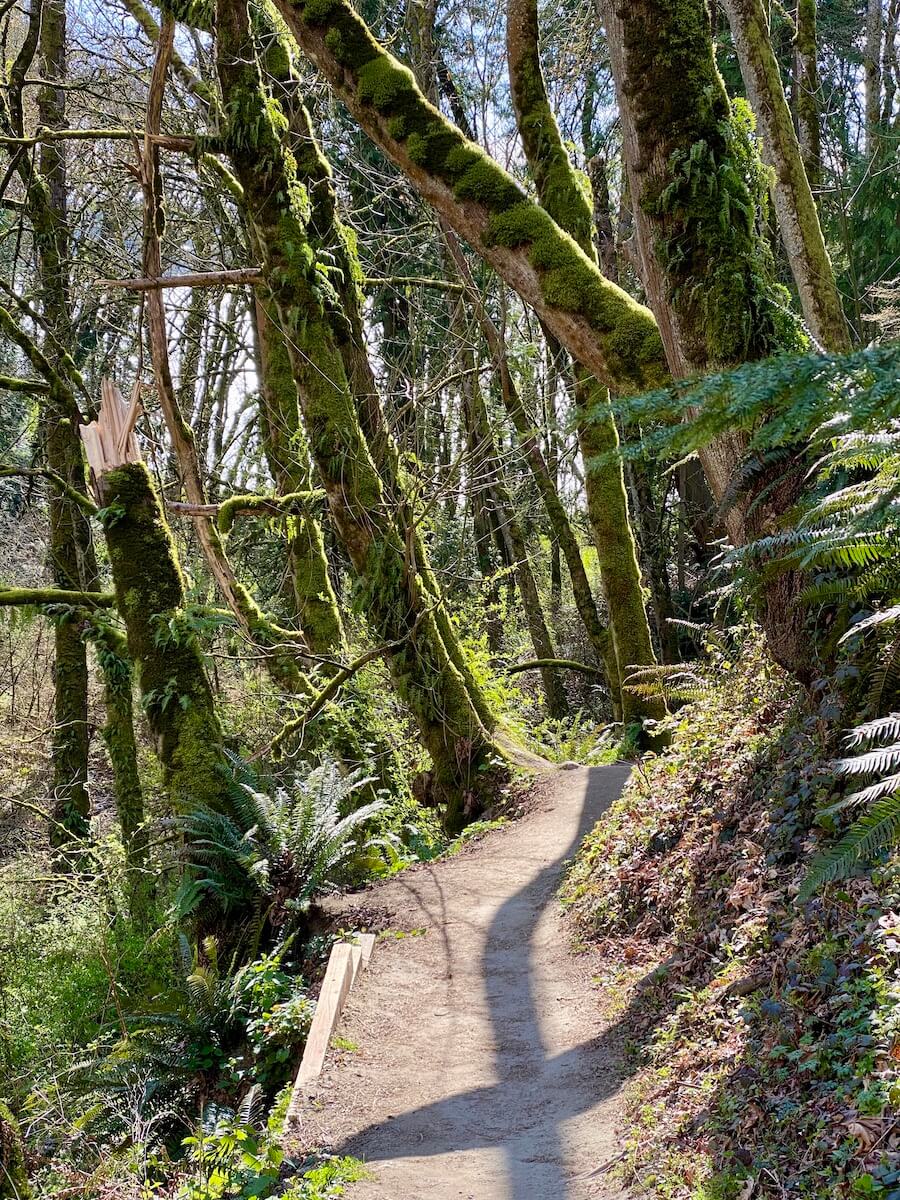 Long ago my great uncle attended seminary at this Catholic academy — which is now a Washington State Park — and the spiritual vibe remains. The former grotto dedicated to Mary is no longer "official" but still a very spiritual place to meditate amongst the intricate brick and stone walls framed with moss, ferns, and other things green. Continue down the hillside under a tall canopy of leafless maples and evergreens to the banks of Lake Washington. The gentle sounds of water lapping onto the tiny pebble beach help create a beautiful November retreat.
The seminary buildings have become The Lodge at St. Edward Park, a full-service hotel space — including Cedar + Elm restaurant and two bars serving inspired Northwest fare and craft cocktails. Remember, since this is a State Park a daily parking pass ($10 via automatic machines) or a Discovery Pass ($30 where you buy hunting licenses) is required to utilize the ample parking area.
Grand Forest West — Bainbridge Island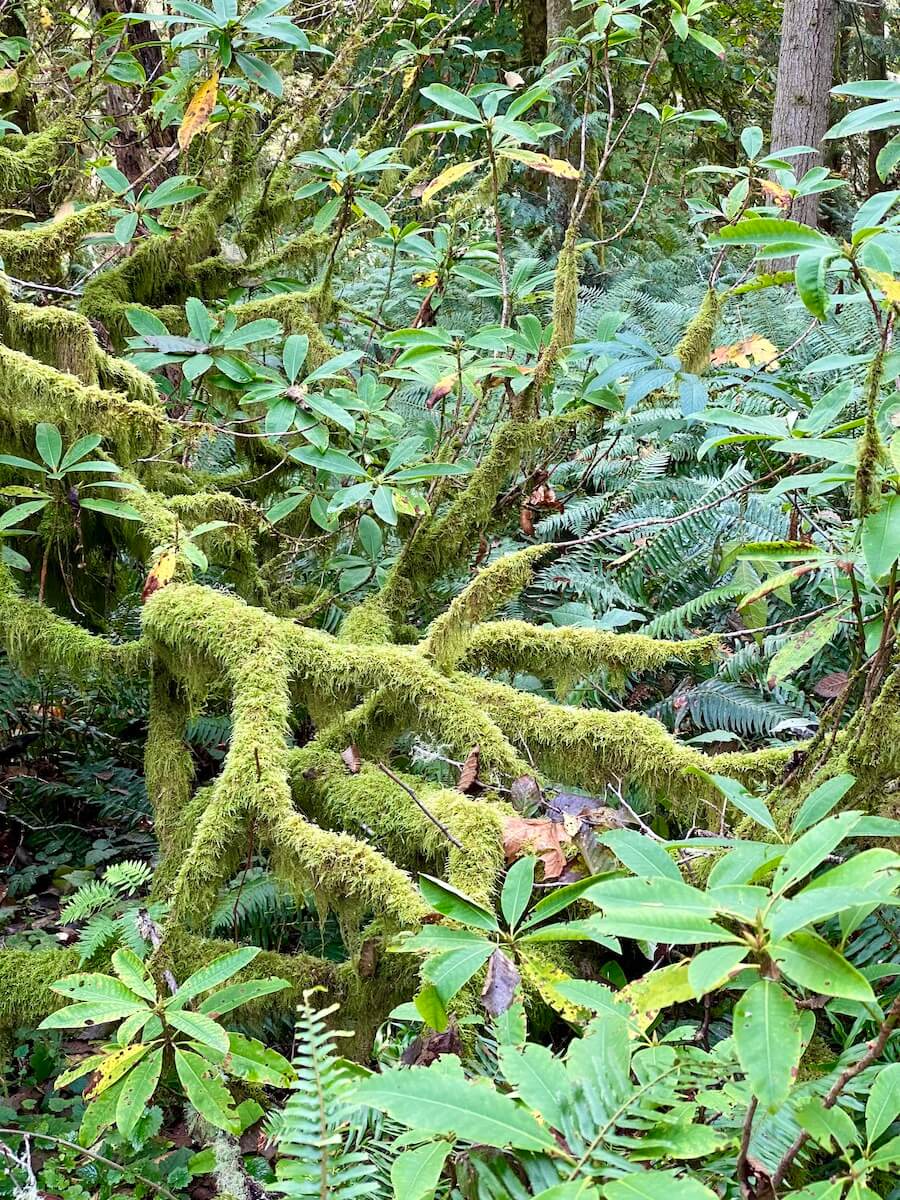 Bainbridge Island always feels like a step into a quieter, gentler version of Seattle. Starting from the Washington State Ferry ride across the Salish Sea, the air almost seems to change. Seattle in November can be blustery, especially on the deck of a large marine vessel, but I go out on the deck every time, regardless of the weather. While the main street of Winslow is cute and easy to navigate, with some great dining options (try Bruciato or Proper Fish), I suggest venturing out of the tourist zone into a deep forest.
Grand Forest West is only five miles from the ferry terminal, but it feels worlds away. Moss hangs from tree branches along trails that wade through waist-high sword fern. Although paths seem to disappear into a fog of green texture, it's pretty hard to get lost. The markers are intuitive to understand and a hike here is mostly flat and adjustable to any length.
There are a lot of other great things to do on Bainbridge Island in November, so check out my article, Revive the soul on the Salish Sea day trip, for an itinerary and integrative map that highlights all my favorite spots.
Interactive Map — Seattle in November
Save these pins for later