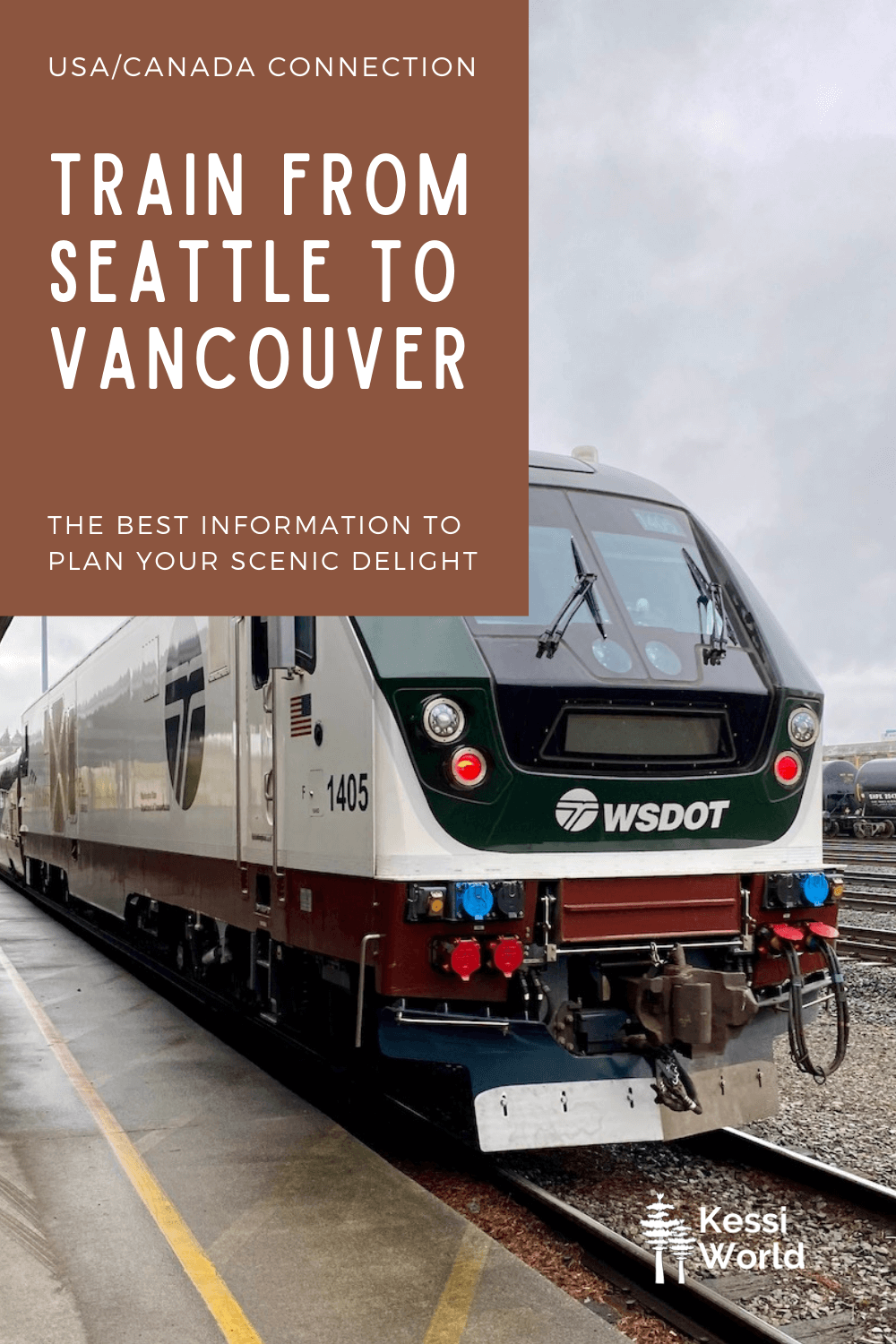 Rail enthusiasts and sightseers are in for a treat on the train from Seattle to Vancouver. Amtrak Cascades' service covers some of the best views of the Salish Sea, framing in the Olympic Mountains and the beautiful fertile Skagit Valley, with Mt. Baker rising in the background among the Cascade Mountains. Taking the train can be an excellent way to get between Seattle and Vancouver, in the Canadian province of British Columbia. This article will help you plan an incredible journey.
UPDATE March 2023 — Amtrak train service between Seattle and Vancouver operates twice daily with additional "connecting bus service" options.
The train from Seattle to Vancouver covers spectacular scenery. Plan the best possible journey with the information in this article.
I you are just looking at your options from Seattle. You've come to the right place.
Using my lifelong knowledge, I wrote an article about all the ways to get to Portland from Seattle (and vice versa) and an even more specific post about the train between Seattle and Portland. I also offer an excellent itinerary for the Seattle to Portland drive. Another post about the Seattle to Vancouver drive is coming soon, once the US/Canada border is open again to non-essential travel. And since I enjoy train travel, I have another piece on taking a sleeper car across the country from Seattle to Chicago — a very similar experience to the Coast Starlight version from Seattle to Los Angeles.
Table of Contents
Amtrak train schedules — the train from Seattle to Vancouver takes about 4.5 hours.
Amtrak sells two trains per day each way. This complements the existing "connecting bus" service offered four times daily with an average fare of $45 each way — a 3.5-hour journey. Of course, this can change anytime, so refer to Amtrak's official website.
Amtrak Cascades is the Pacific Northwest regional service on one-level, European-styled trains. This comfortable ride features the Bistro Car, offering Pacific Northwest cuisine, wines, beer, and coffee. There are plugs at every class seat, and the WIFI is reasonably good (it may not work in Canada).
Northbound trains (as of March 2023):
Depart Seattle at 7:50 am and arrive in Vancouver at 11:50 am.
Depart Seattle at 7:00 pm and arrive in Vancouver at 11:00 pm.
Southbound trains (as of March 2023):
Depart Vancouver at 6:35 am, and arrive in Seattle at 11:00 am.
Depart Vancouver at 5:45 pm, and arrive in Seattle at 10:10 pm.
It helps to know your train from Seattle to Vancouver city-code jargon and options.
Like buying an airline ticket, the world of travel assigns a three-letter code to every train station or other place to access transportation (like the Victoria Clipper Ferry Dock on Seattle's waterfront). In the Seattle (SEA) case, the airport and train station codes are the same. But in reality, the airport is 10 miles away from the Amtrak King Street Station — and easily connected via public transportation.
The Amtrak booking portal can be confusing and frustrating if you're unsure which city code to enter. For example, if you type in "Seattle," you'll get about 5-6 choices, and it'll matter how the schedule options return — since bus and boat services are offered in conjunction with Amtrak. Using SEA and VAC will save time and ensure you're searching for an actual train ride. It's faster to enter them in ALL CAPS. Also, note that there is a Vancouver, Washington (VAN), which differs greatly from Vancouver, British Columbia in Canada (VAC).
Just the train, please…
(SEA) — Seattle King Street Station
Now, which one was it???
(VAC) — Vancouver, BC, CANADA
(VAN) — Vancouver, Washington (a suburb of Portland, Oregon).
But what about the other cities along the way?
(EDM) — Edmonds, Washington. A cute suburb of Seattle, right on the water and near the ferry terminal to the Olympic Peninsula.
(EVR) — Everett, Washington. A northernmost suburb of Seattle and home to the Boeing manufacturing plant and Experience Flight Museum.
(STW) — Stanwood, Washington. Gateway to Camano Island.
(MVW) — Mount Vernon, Washington. Gateway to the Skagit Valley, including Anacortes for Washington State ferries to the San Juan Islands.
(BEL) — Bellingham, Washington. The largest US city close to the Canadian border. Gateway to the ferry to Alaska. Flights from Bellingham Airport (BLI) to domestic points in the United States can be less expensive when compared to flying from Vancouver International (YVR) because there are no added international taxes and fees. The train station (BEL) and airport (BLI) are about 10 miles apart and 20 minutes by car.
How much does the train from Seattle to Vancouver cost?
Well… like most transportation, it depends. Amtrak uses sophisticated software like airlines to maximize revenue on a supply/demand basis. Advance purchase timelines are essential indicators for pricing, so you'll see the prices go up closer to the departure date. Or, for popular holidays or weekend travel (Friday-Sunday), the cheap seats allocated for the train will sell out faster (sometimes months in advance), reverting to higher-priced tickets.
I could go on and on about this all day since I come from the airline pricing world — but if you have any additional questions about this, reach out to me. The prices are the same in either direction and buying a round-trip versus a one-way ticket doesn't seem advantageous.
The bottom line, service between Seattle and Vancouver starts at $34 each way.
Here are some sample prices, which should only be used as a general guideline.
| Amtrak Product | One-way fares start at: |
| --- | --- |
| Cascades Coach | Starting at $34 each way |
| Cascades Business | Starting at $83 each way |
| Connecting Bus Service | Starting at $45 each way |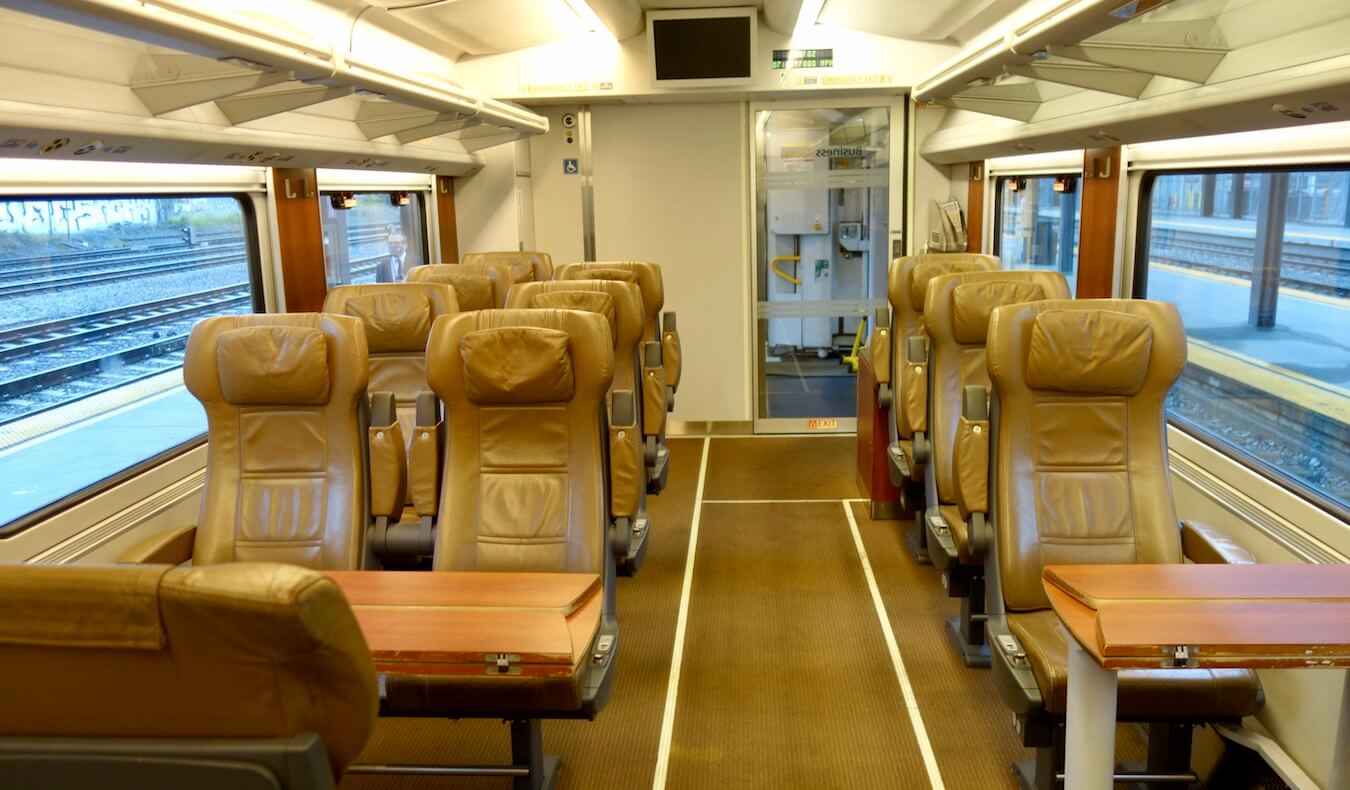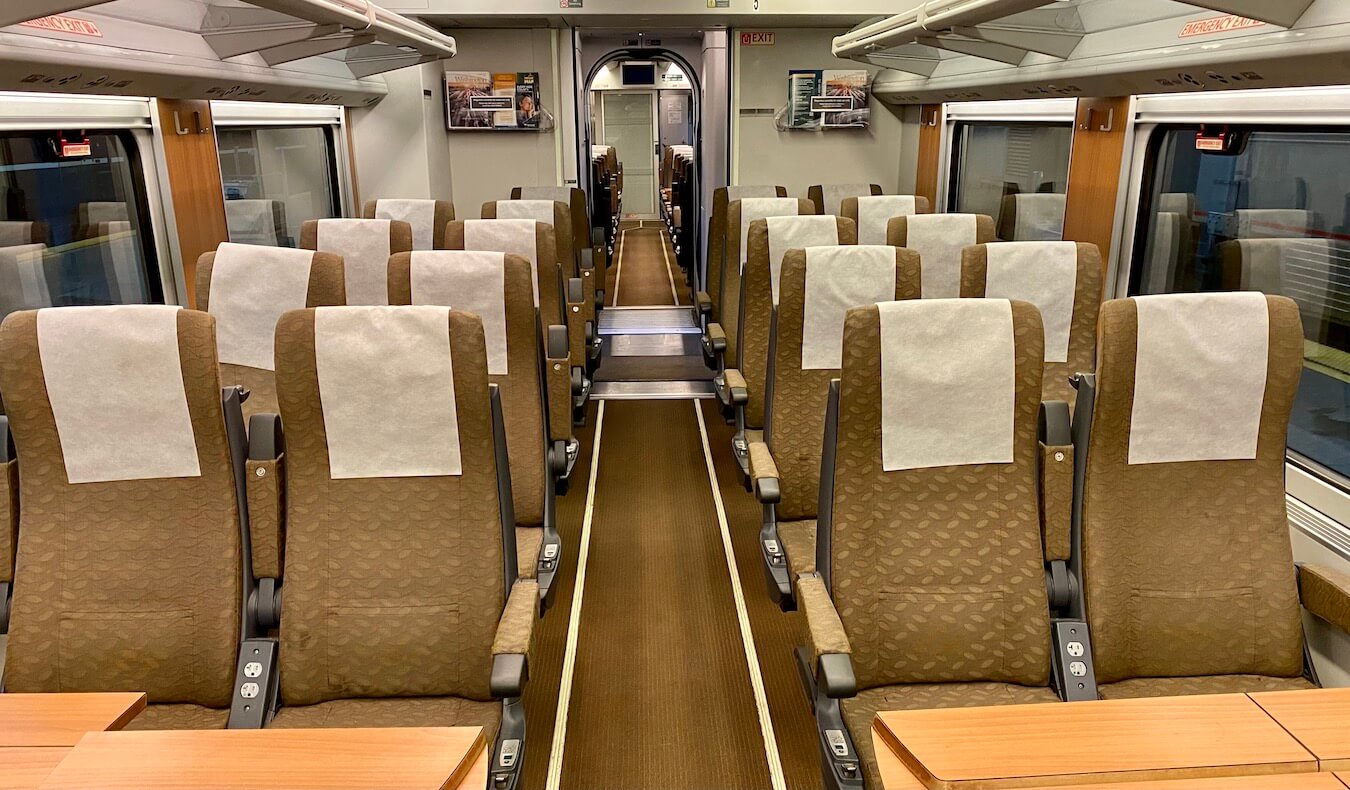 Is Amtrak Business Class worth it on the train from Seattle to Vancouver?
Business Class can be a nice splurge for this trip. The Cascades trains are very comfortable, even in coach with a two-two seat pattern (or four across), so it depends on how much space you'll need.
Business Class on Amtrak Cascades
Seats are in a one-two pattern (or three across) in a luxuriously European feel.
Popular with business travelers who enjoy the space to work.
The Bistro Car separates the Business Class area from the coach cars.
Priority boarding and bonus points if you're an Amtrak loyalty member.
Receive a credit for $3 off anything in the Bistro Car.
Where is the best scenery? Spending time on the train
This train journey covers some stunning scenery. Since these tracks are on historic lumber routes that require being close to the shore, much of the rail line follows the beautiful Salish Sea. Almost all the great views will be from the west-facing side of the train. When boarding, be sure to seek seats on the left-hand side for the north journey (from Seattle to Vancouver) and on the right-hand side for the southbound trip (from Vancouver to Seattle). Here are a few of my favorite scenery highlights from the northbound perspective.
The first 45 minutes between Seattle and Everett is almost entirely along the Salish Sea. Inspiring views of the Olympic Mountains, with potential for stunning sunsets on the evening train (spring and fall).
The area between the Stanwood and Mount Vernon station stops features the beautiful Skagit Valley and views of Mt. Baker and the Cascade Mountains to the east.
From Mount Vernon, the train heads toward the seashore for another beautiful view of the Salish Sea and the San Juan Islands to the west. Stunning sunsets on the evening train (summer) through Bellingham.
The area approaching the US/Canada border is also along the sea and offers lovely views — especially while waiting for immigration inspection.
The rest of the time (especially the zone between Vancouver Station and the USA/Canada border) is an excellent opportunity to hit the Bistro Car for a snack or libation and get caught up on journaling, editing photos of your fantastic PNW trip, or perhaps… relax.
Train from Seattle to Vancouver — key planning considerations & cruise connections
You must have all required immigration documentation for travel between the US and Canada. There are also specific Covid-19 protocols. For more information on the specific requirements, refer to Crossing the US-Canadian Border on the Amtrak website.
Seattle (SEA)
There are two train stations in Seattle, very near to each other. One is a commuter terminal, and the other is the Amtrak Station. You want Seattle King Street Station. This station feels like you're down at ground level.
Be sure to select seats on the left-hand side of the train for the Northbound journey to take in all the beautiful scenery.
If you need a nearby hotel, the Embassy Suites by Hilton is located a block away and is a great option.
If you're hungry and have a little time, 13 Coins Seattle is a local favorite and is open late on weekends. There are also a lot of other places to eat in the Pioneer Square area of Seattle, just a few blocks away.
Seattle-Tacoma International Airport is 12 miles and about 20 minutes by car away from Amtrak's King Street Station. The two are connected by a convenient light rail for $3 and take 32 minutes. Cabs have a flat rate of $40 (between Downtown Seattle and Seatac Airport), and a ride share starts around that price, depending on the time of day.

Cruise Connections

: Seattle Cruise Terminal is 4.5 miles & 20 minutes away by car. Bell Street at Pier 66 (Cruise Terminals of America) is 1.5 miles away in Downtown Seattle — 30 minutes walking or 8 minutes by car.
Vancouver, BC (VAC)
Passengers from Vancouver to the United States should arrive at least one hour before departure for border crossing processing.
Be sure to select seats on the right-hand side of the train for the Southbound journey to take in all the beautiful scenery.
Amtrak uses the Pacific Central Station in Vancouver, a sizeable multi-model transportation hub and about a five-minute cab ride to the main downtown area.
Vancouver International Airport (YVR) is about 15 KM or 30 minutes by car from Amtrak Station. The two are connected by a convenient light rail (transfer required) that takes about 50 minutes.
Canadian currency (no coins) is accepted in the Bistro Car for refreshments on this route.

Cruise Connection

: Vancouver Cruise Pier (at Canada Place) is 2.5 km from the train station — 7 minute's drive or a 30-minute walk.
General Considerations for train from Seattle to Vancouver
Since Amtrak does not own its tracks, it's common for freight trains to take precedence over passenger trains, causing waiting "on the side of the road" and delays. Be prepared to be patient.
If you visit friends or family in either Seattle or Vancouver metro areas, ask them which station is most convenient. Sometimes the answer could be Edmonds for Seattle or Bellingham (Washington) for Southern BC. You need to buy a ticket for the exact routing — it isn't like a bus where you can jump off.
Speaking of jumping off, the conductors frown heavily on getting off the train along the way unless it's a designated "smoke break" stop. It's possible you can get left behind.
I've always felt safe on Amtrak, but be aware of your surroundings and don't leave valuables in plain sight if you stroll to the restroom or Bistro.
Seattle King Street Station and Pacific Central Station in Vancouver are perfect locations to jump on public transportation and/or just walk through exciting parts of both downtown areas. In Downtown Seattle, you will probably see people with unstable housing, but generally, they keep to themselves. I feel comfortable in either city at any hour, but if this could make you feel uneasy, keep this in mind for the time day arriving/departing.