My life always straddled Oregon and Washington State, with my mom from the Seattle area and dad from Portland. So we traveled often between the two cities to visit relatives. Lots of driving, but also train rides, which were held over me as a treat for being well-behaved (didn't happen too much). There was always something electrifying about gliding on rails while the familiar Pacific Northwest scenery morphed into a unique picture show. My friend Mike and I recently hopped a Seattle to Portland train, and the excitement of my childhood rushed through me once again.
I love taking the Seattle to Portland train and want to help you plan the best possible journey with the information in this article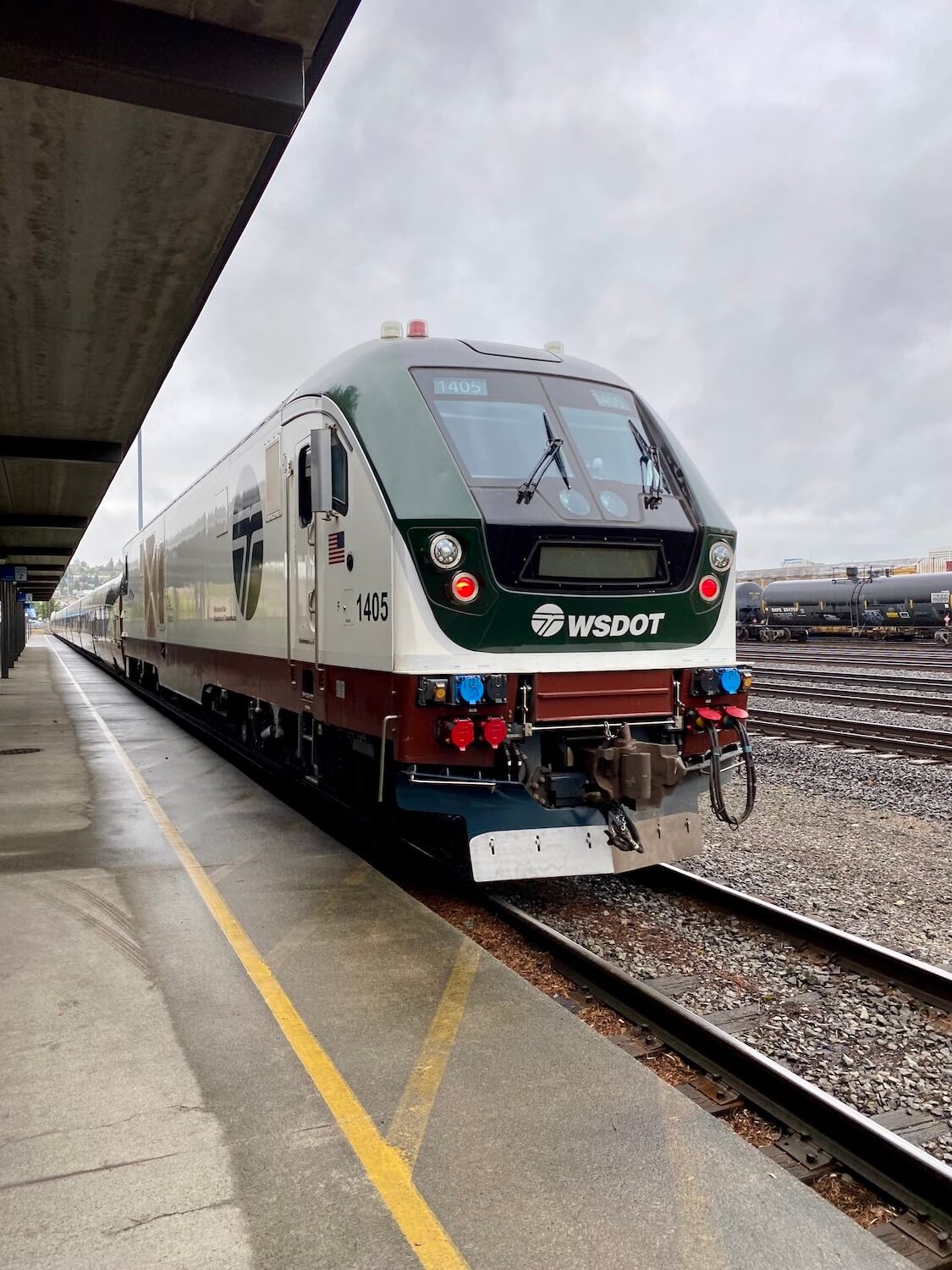 Just looking at your options? You've come to the right place
Using my lifelong knowledge, I wrote an article about all the ways to get to Portland from Seattle (and of course, vice versa) and an even more specific post with an excellent itinerary for the Seattle to Portland drive. I've also written about the train from Seattle to Vancouver. And since I really do enjoy train travel, I have another piece on taking a sleeper car across the country from Seattle to Chicago — a very similar experience to the Coast Starlight version from Seattle to Los Angeles.
Table of Contents
Pandemic Safety
Until the world completely gets back to normal, safety is important and Amtrak works hard to ensure guests wear masks and surfaces are clean. There was hand sanitizer available everywhere and the staff made regular announcements to be safe. Although the food services were limited, they are ramping back up for the Summer. Check the Amtrak website for more updated information.
Amtrak train schedules — the Seattle to Portland train takes about 4 hours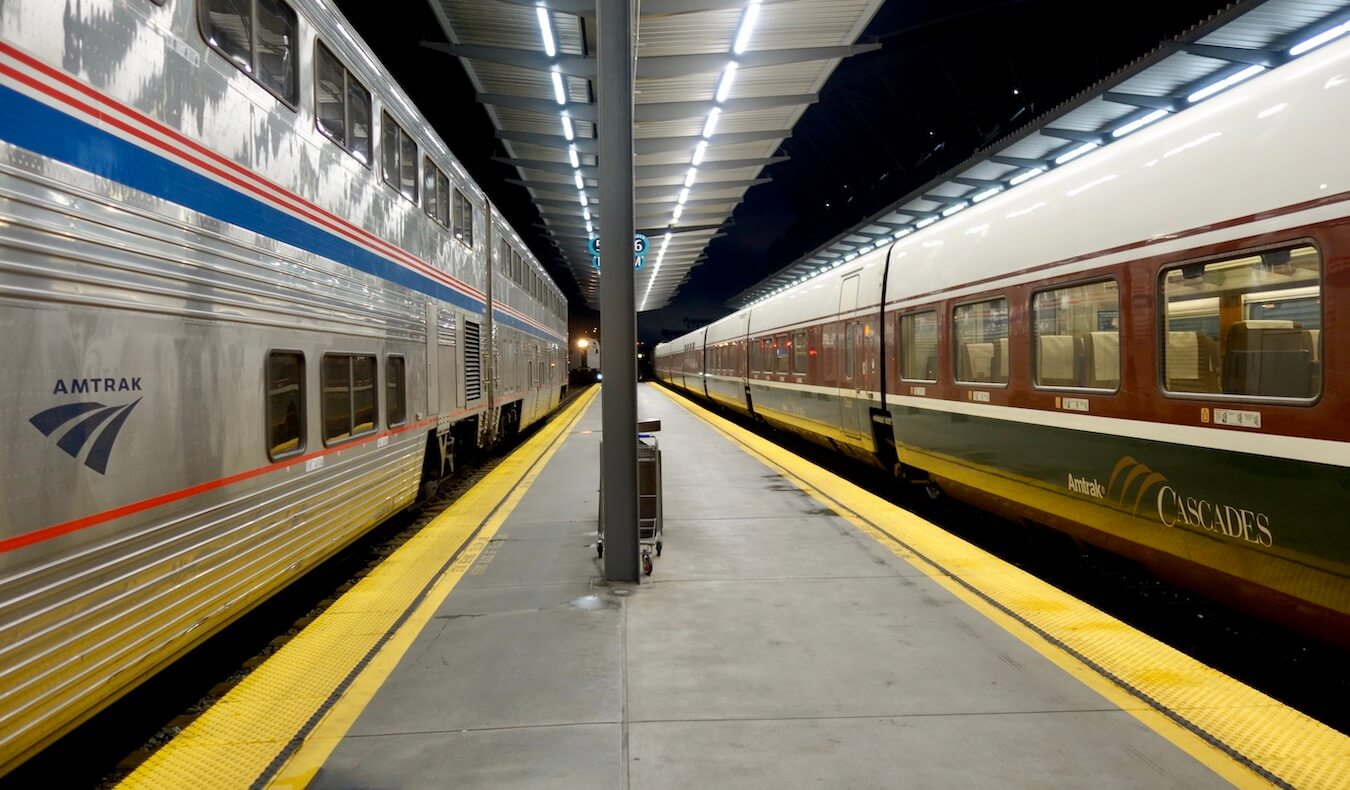 As of the writing of this article (May 2021), Amtrak appears to be edging closer to their normal pre-pandemic schedule between Seattle and Portland, with three Amtrak Cascades trains and the daily long-haul train Coast Starlight — which travels all the way to Los Angeles. The two types of trains offer Business Class and stop at most of the same stations along the way. All together, the four daily trains cover a variety of convenient time bands throughout the day.
Amtrak Cascades
Pacific Northwest regional service on one-level, European-styled trains.
This comfortable ride offers features like WIFI designed to create a seamless business travel experience.
There are plugs at every seat in all classes.
I like the Bistro Car with an elevated offering of Pacific Northwest cuisine, wines, beer and coffee.
Practically speaking, because these trains only run between Eugene and Vancouver, BC*, their timeliness (especially Northbound) is more reliable.
Once a ticket is purchased on Cascades, passengers select seats at boarding and scan their ticket with conductor on the train.
Coast Starlight
Long distance double-decker train with service all the way to Los Angeles.
There are overnight sleeping quarters (for an added fee), a dining car**, and a sightseeing lounge car with skylights.
The extra height of the second floor makes viewing the scenery much easier, and there are also limited seats on the first floor for passengers who prefer not to hike up the narrow staircase.
There are plugs at every seat in all classes and no WIFI on board.
Cell service is spotty on the ride between Seattle and Portland.
Seats can be assigned at booking and tickets are scanned at boarding, along with the colored cards that let the conductor know passenger stops for the long journey.
*At the time of this writing (May 2021), service North of Seattle (except the Empire Builder that turns in East at Everett, WA) is suspended due to the closed USA/Canada border.
**Dining car service is suspended until June 30, 2021. Sleeping car passengers have the option for flexible dining service in their cabins and coach customers offered Cafe service.
It helps to know your Seattle to Portland train city-code jargon and options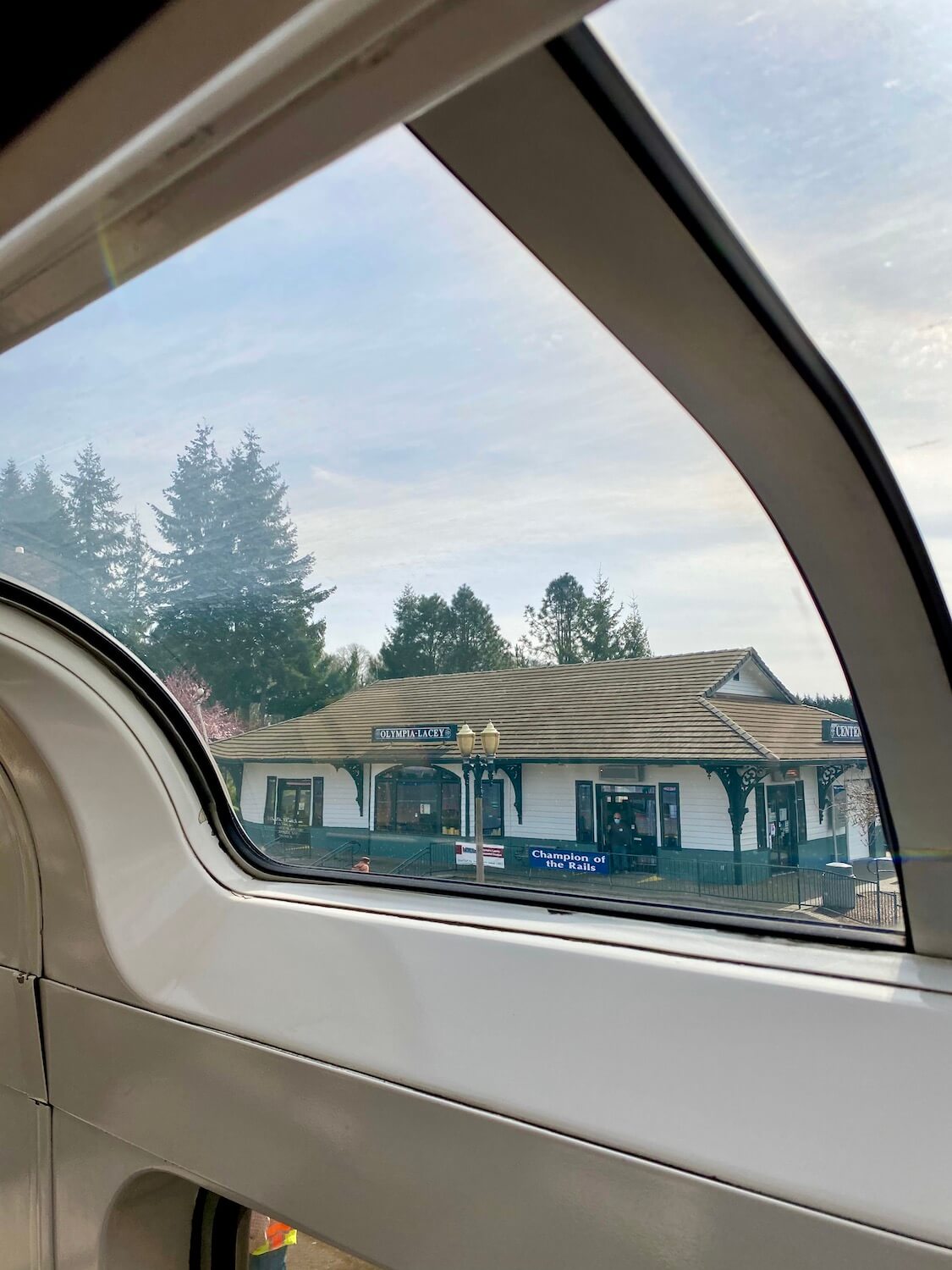 Just like buying an airline ticket, the world of travel assigns a three letter code to every train station or other place to access transportation (like the Victoria Clipper Ferry Dock on Seattle's waterfront). In the case of Portland (PDX) and Seattle (SEA), both the airport code and the train station codes are the same. But in reality, the airports are 10 miles away from the Amtrak Stations — and both are easily connected via public transportation.
The Amtrak booking portal can be somewhat confusing and frustrating if you're not sure which city code to enter. For example, if you just type in "Seattle" you'll get about five to six options, and it'll matter how the schedule options return — since there are bus and boat services offered in conjunction with Amtrak. Using SEA and PDX will save time and ensure you're searching for an actual train ride. It's faster to enter them in ALL CAPS. Also note that there is a Vancouver, Washington (VAN), which is very different from Vancouver, British Columbia, in Canada (VAC).
Amtrak does offer "through-way" service on a series of coaches that feed traffic into Portland and Seattle, so it's possible when looking up a ride between Seattle and Bellingham, for example, that schedules appear. Check the fine print closely because this service will be provided on a motor coach.
Just the train, please…
(SEA) — Seattle King Street Station
(PDX) — Portland Union Station
Now which one was it???
(VAC) — Vancouver, BC, CANADA
(VAN) — Vancouver, Washington (a suburb of Portland, Oregon).
But what about the other cities along the way?
(TAC) — Tacoma, Washington. This major city 45 minutes South of Seattle might be closer to your desired location.
(OLW) — Olympia, Washington. The capital of Washington State and an hour-ish from Seattle by car. Note this station is about 20 minutes from the downtown area.
(SLM) — Salem, Oregon. The capital of Oregon and an hour from Portland by car.
(EUG) — Eugene, Oregon. The Southern terminus of Amtrak Cascades. Also the same as the airport code.
How much does the Seattle to Portland train cost?
Well… like most transportation, it depends. Amtrak uses sophisticated software just like airlines to maximize revenue on a supply/demand basis. Advance purchase timelines are important indicators for pricing, so you'll see the prices go up the closer to the departure date. Or, for popular holidays or weekend travel (Friday-Sunday) the cheap seats allocated for the train will sell out faster (sometimes months in advance), reverting to higher priced tickets. I could go on about this all day since I come from the airline pricing world — but if you have any additional questions about this, reach out to me. The prices are the same in either direction and it doesn't seem to be advantageous to buy a round-trip versus a one-way ticket.
Bottom line, the Seattle to Portland train starts at $27 for a coach seat — each way
Here are some sample prices, which should only be used as a very general guideline.
| Amtrak Sample Fares (May 2021) | Within One Week of Travel | 3+ Weeks Advance Notice |
| --- | --- | --- |
| Cascades Coach | $36 | $27 |
| Cascades Business | $67 | $67 |
| Coast Starlight Coach | $47 | $28 |
| Coast Starlight Business | $67 | $48 |
| Coast Starlight Room (for 2) | $282 | $186 |
| | | |
Traveling with a bicycle on Amtrak
Carry-on bicycle service is offered on Amtrak Cascades for $5 each way and requires a reservation ahead of time. The online booking portal offers the service along the booking path. There are designated bike racks on the trains.
Train-side bicycle check service is offered on the Coast Starlight at select stations and it's required to make a reservation online ahead of time. Upon arriving at the station, contact staff, get a luggage receipt, and hand the bike up to the Amtrak baggage crew loading the car. The fee for this service is $20 or less.
If you're traveling on another Amtrak line or even on Greyhound, learn more — including how to pack a bike in a bag or box — about how to bring your bike on a bus or train.
Is Amtrak Business Class worth it on the Seattle to Portland train?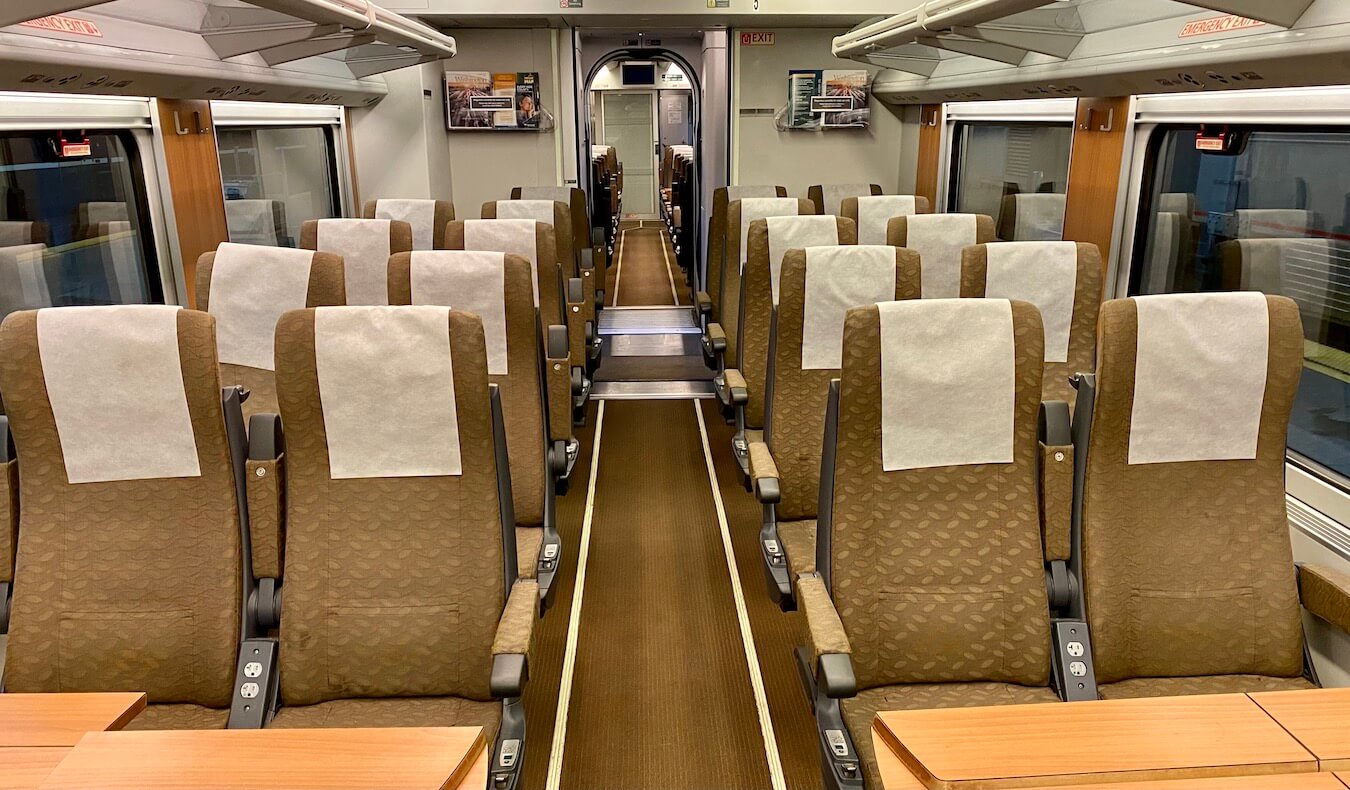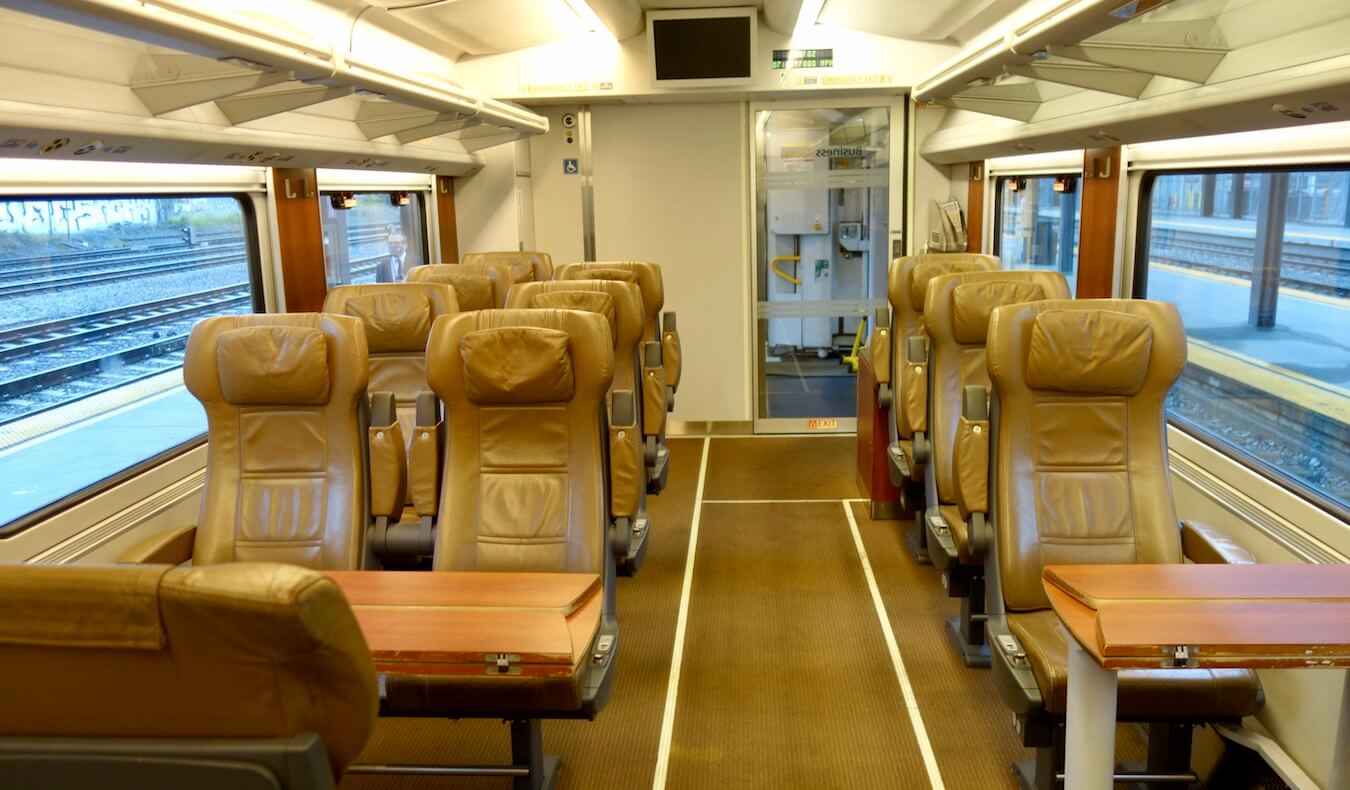 My friend Mike was nice and bought our tickets between Seattle and Portland. I gave him full decision rights, just to see what he'd purchase. The two options were within our time needs. He selected Business Class on the Coast Starlight. I've also taken Business Class on the Cascades (photos above), and coach on both as well.
Amtrak also has a program that allows (if eligible) passengers to bid on a Business Class upgrade. This is done in the booking flow but can also be added later. Enter the price you're willing to pay to upgrade and credit card information and they'll let you know if you "win" the bid — then the credit card is charged and off to Business Class you go.
Business Class on Amtrak Cascades
Seats are in a one-two pattern (or three across) in a luxuriously European feel.
Sells out regularly on this route — business travelers enjoy the space to work.
Business Class car is separated from the coach cars by the Bistro cabin.
Priority boarding and bonus points if you're an Amtrak loyalty member.
Receive a credit for $3 off anything in the Bistro Car and access to the Metropolitan Lounge in Portland (which is small and very basic).
Business Class on Amtrak Coast Starlight
Seats are in a two-two pattern (or four across) but spaced generously between rows.
Lower price on this route compared to Cascades — still ample space to work.
Business Class car is at the beginning or end of the rain (depending on direction) and requires passing through about three coach cars to get to the Cafe and Diner services.
Priority boarding and bonus points if you're an Amtrak loyalty member.
Receive a credit for $3 off anything in the Bistro Car and access to the Metropolitan Lounge in Portland (which is small and very basic).
I didn't notice as much difference between Business and Coach on the Coast Starlight, so that might not be worth the money to upgrade. The Cascades Business Class is really comfortable — especially if you're working. Judging by the way it sells out before everything else, it's worth the splurge to plenty of travelers.
What about a room on the Coast Starlight? Is it worth it?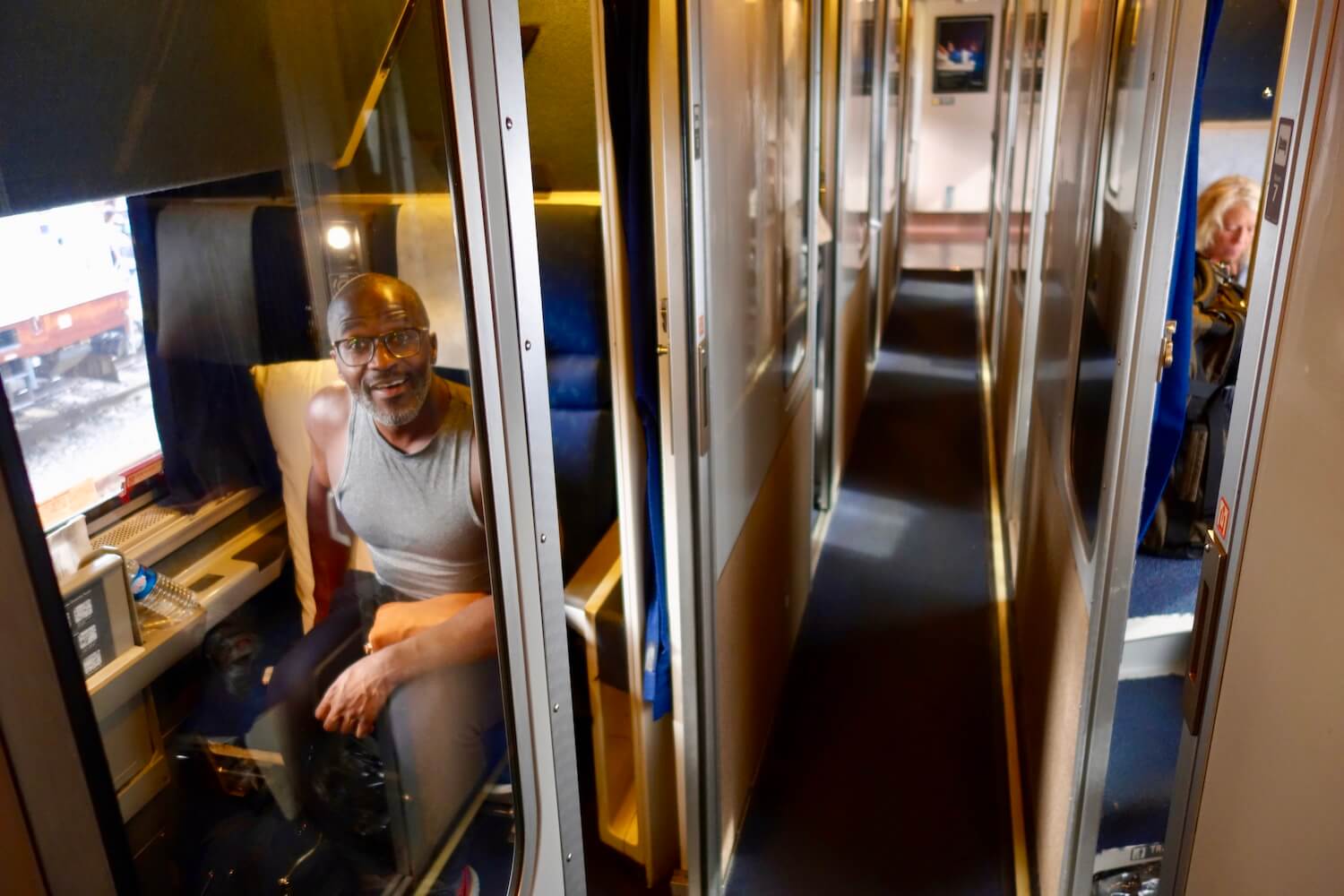 Riding in the sleeping car is a lot of fun. It's definitely worth it if taking a longer train ride, like my journey from Seattle to Chicago on Amtrak's Empire Builder. We stayed in the two person roomette that was just enough room for the two of us to squeeze our man-size bodies (my friend Paris and I are both 6'1) into the space during the day and then sleep in bunks at night. The morning shower was full size with a powerful stream of piping hot water. And, it's fun to walk down the corridors, imagining romantic images of the past, to the diner car, where food is complimentary at meal times (and pretty tasty for riding on a train).
Bottom line — unless going for the novelty — for the added cost and relatively short travel time (around 4 hours between Seattle and Portland), you get much more space in Business Class.
Where is the best scenery? How we spent our time on the train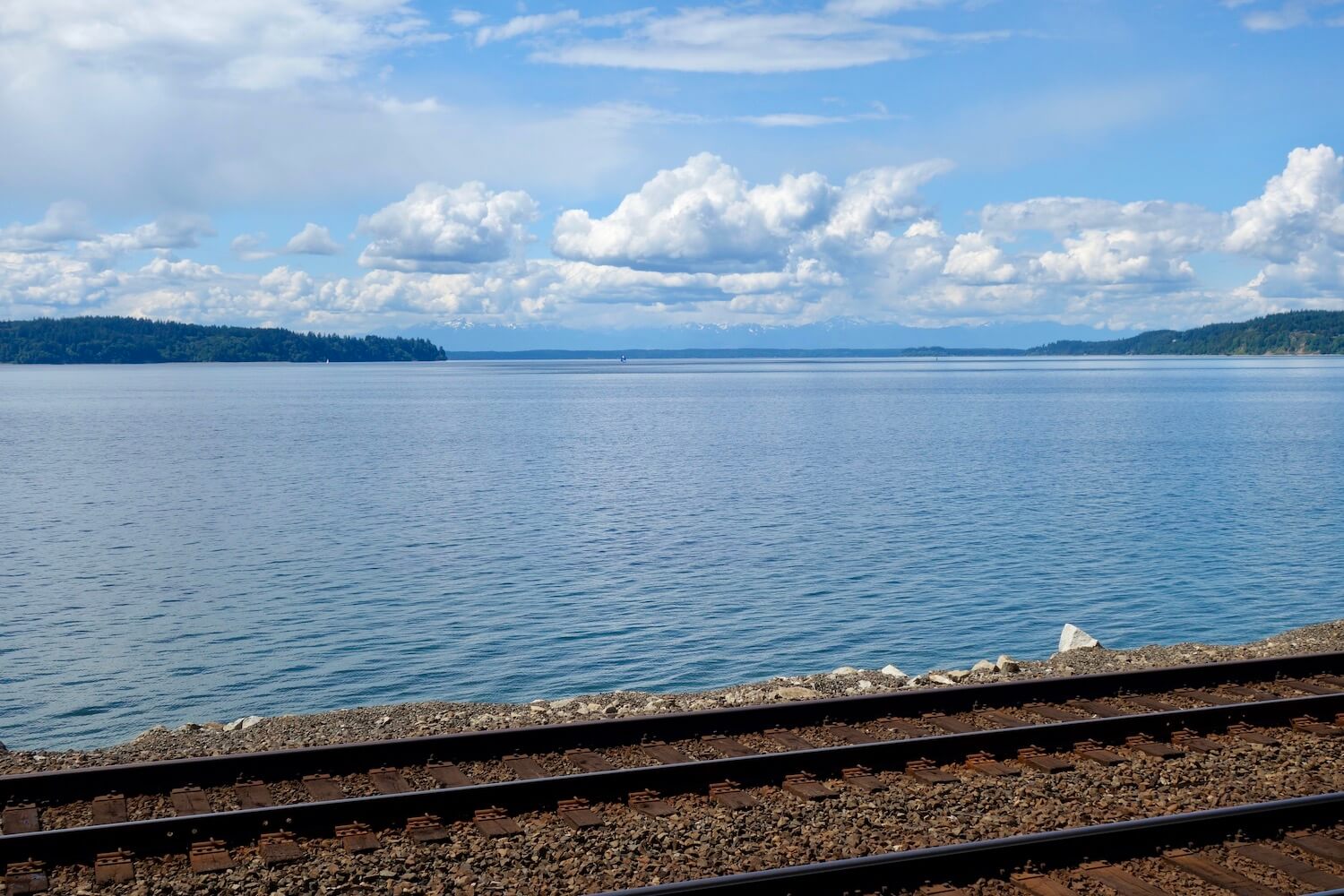 Business travelers are usually working the whole way and the Cascades experience caters to this with the relaxed Bistro Car. However, if you're like me and love to take in the complete experience, here is my play-by-play recommendation from our recent journey.
9:30 — We show up at Seattle's King Street Station and step in line to see an Amtrak employee for seating. Although we already have assigned seats (from the online booking path) he issues us a white white card stock of paper to give the conductor. This is only for the long-distance trains that make 25 or so stops, not the regional Cascades system.
9:40 — We board the train and the conductor checks our card and tucks it into the luggage rack above our heads.
9:45 — Push off on time. After we get all our belongings secured we immediately make our way to the Cafe Car. The Diner car is the next one down and it's possible to make reservations for meals there based on time of day — in our case Lunch.
10:15 — we're loaded up with refreshments as a large line forms with everyone else wanting food. Since I rushed out of the house in the morning I got mac-n-cheese, the breakfast of champions. It's delicious. Mike gets a breakfast sandwich. We enjoy our food and beverages on the upper level of the Cafe Car, which is the sight-seeing part of the train with tables and skylights.
10:30 — Eastern views from the train hone in on majestic Mt. Rainier. She pops in and out of view in this section of the track.
10:37 — We pull out of the Tacoma station and get ready for the beauty of the Salish Sea. For the next 45 minutes the train makes its way along tracks next to the water, making this a scenic highlight. Since we're seated on the east side of the train (in this case left-hand side) we stay in the Lounge Car to gaze out at the waves lapping onto pebbly beaches, with the Olympic Mountains in the background.
11:30 — I do some writing on the large Lounge Car table while Mike gets updated on social media.
12:00 — We return to our seats and take a quick nap.
12:45 — A few minutes from the Kelso-Longview station I drag Mike back to the Lounge Car so we can view the vast Columbia River, again on the west (right-hand) side of the train. We get a few more snacks.
1:18 — The train leaves Vancouver, WA, and we're back in our seats for the final duration of the trip. I message my brother to head to Portland's Union Station to pick us up.
2:00 — We arrive on time to Portland's Union Station.
I'm not always this kinetic on the train ride, but because the weather was so clear and it'd been a minute since I traveled this Seattle to Portland corridor, I wanted to see all the sights. I did forget, however, to remind Mike to reserve our seats on the western viewing side of the train. This is important to get the best scenery on this route — in either direction.
Seattle to Portland train — key planning considerations
Seattle (SEA)
There are two train stations in Seattle, very near each other. One is a commuter terminal and the other is the Amtrak Station. You want Seattle King Street Station. This station feels like you're down at ground level.
If you need a nearby hotel, the Embassy Suites by Hilton is located a block away and is a great option.
If you're hungry and have a little time, 13 Coins Seattle is a local favorite and is open late on weekends. There are also a lot of other places to eat in the Pioneer Square area of Seattle, just a few blocks away.
Be sure to select a seat on the West facing side of the train (right-hand side) to view the water along the way.
Seattle-Tacoma International Airport (Seatac Airport) is 12 miles and about 20 minutes by car away from Amtrak's King Street Station. The two are connected by convenient light rail that costs $3 and takes 32 minutes.
Portland (PDX)
The Coast Starlight originates in Seattle, making the southbound service relatively reliable. Or, at least it will leave on time. However, since the northbound version begins the long journey from Los Angeles over 30 or so hours prior, it'll very likely leave Portland late to get to Seattle. Check the status of this train — or take Amtrak Cascades Northbound.
Union Station in Portland has better concessions than Seattle, making it possible to buy light snacks and beverages right in the historic terminal.
The closest hotels to Union Station, walking, are Hampton Inn and Suites, Portland Pearl District and The Society Hotel – Portland. There is also a Residence Inn by Marriott but it's awkwardly behind the massive Post Office — still very close to the train station.
The Metropolitan Lounge in Portland is available for Business Class passengers and can be hard to find. It is located on the right-hand side of the main great room, just after the doors leading to the tracks. People line up here to board so you might need to weave through the crowds.
Be sure to select a seat on the West facing side of the train (left-hand side) to view the water along the way.
Even if you check in on a mobile device or at a kiosk inside the terminal, it's important to queue to receive the card with seat assignment to give the conductor.
Portland International Airport is 12 miles and about 20 minutes by car away from Amtrak's Union Station. The two are connected by convenient light rail (transfer required) that costs $2.50 and takes a little over an hour.
General Considerations for Seattle to Portland train
Since Amtrak does not own their tracks, it's common for freight trains to take precedence over passengers, causing waiting "on the side of the road" and delays. Be prepared to be patient.
For trips on the Coast Starlight — even if you check in on a mobile device or at a kiosk inside the beautiful nostalgic terminals, it's important to queue to receive the card with destination to give the conductor.
If you're visiting friends or family in either Seattle or Portland metro areas, ask them which station is most convenient. Sometimes the answer could be Tacoma for Seattle or Vancouver, WA, for Portland. You need to buy a ticket for the exact routing — it isn't like a bus where you can jump off.
Speaking of jumping off, the conductors frown heavily on getting off the train along the way, unless it's a designated "smoke break" stop. It's possible to get left behind.
I've always felt safe on Amtrak, but be aware of your surroundings and don't leave valuables in plain sight if you stroll to the restroom or cafe car.
This said, people are usually very friendly on the train. Chat with your neighbors to see where they're headed. If you're on the Coast Starlight, you could get some interesting answers.
Both Seattle King Street Station and Portland Union Station are perfect locations to jump on public transportation and/or just walk through interesting parts of both downtown areas. You will probably see people with unstable housing, but in general they will keep to themselves. I feel comfortable in either city at any hour, but if homelessness makes you feel uneasy, keep this in mind for the time of arrival/departure.