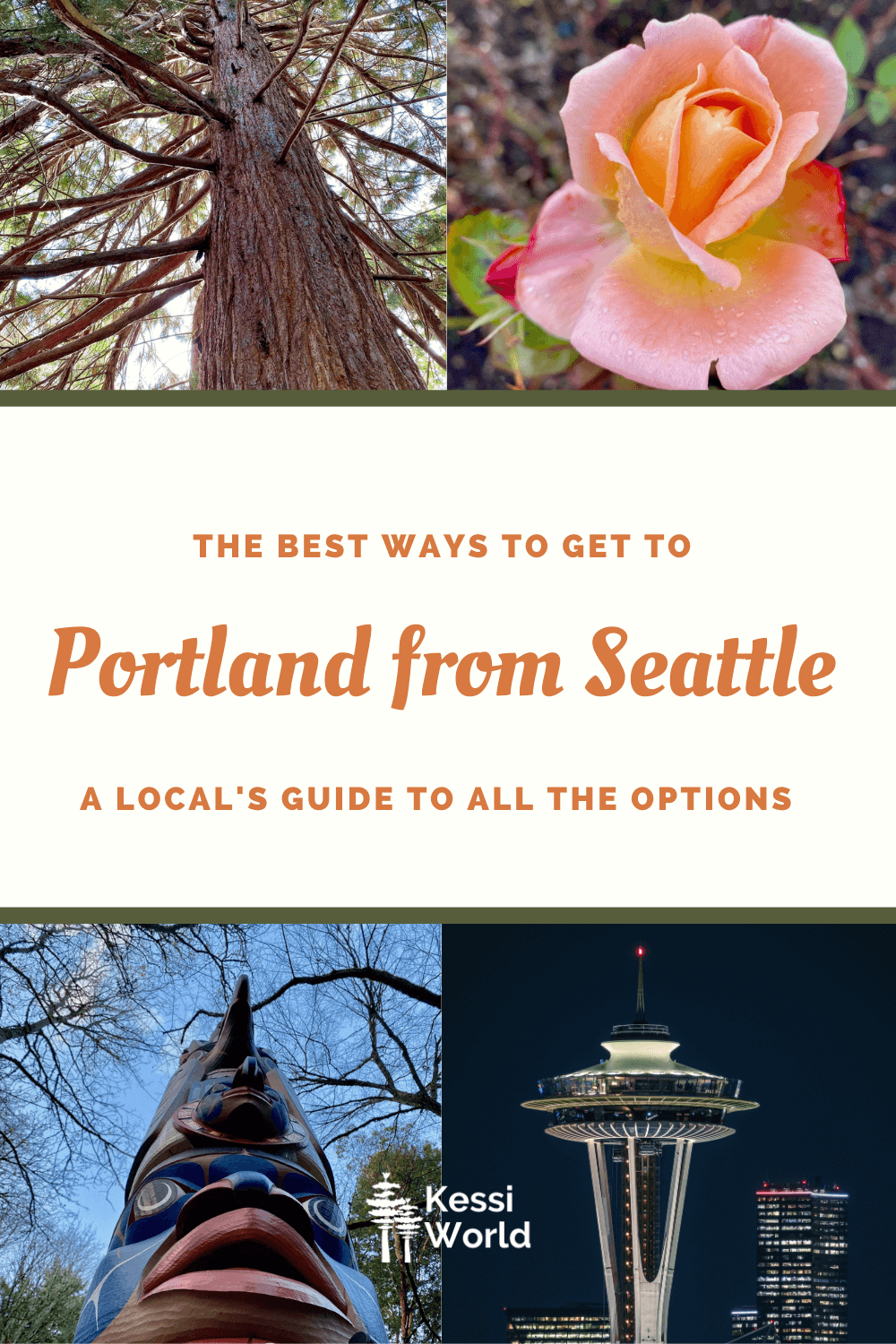 The Pacific Northwest is a relatively open space of land that makes up diverse beauty. The population of Washington is 7.6 million and Oregon hails around 4.2 million people, for an area larger than the size of Germany, which has 83 million people. Yet, most of the population in the region centers around the two metropolitan areas of Seattle, Washington and Portland, Oregon. Since both cities are popular with visitors — offering unique experiences — it makes sense to see them both on a visit to the Pacific Northwest. Yet, when planning a journey, what are the best ways to get to Portland from Seattle and vice versa?
This article offers the best ways to travel to Portland from Seattle
My entire life has been a tale of two cities — traveling between Portland and Seattle for years. My mom is from the Seattle area and we grew up just outside Portland, so family travels between the two populated areas took place several times a year. Early on, we always drove, which is a practical option for a family. Sometimes my mom took us on the train to visit relatives and as an adult I've flown between the Emerald and Rose cities hundreds of times.
So, follow along on this guide which is divided into several main sections:
Table of Contents
Drive from Seattle to Portland
| CATEGORY | METRIC |
| --- | --- |
| Average Time | 3 hours |
| Experience | ★★★ |
| Estimated Cost | $27 each way |
| Notable attribute | Convenient and affordable |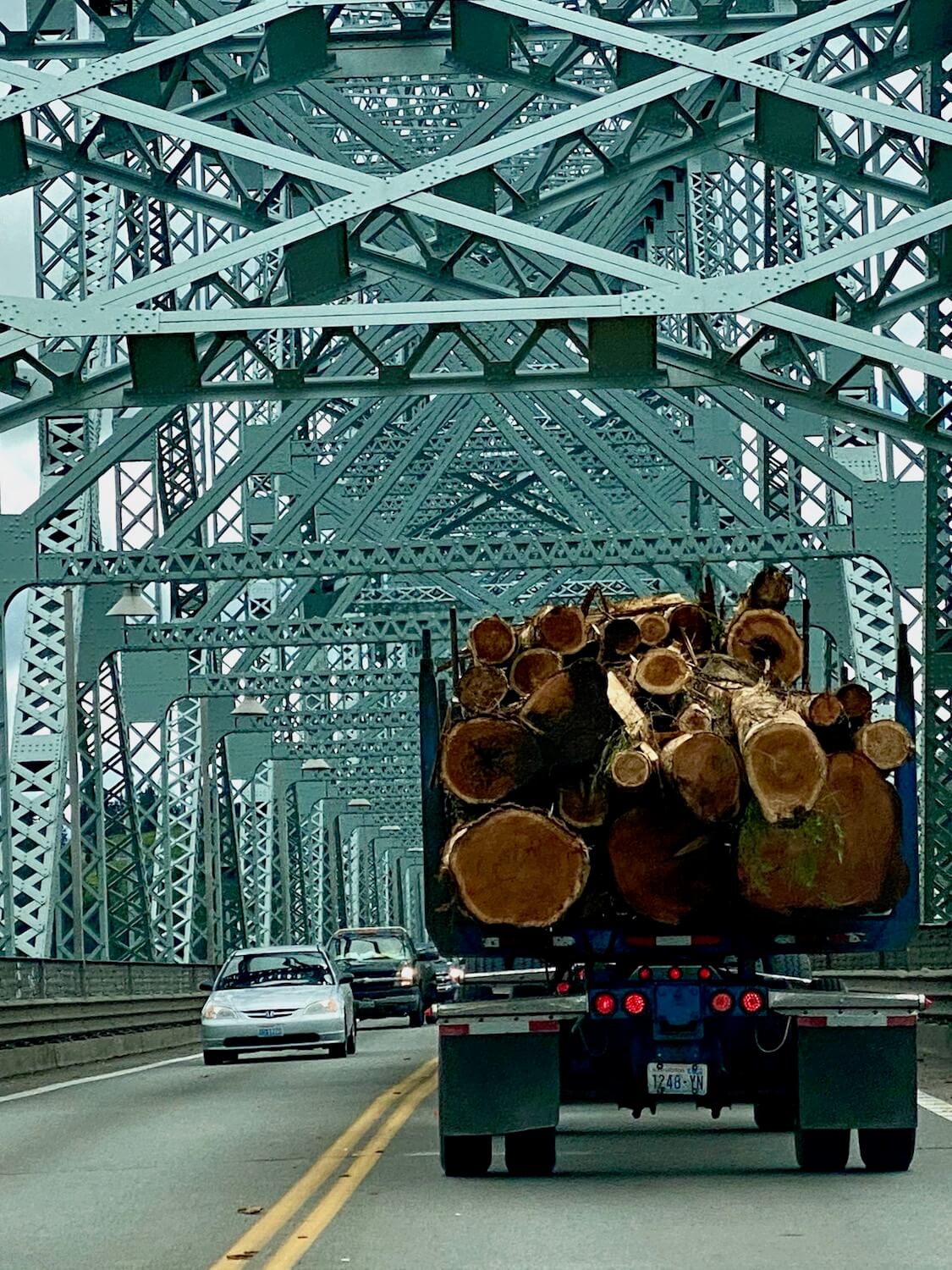 Personal Vehicle
The easiest and most cost effective way to get to Portland from Seattle is to set out by vehicle, utilizing a buzzing Interstate 5 (I5). I've even written an article on how to plan the day to make interesting stops along the way. Depending on the location in either city, the drive is around three hours in normal traffic.
Since there is really no viable quick option other than I5 (see Pacific Northwest road trip options below), beware of traffic hurdles. Trucks and recreational vehicles tend to clog the freeway in the Summer months, peaking in August while Friday and Sunday afternoons can be thicker with weekend travelers year-round. Rush hour considerations are also important when planning and it's not advised to be driving in or around Portland, or anywhere in the area between Federal Way and Olympia, Washington between 3-6pm. Consult Waze or GoogleMaps and make stops along the way to avoid traffic snarls.
The cost to make this drive varies, and for the metric chart above I used an average of $3/gallon for gas in a vehicle that gets 20 mpg for one person. Clearly, this can be more efficient with a carload of passengers.
For meal planning along the way, Centralia, WA and Chehalis, WA are halfway between Seattle and Portland and a make great areas to quickly pull off the road for gas and grub. There are plenty of Starbucks choices and I'm a big fan of Burgerville USA, a chain that uses local, sustainable ingredients — located just off exit #82 (Harrison Avenue) in Centralia (also in Kelso at exit #39 and Woodland at exit #21). If shopping is required there is an outlet mall in Centralia off the same exit #82 as Burgerville USA.
Rest stops along Interstate 5 are located (from North to South) in Federal Way, South of Lacey in Maytown, Toutle River just North of Castle Rock, and the Ridgefield area, North of Vancouver, WA. While there aren't exit numbers, the bright blue signs are well marked with plenty of advanced notice.
Rental Car
Without a personal vehicle it is possible to rent a car in either Seattle or Portland to make the drive. Most rental car companies have offices at either airport and fees for a one-way drop-off vary by brand and time of year. One-way car rentals start at about $80/day, including the drop fee. A car rental will be more economical for longer trips (see Pacific Northwest road trip below) or a journey where pickup and drop-off is the same location — starting at around $30/day for an economy rental. Also, airport taxes are usually higher than other locations in the city, so it's possible to shop around with the understanding that more vehicles and pricing options are available at the airport rentals.
Ride Share / Taxi
Uber, Lyft and taxis all offer long-distance ride options between the two metro areas. Prices really depend on the demand at the time and not all drivers will accept such long journeys. Expect to pay somewhere in the neighborhood of $300 one way for an entire vehicle, or $100/hour.
Seattle to Portland by train
| CATEGORY | METRIC |
| --- | --- |
| Average Time | 4 hours |
| Experience | ★★★★★ |
| Estimated Cost | $27 – $47 each way |
| Notable attribute | Most relaxing |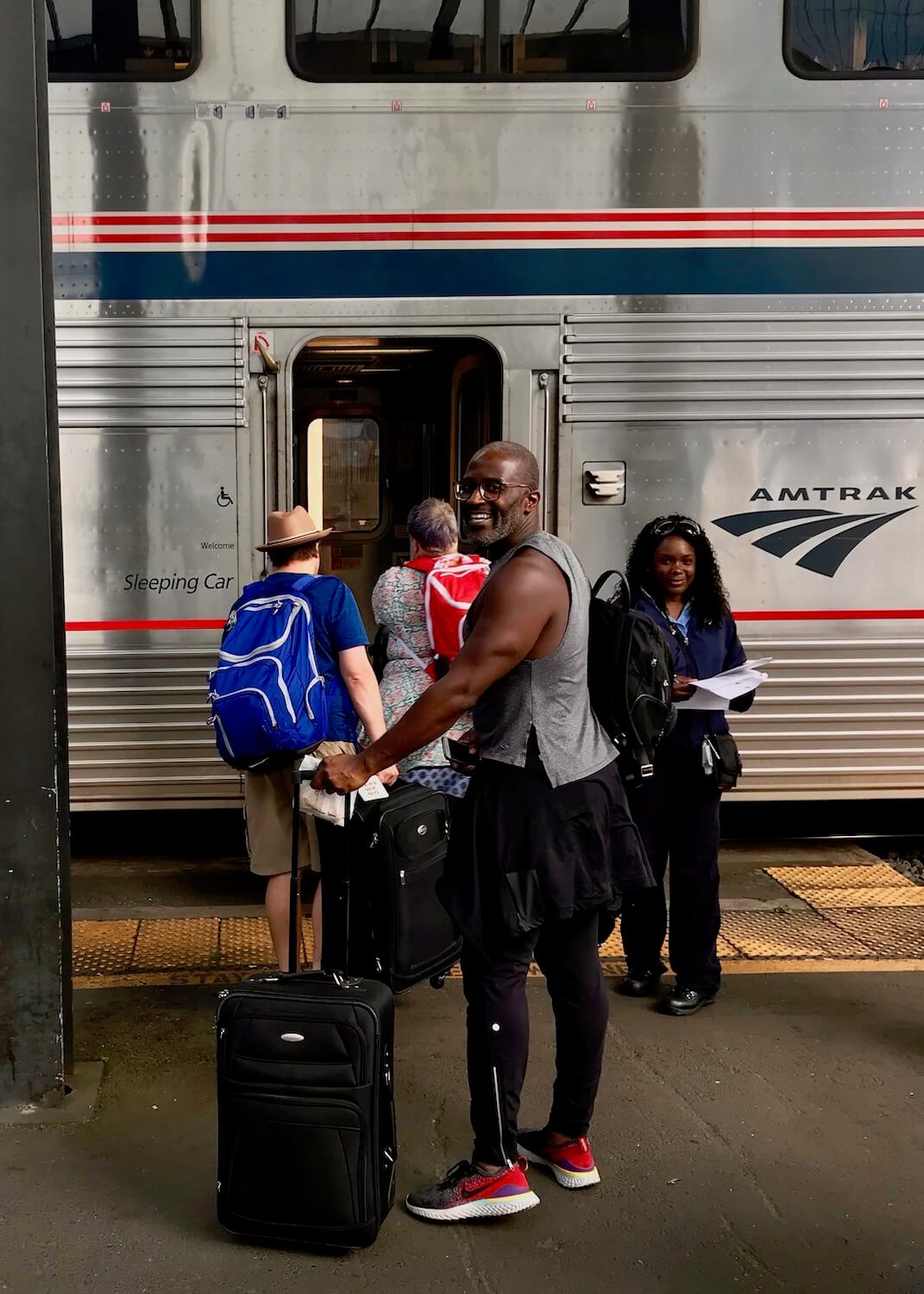 Sometimes as a treat my mom would take us on the train. I write about this in my post about the Amtrak Empire Builder. At the time of this writing (February 2021), Amtrak has only one daily train between Portland and Seattle, and the journey takes about 4 hours. Frequency should increase to about 4 trains per day when travel begins to return to normal. The local service is branded Amtrak Cascades and can be a comfortable, scenic way to connect between the two metro areas. Another benefit of taking the train is the ability to start and stop in the center of either city.
Similar to the Amtrak Empire Builder, which travels between Seattle and Chicago, the iconic Coast Starlight makes the 36 hour journey between Seattle and Los Angeles, stopping in Portland and Eugene along the way. This service offers a higher perch atop double-decker trains, featuring a cafe, dining, and sleeping cars. At the time of this writing (February 2021) the Coast Starlight operates tri-weekly — providing an extra option between Seattle and Portland three days a week.
The overall experience is relaxing and scenic but one potential downside should be considered — since Amtrak doesn't own the rail lines, there can be delays in the middle of nowhere to wait for freight trains to pass by.
Consider other city pairs
Between Seattle and Portland, the Amtrak Cascades also makes stops in Tukwila, Tacoma, Olympia-Lacey, Centralia, Kelso-Longview and Vancouver — all in Washington State. The train also continues beyond Portland, stopping in Oregon City, Salem, Albany and Eugene, Oregon. This allows some mixing and matching that might result in better alternatives — say riding from Tacoma to Eugene, for example. Generally speaking, all these station stops are along the arterial Interstate 5 corridor.
Flights from Seattle to Portland
| CATEGORY | METRIC |
| --- | --- |
| Average Time | 45 minutes |
| Experience | ★★★★ |
| Estimated Cost | $49 – $149 each way |
| Notable attribute | Fastest |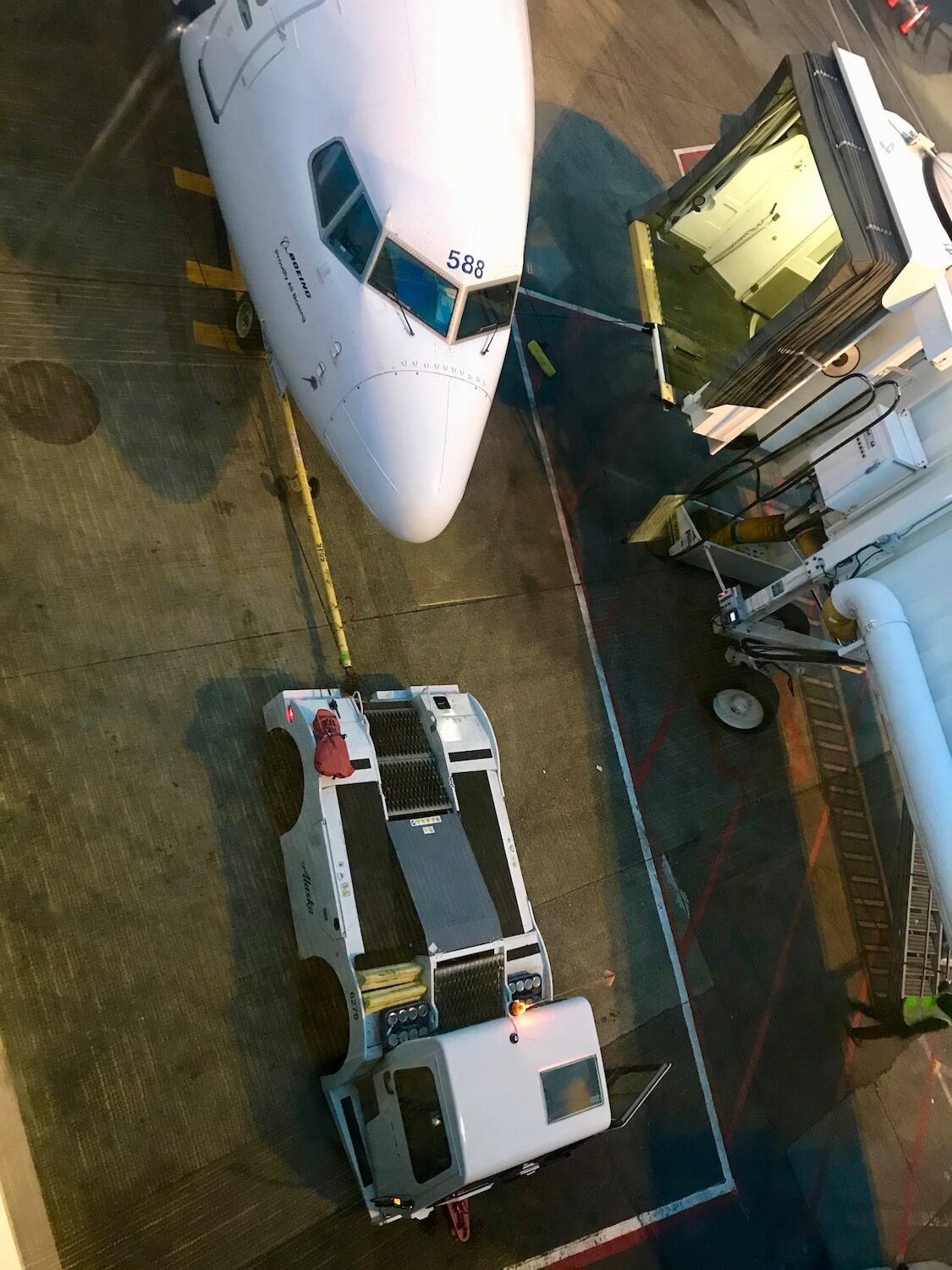 In my days working as an airline sales manager in Portland for a Seattle based company, I flew between Portland International Airport (PDX) and Seattle-Tacoma International Airport (SEA) what felt like weekly, so I know these airports and the process very well. Frequent flights connect PDX with SEA almost hourly. The flight is a quick 45 minutes and TSA security (in general) runs efficiently to still offer time savings when compared to other options.
Both airports are connected to their downtown cores with light rail systems. Portland's system is called Tri-Met and takes 50 minutes and $2.50 to get between PDX and Pioneer Square in the center of the city. The system in Seattle is called Sound Transit and takes 45 minutes and $3.00 to land in the downtown city core (fares accurate at the time of this update February, 2021).
On a clear day the icing on the cake is witnessing the stunning beauty of the Cascade Mountains, from Mt. Hood to Mt. Rainier, in their inspiring glory. Sometimes the pilots can circle around the crater of Mt. St. Helens, adding a unique flight-seeing component to an otherwise routine mode of transportation.
Commercial airlines
Alaska Airlines and Delta Air Lines both fly the route to Portland from Seattle, but since Alaska offers about double the frequency (about 14 flights each way per day, more in the Summer months), I'd start there. More flights usually means more seats available to sell at discounted prices, and the variety of flight times can suit any travel requirements. Another perk of the frequent flights is that it can be possible to take an earlier plane when traveling without checked luggage.
Alaska flies a variety of aircraft, including 76 seat turbo-props, regional jets and large mainline 737's, so if equipment type matters, be sure to pay attention when booking. Delta utilizes 76 seat regional jets.
Flight prices vary widely and are usually much lower when purchased at least two weeks in advance. A "walk-up" fare will be more expensive because the airlines sell the convenience of a last minute seat at a premium (think business travelers who change flights a lot).
For those not familiar with Alaska Airlines, since I worked there for 25 years I can attest that it's a great company with high ratings for both service and safety. Plus, Alaska is joining the Oneworld Airline Alliance program in 2021, which includes partners like American Airlines, British Airways, Cathay Pacific, Japan Airlines and Qantas — allowing points to be earned on these airlines when taking Alaska flights.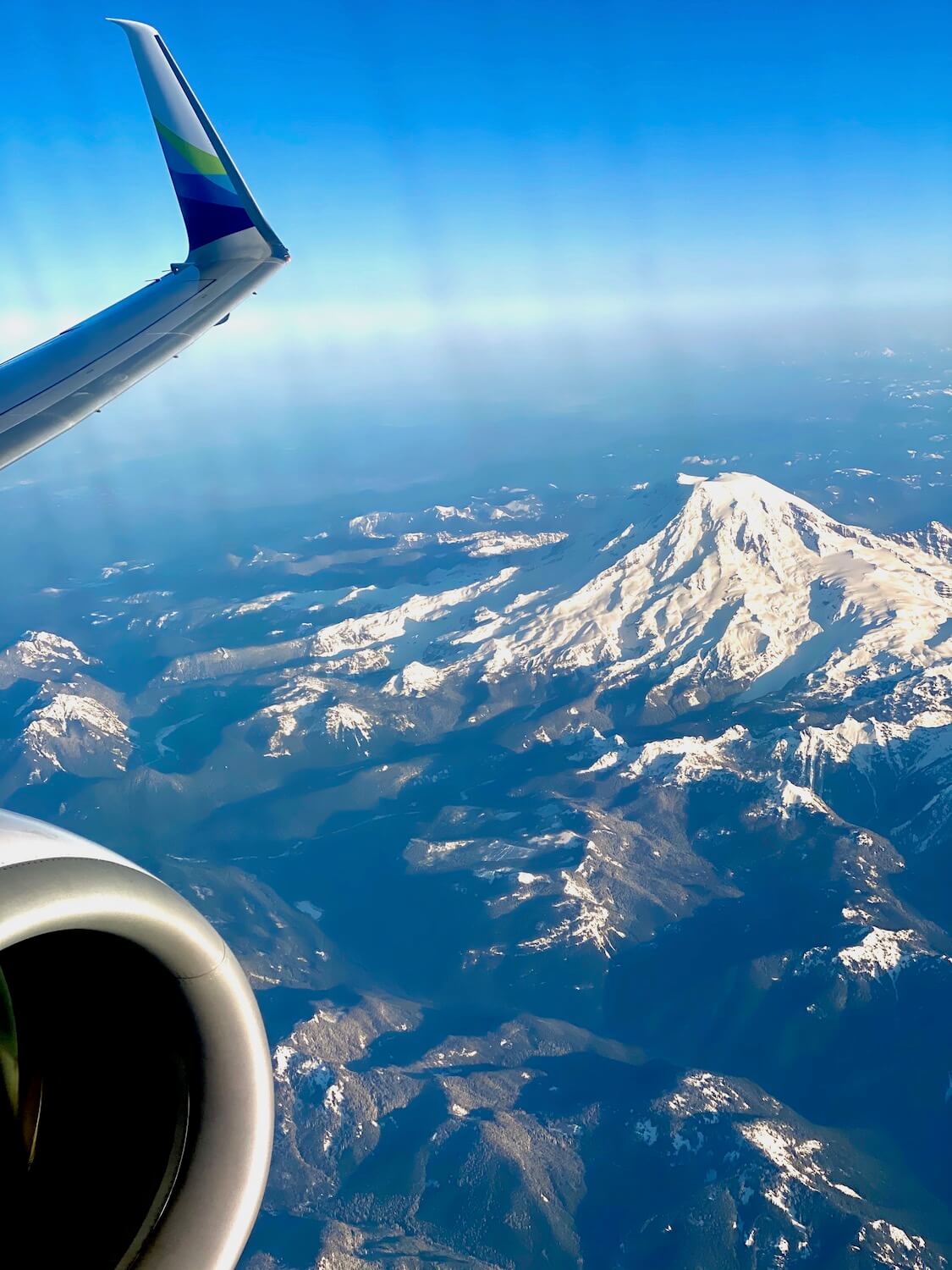 Charter airlines
This is technically possible but at a much higher expense. Paramount Business Jets operates from both Seattle/Tacoma (SEA) and King County/Boeing Field (BFI), which is closer to Downtown Seattle and can fly to Portland International Airport (PDX).
Consider other city pairs
Depending on the travel needs, consider that flights exist between Seattle and Eugene (EUG), Portland and Everett Paine Field (PAE), and Portland to Bellingham (BLI). Sometimes these options offer a better alternative. Eugene is about 100 miles from Portland, Everett is a suburb 28 miles north end of Seattle, and Bellingham is 88 miles from Seattle and 54 miles from Vancouver, British Columbia. All these airports are along the arterial Interstate 5 corridor.
Note: Due to the coronavirus pandemic, at the time of this writing (February 2021) normal transit between the United States and Canada is prohibited and some of the markets listed above might be temporarily suspended. Check the airline websites for updates.
Bus from Seattle to Portland
| CATEGORY | METRIC |
| --- | --- |
| Average Time | 5 hours |
| Experience | ★ |
| Estimated Cost | $17 – $80 each way |
| Notable attribute | Affordable |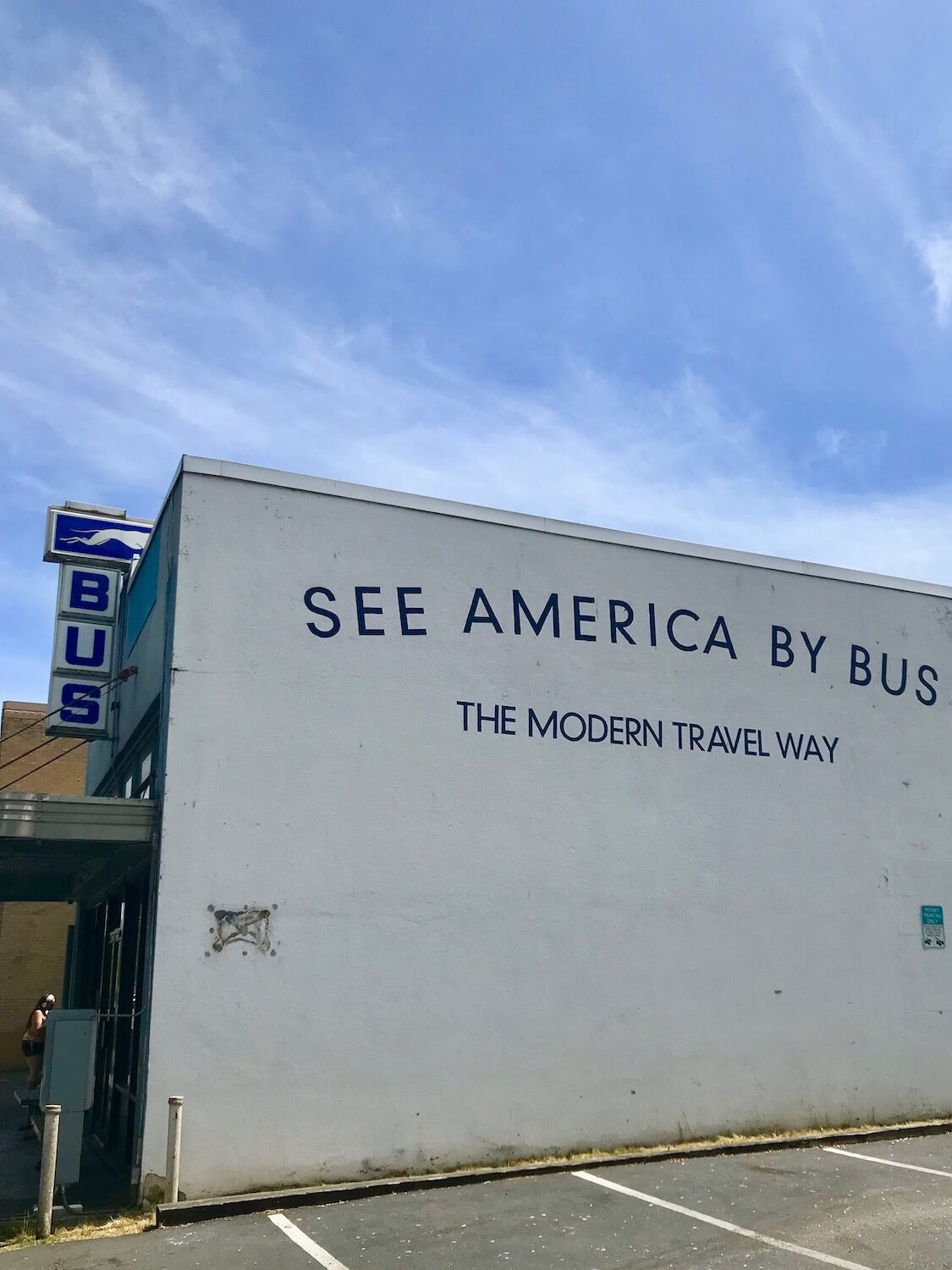 BoltBus
Bus options also exist between the two cities and can be the most economical version of the trip — as low as $21 each way. BoltBus is a premium express service known for more comfortable coaches with individual power outlets and wifi. They operate from two central locations in both Seattle (King Street Station area and Greyhound bus station) and Portland (Lloyd Center and downtown Greyhound bus station). In Seattle, I recommend the King Street Station area, which shows up as "Seattle" on searches because it's better connected to transportation options. The Portland stops are both near the TriMet light rail system, but the Greyhound bus station is conveniently located in Downtown Portland.
At the time of this update (February 2021), there is one bus each day in either direction and the total duration between Seattle and Portland is around 5 hours because there are stops along the way in Tacoma, Olympia, Centralia, and Kelso before reaching Lloyd Center in Portland and vice versa.
Greyhound
Greyhound is the traditional bus line for travel to Portland from Seattle and offers a more streamlined product, although recent upgrades on many busses are akin to BoltBus — with wifi and individual power outlets. The schedules are pared way back these days but it's possible to piece together a Greyhound itinerary, depending upon the specific needs. In general, however, recommendation is to stick with BoltBus.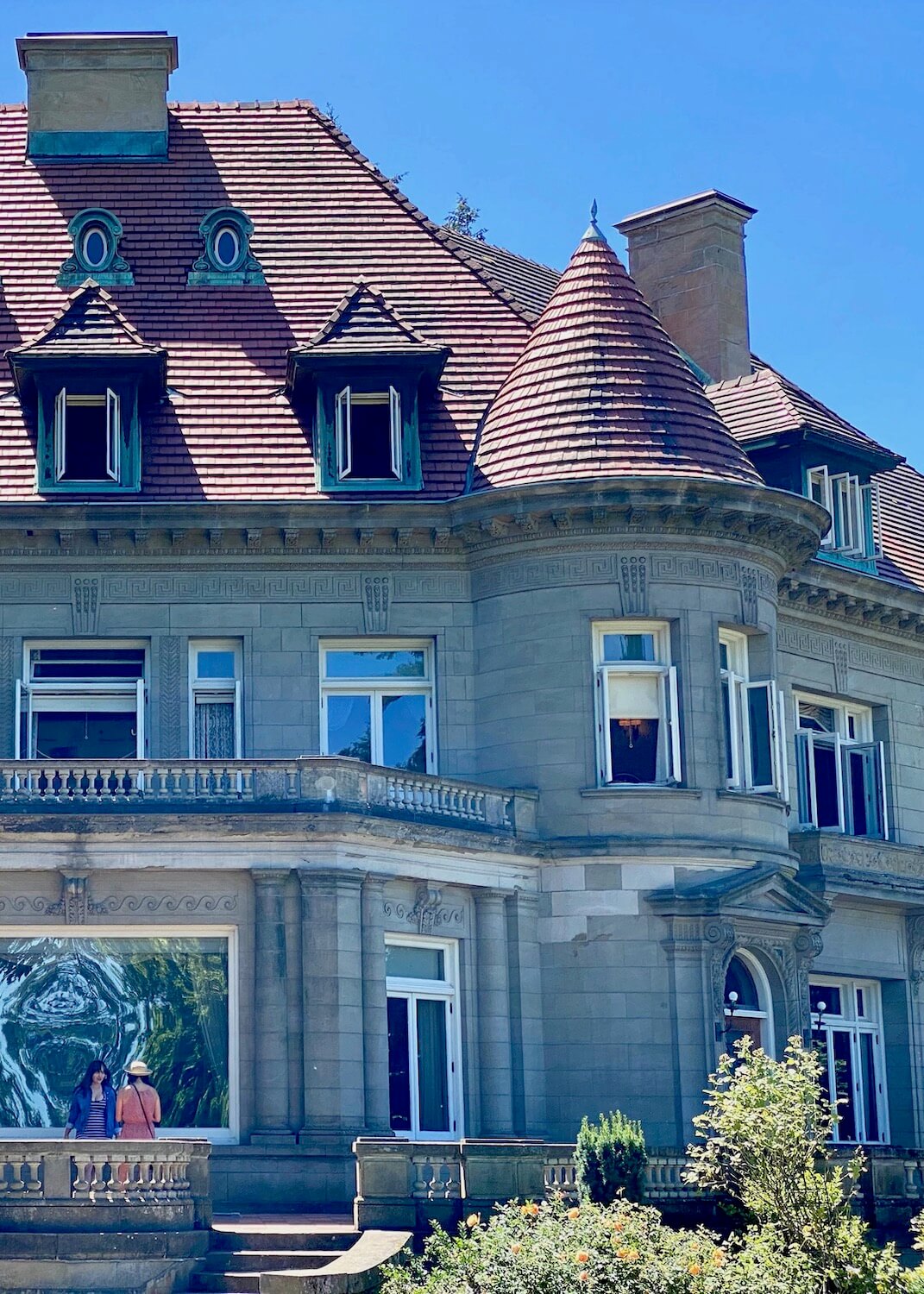 Rome2rio
Just in case I've missed anything, search for any other options to Portland from Seattle, including shuttle services (which don't normally operate such long distances) using rome2rio. Be careful with entries for Portland from Seattle because many of the options are "in theory."
Scenic Pacific Northwest road trip to Portland from Seattle
The Pacific Northwest is a sparsely populated area of the United States, and as a result there are not a lot of highways between the main cities. After I5, the options are winding country roads. In another article, I go into more detail on three excellent itinerary options — including detailed maps. The photo below was taken near Lake Crescent Lodge in the beautiful Olympic National Park.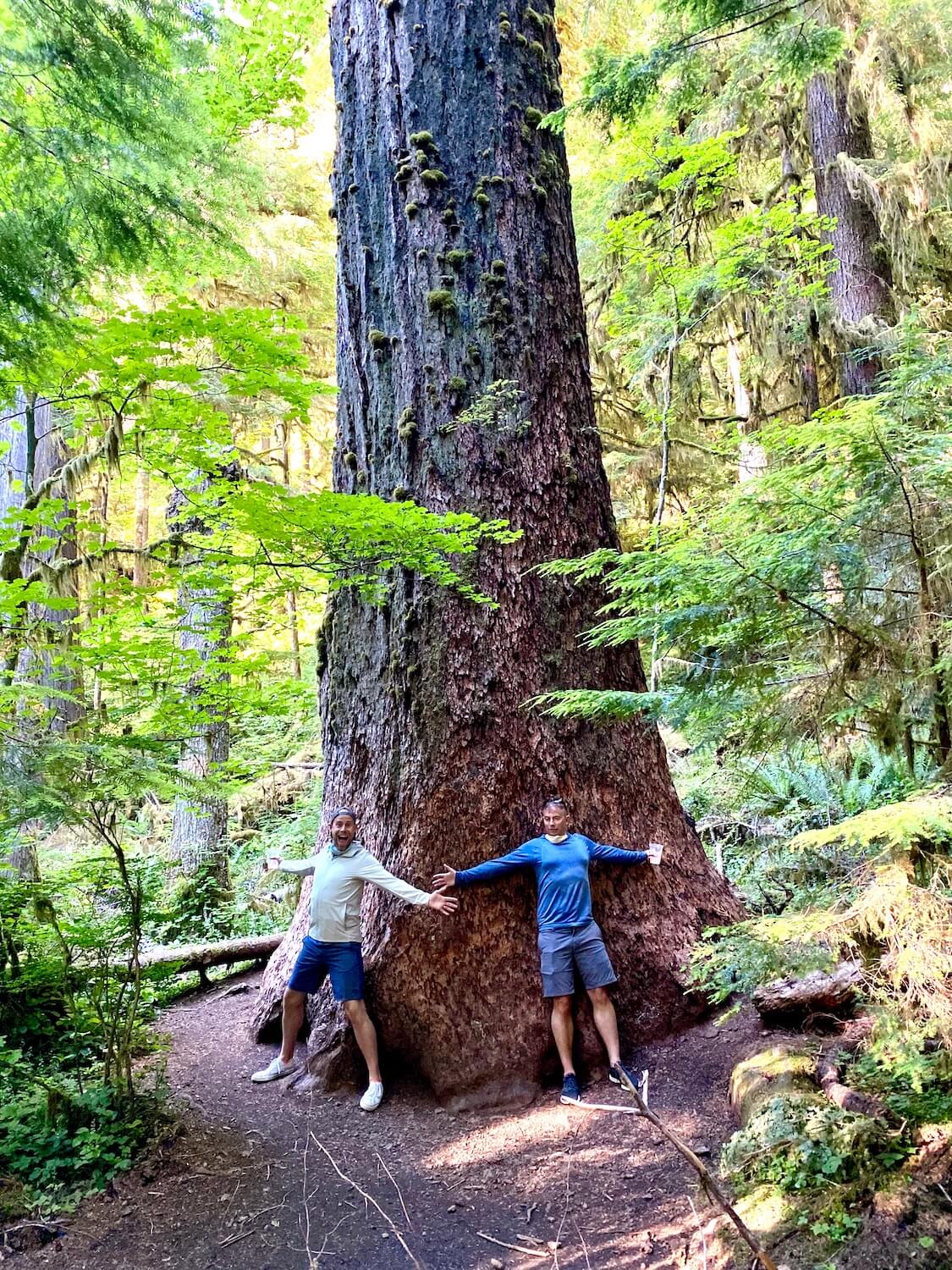 Find the perfect way to Portland from Seattle — let me help you
I love to help plan exploration around the Pacific Northwest so please reach out to me for more itinerary ideas by social media or send me an email: [email protected]