Waking up in the middle of the Rocky Mountains in the sleeping car of long-distance Amtrak train Empire Builder is an amazing experience. Acres of fir trees race by as we weave in and out of rushing mountain streams, the tracks constantly turning. The train pulls into the Whitefish, Montana station, giving us our first chance to step onto stable ground since leaving Seattle the afternoon before. The sun is shining and the blue of big sky country is all around us. The air is pure with pine scent and a touch of railroad tie flavor. People rush on and off, with back packs, bikes, kayaks, pets and life. Almost as quickly as we chugged up the mountain, the conductor yells, "All Aboard!!!!" and we're on our way again.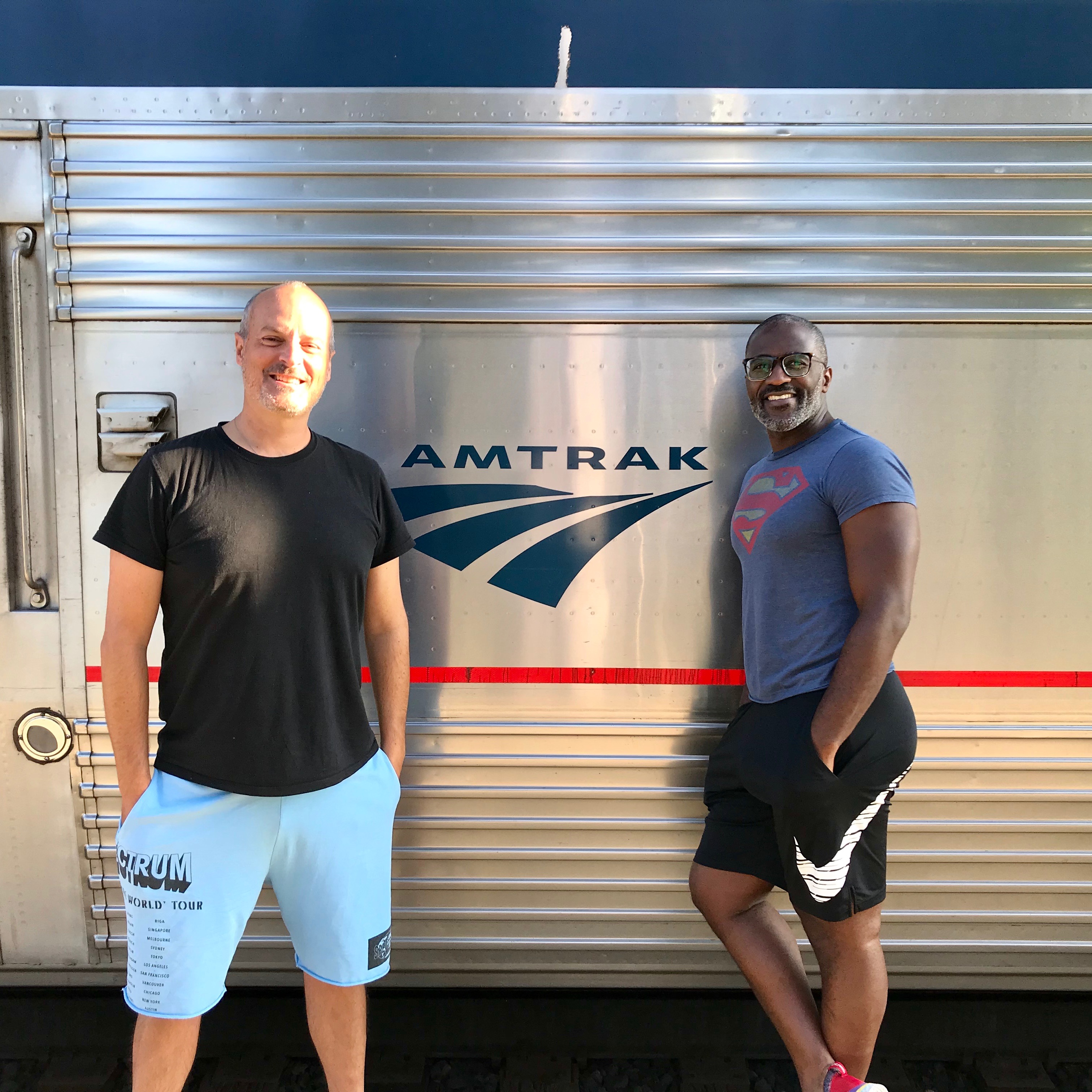 Prologue
I'm a nut about airlines, and I've written before about my vast collection of airline timetables. For more information check out The airplane geek in me. And while I've always looked up to the sky to see the planes fly by, in my early years my first exposure to the love of "GO" was on the train.
For a treat my mom would take us from Portland to Tacoma on the train to see our grandmother. A few times I even got to go on my own, which was ultimate freedom in the world at the time. I loved these short, three hour rides but my heart always yearned to take the longer distance trains with sleeping compartments and dining.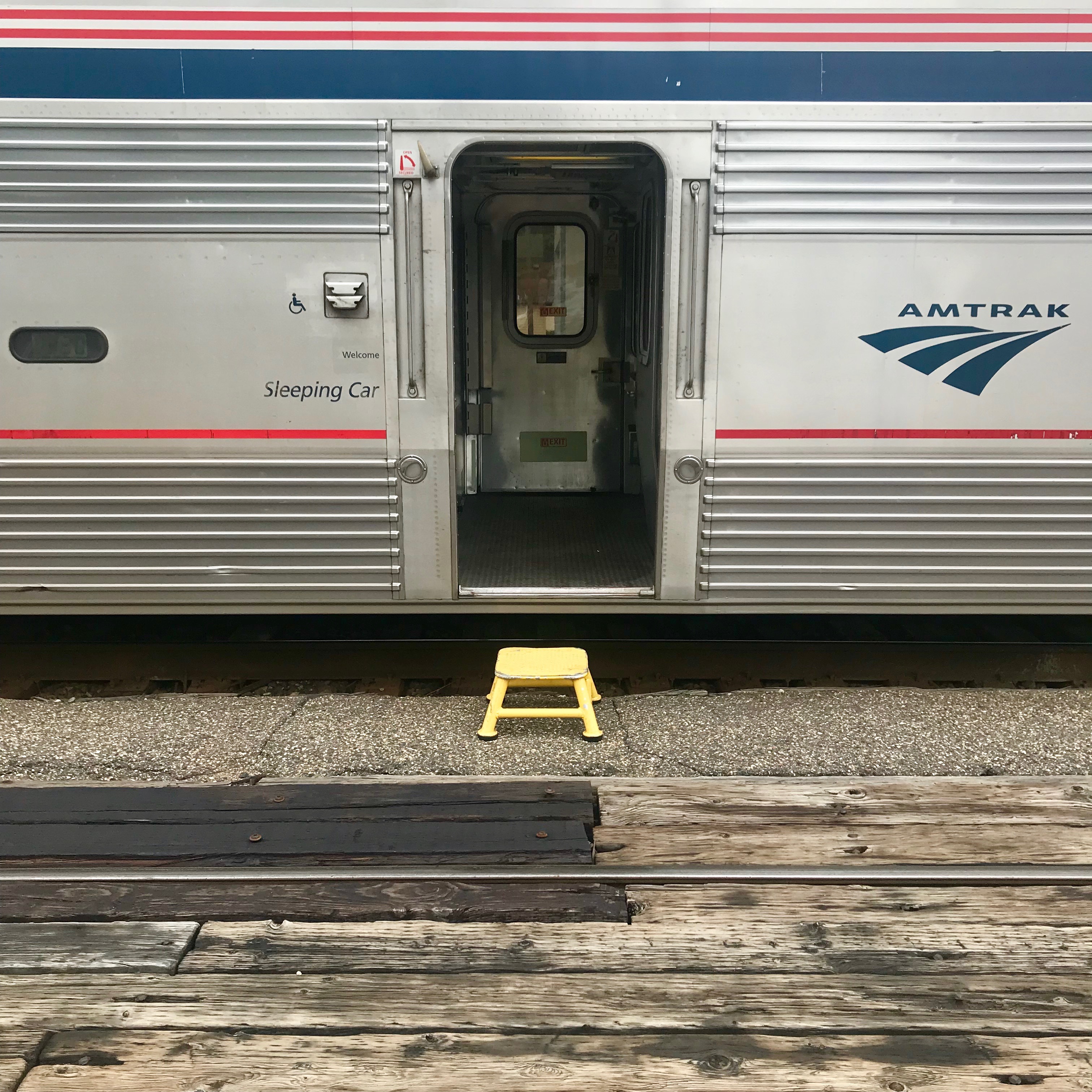 Trains that went all the way to Los Angeles, or to Chicago. In particular, Chicago seemed so exotic and far away. The Amtrak train Empire Builder stands out in my mind sounding so powerful.
I always wanted to take the Empire Builder.
As I juggled work commitments with life, a plan to take the train never seemed to materialize. Until this summer, when Amtrak ran a two-for-one sale on sleeping compartments (you have to pay for the two beds regardless of the amount of people). I called up my friend Paris, who's from Seattle but lives in Chicago. He was all GO.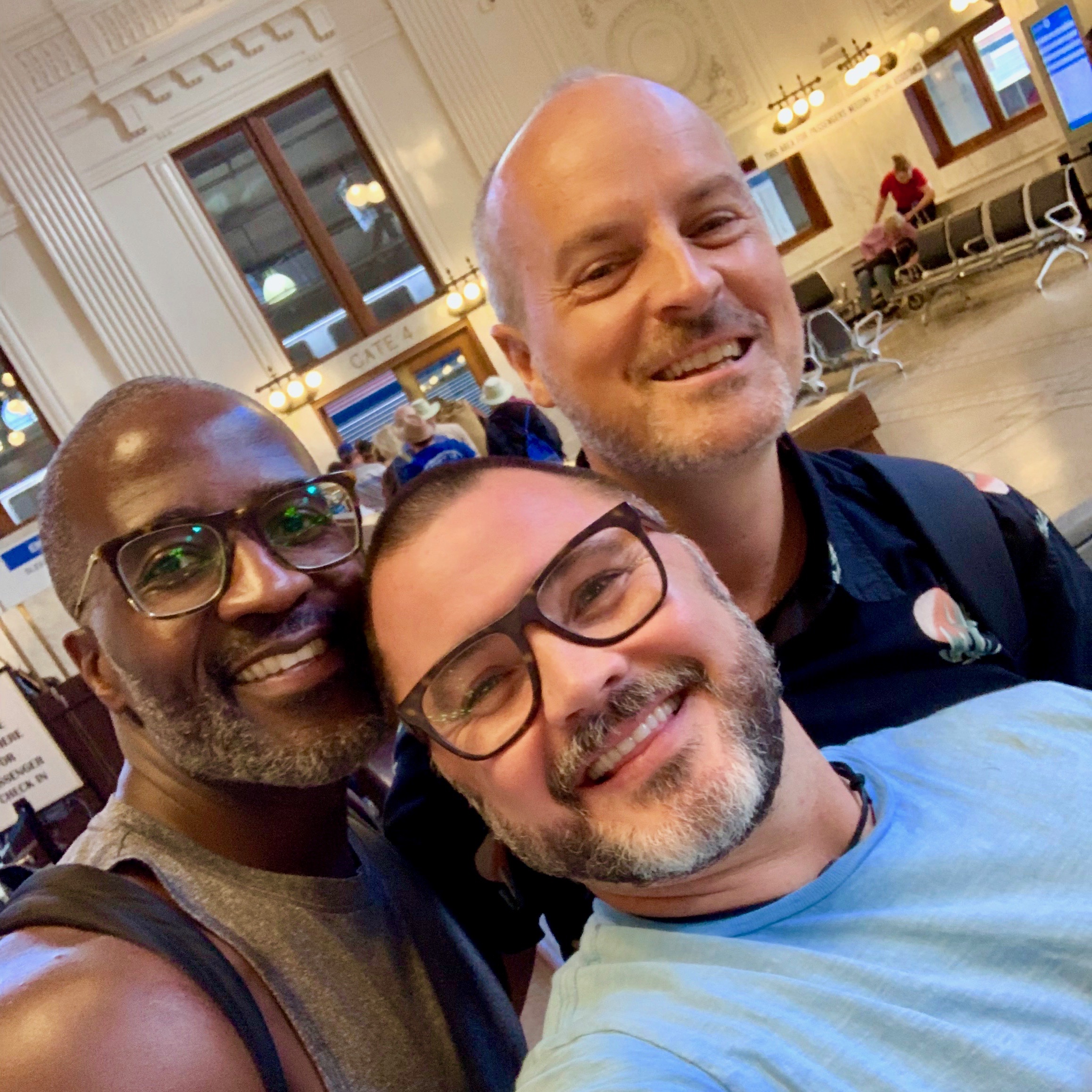 Part I: Building an empire plan
The Empire Builder winds through some beautiful country, including Glacier National Park, but in both directions because of the time of day, traveling in the darker winter months effectively cuts all this viewing off. The snow might be pretty but there are 8 less daytime hours of viewing in the dead of winter. So we locked in on August.
The direction from Seattle to Chicago seemed to provide better times for scenery viewing (e.g. hitting Glacier National Park at a reasonable time.)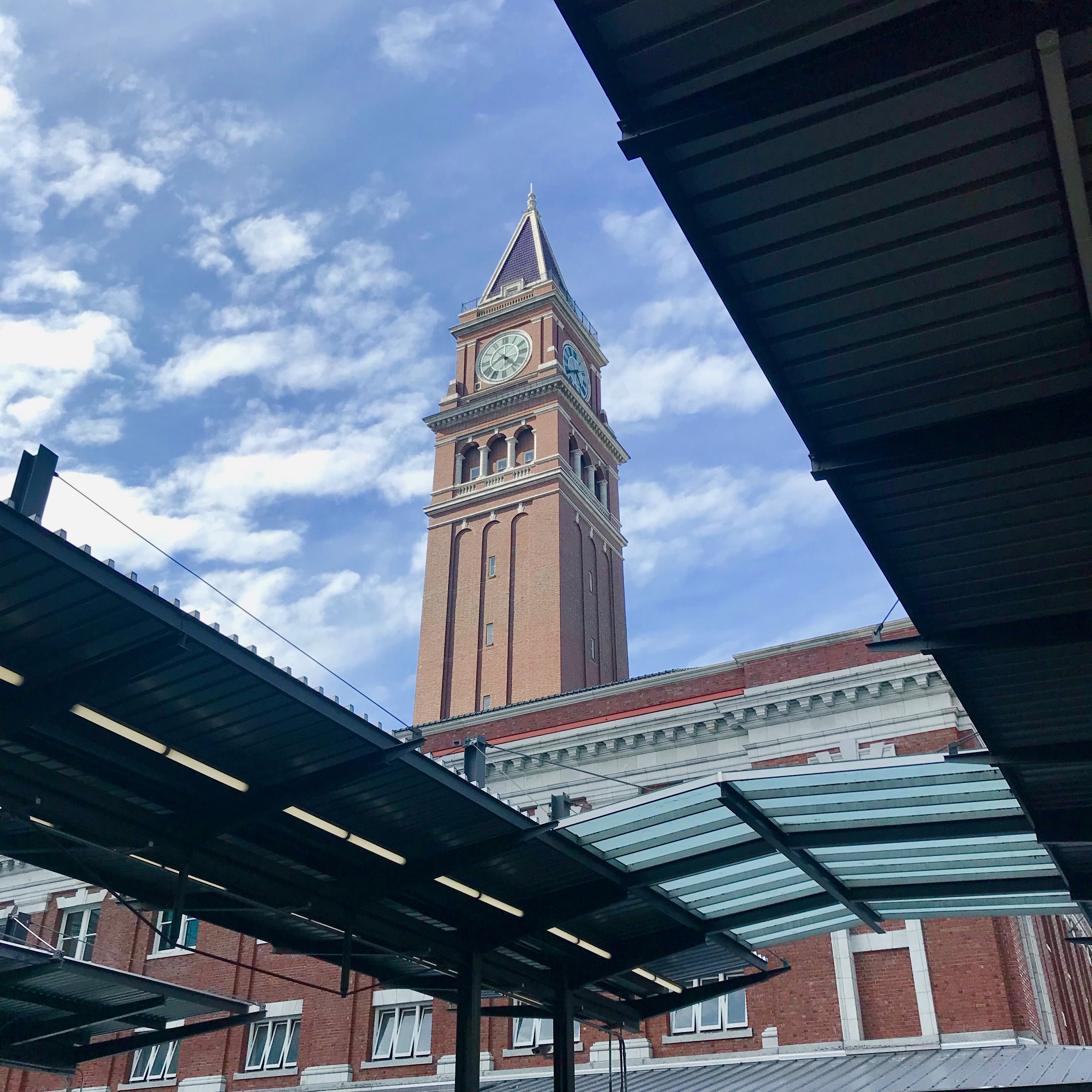 We took the eastbound train from Seattle, which departs around 4pm and arrives around the same time in Chicago two days later. The westbound version leaves Chicago around 2pm and again, arrives the same-ish time two days later.
Crews in Seattle work the Seattle version of the train while Chicago crews work the Portland version of the train in both directions.
All in, when on time, the long distance Amtrak train Empire Builder takes just under 46 hours to travel between PDX/SEA and Chicago.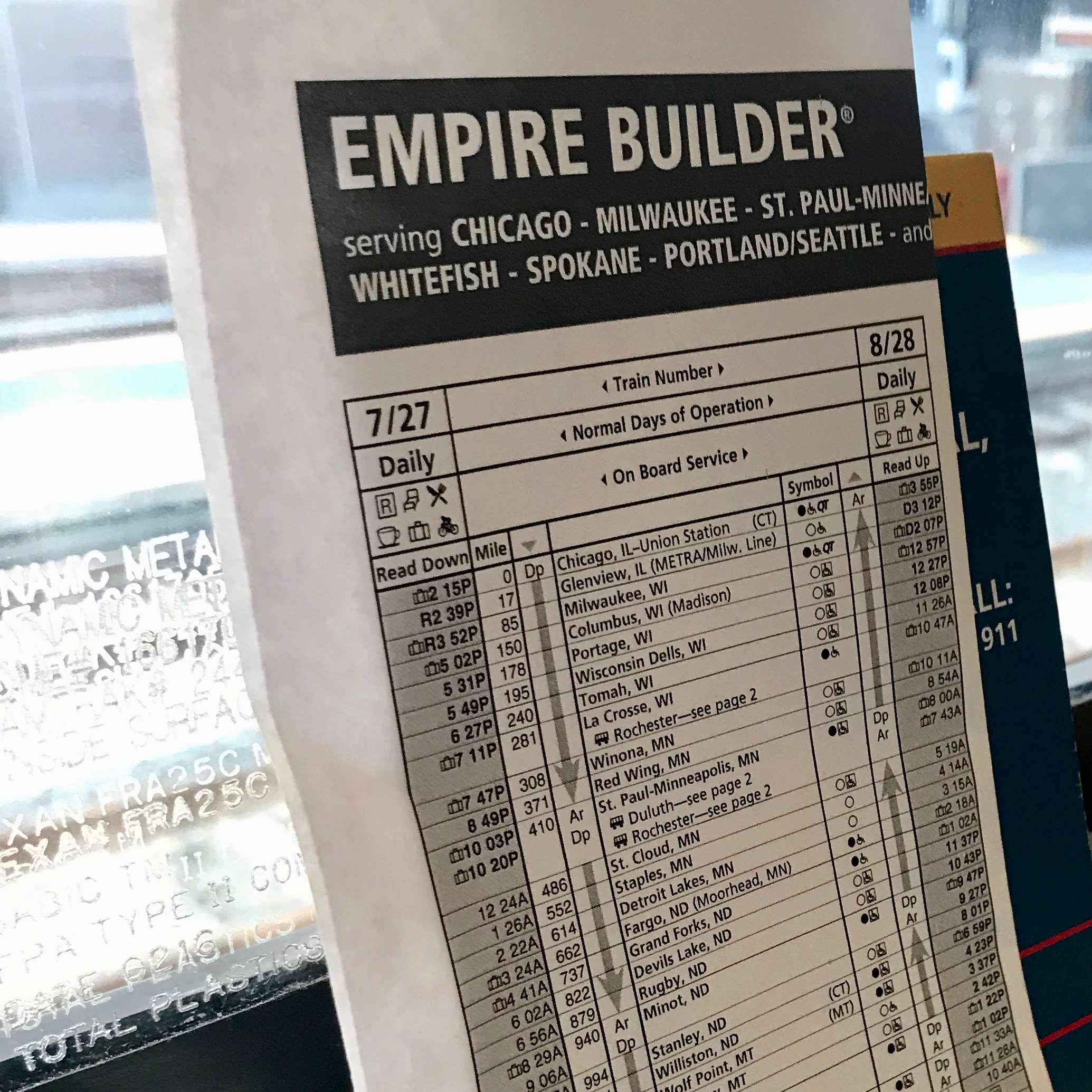 If you're interested in the Empire Builder or other long-distance trains and not sure about the daylight/scenery tradeoffs, here are a few quick steps:
Figure out the route that interests you. Then chug over to Amtrak site to find the schedule for your favorite train. They have fun names that are catchy and easy to remember, like Empire Builder.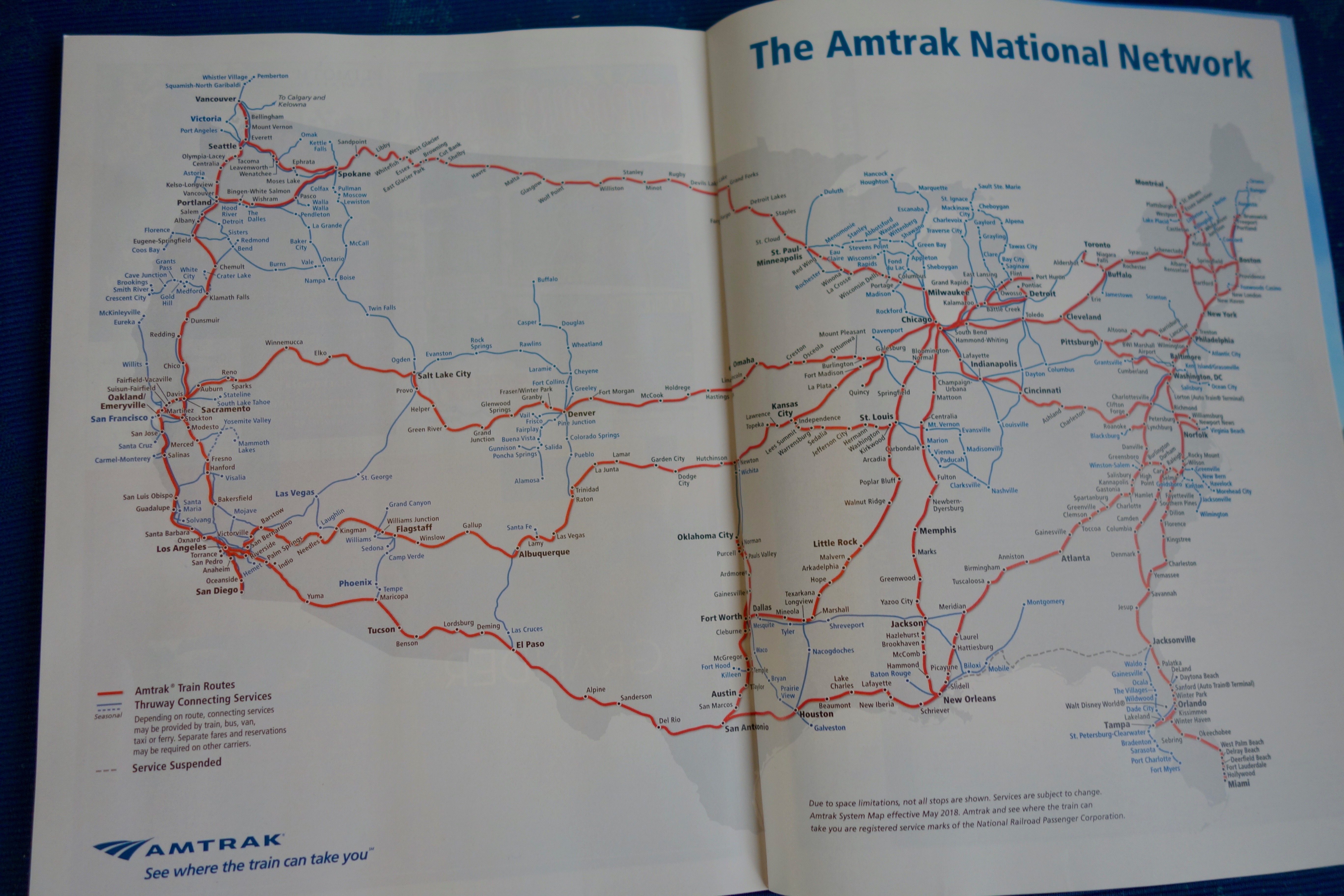 Download the train schedule and then compare to a sunrise/sunset calendar, to determine the general schedule of the sun. For example, to be sure to see the Cascade Mountains around the Leavenworth, WA area, look up the arrival times, which are 8pm on the eastbound train and 6am westbound.
In February, this means that since the sun sets around 5pm and rises at 7:30am, in either direction there's not much to see outside besides the lonely glow of the moon. The story changes in August, for example, when the sun sets around 8:15pm and rises near 6am. These times would likely provide amazing sunrise/sunset opportunities.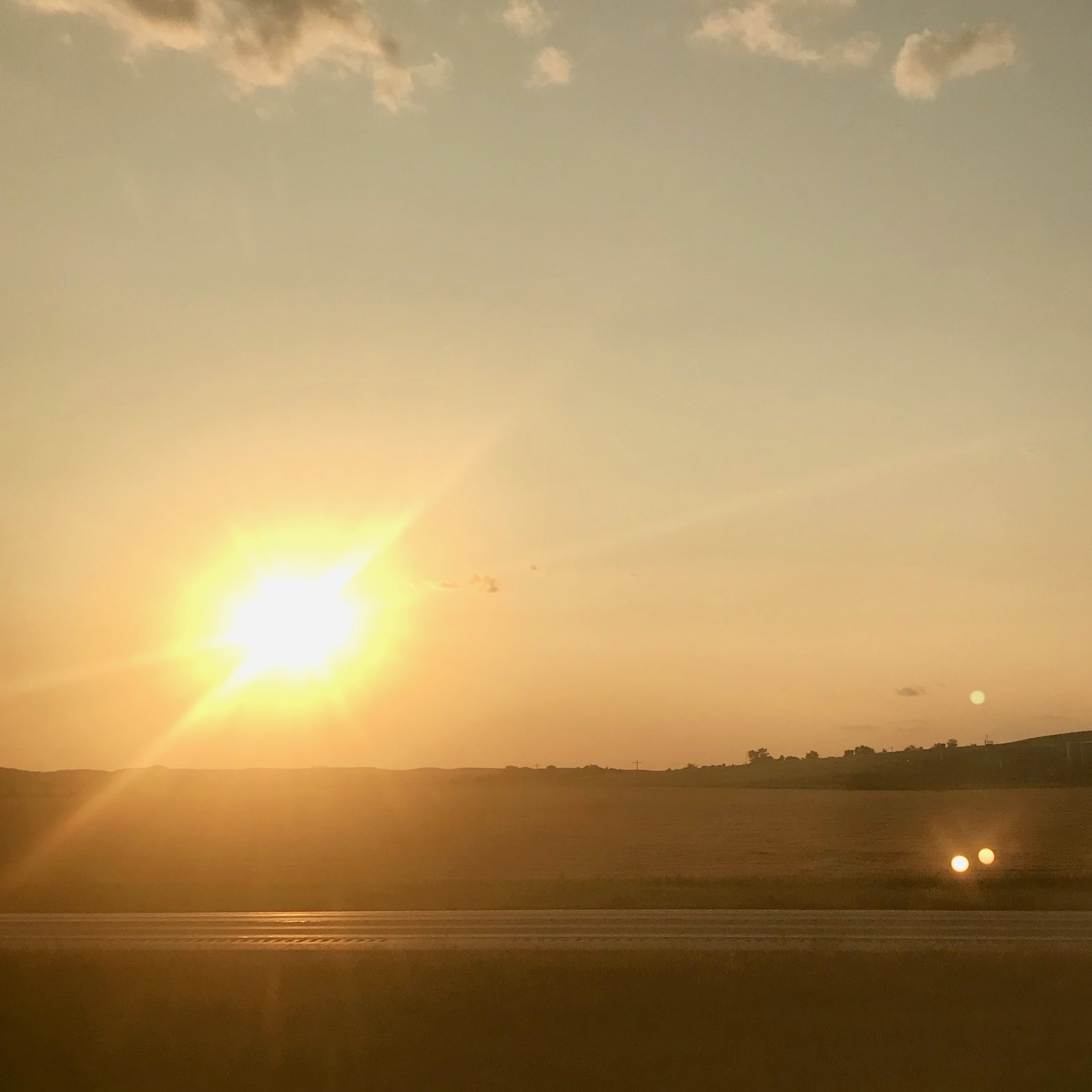 The Empire Builder is farther north and more impacted by the change of the daylight hours between winter and summer. For example, Whitefish, Montana has a 8 hour swing of daylight between December and June while Flagstaff, Arizona (a stop on the Southwest Chief route) is only under 4 hour change.
If you must take a long distance Amtrak train in the winter, go for a southern route to maximize daylight.
The final note for this specific example is that there is no lounge car with the dome view between Seattle and Spokane in either direction. The dining car is on this portion of the train so full meal service is offered. However, this means that the food service on the train between Portland and Spokane is handled in the Lounge Car, where an abbreviated version of dining is offered to sleeping car passengers.
Part II: The components of the train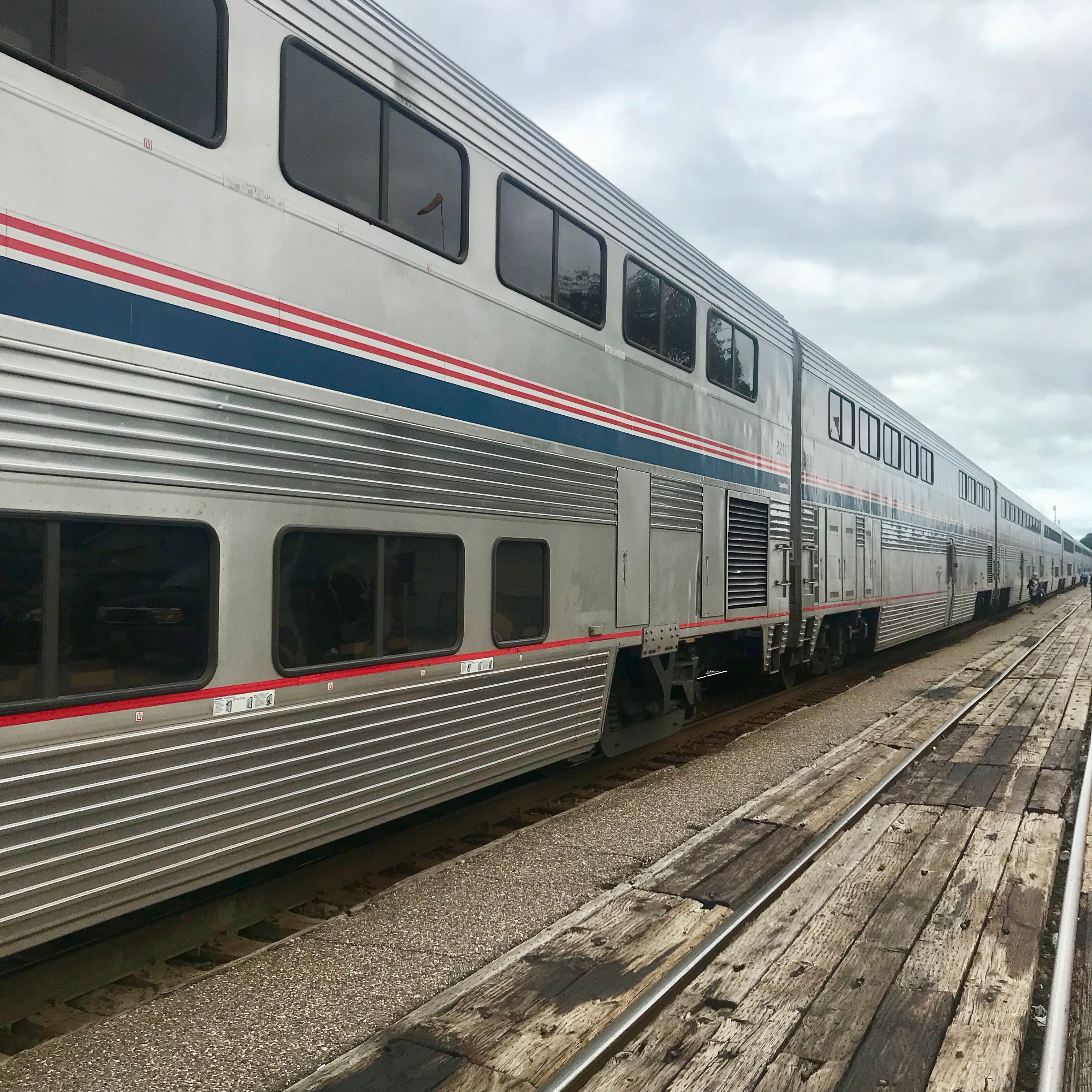 There are two sections of the Amtrak train Empire Builder. One starts in Portland and has three sleeping cars, a lounge and a few more passenger seating cars. The Seattle version also has three sleeping cars, the dining car, and a few additional passenger seating cars.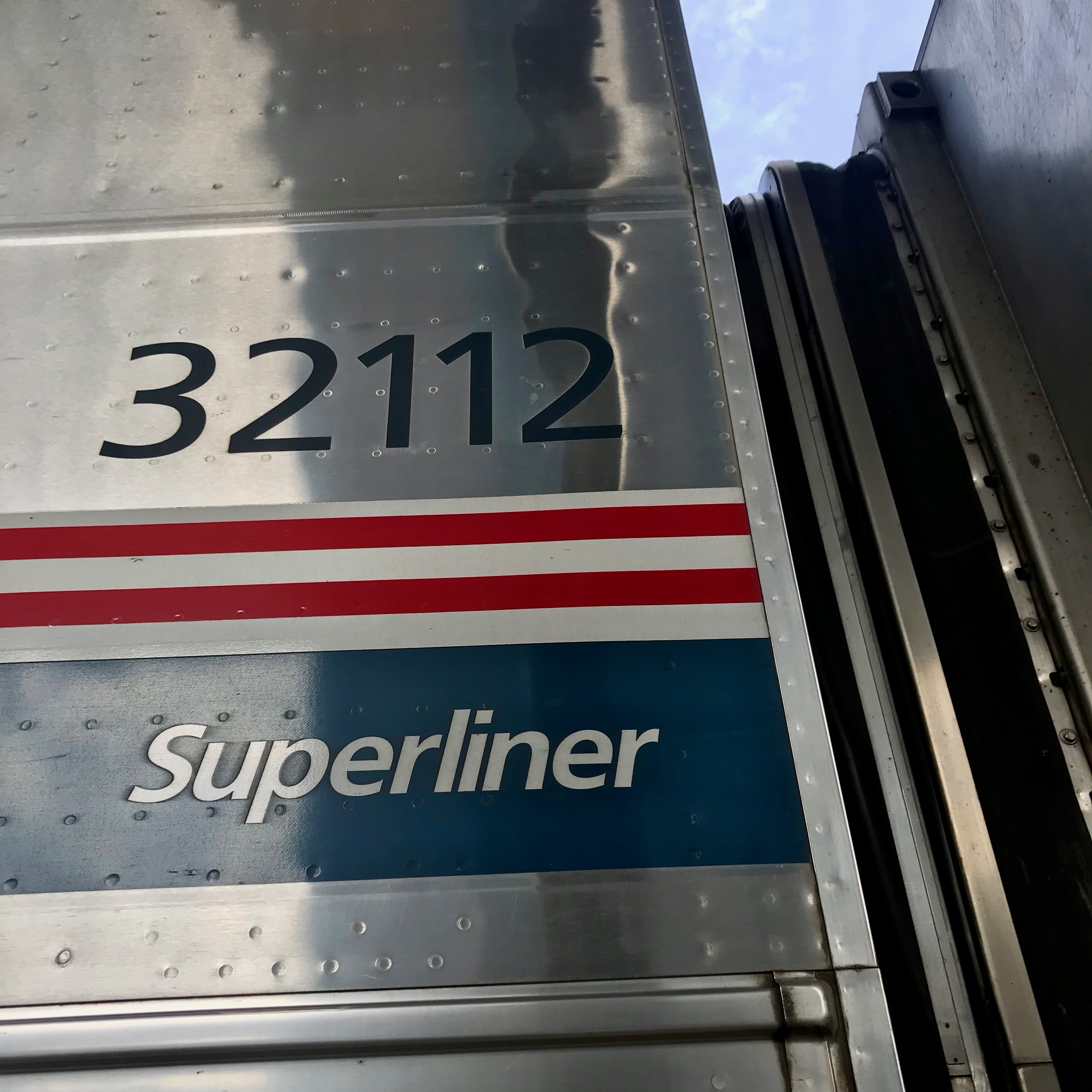 The two trains take about 7 hours to wind through Washington state and meet up in Spokane in the middle of night for a breakup and reattach experience that form the mother train of 6 sleepers, 6 passenger cars, a dining car and lounge car with a domed view and snack bar on the lower level.
Passenger Cars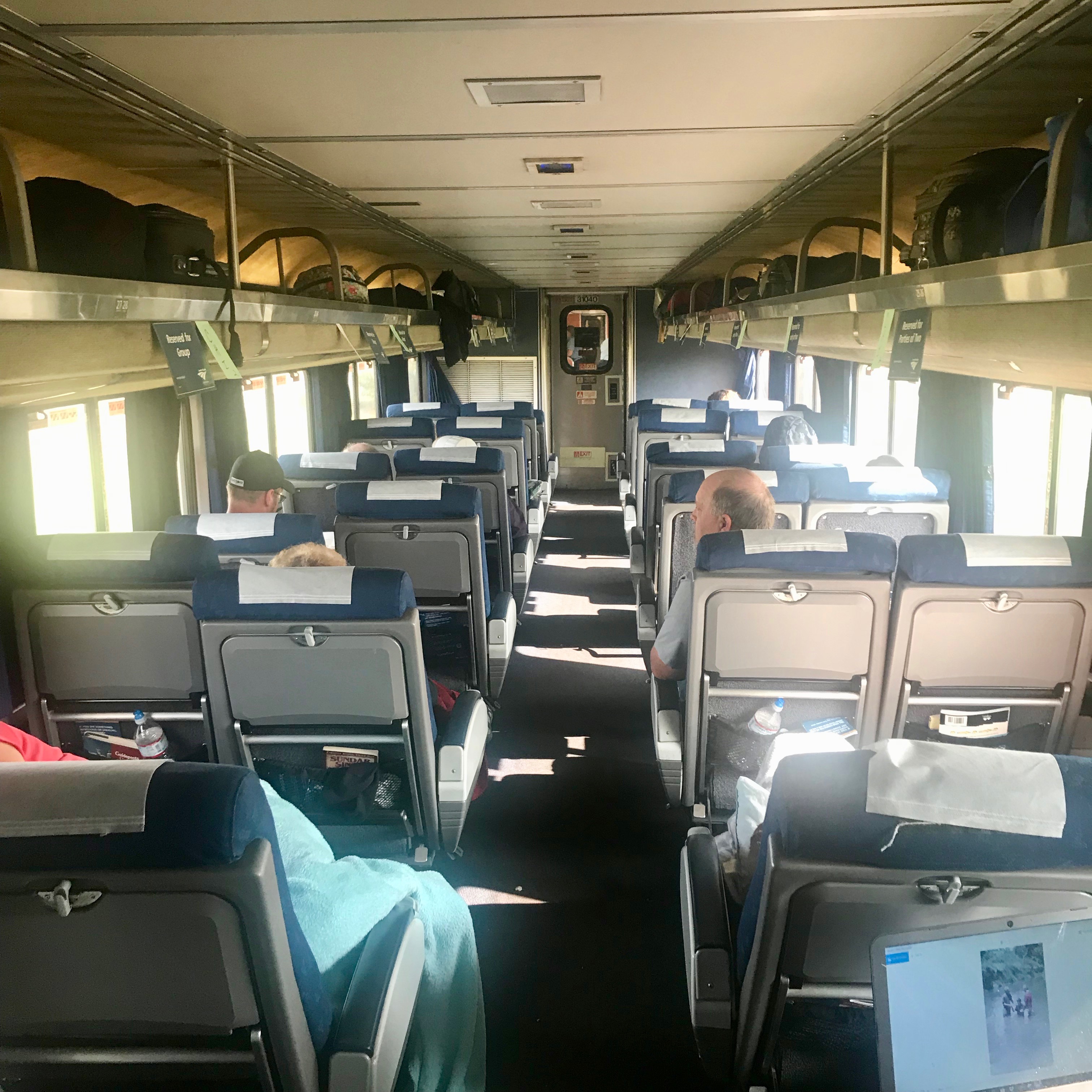 Passenger cars for long distance trains offer a lot more room than those on the NE Corridor or more localized routes. Think about the same room, if not more than a domestic airline first class seat. The seats also recline back a good deal, so sleeping overnight doesn't seem impossible.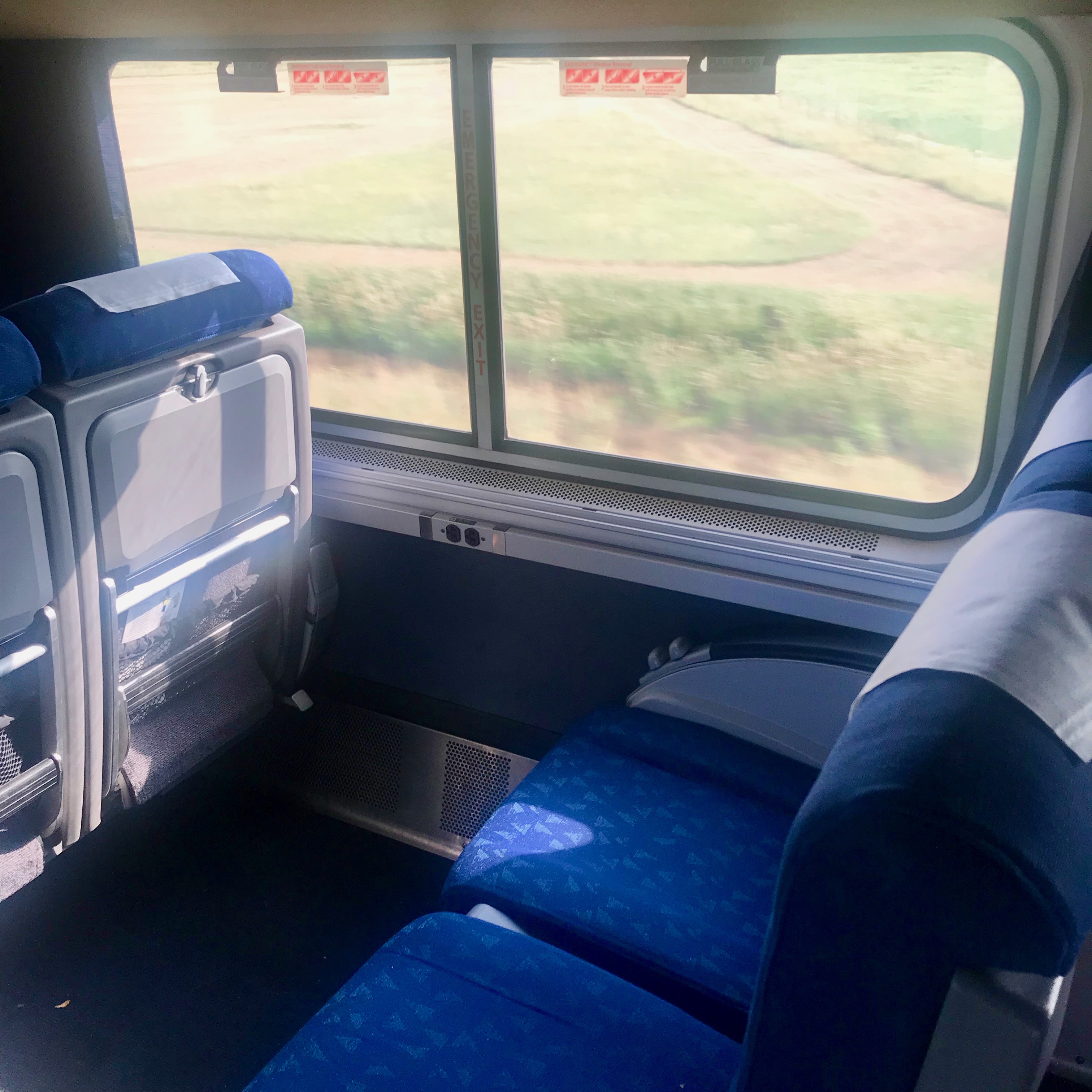 The cars are two levels and restrooms located on the lower level. Some of the trains, like the Coastal Starlight (between Seattle and San Diego), have a movie theatre in the lower level of one of these passenger cars.
Lounge Car
The lounge car has two purposes. The first is to provide a full view of the scenery through larger, more rounded windows and also seats that face out. There are also booths seating four people designed to facilitate playing cards, doing work, finger painting, or scrap-booking.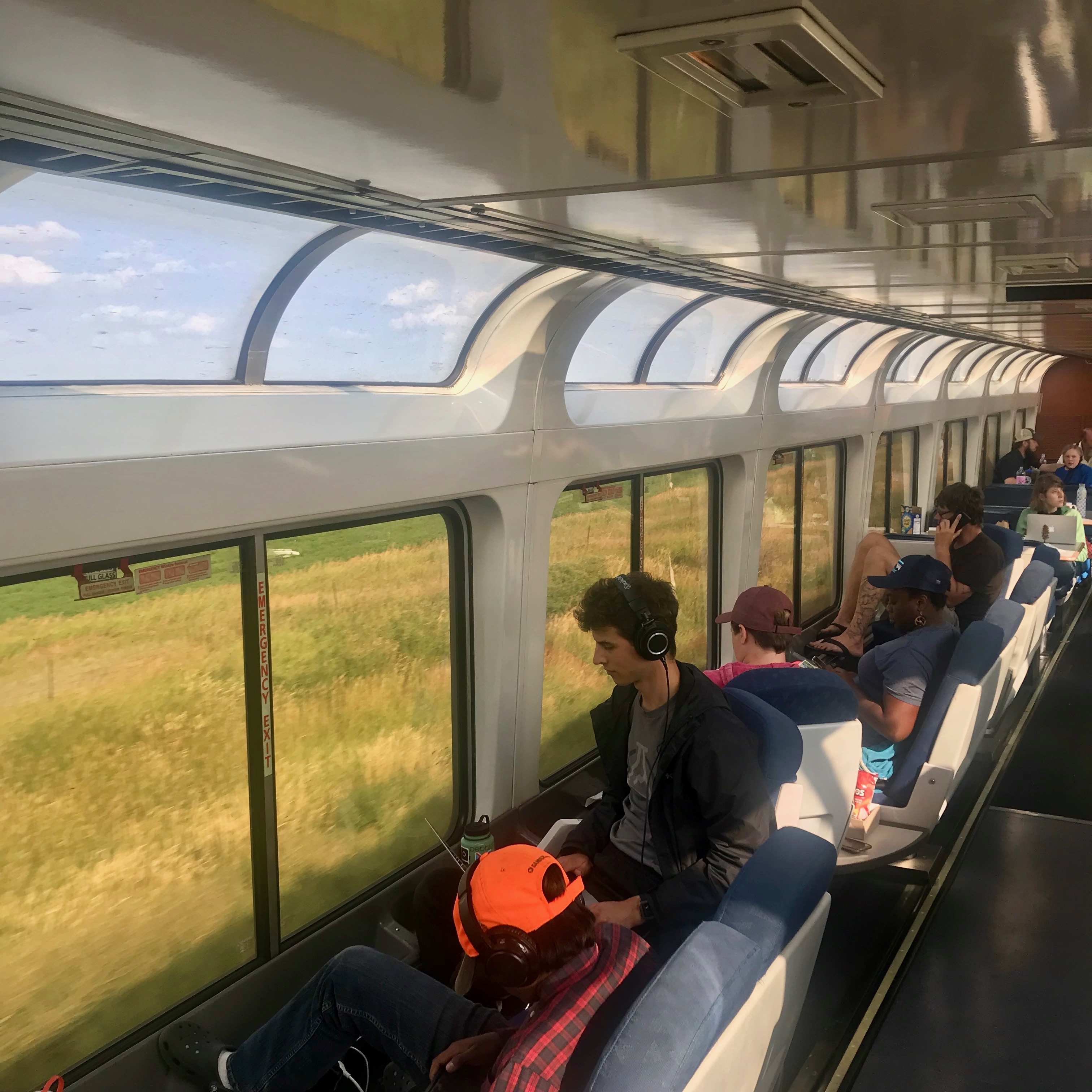 The second purpose, on the lower level of the lounge car, is a snack bar with several additional diner-like tables. The Lounge serves all kinds of beverages with/without alcohol, simple warm up in microwave food like hot dogs, pretzels and sandwiches, as well as all your snack favorites. Oddly one of the only places in the world where Pringles cannot be found!
Dining Car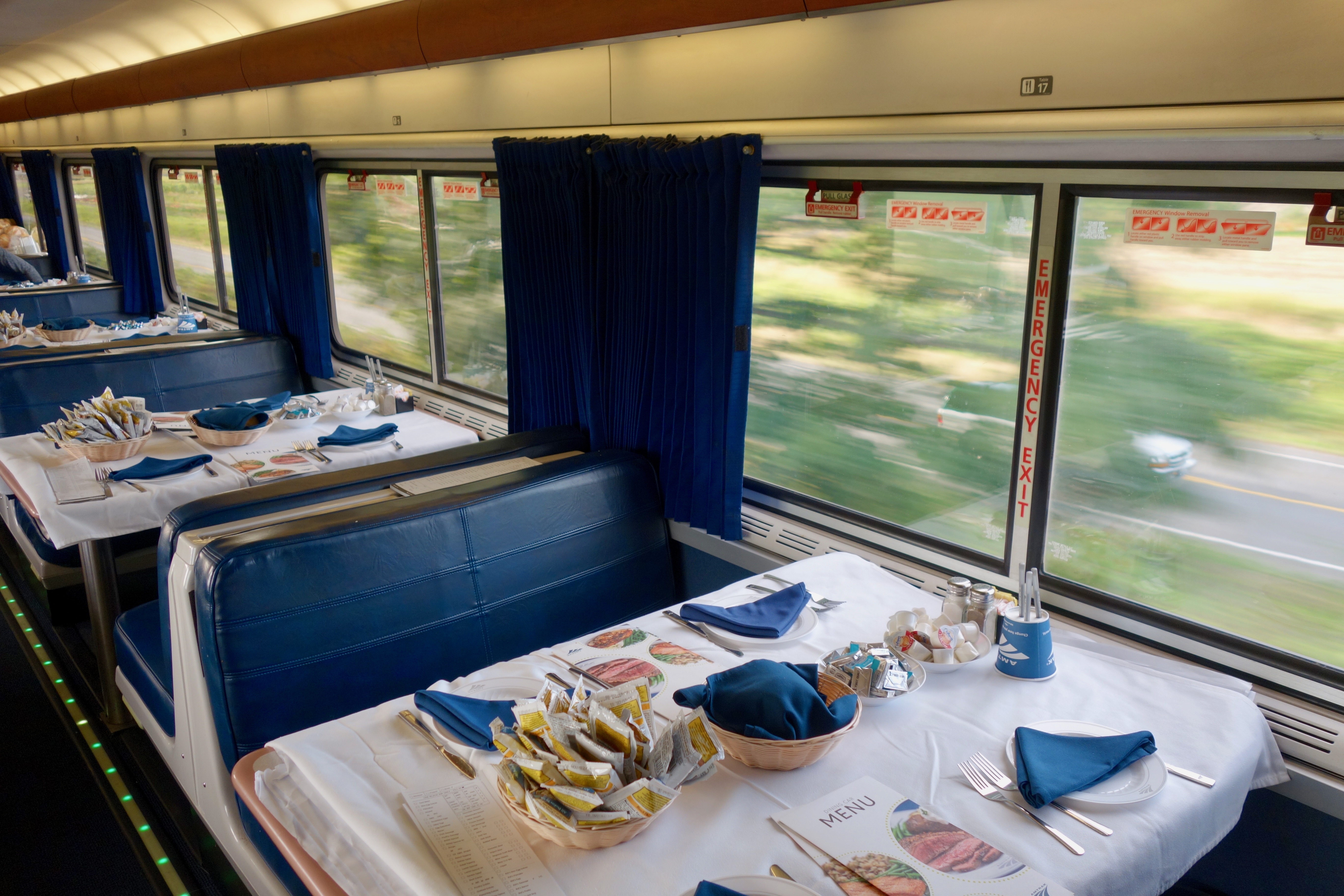 I enjoyed our dining car experiences! Since we boarded around 5pm, dinner started shortly after departure and over the course of the two days we enjoyed two dinners, two breakfasts and two lunches on the train. It is possible to have meals delivered to your sleeping compartment but we opted to be social the entire trip. Dining on Amtrak will show you all the information.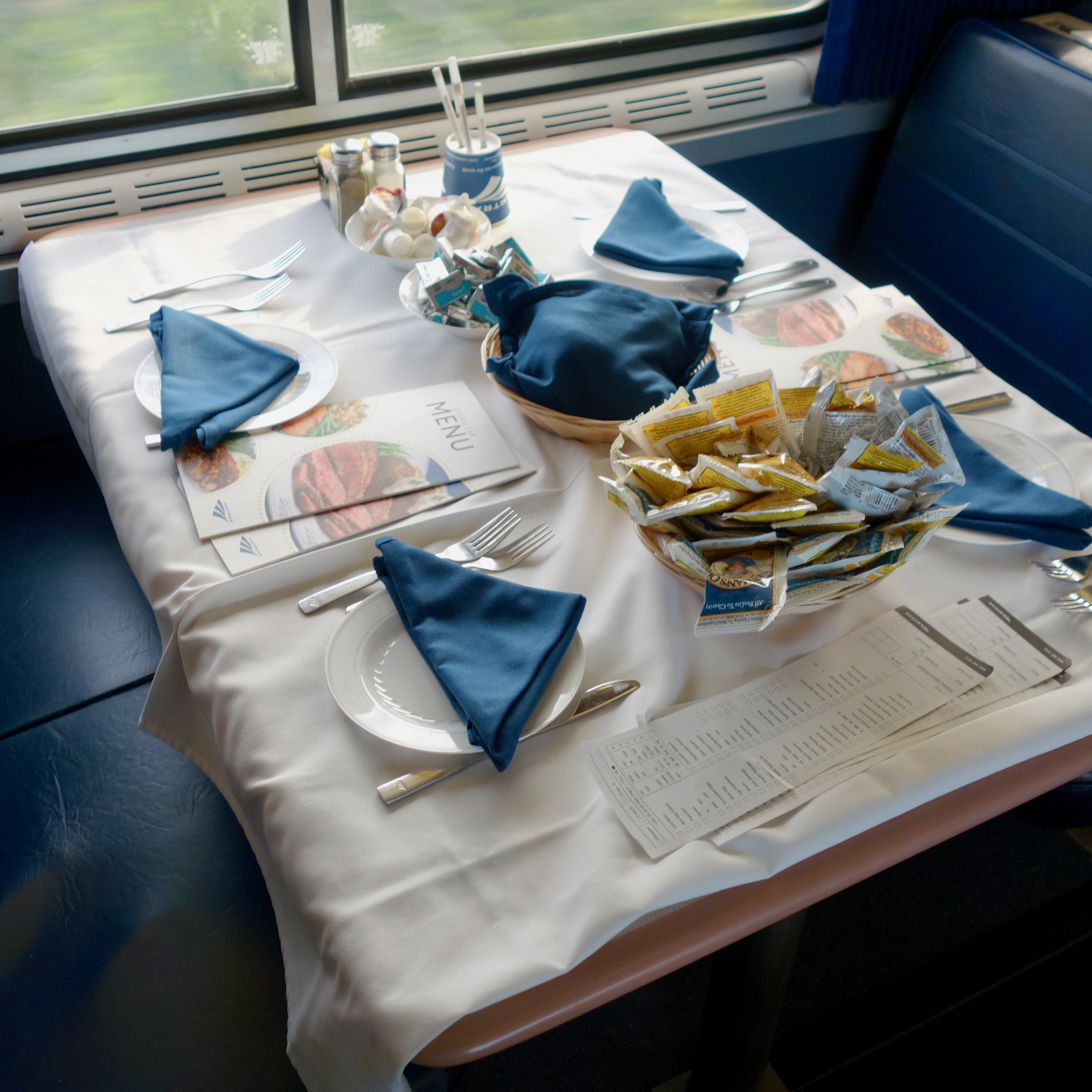 The menu is varied for a train, with veggie/vegan options and a few other interesting things like steamed muscles on the lunch menu and black bean burger on the dinner plan. For breakfast both mornings I had the cheese quesadilla with egg omelette on top and tomatillo sauce. Added guacamole as well. This was pretty tasty. For more information, check out Amtrak Long Distance Dining Menu.
Paris and I both enjoyed our food and while it won't win Michelin stars, I was pleasantly surprised by the quality. All meals are covered for sleeping car passengers and the prices were similar to an airport restaurant for the main coach travelers.
At every meal Paris and I sat across from other travelers.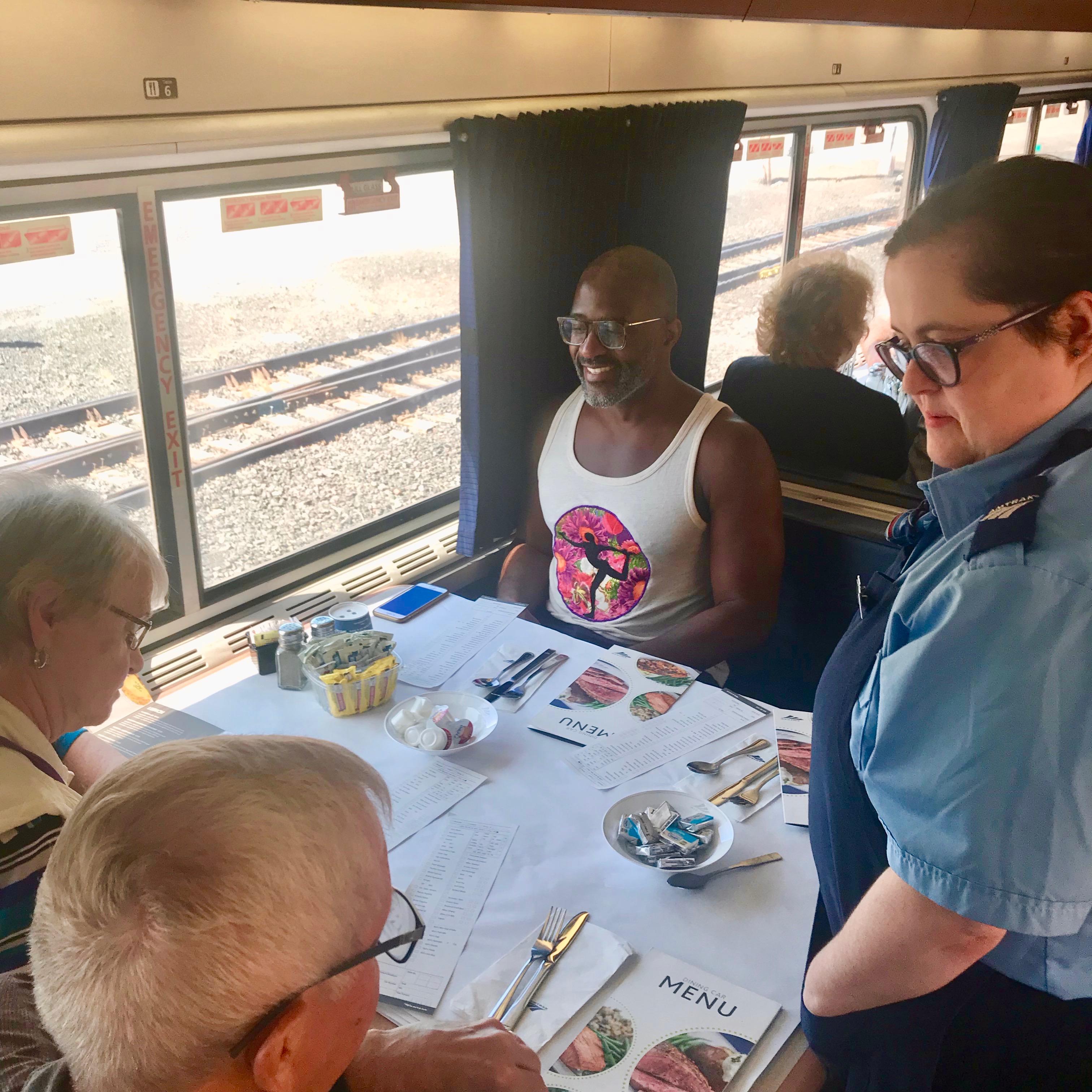 Another unique part of the dining experience, other than being on a train, is the seating arrangement. To condense space and encourage passengers to meet one another, travelers are combined to fill each booth with 4 people.
There is clearly no meddling in this "speed dating" seating system, so for best results just do what they say and smile.
We met all kinds of people from a couple who enjoys dressing up in old time viking garb and fighting with padded swords to a man traveling to see his dying sister in Indiana.
In particular, I enjoyed a couple from Iowa who were involved in the caucus process and had met a few of the democratic presidential candidates at a recent local fair in Iowa. I braved asking a few questions and we had an informative conversation that was helpful for me to better understand the political experience in Iowa.
Only one person, who seemed to only say one word at a time, made for one awkward meal.
As the Amtrak train Empire Builder moved on, it was nice to see familiar faces when we'd make "smoke break" stops and get off the train. Definitely gave more of a feeling of connection and community, at least amongst the sleeper car crowd.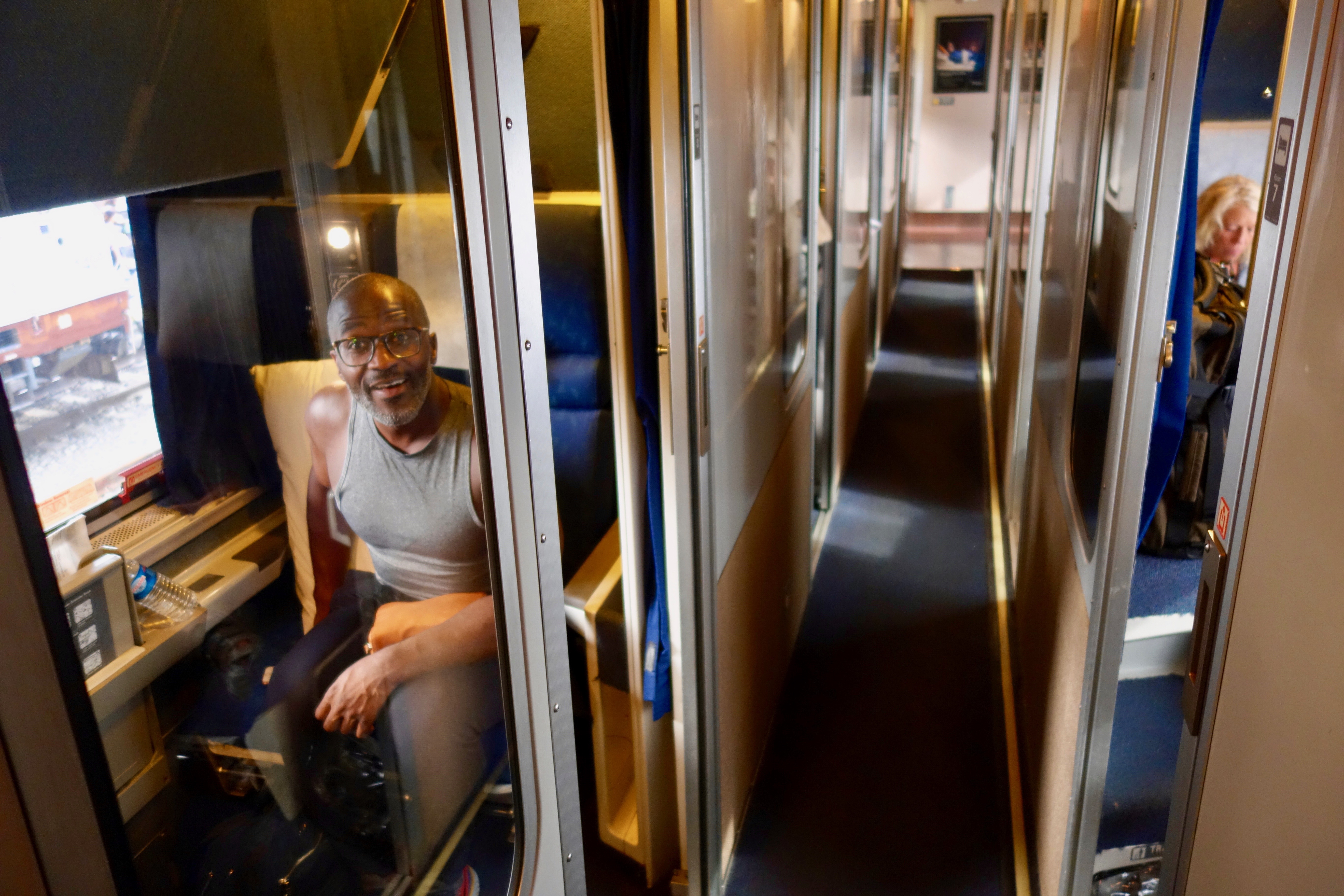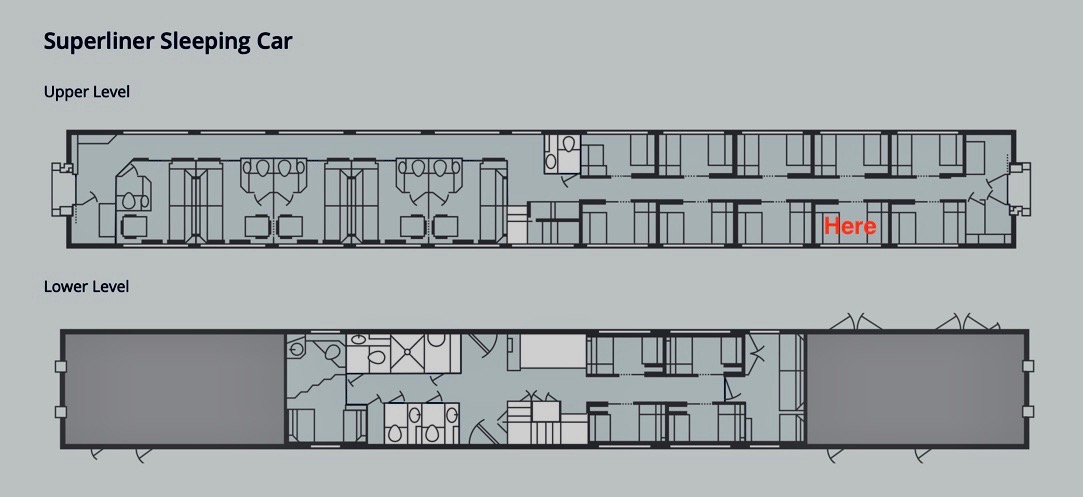 Each sleeping car has the same layout, with 5 deluxe bedroom versions that each have full bunks and an en suite "small" bathroom/shower. A family room and wheelchair accessible room are on the lower level and there are 14 of the more "intimate" roomettes, which accommodate two people in a tighter space with no private bathroom/shower scenario. This was our setup.
Each sleeping compartment has two seats that face each other, and for two big guys around 6 feet tall it was a bit cramped. Our knees definitely ran into each other but we figured out different ways to twist and turn to make things work.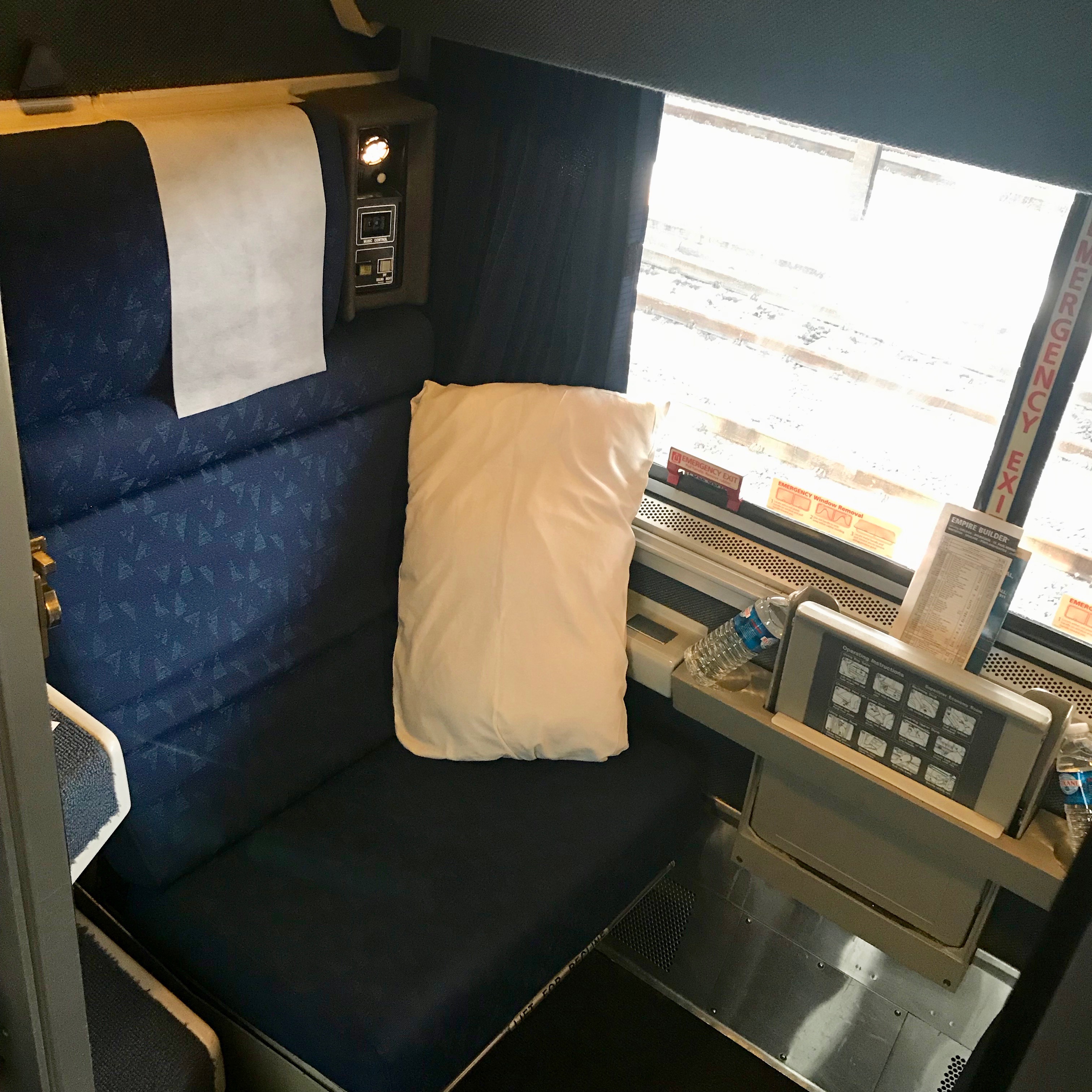 There is one bathroom upstairs next to the canteen area with water bottles and coffee/juice while the lower level houses the shower room and several other restrooms.
I never had to wait for a restroom or the shower, which had great water pressure and nice warm water.
The bed area in our sleeping compartment was ample on both levels, but my head and feet both touched the wall when I tried to sleep fully extended. The upper bunk is a shelf that folds down from the ceiling of the compartment and gives a cocoon feel. There is a mattress pad, full sheets and pillow. The rocking of the train actually lulled me to sleep and I slept okay.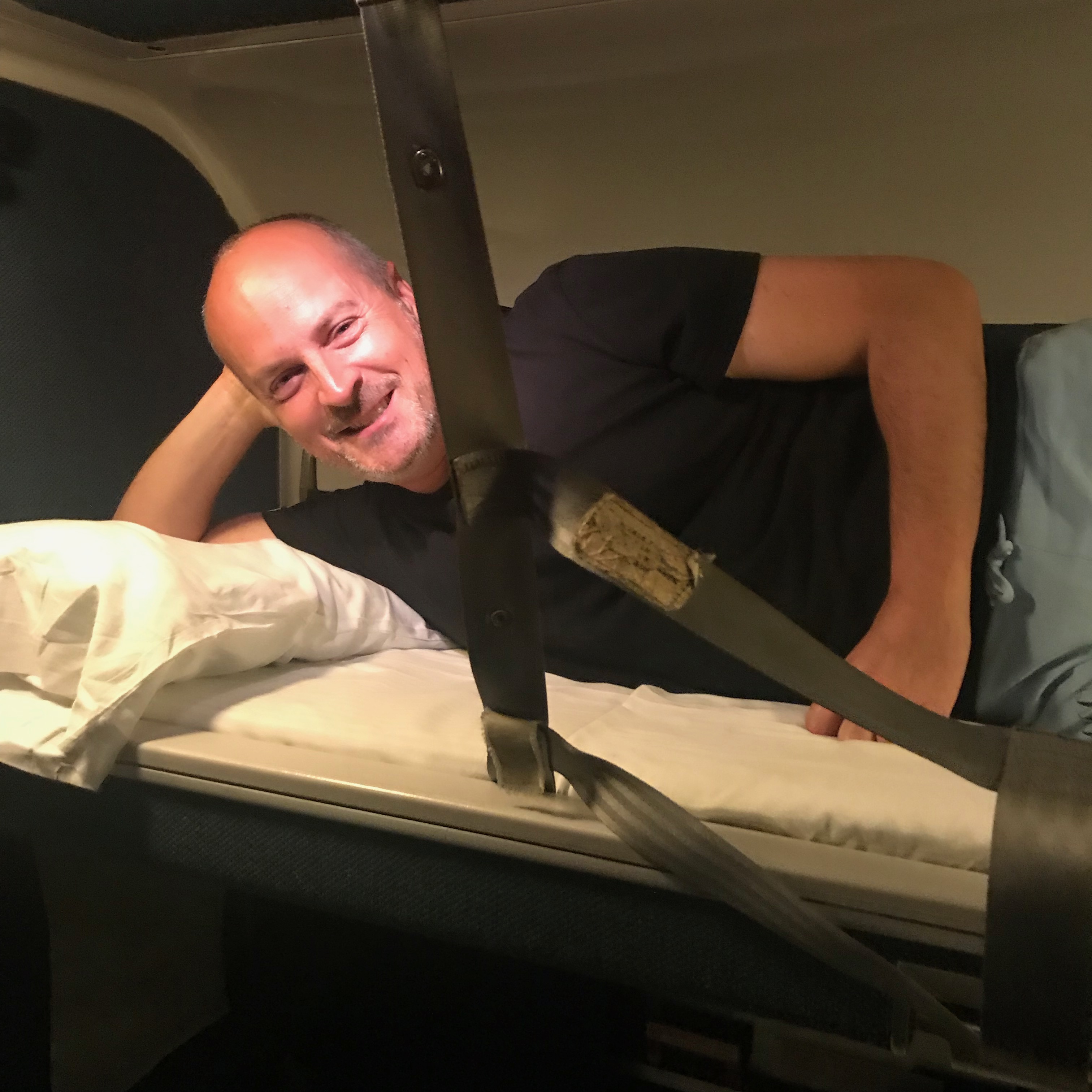 On the lower level there is more space and padding because the actual seats move together with an additional mattress cover. Luckily the second night I convinced Paris to try the upper "cozy" bunk and he went for it. Since the lower area was just a tad bit larger I slept more freely without head and toes hitting the walls.
Part III: The scenery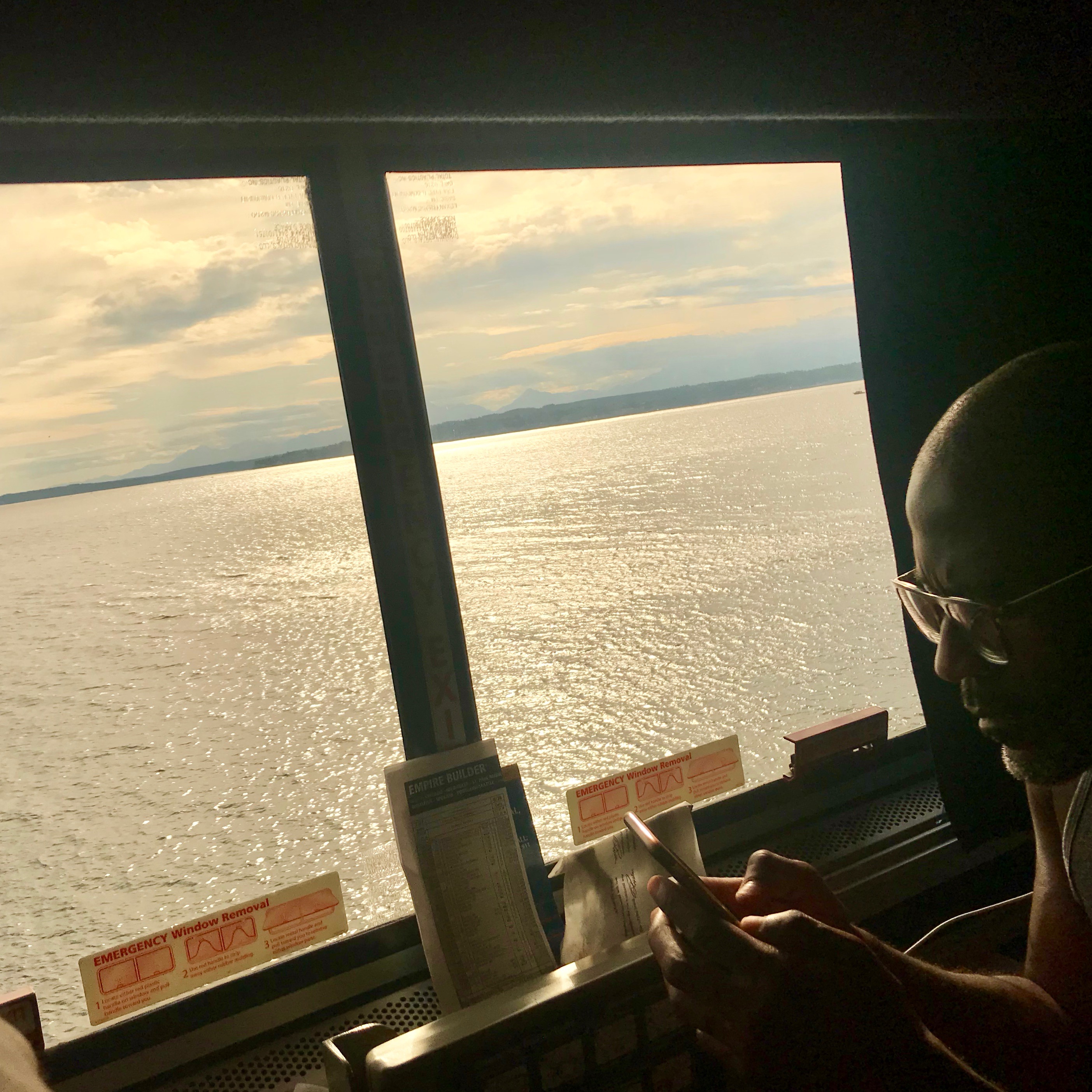 The Empire Builder offers some stunning scenery all along the way. From the shores of the Puget Sound leaving Seattle to dramatic mountain views of Glacier National Park to the mighty Mississippi River and the surrounding corn fields of Minnesota, the Empire Builder doesn't disappoint.
In the summer the east bound Amtrak train Empire Builder hits night fall through Eastern Washington and North Dakota/Western Minnesota, leaving the beauty of Western Washington most of Montana and a majestic stretch of the Mississippi River in Minnesota/Wisconsin available for viewing during the daytime. West bound train appears to offer similar viewing in reverse.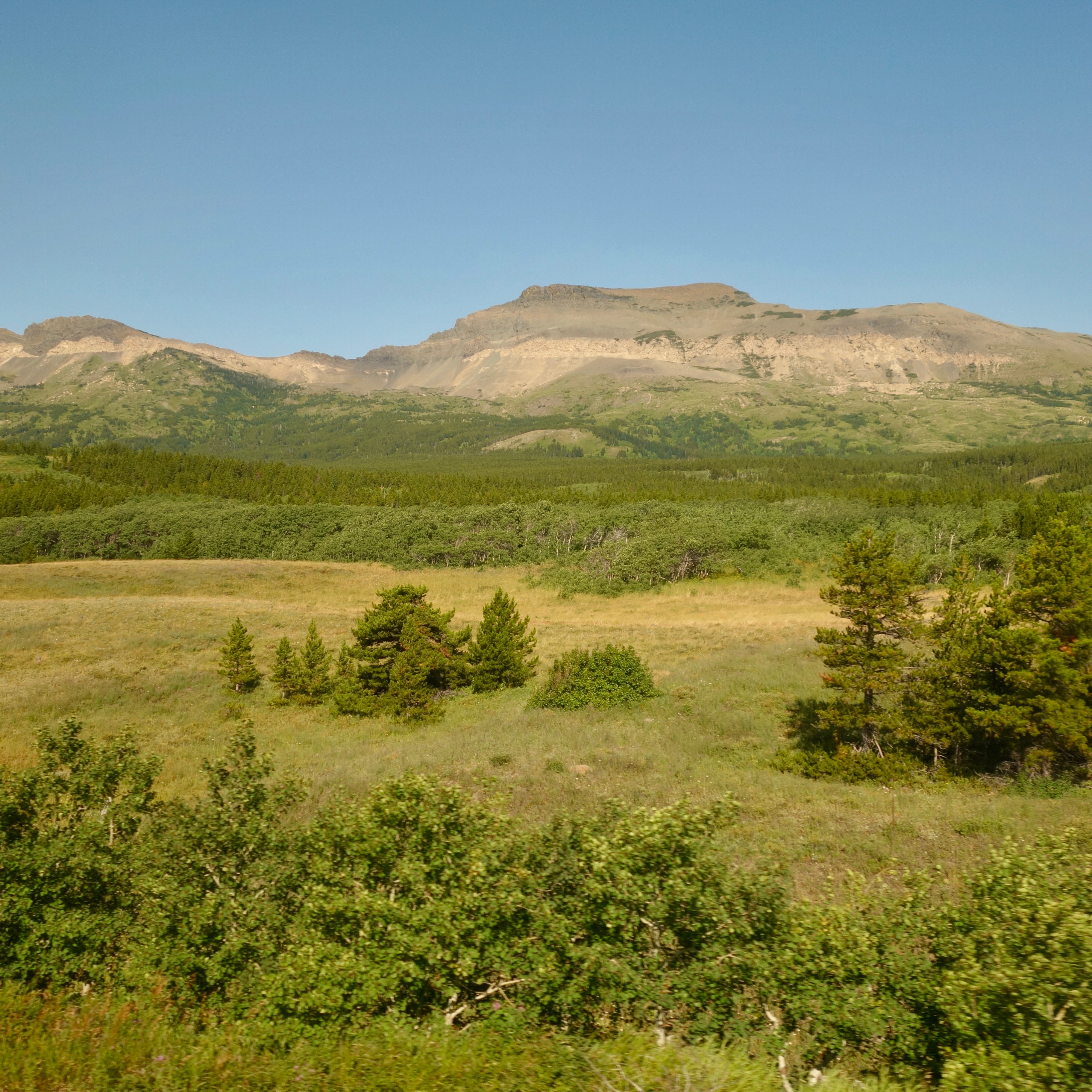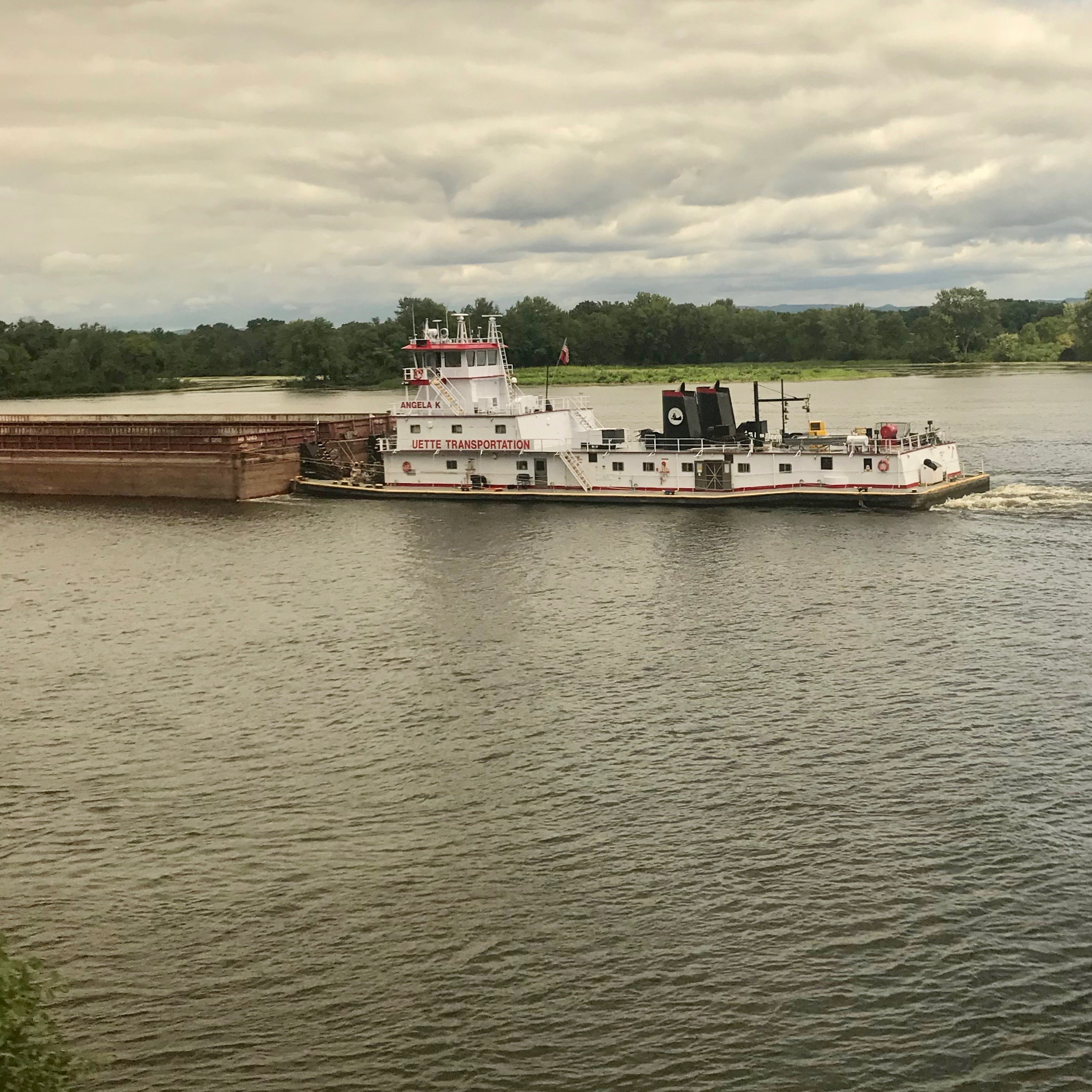 Other rail companies own the tracks used by Amtrak in this part of the country, so the Empire Builder is at the mercy of the needs of the freight train services running on the same lines. We found ourselves stopped a number of times to wait for other trains to pass. These delays are built into the schedule a bit, but we also were about two hours late most of the time.
Thus, to try to make up time, stops are very quick. Every few hours there are scheduled service stops, which allow exiting the train to stretch legs for about 10-15 minutes. It's not enough time to try out a local watering hole, but works to plant feet firmly on non-moving ground for a shake.
If you're traveling for the sleeping car experience, the delays don't seem as crucial, but a number of people were making/missing connections in Chicago upon our tardy arrival.
Part IV: You'd better love your travel companion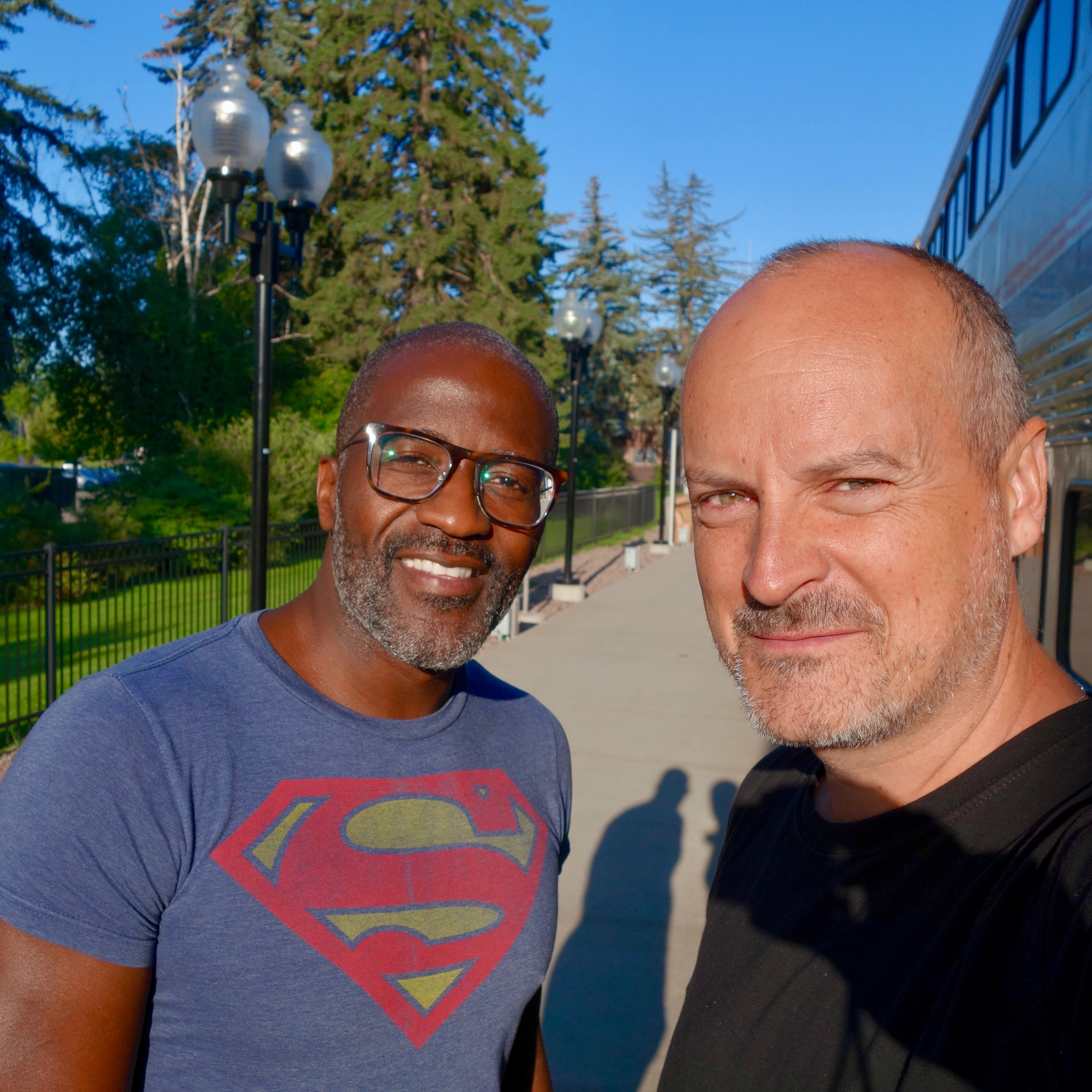 The roomette was tight quarters for two big guys, but we made it work and it was nice to have privacy to hang out and catch up on our lives.
Paris was still on the clock, so he wandered off every so often to the Lounge Car to spread out his work and do his thing. This left me time to stretch my legs in the suite and look out on the scenery. In particular, Eastern Montana was beautiful with the flowing green grasslands against the lazy afternoon sun.
Since we're on the subject of Paris working, while the wi-fi and cell signal cut off mostly between Everett, WA and Western Montana, we were pleasantly surprised to receive pretty solid service through most of Montana onward to Chicago (with a few exceptions.)
We also brought a little bottle of fun with us, which is allowed only in your private compartment. Cocktail hour was a spirited joy while watching the country go by.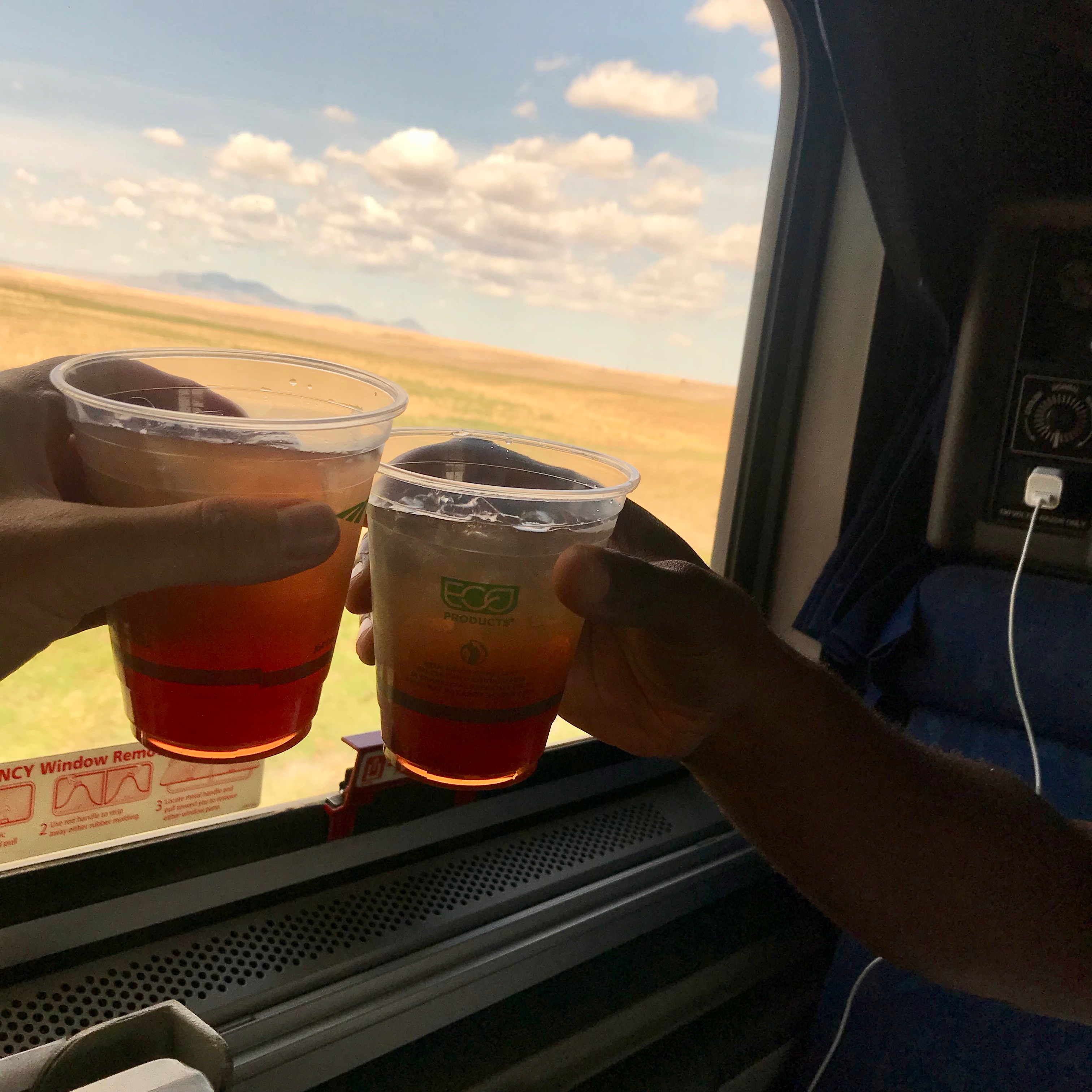 I really didn't know what to expect for two full days on a train. The Amtrak train Empire Builder provided a lot, but never boredom.
By the time we arrived in Chicago I was still in a great space about the trip, so it was probably good to end on a high note rather than completely taxed and done. I think the one-way version of long-distance train-ing is perfect.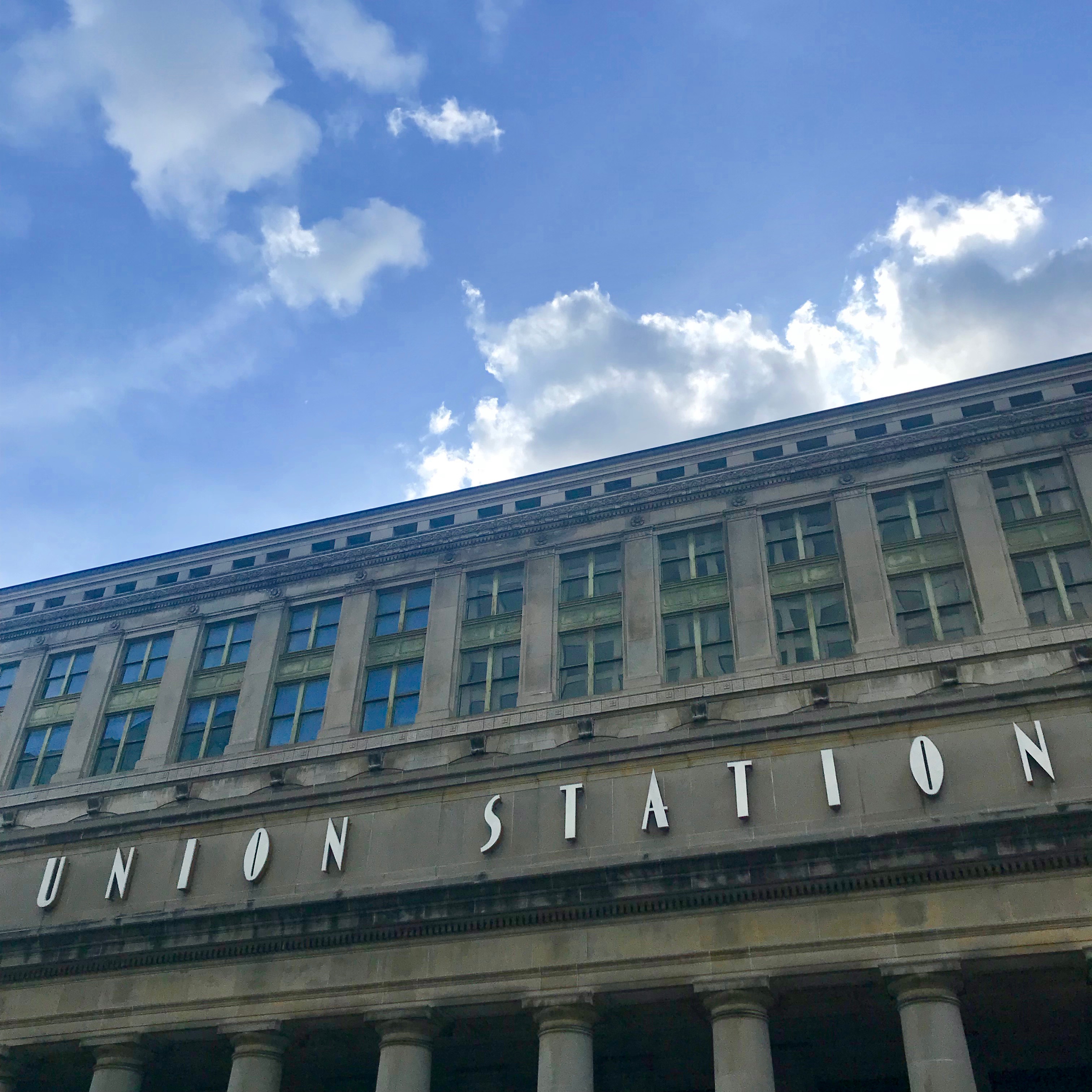 Paris and I both agree that we'd gladly take another long-distance train.
He seems interested in the Coastal Starlight, which cruises up and down the west coast. I have my eyes on the City of New Orleans, working between Chicago and of course New Orleans.
Part V: The people
Prior to this trip I perused the few blogs out there about this Amtrak route, and mostly found fair to midland reviews about the train and the staff. Now that I have my ride behind me, I'm a bit surprised.
It's important to understand that the train cars used for the Amtrak train Empire Builder were produced in the late 70's/early 80's and replacing this system is likely too expensive to justify. Still, the train functions well and is comfortable enough.
The staff have their frustrations with the aging pains too, but when applying the golden rule, they are an endearing bunch.
Our attendant Jay, was Seattle based and made sure we had everything we needed in our roomette. He'd get us ice for our drinks and in a normal world would provide turn down service for bedtime. Since we wanted to stay up past his bedtime he showed us the secrets to work it on our own (very easy) and all was right in the world.
At the various "smoke break" stops we'd chat him up on the platform and enjoyed some great conversations; learning more about his 5 year old son and efforts to get through college while working full time on the "tracks."
The Amtrak train Empire Builder dining car staff included Eva, who handled the logistics around meal reservations (passengers must reserve times for dining car meals except all breakfasts and lunch on the last day approaching Chicago), Lydia, who seemed to be our server most of the time, and a number of other characters who, when asked nicely, seemed to work to provide whatever we wanted.
The dining car staff certainly have a clear way to ensure efficiency that you dare not disrupt, but then, they're working hard to be sure all the guests can enjoy the dining experience in a timely manner.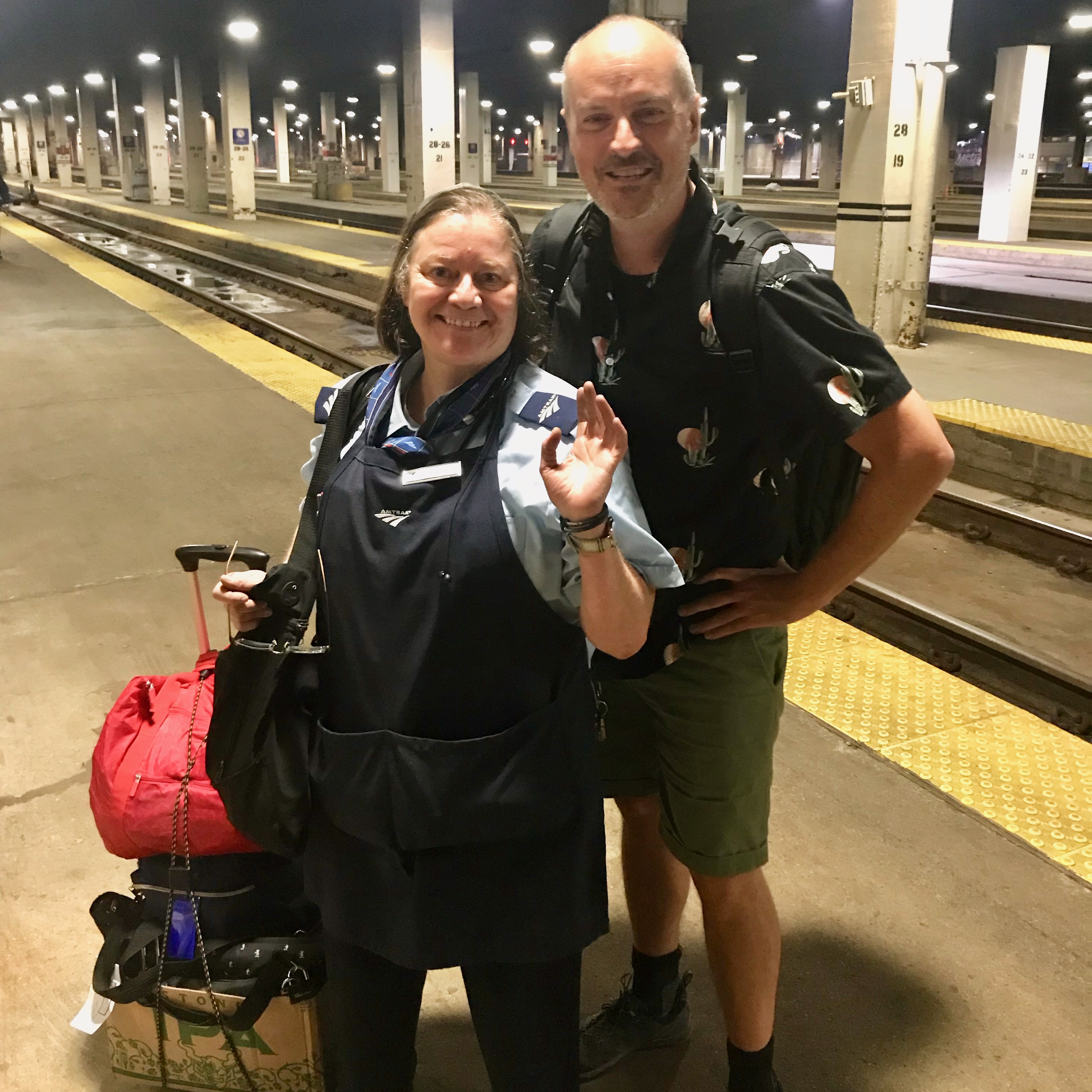 I also grew to love the lounge car manager, Catherine, who made brash announcements about the specific time she'd be taking her break and other rules of the lounge car. I finally got back to the lounge to meet her in person and asked her how her day was going and she responded, "I'm so busy, just another pile of stuff to restock…." as she worked through a plastic bag filled with cup of noodles.
While her brashness could come across as off-putting, with just a little smile and effort she was funny and warm and quite a character. So we kept talking with each visit and on the last day she even allowed a picture after the train pulled into the station.
Epilogue: America the beautiful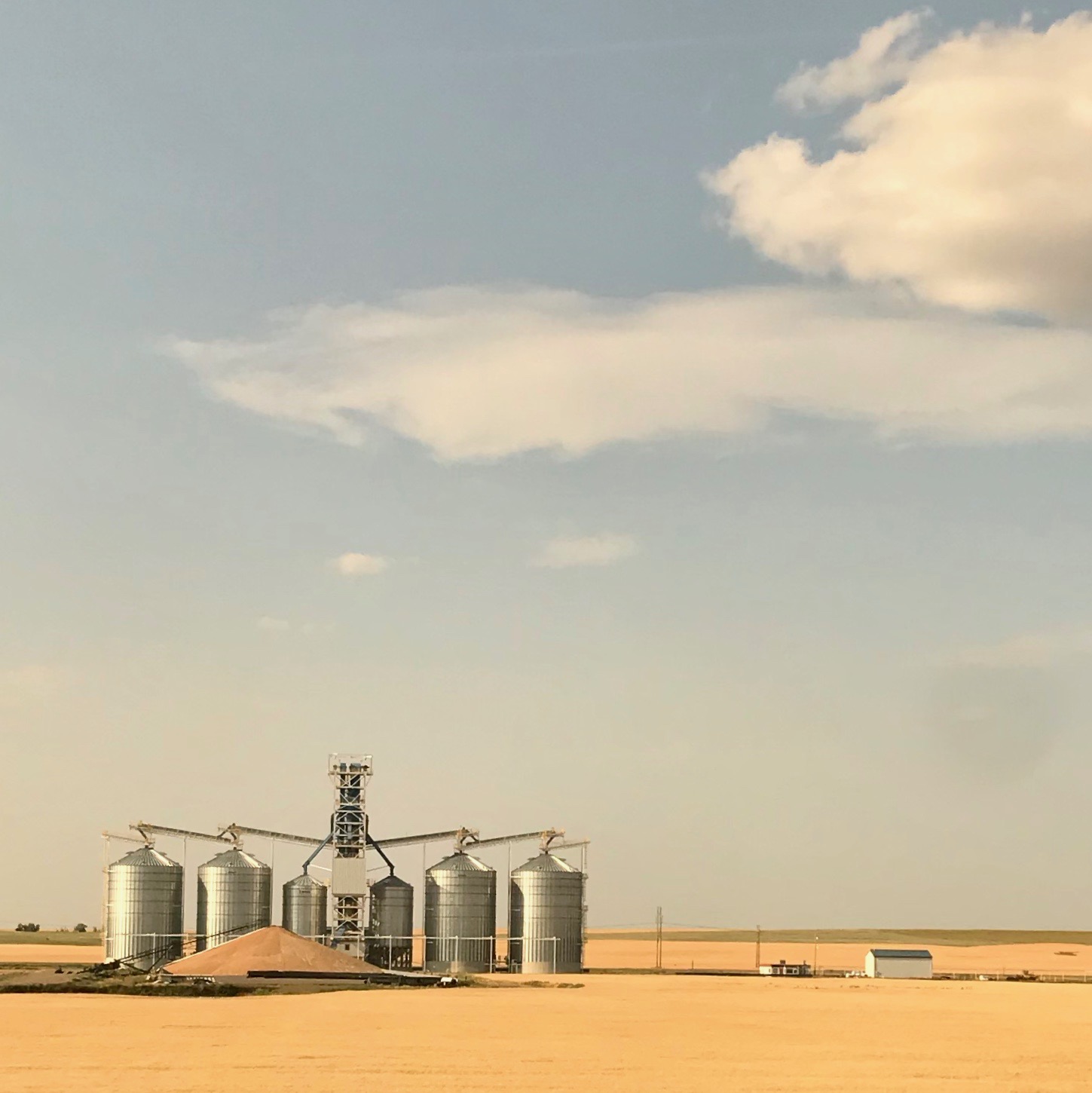 Going by train provides a special view of the United States that should be part of every person's journey at some point in life. Amtak's Empire Builder offers a beautiful mosaic of rivers, lakes, mountains, prairies, states, cities, staff members and passengers from all walks of life that might not normally come into contact with one another. Could this diversity be the answer to healing the trials and tribulations of our country?
In the current state of our world in the USA people seem more fragmented than ever; self-selecting their news and friends and everything else. Yet, this train journey mixed us up, encouraged us to talk to one another, gave us views of red states and blue states and purple states while also all heading in the same direction.
My four hour flight returning to Seattle was much more expedient; but in comparison to the train, detached from the earth, the country, the scenery and the people. Flying over it makes it much harder to appreciate the true beauty of the diversity of our country and the need to work together to move in the same direction.
Chug along, Amtrak train Empire Builder, chug along!