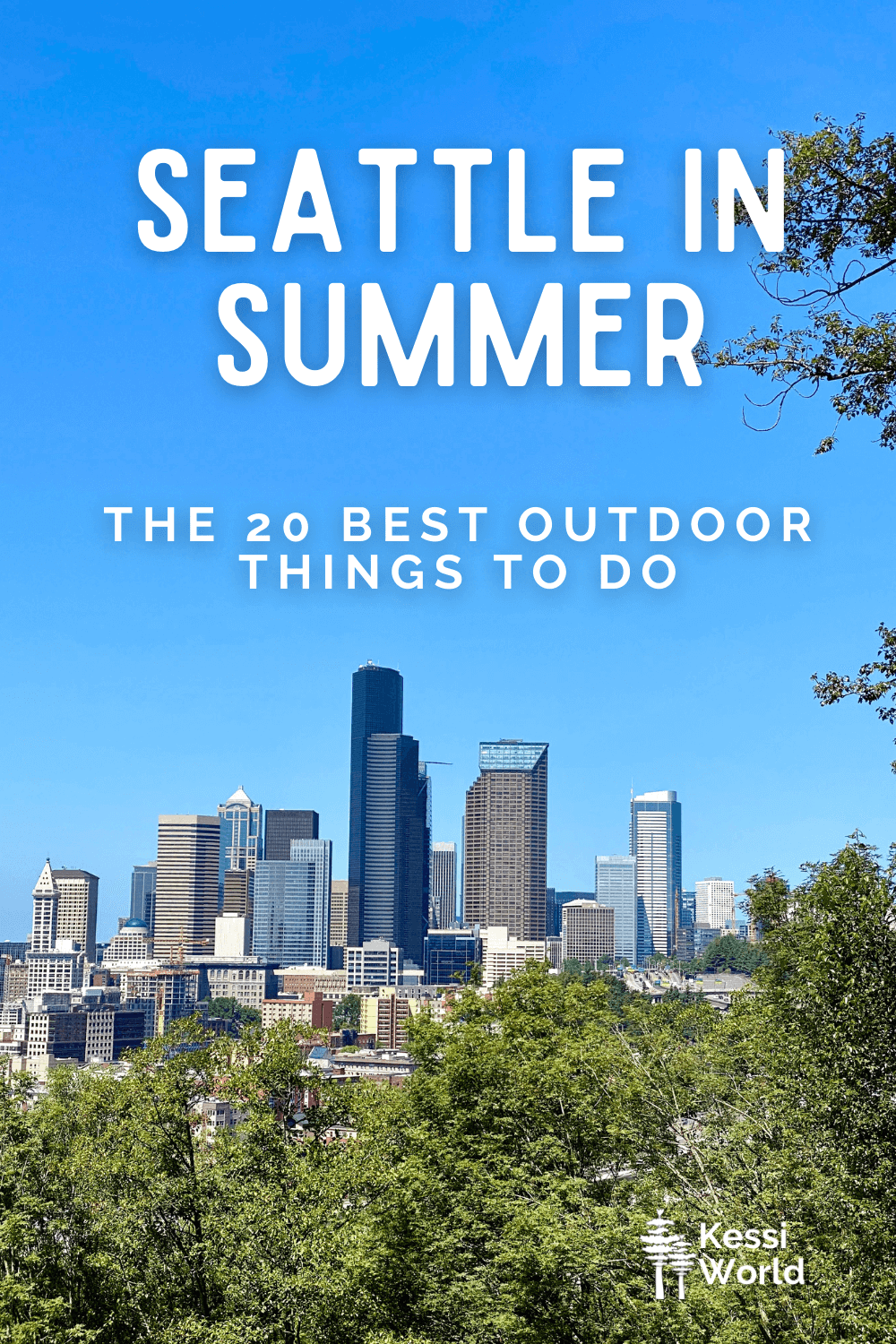 It feels like we wait all year for vibrant sunshine to grace our foreheads and the daylight to last past 9PM. It's the perfect time of year to truly enjoy the best outdoor Seattle Summer things to do. While the local joke that 'the rain doesn't stop until the day after the 4th of July in Seattle' feels true many years, the warmer weather and longer days encourage discovery in the great outdoors of the Emerald City.
I won't dismiss the abundance of art, culture, museums, music venues and other indoor things to do in Seattle — they exist in droves. But as the Summer in Seattle opens up to organic splashes of color amongst vast textures of green, and sunnier skies, it seems blasphemous to be indoors. Nature is all around us, in every direction, so this article will arm you with inspiration to venture out and explore, perhaps something entirely new for you in the city. I write about nature a lot, focusing on the special beauty found in each season. For instance, you can read about Spring flowers as the salve to our hearts, Fall frolicking at Bloedel Reserve, or even West Hylebos Wetlands Park for a Winter stroll. But the Summer in Seattle takes the cake on options for outdoor things to do.
Continue reading for my 20 favorite Summer outdoor things to do in Seattle
As I write this in June 2021, we prepare to fully open Seattle to the world, and each other — brewing optimism and a new appreciation for all the beauty around us. This list of 20 favorite Summer in Seattle outdoor things to do is grouped into four key categories aimed to inspire your own customization: urban hiking, expressive art & architecture, parks & green space, and the bounty of water omnipresent around the Emerald City. Check the links in each section to other articles I've written that provide even more ideas. Also, be sure to read all the way to the bottom where you'll find an interactive map with specific location details — and a few additional items not described in the text below.
Table of Contents — Seattle Summer outdoor things to do
Urban hiking — the outdoor allure of exploring Seattle's diverse streets in Summer
I've lived in Seattle now for ten years, and love my experience in such a beautiful city with water, trees and mountains in every direction. But it wasn't until the last year that I really moved outside the comfort of my Capitol Hill neighborhood to explore a city bursting with personality — rather, many different personalities. It's easy to get stuck in a regular routine — I get it — but then the pandemic really upended all that. I took to the streets and spent countless hours wandering the neighborhoods of Seattle… call it "urban hiking." While I love the city in any weather, this is definitely a great outdoor thing to do in a warmer Seattle Summer.
There are plenty of "benzene alleys" that make it a bit of a challenge to pleasantly connect neighborhoods, but with a little creativity it's possible to explore new lands within the Emerald City. I feel inspired to share with you five of my favorite urban hikes that might not be on your radar. And be clear — the beauty lies in the tiny details, like the homes proudly decorated, gardens lovingly cultivated and art masterfully displayed in unexpected areas. While you won't (mostly) find crowds, there just might be a connection to something new. Enjoy and be sure to let me know what you think!
Art of the CHOP — Seattle's Capitol Hill — outdoor Summer things to do
I'll begin this section with what makes an urban hike in my own neighborhood — Capitol Hill — so fresh and vibrant. Art is everywhere. Much of it consists of a mix of long-time murals, pandemic plywood coverings and expression associated with the Black Lives Matter protests that started in June 2020 after the murder of George Floyd. I present a real-time account of the art in a photo essay written in June 2020 titled, Art of Seattle CHOP. CHOP stands for Capitol Hill Occupied Protest and consisted of a small portioned area in the heart of Capitol Hill near the Seattle East Precinct Police Station. While most of the temporary installments were removed, much still remains on the sides of buildings and in other nooks and crannies. The large "Black Lives Matter" letters that emerged on the surface of East Pine Street last Summer were recently repainted and still invoke some of the fraught energy of the impassioned movement.
Similar to my feelings about places like Berlin, it's important to honor the meaning of the energy that inspired this protest — and visiting the art is one way to acknowledge our very recent Seattle history. Wander between Pine and Pike streets in this area with eyes peeled for all kinds of brilliant artwork. The plywood is down and the area is definitely open for business, which makes me very happy. I like Cafe Vita for coffee and Honey Hole Sandwiches, Bimbo Burritos and Oddfellows Lodge for food — but there are so many great restaurants in the area to try. Finally, while this area received a lot of negative press about burning cars and rampant crime, this is my home and I feel safe walking in this area — day or night.
Coming soon — my comprehensive guide to urban hiking Capitol Hill. I'm testing the path with loyal friends and will report out in the near future.
Georgetown — the one in the other Washington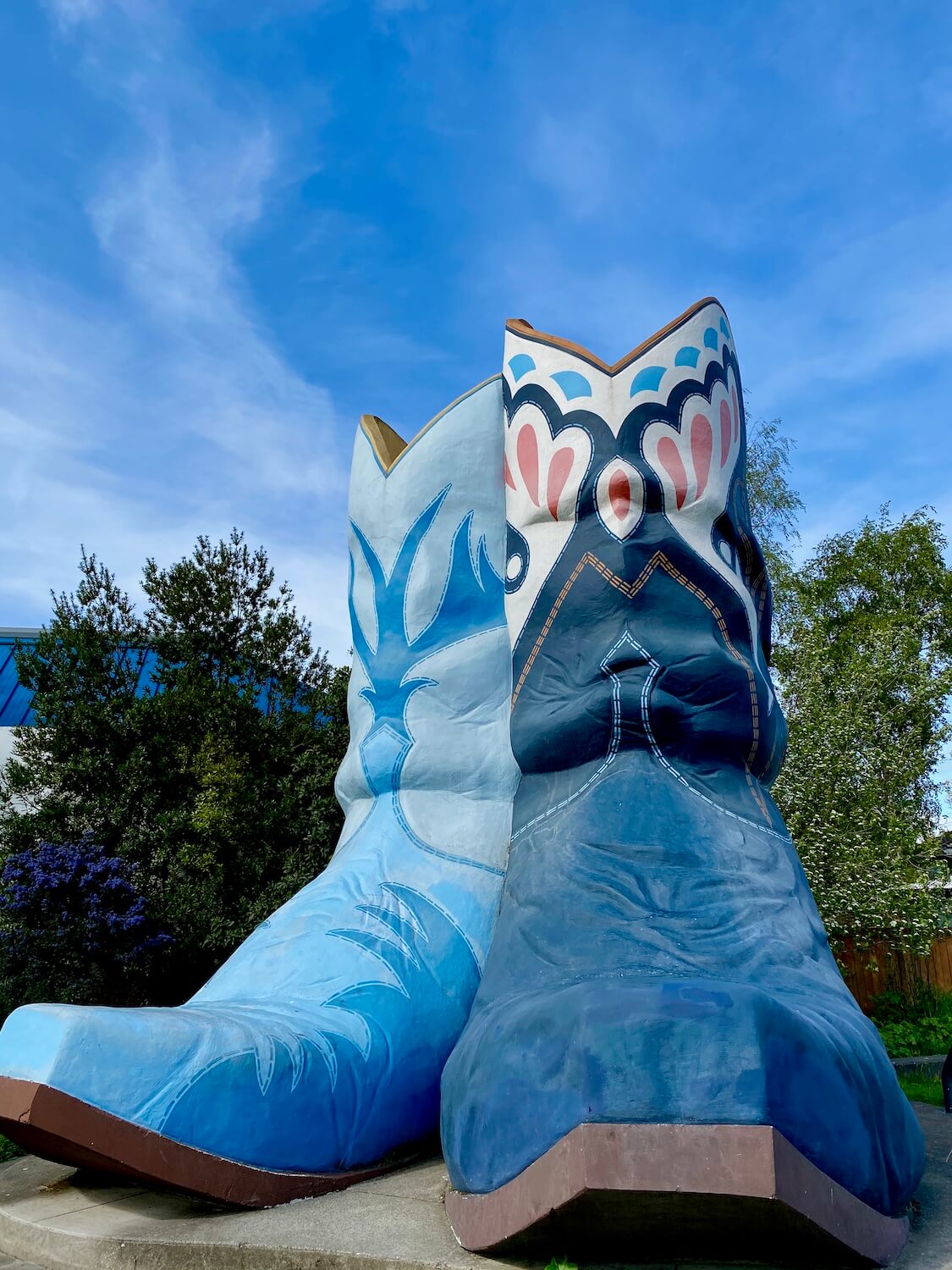 Georgetown is Seattle's oldest neighborhood and was officially founded in 1903 as a center for industry — due to a convenient location near the then Duwamish River. Rainier Beer and the first railway in Seattle both originated in this area that once boasted seven saloons, five grocery stores and four churches. Over time, this unsavory district annexed into Seattle and felt constriction from changes in the Duwamish Waterway on the west, Boeing Field on the south and the construction of Interstate 5 on the east.
Today, it's an edgy mix of heavy industry, wine tasting venues, food carts, coffee joints and even some antiques here and there. No doubt the pandemic turned this compact neighborhood upside-down a bit, but it's coming back. Start at Hanger Cafe for a delicious crepe and wander down Airport Way S to discover nooks and crannies. Garleton and Flora Avenues both are walking zones, complete with quirky street art, a bakery, and my favorite, Oxbow Park (the one with the ten-gallon hat and cowboy boots.) End the urban hike at Ruby Chow Park just in time to watch a huge Boeing jetliner land at nearby King County International Airport.
Speaking of large jetliners, supersize this experience and check out The Museum of Flight, only 2.7 miles down the road. And push even harder to South Park, up next…
South Park — the one not on TV
I'd never really heard much about South Park until the closure of the West Seattle bridge required a contortion of roadways to get between the main part of Seattle and the waterlogged peninsula. I noticed the brightly colored buildings and made it a point to return to wander this part of the Duwamish Waterway that might appear to the untrained eye to be just another industrial zone. In fact, this tiny neighborhood is an area where the Duwamish Tribe is believed to have used Summer camps for fishing, before contact with European settlers. Of course, the Army Corps of Engineers reworked the winding river in the early 20th century to allow an easier path for marine commerce — and slowly the water bounty dwindled and the Summer fishing camps dispersed.
Today work is underway to reclaim parts of the Duwamish River, and I feel it's important for any Seattleite to learn and understand about the land we inhabit. An urban hike around South Park is one way to start in this direction. There are several anchor restaurants that serve fantastic multi-cultural fare along with quirky friendly local-feel coffee shop, Resistencia — to get the experience started. Read the placards on display around the historic (and renewed) South Park Bridge and follow Dallas Ave S to get a feel for the former bank of the river. The neighborhood is walkable and charming, with lots of surprises along the way.
Supersize this experience by driving 3.4 miles up the road (S Marginal Way) to the Duwamish Longhouse and Cultural Center to learn more about the Duwamish people. Terminal 107 park, across the street, has some open views of the Duwamish Waterway and reclamation areas with traditional fishing nets. Puget Park, which commands the entire side of the hill leading up to West Seattle, also has a number of trails for further exploration.
White Center — an edgier gay pride
A few years ago a LGBTQ+ community started to pop up around a few key fixtures, namely Lumberyard Bar, making a great option for Seattle's community. The neighborhood even hosts a separate Pride Festival later in the Summer. This eclectic neighborhood is not quite claimed by any city (considered a region under the jurisdiction of King County), which seems perfect for the cultural diversity here. Start around 16th street SW with a cup of coffee at Moonshot Coffee and wander the streets in this area, making sure to notice the wall art everywhere. If you're up for it, the alley to the East of 16th Street has some great murals as well. Continue North to the start of a walking zone (17th Ave SW at Delridge) and wander the streets. And a visit here wouldn't be the same without a stop at the Salvadorian Bakery and Restaurant.
Supersize your day and combine this urban exploration with Lincoln Park (3 miles away) and/or the Fauntleroy Ferry Terminal — which connects Seattle with Vashon Island. For more information on this topic, check out my article, All you need to navigate the Washington Ferries.
Columbia City — historic gem of South Seattle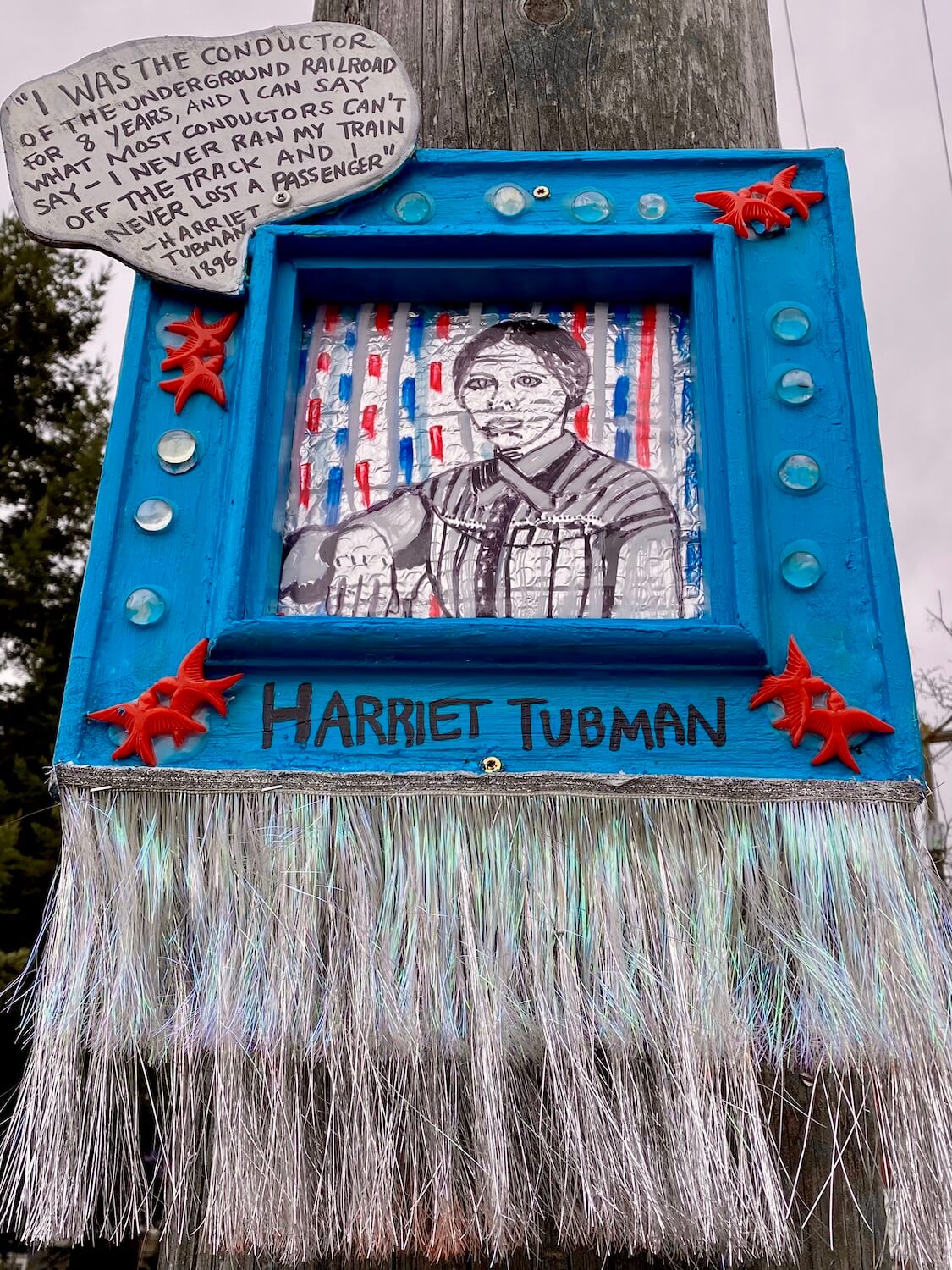 Columbia City is an enclave of South Seattle that oozes with history. There is a definite Main Street in the center of it all that harkens back to the 1950's when every borough had a movie theatre, drugstore and meat shop. In fact, the local butcher is still in business. Olympia Coffee is a great place to start the day, maybe before a tasty meal at Geraldine's Counter (made from scratch comfort food). There is a lot in the several blocks around this intersection (S Ferdinand & Rainier Ave S), from art galleries to bakery to brewpubs. But the best part is to take a self-guided historical tour by visiting the Rainier Valley Historical Society, where they provide pamphlets for the neighborhood discovery stroll. There is also a walking street that starts at the circle at 37th Ave S (at Ferdinand) and the Farmer's Market is on Wednesday's 3-7PM. The best part about Columbia City is that it's conveniently located on the Link Light Rail line, making it a breeze to get here on a layover at Seatac Airport or from Downtown Seattle.
Supersize your day and tie a visit to Columbia City into a walk to and through nearby Seward Park. That's about a 1.5 miles each way (30 minutes), not including whatever length of walk you desire at the beautiful park. If you go, skip the busy outer beach walk and venture into the center of the peninsula where the old growth cedar and fir hang out.
Urban art and architecture — Outdoor Seattle Summer things to do
Seattle has a rich art culture that's alive in formal museums, architecture, outdoor exhibits and wall murals. More recently, the events of 2020 brought about a new edge to the art expressed in the city — atop plywood window coverings and vacant brick walls — associated with energy from the closing of business for the coronavirus pandemic and then, later, Black Lives Matter protests. Those taking the Link Light Rail line from Seatac Airport to central parts of the city will enjoy numerous wall murals only visible from the urban connector — especially between Beacon Hill and Stadium stops. The following are my favorite places to experience Seattle art and architecture in Summer.
Seattle Summer outdoor things to do — explore the art of Seattle Univeristy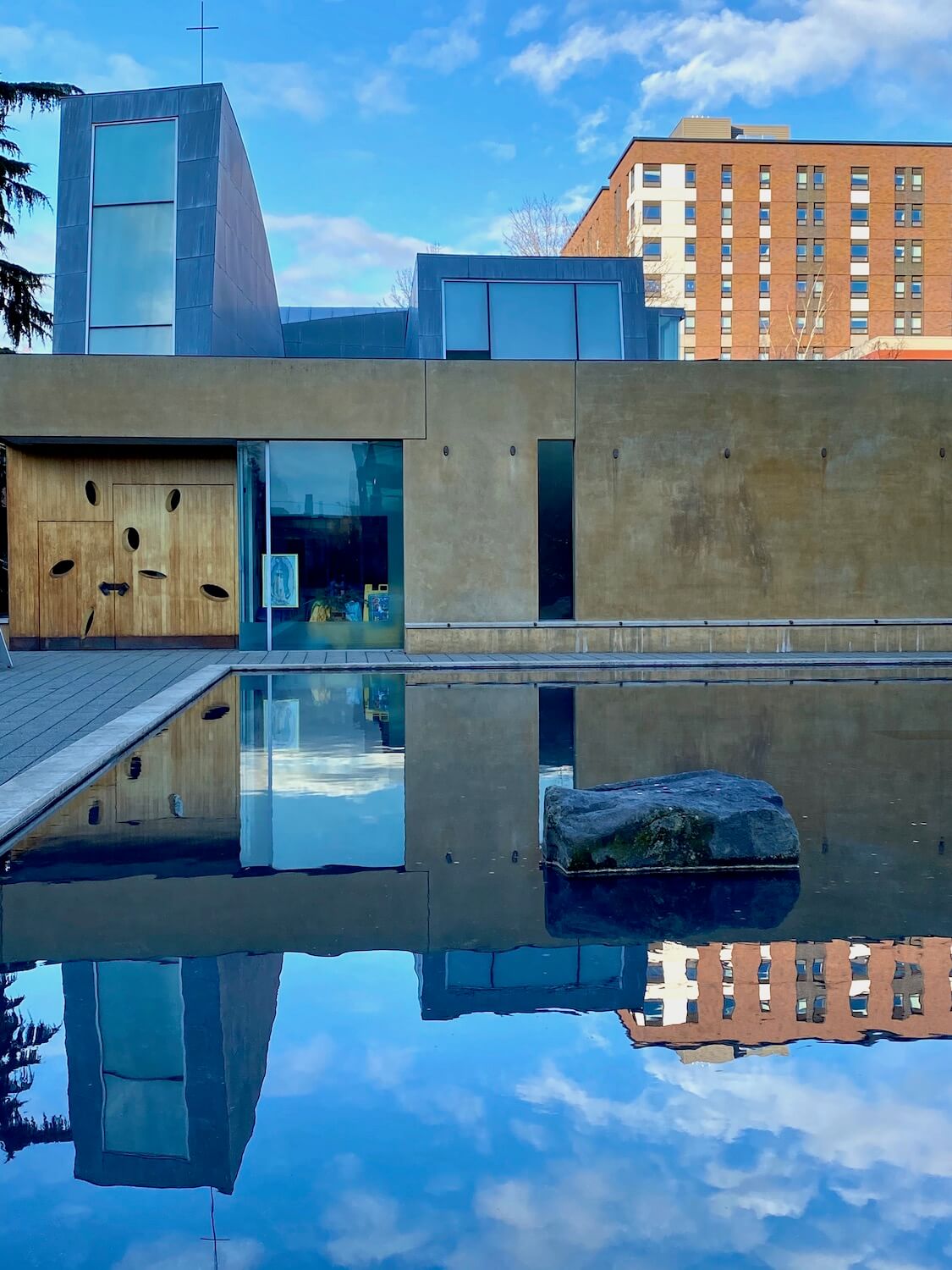 Seattle University sits quietly tucked amidst so much vibrant activity — wedged between Capitol Hill and First Hill in the heart of the city. And while most students are out of class for the Summer, I love to stroll through the well-maintained campus grounds enjoying the art which seems to pop out from all directions. The campus chapel won design awards when it was built in the 1990's, and there is even a modest Japanese tea garden tucked amongst school buildings. Don't forget to try out the labyrinth recently installed as a piece to encourage inner peace. Since this is near my neighborhood, I stroll by here a lot and wrote an article titled, The most inspiring art of Seattle University.
Olympic Sculpture Park
The setting of this narrow landscaped patch, infused with a variety of thought-provoking exhibits, could barely be matched on a clear day. The front row view of the Salish Sea is soulful in any weather, but on a clear Summer day when the snow-capped Olympic Mountains emerge in all their grandeur, it's hard not to feel the delicate balance that exists between city and nature. Wind through the diagonal pathways that meander through casts of metal with teetering objects and grasses planted in strategic places, bringing to life the feeling of wandering through the dunes at the beach. The Space Needle hovers above this scene, remaining in the background. From the nine-acre park take the pedestrian walkway over the railroad tracks to meet up with Elliott Bay Trail — which changes direction North along the sound as far as you fancy (also mentioned below).
International Fountain and art of Seattle Center
The Seattle Center was originally created to house the 1962 World's Fair — firmly launching the iconic Space Needle into the city's identity. A whole cluster of futuristic pavilions were constructed for the event that showcased all the space-age technology that would build the future of the world. Most of the original buildings were dismantled, but a few remain, such as the mid-century gem that houses the Pacific Science Center and the sporting arena with a roofline resembling a ceremonial hat worn by traditional Salish tribes.
I enjoy strolling through this hodgepodge of architecture because artwork seems to pop out from every direction. Look for giant daisies extended up toward the Space Needle or the effervescent curvature of the Museum of Pop Culture's metal exoskeleton. Continue wandering through the collection of buildings to the giant round ball wedged in the bottom of a sloped concrete basin — like a pinball waiting to drop through a hole. The massive spray of water shooting from various conduits around this giant ball inspire a child-like interest to run through the streams of mist and spray. An activity perfect for a warm Summer day.
Chinatown and UPS Waterfall Park — great Summer in Seattle outdoor thing to do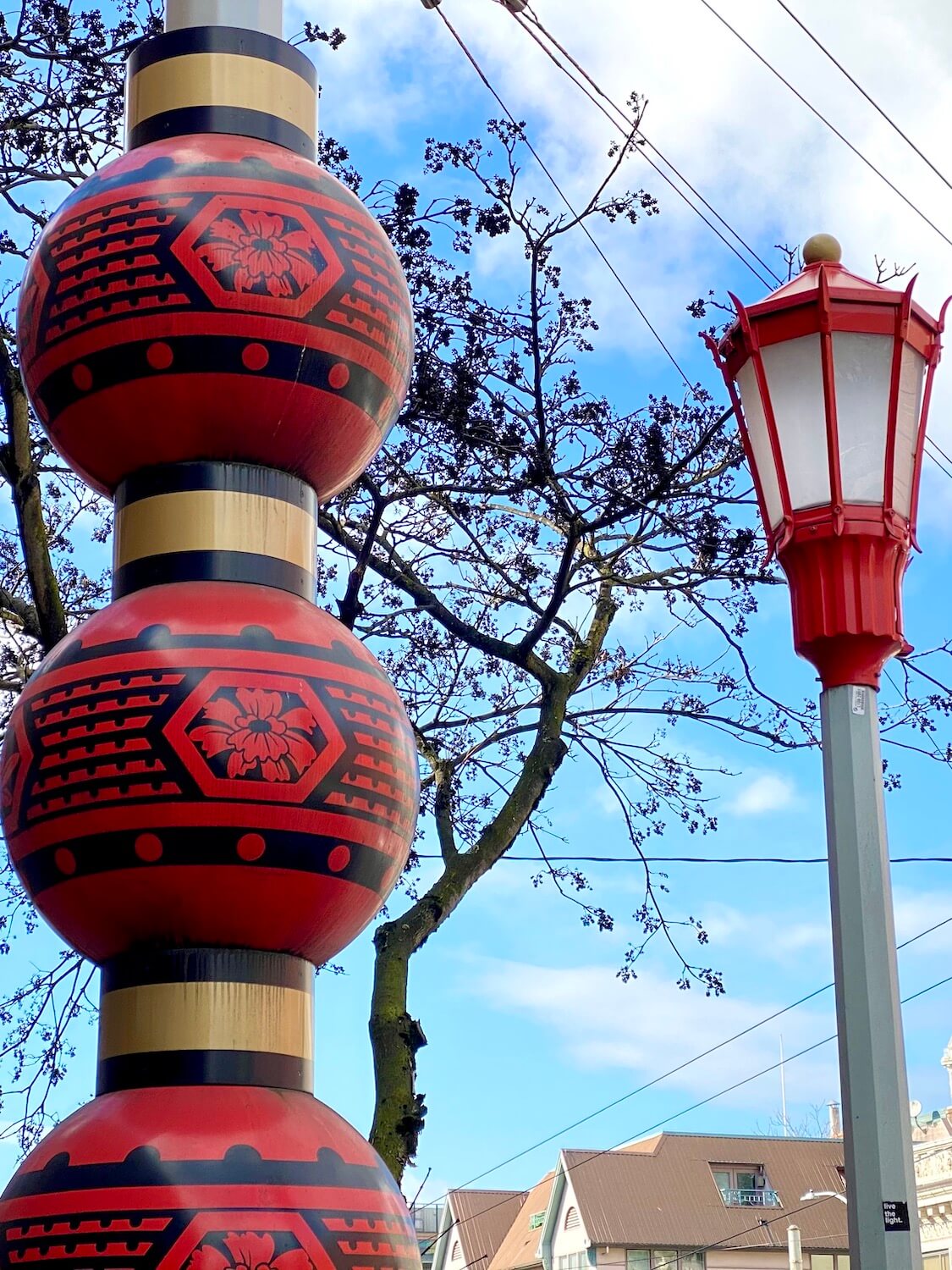 Chinatown is a fun place to visit, and the merchants could use our friendly support right now. Some of the best asian cuisine lives in this historic neighborhood, along with colorful dragon gates and other art. Occidental Square offers interesting sculptures and it's hard not to be inspired by the beautiful flowing UPS Waterfall Park. Grab a bite to go from Honey Court Seafood Restaurant, or any of the great Chinese restaurants in the area, and have a seat amongst the metal pergolas that frame the rock wall that at the time was the most expensive US park to build on a square foot basis.
Amazon Spheres and "Tron City"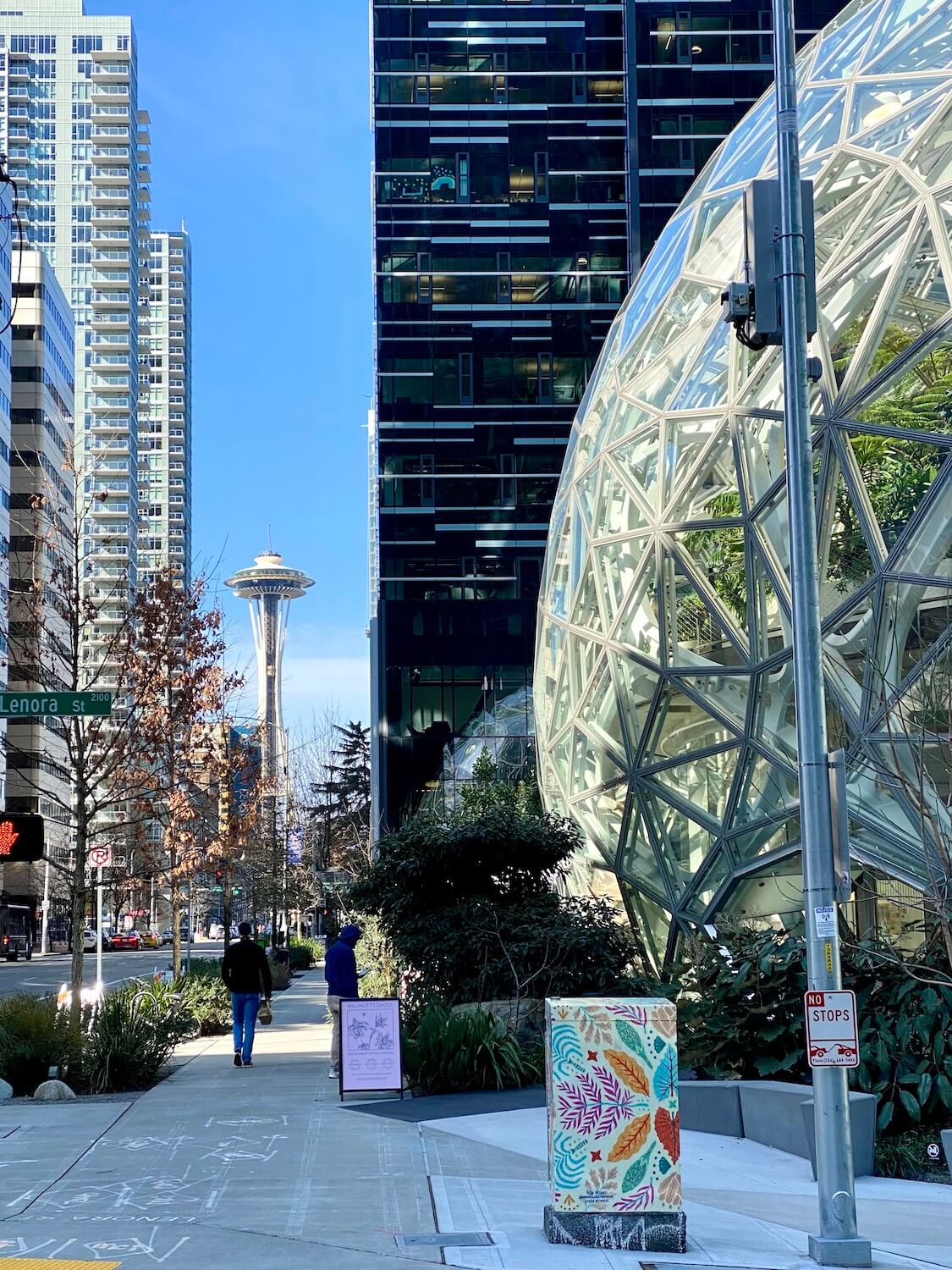 Seattle's downtown is beginning to wake up and is morphing everyday. Skyscrapers continue to shoot up, sleek steel and glass monuments to the ongoing prosperity of tech giants in the area, most notably Amazon.com. While the glass orbs known as the Amazon Spheres enjoy most of the notoriety, I love wandering through "Tron City" as I call it. Just look up, in every direction, at a new city forming. There are a few Amazon grab and go stores, which require no exchange of money. Just download the app, load a credit card, scan the code to enter and take whatever you'd like off the shelves. Perhaps buy a picnic lunch to enjoy at one of the brightly painted red metal benches nearby. Mbar, which I featured in the article about the best places to view the Seattle skyline, is open again and serves sophistication with a Birdseye view of all that's new on the tech horizon of the Emerald City.
The best parks to enjoy Summer outdoor things to do in Seattle
Seattle area parks exhibit the inspiring beauty of Pacific Northwest nature in special ways each season — but are particularly stunning in Summer. I write about the Best Botanical Gardens, P-Patches (community gardens) and Places to View the Seattle Skyline in other articles, which highlight a number of my favorite parks. While something is always in bloom, the experience is about the elements coming together to showcase regenerative powers, right on time. The following collection is my list of favorites to enjoy the bright and colorful outdoor world of Summer in Seattle.
Explore a Japanese-inspired garden
Ah… my heart opens the moment the topic turns to Japanese-inspired gardens in Seattle, especially in Summer, when the layers of texture really start to draw contrasting lines. Imagine fresh crimson-red leaves pushing through twisted branches of laceleaf maples while a tranquil brook bubbles over strategically placed rocks designed to welcome tranquility. Young bamboo shoots push their way through deep green moss and proud pagodas provide vantage points to survey the landscape. Japan and the Pacific Northwest have enjoyed strong ties for over a hundred years. While the official Seattle Japanese Garden in the Washington Park Arboretum is stunning, there are many other examples of inspiring fusion between traditional Japanese style and Pacific Northwest botany. My article, The most inspiring Japanese gardens in Seattle can provide you with more helpful information.
Frolic in the Summer flowers — Bellevue Botanical Garden and many more
The Bellevue Botanical Garden is a fantastic experience any time of year. I love the fuchsia garden, with abundant varieties of the fiery reds, purples and pinks flowing as if lighting the way to the shade gardens. Wander amongst the gravel paths and ascend the strategically placed stone slabs to the original mid-century style residence of Cal and Harriet Shorts, who generously deeded the land to start this garden in 1981. The flower beds that produce flowing colors all Summer are amongst the most inspiring in the entire Seattle area — especially for free entry. This is but one great example of the plethora of botanical gardens available — many with free entry — to explore in the long light of Summer in Seattle. I've written numerous pieces on this subject, and for a more compressive list of favorites, check out my article about the Best botanical gardens in Seattle.
Play in a giant's world — find an ancient fir forest
Not every old-growth fir tree was razed from the land over the past hundred years. There are remarkable remnants of the ancient wonders in a number of places around Seattle — completely accessible in the Summer. Check out the sprawling hill above Azalea Way in the Washington Arboretum — chalk full of unique varieties of redwood, cedar and fir. Although they are not old-growth, they've been providing shade to the world for a hundred years. Or, head over to West Seattle and follow the creek through Schmitz Preserve Park — filled with age old cedar and Douglas fir and teenagers expressing their independent streaks. Even busy Seward Park has a beautiful secret deep within the running trails no-one visits… except runners — it feels like entering into another world. Ravenna Park and several more green spaces can offer this longevity — so run for the forests! And be sure to hug a tree.
Get garden envy this Summer at a local Seattle P-Patch
One of the first things I noticed when I moved to Seattle exactly ten years ago, in the Summer season, was the variety of public gardens right on the street, for the world to enjoy. Community members assemble to lovingly cultivate flowers and produce while little sheds pieced together with determination seem to be filled to the brim with every manual digging device imaginable. While the reward doesn't splash and yell "look at me" until later in the Summer, around late July and August, I still find these bastions of green thumbs inspiring and peaceful any time of year. In fact, I love this concept so much I created a photo-essay titled, Seattle P-Patch photos — community gift of color In unexpected corners. For more information and the locations, check out the Seattle P-Patch website.
Seattle in Summer — 4th of July patriotism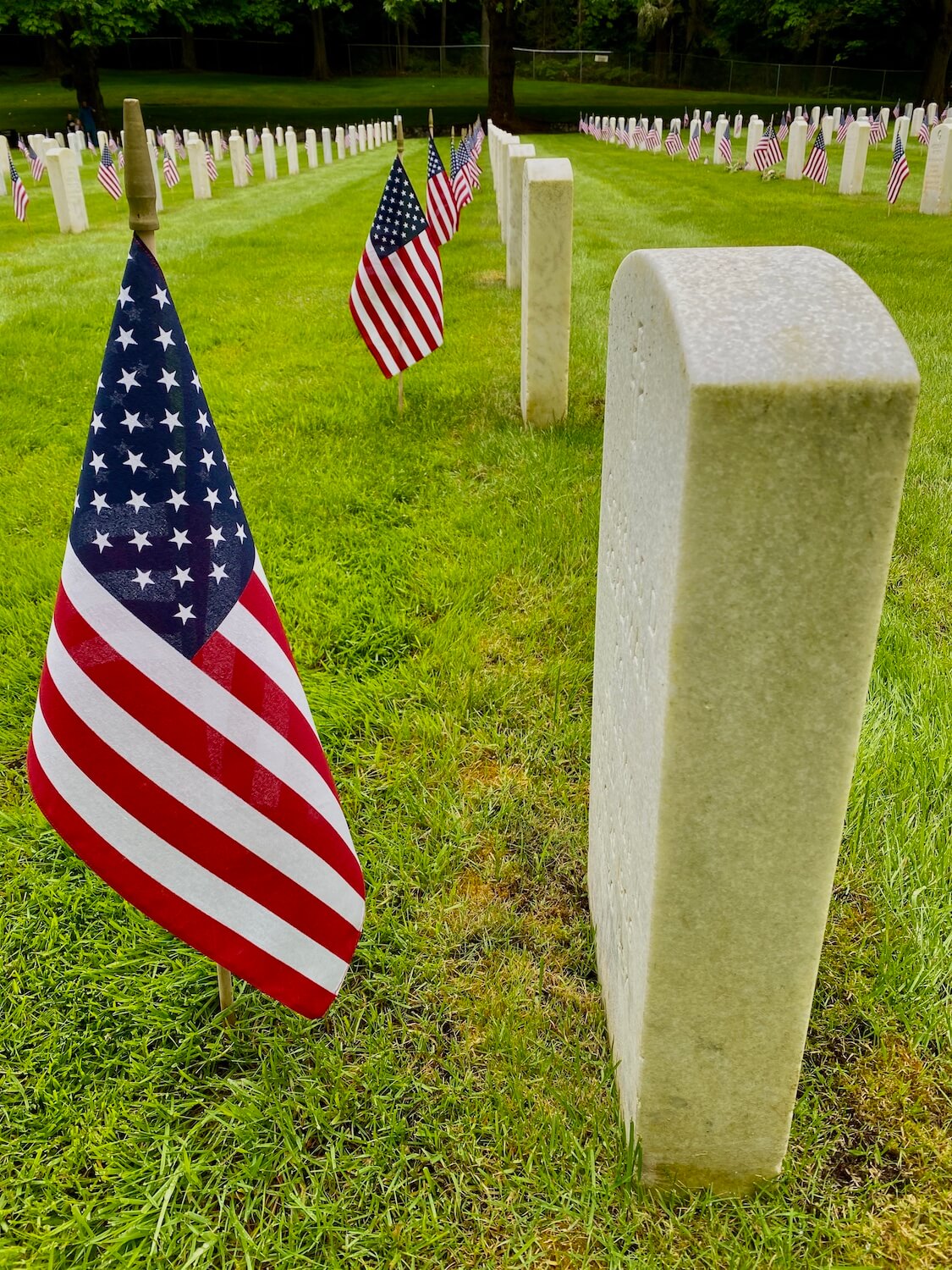 My favorite thing to do on the 4th of July is to pay respects to service members at two Seattle parks that feature military cemeteries — lined up with rows upon rows of crisp American flags. Discovery Park is popular regardless of the holiday, and once parked and on foot, look for the discreet entrance to the Fort Lawton Military Cemetery. The peaceful space also hosts German and Italian prisoners of war who died at the fort, a peculiar mystery given the European theater of WWII was mostly… in Europe. Up on Capitol Hill, near the larger Lakeview Cemetery (final resting place of Bruce and Brandon Lee), find a secret garden turned military cemetery for Civil War veterans who made their way West to Washington State.
Seattle waters nourish the soul any time of year
Water is ample in every direction around Seattle — any time of year. That's what keeps our world green, especially fueling the vibrancy of Summer. While there are plenty of great places to access the water, those listed below are my absolute favorites for the season. I've also placed a few additional options on the map below. Be sure to take an extra layer, because microclimates along the water can differ from other parts of the city. When considering a saunter along the Salish Sea (Alki Beach mentioned below) be sure to research the tides, as they can change as much as 14 feet between low and high marks. Otherwise, the lake levels stay pretty constant.
Elliott Bay Trail — outdoor Seattle Summer sea breeze
Reclaimed from heavy industry in the 1980's, this inspiring series of bike and pedestrian pathways connects visitors with the best elements of Seattle. Work continues to update the shoreline that shares space with the vibrant dark green water of the Salish Sea — new beaches are being formed to help support more natural habitats for salmon and other water-life. Start at the Olympic Sculpture Park (mentioned above) near Pier 70 and continue for about 1.5 miles to Elliott Bay Park (photo above). Even if the breathtaking views of the Olympic Mountains are not present, the swirling colors of Summer sunset clouds flowing over an urban mix of industry, ships and famous skyline icons serves up a cornucopia of Seattle spirit deeply connected with nature. Take a hoodie, because there is no protection from the elements on this three-mile jaunt — especially if exploring around sunset.
West Seattle & Alki Beach — King County Water Taxi
I love Alki Beach (Al – Kai) and West Seattle so much I write about this fantastic waterlogged peninsula in another article: The best things to do in West Seattle, including Alki Beach. Absorb the hustle of volleyball, bikes, roller blades, picnics and paddle boards — this stretch of beach and boardwalk is full of life and interesting things to see. Given the driving challenges with the major arterial bridge connecting this region of the city to said city, I recommend ditching the car. Instead try the King County Water Taxi, which departs from the brand new Pier 50 Terminal in Downtown Seattle ($5 each way with ORCA or $5.75 non-ORCA) and drops you off at Seacrest Dock near yummy Marination Ma Kai on Harbor Drive. It's a flat and ridiculously scenic 2 miles and 40 minutes walking to all the hustle and bustle of Alki Beach. By that time you'll be ready for food and beverages by the beach — and there are plenty of solid options. The lighthouse at the end of the spit is walkable along the shore at low tide, but check the tides to avoid getting stranded.
Arboretum-Waterfront Trail — Foster Point
This experience reminds me of duck hunting with my brother — amongst cattails and other marshy plants soaked with moisture — except you're viewing the birds instead of shooting them. Even in Summer the trail can be a bit mushy in places, so be sure to wear appropriate footwear — not flip-flops. There is something liberating about trudging through the mud amongst a soggy marsh while taking in the variety of animal life and absorbing the stillness of Union Bay, which is an alcove of Lake Washington. Start out at Foster Point, with benches and rocks that frame in the lake while stray geese wander about. The plank system begins here and continues through a system of brush and elevated viewing stations. The trail ends at East Montlake Park, which is still in transition from the development of the new Evergreen Point Floating Bridge — also a great outdoor option for a Summer outing in Seattle. Unless the desire is to continue to the bridge, it's a more pleasant experience to back track on the plank system.
Fisherman's Terminal — Interbay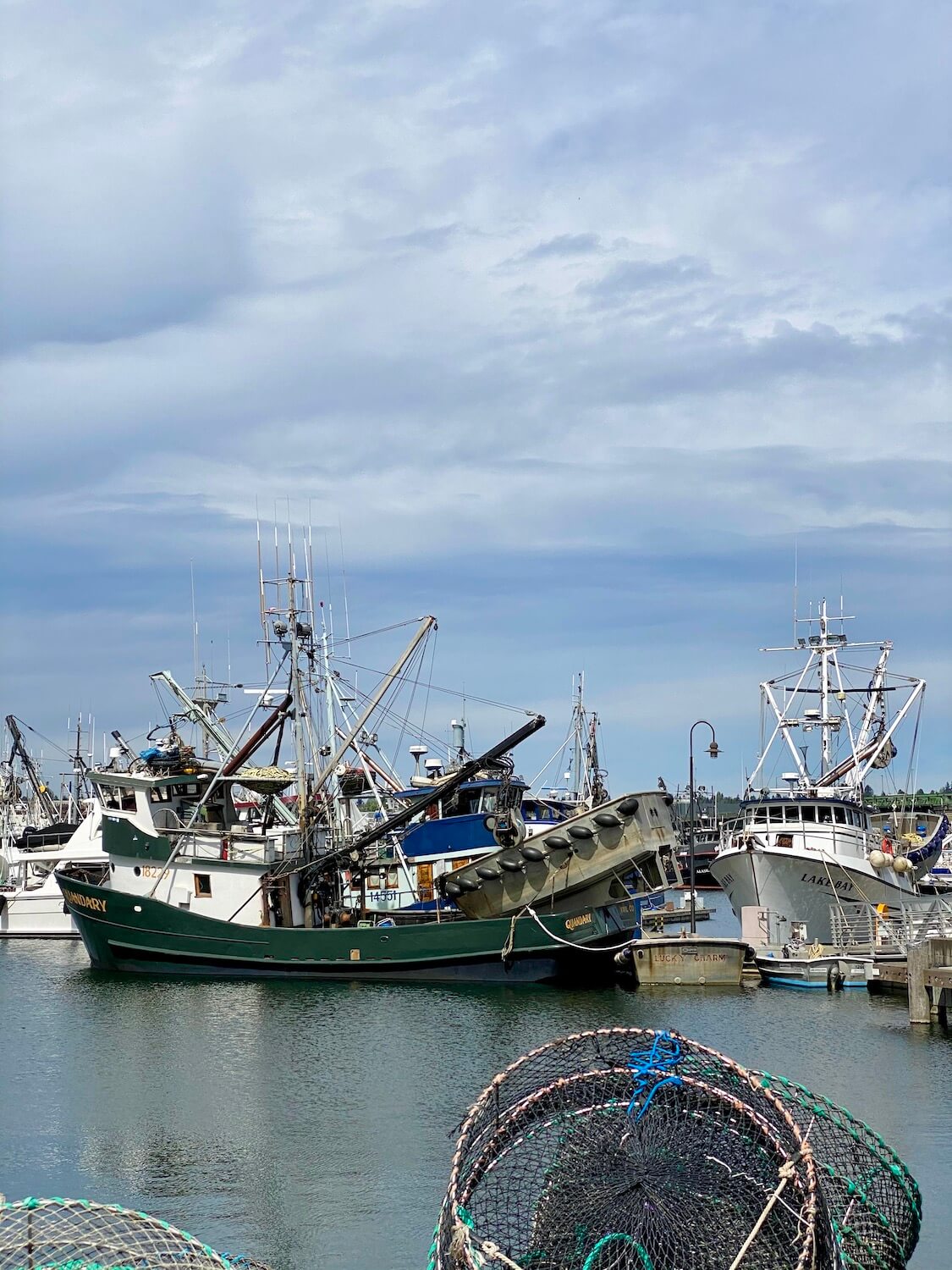 Seattle hosts an armada of fishing vessels that work hard to bring in the catch from Pacific Northwest waters all the way up to the Aleutian Islands in Alaska. In fact, a good portion of the Alaska fleet is based around the docks of Ballard, Fremont and the fishery industry Mecca, Fisherman's Terminal. Chow down on excellent fresh fish-n-chips at Chinooks at Salmon Bay before wandering around the public docks. Watch crew members mending fishing nets, painting boats, refueling, and doing everything necessary to prepare for the next bounty. This beehive of activity is only about 2 miles from the Ballard Locks, which also make for an interesting Seattle Summer outdoor thing to do.
Take the Washington State Ferry to Bremerton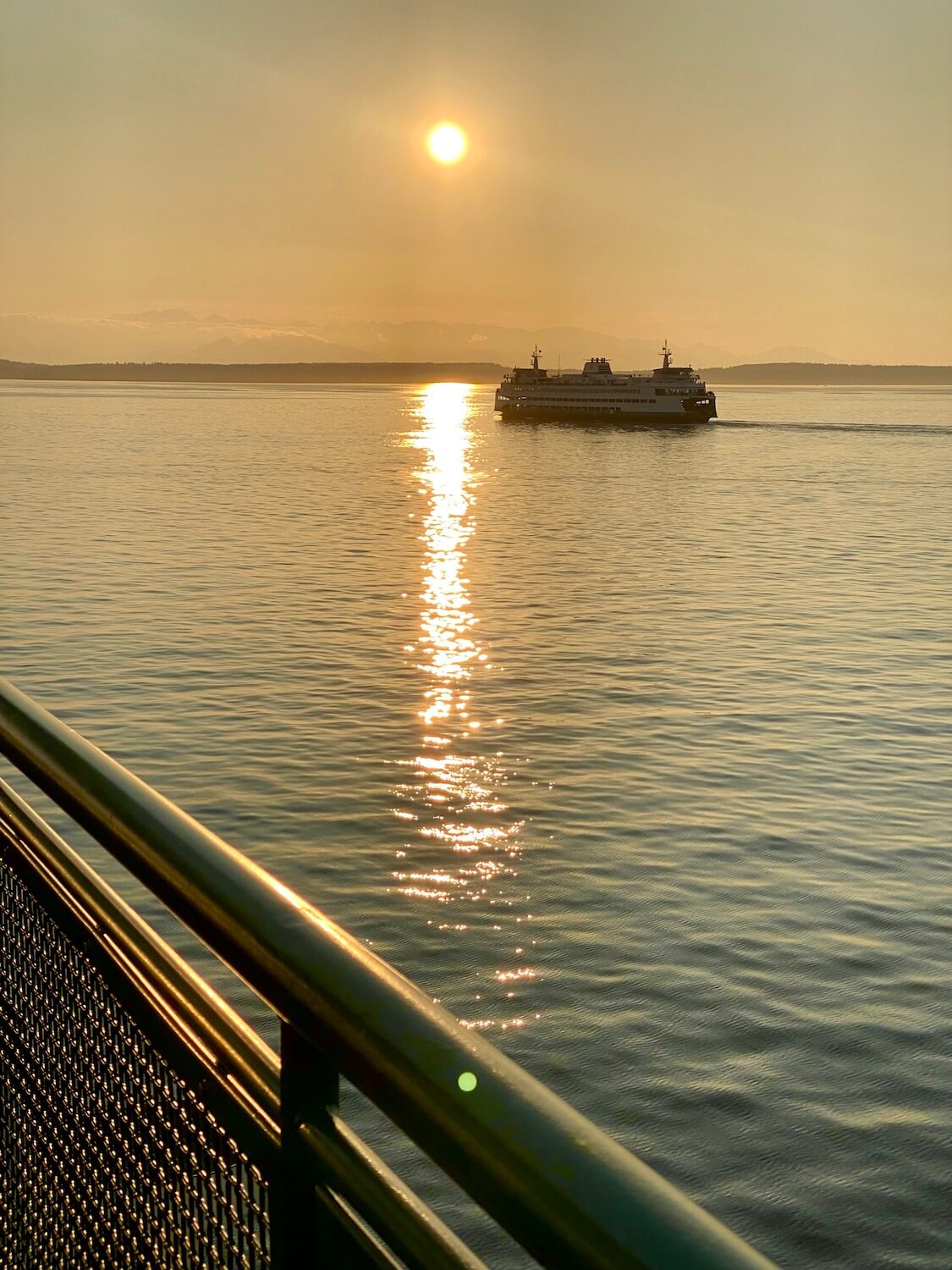 Not much beats floating through the Salish Sea on a ferry — no matter the weather. Walk onto either the Salish or Chimacum (yes, I'm geeky about airplanes and boats) at Coleman Dock in Downtown Seattle. At the time of this writing the passage costs $9.05 per person for the round trip. Machines sell tickets or ORCA (Seattle Transit) cards are accepted — right as you walk through the boarding gate. Since the fare is only sold as a round-trip, no tickets are taken when boarding the eastbound return to Seattle. I spend all my time out on the deck, looking for kelp beds and the elusive Orca whales.
The skyline of Seattle is amazing as the boat pulls away from the city and about an hour later you'll feel the bump of the marine vessel into the Bremerton pilings. While I also love sailing to Bainbridge Island, it gets rather crowded and touristy in the Summer. Bremerton makes for a fun boat trip with the same allure and views, but the destination feels a bit more local. For more information on a day-trip to Bremerton, check out the article I wrote, Bremerton day trip from Seattle.
Summer weather in Seattle — what to wear
Contrary to popular stereotypes, it only really rains in Seattle half of the days in the year and we keep the secret to ourselves that Summer weather is really ideal. Crisp cool dew-soaked mornings are followed by dry sunny afternoons that creep into beautiful sunsets with wild colors in the sky. The average daily temperatures range between 70 – 80 degrees, with some outliers toward the end of July that creep into the 90's. It's a rare occasion to get much hotter.
All this said, the weather every hour of each day can feel unique, making it very important to wear a variety of layers during the day that can easily be removed as the weather will undoubtedly change a few times. The areas near the Salish Sea can be particularly cool during the twilight hours, so bring a hoodie. I usually wear shorts and flip-flops all Summer, layering up on top with a t-shirt, button-down and/or a hoodie for evening outings.
Of course, if rain is in the forecast, bring an outer shell but not too much underneath as condensation builds up with the rain and you'll find yourself soaked from the inside after a good hike.
Where to stay for a Summer visit to Seattle
Seattle has a lot of great neighborhoods well-suited for hosting out-of-town guests. I'm a little biased to Capitol Hill, since I live here and love feeling that so many different options are accessible from the central location, while offering a little more competitive pricing compared to Downtown Seattle. However, places along the Link Light Rail, like Columbia City and the soon-to-open Ravenna Station to the North could provide some lower-priced options that don't sacrifice convenience. I write all about it in another article, Where to stay in Seattle.
Interactive map — outdoor Seattle Summer things to do