Wallowa Lake Lodge
A good night's sleep in Eastern Oregon's alpine wilderness. Wallowa Lake Lodge inspires joy from a glacial lake on the outskirts of rural Joseph, Oregon.
There are many ways to engage nature in the Pacific Northwest, but I ask you this question: Are you ready to go deeper in your connection with Mother Earth? Some may ask, what is the best way to foster a meaningful relationship with the natural world if you're not camping? Under the towering Wallowa Mountains, situated at the edge of a pristine alpine lake, might be the answer: Wallowa Lake Lodge.
This article provides you with everything you need to know to stay at Wallowa Lake Lodge.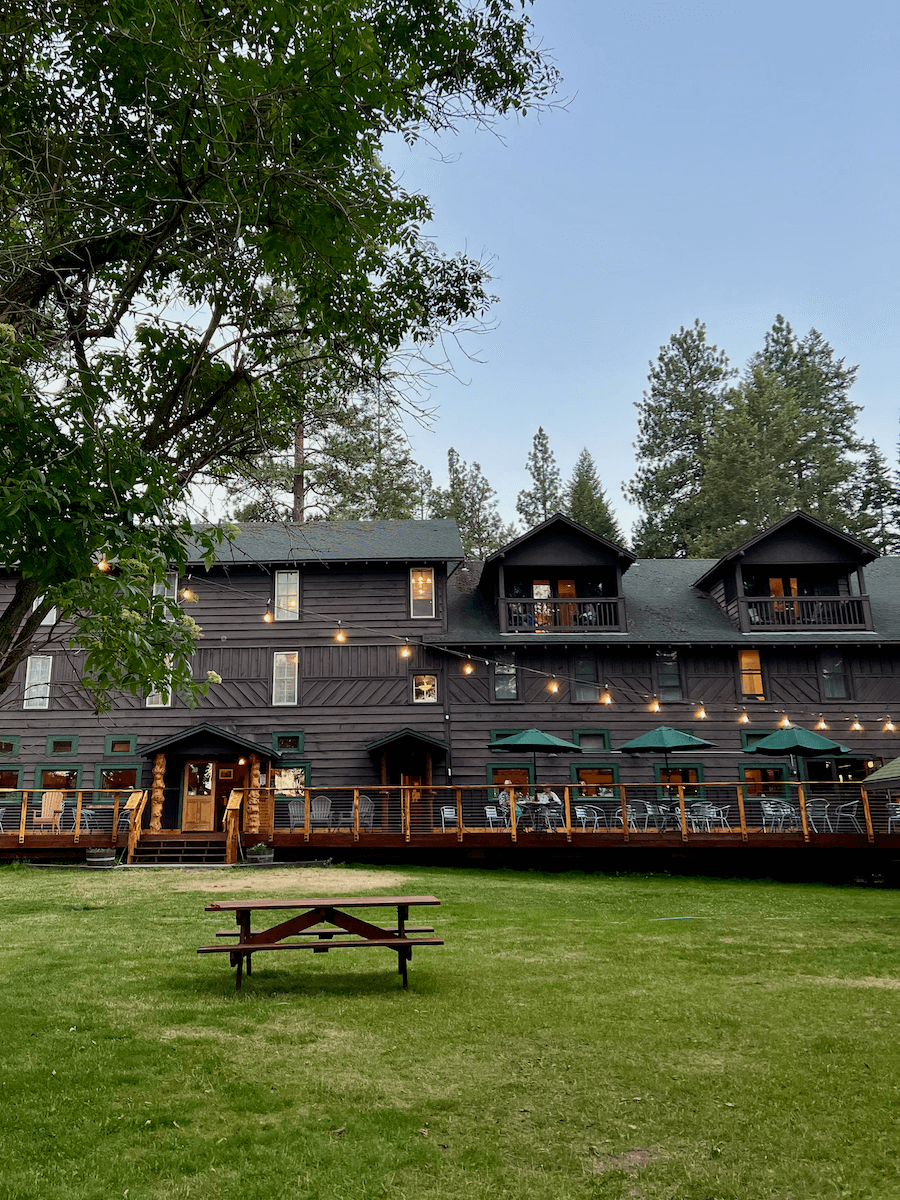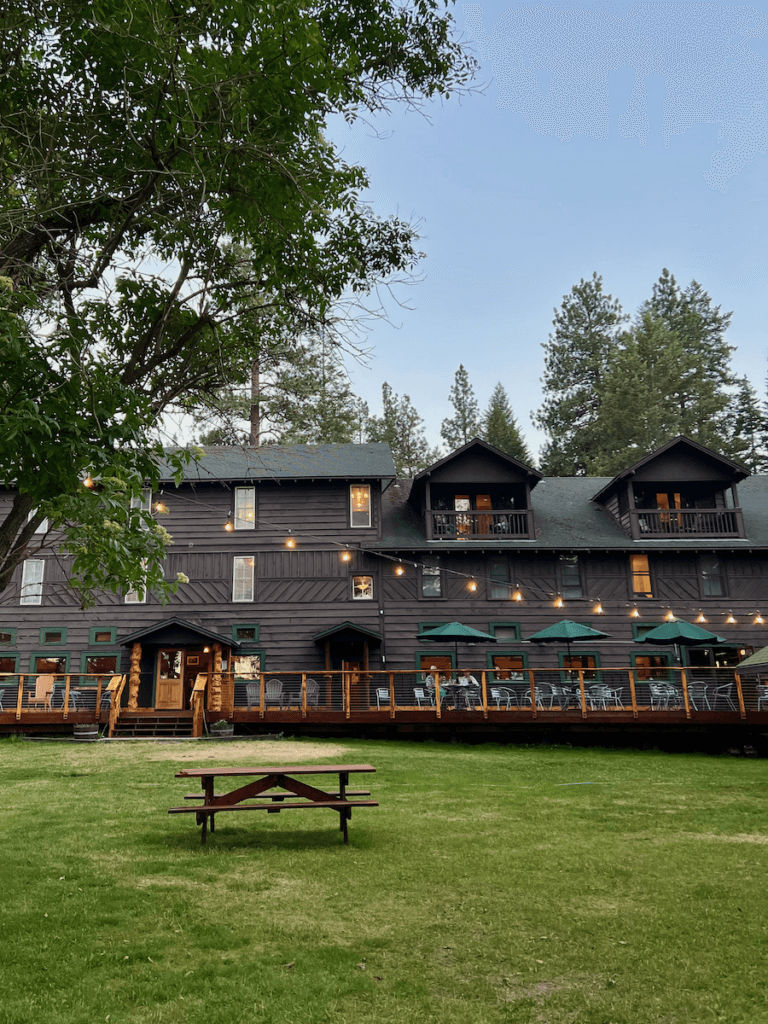 Where is Wallowa Lake Lodge located?
Wallowa Lake Lodge is situated at 4,400 feet elevation on the southern end of the majestic lake of the same name, carved out by glaciers thousands of years ago. The Wallowa Mountains, also known as the "Alps of Oregon," tower above the lake, just on the outskirts of Joseph, Oregon. The 1920's-era wood building has a commanding presence in a meadow across the river from Wallowa Lake State Park.
The location is approximately 5 1/2 hours driving time from Portland and an hour longer (6 1/2 hours) from the Seattle area (under standard conditions). It is well-positioned for an overnight stop along the Hells Canyon Scenic Byway or a more extended tour of Eastern Oregon.
The northeast corner of Oregon has fewer visitors than busier areas in the state, providing a feeling of open space. Bask in the beauty of nature and explore all that the Joseph, Oregon area has to offer. Also, expect to put away your technology during your stay — except for Verizon, cell service is unreliable at best.
Driving times from Wallowa Lake Lodge:
Downtown Joseph, Oregon: 10 minutes
La Grande, Oregon (Interstate 84): 1:30 hours
Hells Canyon Overlook (Forest Service road): 1:45+ hours
Walla Walla, Washington: 2:30
Boise, Idaho: 4:00
Portland, Oregon: 5:30 (traffic varies greatly)
Seattle: 6:30 (traffic varies greatly)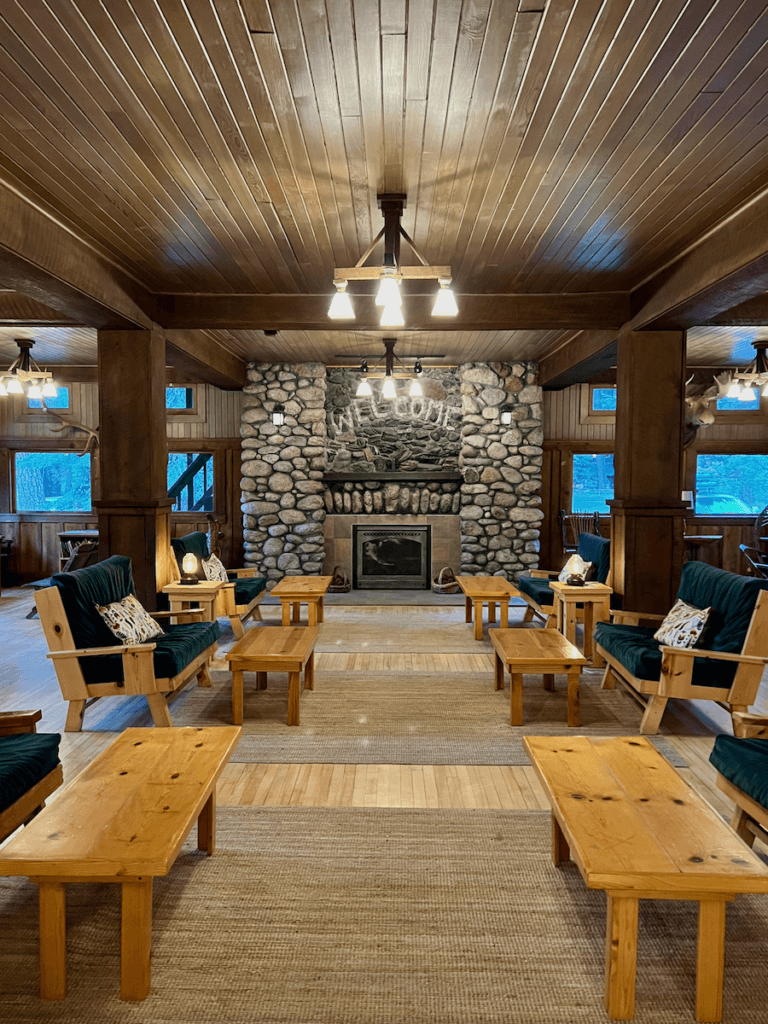 Why stay at Wallowa Lake Lodge?
The historic lodge was built in the 1920s using wood directly procured from the land. It's rare to find such places still in operation and a vital nod to methods much more sustainable in the past. Entering the grand lobby, you can immediately feel the legacy of "living off the land" embedded in the river rock that forms the fireplace hearth — gathered from the nearby river.
Sure, there are house rentals and more modern motels in the alpine village hamlet. But walking the hallways graced with nostalgia from the past 100 years reminds you of the energy held in the wood walls. This venue has provided refuge for nature lovers and inspiration for family and friends to come together. The structure reflects it — willing to share it with those open in heart and spirit.
A rich passion for community lives here too. In 2016 the lodge was put up for auction, drawing in hotel chains wanting to make their mark on this iconic lake. A group of 100 local investors pooled resources to buy the property to ensure the original historic charm would always be maintained.
Whether sitting by the fireplace in the whimsical grand lobby or socializing on the expansive deck that overlooks a canopy of giant fir and cottonwoods — you'll feel the love here.
Wallowa Lake Lodge — the best rooms to book?
An overnight slumber in this grand wooden building brings peace in the understanding that even from a comfortable bed, nature exists in every direction — from the stars above to the rushing river just beyond the lawn. Few places so elegantly integrate creature comforts with the great outdoors.
Similar to many of my other favorite places to stay in the Pacific Northwest, accommodations are only available to book via the Lodge website or by calling.
You won't find rooms revealed on other booking platforms like Expedia, making it a hidden gem frequented mainly by Oregonians and those in the know. For a list of hotels like this, check out my article, 25 hidden Orgon and Washington hotels.
A few "housekeeping" items. The rooms maintain a bygone area aesthetic, adorned with antiques and historic charm that does not include telephones, TVs, or elevators. The free wifi works well, and only my dad's Verizon phone found any reliable cell service (I have T-Mobile, which is a rookie move for an Oregonian). Also important to note, the hotel and grounds are pet-free and smoke-free. Lastly, the lodge is beautifully situated near the river and lake, but the rooms do not have direct water views.
Historic Main Lodge — One bedroom. The feeling — simply walking downstairs to a grand lobby complete with a commanding river rock fireplace — warms the heart. The lodge hosts 22 rooms, of which 12 have one queen bed in various layouts and vantage points. I prefer the view of looking in the direction of the lake — which is about $10 more per night. One queen room (#209) also has a hideaway bed.
Historic Main Lodge — Balcony Rooms. Two rooms have a queen bed and a balcony looking toward the lake. There is a slight premium for the larger of the two, which is room #305 (the closest option to a suite).
Historic Main Lodge — Two queen bedrooms. My dad and I stayed in room #311, which provided two rooms, each with a queen bed, connected by a jack-and-jill style bathroom. This worked perfectly for us, so we each had our own space (snoring and such) but felt connected via the toilet. Each room has a sink, towels, and amenities (photo). Each room also has access to the hallway from a keyed door. This is the best deal in the entire lodge — the price is very similar to the rooms with one queen bed.
Historic Main Lodge — Two bedrooms. Besides room #311 (mentioned above), the seven other two-bedroom options have one queen room and another with two twin beds. This is built for families and would be a great option since a toilet connects the two rooms for a bit of privacy.
Private cabins. The eight cabins are available to rent year-round. All have a full kitchen and views of the surrounding nature. They sleep between 2-6 people and start at about $125/night.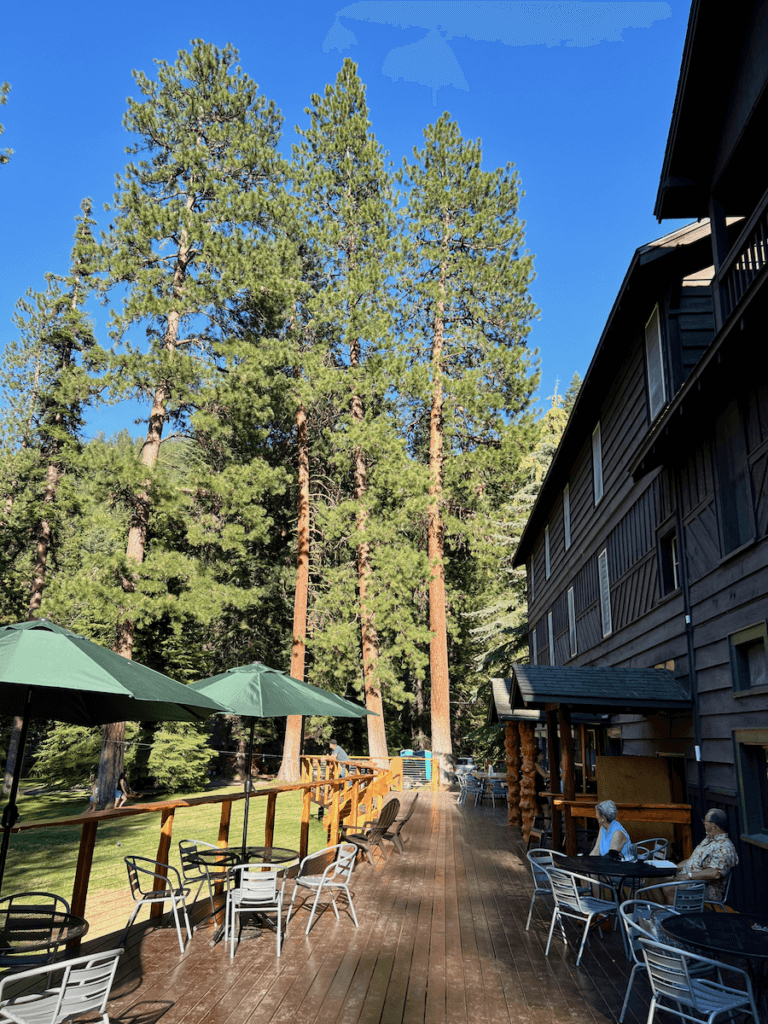 Wallowa Lake Lodge — restaurant, service, and amenities
The Camas Dining Room is a rustic dining room taking space on the lodge's first floor. At the time of this writing (Summer 2022), full sit-down service is available for breakfast and dinner except Mondays. On Mondays, a food truck sets up near the entrance to the lodge for takeaway. The breakfast fare is relatively typical, but the food quality is good. I enjoyed my salmon dinner, a quality piece of fish cooked to perfection, and my dad enjoyed his caesar salad with chicken. The check-in staff can help with reservations, which are recommended for dinner.
The lobby bar is usually open between 3-5 pm, depending on demand, and makes for a friendly happy hour on the open deck of the lodge. Chat with friends about the day's hike while deer frolic on the expansive lawn. A coffee canteen is featured in the morning lobby near the bar.
Besides the lodge and the Wallowa State Park, the enclave around the peaceful lake takes on an alpine village feel, with several other places to eat and procure supplies. I enjoyed a hearty meal across the road at Glacier Ridge Grill and General Store. The food was excellent, and they also have a full bar. The general store carries a variety of wine and snacks perfect for a lakeside retreat or bites at the top of a nearby mountain.
Things to do at Wallowa Lake
The Wallowa Mountains and the beautiful glacial lake provide a playground for all things natural. Mere steps from the lodge, it's easy to find various things to do. There are horse-packing trails, go-karts, and plenty of water activities on Wallowa Lake. Of course, exploring the many hiking trails is a favorite thing for visitors from near and far.
For all things water-related, Wallowa Lake Marina can set you up. They are well positioned inside the State Park near the boat launch. Rent boats, kayaks, paddle boards, or shop for souvenirs, clothing, tackle, ice, and snacks in their mercantile. Open mid-May through mid-September, seven days a week.
Aside from hiking and getting closer to nature, my favorite activity around Wallowa Lake Lodge is taking the Wallowa Lake Tramway up the 3,700 vertical feet to the top of Howard Mountain. Tickets are $40 for adults and can be purchased ahead of time online or at the sales booth, which is an easy five-minute walk from the lodge (parking is also available).
When the ride opens (at 9 am in summer), I suggest trying to be on the first gondola up the mountain. This is for a few reasons. First, the lighting is beautiful in the morning glow. Second, summer temperatures are more comfortable in the morning. Third, it starts to get busy around 11 am.
Although the tram dramatically rises the side of the mountain, exposing breathtaking views of Wallowa Lake and the surrounding mountains, it is never more than 25 feet off the ground. My dad didn't want to take the ride because he didn't like heights, but I think it would've been okay for him.
At the top, sip a coffee or beer at the Summit Grill. This is about as close to enjoying a Swiss chalet as it gets in Oregon, and the feel of space and divine nature is intoxicating. The food is adequate, and like everywhere in Oregon, they serve good beer, but it's really about the experience.
There are several directions to venture out on short hikes — about 2-3 miles if you do all of them. The Wallowa Lake Tramway is open from May to September — expect there to still be snow well into June.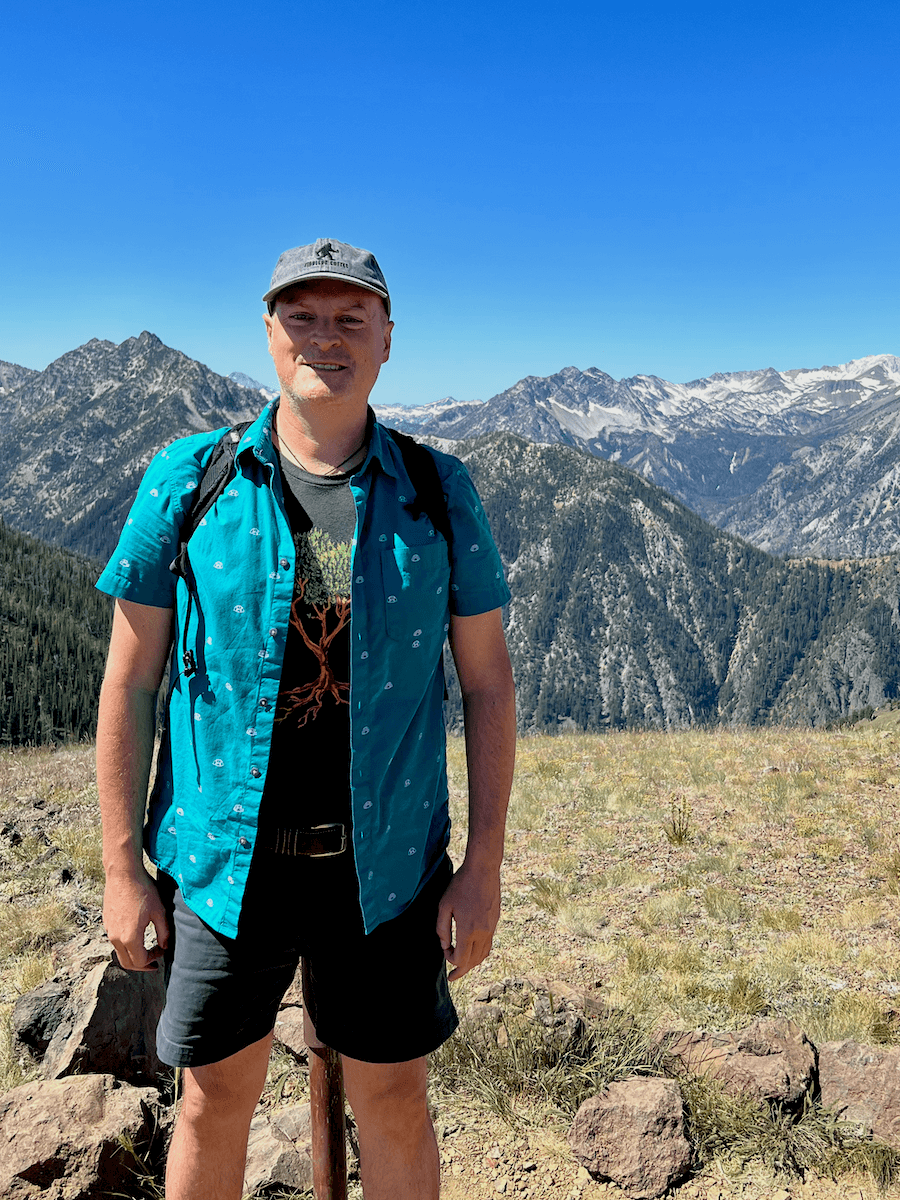 Nature near Joseph, Oregon
Accessing nature in this remote part of Eastern Oregon is as easy as looking out the window of your vehicle. It's essential to take time to go slow and savor the landscape. Remember, it isn't as much about the distance as the connection you can make between yourself and the soul-nourishing elements of rocks, trees, water, sky, and dirt.
For awe-inspiring views and minimal hiking exertion, I recommend the Wallowa Lake Tramway, which is the easiest way to reach commanding views of the land. Be sure to go to the Valley Overlook, which has fewer people and offers a birdseye view of the topography change from farmland to mountains.
The Eagle Cap Wilderness Area starts right around Wallowa Lake Lodge and provides every level of hiking experience you might desire. Start at Little Alps Day Use Area and plot the suitable Wallowa adventure for the day. There are so many options that I suggest using Alltrails to design your plan. Be sure to plan with the essentials.
Zumwalt Prairie Preserve is a magical place of flowing grass and flowers, with several great hikes facilitating a quieter ponderance of nature. I've done all of them and explained more in my article about Joseph.
Day trip options from Wallowa Lake
Wallowa Lake Lodge can be a great place to set up base for day trips to other parts of the area. Here are a few suggestions.
Hells Canyon Overlook: Wind through the Wallowa-Whitman National Forest on a paved road in good condition — be aware of a few potholes and dipping contours. The trip takes about 1:45 to the Overlook of the broad canyon. The elevation is a mile-high and provides a commanding view of North America's deepest canyon. (This is open in summer and early fall only)
Joseph Canyon Overlook and Flora: Head toward the Washington State border and stop at the Joseph Canyon Overlook to survey the winter camps of the Nez Perce people. The drive alone is peaceful and scenic. Then, venture a few more miles up the road to Flora, Oregon, to view pioneer buildings.
Self-guided barn tour: Wallowa County is famous for beautiful farmland, stretching acres upon acres that lead right up to the inspiring mountains. Take a scenic drive along country roads that offer a glimpse into farm life. This website can provide all the information needed to create the perfect drive.
Explore Downtown Joseph: There is plenty to do in this hub of activity, where farming meets history, art, food, drink, and bronze. Many things are closed mid-week, but you can enjoy all these community offers with some planning.
Eastern Oregon — weather and planning
The Wallowa Mountains and ~4,000 feet valley elevation keep this northeastern region of Oregon more temperate than some of the toastier parts of Eastern Oregon. Summers are warm and dry with freezing, snowy winters. Any time of year, bring sunscreen and a good head covering. Having plenty of water on hand is essential in the warmer summer months.
The climate around Wallowa Lake is similar to other lakeside areas — dry, warm daytime temperatures that can drop quickly when the sun goes down. Take layers and be sure to have them on hand when hiking. A hoodie is helpful in summer, while a heavier sweater makes sense in spring and fall. Like everywhere in the Pacific Northwest, layers are essential when packing.
The roads in this area are in excellent condition, but be careful with grazing animals and deer — especially around dusk. Ranging cattle will sit on the warm pavement of the road during the first few weeks of snow, so be especially careful in the October/November timeframe. In winter, check on road conditions before venturing to this area of Oregon, as there are many mountain passes — some of which require chains or traction devices.
Best time of year to visit: I like the first part of June for the clear roads and moderate weather. It is picturesque, with snow still on the mountain peaks and lush green pastures filling up the valley. Chief Joseph Days are the last week in July, providing many fun activities. September is beautiful with the autumn glow of harvest time — after Labor Day weekend, the visitors dwindle while the weather is still lovely.
Interactive map of things to do around Joseph, Oregon
This map is a collection of my favorites in Wallowa County in Eastern Oregon. I've either been to all the places or have it in good faith they are worthy of a mention.
Remember, in this region of Oregon, cell phone service is unpredictable — just depending on the carrier — planning is critical.
These suggestions are my point of view — I do not receive compensation for placement on the map or written articles unless expressly noted.
Have more planning questions?
Save this article for later.
Add this pin to your Pinterest.