Brilliant reds, golds, blacks, oranges and browns all blend together in a flowing myriad of color, wandering off into the Ochoco Mountains nearby. Tucked into a tiny morsel of vast canyon, the Painted Hills in Oregon bring alive an ancient time capsule. The unique geological site tells the story of diverse ecosystems — from tropical forests to swamps to savanna — existing here before mounds of lava were smothered over most of the Pacific Northwest like thick icing on a sheet cake. Erosion over millions of years would etch away at the layers, leaving behind other-worldly formations oozing color.
Now, you may see Painted Hills Beef on the menu at an urban eatery, and yes, this is the same area. It's not uncommon to see cattle wandering along, and in the road, leading up to this breathtaking unit of the John Day Fossil Beds National Monument (there are two other units).
I've explored around Central Oregon much of my life, ever since I started traveling to Sunriver, Oregon with friends in grade school. Over time the Bend, Oregon area has blossomed with better roads and infrastructure that support easy transit between the major attractions that I write about in another article featuring my favorite things to do in Bend. I also spent ten years traveling to this area in my work life, visiting all the little towns in the region, including Prineville — which is largest town closest to the Painted Hills, Oregon (50 miles and about an hour away).
To my delight, I recently had the opportunity to visit Central Oregon, staying in Eagle Crest near Redmond, Oregon, with flexibility to explore. The Painted Hills of Oregon were at the top of my list and my friend Mike agreed to join me for the day-long adventure. You're going to love all the riveting details, including many helpful hints and pro tips, so read along below. Be sure to check out the map at the end of this article that details the features of the area — remember you can save this to your own Google files.
This article provides all the information you need to plan an epic day-trip itinerary and experience the flowing colors of the Painted Hills Oregon
Table of contents:
Planning to get to the Painted Hills Oregon — what to pack
I've traveled around Central Oregon enough to know that planning is important because the distances between towns and attractions can be long — gas, food, water, internet and cell service are spotty at best. For those unfamiliar with Oregon gas stations, self-service is not allowed and many proprietors operate limited hours to avoid paying staff to work at odd times with low traffic. Plan gas stops (and especially EV stations) carefully!
Mike and I review the weather and select the day (during our stay) with the best chance of clear blue skies. We also plan the optimal moment to make the 90-minute drive from the Redmond/Bend area to the Painted Hills Oregon and assemble day packs complete with water, layers of clothing (it gets cold quickly once the sun goes down), a phone charger for extra juice and, of course sunscreen. Since I know that food options are slim, and many businesses operate on "adjusted hours" not always accurate online, we are sure to include snacks in our rucksacks.
Finally, since Highway 26 traverses the 4,720-foot Ochoco Summit (pronounced OH-chuh-koh), and it's an April day, we double-check Oregon road conditions. Everything looks good and the energy swells as we get on our way.
Getting to the Painted Hills Oregon
Distance to the Painted Hills from Redmond Airport (RDM): 90 minutes / 70 miles; Bend: 2HRS / 87 miles; Portland: 4HRS / 200 miles.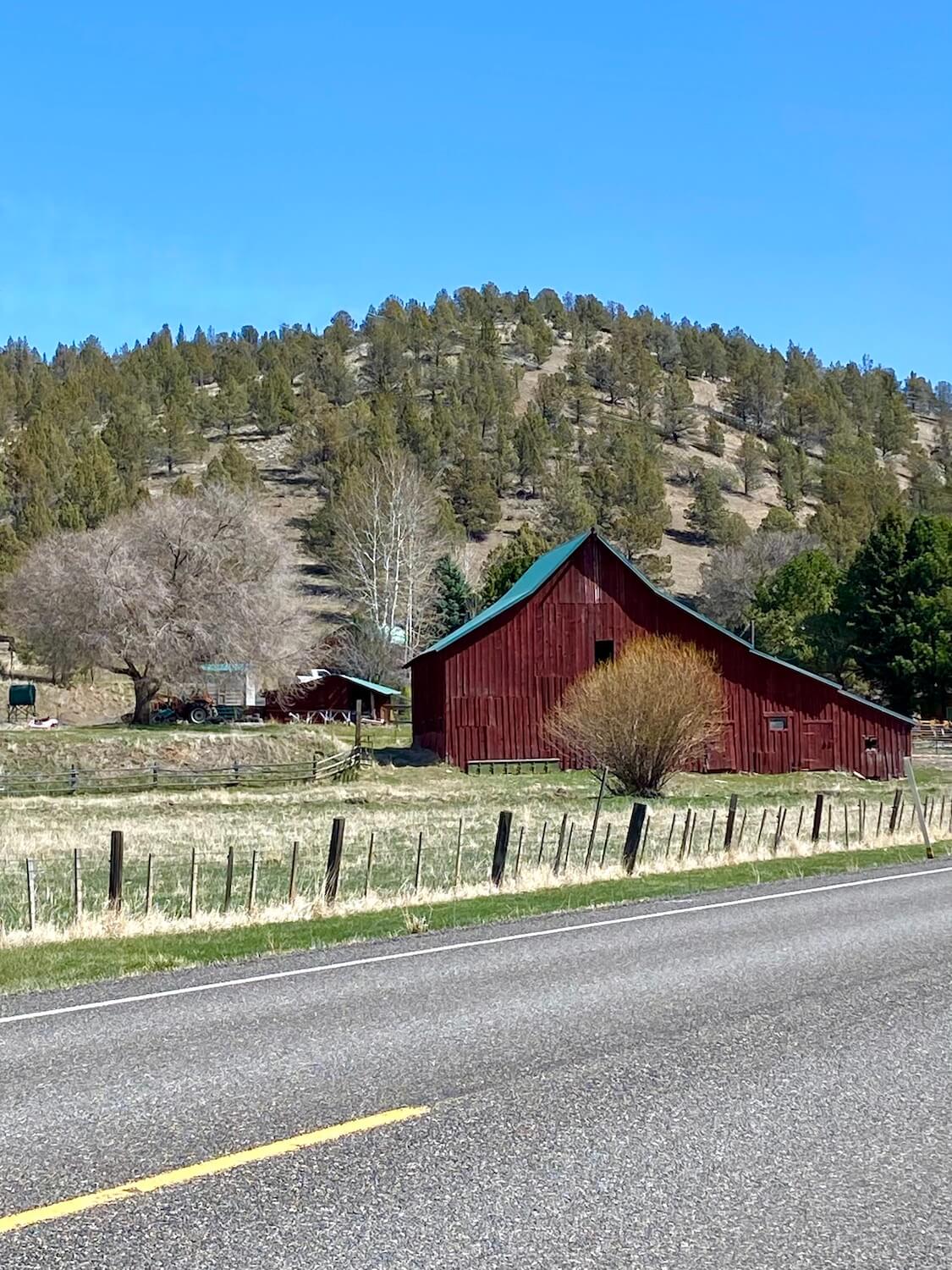 The main approach follows Highway 26 from Prineville, Oregon to the Painted Hills, toward Mitchell, Oregon. After some morning rituals, we gas up the car in Redmond and continue past the airport on Highway 126 toward Prineville. The towns are so small and manageable that most of the drive exposes open roads with bucolic landscape. We see lots of big trucks and a few semis, but most of the road smoothly sails to the East.
Prineville is the hub where roads would converge if traveling from Portland or Bend and the viewpoint at the top of the ridge overlooking the sweeping valley is worth the quick stop. From here, we can see the entire town and the Ochoco National Forest off in the distance. The valley landscape, still a brilliant green color from all the Winter moisture, will eventually turn a straw color in the dryness of Summer.
Prineville is the last chance for services, but we're itching to keep going and continue on past Starbucks, Dairy Queen and other fast food joints. A few miles out of the town, our cell phones go dark — no more streaming music. We're relegated to listening to one of the few albums loaded on my phone, Wynonna Judd, which feels appropriate for this journey. Mike has AT&T and I have T-Mobile, and both of our devices will remain in a dead zone for the rest of the day (my Oregon family mostly uses Verizon, which holds up a lot better in rural parts of the state).
Outside of Prineville, the flat plateau shifts into foothills which lead to rolling mountains, then impressive peaks, as we meander through the Ochoco National Forest. For a few miles at the top near the 4,720-foot summit there is evidence of snow but the roads are completely clear for travel. The landscape shows scars from recent forest fires, but other views offer pristine pine forests sprinkled amongst majestic peaks.
This road is well-maintained and driving easy and peaceful — the bends in the road just interesting enough to keep me from dozing off in the higher altitude.
Approaching the colorful monument
The beautiful drive could be reason enough to make the trip but soon enough the well-marked signs beckon us to depart Highway 26 (on Bridge Creek Road) for the six-mile connector to the National Monument Unit (if you arrived in Michell, Oregon you've gone too far). After crossing a cattle guard we notice a few cows with calves frolicking in the road, reminding me the importance of watchful driving. Although I'm eager to take in the scenery beginning to transform around us, the curvy road requires my attention. Still, it would be difficult not to notice the beautiful green valley of farmland framed in by the steep canyon ridge.
A peek that hints to the delight in store is about three miles along Bridge Creek Road, when the road rises to find the brilliant layers of red and yellow flowing down to the canyon floor. It feels like a Technicolor cartoon, more apt to be in an episode of the Simpsons rather than adjacent to a dusty ranch in Oregon. Although this seems like a perfect place to pull over and snap a few photos (the shoulder is very broad here), we opt to keep going to the main site.
All at once the paved road ends — turning to gravel — and a clear sign ushers us into the Painted Hill Unit of the John Day Fossil Beds National Monument. From here, we're confined to dusty gravel roads. Even though I skew to the lead-foot side of the spectrum, I'm cognizant to keep my speed down to avoid creating a cloud for others.
Key components of the Painted Hills monument
I feel like a kid in the fossil candy shop! Every direction seems to provide a view into another part of Oregon's ancient history — a whole spectrum of colors bursting out. I want to see it all, right now, and I'm graced by energy welling up, bordering anxiety. Mike, more balanced at this moment, helps us come up with a plan to see it all.
Stop one: Picnic Area of Painted Hills
Ninety minutes in the car has us ready to stretch our legs and we take the first turnout on the left, leading us to a simple picnic area, complete with portable restrooms (water is offered here from May to September). At the information center I grab a paper trail guide and we read the informational placards about the site. We notice information about a WI-FI hot spot provided in the attraction, and with some finagling Mike gets some service to work on my phone. It's a pleasant surprise, but pretty hit or miss amongst the canyons, so I don't depend on this service. While the picnic area is an essential stop, it's still surrounded by farmland and a high canyon ridge — so we continued on, eager to get to the good stuff.
Bear Creek Road at the Painted Hills
Driving around this unique site is very easy — there's only about three miles of road — but the gravel surface makes transit a little slower to avoid creating a cloud of dust. After the main entrance sign we pass a private home and round a bend to the welcoming view of the diagonal lines of brilliant color folding down the hills to the chalky valley floor of the Painted Ridge. It feels more like Mars than my home state of Oregon. This location (marked on the map below) provides one of my best photos of the day, so it proves to be a worthwhile place to pull off the road and begin the experience.
We decide to drive all the way to the end of Bear Creek Road and begin at Red Scar Knoll/Red Hill Trail. On this weekday in April there is plenty of parking and enough room for RV's to swing into most of the pull-outs. I also notice that dogs are allowed on leash.
Red Scar Knoll / Red Hill Trail
We seem to be cheating, approaching this anthill of a feature from the comfort of our vehicle. She rises up in brilliant red that pops against the blue sky above. The short hike from the parking area is well worth it to experience the mound of matter up close. At first we cross a footbridge and hit a viewpoint that also serves as a dead-end, wondering if that's it. We see a family returning from the real path and cross back over the footbridge to continue further back toward the radiant hill. It's worth it to reach the end of the trail and the viewpoint provides the perfect set for a number of fun photos. There and back is a mostly flat, easy .25/mile.
Leaf Hill Trail
This area provided early scientists with over 20,000 fossil specimens to examine — especially from the leaves of a deciduous forest that existed 30 million years ago. A 1993 study revealed evidence of a series of prehistoric ecosystems, from savannas to swamps. Although this trail doesn't have the visual pops of wow, I'm fascinated by the layers of matter telling an ancient story and we make the loop around a few yellowish mounds covered with shale-like pieces that could contain a lone relic. I particularly enjoy a view of an open field framed in by a flowing ridge that mixes greens and yellows. There and back has a modest uphill climb but is an easy .25/mile jaunt.
Painted Cove Trail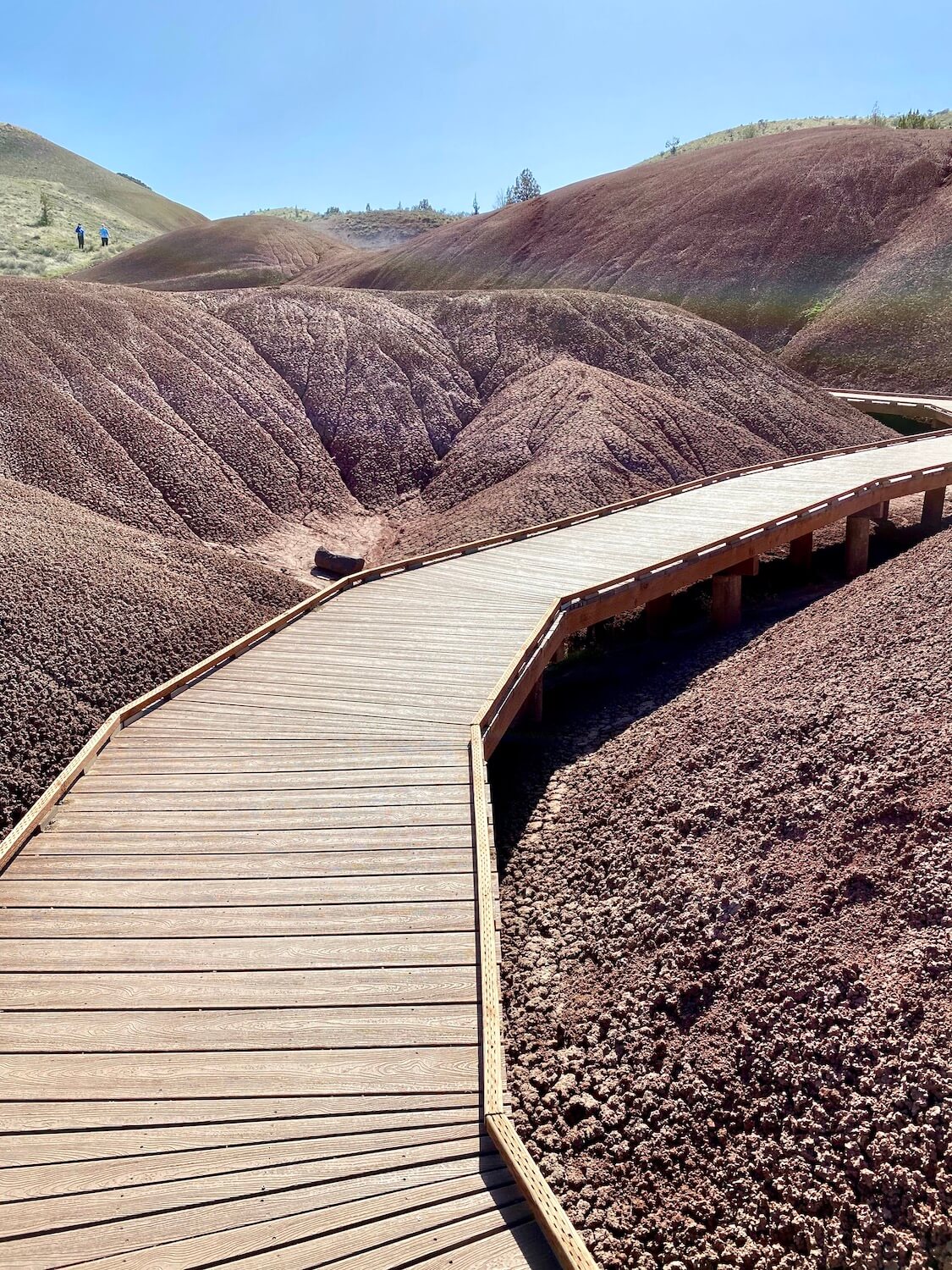 This is a truly photogenic gem, and probably the most "Insta-worthy" area of the Painted Hills Oregon. We park amongst a few other cars and step onto a well-placed boardwalk that rises up into the red bubbly crevices and I feel like I'm with Captain Kirk in a Star Trek episode. The reds originate from a young Cascade Mountain Range that rained ash on this area 28-29 million years ago and are so vibrant against the sky, especially as the sun beats down from above. I want to reach out and touch the gravely surface that appears a cross between a coral reef and dried dirt — but touching or taking anything from this site is strictly prohibited.
We follow the boardwalk up and around a bend back to the parking lot and I'm a little shocked at the ultra-compact nature of this feature. The photos make it seem vast, and while I wish there were more to this easy .25/mile walk, it's easy to bask in the amazing technicolor mounds.
Carroll Rim Trail
We're now back in the central area of the site that holds most of the wide, sweeping views of the formations. The nub of a pullout near the start of Carroll Rim Trail is already full with four vehicles, so we head to a larger parking area closer to the Overlook Trail. This adds a few extra steps to our hike, but isn't a big deal. We start out walking and a minivan roars by, without a care, choking us out on dust as we march to the trailhead.
The Carroll Rim Trail is the most arduous of the hikes, with a 400-foot vertical rise — pushing up 1.6 miles (there and back) to a vista that rides a compact layer of fused together volcanic ash and debris from a violent eruption about 28 million years ago. We ascend the trail and the views keep getting better. Along the way there are benches and scenic vistas begging to be the location for a photo shoot. The trail winds back to a final perch offering a bird's eye view of the entire landscape, including Sutton Mountain, made up of Picture Gorge Basalts. This material is a remnant of massive lava flows across 2,000 square miles, oozing into every nook and cranny throughout most of the Pacific Northwest — 16 million years ago.
The view is inspiring and a few moments are spent absorbing this other-worldly experience. We trek back down the ridge with hunger pangs starting to make their intentions known. Our healthy appetites inspire us to hop in the car and head into nearby Mitchell for a quick dinner (this story continues below) before returning back to the Painted Hills around sunset.
Painted Hills Overlook Trail
Even the view from the parking lot is incredible, making this a perfect place for people with less mobility to take in the scenery. The sun is setting and the glow of dusk bounces off the ridges in ways that seem to dance to a vibrant song. Mike remains near the parking lot vista to take in the panorama there while I slowly wander the half mile up a fairly level trail. It feels like I'm racing the sun to reach the main viewpoint, but each stage of light provides such interesting changes to the color palette. The photo conditions are excellent and the wide, sweeping view of the Painted Ridge etches an unforgettable memory. The day feels complete.
Services near the Painted Hills — Mitchell, Oregon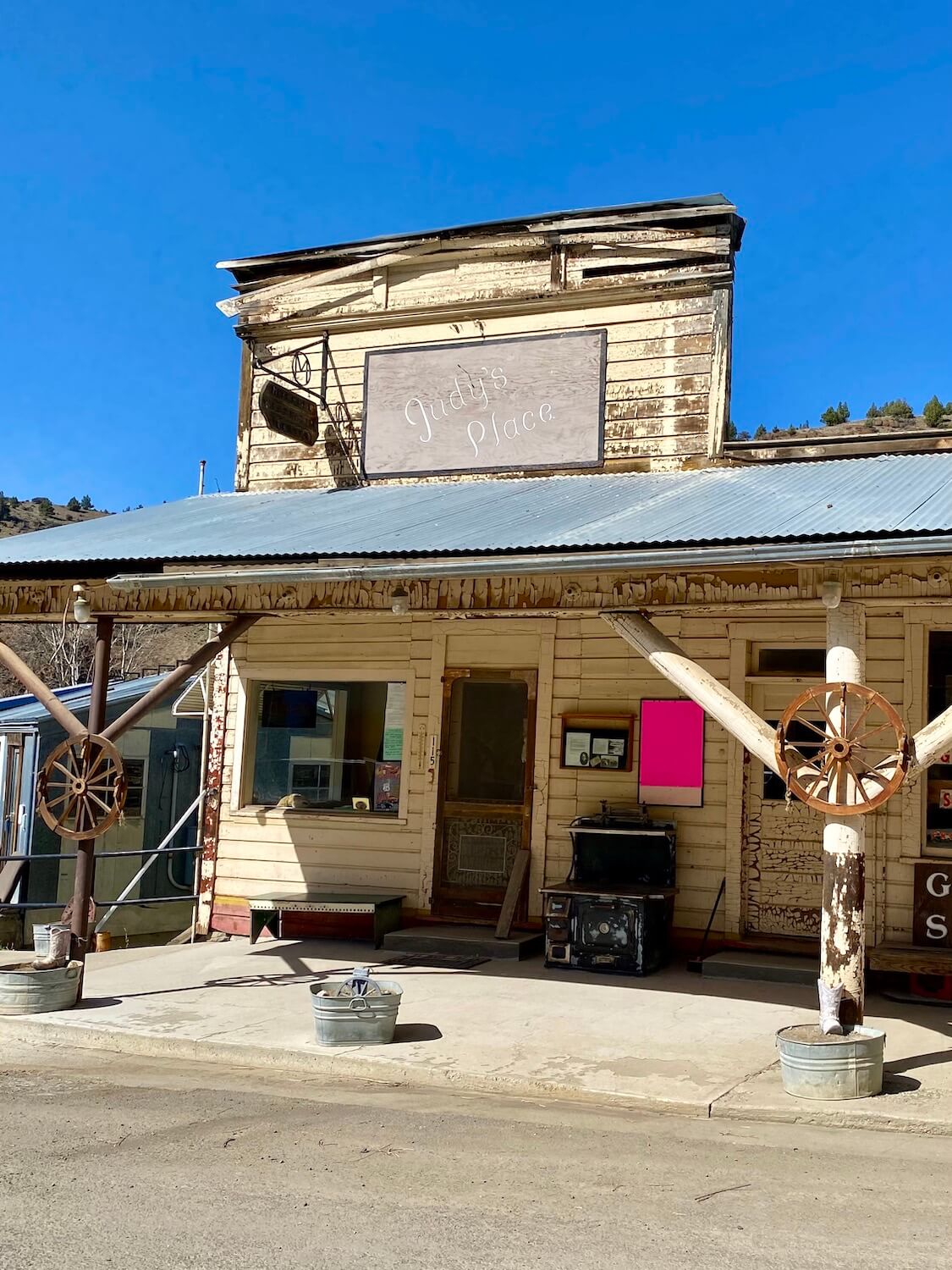 Although we have plenty of snacks and water in tow, our hunger requires more substantial grub and Mitchell, Oregon, only nine miles away, can provide the order. We jump in our car and return to Highway 26, which whisks us down the road to this hamlet, population 142, wedged between two canyons.
Just after the welcome sign a right turn reveals a one-horse town that could be off the Universal Pictures back lot. There is a rustic bakery (with good reviews) across the street from an antique store, but both pioneer town-style structures are shuttered by this time in the day. A mercantile situated at the only crossroads is buzzing with locals coming and going with supplies and the quiet Hotel Oregon harkens back to the days of lonely motor inns in rural segments of the country.
We settle on Tiger Town Brewing, which has outside seating and an eclectic clientele. The waiter is very engaging and the menu comprehensive enough to find great eats. Mike gets wings and potato salad and I try a locally sourced Painted Hills burger, because, it's from the canyon up the road after all! This joint brews their own beer and serves from a full bar — craft cocktails and everything else — all in the cozy town of Mitchell. The food is delicious, in particular the potato salad that is the perfect balance of egg and mustard. Mike and I agree this pub is a keeper and leave the metal patio tables satiated, happy we made the stop.
Painted Hills final thoughts
The drive back to Redmond/Bend area is very dark when the sun sets completely and even without GPS, it's very simple to follow Highway 26 back to Prineville. A few miles from town our phones light up and start to bing with notifications. Despite having to listen to Wynonna Judd on continuous loop all day, part of me is very happy I was able to enjoy this spectacular experience media-free.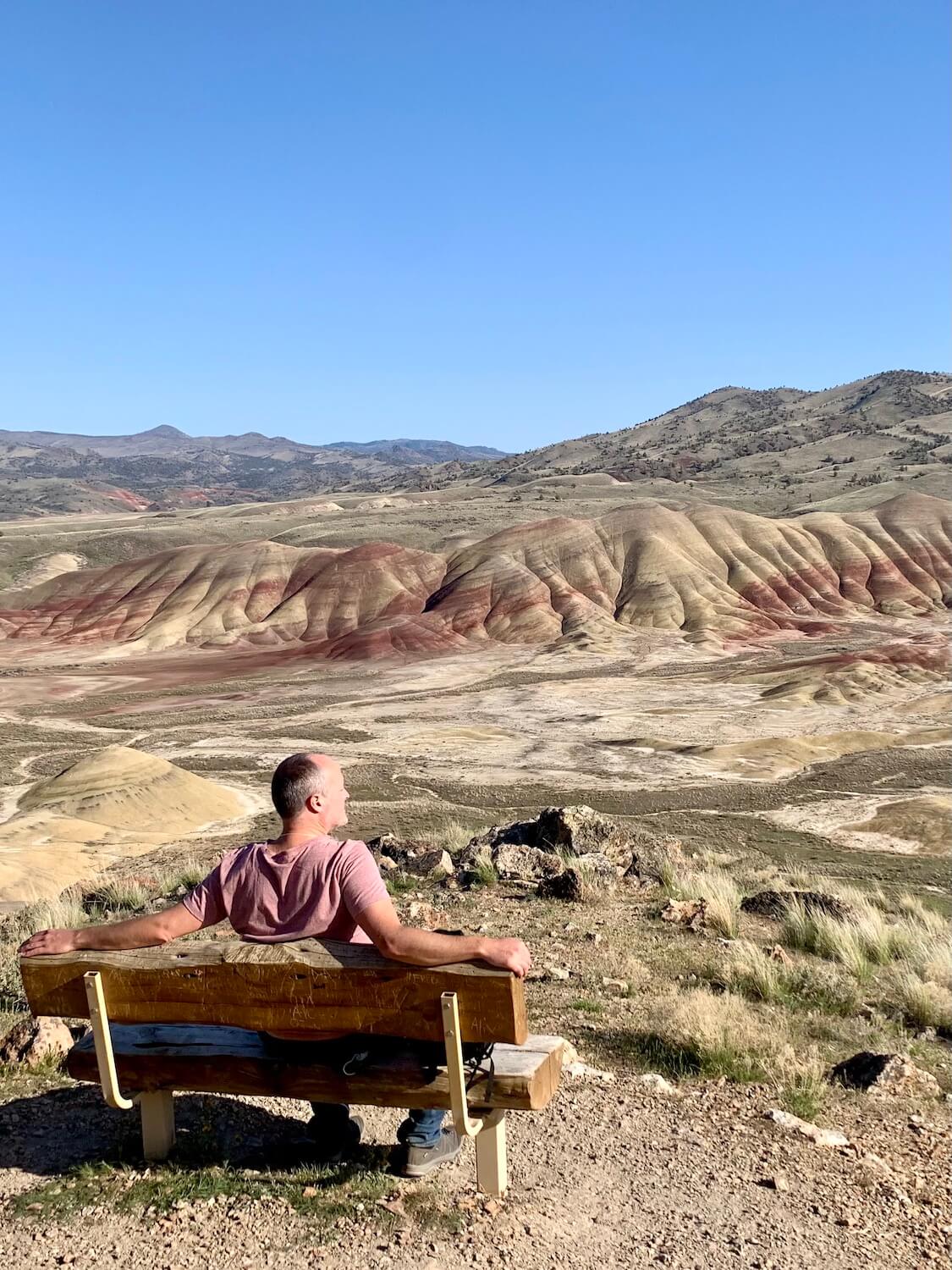 Pro tips to explore the Painted Hills
The five trails are easily combined in one visit that takes about three hours total. Each has something special, so try them all.
There are many benches perfectly situated with views — take a picnic and enjoy some down time.
Expect to be without cell/WIFI service most of the day, but there is a hotspot at the attraction and Tiger Town Brewing in Mitchell, OR has very fast internet.
If the GoogleMaps app gets loaded before cell/WIFI service falls out of range the app will function as long as it doesn't get disconnected or run out of power.
Gas/charge up before you go and have a plan.
Take warm/protective layers, especially if planning to visit for sunrise or sunset.
Although this adventure is an easy day-trip from the Redmond/Bend area, there are hotel options in nearby Mitchell, OR that include The Oregon Hotel and Painted Hills Cottages and Retreat, as well as a few Airbnb listings. Prineville, OR (50 miles away) is the closest town with value brand hotels.
Redmond Airport (RDM) is 90 minutes away from the Painted Hills, and offers daily service provided by Alaska Airlines, American, Delta, and United. Fly nonstop from Seattle, Portland, San Francisco, Los Angeles, San Diego, Phoenix, Salt Lake City, and Denver to Redmond Airport (RDM).
A full loop to visit all the units of the John Day Fossil Beds National Monument makes the trip much longer but can be achieved in a one-day itinerary from the Redmond/Bend area. The circular route from Redmond/Bend Airport takes roughly 5 1/2 hours (driving only) and is 267 miles.
When to visit the Painted Hills
The lighting is spectacular around both dusk and dawn. Even in the twilight, I was able to snap some great photos that brought in the textures of color. If not staying nearby in Mitchell, more planning is involved to nail these moments perfectly. Keep in mind driving conditions are very dark after the sun bids goodnight. The sunset hour is also the busiest time of day for visitors — for obvious reasons. The morning hours are less busy because people are still driving in. The least ideal time for photos is mid-day around noon, because the harsh lighting directly above can drown out the colors and cast awkward shadows on faces.
In general, visiting this region of Oregon is most pleasant in April/May and September/October because the Summer and Winter have extremes in temperatures as well as daylight hours, which impact sunrise and sunset times. The trip outlined above took place on a beautiful day in April. The chart below outlines some key considerations to keep in mind when traveling to see the Painted Hills.
| PAINTED HILLS SEASON | MAIN CONSIDERATIONS |
| --- | --- |
| Winter | Colder, possible inclement driving conditions, shorter days, less people, spectacular in snow. |
| Spring | Comfortable weather, variable driving conditions, sunrise/sunset at reasonable hours, green. |
| Summer | Can be very hot, more tourists, longer days, scenic growing season for drive, sunrise/sunset at more extreme hours. |
| Fall | Comfortable weather, fall foliage on the drive, sunrise/sunset at reasonable hours. |
Map of the Painted Hills and John Day Fossil Beds National Monument
The map below covers the entire region of the John Day Fossil Beds National Monument — including the Painted Hills. Food and beverage locations, including stores, are shown in red. Blue refers to lodging options. Purple markers highlight museums, shopping, or other indoor points of interest. The green markers guide you to trailheads and outdoor things to do.
By the way, if you have a bit more time, the entire driving loop of all three Units of the John Day Fossil Beds makes for a scenic geological experience. Check out my article, John Day Fossil Beds — the best 3-day itinerary, for all the helpful details, including an interactive map and downloadable checklists.