I love Central Oregon! From fascinating geological history to the plethora of outdoor activities, there seems to be something for everyone in this enclave of beauty centered around Bend (population 100,000+) and Redmond, Oregon (where the commercial airport for the region is located). Ski Mt. Bachelor in Winter, discover lava beds in Spring, raft the wily Deschutes River in Summer and hike ponderosa pine forests in Fall — Central Oregon has year-round adventure. An easy three-hour drive from Portland, Oregon or a quick 45-minute flight from Seattle makes a weekend getaway to Central Oregon a bright idea.
Bright literally because this high desert area of Oregon is known for abundant sunny days amongst fresh air laden with hints of sage and juniper. Back in my airline days I covered this part of the State of Oregon in my sales territory and I loved taking the quick Horizon Air (a regional affiliate of Alaska Airlines) flight from Portland to Redmond, transporting me from the gray skies of the Willamette Valley to the cheer of a quieter, light-filled world centered around everything "outdoors." I never got tired of driving roads that framed rolling hills of farmland and stunning views of snow-capped volcanoes.
This article outlines an excellent itinerary for a weekend getaway to Central Oregon, including a map featured at the end of the piece.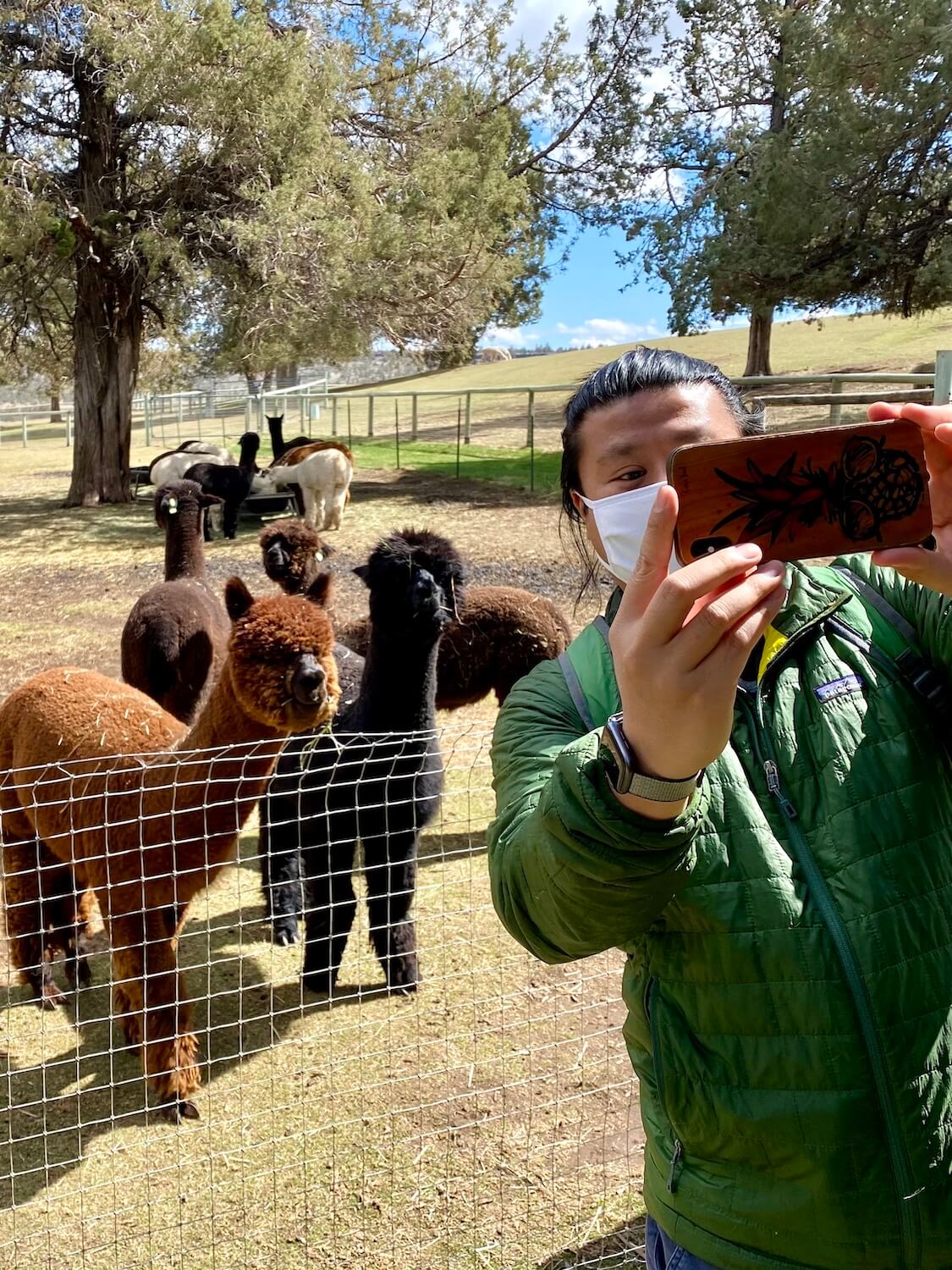 Table of Contents — weekend getaway to Central Oregon
View from the air above — on our way to a weekend getaway in Central Oregon
My friend Mike and I are on a quick 45-minute flight from Portland (PDX) to Redmond/Bend (RDM) Airport and the turboprop hums through some outstanding scenery. It's a bright sunny day on both sides of the Cascade Mountains and regal Mt. Hood signals the eventual transition from dense green fir forests to a drier part of the state, with less trees and more sandy hues of yellow and brown. Just as we level off the nose of the aircraft glides back down and we roar over the town of Redmond on approach to the regional airport that serves as the hub to Central Oregon.
Smiling at Smith Rock State Park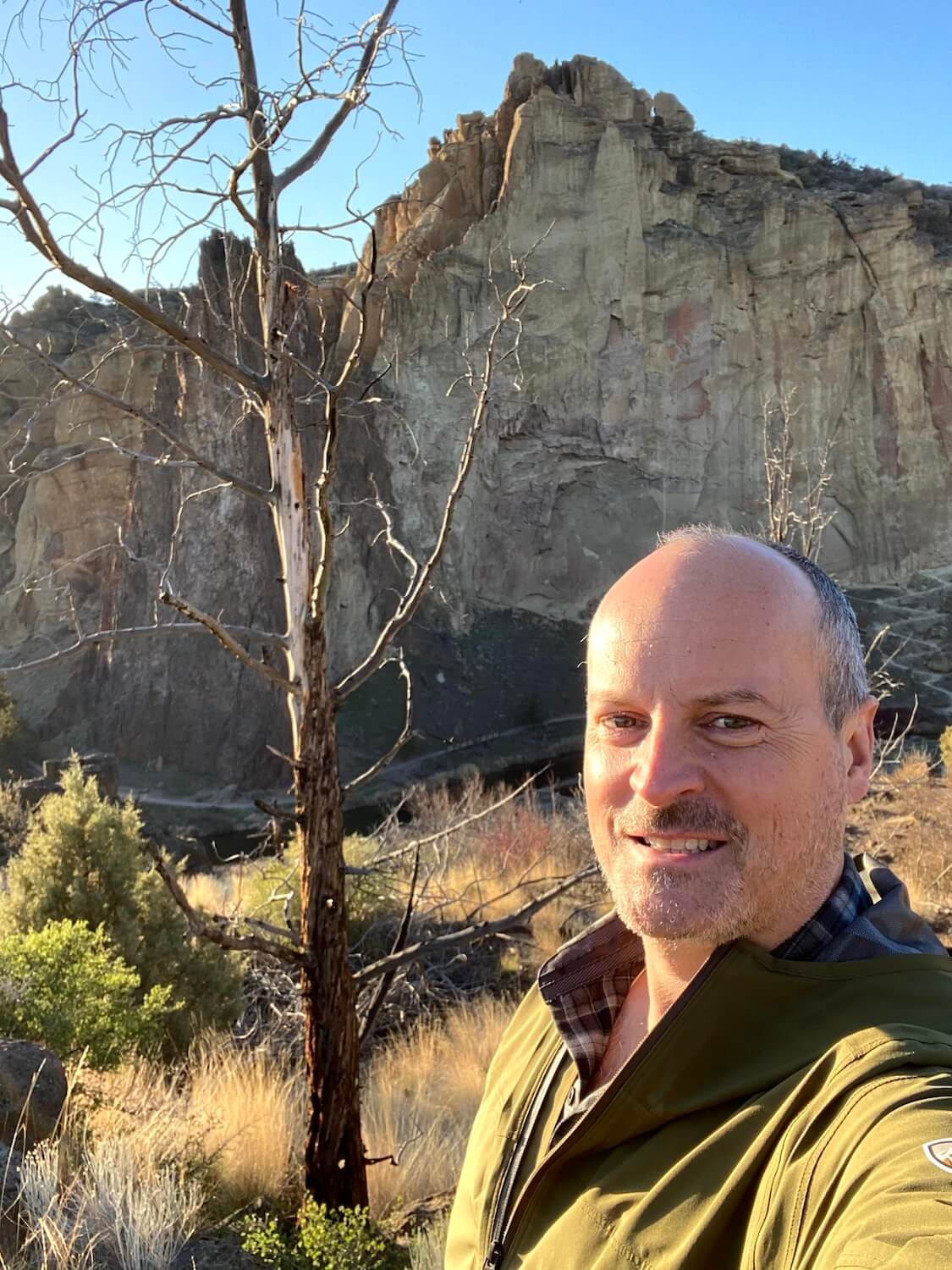 The door opens and the sweet smells of sage and juniper rush into the cabin and I take my first breath of high desert air. Immediately outside of the fuselage, Three Sisters and Mt. Bachelor rise in the distance and a warm sense of "coming home" takes hold of me. It's hard not to smile as the sun beats on my face.
The small airport is easy to maneuver and within no time we're snug in our rental car peeling out of the airport property — heading toward Smith Rock State Park. There are still several good hours in the day, so we park the car in the day-use area ($5 per day fee, or $30 annual Oregon State Park pass) and set out on a light hike of the iconic park featuring rising stacks of basalt rock towering above a winding canyon carved out by the lazy Crooked River.
Although this is a rock-climbers Mecca, we opt to explore on firm ground — but the Misery Ridge trail is rather steep and gets our heart rate up enough to start sweating. I'm reminded of the importance of taking enough water for hikes in Central Oregon, because of the heat in Summer but also the higher, dehydrating altitude. We reach a beautiful vista with views of the canyon, rock faces and the lazy river below. The trip takes about an hour, but the beauty of Smith Rock is the variations of exploration for all fitness and mobility levels — the view from the parking lot is photo-worthy without any exertion.
Just outside the park we stop for grub at Terrebonne Depot, a great brewpub with excellent food. We both enjoy a salmon burger with the tenderest brioche bun before continuing on to our lodging for the weekend getaway to Central Oregon, which happens to be Eagle Crest (right outside of Redmond, Oregon).
The Painted hills are alive
With the new day comes crystal blue skies that inspire a day trip to the iconic Painted Hills, which are a unit of the John Day Fossil Beds National Monument. For more specific information on this outstanding experience, check out my article, Painted Hills Oregon, and also the accompanying photo gallery of our day amongst the weave of bright reds, yellows, and blacks.
Mike wants to find an alpaca farm along the way, so we end up dropping in on Nancy at Alpaca Country Estates, who gives us the grand tour of farmland containing over 1000 furry friends on the farm. She inspires a long list of questions by me and we purchase soft alpaca socks and beanies.
Then, we're back on track for our quest to see millions of years of ancient Oregon history at the Painted Hills. The drive takes about 90 minutes from Redmond and is well worth the effort. Although the geological wonder is a show-stopper, the drive through the Ochoco National Forest offers beauty in its own right. We stop for food at Tiger Town Brewing, an eatery in nearby Mitchell, Oregon.  I try the local Painted Hills beef (delicious) and Mike and I agree the food is delicious.  The return trip back to our resort is very dark — no lights but the stars beaming down from above.
By the way, if you have a bit more time, the entire driving loop of all three Units of the John Day Fossil Beds makes for a scenic geological experience. Check out my article, John Day Fossil Beds — the best 3-day itinerary, for all the helpful details, including an interactive map and downloadable checklists.
Pop culture rules the day on a fun weekend getaway to Central Oregon
We spend our third day exploring around Bend, Oregon, which, at over 100,000 inhabitants, is the largest city in Central Oregon. Nourishment is top priority and our meal at Active Culture doesn't disappoint. The healthy-option eatery happens to be near Miller's Landing Park on a scenic stretch of the Deschutes River and we watch wetsuit-clad surfers ride a giant wave in the middle of the otherwise gentle river.
There are plenty of lovely trails along a stretch of river newly repatriated with native plants and we explore for a mile or two. Nearby, downtown is festive with what seems like popular brewpubs popping up everywhere — dangling outdoor lights decorating spaces with fusing wood with industrial-chic metal panels.
A drive by the last Blockbuster Video standing in the nation is a must for Mike and we snap some photos and rush into the store to walk amongst genuine shelves of DVDs still available to rent. The crowd is a mixture of actual customers and many visitors inspired by the recent Netflix movie. This reminds me to get a shot of the Sinclair Oil Dinosaur, Dino and our pop-culture tour of Bend is complete.
High Desert Museum and lava beds — sway with the ponderosa pine trees
A visit to Central Oregon is not complete without checking out the High Desert Museum. We learn about the indigenous people of the Columbia Plateau Basin as well as history of early settlers in the area. Outside, a stroll through the whispering ponderosa pine inspires learning about plants and animals in the high desert region. The otter exhibit makes for a fun stop because the playful animals put on a show for the spectators — including sliding into the water and popping heads up to smile at the crowd.
A mile down the road we pull into the Newberry Volcano National Monument and begin our exploration along the mile-long trail that gradually climbs to a viewing platform through jagged black obsidian — relics from an eruption 1,300 years ago that covered most of the region with molten lava. One of 400 cinder cones attached to the mother volcano rises beyond the field of rock and a roadway curves around the hill for 1.75 miles to the summit. We gaze out at the skyline of snow-covered Cascade Mountain volcanoes in the distance as an arid wind whips across the rocky landscape.
Cascade Mountain drive — a great way to end the day of a weekend getaway to Central Oregon
A drive is one of my favorite things to do in Bend, Oregon, so we continue South to Sunriver to grab a coffee at Brewed Awakenings and check out the commerce area of this sprawling resort. I've stayed here many times and always enjoyed the vast bike paths available to get around.
Our outing continues on the road connecting Sunriver with Cascade Lakes National Scenic Byway and we're able to get as far as Mt. Bachelor Ski Resort. In Summer, the road would continue through stunning lakes and vistas overlooking pine-tree covered peaks, but it's still closed for the season (open May through October, weather depending).
The route back to Bend is also scenic and we end up enjoying the mexican-indian inspired cuisine at Spork, so popular that the line is out the door. We return to Redmond for drinks on the rooftop deck of the SCP Redmond Hotel. The sun is getting heavy on the horizon and outlines the Three Sisters and Mt. Jefferson with halos of yellow, purple and orange as the sun wanders West over the mountains.
Final moments with the juniper berries — Sisters, Oregon
Our final morning is spent enjoying breakfast in the quaint Sisters, Oregon which feels directly surrounded by mountain peaks in every direction. The cow town is reminiscent of Wild West movies and a stroll along the Main Street provides fun window shopping. It feels like the place to buy a cowboy hat or a thunder egg souvenir and soon enough we dodge into the drive-through at Redmond Coffee Company to grab a jolt of java before returning the rental car.
Redmond Airport is large enough to offer plenty of services and efficiencies but compact enough to provide low-drama experience, including friendly TSA agents. The flight back to Seattle is like the greatest hits of mountain peaks, including the Three Sisters, Mt. Jefferson, Mt. Hood, Mt. St. Helens and even Mt. Rainier hovering above us as the plane descends for landing at Sea-tac Airport. It's amazing to us how the two ends of the 45 minute flight differ so much in landscape and atmosphere. We return refreshed from a busy, but energizing weekend getaway to Central Oregon.
Weekend getaway to Central Oregon — if you go
Our weekend was just the perfect amount of busy with not too much driving but we also felt like we experienced a lot. This itinerary can easily be adjusted to add more days of outdoor sporting, like skiing in Winter or rafting in Summer. For those golfers out there, a number of resorts have beautiful manicured greens and I write about 10 great things to do in Bend, Oregon, to provide more inspiration for planning activities. Really, the perfect itinerary to match your interests and time frame can be easily achieved. If you do want to get away to Central Oregon, here are some planning hints.
Getting to Central Oregon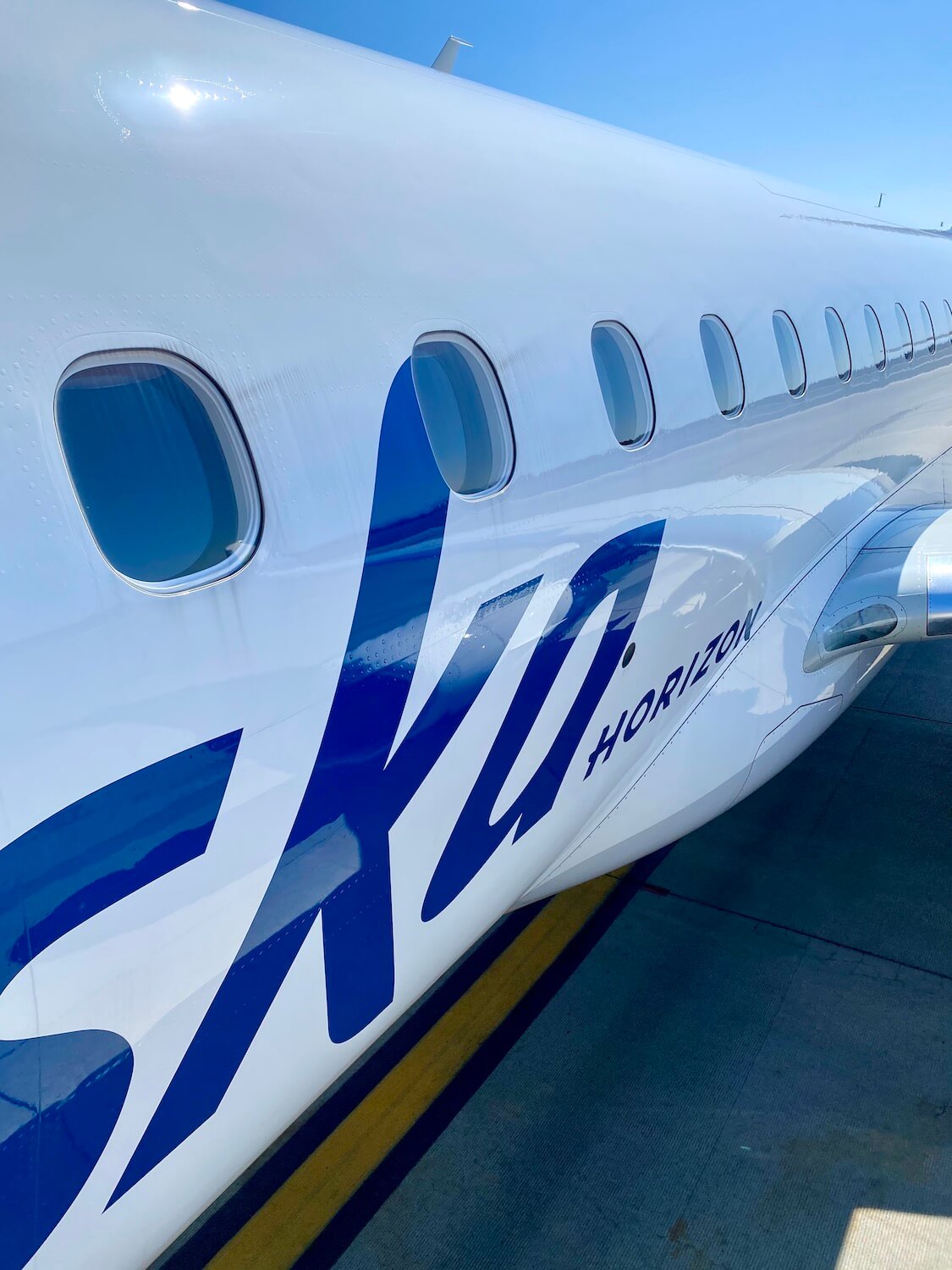 Central Oregon, in general, is sparsely populated, so public transportation options are limited. It is possible to take Amtrak from Portland or Seattle to the Chemult Station, which is about an hour South of Bend and then hop on a connector shuttle service that allows the purchase of a through-ticket. A few other shuttle services exist from Portland and ride share is also an expensive possibility.
By far the most popular mode of transportation for getting to Central Oregon is driving a vehicle. The drive from Portland to Bend is just over three hours while Seattle is over six hours. Drive time depends on the weather conditions and when traveling in Winter it's a good idea to estimate an additional hour longer for navigating the mountain passes.
Flying into Redmond/Bend Airport (RDM) is also a great option and service continues to grow amongst four national carriers — Alaska Airlines, American, Delta and United. A small company called BoutiqueAir also flies smaller propeller planes from Portland. As of the writing of this article (April 2021), Alaska offers nonstop service to Redmond from Seattle, Portland, San Francisco, Los Angeles and San Diego; American to Phoenix; Delta to Seattle and Salt Lake City; and United to Denver, San Francisco and Los Angeles. Fares are usually competitive and generally comparable to Portland (PDX) or Eugene (EUG), making the local airport a convenient option.
Once in the Bend area, it is helpful to have a vehicle, since attractions are pretty spread out. The best places to stay without a car would be downtown Bend or Sunriver Resort, which offers shuttle services to both the airport and Mt. Bachelor Ski Resort. Otherwise, all the national rental car chains provide vehicles at Redmond Airport.
Where to stay on a weekend getaway to Central Oregon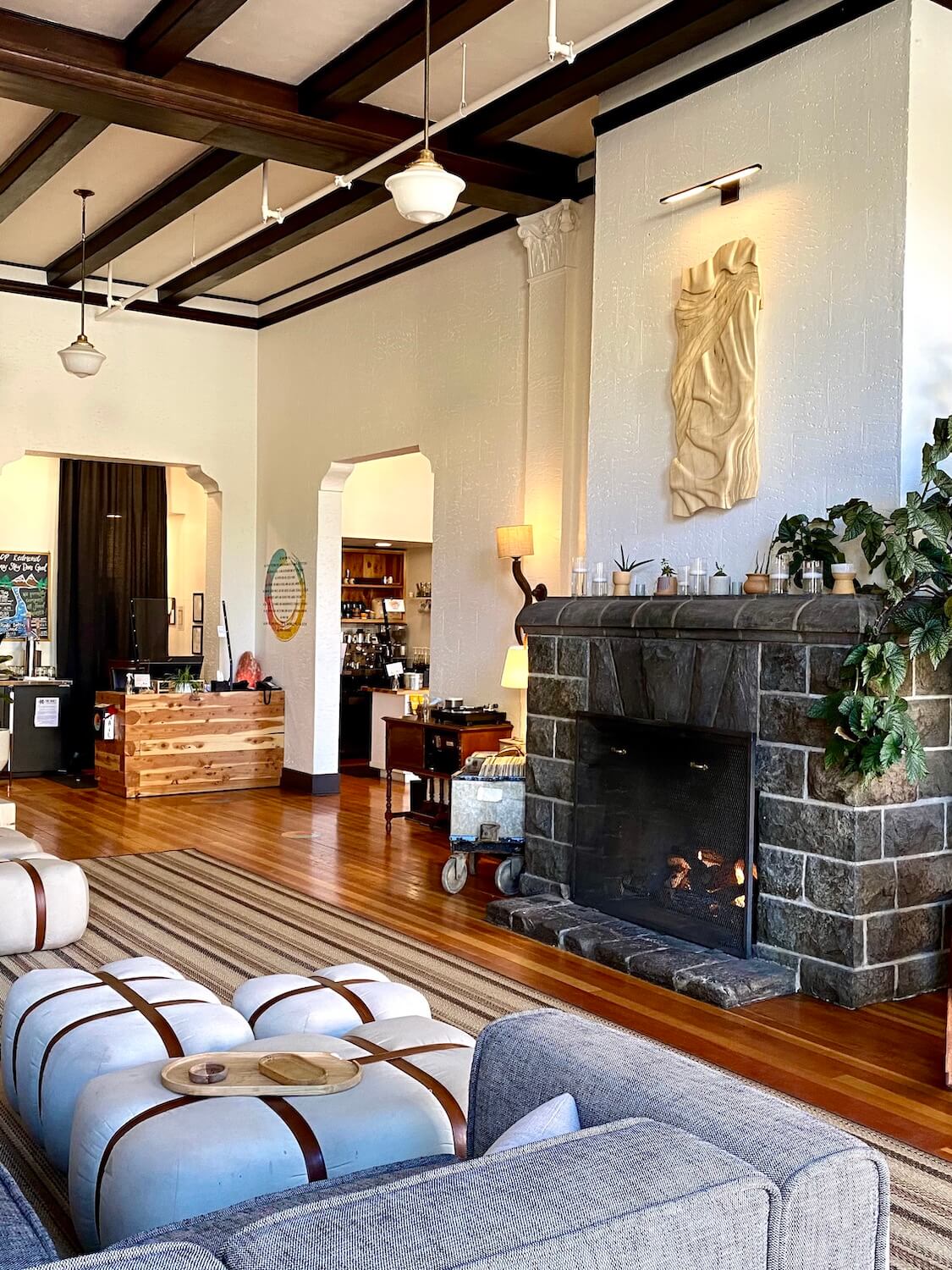 Central Oregon is a key destination for Oregonians living under the cloud cover of the Willamette Valley, West of the Cascade Mountains, and many families enjoy the all-inclusive feeling of the key resorts in the area:
This planned community was one of the first in Central Oregon back in the 1980's and is in close proximity to Mt. Bachelor. There is a hotel overlooking a golf course but most people rent a condo or a house amongst the pine forest. The main commerce center provides a grocery store, coffee shop, brewpub and bicycle rentals to use on the intricate network of bike paths throughout the 3,300-acre complex. There is also a spacious aquatic center. (3:31 hours from Portland)
Another resort option that centers around golfing and a retirement community. There are hiking and biking trails as well as equestrian options. There are a few aquatic centers as well as several restaurants on the premises. The landscape surrounding the resort is very scenic and amongst the three resorts listed, Eagle Crest is the closest to Redmond Airport. (3 hours from Portland)
My family likes this one because it's closest to Portland (via Salem, Oregon), making the drive with kids more tolerable. It is further away from all the attractions in Central Oregon though. While Hoodoo Ski area is nearby, the better skiing at Mt. Bachelor is about an hour's drive away. There are also less services, making a stay here more suitable for renting a house with a self-sufficient menu. (just under 3 hours from Portland but avoids driving over Mt. Hood)
If you don't require a sprawling golf course resort and want more of a hotel feel, try these options:
Map of a Central Oregon
The map below offers my tried and tested favorites and covers the Greater Central Oregon Area — including Bend and Redmond, Oregon. Food and beverage locations, including stores, are shown in red. Blue refers to lodging options. Purple markers highlight museums, shopping or other indoor points of interest. The green markers guide you to outdoor things to do from parks to hikes to marinas for salmon fishing.
Pin this article about a weekend getaway to Central Oregon for later