How to see Newport, Oregon, in one day
This one-day itinerary to Newport, Oregon, is terrific because you can experience the "greatest hits" of the Oregon Coast in a concentrated area. Enjoy a vibrant harbor, a world-class Aquarium, two lighthouses, a historic beach, and ancient forests in a nature-forward manner that's great for the soul.
This article about visiting Newport, Oregon, in one day is for you if:
You want to experience the Oregon Coast but only have a little time.
You're road-tripping on Oregon Coast Highway 101 and need ideas for a great stop.
You're planning a trip to stay on the Central Oregon Coast, but not in Newport.
You value nature-forward immersion and want examples of where to practice.
You live in Newport and want suggestions to give out-of-town guests.
You may be new to the Oregon Coast. This day trip to Newport, Oregon, is terrific because you can experience the "greatest hits" in a concentrated area. Enjoy a vibrant harbor, a world-class Aquarium, two lighthouses, a historic beach, and ancient forests in a nature-forward manner that's great for the soul.
If you want more than just a one-day itinerary of things to do in Newport, Oregon, check out my article with more options and travel details, "Nature things to do in Newport, Oregon."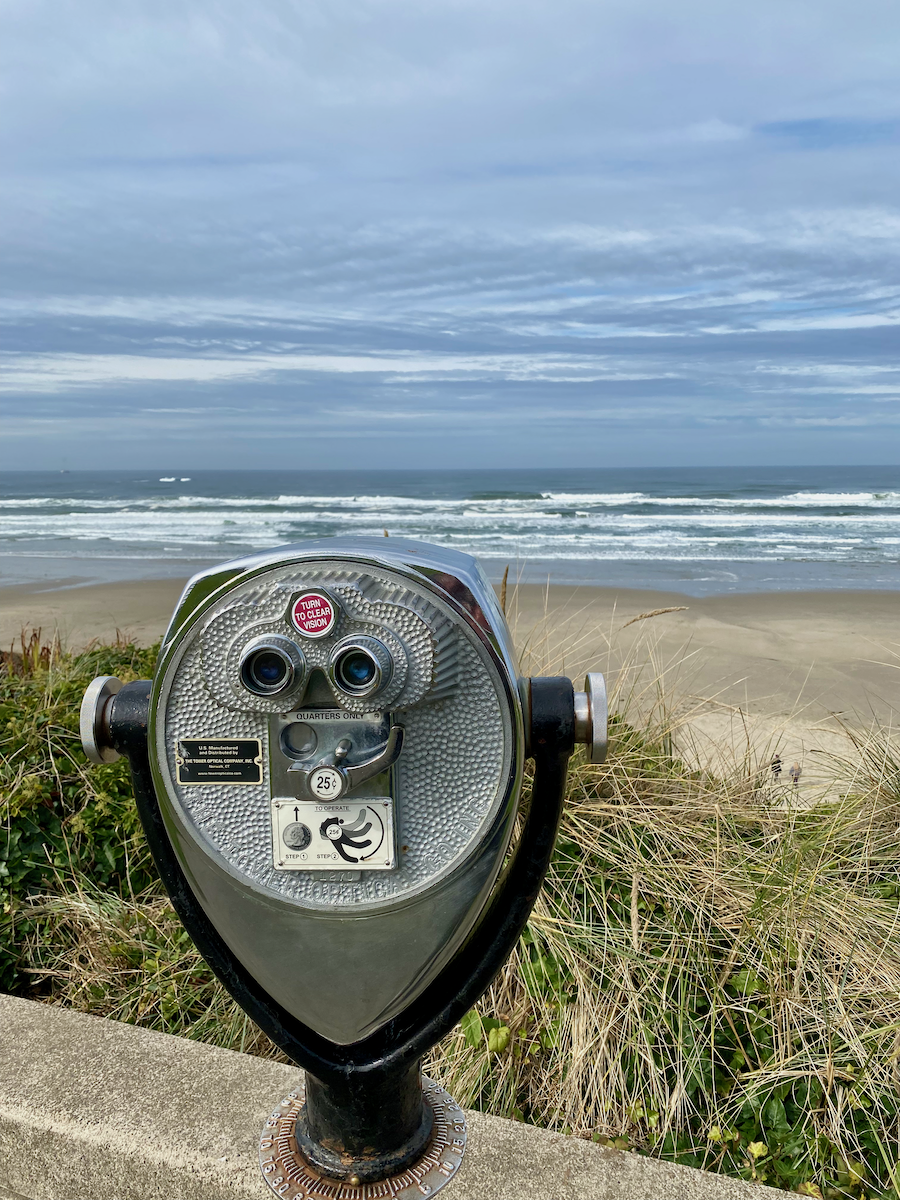 One-day itinerary of things to do in Newport, Oregon. Table of Contents.
Why should you listen to Matthew Kessi (that's me)?
I am a travel writer, nature photographer, naturalist, and practical mystic who's invested a lifetime guiding myself and others through nature. I grew up in Oregon, and as a local Pacific Northwester, I visit the Oregon Coast many times yearly — including an annual road trip along the 363-mile coastline.
To top it off, I spend time with my good friend CM, who lives in Newport's charming Nye Beach area. She provides me with local knowledge and new things to try when looking for something to do in Newport, Oregon.
Finally, unless expressly noted, I don't receive compensation for my recommendations, which are my own. Rest assured, these suggestions for things to do in Newport, Oregon, in one day come from the heart.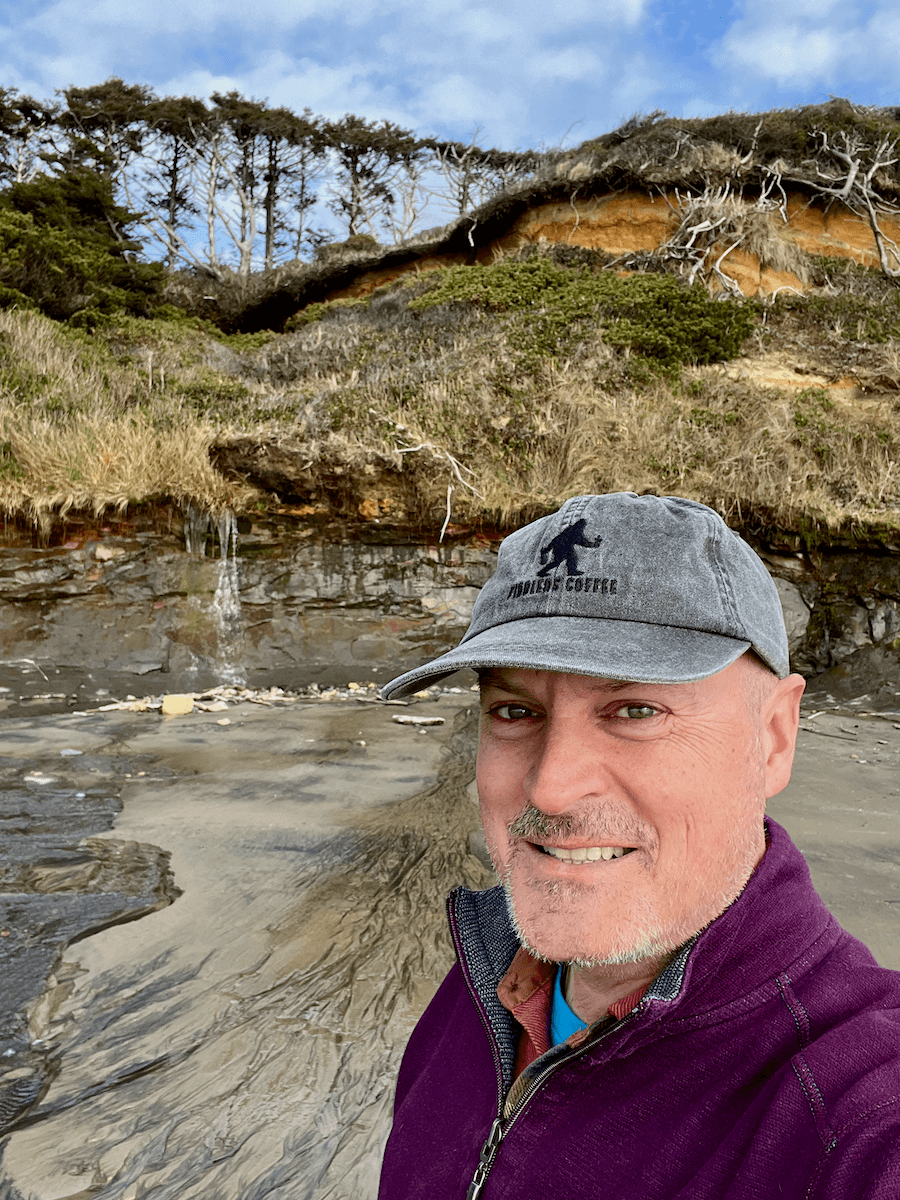 Why go to Newport, Oregon, for a day trip?
The Oregon Coast is iconic for natural beauty in every direction, as far as the eye can see. The 363-mile Pacific Ocean coastline (Pacific Northwesters call it the "coast" — not shore or beach) offers a little something for everyone.
Ask a local about their favorite Oregon Coast Town, and they'll give you a variety of responses. This is because there are so many beautiful places to explore. It is quieter, and nature is more expansive on the Southern Oregon Coast. At the same time, there are more restaurant and lodging options in the north.
Somewhere in the middle, known as the Central Oregon Coast, Newport, Oregon, is a hub. Not only is this town of 10,000 residents known for the largest fishery on the Oregon Coast, with a bonafide harbor, but they have two lighthouses, a historic beach, a world-class aquarium, and a bounty of natural goodness.
Let me help you plan an epic Oregon Coast and Pacific Northwest visit.
If you're new to Oregon or interested in detailed nature-forward options — let me help you plan an epic Oregon Coast Road trip. I offer Zoom meetings where our conversation leads to two potential itineraries for an exciting and thoughtful journey. Or, I will provide honest feedback about your planning work-in-progress. Click here for more information.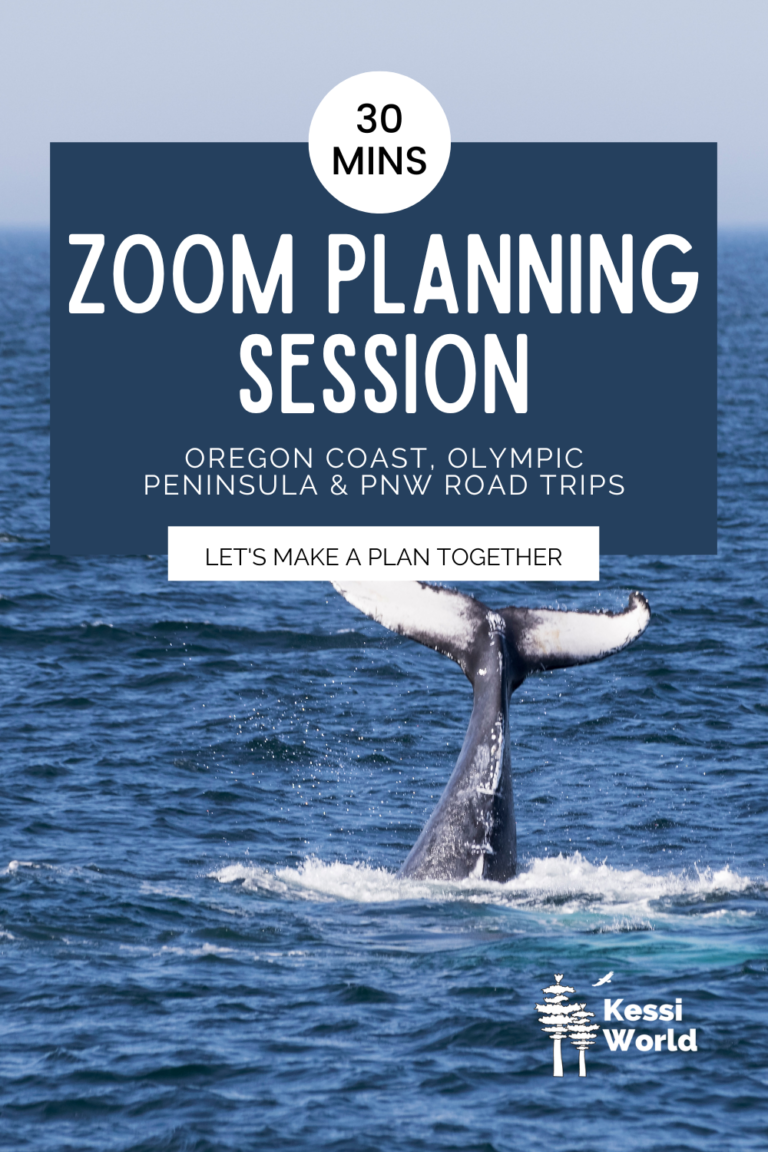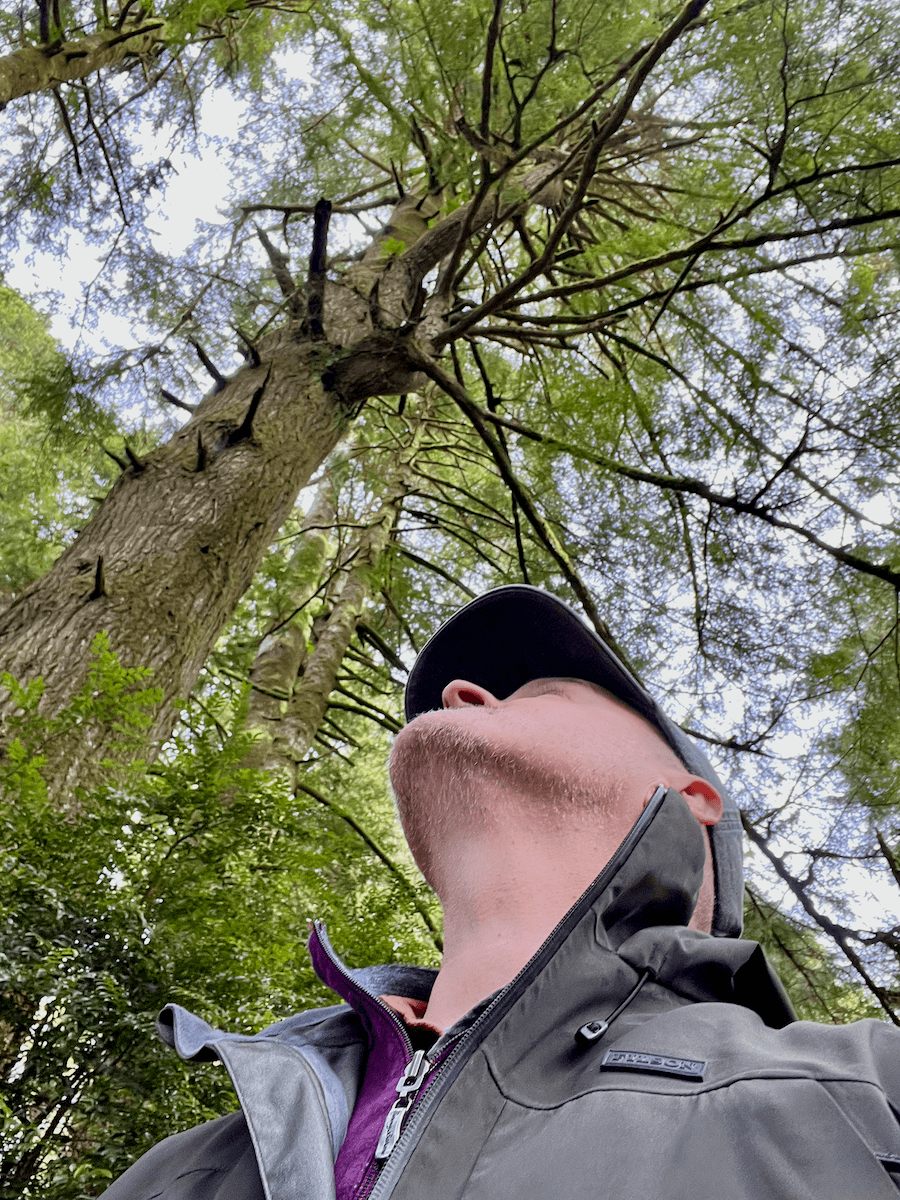 Even one day in Newport, Oregon, can elevate your nature connection.
As a practical mystic, I help people like you bridge dominant culture and the unseen magical realm of nature. Think about moments like witnessing an electric sunset over the Pacific Ocean or the amazement of a gray whale breaching.
With some mindfulness and practice, you can experience these wonders more regularly — even while visiting Newport, Oregon, for one day. This is called a nature-forward focus.
Not only does a nature-forward approach to visiting places like Newport, Oregon, help you see yourself, your companions, and the wonders of travel more clearly, but it opens you up to healing and well-being that can be integrated into daily life. And there is a positive impact on the environment. My article explains this in detail: "How to transform your travel experience with nature-forward vacations."
Over my life guiding myself and others into nature, I've developed six fundamentals for elevating your nature connection. You can access them HERE.
How to see Newport, Oregon in one day — nature-forward things to do.
This itinerary covers the main scenarios for things to do in Newport, Oregon, in one day. Of course, I'm assuming you'll spend at least one night on the coast — whether on a more extended Oregon Coast road trip or a week-long vacation in a nearby town like Lincoln City or Waldport.
If you plan to stay a few days, consider reading my other article with more travel details and ideas for nature-forward things to do in Newport, Oregon.
A day trip from the Willamette Valley (Portland, Salem, and Eugene areas) is also possible. You'll need to leave early in the morning and return later in the evening, but traffic is better during those times. Check out the "Getting to Newport" section below for more details.
This itinerary is good year-round and mostly avoids day-use fees. However, there is an entrance fee for the Oregon Coast Aquarium that is worth the price.
Start with coffee and breakfast with the relaxed vibe at a Nye Beach eatery. I like Ulutralife Cafe. Take your items to go — out to the beach and soak up the energy of the waves to start your day.
Head to the Oregon Coast Aquarium for opening at 10:00 am. This way, you can watch the otters eating their breakfast — snapping crab legs against the glass window. Get lost in the undersea experience and learn about tide pools, including the ability to (gently) touch living sea creatures. Fun for all ages.
Cross back over the historic Yaquina Bay Bridge and make an immediate right off Highway 101. You can stop to snap a photo of the iconic bridge from a suitable place and check out the lighthouse. Then, continue down the hill to the Newport Bayfront for lunch. I like Oceanbleu at Ginos or Local Ocean. Stroll along the harbor and find a bench to spend 20 minutes taking in the nature-forward connections to a working harbor's smells, sounds, and sights.
Head to Mike Miller Park for a seldom-busy one-mile walk through massive Sitka Spruce. Remember to look up, go slow, and pay attention. The ponds are still and offer soulful reflection. (If the bridge is congested because it's summer, stay on the side of the Oregon Aquarium for lunch and eat at Wolf Tree Brewery near Wilder Trails or Luna Sea in Seal Rock. Then, visit the Newport Bayfront later in the afternoon or start there in the morning.)
Then, later in the afternoon…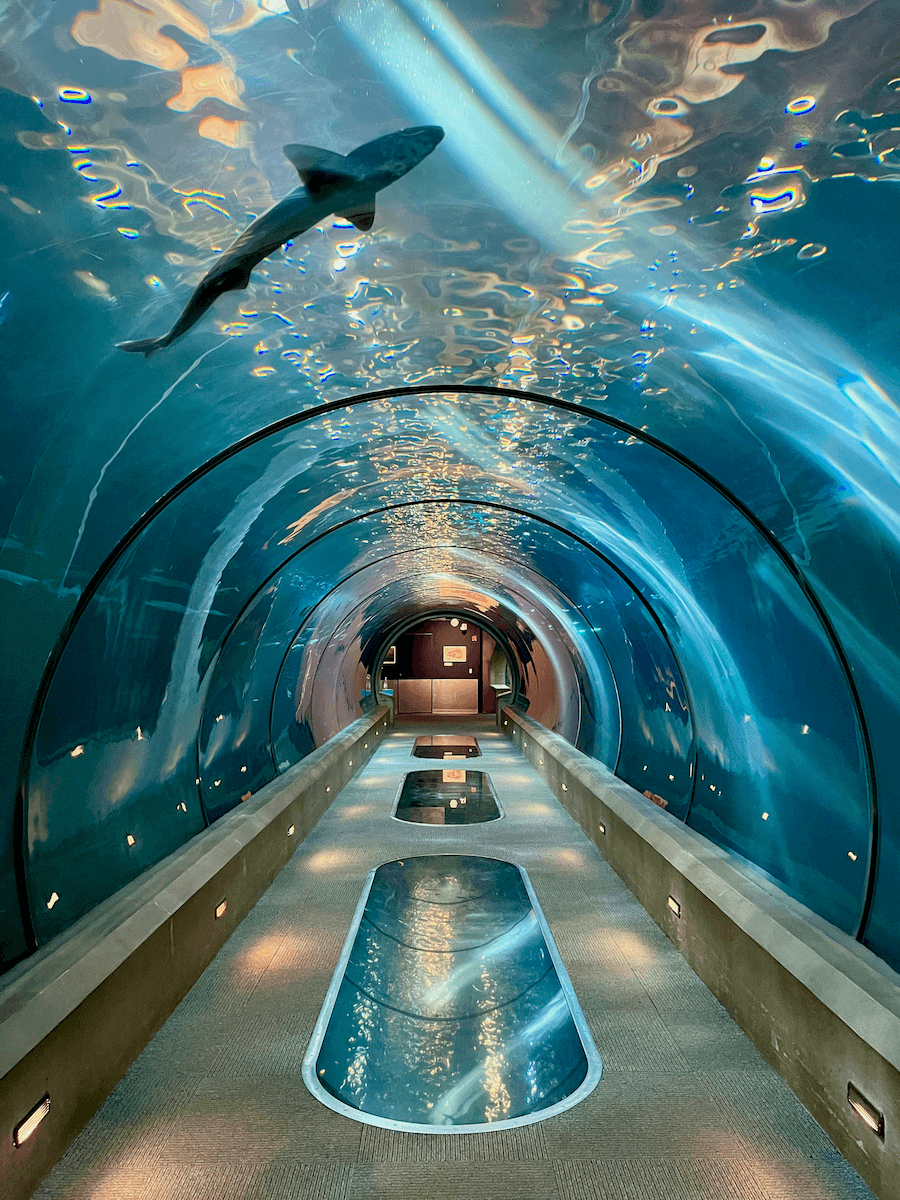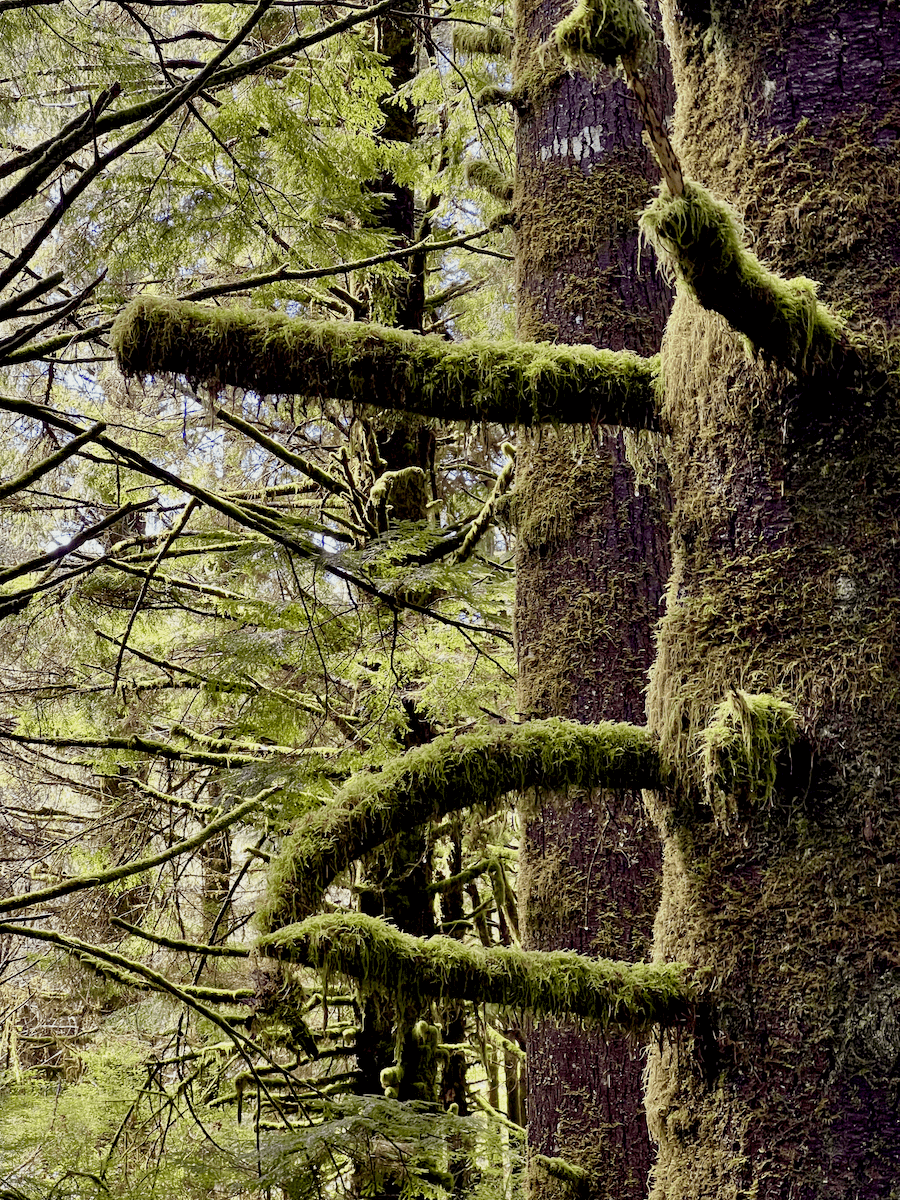 Things to do in Newport in the afternoon, depending on your evening plans.
Staying in Newport overnight:
Wander through South Beach State Park out to the surf to enjoy the beach — maybe around sunset. Return to town for delicious dinner options on the Bayfront (Local Ocean) or Nye Beach (Georgies is excellent for a sunset meal). Stay overnight in Nye Beach (Sylvia Beach Hotel or the Elizabeth Oceanfront Suites are lovely).
Northbound travelers (toward Tillamook):
Pull off the highway at Otter Crest to wind along the historic Oregon Coast Highway. Then, enjoy dinner and sunset (depending on the time of year) in Depoe Bay. I like Tidal Raves Seafood Grill. Stay overnight here, or continue to Salishan or Lincoln City.
Southbound travelers (toward Florence):
If the days are long in summer, drop into Lost Creek State Park and follow the layered red earth along what is often a secluded beach. Otherwise, continue to Yachats to walk the fabulous 804 Trail and dine at one of the excellent eateries. I like Ona and Luna Sea, and the restaurant at Adobe is scenic, with an outstanding view of the water (and sunset). Stay at Overleaf or the quirky Drift Inn (no direct oceanfront). Yachats Inn has a beautiful view too.
For a memorable experience, consider pushing 14 miles further and stay at the Heceta Lighthouse Bed and Breakfast. I wrote about this in a separate article. But, if you do this, you must plan to arrive a few hours before sunset to savor the experience!
Travel to and from Newport, Oregon
Newport is centrally located for visiting from the Willamette Valley, where most of the population lives in Oregon. If you're visiting by airplane, you'll want to fly into Eugene (EUG) or Portland International (PDX). Here are some distances from population centers (each way) to Newport:
Eugene Airport (EUG) — 82 miles (typically 1:30 to 1:50 hours)
Salem, Oregon — 82 miles (typically 1:30 to 1:50 hours)
Coos Bay — 98 miles (typically 2 to 2:40 hours)
Astoria — 133 miles (typically 2:50 to 3:40 hours)
Portland International Airport (PDX) — 142 miles (typically 2:40 to 4 hours)
Oregon/California State Line on Highway 101 — 216 miles (typically 4:10 to 5:10 hours)
Keep in mind traffic varies greatly in Oregon. For example, Oregon Coast Highway 101 gets congested in summer and on weekends due to big trucks, recreational vehicles, and limited passing lanes. Therefore, I recommend traveling more considerable distances in the morning or later in the evening.
Around dusk, look for deer and elk on the highway. These animals are beautiful, bold, and dangerous.
Newport's central location makes it easy to customize an excellent nature-forward trip to the Oregon Coast. Here are some estimated travel distances to nearby popular places (north to south):
Tillamook Creamery — 70 miles
Lincoln City, Oregon — 25 miles
Depoe Bay, Oregon — 13 miles
Yachats, Oregon — 24 miles
Cape Perpetua — 26 miles
Heceta Head Lighthouse — 38 miles
Florence (Oregon Dunes) — 60 miles