How to transform your travel experience with nature forward vacations
Elevate any travel experience with purpose, meaning, healing, and well-being. The what, where, and how guide for planning nature forward vacations.
This article about nature-forward vacations is for you if:
You love to travel but remain bothered by your impact on the environment.
You get annoyed by lines to see tourist attractions, but everyone says it's on the essentials list.
Travel seems so expensive, especially for experiences.
There are times you return needing a vacation from your vacation.
You get overwhelmed with travel planning because there are so many options.
You acknowledge the benefits of nature immersion but need help implementing this concept into your travels.
A solution to all the above is grounding in the trees, plants, rocks, and water — or adopting a nature-forward philosophy to your travel.
But don't worry, a nature-forward focus won't usurp your hopes and dreams to see the sites, learn about culture, and enjoy delectable food & drink. Instead, it simply provides a trustworthy compass or backbone to ensure you can be present for the benefits of travel.
A nature-forward philosophy about travel is about practice, not perfection. This article will guide you toward evolving your habits over future experiences.
I recently returned from an inspiring nature-forward vacation to Portugal with loved ones to celebrate a milestone birthday. All of my photos in this article were taken in Lisbon and Porto. Go HERE if you'd like more information about specific nature immersions there.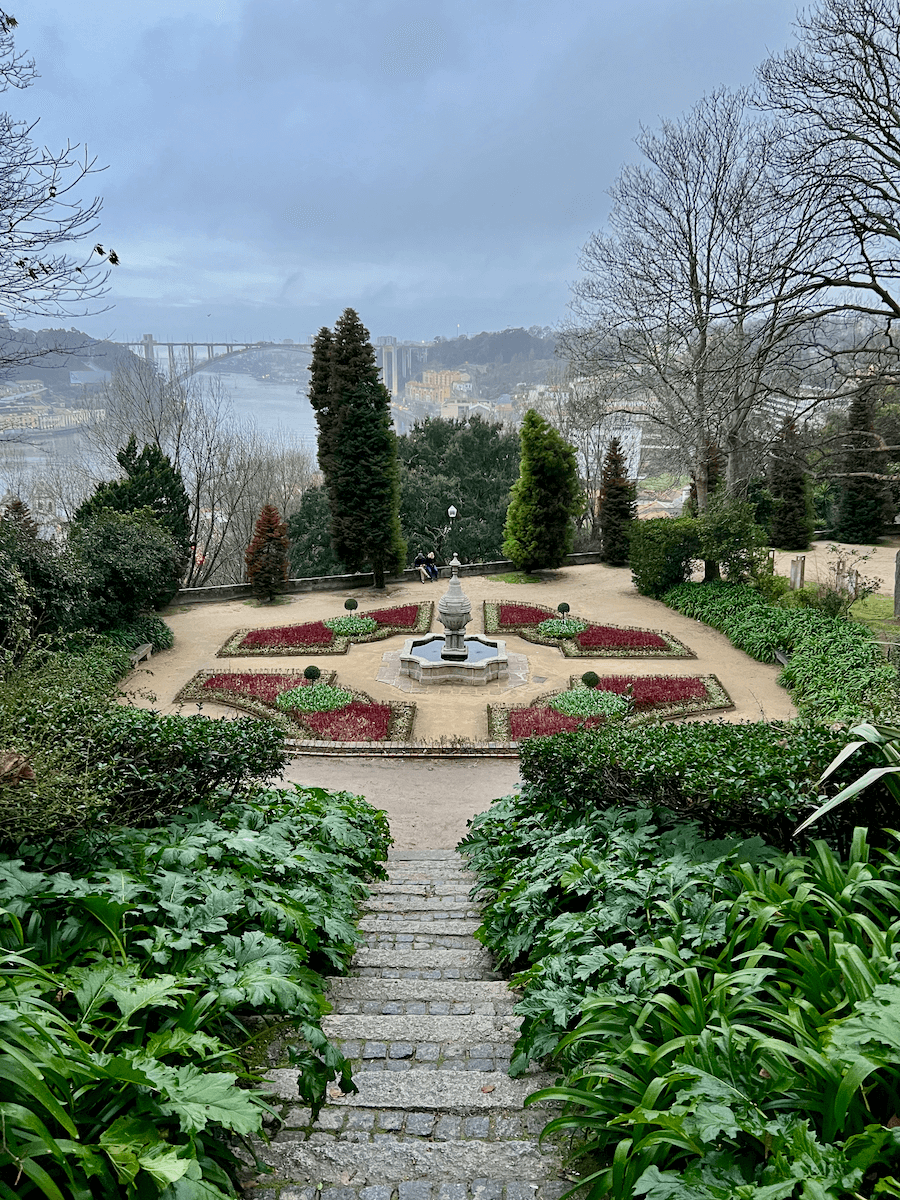 The Natural World is clamoring for us to pay attention.
Mother Nature yearns for humans to return to our biological need to acknowledge interdependence with the surrounding elements. When we do, a rich world of healing and well-being opens up — keeping us grounded when traveling.
What does it mean to be grounded in nature, and how can it greatly enhance any journey?
Especially when traveling, we can handle only so much stimulation before the soul lifts off the ground like a balloon bound for the stratosphere — where fear-based feelings like anxiety and intolerance swirl.
This is how drama creeps into an otherwise lovely weekend away, or frustrations mount with cultural differences — for example, paying the check at a restaurant.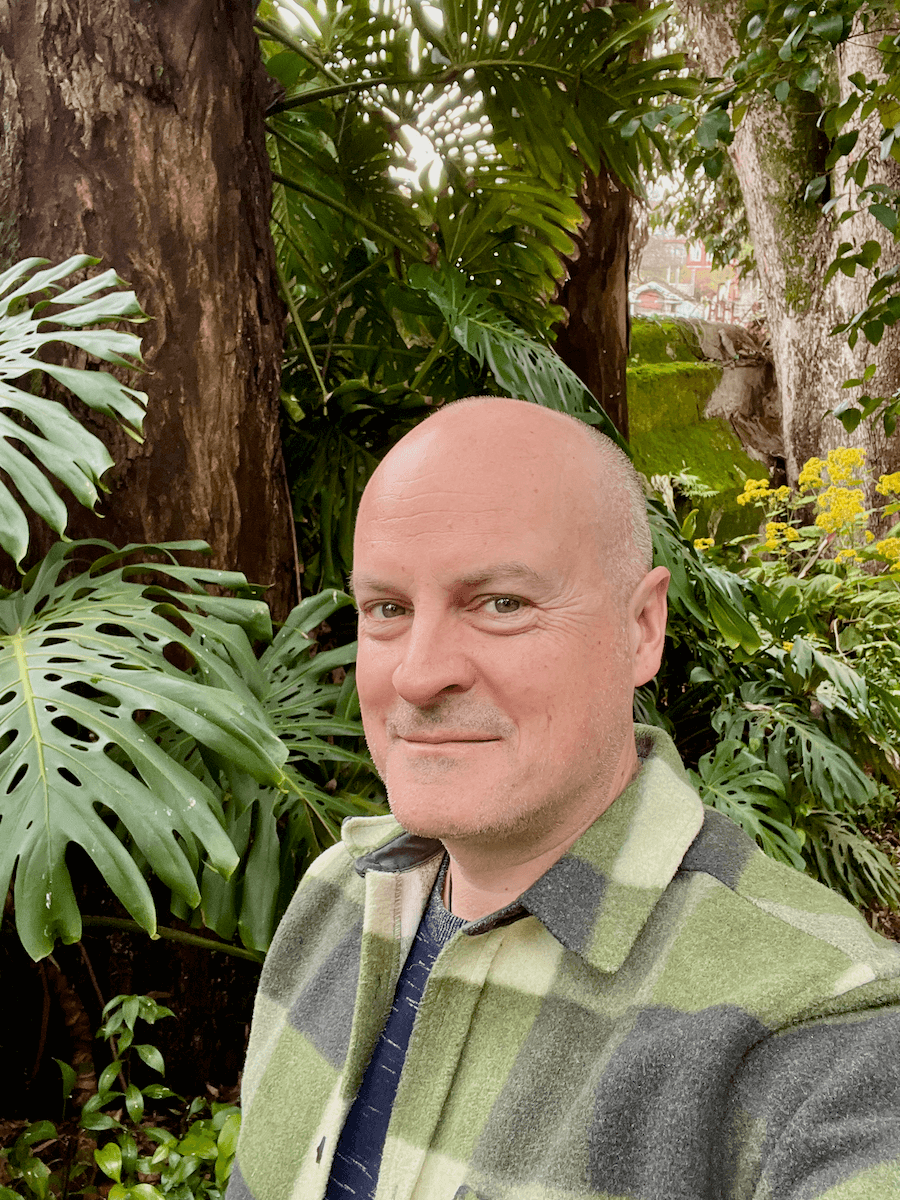 A profound relationship with nature offers insights into seeing and feeling a connection with the Earth under your feet — and that interdependent web is grounding.
Then, when the wind blows — such as travel plans change — a solid tether to the land makes it easier for the balloon to weather the storm. This stability empowers presence to the wonders of travel — which begets joy, fulfillment, and rejuvenation.
A nature-forward approach to travel is a way to actively make a difference in your environmental impact. You become part of a growing collective helping rebalance the planet by firmly grounding in nature. It might seem futile, but real, sustainable change will happen as rebalance happens.
Your "essence" or "nature" is a critical consideration for nature-forward vacations.
Please remember that while nature-forward refers to grounding in the land around you, your "essence" or "nature" is an important consideration. So this article is just as focused on how best to inject your authentic desires for travel into a fantastic experience — instead of what external influences imply is crucial.
You trust your instincts when in your "element" because the Natural World provides more profound clarity. While guidebooks and recommendations from locals can help keep you in the right "neighborhood," following your intuition will give fruitful experiences that hit your core — which is where the transformation from travel lives.
Putting trust in nature while traveling is a good bet. No matter the destination, the spirits of the land are present, waiting to help. From 1000-year-old saguaro cacti on the side of the road in Cabo San Lucas to tree-lined Avenidas in downtown Lisbon, nature wants to connect with us.
How to nature-forward while traveling.
How do you begin to elevate your embrace of nature while traveling? As a mystic who's spent my life traversing the world (to over 60 countries) and delving deep into the land's mysteries, I've developed six fundamentals to engage in nature-forward experiences. They are explained HERE in more detail.
A nature-forward vacation means that no matter what you do — even if you've forged an action-packed itinerary — you can enjoy your time more profoundly because you're grounded.
With proper grounding, everything has more meaning because — even if only subconsciously — you're a part of something larger than yourself.
Here are the six steps and examples of their application to my recent Portugal trip to celebrate a milestone birthday. If you'd like to learn more about how I integrated a nature-forward focus into this heart-warming trip, go HERE.
Have intention

Be clear with yourself and other travel companions about your purpose for travel. Go even deeper and manifest the desired outcome for the trip. Ask the land spirits to help you.
Acknowledge the land

Nature will hold you tighter when offering a thoughtful gesture of respect. Ask for permission to enter as if knocking on a neighbor's door. You could say, "I come with an open heart," or something similar.
Remove distractions

It's okay if your mind isn't clear, but try to set yourself up for success. Technology will be waiting when you return, but give yourself the gift of space from the frantic world.
Slow down, and then go slower

The first 20 minutes are crucial in setting the pace of your nature immersion. Make a conscious effort to do everything slowly — maybe, as you'd imagine slow motion. Try to stay as quiet as possible.
Pay attention

You're walking in a world with millions of little miracles — smell the leaves and look up at the trees.
Integrate afterward

Allow your experience to integrate into your life. On the way home, review your favorite nuggets of gold. Debrief with your travel companions about the highlights of the journey. Go a step further and write down notes.
Step 1: Have intention.
My intention for my time in Portugal was evident weeks before the plane took off from Seatac Airport. I wanted to allow my 24 travel companions full access to my mystic identity and let them love and celebrate me.
As a mystic, I sometimes deemphasize my unique spiritual sensitivities for fear of being labeled weird. As an introvert, I can "go into hiding" to avoid being the center of attention. I wanted to work through both of these phenomena on this trip.
When arriving in Lisbon, I asked the spirits of the land for help with my intention.
Step 2: Acknowledge the land.
In a cab from the airport to town, I made it a point to acknowledge the land by saying, "I come with an open heart. I come not to harm". And I paid attention to the landscape along the drive.
At the entrance to the hotel, I made an offering of gratitude to the land spirits for hosting me.
Step 3: Remove distractions.
The distractions of social media were pushed away. We planned a few activities, but there was no checklist and less distraction from fear of missing out (FOMO).
Step 4: Slow down, and then go slower.
Every day I dedicated at least 30 minutes to deep immersion in nature. You can read more about this in an article about Lisbon and Porto.
When I was nervous about the birthday dinner and what I would say to the group, I spent three hours slowly wandering the Castelo de S. Jorge. The sweeping views of Lisbon from the ramparts matched the magic of a fresh breeze blowing through ancient olive trees.
My mind slowed to a crawl as my heart gained clarity and courage to push through my fears. The evening was a joyful celebration. While I cannot remember what I said to the group, I know the words expressed gratitude from my heart.
Step 5: Pay attention.
The rest of my time, among the varied activities that included guided tours & scenic dining, I was always aware of my nature friends. Paying attention gave me the reassurance I was connected and supported.
Step 6: Integrate afterward.
Writing this article today helps me integrate the experience into my life. A nature-forward focus boosted my intention for the trip, and I reaped the rewards of strengthening family and friend relationships — I feel even closer than ever to loved ones. I'm more trusting in expressing all sides of my identity, including practical mysticism.
Reflecting on adventures and how nature impacted my time in Portugal allows me to celebrate my triumphs and re-live the trip in powerful ways.
Where to immerse in nature?
Less populated areas provide more apparent options to enjoy nature immersion but don't discount city experiences. Nature-forward opportunities are everywhere. These are some tried and true conditions to seek in urban areas. Access a more detailed article about where to find locations for nature-forward immersions.
Spaces with ancient vegetation or elements have more wisdom to share. For example, in European cities, tree-lined boulevards are suitable for this because, in many cases, the trees were planted a few hundred years ago.
Water with vegetation is powerful. A fountain in a tiny garden can provide a special connection.
In busy places, like many iconic city parks, look for a bench or dry ground to lie down and look up. Or, face away from the main walkways. This helps lessen the impact of distractions.
Botanical gardens or arboretums are great for nature immersion. Every large city has at least one. Sometimes there are modest entrance fees.
Viewpoints over the city are fantastic places to immerse in nature. While firmly connected to the ground, you enjoy the land's big-picture view. Especially effective if you seek inspiration or need a different (broader) perspective.
Nature-forward planning tips.
I love planning trips. The forward-facing movement feels optimistic and free. All the possibilities emerge, like the image on a polaroid photo. Of course, you can use my helpful hints about travel on this website to get started.
And book a Zoom meeting with me to set a strong foundation for your nature-forward vacation. From hostels to 5-star hotels, lying on beaches to summiting mountains, I've experienced the gambit. I can help you narrow in on the best options. All the information is at the bottom of this article.
In planning your nature-forward travel experience, remember to bring intention into the process.
Be mindful of what you wish to get out of your journey. This clarity will help you naturally arrive at the best options.
Remember, nature's spirits are mighty, and an intention for "peace and tranquility" might call in the challenges you must work through to reach authentic "peace and tranquility," — so be ready for that great gift.
Stay awhile.
When time allows, avoid jumping from lodging day to day. You'll grow tired of packing and moving each morning. Added stress, if only under the surface, pulls you from grounding. Stay two or more nights at each location, forming a more powerful bond with the land.
Anchor each day in nature.
Plan a substantial nature immersion activity each day. For example, this could be an hour's hike without technology or talking. Or, you may be at a destination wedding — visit a park near the wedding venue and reflect quietly.
Plan one rest day after every three days of travel.
Many people over plan their itineraries, especially when wanting to see places like the Oregon Coast or Ireland. Overly optimistic driving itineraries or intense checklists will quickly burn out even the most intrepid travelers.
Plan a day to rest and recharge. Leave it open to explore nature or engage in the spontaneity of your authentic wishes — that may differ once on the road. I've also used free days to fight off a cold lurking in the shadows to disrupt plans.
If you must be on the go, plan at least an hour daily of true nature immersion — quiet time with organic elements — to keep you grounded and present amidst all the action.
Where to stay? Location. Location. Location.
Leverage your budget to get the best location to make it easiest to immerse in nature. Close to a big park? Near a tree-lined avenue? A fountain? Is there a garden on the Airbnb premises? Be mindful of easy access to natural elements. And then use this advantage.
Staying in the center of a city provides the ability to walk more places — reducing carbon impact and helping to access the feeling of grounding with the land. And, the more realistic it is for you to access nature by walking from the front door, the more nature-forward you'll be.
Plus, in busy places like Rome, the attractions have fewer people in the morning before tour busses enter the city from outer areas.
Be open-minded about kids and pets meditating in nature.
I've led nature immersions with kids and pets that went exceptionally well. Children and canines enjoy more accessibility to nature spirits because they haven't developed layers of resistance added by life circumstances.
Just like the oxygen masks on a plane, ground in nature yourself before assisting others. Then test the waters with a few immersion activities and see what happens.
Nature-forward activities.
No matter the activity, begin well by comfortably acknowledging the land. It can be as simple as saying, "I come not to harm." And be sure to mean it.
Walking tours
If you are mobile, walking tours are the best way to get acquainted with the spirits of the land in cities. Most major cities have free (but you need to tip the guide) versions that begin in the central meeting places. You'll undoubtedly pass by nature along the way — be sure to pay attention. Do this on your first day to ask the guide about other experiences.
Hop-on, hop-off bus
Also, hop-on, hop-off buses are grand for connecting with the land in cities. Instead of waiting at the bus stop, add 20 minutes in a local park between star tourist attractions. These also cater well to spontaneity when something "moves you" to get off the bus.
Ghost tours?
I used to love ghost tours until I realized they are essentially taunting literal poor souls unable to move on to the next realm. When you poke them, they could do the same in return. Be careful with this, or try a different option.
Reverent places
Similarly, places where you know the history of the land should be treated with the appropriate reverence. Disaster sites or places of immense cruelty can hold intense energy for hundreds of years. Ask the land spirits for help to understand and adequately show respect.
Boat rides
Boat rides are a great way to quiet your mind, body, and soul — the movement of the water is a constant reminder of your connection to nature. So I always suggest new and frequent visitors to Seattle take a Washington State Ferry ride across the Salish Sea. Such medicine to the soul!
Food & drink experiences
Experiences that encourage you to learn about the food & drink and where it comes from show respect for the land and resources needed to provide nourishment. And it doesn't always mean it's pretentious. For example, many delicious eateries on the Oregon Coast support regular working families. There is no reason to go to chain restaurants there.
For this reason, locally sourced experiences and plant-based joints are more nature-forward. Sometimes the price is higher than other options, but consider this voting with your dollars to support nature-forward proprietors.
Outdoor sports and nature immersion
Outdoor activities that take place in nature are not necessarily immersed in nature. So while there is nothing inherently wrong with snorkeling, skiing, running, or paddling in the wilderness — after all, you've arrived at a beautiful venue — if you want to be nature-forward, be sure to have the intention of making a deeper connection.
One way to do this is to spend 20 minutes in the beginning in stillness, reflecting with the land spirits. Remember to plan this time into the schedule. If you're fishing or hunting, you'll be even more successful because you cooperate with nature.
Leave no trace
While on outdoor activities, be sure it's always in the plan to leave no trace. This means letting animals find food naturally and refraining from leaving pistachio shells and orange peels on the trail. And take nothing without permission.
It's generally accepted that you can ask for permission and take any fallen item from a tree or plant — like a walking stick found on the ground. But leave rocks alone. They are holding it all together, and you're likely disturbing someone's home.
Why do nature-forward vacations matter?
The point of adopting a nature-forward philosophy is to keep growing in your unique and personal relationship with the Natural World, including your relationship with yourself.
So, for example, you'll grow in clarity, that'll help repel unnecessary tourist traps while embracing others because they authentically matter — leading to saving time and money.
And, if everyone traveling in the world adopts this, think of the collective impact on the environment. There'll be fewer crowds in places that today ride the swells of social media hype because tons of other meaningful options emerge. Travelers can exercise their unique creativity because they'll have more clarity about what matters — limiting vapid bucket list ventures.
Most importantly, nature-forward attitudes will slow down a cultural obsession with distractions wreaking havoc on the environment, relationships, and well-being.
Just like the saying, "Rome wasn't built in a day," the Western World will not ground in nature overnight. But why not make a conscious effort to add to the collective by adopting nature-forward principles? In the meantime, you get to enjoy more purpose and meaning in travel that can be integrated into healing and well-being in your daily life.
Let me help you plan and practice nature-forward vacations.
Travel planning services
A lifetime of wandering to over 60 countries across the globe — immersing deep within the mysteries of the land — gives me powerful practical wisdom to share about nature-forward vacations. From hostels to 5-star hotels, lying on beaches to summiting mountains, I've experienced the gambit. I can help you narrow in on the best options. So let me help you get started thinking and planning with a nature-forward focus.
No matter where you live or where you want to go, I offer zoom meetings customized to your interests and needs. Click the tiles below for more information.
In-person mystic nature experiences
Practice makes… more practice. You can work with me in person on guided nature immersions curated to meet you where you're at with the natural world.
Then, we'll go even deeper into the unseen realm of rocks, water, trees, and plants through simple meditations — where profound healing and well-being exist. You'll learn how to practice this daily and on vacation too. Transformation is closer than you think.
These 90-minute low-impact walks are available in the Seattle and Portland areas. I'm also open to travel beyond the Pacific Northwest — message me to start a dialogue.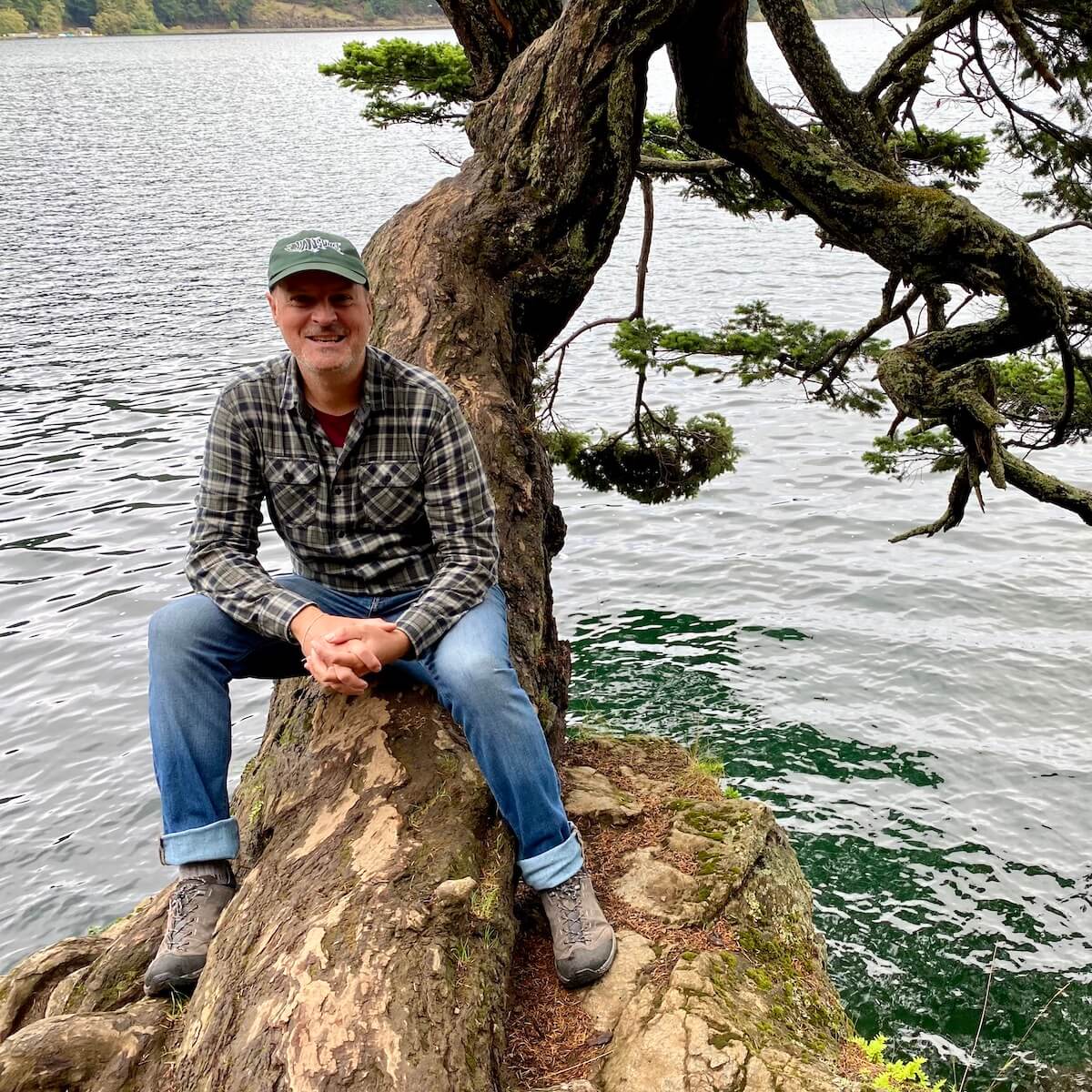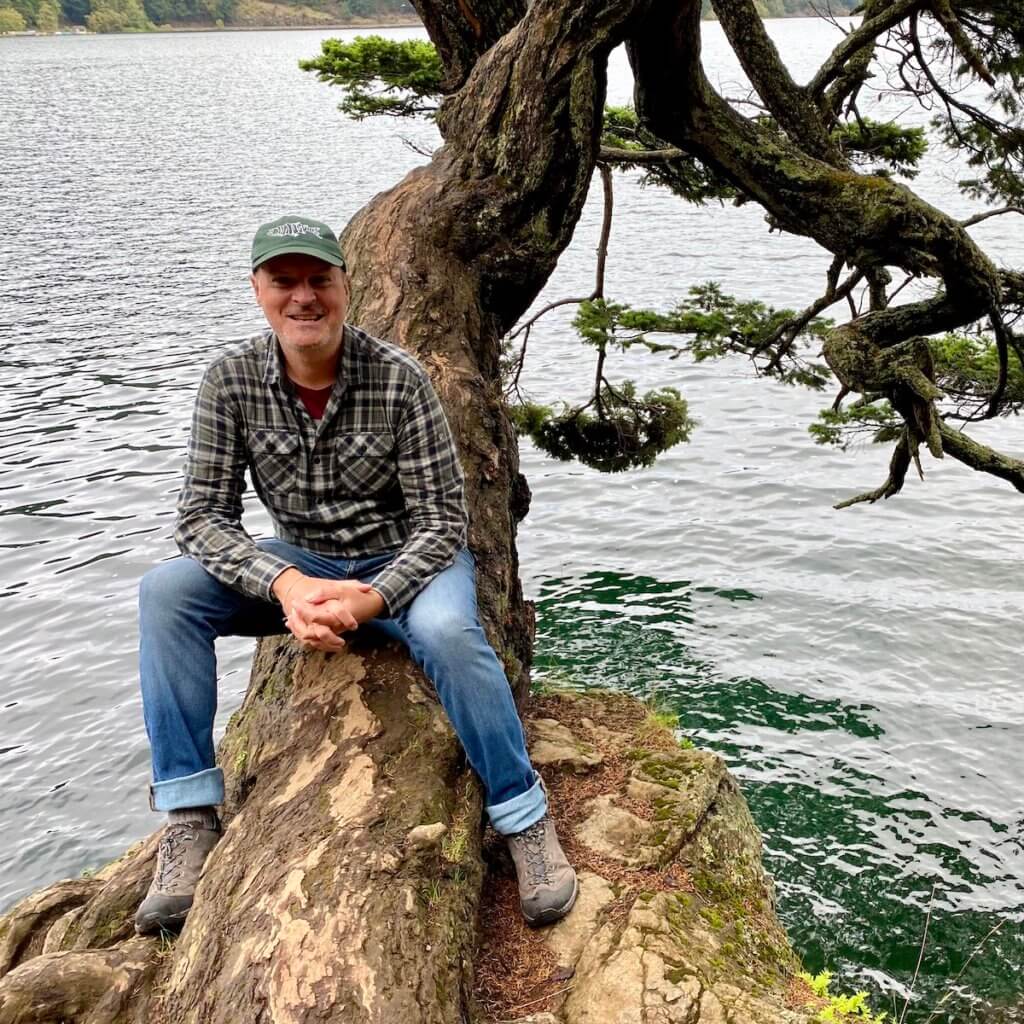 Let me be your bridge to an elevated relationship with nature
Practice makes… more practice. You can work with me in person on guided nature immersions curated to meet you where you're at with the Natural World.
Then, we'll go even deeper into the unseen realm of rocks, water, trees, and plants through simple meditations — where profound healing and well-being exist. You'll learn how to practice this daily and on vacation too. Transformation is closer than you think.
These 90-minute low-impact walks are available in the Seattle and Portland areas. I'm also open to travel beyond the Pacific Northwest — message me to start a dialogue.