Ballard Locks Fish Ladder
Discover nature's magic in this how-to guide, from a Seattle local. Learn the best way to land a Ballard Locks Fish Ladder nature connection. Includes favorite mystical places and the Carl English Botanical Garden.
This article inspires a visit to Ballard Locks Fish Ladder. It guides how to elevate your nature connection with this fascinating exhibit of nature's magic. Salmon swimming home to their ancestral birthplace is highlighted on my list of 25 best outdoor things to do in the Fall in Seattle. But this article will give you more detail on ways to engage with Mother Earth's inspiring miracles.
My life is all about nature. I take time every day for some form of connection, whether a 20-minute meditation or several hours playing in a local park or garden. Ballard Locks Fish Ladder is my regular stop from July through September. Although the salmon are jumping more frequently this season, I return year-round to enjoy the mechanical marvel of the locks and the serene Carl English Botanical Garden on the premises.
This beloved park is conveniently located in bustling Ballard, open between dawn and dusk and free to enter. While popular year-round, especially on weekends, you can enjoy a quieter pace in several locations I'll explain below.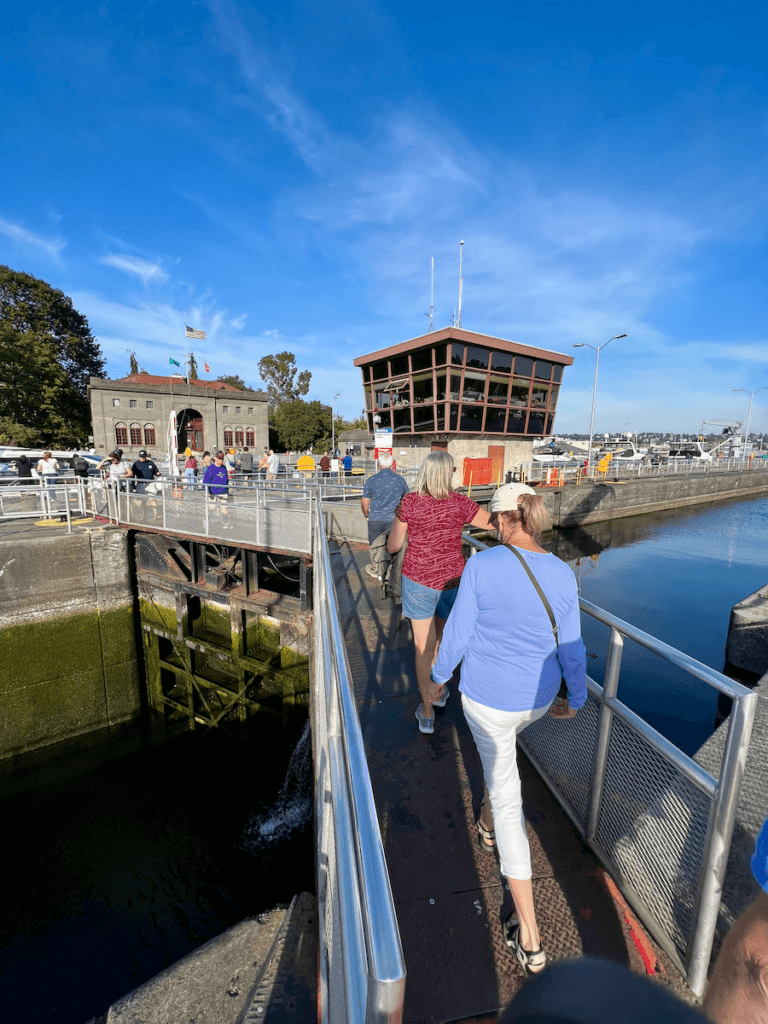 What's in this article — all about Ballard Locks Fish Ladder
While this flagship Seattle attraction is not a secret, the true secret is how to quiet down and go deeper into your nature connection.
This is your guide to exploring Ballard Locks Fish Ladder, with specific steps to the mystic practice of taking in all Mother Earth wants to offer.
If you're an interactive learner, check out my TikTok video, featured at the end of this article. Warning… I'm in it!
How to find nature's magic at Ballard Locks Fish Ladder
The salmon following their instincts to jump up a series of ladders is fantastic. Their mysterious drive to return home can catch your heart just as much as your eyes. It's all part of enjoying the experience.
But how about pushing further to new, more enlightening experiences in the organic world? No matter your mood or energy level, Mother Nature wants to help. Try these six steps guaranteed to elevate your nature connection.
These fundamentals were developed over my lifetime, guiding myself and others through nature. For more details on this, jump over to another article, Six steps to elevate your nature connection.
Perhaps you're interested in a more detailed outline of what finding a deeper nature connection looks like. Look at another recent article: 5 inspiring walks this Seattle Autumn.
Have intention

Take a few moments to engage with your purpose by entering the gates of Ballard Locks. What outcome would you like? Is there more to the experience than just the fish? Do you want to detach from other life demands for a few hours?
Reach out to the land

Nature will hold you tighter when offering a thoughtful gesture of respect. Ask for permission to enter as if knocking on a neighbor's door. You could say, "I come with an open heart," or something similar.

The experience begins at the gates because formations like this help the mind, body, and soul all engage with a transformation into another realm. The symbolism is essential — especially if you're beginning to explore entering nature in new ways.
Remove distractions

Yes, that means putting your phone away! Photos don't quite capture the magic here, anyway. It's okay if your mind isn't clear, but try to set yourself up for success. Technology will be waiting when you return, but give yourself the gift of space from the frantic world.
Go slow

The first 15 minutes are crucial in setting the pace of your nature experience. Make a conscious effort to do everything slowly — maybe as you'd imagine slow motion. Try to stay as quiet as possible.
Pay attention

You're experiencing miracles of the marine world up close — smell salty air and listen to the gush of water flowing to the Salish Sea.
Reflect afterward

Allow your experience to integrate into your life. Review your favorite feelings at the Ballard Locks Fish Ladder on the way home. Go a step further and write down notes.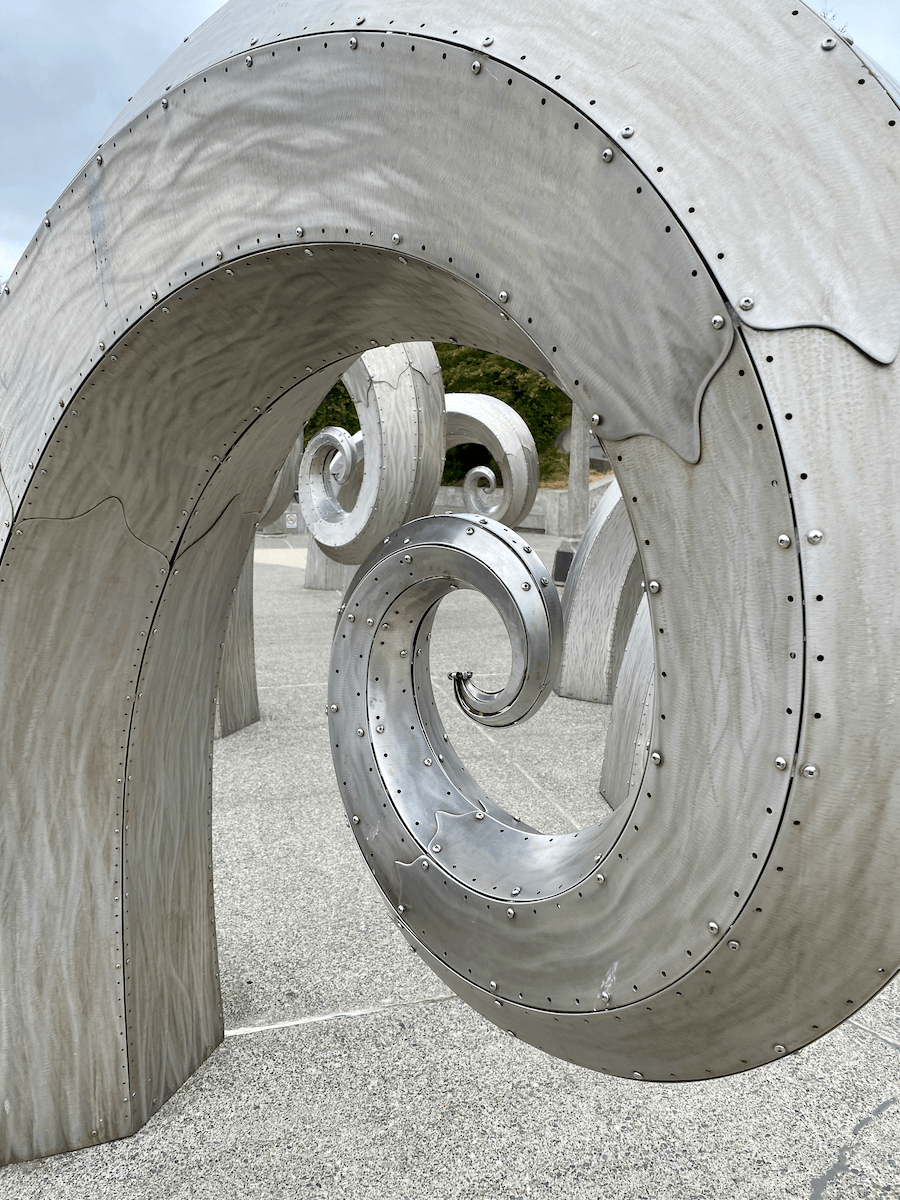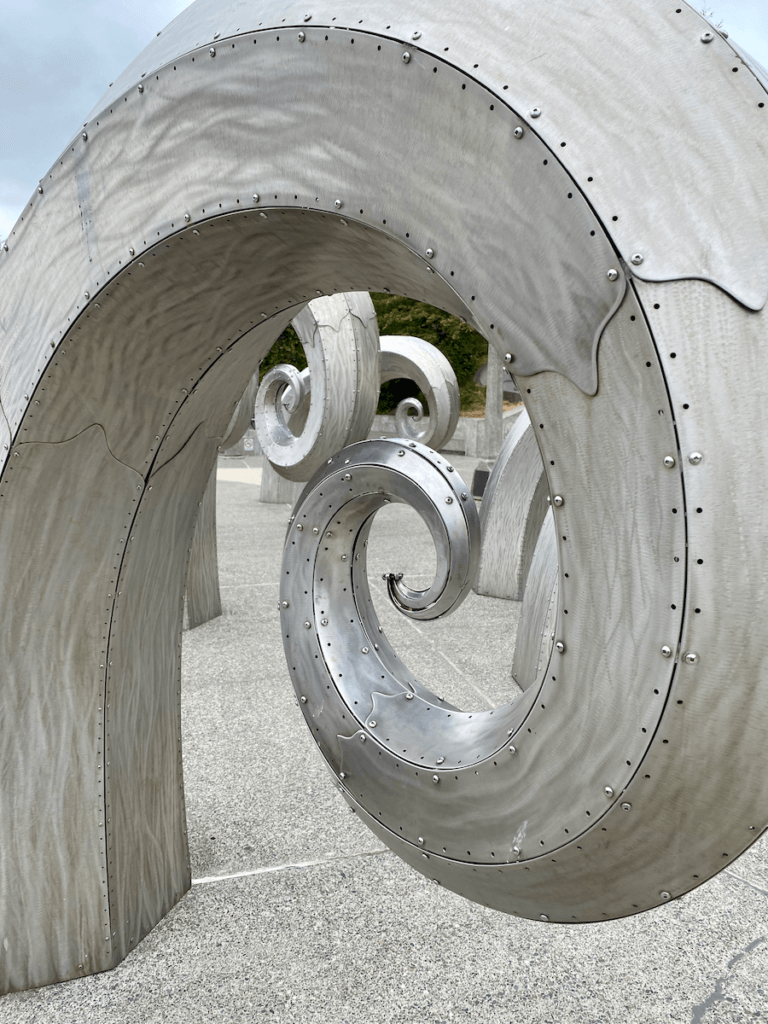 When do the salmon run?
The salmon make their ancestral journey back from the salty ocean to upriver locations up to 50 miles away. After three or so years in the Pacific Ocean, they can only access these locations via the Ballard Locks Fish Ladder. There are three types of salmon that you'll see using the fish ladder:
Sockeye (Red) vary widely from 20,000 to over 100,000 each season — This species has the most significant numbers passing through Ballard Locks and running from mid-June to mid-July.
Chinook (King) average 10,000/year — Peak viewing in August
Coho (Silver) average 25,000/year — Peak viewing in September
In preparation for the summer season, the fish ladder is drained, cleaned, and inspected over two weeks each May.
Although the salmon aren't running in the other seasons, this is still an exciting stop to witness the engineering marvel of the Ballard Locks and absorb the quiet natural goodness of the Carl English Botanical Garden.
This is a popular attraction in the summer and on weekends, so I visit mid-week, when possible. Either way, a little attention to making a deeper connection will go a long way in creating a more enjoyable experience. Follow along for more on this.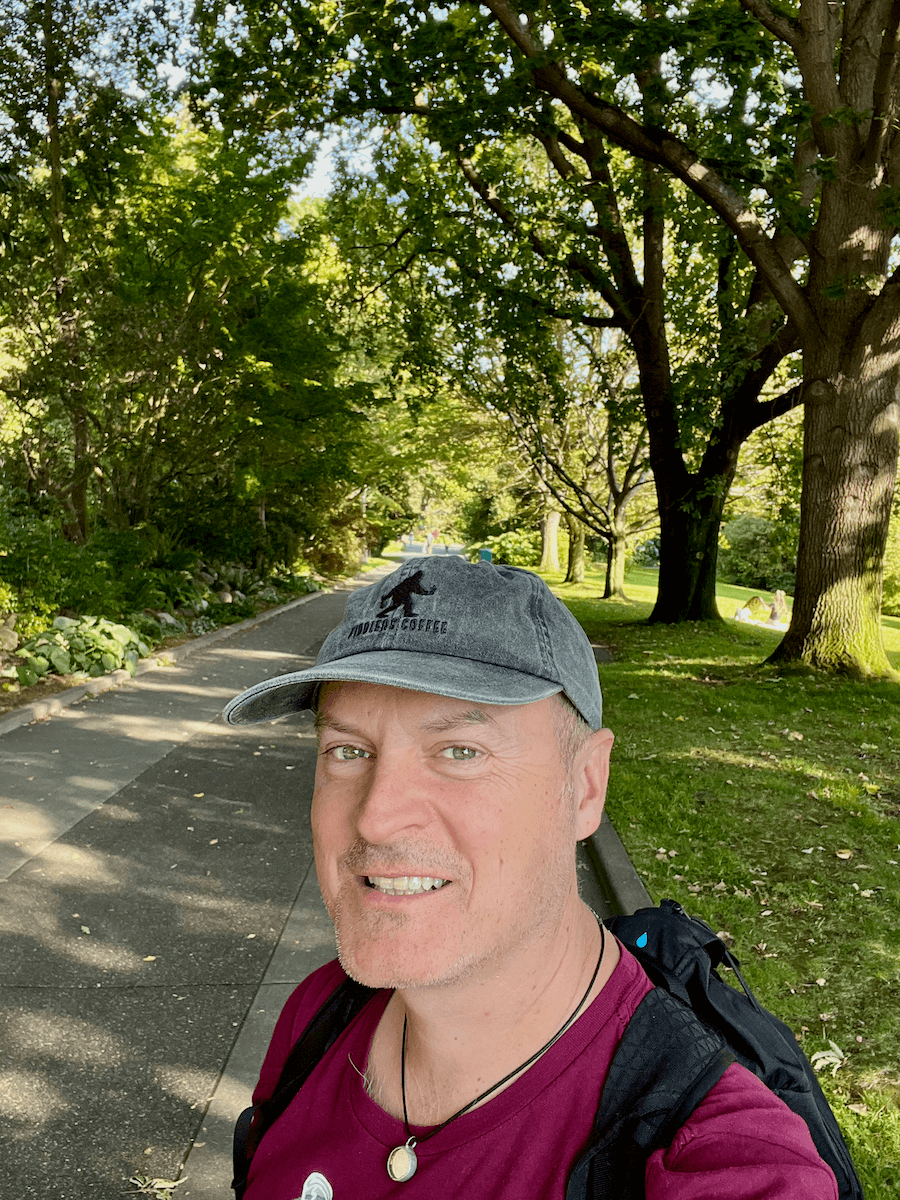 Ballard Locks Fish Ladder — go slow.
I'll reiterate number four on my list above — go slowly. Although this is a top attraction in Seattle — especially in summer, fight the urge to rush. Make this experience about the quality of time… and take your time.
Entering this unique view of aquatic magic.
Beginnings are essential to any experience — and especially going into nature. There is plenty of pay meter parking near the main entrance on the Ballard side. Take a few moments before entering the gates to determine your intention to spend time here.
Although a slightly different nature experience when the salmon are not running, it is still an inspiring one worthy of a visit and making an intention.
I understand you probably want to get to the main attraction — the fish — but hear me out. The quieter you feel, the more this experience will grab your heart and spirit because you'll be more open to an authentic awareness. Slowing down and removing as many distractions as possible will work to elevate the experience.
With this in mind, once through the gates, take an immediate right before an ornate gate with the Army Corps of Engineers insignia (photo shown). You'll find a secret path touring underneath beautiful sequoia and other varieties of plants.
Continue across an open grassy lawn to connect with the roadway, which makes a loop around the Carl English Botanical Garden — working your way counterclockwise. At the high point on the hill is a clearing with grassy steps down to the Ballard Locks. Take a seat at one of the benches here, glancing at the flowing green grass on the other side of the channel. Look for the majestic blue heron and other birds and animals, listen for the sea lions, and look up at the trees.
Try to stay in one place for 10 minutes or longer. Think about all the salmon that have come through this fish ladder, making their way to the exact upstream hatching locations.
Witness the engineering marvel of Ballard Locks.
The salmon didn't always have the Ballard Locks Fish Ladder to contend with. For time immemorial, these effervescent creatures navigated natural rivers and streams that flowed through Lake Washington via the Black River to the Salish Sea (and probably a few other routes).
The Army Corps of Engineers created the Montlake Cut in 1916 to provide a direct route from Lake Washington to the Salish Sea. This human-made canal lowered the lake level by 8.8 feet, starving the Black River of water flow — leaving the salmon without a way to get to and from home.
Since the new lake and canals were still higher in elevation than the Salish Sea, a system was designed to manage the flow of marine vessels between the differing freshwater and saltwater levels, known as a lock. The Ballard Locks and the adjacent fish ladder opened in 1917.
Salmon are amazing creatures, and they adjusted their path back to ancestral upstream hatching locations from the Black River (which dried up after the shipping lanes were created) to the Ballard Locks Fish Ladder.
Take some time to observe the Ballard Locks in operation. Spend ten minutes watching the water level rise or lower. Think about the integration of fresh and salt water.
Are you trying to integrate anything into your life?
Spot the salmon at Ballard Locks Fish Ladder.
Salmon are unique in their existence, living in both salt and fresh water. Think of them as nature's FedEx delivery drivers. They buildup a variety of minerals and elements into their mass from feeding in the ocean for three years or so. Then, when the time comes, their homing beacon turns on, and they'll return, sometimes swimming thousands of miles, to the same spot upstream to spawn and then die.
While many fish will be food for humans and animals, the decaying carcasses offer forests all over the West valuable nutrients from the ocean they wouldn't otherwise receive — especially so far inland. The cycle repeats with a new generation of little salmon, who'll feed for a while in shallow streams before venturing out to the ocean.
Make your way across the locks to a walkway facing the dam holding the freshwater back. Sometimes the dam doors open to allow buildup to release. Also, notice whether it is high tide or low, which makes a difference for the fish. They don't need to exert as much energy at high tide to jump up so many ladders.
Once on the opposite side of the dam, turn right and glance down at the start of the ladder. Ponder that once they enter this ladder, the salmon will no longer be eating — just saving energy to return to their ancestral spawning ground. They begin to die at this point.
What lessons could be learned about this cycle, living to die?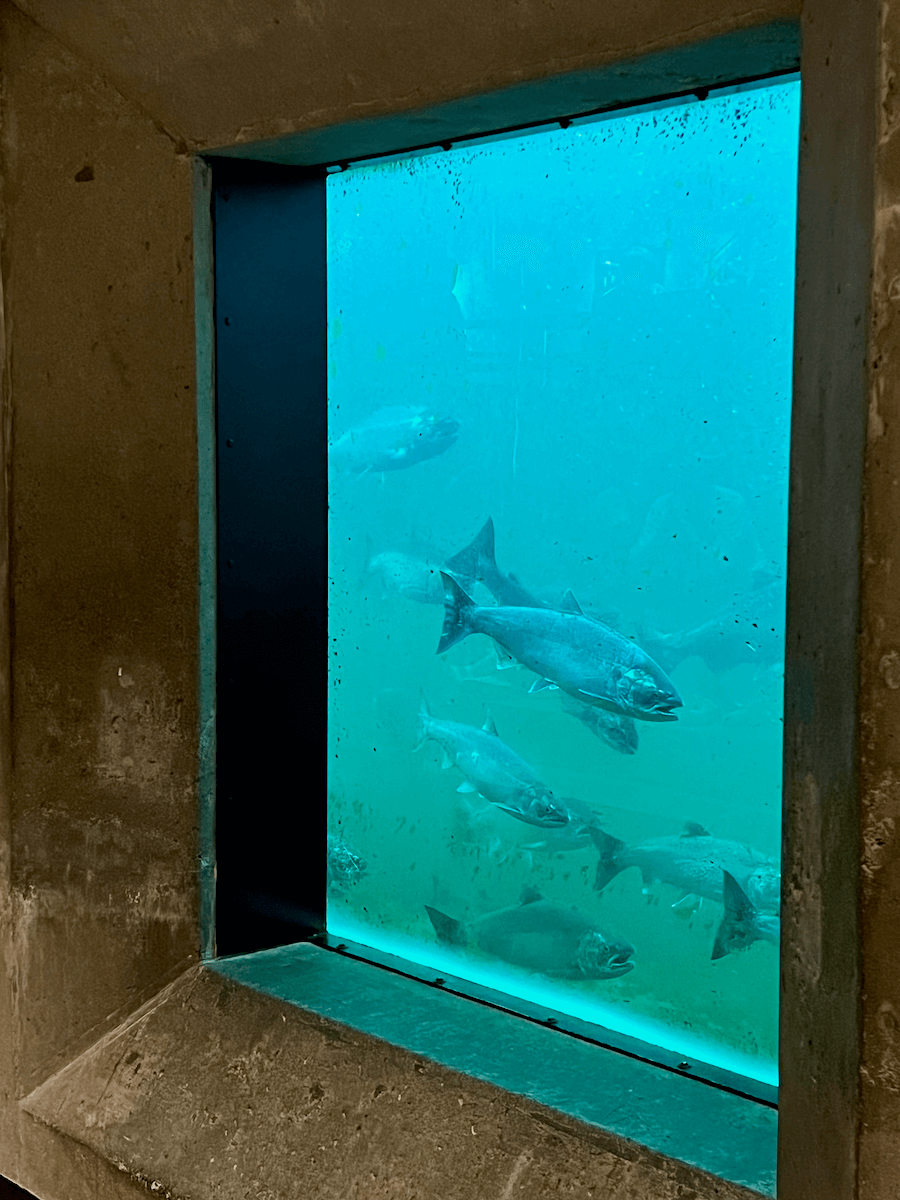 Submerge with the salmon
After you've taken the time to notice the salmon jumping up the initial ladders, take the ramp down to the entrance to the underwater viewing station, which was recently renovated. Find a seat in the viewing gallery and watch the fantastic fish.
Reflect on their life cycle and the journey ahead of them — perhaps to a stream 50 miles away! All without any other food to eat. Spend 20 minutes or more here watching them gracefully move with the flow of the water, designed to replicate rapids in nature. Focus on your connection to the fish that might develop into a trance that can drown out other noise and commotion.
When you've arrived at a place of quiet connection, you can receive insights and an essential understanding of your life. What does the lifecycle of the salmon, and their display in front of you, do to help you?
Keep this in mind as you slowly return above water and back across the dam and locks. Take another loop around the garden, stopping again at the benches overlooking the grass steps. Has anything changed since last time?
Other nature connections in and near Seattle
If you're seeking other options around Seattle, consider reading another article Gardens in Seattle, that offers 18 soul-nourishing parks & gardens in the entire region. For a short list of my favorites that combine deep spirit and stunning natural beauty, consider these suggestions: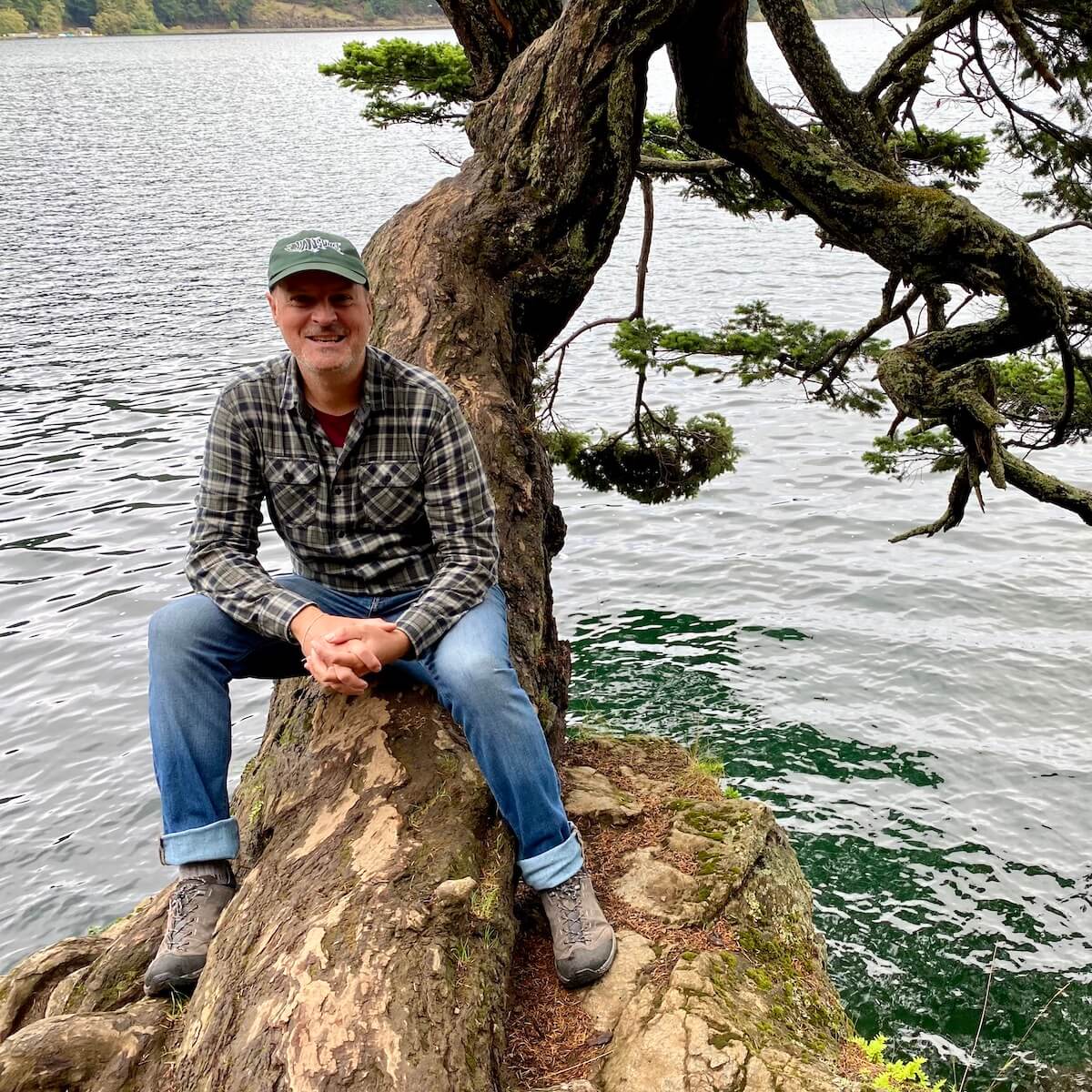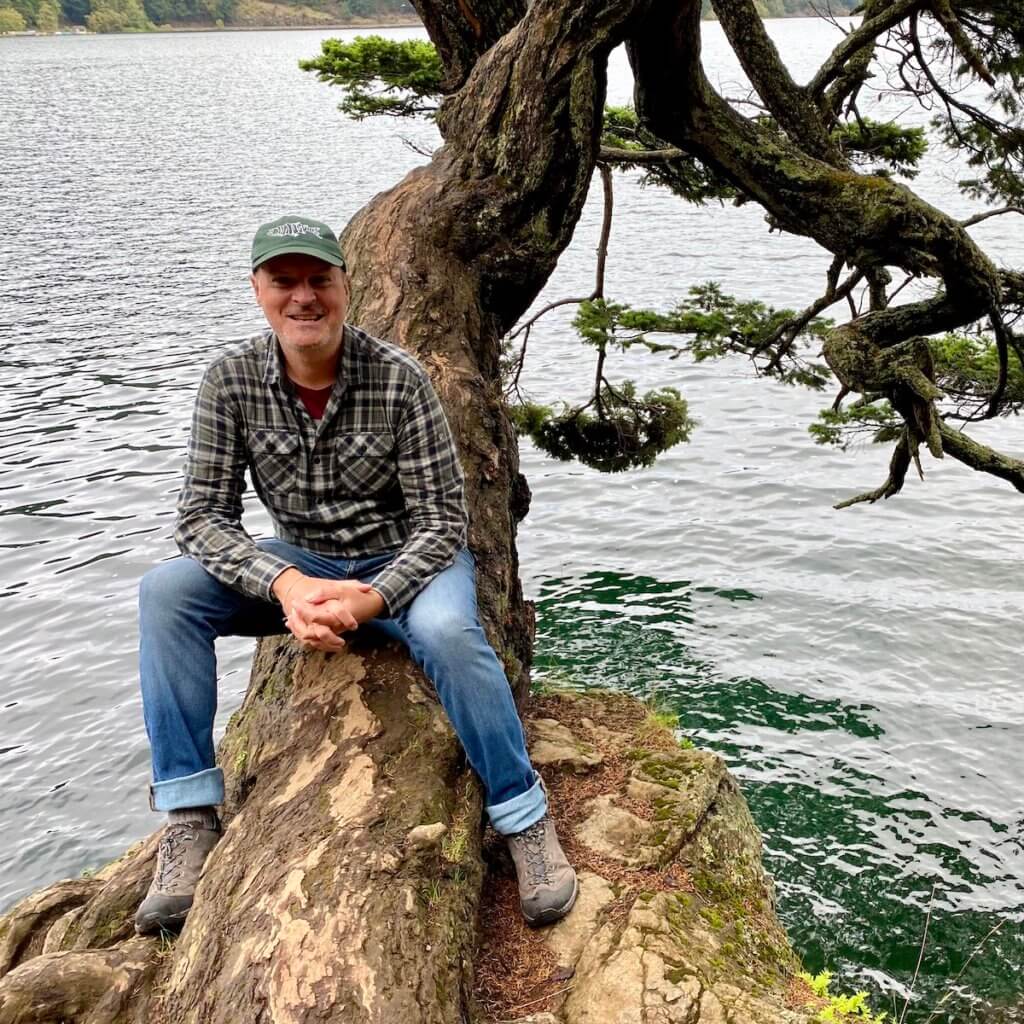 Do you want to take your relationship with nature to the next level?
Let me show you how paying attention to nature opens the door to seeing yourself — and the world — differently. Transformation is closer than you think.
I offer Mystic Nature Experiences, 90-minute in-person guided journeys in select parks and gardens in Seattle, Tacoma, and Portland.
Save this article for later.
Add a pin to your Pinterest Site.
Ballard Locks Fish Ladder.
Carl English Botanical Garden.