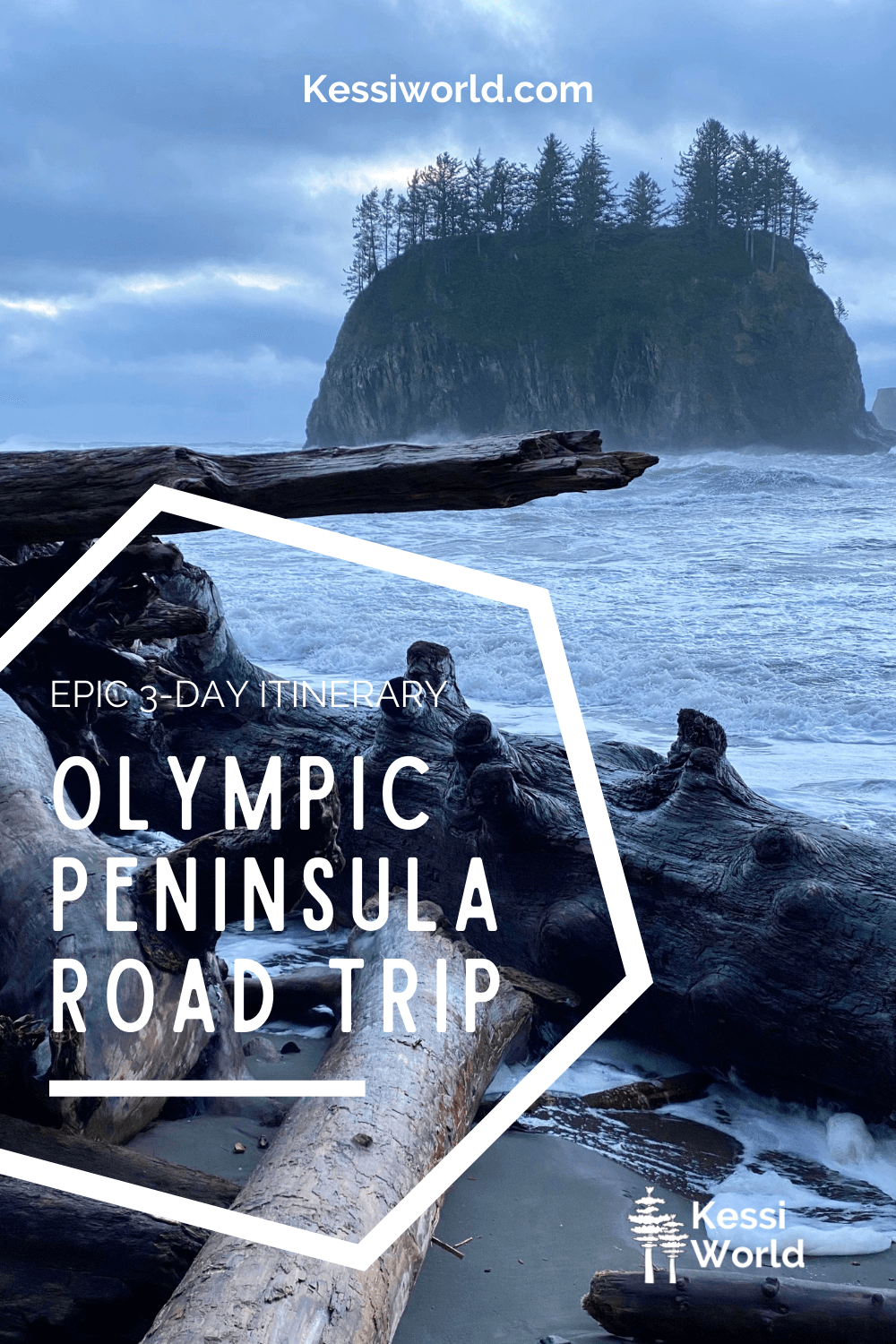 This is an updated version of an article originally published January, 2020.
Washington State is a diverse land with topography ranging from high desert to fierce waves crashing against soft agate beaches. In the northwest corner of the state is the majestic and remote feeling Olympic Peninsula. Often dubbed the rainiest place in the United States, this area is home to the only temperate Rain Forest in North America as well as Olympic National Park, which is unique in the inclusion of both coastal lands (with beaches) and mountains. A 3-day Olympic Peninsula road trip can be enough time to experience the greatest hits of this magical part of the evergreen state.
If you're seeking a great destination for a long weekend or setting up a base for a few days consider checking out a sister article, Weekend getaway: The five best Washington State beach locations. In addition, I offer my favorite unique hotels of the PNW in an article that includes several Olympic Peninsula options.
Follow along for an epic Olympic Peninsula road trip itinerary
The Olympic Peninsula (and by association the National Park) is a gem that represents so many elements of beauty synonymous with the Pacific Northwest. Enjoy rich forests of ancient fir trees lined with neon green moss. Absorb the power of endless waves crashing onto stacks of coastal rocks. Witness Roosevelt elk, deer, and countless varieties of birds play right alongside human visitors. The moody small-town Americana really does pull right from the vampy hits Twin Peaks and Twilight.
Sometimes the snow falls in winter (follow the story below), but normally those fleeting moments are followed with more rain… and wind. Don't let the weather deter a great road trip — just be prepared. When the sun does appear it can feel as if the heavens are opening up. What is lost with scratchy cell phone service and dial-up level wi-fi is gained in space to roam free, breathe oxygen-rich air, and settle into pondering a connection with nature.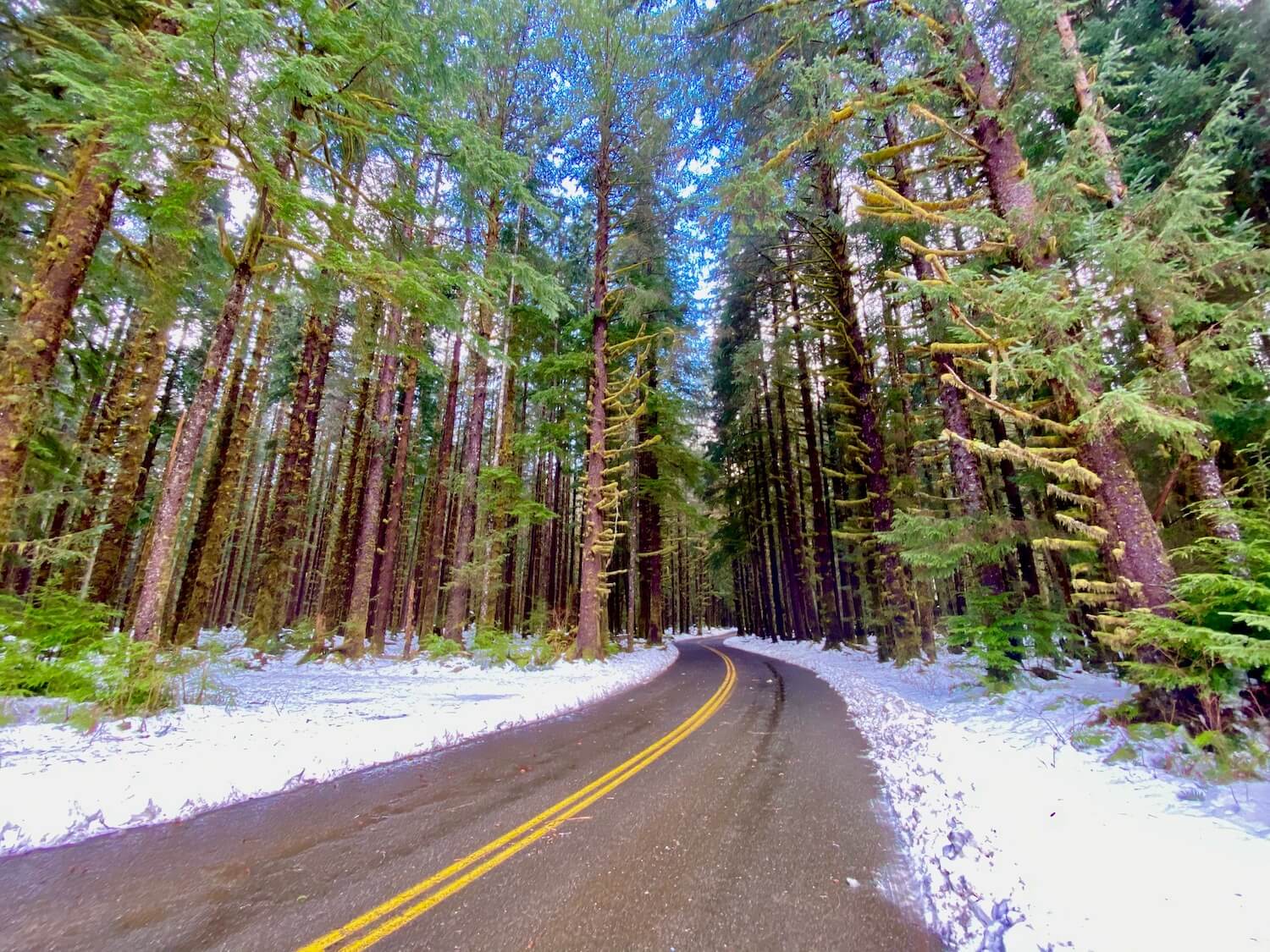 Planning an Olympic Peninsula road trip — how much time is needed?
From Seattle, a visit to the Olympic Peninsula can be accomplished in a day trip, although, depending upon where you go it can be a tiring journey. Long weekends are popular for Seattle dwellers. Friday to Sunday are the busiest times for campgrounds, hotels, and Olympic National Park traffic, especially Hurricane Ridge. While the summer season boasts more open ranger stations, comfortable weather, and easier access to roads and trails, I love the peaceful, contemplative flavor winter provides — especially with a fresh blanket of powdery snow.
Any time of year, this area of the world is my go-to for out-of-town visitors who have a few flexible days to explore. Recently two friends visited me from Denmark. They had six days in the Pacific Northwest (PNW), so we carved out half of this time (3 days) to experience a full loop around the Olympic Peninsula.
Since every scenario is different, I've created a few itinerary templates that seem popular for most visitors — especially those wanting to experience the Olympic Peninsula for the first time. They are located at the bottom of this article and can be downloaded to help in planning.
Although most of the Olympic Peninsula is only a few hours from Seattle, it seems magically removed from civilization
Our 3-day journey will explore this wild and diverse area, including over 500 driving miles around a snowy, windy peninsula. There'll be a "tiny cabin" Airbnb experience along with a night at Lake Quinault Lodge, which was visited by Franklin Roosevelt in 1937. Snow and downed trees will block a few park entrances and beautiful beaches with angry winter surf will emerge.
No matter if here for one day to a week, the park and area soak into you like the snow slowly melting into the moss of the forest floor. It's not a crowded place in winter (or, really, any time of the year outside Hurricane Ridge) and the options for hikes, picnics, trees, animals, lakes, rivers, and stunning views seem endless. There is an urge to want to see it all.
IMPORTANT FOR WINTER VISITS: Most of the time, Highway 101 (the main arterial road around the Olympic Peninsula) is clear of snow and the weather conditions are mostly temperate. Higher elevations commonly have snow, so it's crucial to always understand potential weather forecasts and up-to-date road conditions to be sure passage can be safe. In our case (with the trip described in this post), an all-wheel-drive vehicle (or traction devices) was required for most of the journey. Also important to check with the Olympic National Park for operational information pertaining to specific parts of the park.
Bon voyage — Washington State Ferry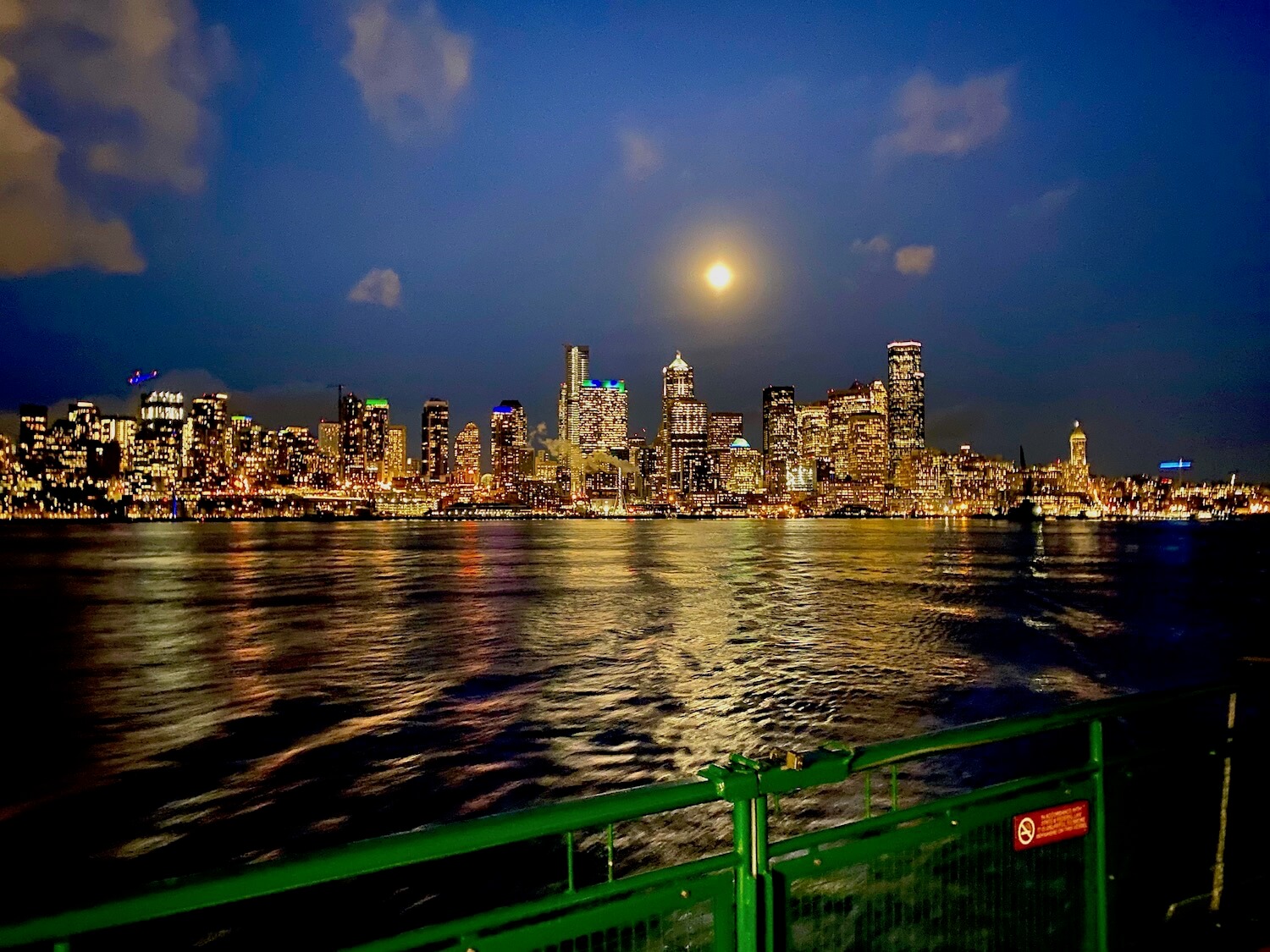 A ferry ride is the typical first leg in the loop, and I'm always happy waiting in line to board the Tacoma or Puyallup, two of the Washington State Ferries that whisk people from one side of the Salish Sea to the other. Although I love living in Seattle and have energetic city energy in my blood, there is something about the divide the water creates that releases my soul to wander in the damp mossy forests of nature. Once the car is parked on a deck of the workhorse marine vessel and the first jolt of movement sweeps through the ferry, the feeling of freedom begins.
Leaving the port of Seattle is lovely as the skyline emerges wide and full. Busy with lights and noises and action and also serene with quiet pondering. The Space Needle is still alone on the skyline, harkening back to the days of the 1960's version of the city, ushering in an era of hopes and dreams of a new age of technology and connection with the world.
It is at this point that we get a perspective of the beauty of Seattle. Mountains backdrop the skyline of new tall buildings and landmarks pop out from the Space Needle to T-Moble Baseball Park. But as the city moves farther away and the blueish green waves of saltwater roll on, a wide space is created, as if an opening to another world is waking up.
Waking up on our Olympic Peninsula road trip — ferry to forests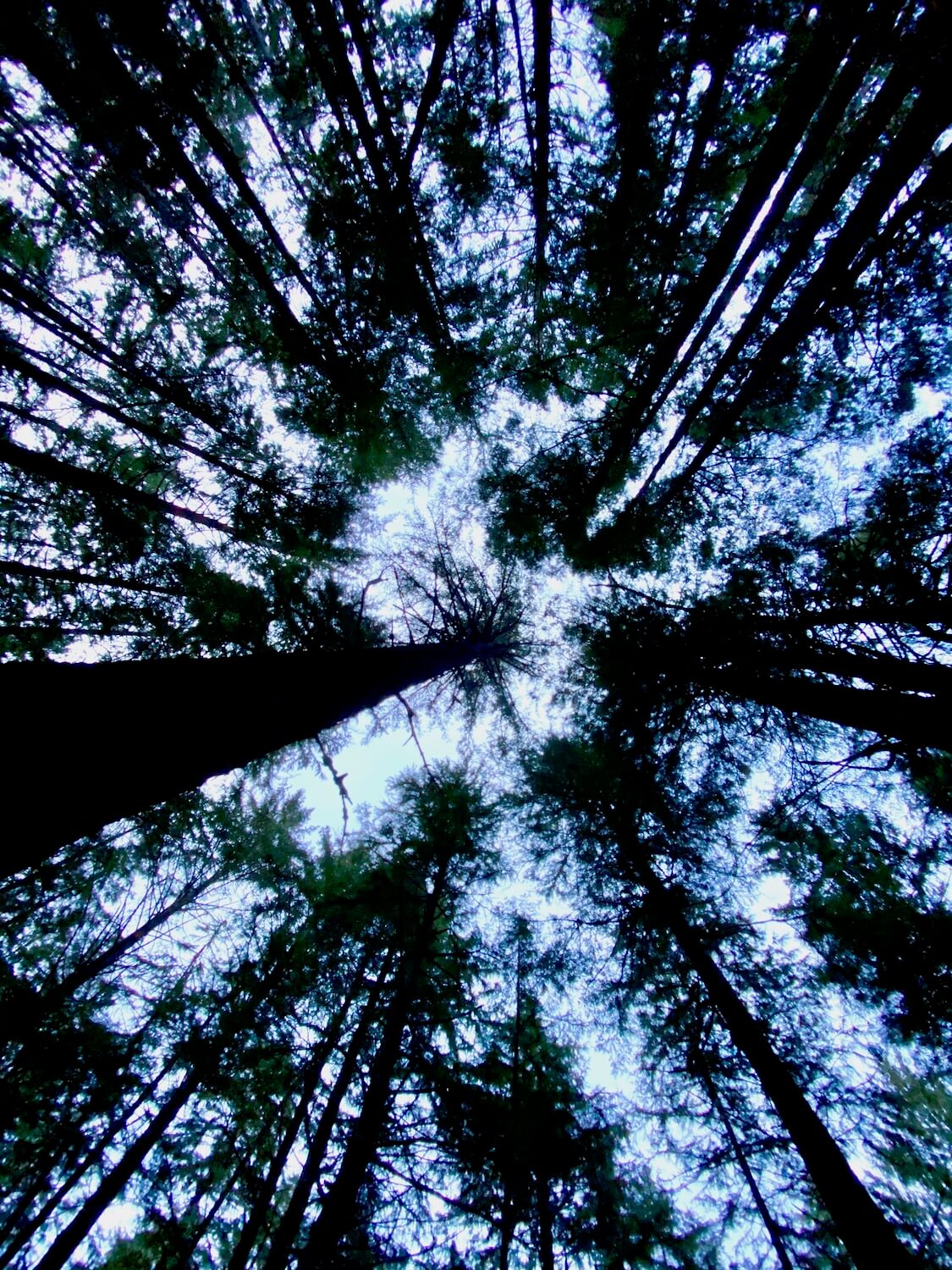 The water passage only takes about 30 minutes and once tires gain traction on Bainbridge Island, the peninsula quickly takes hold and the trip morphs into an explore zone. The feeling of space and freedom is all around us as the layers of fir trees creep up the hills towards the Olympic Mountains, disappearing into a misty cloud of snow as the wind blows the white specks all over the road and towards our windshield.
On this particular journey, the snow is deep and wild as we make our way past the Jamestown S'Klallam Tribe towards Port Angeles, one of the gateways to the National Park. Speaking of the Jamestown S'Klallam Tribe, I wrote another article about the best places to begin to learn about local Coast Salish indigenous culture and history. Several of the locations are along this general Olympic Peninsula road trip route.
Port Angeles, Washington — gateway to Olympic Peninsula and National Park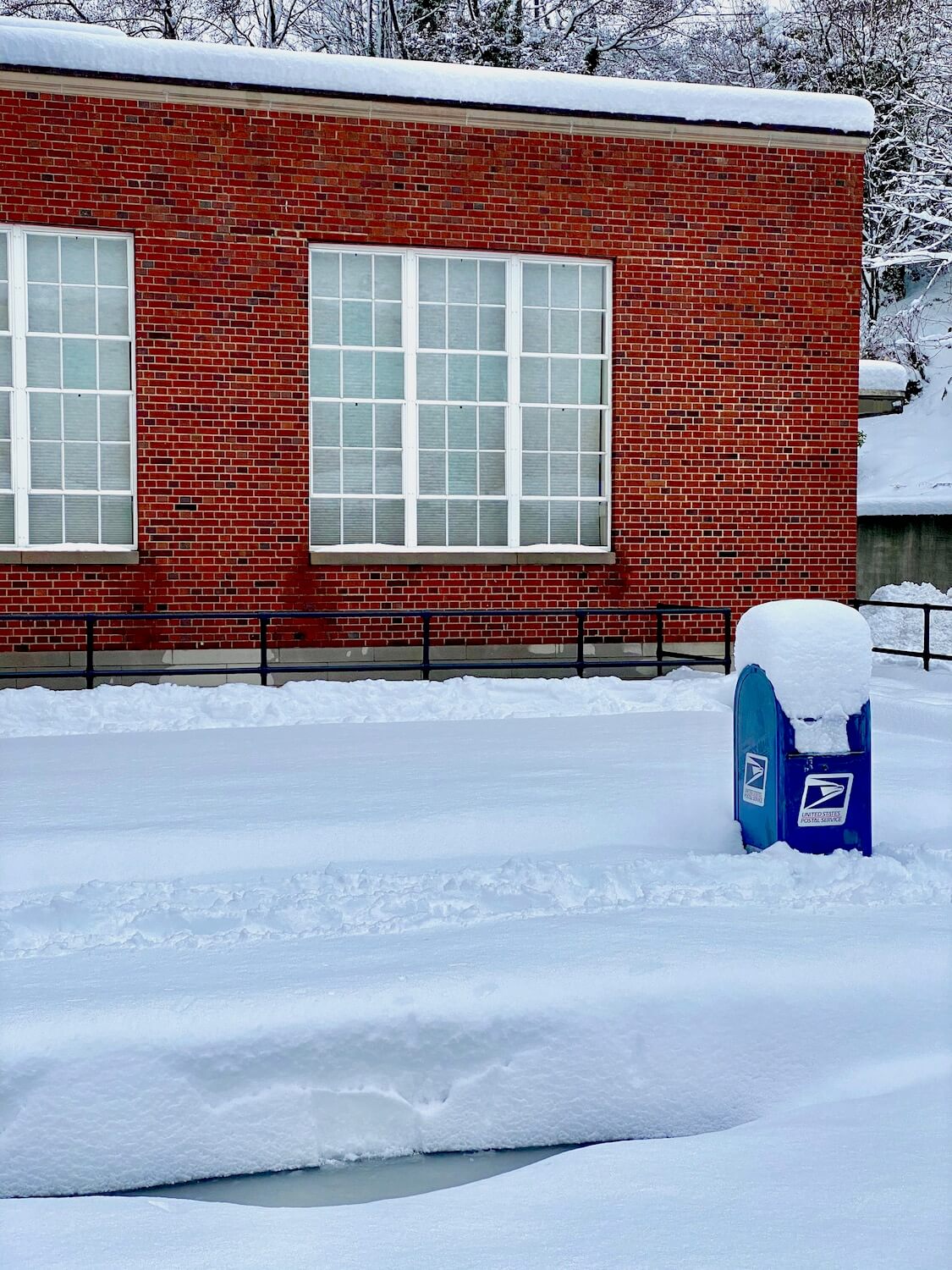 It's a snow day in Port Angeles and the Co-Op I usually love to frequent is closed. A man is out front shoveling the snow from the sidewalk and suggests we come back tomorrow. The cute, Main Street USA downtown is slowly waking up, and all the street parking is trapped under a few feet of snow. The local Safeway seems the best option to pick up some provisions and grab a quick lunch before venturing onward through more snowy, out-of-cell-service terrain.
My guests provide me with a completely new, Danish, perspective on a rural town Safeway with the villagers milling in and out gathering supplies between big snowstorms. The uniform is similar to where I grew up in Oregon. Boots, rain pants of sorts, sometimes hunting camo, something produced by Carhart, and perhaps a hoodie of a favorite local high school team or larger sports franchise. It's almost wetter inside the store as patrons continue to walk in dripping with half-melted snow. My guests are absorbing what they view as the perfect American experience. I see it as business as usual in the semi-rural Pacific Northwest.
The snow outside begins to fall with more purpose and as if locals can sense a new urgency, lines form at the checkout stations and intensity grows as a woman working the deli counter with jo-jos and fried chicken mentions the Safeway will be sending most of the employees home in about an hour.
My friends eat a whole rotisserie chicken and I have a superfood salad from the deli, which is food but not super. The Starbucks kiosk provides a new jolt as we get in our rig and head out towards Forks, Washington.
Driving in the snow requires concentration, so at this point, all eyes are on the road until I'm confident our ride is up to the mission. The roads are slippery, snow blowing, and the windows of the car are fogging up, but all systems are a go. Just as we get our driving groove the first glimpse of Lake Crescent opens up. This tranquil mountain lake is a jewel any time of the year but the snowy conditions create a spectacular winter wonderland and Konstantin, who's riding shotgun, can't resist making a time-lapse video (see below.)
Twilight in timber land — Forks, Washington
Forks, Washington might forever be known for the base of Stephenie Meyer's Twilight saga novels, but before this vampire and werewolf series came to life, the logging town was booming with timber-based industry that depended heavily on harvesting government lands. Nearly one million acres on the Olympic Peninsula are protected as wilderness, and over the last 30 or so years pressure to limit clear-cutting drastically reduced the opportunities for industry and jobs in this area. There is a clear divide between "tree huggers" and locals that seeps into conversations in this area.
"In the state of Washington, under a near constant cover of clouds and rain, there is a small town named Forks. Population: 3,120 people. This is where I'm moving."

Twilight opening monologue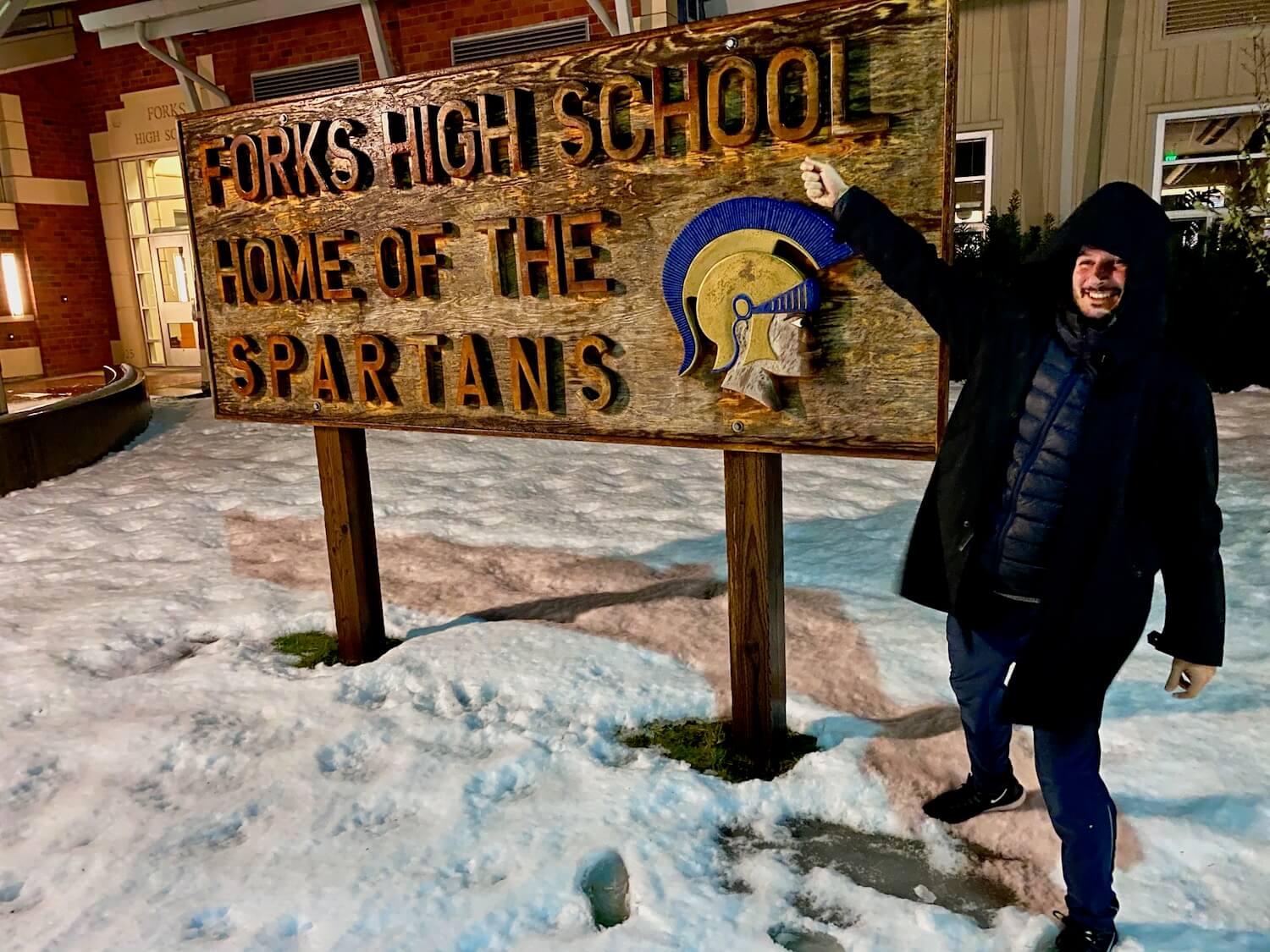 But the Twilight depicted stereotypes are true — it does rain a lot (or snow in our case). There are beautiful coastal areas within a short drive and the locals do embody a vampire-like disposition, even without fangs. My Danish friends love Forks because to them it represents all their images of America. Two-level motels using colorful retro signs usher travelers in from the road. Bar and grill life buzzes like the neon Rainier Beer signs. Coffee kiosks Mocha Motion and Shot in the Dark await on the side of Highway 101 to offer perks. A "Welcome to Forks" wooden sign at the entrance to town lists local service organizations.
Vampires aside, Forks serves as the hub in an otherwise remote area, with the most inventory of lodging space and sources for food (Pacific Pizza is a good quality option). The well-stocked True Value outfitter offers last-minute outdoor wares like firewood and butane refills for lanterns. Airbnbs are popping up too, and we stay in a charming tiny cabin (see picture below) just a quick jaunt up the road near Tassel Creek. (Another recommendation is Woodland Inns, right along Highway 101 in town — exceptionally clean and cozy.) The town's location is well suited for easy day trips to the beaches around LaPush as well as venturing into the Hoh Rain Forest. A drive from Seattle in good conditions (accounting for the ferry) takes about 4 hours one-way.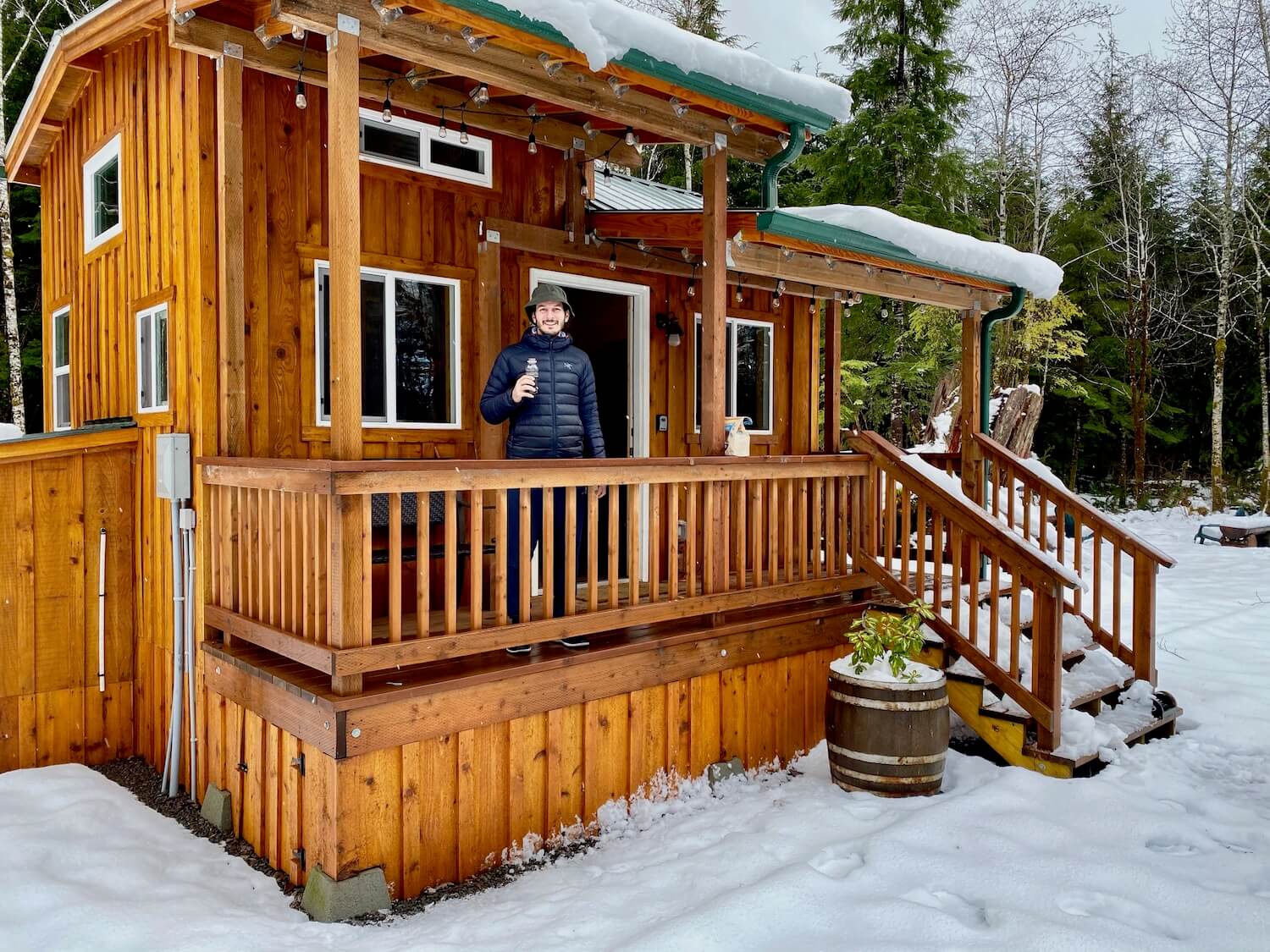 Reach the beach — explore coastal areas of Olympic National Park
The Olympic National Park has 73 miles of coastline, and the arterial ranger stations are located at Ozette, Mora, and Kalaloch. The park dovetails with several different Indian reservations and there is even a 12 mile stretch of Highway 101 that conveniently glides right along the coastline. The area around Ozette (1h, 17m, 54 miles from Forks) is more remote, with hikes to the beach requiring at least an hour each way (or 2.8 miles.). The Mora station (22m, 14 miles from Forks) is on the north side of the Quileute River on the way to iconic Rialto Beach. The south arm of the road leads to the LaPush area, on the Quileute Indian Reservation, and offers lodging options and access to the beautiful First, Second and Third beaches.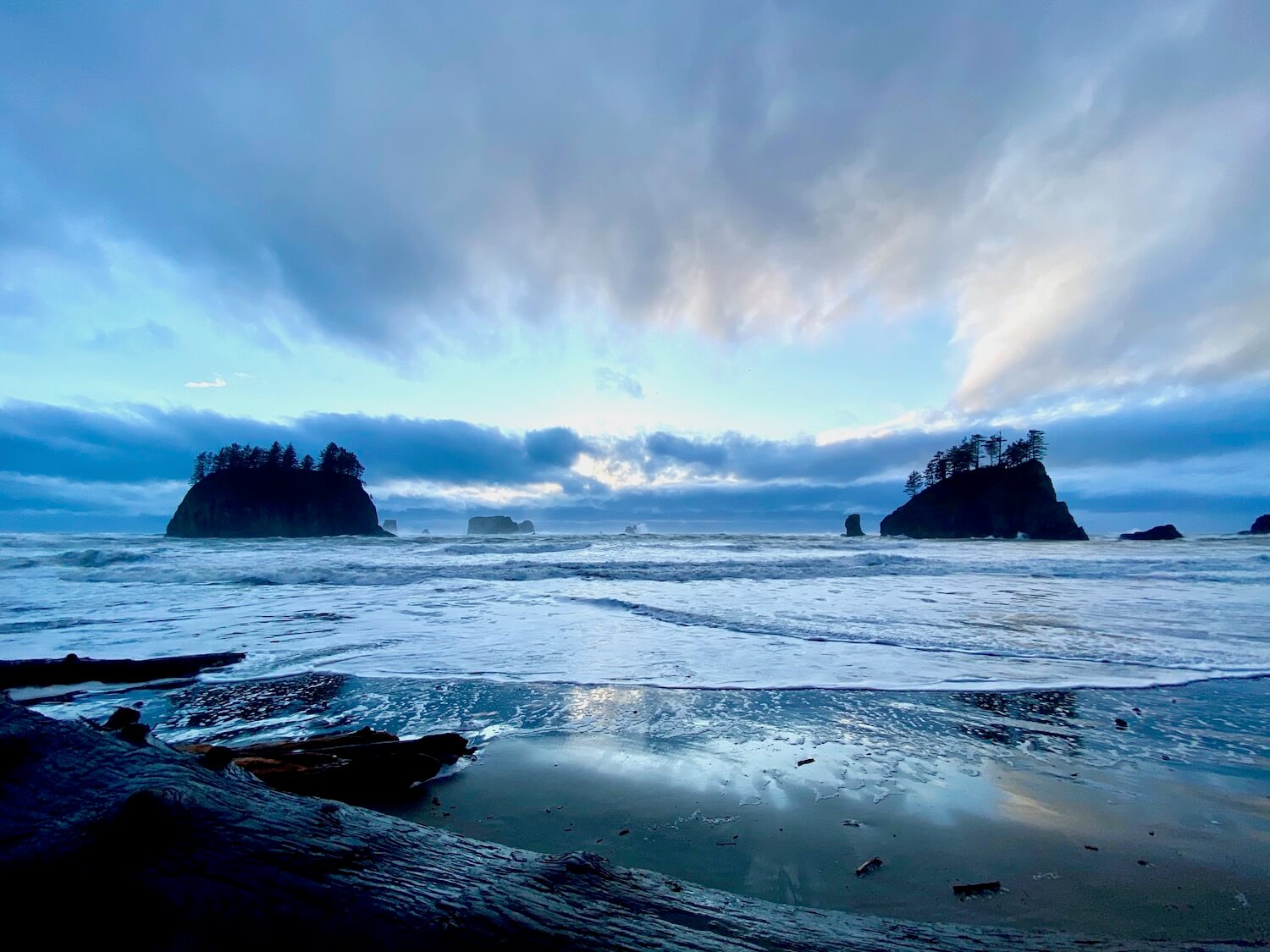 Farther south, Ruby Beach hugs the edge of Highway 101, offering a high reward for little effort. The drive is about a half-hour from Forks or 50 minutes from the Hoh Valley Rainforest NP Station. From here, the drive to Kalaloch Ranger station is an easy coastal run along with vistas of the surf for about 15 minutes. This area of the park offers the only decent food option on this stretch of 101, and the Kalaloch Lodge houses 64 units, mostly little cabins that cling to the side of a cliff looking out to the vast Pacific Ocean.
High Hoh… High Hoh… it's off to the rainforest we go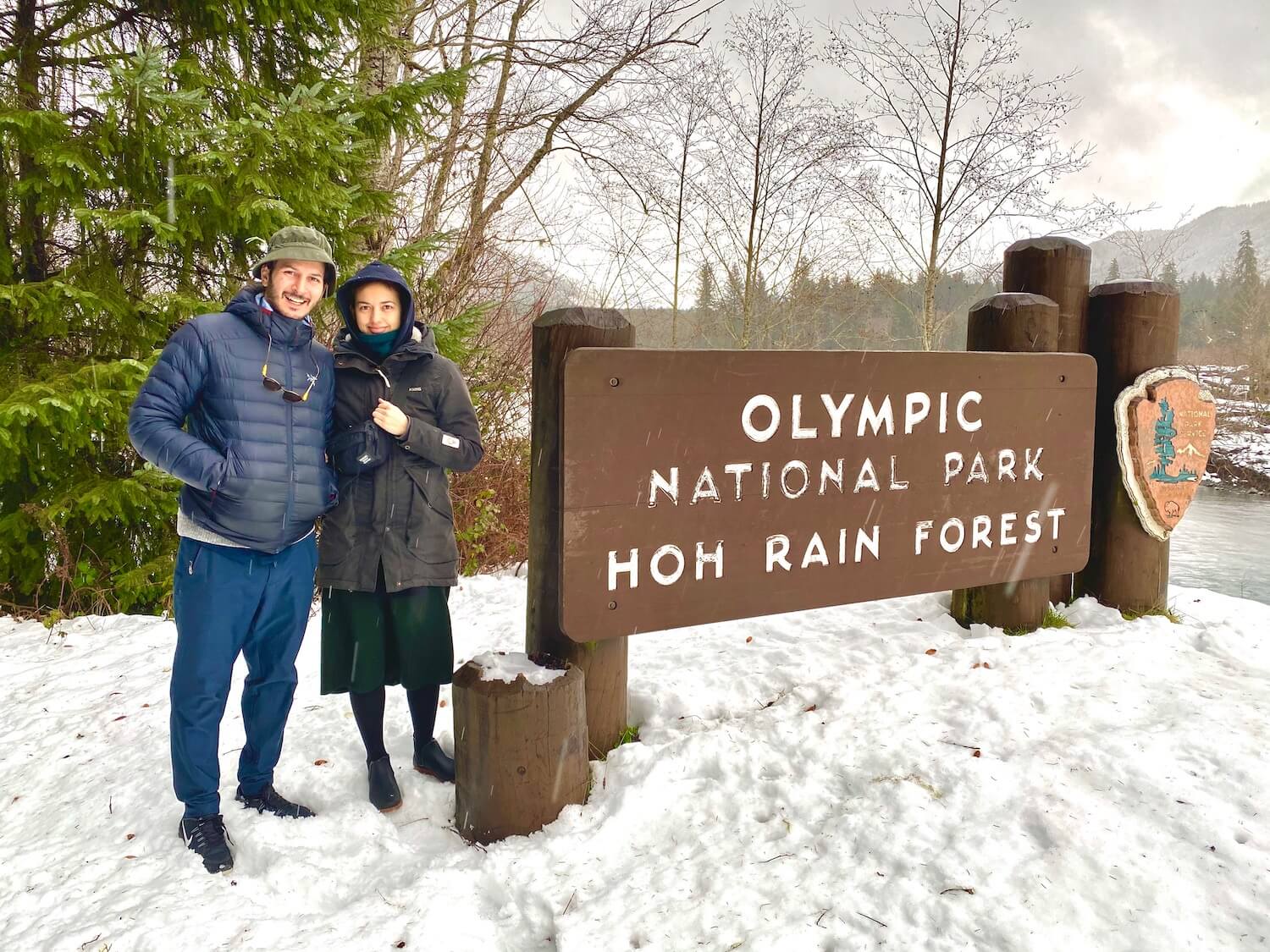 The liability of winter travel to the Olympic Peninsula finally catches up to us, as we reach the entrance of the Olympic National Park at the Hoh Rain Forest and find a barricade preventing further passage into the park. This entrance is typically open year-round, but because of the high winds and snow the night before, we appear out of luck. But not entirely unlucky, since the snowy forests and lack of any other humans give us a blank canvas for winter fun, photos, and slow-mo frolics.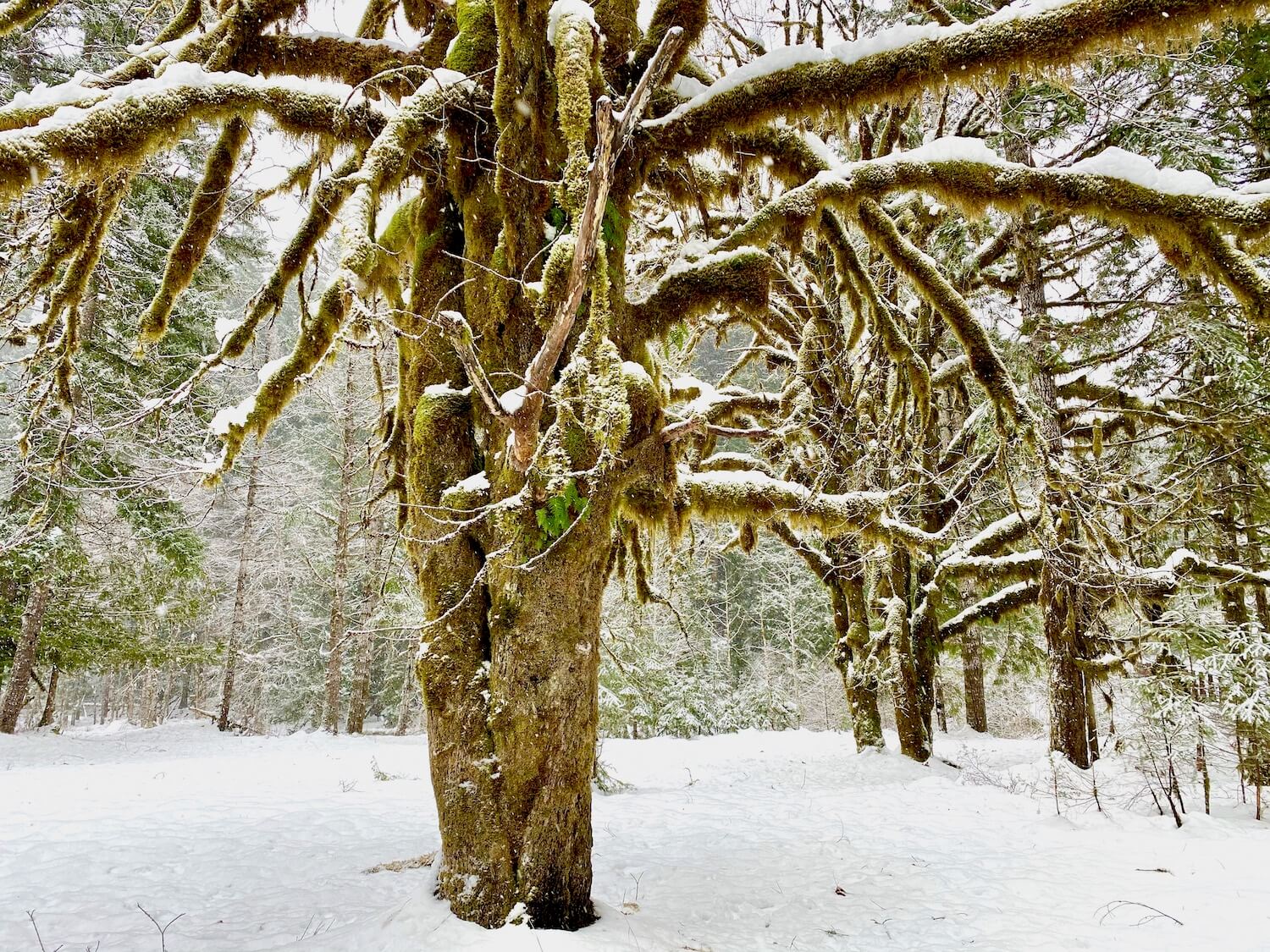 There was no point to share this with my European companions, but the Hoh Rain Forest is perhaps my favorite part of the park. Dramatic in the density of moisture, old-growth forest alive with large varieties of plants and animals, and reasonable access to all lengths of hiking. Despite the cold rains of winter, the moss-lined trees are alive with magic, branches practically waving visitors into the forest to learn all the secrets within. (A visit to the Hoh Rain Forest under normal conditions can easily eat up an entire day or weekend.)
If you go to the Hoh Rainforest: The Olympic National Park entrance fee is $30 per car that is valid for a seven-day period. I use an America the Beautiful Annual Pass, which is good for a twelve-month period and costs $80 (per car). For other pricing options head to the Olympic National Park website. Plan to spend at least a few hours here — both the Hall of Mosses (.8 mile loop) and Spruce Nature Trail (1.2-mile loop) are great introductory options. Pets are not allowed on the trails.
A moment in time — Lake Quinault Lodge
Without firm lodging plans for our second night there is the freedom to push forward south on Highway 101. The drive to Lake Quinault Lodge is about 90 minutes without stopping, and we pull into the hotel with another hour of daylight on our hands. There is still time to circle completely around majestic Lake Quinault (about 15 miles in all) and usher in the dusk with a herd of elk grazing in a field beneath steep fir-lined forest peaks.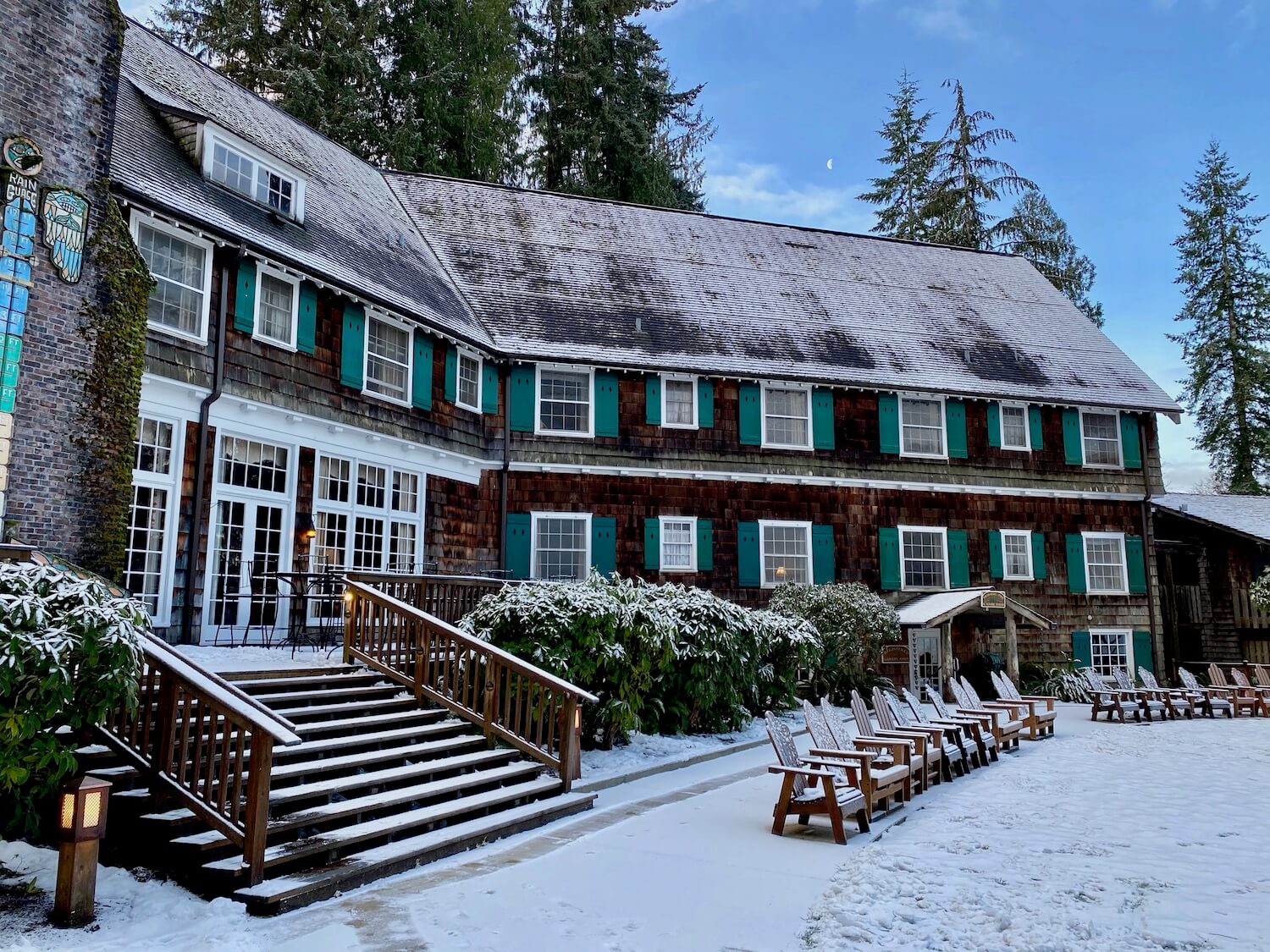 Stepping into the main lobby of Lake Quinault Lodge is like entering a time machine to the 1930s when FDR visited the fir framed lakeside resort to usher in a new era of National Park focus. His 1937 visit to the Olympic Peninsula led to the park officially forming on June 29, 1938. All kinds of memorabilia line the walls of the wood structured hotel, constructed in 1926 over just 53 days. We procure a reasonable last-minute room rate and stay in the lodge, just above the entrance facing the forest. (While the winter provides abundant last-minute opportunities for accommodation this lodge and others sell out months in advance during the summer season.)
Blood pressure drops to an all time low when the entertainment is chess and puzzles and all that's roaring is an amply stoked fireplace — surrounded by a few rocking chairs and plush leather couches.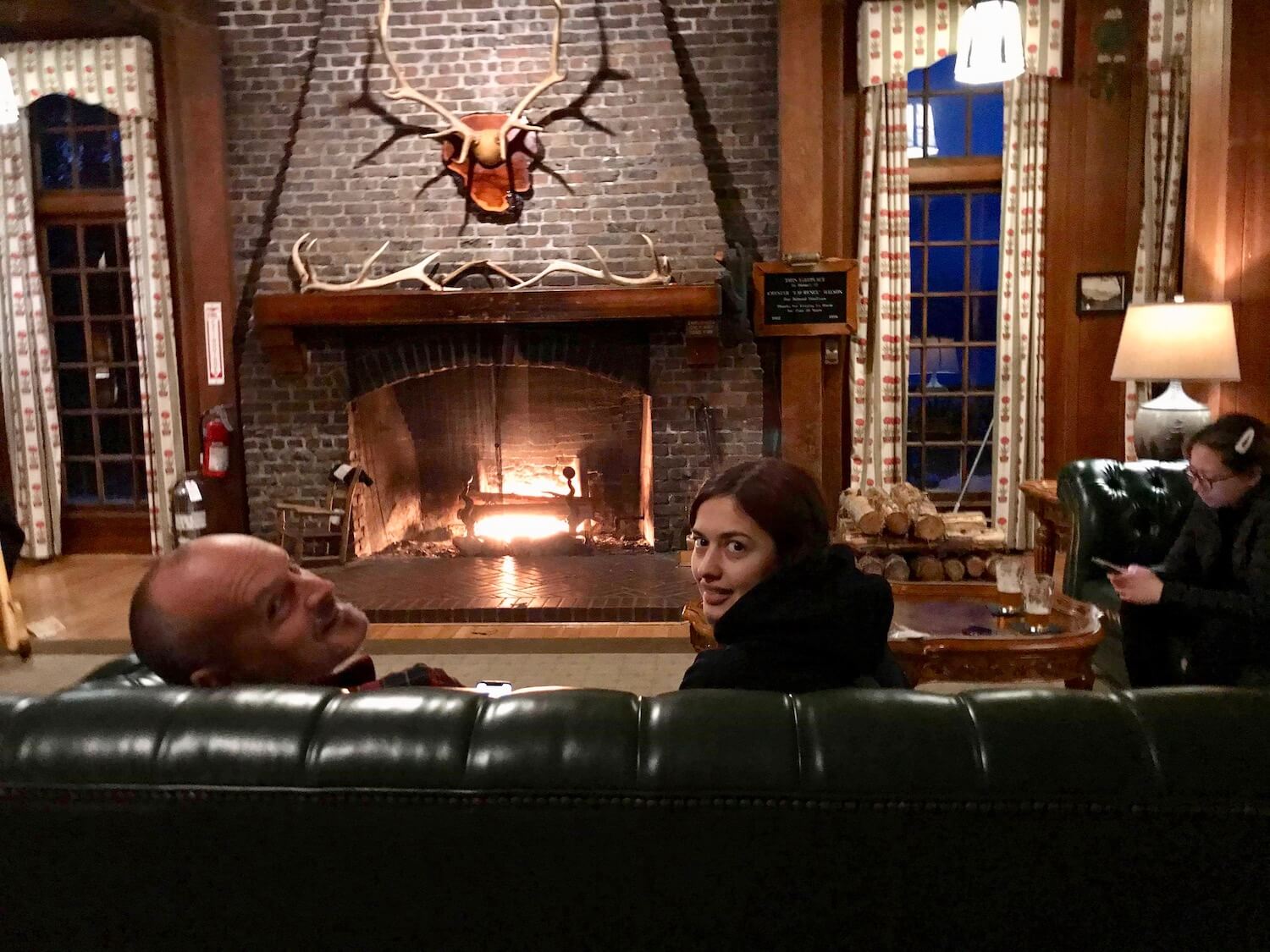 In the same way that the coastal areas of LaPush and Ruby Beach offer quick and easy access to outstanding seascapes, the environs of Lake Quinault make exploring the rain forest simple. Just steps away from the lodge entrance, the pristine Quinault Loop Trail winds through old-growth groves or lakeside walkways start in all directions and lengths of hiking. It's freezing with snow right now, and many trees have fallen in the recent wind storm, but normally the typical winter weather would be rainy.
After a sweet night's sleep under magnificent fir trees wrapping the forest retreat, we chat with a few other lodge guests in the lobby, hovered around the complimentary canteen of Starbucks coffee. The patrons of this hotel are hearty individuals who are here precisely because of the trees and moisture and not modern technology. The three of us assemble a plan to maintain momentum around our loop towards Staircase Ranger Station and accompanying Hood Canal.
Coming 'round the mountain — exploring the Hood Canal side of Olympic National Park
The two-hour drive from Lake Quinault toward the turnoff to the Staircase entrance to the Olympic National Park is the least inspiring part of this driving journey and a necessary effort to round the peninsula toward the southeast entrance. A mix of rain and snow continues but the drive is much easier because the roads are wider and mostly clear. We exit Highway 101 in a town called Hoodsport that offers a small collection of coffee joints and other little shops peddling antiques and other wares.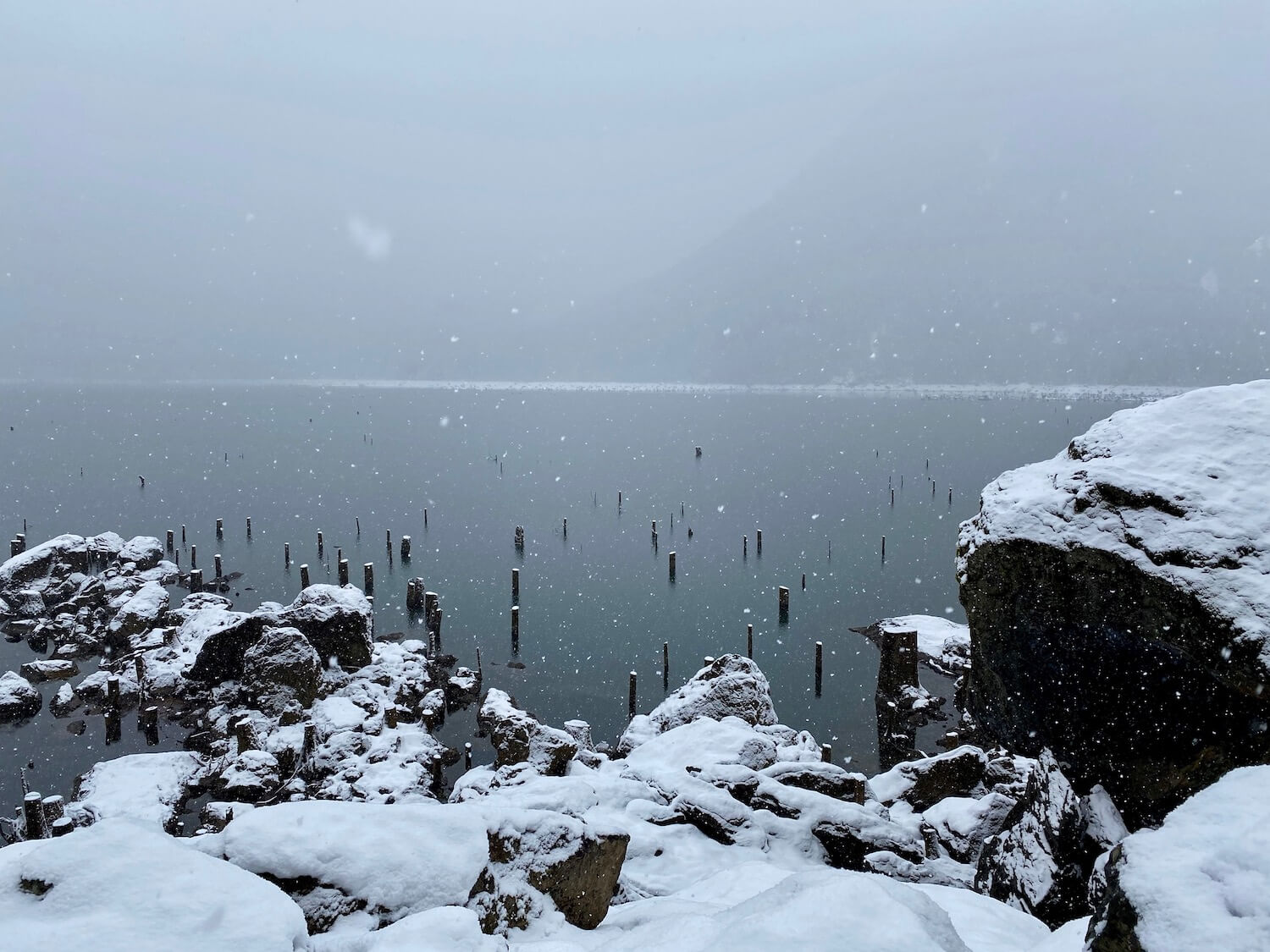 The drive up the hill on Highway 119 towards the Staircase Ranger Station gets seriously wintry very fast, with slippery road conditions that transition into packed snow and then an unimproved National Forest road that rounds the north side of Lake Cushman. The snow is aggressively falling, framing in spectacular views of the lake, with tree stumps peacefully popping up their heads in the tranquil reservoir recreation area.
My Volvo seems eager to complete the mission, so after miles of all-wheel-drive action, we finally reach the desolate parking area. This part of the park is lesser-known with a ranger station only open in the summer months — and now we see why. The snow is about two feet deep and we suit up to explore the campground and hiking area.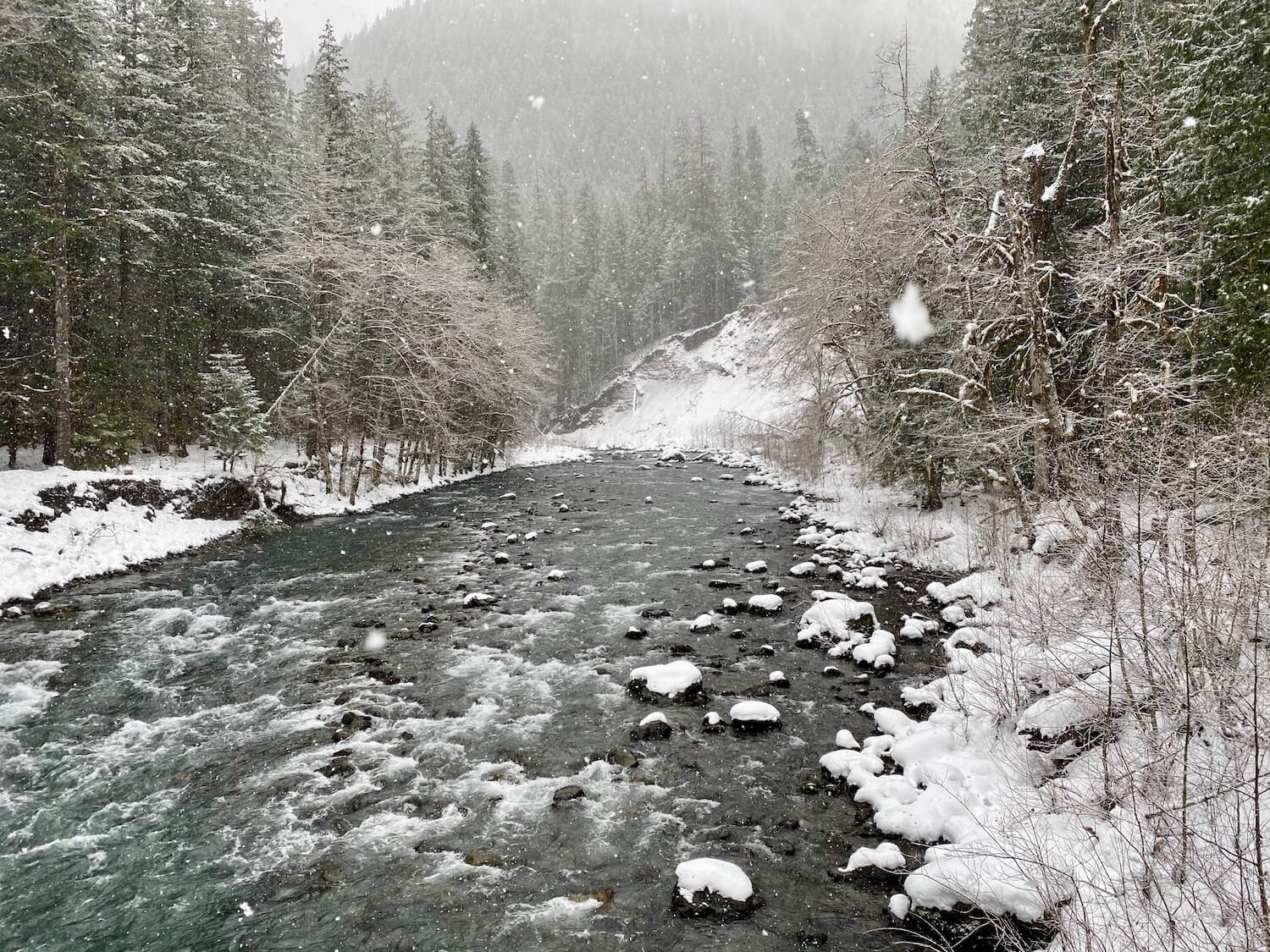 The Staircase name comes from an early exploration expedition led by Lt. Joseph P. O'Neil, who had a forward vision and recognized a need to protect the rich, dense woods and the animals living in them. Today his legacy continues with a majestic park area with old-growth forest hikes, rushing mountain creeks, and a few varieties of moss-lined maple trees.
It has no geysers but every other requisite for a national park, as many wonders and natural beauties as can be found in any localities….

Lt. Joseph P. O'Neil, 1890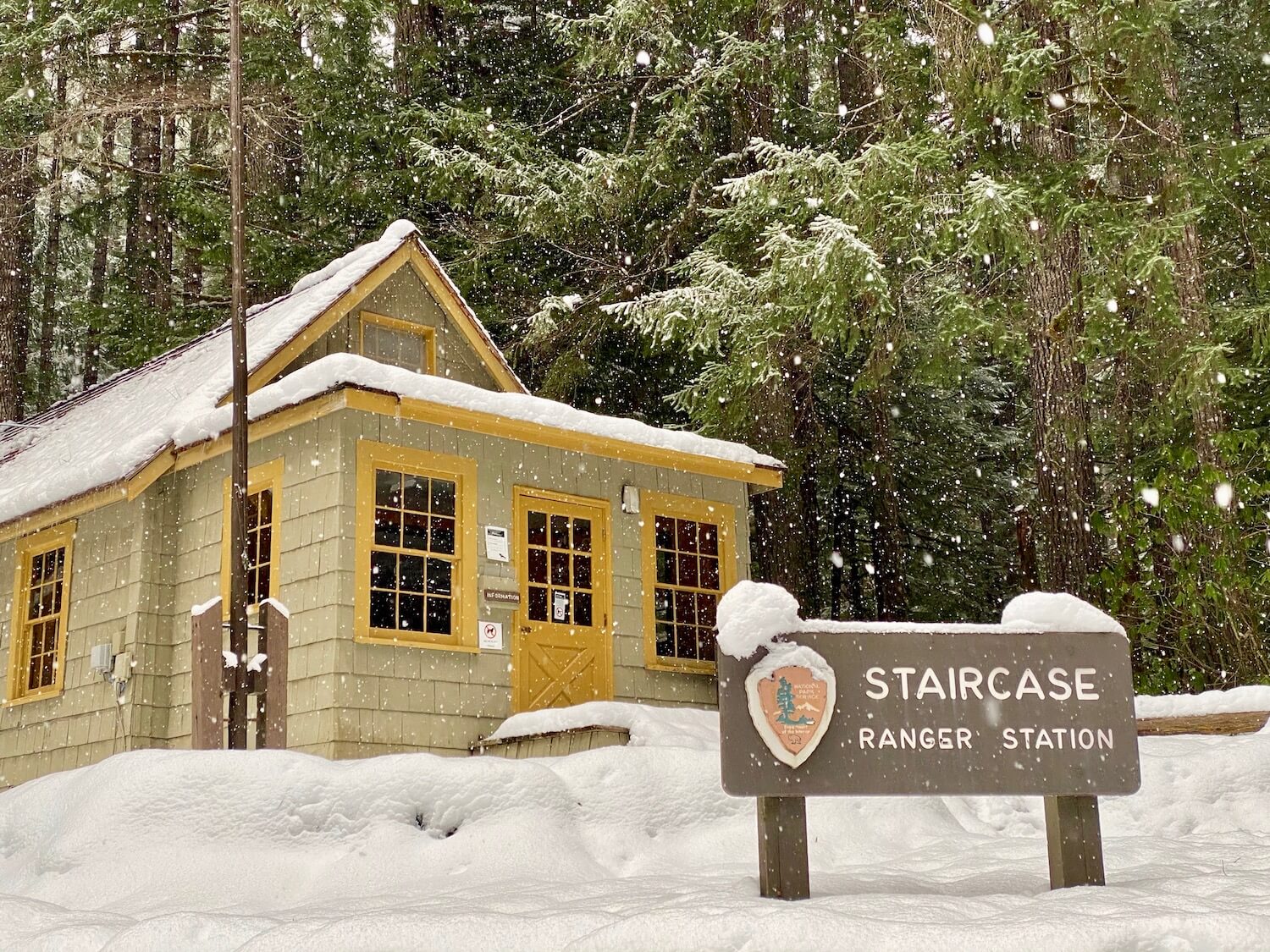 Final Push to Port Townsend — Hood Canal in wintry glory
The last leg to Port Townsend takes about 90 minutes along a scenic stretch of Highway 101 complete with more park entrances, beaches, wetlands, cedar groves, and picturesque family farms. In the late 19th century, the historic port town was on the way to becoming the premier city in Washington State. This prosperity was short-lived though because in 1892 there was a global recession — causing Port Townsend, and all the elaborate buildings, to slip into obscurity. This is a place worthy of a completely separate long weekend, with beautiful Fort Worden State Park, a variety of fun community festivals, and a quaint downtown area complete with fancy 19th-century buildings.
This iconic harbor town has too many great things to mention in this brief excerpt, so check out my article, 23 interesting things to do in Port Townsend. All the information is there to help you plan, including a great interactive map that can be saved for use while on the road.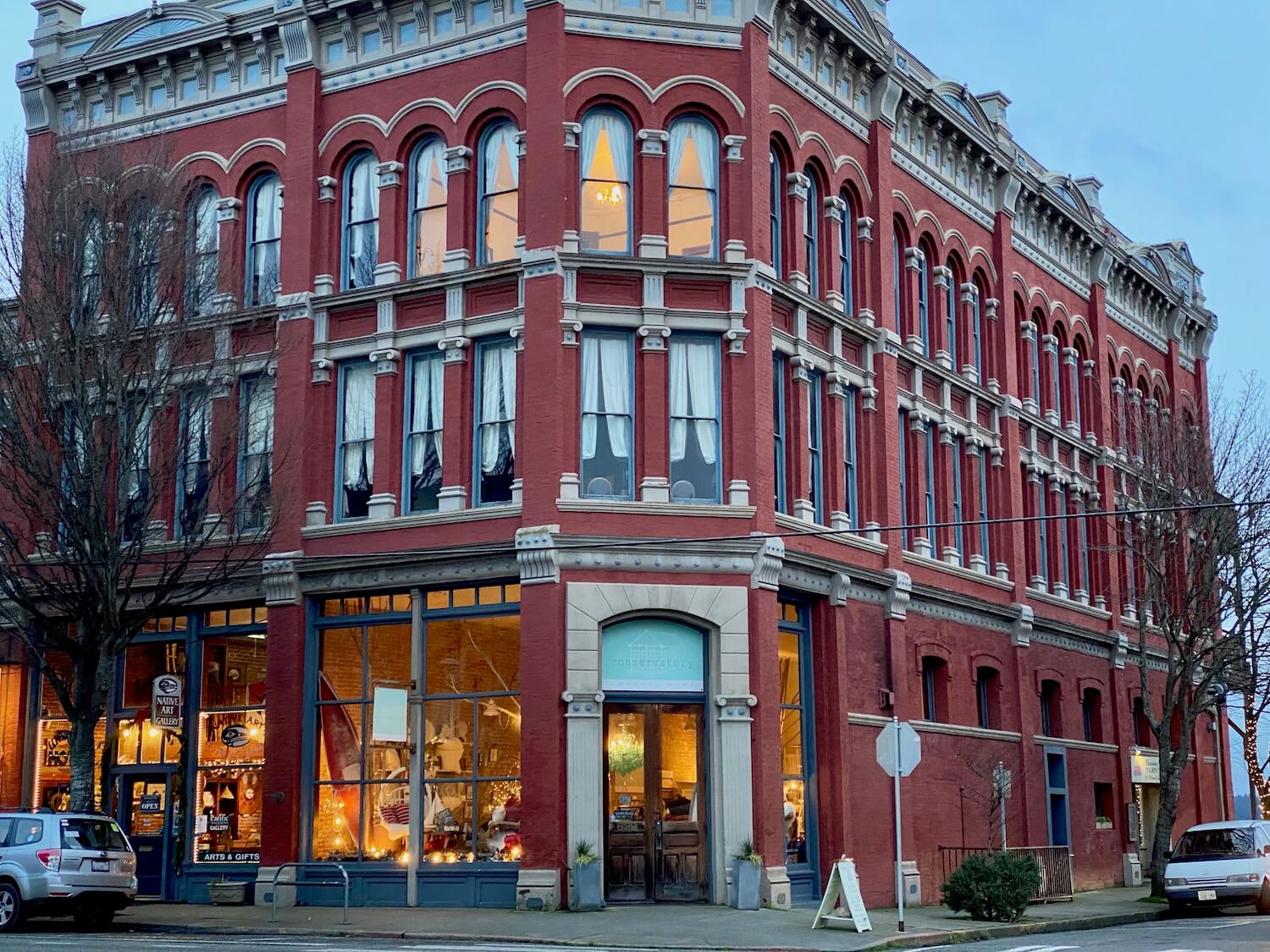 Are 3 days enough to explore the Olympic Peninsula? Final Thoughts
The Olympic Peninsula is a magical place, available year-round for adventure, exploring, and getting away from it all. It represents all the splendor the Pacific Northwest has to offer with convenient transportation access to Seattle and other points in the region. Options exist to dive deep into the forest and remote Pacific Ocean areas on day-long hikes, or simpler access to short walks offering a great overview of the rainforest and dramatic coastal scenes.
On the final ferry ride from Bainbridge Island back to downtown Seattle, our group debriefed everything about the trip; food, lodging, car time, park time, beach access, and overall itinerary. My European friends appreciated the entire loop that offered a glimpse at many of the different park entrances and a variety of weather and landscapes. Three days seemed enough for them, but we all acknowledged that longer hikes could easily expand the time needed to explore. The kinetic pace was manageable with frequent stops along the way, and as the driver, I did okay with about 4-5 hours of car time each day.
The Danes really loved all the Americana along the way, while I was wowed by the snowy landscapes, especially the peaceful winter beauty of Crescent Lake, a favorite spot of mine any time of the year.
An Olympic Peninsula road trip has something for everyone — with abundant possibilities to make the journey a magical one with fantastic memories. May our 3 day trip inspire you to go run free in wide open spaces of grandeur.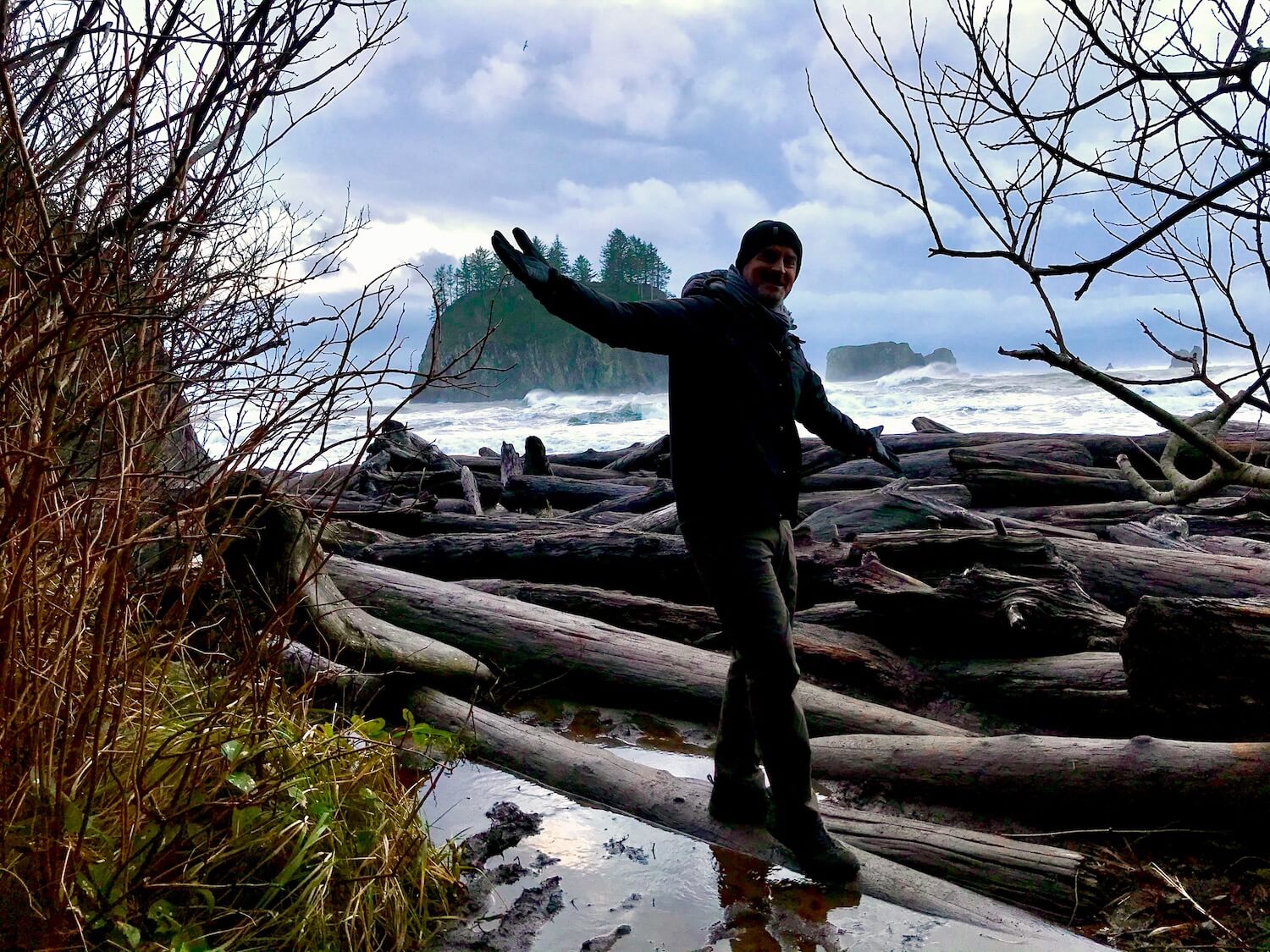 Olympic Peninsula road trip itineraries and other resources
For more material to help plan an Olympic Peninsula road trip, try these additional articles.
Interactive Map — Olympic Peninsula road trip
Rent a Tesla for a day trip around Washington State
Are you Tesla-curious but have no way to try out this electric ride? Take Michael's Tesla-S for a trip from Seattle. The rental is handled completely through the Turo.com website, which is similar to Airbnb for cars. This is a great way to explore the innovation of an amazing vehicle. Not sure about charging stations? There are locations in Sequim, Forks, and Aberdeen that allow enough juice along this Olympic Peninsula road trip. Click the tile below to jump to the full listing and all the information.