Connect with the planet in meaningful ways. A 2020 global wish list to help set your sights on inspiring places in North America and across the world.
My formative years were in the late 70's and early 80's and given the absence of any internet, my siblings and I only had the Sears catalog to peruse as kids. The Christmas edition was a particularly wonderful way to get excited for the holiday, even in October when arriving to huge fanfare in our home.
If I had the chance to steal it away from my older brother, the catalog expanded my wonder for the world. The possibilities of things like battery operated miniature cars and my own luggage set seemed magical. I was probably the only 8 year old in Scappoose, or the state of Oregon, that wanted luggage as a kid. Still, it was liberating to dog ear pages in the thick magazine to create a wish list of sorts, even if I just ended up with socks.
Today, I have a real car and a roll bag that loyally follows me all over the world, 8 years and running. I don't really have a list of things. My modern day Sears catalog is a National Geographic atlas and google maps. And since it's the season for wonder and hope, I've developed a special list of places to experience in the year to come.
Travel continues to push and pull me in so many profound ways, allowing new connections with people, places and myself. I want to work to stretch and see more of the world with purpose. It's my hope that by sharing my goals and dreams, in the groupings below, you might feel a spark of inspiration to create your own wish list. Whether they're truly tangible or just dreams, wander away with me and perhaps venture to a place or two featured below.
Happy wishing, and traveling, and connecting. And may your 2020 be merry and bright!
Top 10 North America wish list
As I take a gander at my list, I notice now that it is heavy on National Parks. Perhaps the pendulum corrects a bit from the last year spent in a lot of populated areas. No matter where I am in the world, nature always recharges me, so 2020 could be the year to freshen up in wide open spaces.
The locations listed are not exhaustive, just tight on my radar this year. For full disclosure, I have firm plans to visit Key West in the coming time and several others, like Mississippi and Alabama seem promising due to a conference I have in New Orleans in May. Some of the others could be like the miniature battery powered car in the Sears catalog. No matter which way, I hope this inspires you to set your sights on a new experience, near or far, in 2020.
✈ A note about this symbol: Since I love planning trips just as much as traveling, I've already done preliminary work on how to get to each location by flying. I reference the nearest airports that would have enough airline competition to offer reasonable airfares and/or convenient flights on mainline (think 737 or A320) aircraft. For example, Key West enjoys major airline service to their local island airport, but Ft. Lauderdale opens up to additional carriers that compete on price and offer more flight options.
1 Key West, Florida
Picture buildings painted in pastel colors and a breezy care free pace of life. Seems peaceful to me. I look forward to learning more about the history of this part of the world, along with some swimming, snorkeling and sun.
✈ Fly into Miami or Ft. Lauderdale and experience the drive along the Overseas Highway.
2 Nashville
I've been before but passing through on a cross-country road trip when I was 19 doesn't count. I'm expecting to run into my friends Deacon and Gunner and Juliette Barnes at the Bluebird, among other things. I'm a little bit country, after all.
✈ Nashville has good service from all over the country.
3 Yellowstone National Park
It feels like Yellowstone is the flagship national park in the country, and I'm embarrassed to say I've never been. Lately logistics just weren't on my side and in the summer I'm very wary of thousands of cars clogging up the roadways. Seems like September would be good.
✈ Fly into Salt Lake City or Boise and drive for 6 hours or Bozeman, MT is about a 90 minute drive away.
4 Driving through Mississippi and Alabama
Other than the more prominent cities, I don't have much knowledge or experience of the south. Aside from a few trips to Dollywood, (on a completely different list for me) I've not ventured into the countryside. I'm heading to New Orleans for the x-teen time this spring and want to explore more rural culture in the south. From Natchez, Mississippi to Selma, Mobile and Birmingham Alabama and places in between.
✈ Fly in/out of New Orleans, Atlanta, Memphis or Nashville or connect between two of these.
5 Acadia National Park, Maine
Ken Burns must have a love affair with this park, because it is featured so beautifully in his National Parks series, which came out about 10 years ago. I remember watching with my friend Shawn, as each 2 hour-long episode strolled by. The park has an interesting back story, and relative remoteness seem appealing for a summer jaunt.
✈ Fly into Boston and drive what looks to be about 4.5 hours.
6 Exploring Upper Vancouver Island, British Columbia
Vancouver Island is vast in size and scenery, and relatively mild like the rest of the Pacific Northwest. The island is on all kinds of obscure lists, like the largest Pacific island anywhere east of New Zealand. What does that even mean? I've been to Victoria and environs but the draw here is the wild coastlines farther up past Nainamo towards Campbell River.
✈ Fly into Vancouver and ferry over to Nainamo to venture onward on a 4 hour-ish drive all in.
7 Kentucky bourbon and horse country
True, I'm working to complete visits to all 50 states (I have 5 to go) and although the Cincinnati airport is technically in the bluegrass state I don't think it counts to connect in an airline hub of the past. Ever since my older brother did volunteer work here I've felt the draw to check it out, but I guess not that driven, until now. All this state counting aside, who doesn't love a good Mint Julep? Or sampling great whiskey for that matter.
✈ Fly into Nashville, Louisville or Cincinnati.
8 Devil's Tower and Badlands National Park, Wyoming & South Dakota
The role of Devil's Tower in the 70's movie "Close encounters of the third kind" is forever burned into my memory, so it's a must. Ever since mashed potatoes were used as Richard Dreyfuss's vehicle to make a version of the landmark at the dinner table, I've never looked at the comfort food in the same way. There are quite a few sites in this area that require some driving.
✈ Billings and Denver seem like the best gateways and are four and six hours away from Devil's Tower, respectively. This is going to be a longer road trip!
9 Death Valley National Park, California
Notice an abundance of National Parks on this list? Me too. I'll have to take this trip in the fall or winter.
✈ It's a five hour drive from LAX or 2 hours from Las Vegas.
10 Toronto, Ontario
Always enjoy my time with our neighbors to the north and have curiosity about this largest Canadian metropolis after hearing so many great reviews from friends over the years. Coming from a city with a distinct landmark on the skyline (Space Needle), I can't wait to check out the CN Tower.
✈ Toronto has a major international airport.
✈ ✈ ✈ ✈ ✈
Top 10 on the 2020 global wish list
There are two things that I just can't seem to keep with me when I travel: sunglasses and journals. My friend Matt recently suggested I take a journal with me on my travels to write "stuff" down. This works great for many people, but ever since the 5th nice pair of sunglasses blew off my head while working on the ramp in Portland, or many a journal took permanent home in a seat back pocket on an airplane, I've decided to adjust to my own realities and go at it a different way.
Ultimately my notes don't look like the conventional person working to keep track of everything. The hamster wheel in my mind works like an index card file, keeping track of timelines, feelings and notable pieces of information. My photos are the true archive, and, just in case, I am known to jot things down on my Iphone.
What does this have to do with a list of Global travel destinations for 2020? Well, I want to assure you that these places were not just drawn out of a hat to fill up a blog post. This is a collection of thoughtful destinations I really want to visit in the year ahead, taken from conversations and research over my life, but more recently in the active travel year I've experienced.
For example, I sat next to a Romanian couple while eating southern food at the Wilkes House in Savannah and we chatted about Dracula's castle and a bunch of other options for great off the beaten track places in Transylvania. And then, the German guys in Minsk I met on a free city tour provided me a full download on Ukraine and surrounding regions over some beers and dinner.
The most important notes are referencing the feeling and spirit behind the destination as it comes to life in a description. It is my hope that the following might inspire your own desire to explore the world, whether that's in 2020 or later on. So, without more delay, let's GO check out my ideas for a global 2020.
1 Salvador, Brazil and further inland rain forest
My friends Kathleen and Gary have a place about 5 hours drive from Salvador, somewhere in the Amazon Rain Forest. This triangulates with other fascinating descriptions I've heard of Salvador, which was the original capitol of Brazil and one of the oldest colonial cities in the Americas. Known for cuisine, music, dance and architecture. I had a friend in college from here as well, so this city and country have been on my mind for many years. Rio might also be in the cards.
✈ Sao Paolo is the biggest airline hub in Brazil and Rio also hosts many flights from all over the world. LATAM Brasil has flights within the country and GOL is a prominent low cost carrier.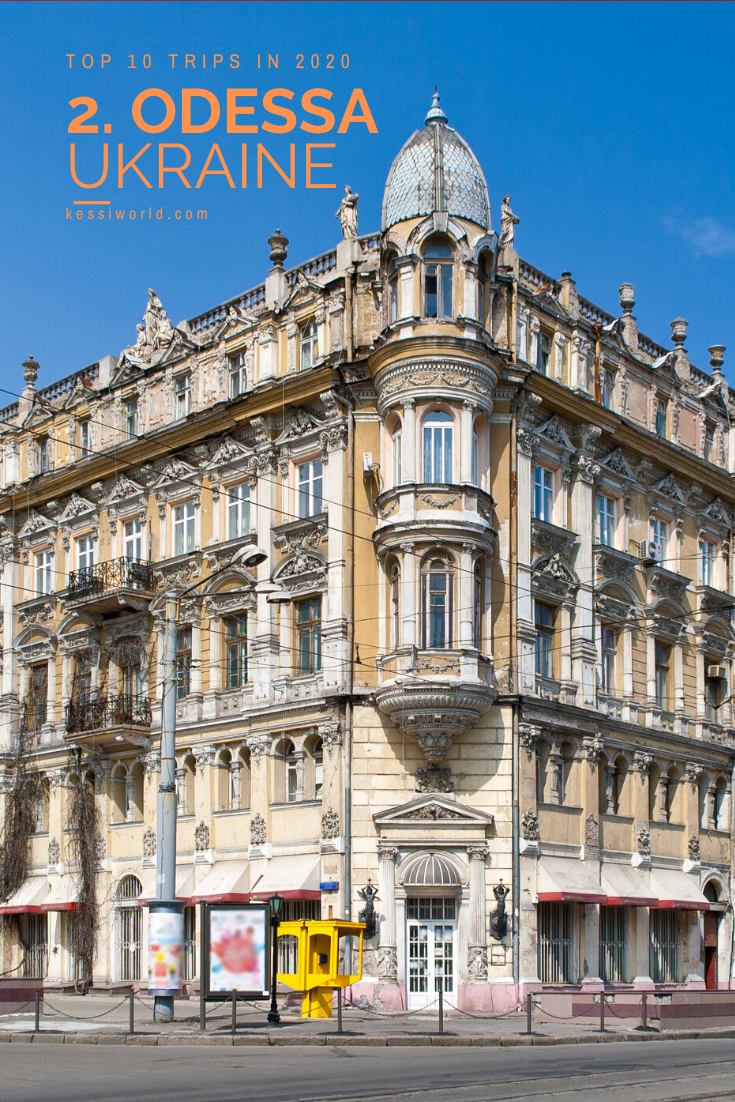 2 Odessa, Ukraine
While only in the Ukraine for two days, I was inspired to write three different blog posts about the special time there. If you're interested to learn more, check out, The darker side of travel, Review of Chernobyl and Experience Kiev in one day. The country is bursting with life as it works to claw a way to freedom from Russia. Food is tasty, people friendly and sites abound.
I will return to Kyiv, but I also picked up in-depth groupings of "must see" places from the Germans I met in Minsk. Odessa, in the southern part of the country, fits firmly on the list. The Ukrainian version of a Mediterranean-esque coastal city with great food, culture and weather.
✈ Most European airlines fly to Kyiv but getting to Odessa is a bit tricker on the big international carriers. I'll probably fly to Kyiv and take one of the many low cost carriers in Eastern Europe like Wizz or Ryanair or even Ukrainian Intl. Airlines to get here.
3 Thessaloniki, Greece
My good friend Konstantin's family originates here and in the time of our friendship he's brought this sometimes forgotten Greek port town to life. The hipster's Greece, as he puts it. I've experienced the main prominent features of this ancient nation and can't wait to learn more about an understated part of the Aegean.
✈ Seems best to fly to Athens and then take Aegean or another LCC the final quick 60 minute leg. Some of the main European airlines also fly directly here via their hubs.
4 Transylvania, Romania
Dracula in October? Yes please. My own personal version of this experience will probably lean more on the Rocky Horror Picture Show verses other stories, so I'll have my newspaper to keep dry. Bran Castle aside, the smaller villages in this region seem to be a welcome, off the beaten path way to explore in the fall. The Romanian couple mentioned above that I met eating soul food also provided a list of several lesser known hamlets worth a visit.
✈ Fly to Bucharest and drive just under 3 hours to this area. Brasov is the nearby city that also has an international airport.
5 Lviv, Ukraine
I love Europe, but it gets very crowded in the summer. Cities like Prague can swell up with flowing tourism. So when the German guys I met in Minsk mentioned this slower-paced, less populated version of Prague, I perked up. Cobblestone streets and baroque churches frame wide public squares.
✈ Lviv has good service with many low cost carriers, like Ryanair. Fly to a larger European hub and jump on a cheap flight to this Ukrainian city near the Polish border.
6 Easter Island
Travel serves many purposes. Amongst this entire list a remote island smack in the middle of the South Pacific Ocean calls to me at such a deeper, mystical level. It could be that I've seen too many Ancient Aliens shows, but I feel a strong spiritual draw here, similar to my experience with the winter solstice in Newgrange, Ireland.
I was in the final planning stages of a journey here when my travel partner, a long-time college friend, ran into a few health problems. The trip is shelved but I'd love to find a way to make it work in 2020.
✈ Remote is right! Travel here takes deliberate action. Easter Island is a five hour flight away from Santiago, Chile or slightly shorter options from Tahiti. I'll probably combine with a trip to Peru or Chile to make the most of my time in South America.
7 Isle of Man
This little, ancient, self-governing island wedged between Ireland and England piqued my imagination last winter as I flew across the Irish Channel several times, gazing into the Aer Lingus route map. While I imagine the landscape resembles Irish/English rocky islands I hear the history is rich, environment UNESCO worthy and the brooding sea on all sides cleansing to the soul.
✈ Fly to Dublin or London and take a regional flight the final way.
8 Moldova
Of all the journeys on this list, I know the least about Moldova. The name sounds like a magical kingdom for the basis of a Netflix Holiday movie like Princess Switch. I ran into a guy in the Baltics who was headed here and chatted him up about the draw. He was an American who'd been once before, so that's a good sign. This will be my surprise trip, like Belarus last summer, where the mysteries are not given away before the journey. I think it's worth a risk.
✈ Chișinău is the capitol city and several major global airlines like Lufthansa, Turkish and Austrian fly here. Ukrainian Int. Airlines also serves Moldova from a few places as well, making it easy to link up with a trip through Ukraine.
9 Vientienne, Laos
My list is very Europe heavy, with quite a focus around Ukraine. Not to say that Asia isn't on my mind. Since my first trip to Malaysia in 1995, I've had such a love in my heart for Southeast Asia. The people, food and scenery are joys for me. And as places like Thailand continue to pack full of tourists, my desire to move farther away from the traffic gets stronger. Laos seems like a softer landing.
✈ Most of the major asian carriers serve the capitol city of Vientienne. Low cost carriers in the regional like AirAsia can also help connect the dots when already traveling in the area.
10 Morocco
This North African country always intrigued me, but the time was never right to make a point to get here. I know I'll love the food, markets and rich history. And maybe I'll pick up a magic carpet to ride away into the Sahara.
✈ All the major European airlines fly here, and American Airlines will begin nonstop service between Philadelphia and Casablanca in summer 2020. Seems it's getting even easier to make the trip from North America.
Have you been to these places? Let me know your thoughts and experiences.
Do you want to tell me where to go? I'll work on weaving your suggestion into my timeline and report back.