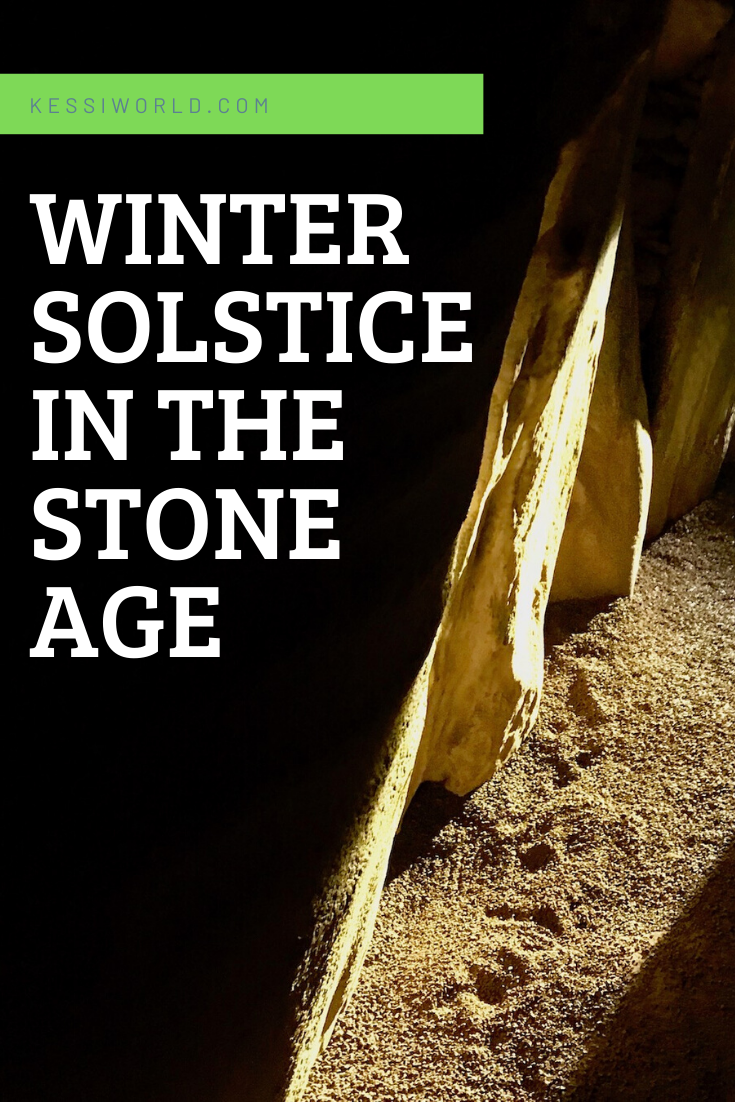 My Irish ancestors might've wandered the same hills throughout the Boyne Valley thousands of years ago, and I feel their energy as hundreds of kindred spirits join hands in a circle to honor the shortest day of the year with a minute of strikes on a ceremonial gong held by a woman dressed in white. The Newgrange Ireland winter solstice experience brings to life mystical vibes full of promise of more light in the days ahead and hopes for prosperity in the year to come.
In this post I'll share with you my experience at the 2018 winter solstice at Newgrange in Ireland, along with travel tips.
Part I: Mound of rocks atop a grassy hill – what is Newgrange?
While the pyramids of Egypt and Stonehenge relics get more press and notoriety, the Irish version of such mystic antiquity is Newgrange, located about an hour northwest of Dublin in the Boyne Valley and is even older. Dating back to 3,200 BCE, this intriguing mound of rocks and grass is a fascinating example of Stone Age "technology."
There are 37 Stone Age tombs in this area of similar age, of which Newgrange is one. It's been called a passage tomb, including burial of the dead, but probably more significant than all the others because of a special feature, with a purpose still unclear today.
Every year at the winter solstice, the sun rises in such a way that a perfect ray of light enters a specially designed "window" and creeps in along a corridor that runs about 70 feet into the center cavern deep within the mound of rocks. It is still unclear to the world why this feature was so precisely created. Perhaps to mark the beginning of a new phase of light and the end of winter.
This is fascinating to me and too much to write here, but if you're interested I like this site, from Ancient History Encyclopedia.
The winter solstice is December 21 and the light rays enter on the day before and after as well. Because the cavern inside the mound can only hold so many people, there is a lottery every September and 60 people are selected for each of the three days to be there right at 8:58am when the sun enters into the passage tomb.
Each year almost 30,000 people enter a lottery to witness the Newgrange Ireland winter solstice from a stone cavern deep within the neolith.
The lottery is each year in September. Try your luck.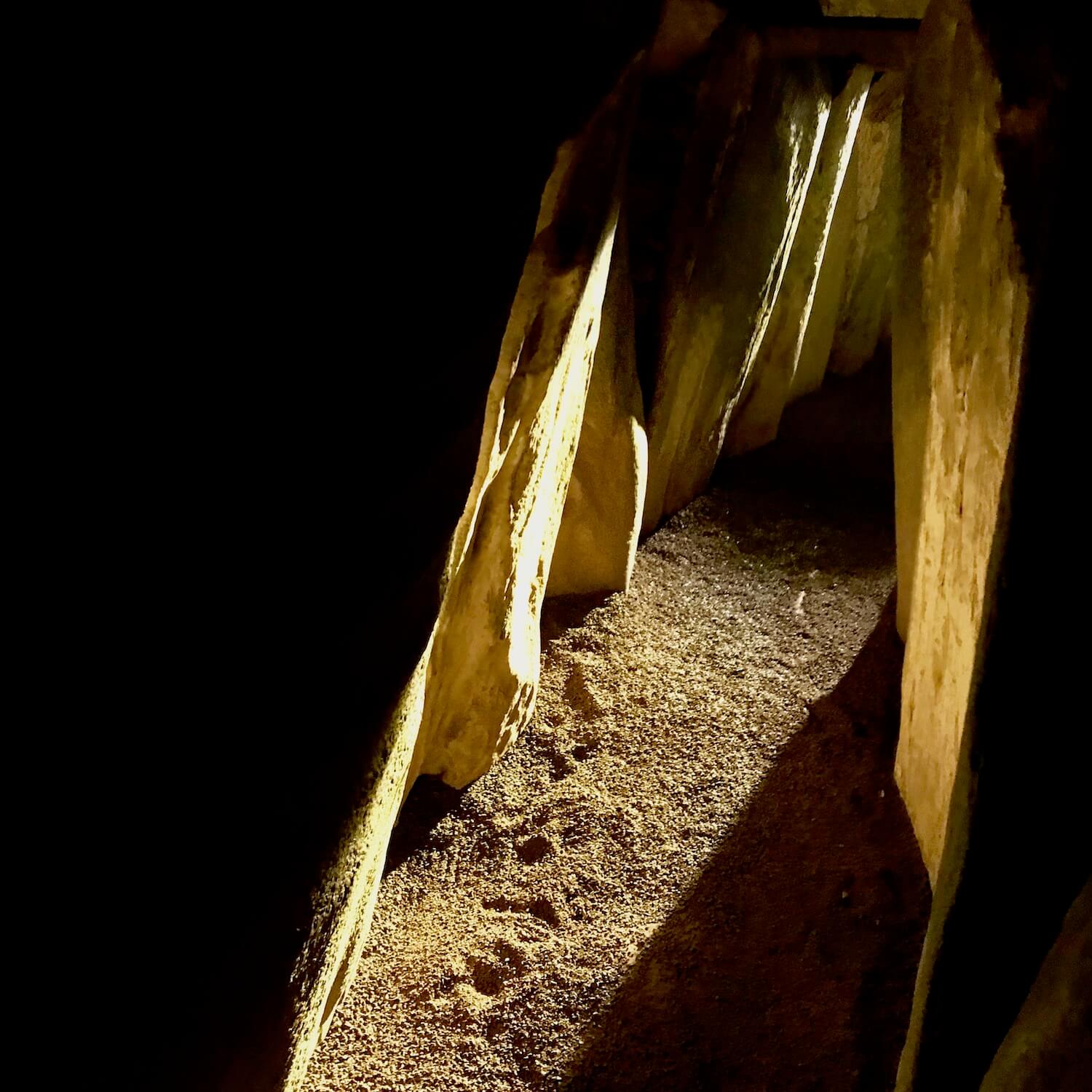 Part II: Ireland is in my blood
Ireland has a very special place in my heart and I've been many times. A great deal of my heritage is Irish, so I've always had an affinity for this island and the people and endless shades of green. Also been to Newgrange several times, but never in the darkest hour of winter.
It doesn't sound particularly appealing to visit Ireland in December, but my fascination with the mystical Boyne Valley and in particular the solstice experience at Newgrange motivated me to plan a month in Ireland visiting favorite sites while also providing time to reconnect with my heritage.
The darkness prevails, with daylight lasting between about 9:00am and 4:00pm.
There is something about the faint winter glow of light that appeals to the soul.
I can imagine the pre-Celtic people of 3,200 BCE experiencing damp, dark, velvety green Ireland in the dead of winter looking for a sign that the light was eventually coming back.
Part III: Newgrange Ireland winter solstice experience
So your luck is not 60 in 30,000? No problem. You can still have a wonderful, mystical solstice experience at Newgrange, and surprisingly there are not many people around as the sun rises to ancient Celtic drums being banged by spiritual shaman in old time garb.
Not really knowing how it all works I signed up for a Newgrange Ireland Winter Solstice Experience, which also included a sunset ceremony at Dowth, another of the larger neolithic passage tomb mounds about a mile away from Newgrange.
There are a few logistical options, but most people did the overnight package which offers space to sleep on the floor, or dormitory style bedding and a few basic meals. All through the evening between the sunset ceremony and morning at Newgrange there are varieties of meditation sessions, drumming, biodanza, sauna and socializing which are all included. The cost of the full experience was 84€.
Having been now, I can say that it's entirely possible to do this on your own, but I enjoyed meeting new people in the spiritual environment and not getting any sleep.
I flew into Dublin, got my little red rental car and headed to the nearby town of Navan
The sleepy town of Navan is about the closest to Newgrange with lodging options. The hotel front desk suggested I take a walk along the Guinness colored Boyne River Walk, which was just across the bridge from me and winds through the sacred valley. The wintry waters and dimming dusk glow of light seemed to bring the folktales about the river and the fish in it to life.
I was ready for my Newgrange Ireland winter solstice experience
The solstice experience convenes around dusk at beautiful Townley Hall, an 18th century Georgian estate which now runs as a meeting space for special events like this. The accommodations are basic but the location great for Newgrange.
Most of the participants were more local than I expected, being primarily from Ireland and UK. I met a family from Brazil visiting their son in Dublin, and then there were a few yanks like me.
Sunset ceremony at sacred Dowth, near Newgrange Ireland
I drove my little red rental car a mile down the road to Dowth for the sunset ceremony, which was very intense. Imagine a mound of dirt with the middle hollowed out, then inside the hollowed area two concentric circles of people. The men of the group on the inside circle looking out to the circle of women.
While shaman played drums and flutes we gazed into the eyes of the person across from us for a minute, then the men rotated right while the women stayed put.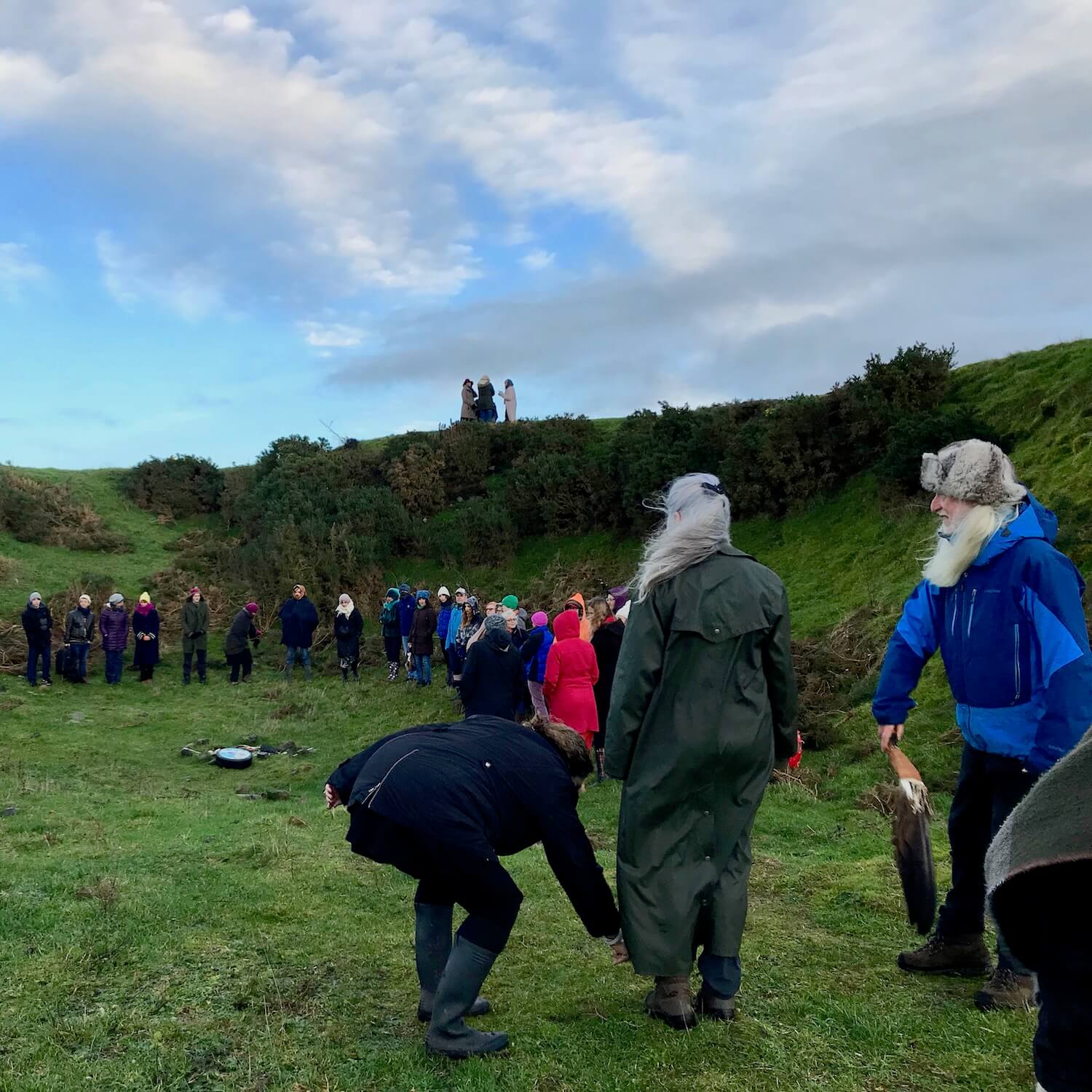 The eyes are the gateway to the soul of each person, and this ceremony honored the soul of the year past in order to make a clean start in the year ahead. The men and women were separated to represent the Ying and yang (male and female) energy that we all possess.
It was freezing and I had a runny nose, so I tried really hard not to take away from the moment, but at times it was a little awkward staring into strangers eyes thinking about my nose running and not wanting to break the stare until I absolutely had to blow my nose. An excellent ice breaker to meeting new people!
The sun quickly set on the previous year while the bright moon with a buttery glow welcomed new experiences and life in the future.
The longest night was a New Year celebration
Back at the retreat center there were various activities going on for the 80 or so participants. The Biodanza "Dance of Life" session is particularly memorable, mostly because it was so playful and fun and that is where I met my friend Inka.
The leader played all kinds of music with various beats, and we danced around the room with a feeling associated with the song. From merengue to Mozart. When Celine Dion's "I'm Alive" came over the air I noticed a smiling German woman with red hair light up! Her energy was infectious and we became fast friends over the next 24 hours.
Much like a mountain climb, there isn't much time for sleeping. The retreat like atmosphere continued into the late evening and we woke up around 6am to prepare for the big sunrise with breakfast and a solstice morning meditation.
Dawn on an Irish country road
I rode with Inka and her friend, who remarked that 2018 was a great year for them and they were thankful and looking forward to the year ahead. I shared my own experience, 2018 kinda sucked, and also optimism for the future.
We parked on the side of the road about a mile away and walked, dodging the shuttle busses, Garda (police) and other solstice goers. A great sense of community and camaraderie.
People had drums and other instruments and although there were some colorful renaissance-fest type outfits most of us were wrapped up in more modern thermal gor tex selections. I'm pretty sure the ancients would've thrown on a warm North Face parka any day over layers of burlap and fur.
Normally, guests need to go to the visitor center and buy tickets and take shuttle busses to the site. This preserves the feeling of ancient times because the tourists are throttled in at intervals that prevent total mob scenes. The visitor center is also interesting with information on Newgrange and artifacts around the area.
During the solstice, entrance is free and you can take the shuttle from the Brú na Bóinne Visitor Centre or walk up and everyone seems to go with it.
The banging of the gong to bring in the new year at the Newgrange Ireland winter solstice
We gathered in a circle around on the great lawn in front of the passage tomb entrance and held hands as the sun came up. There were several ceremonial gongs and we all sang out in vibrating tones to welcome the sun. For about 20 minutes, so good thing I have pretty strong lungs.
It was an overcast day so no piercing ray of light, but the spirit was around us and it felt important to be experiencing this with so many other people full of love, light and optimism. After the chanting we made smaller circles of people and offered our own intentions (akin to New Years resolution) to the group.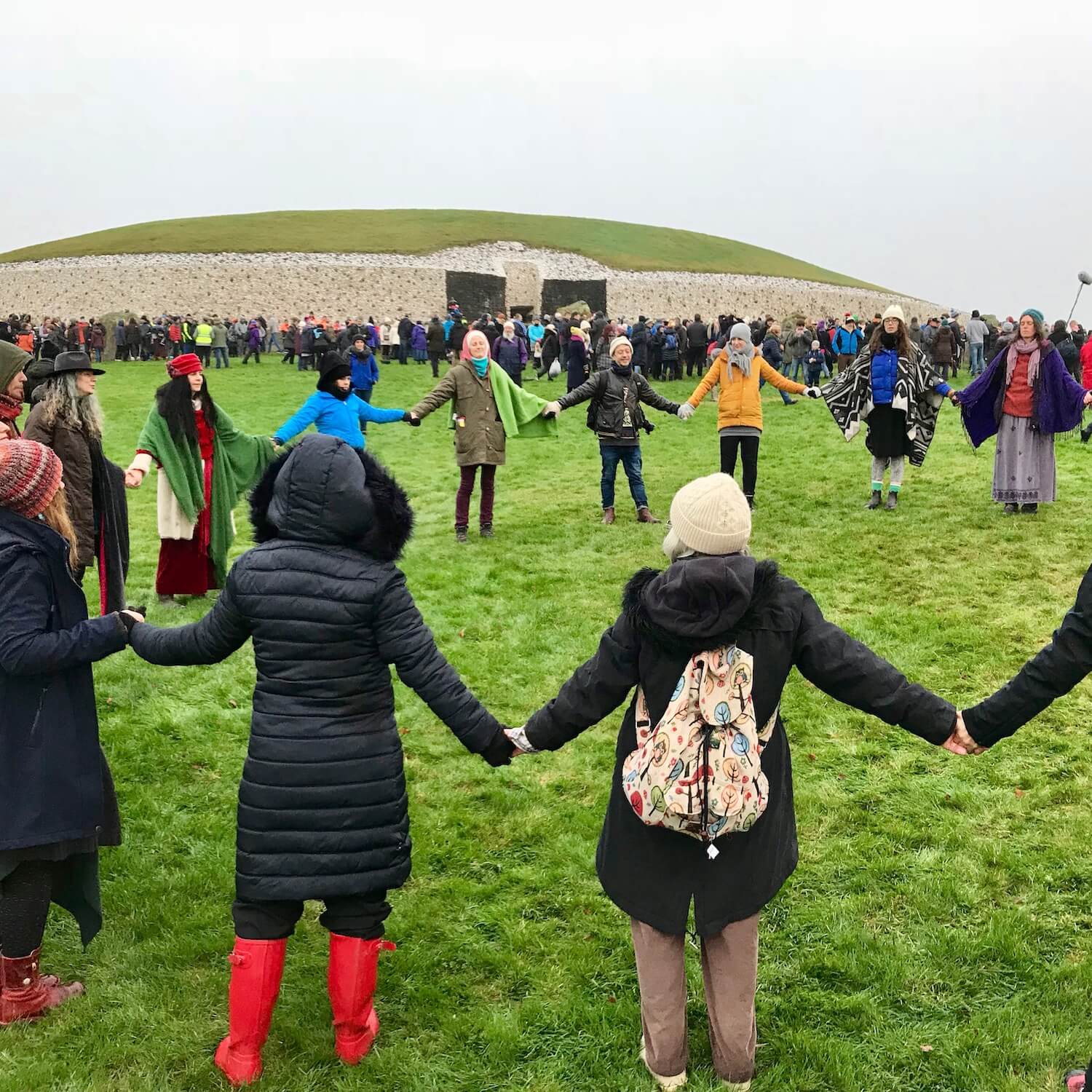 After the official sunrise, the lucky lottery winners depart the internal cavern and the general public on the lawn has a chance to go in and experience the simulation of the light entering the tomb passage. Our original group was #16 which would've meant waiting 4 hours for our chance but since it was very cold so many people left before their turn to enter.
I got Inka some coffee from the teardrop coffee truck to convince her to hold on until our turn to enter. And soon enough it was our chance.
To enter the corridor to the cavern there is a large stone with hieroglyphics to cross over, and then a short doorway and tight walkway that could make some feel very claustrophobic. Once in the main cavern there is a bit more room and the docent reviews the information and then turns on the simulation to show how the sun slowly creeps up into the center of the dome. Even the simulation gave me goosebumps.
The docent shared that while the climate is often overcast in December, the ray of light is usually seen at least one of the three days. This year it was the day before our visit, on December 20th.
Full of ancient grace and energy for the year ahead we left the cavern and drove back to the retreat center. Soon enough I was on my way to Donegal and left my new friends with an experience that warmed my heart and inspired me on the way to a beautiful 2019.
Travel tips to plan your Newgrange Ireland winter solstice experience
1. Flights to Ireland
Fly into Dublin. You can coordinate a larger trip with flight into Belfast or Shannon, but for this session let's focus on Dublin's airport, with service everywhere in the world. There are several low cost carrier options, albeit be prepared to pay for everything a la carte. Even water. Look for How to Airline, coming soon on this blog but for now here are some hints.
Flights from North America to Ireland
American, Delta and United all serve Dublin directly from their hubs in the US. It's a little under 7 hours between NYC and Dublin and the flights are mostly overnight.
If you want to feel like you're already in Ireland upon boarding the plane, then Aer Lingus, which is the national airline of Ireland, is a great option. I've always enjoyed their service. They are growing US destinations, now offering nonstops from LAX, SFO, SEA and other cities like Hartford, CT across the country to Dublin. You can earn Alaska Airlines and United miles on Aer Lingus if that makes more sense for your points. Just under 10 hours from SEA and slightly longer from SFO & LAX.
Flights from everywhere else to Ireland
Ryanair is the other Irish carrier that mastered the Ultra Low Cost model that everyone else emulates today. Tight seating but for an hour or so it's okay. You'll pay for everything a la carte, from water to oxygen but the fares are great and they have nonstop flights everywhere from Dublin.
The main European carriers like Air France and Lufthansa all serve Dublin from their hubs and in general compete on pricing with Ryanair and Easyjet.
Emirates and Etihad serve Dublin from their hubs in the Middle East. Connections to Australia and everywhere else in the world.
2. How much time to plan in Ireland for this experience
You can easily do Newgrange and the other area sites in one long day loop from Dublin, which usually makes the most sense. Since the airport is on the north side of the city, it would be convenient to do this day trip either at the start or end of your Irish visit.
If time is tight, remain sleeping in Dublin. However, if you'd like to spend some time pondering the life of the Celtic kings and have a car, then take a night and stay in the area.
This was the first visit where I stayed in the area and I'm glad I did. The lodging options are average, but you should be outside exploring anyway. I stayed in Navan but Trim is another great option with Trim Castle Hotel just across the street from a cool castle to explore in the center of town.
3. Transportation to get to the Newgrange Ireland winter solstice experience
Newgrange is not really set up conveniently for public transportation, so here are your best options. I've done a variety of these at different visits:
Get your Irish cousin Owen to drive you around. This is both entertaining and convenient.
Rent a car. I needed a car for a month, so this was part of my trip. While you can do Dublin without one, any day trips to outer areas, like Newgrange, are much easier with some little compact thing. And get the full insurance for sure.
Take a day tour from Dublin. Trip Advisor has some good ones or ask around your lodging. Look for the operators that include Newgrange, the Hills of Tara, Battle of Boyne and Trim castle. Be mindful the tours around 35€ usually don't include the entrance fees, while the more expensive 60€ do. They probably wash out even, but it's easier to have all the details taken care of by the operator.
4. Other attractions in the Boyne Valley area around Newgrange Ireland
The Boyne Valley area is a very sacred part of Ireland and there are a number of other things to see in the area if you have time or are on a tour.
5. When to go to Ireland
Well, if you want the solstice experience that's obvious. I loved being in Ireland around the Christmas holiday – there was a very cozy happy feeling everywhere. I am from the Pacific Northwest so I might be used to dark, gloomy winter weather. The holiday lights and Guinness help out a lot.
Generally I love Ireland in the spring, May seems perfect. Summer weather is usually better than other times of the year and you get the maximum daylight hours to experience everything. But then summer is packed with everyone else with the same idea.
Speaking of packing, take lots of layers. You never really know which way the weather will turn, winter, spring, summer or fall. It was definitely cold in the winter. As in wear-everything-in-your-suitcase freezing.
All photos are mine unless otherwise noted.
Have more questions about Newgrange Ireland winter solstice? Let me know.