Kiev is a welcoming, energetic, intriguing city in a country struggling to maintain a unique identity in the world. The stately capitol city is bursting with tasty food, friendly people, interesting sites and Cyrillic signs. Unfortunately because of a time crunch I was left with only about 48 hours in Ukraine. Since one full day was devoted to the Chernobyl Exclusion Zone I had limited time in the large metropolis of 2.9 million people. Rest assured, it's easy and fun to experience Kiev in one day.
This post will provide you the top 10 things to do in Kiev when time is limited.
Flying in from Belarus I wasn't sure what to expect. The immigration officer handed my passport back, smiled and said, "Welcome to the Ukraine." Now, since getting ANY border official anywhere to show expression seems unlikely, this exchange was even more impactful to me. I really did feel welcome and the tone of my experience was set in a bright direction.
Kiev cafe culture
The current events in the US place a lot of attention on Ukraine. All this talk about high level diplomatic conversations in Kiev cafes takes me back to my own experience, also at the end of July 2019. I wasn't sitting in a restaurant next to the American diplomats discussing official relations and military aid, but Kiev is bustling with a feeling that you're in the middle of a spy novel, waiting for Jason Bourne to come running out of a back alley to jump onto a scooter in order to weave an escape through traffic.
Kiev was established in the 5th century and cobblestone streets lead down narrow corridors which connect to larger corridors which lead to orthodox churches with bright golden spires lifting up to the heavens. Giant squares feature sweeping views of the skyline mixed with firmly planted statues honoring the heroes of the past. Soviet era architecture is much more common in the suburbs, but the inner parts of the city seem to remain strongly steeped in a history that existed long before the USSR took hold.
My hotel was a block away from Independence (Maiden) Square, which was an excellent central location to base my quick trip. Not only did my tour to Chernobyl meet nearby in the morning, but this location was close to the Metro and a plethora of options available by putting feet to the street.
With limited time in a destination I work really hard to find the best ways to experience the culture and vibe through people watching and interaction verses an endless checklist of sites. I also hate feeling rushed as if I'm doing a scavenger hunt pecking off items on a list. My day was relaxed, involved a lot of walking, interesting food and some fun interactions with the locals. This list is only scratching the surface, but should give you a chance to absorb the feel of the area.
Top 10 ways to experience Kiev in one day
10 Georgian Food
According to Victoria, my guide for the day in Chernobyl, Kiev locals seem to love Georgian food. She shared a hint about a great restaurant called Mama Mahaha (also shows as Mama Manana), which was in a nearby neighborhood within walking distance. My meal was fantastic. The staff were friendly and worked hard to try to communicate with me. The breads and dipping sauces each had their own pop and the vegetarian versions of the food bright with flavor and delightful textures.
It seemed they did not host a lot of Americans because the manager of the restaurant came to my table and asked me to share my impressions of the restaurant and in particular the wine list. She said they were eager to appeal to Americans.
While is isn't imperative to go to this restaurant per se, I think the food genre is worth a try during a visit to Ukraine. Enjoying authentic dining is always key to any destination and that holds true to experience Kiev in one day.
9 Independence (Maiden) Square
My arrival on a beautiful warm July evening combined with lodging a stone's throw from this lively square set me up for a cultural treat. The city was alive with action and most of it seemed to focus around this central crossroads of Kiev. The Ukrainian translation literally means Independence Square but the locals seem to just call it "Maiden."
Ukraine's history after the breakup of the Soviet Union has been very complicated and Independence Square was front and center to the turmoil around the dissolving of plans to join the EU in 2014. This square represents some painful times for the country but my experience seemed to reflect a more optimistic era beginning to come alive with a new president elected in April 2019 and a snap election for parliament taking place the day after my arrival.
The night at Maiden was alive with crowds of people hugging the steps of various monuments and architectural features in the rectangular park. Water fountains came alive with full dramatic jet streams to music akin to a Bellagio show in Vegas. Children and adults both were mesmerized by the shifting color tones shining on the fountains blowing spray in all directions.
What I loved about this nighttime experience was the feeling of camaraderie I felt amongst the citizens, who were out for an evening spent with friends, family, loved ones. It was social and peaceful. Like in many cities, the McDonalds adjacent to the square was teeming with people awaiting Big Macs and ice cream cones.
I walked through the square during daylight hours as well and while I missed the dramatic pageantry of the fountains, the people watching was still great, providing plenty of energy to soak in.
8 Ride the Kiev Metro (subway)
The Kiev metropolitan zone is about the size of Seattle and spread out over a large land area. There is a comprehensive transportation system that includes Metro. A fun way to experience Kiev in one day is to venture underground and decode the system.
The Metro is like many others in the world in general layout and use. Round plastic tokens are aquired at a booth or in machines that seem to speak both Ukrainian and English. The station maps show Ukrainian and Roman alphabets and seem intuitive enough to find the way.
Be prepared: Once the token is entered into the turnstile and you arrive at the bottom of the escalators facing two platforms, it all goes Cyrillic.
It's been awhile since I had this type of rush of adrenaline so I suggest giving it a try to navigate the city. There aren't very many Metro lines so give it a go and see what happens. Many of the train platforms were built during the mid-20th century and in general provide interesting views into soviet times.
7 St. Sofia's Cathedral
If you can't find a church in Kiev heaven help you! The city is rich with religious history, primarily the various versions of Orthodoxy. St. Sofia's is a graceful byzantine complex of buildings dating back to the 11th century. The commanding bell tower rises above all else around and serves as the entrance to the cathedral. The complex takes over the SW end of Sofia Square. Pay a few dollars to climb up to the top of the bell tower where a 360-ish view of the vast capitol is visible with sweeping views of the square below and boulevard to St. Michael's Monastery in the distance.
6 Talking with street vendors
St. Andrews Church (see #5) was an early stop on my agenda, and the woman in the tiny ticket window made it clear in her own way that she only accepted cash. When I returned from the ATM she then made it even more explicitly clear in Ukrainian that she only accepted small bills. Be prepared for this all over town.
Across the street I noticed a row of pop-up tourist kiosks just setting up their wares for the day. I happened on a friendly vendor who was eager to help me find just the right Tkochki for my trip.
The man was friendly and helpful but not aggressive in any way. Like many street vendors in the world, he was very proficient in English and walked me through all the items available. We had a conversation about the new president and recent election and I lightly approached the relationship with Russia, which seemed to encourage him to take me to the side of his booth to the pyramid of Vladimir Putin toilet paper. I let him guide the conversation but it was a delightful exchange for change and a few fridge magnets.
5 St. Andrew's Church
After getting the needed change to pay the admission (see #6) I bought my ticket to pass through the gate and up the stairs to the church of St. Andrew. Since we had such a great working relationship, the woman at the Kassa failed to let me know that the entire interior of the building was closed for renovations. All was not lost, as there is a 360 degree walkway surrounding the 18th century baroque style church, which is perched atop a hill overlooking large portions of the city.
Speaking of renovations, interesting to note that while the soviets (who were officially atheists) did not destroy the churches during the USSR days. Instead, they repurposed most of them to serve various government functions from libraries to gyms to solider quarters. In the 1980's Moscow's central control started relaxing and churches were slowly released back to the non-secular world. Since this time work remains to restore the inner altars of many churches all over former Soviet states.
4 A walk in the park
Parks are an easy way to experience Kiev in one day because both natural and urban beauty serve up a welcoming framework to glimpse into daily life in the Ukraine capitol. The population uses the parks. From school kids on a field trip to love birds taking engagement photos underneath the trees, there is fantastic people watching.
Volodymyr Hill is my favorite park. The span of greenery is perched atop a ridge with interesting viewpoints towards the Dnieper River. The entire area is covered with a variety of vegetation, including several interesting species of trees. Day and night, this collection of boardwalks, fountains and winding pathways plays host to the people of the city.
The final stages of a huge public works improvement program seem to be concluding, complete with the new Glass Bridge that spans the cobblestone thoroughfare deep below in a ravine. On the other side of the Glass Bridge experience compulsory communist style statues commemorating patriotic Ukrainians throughout time.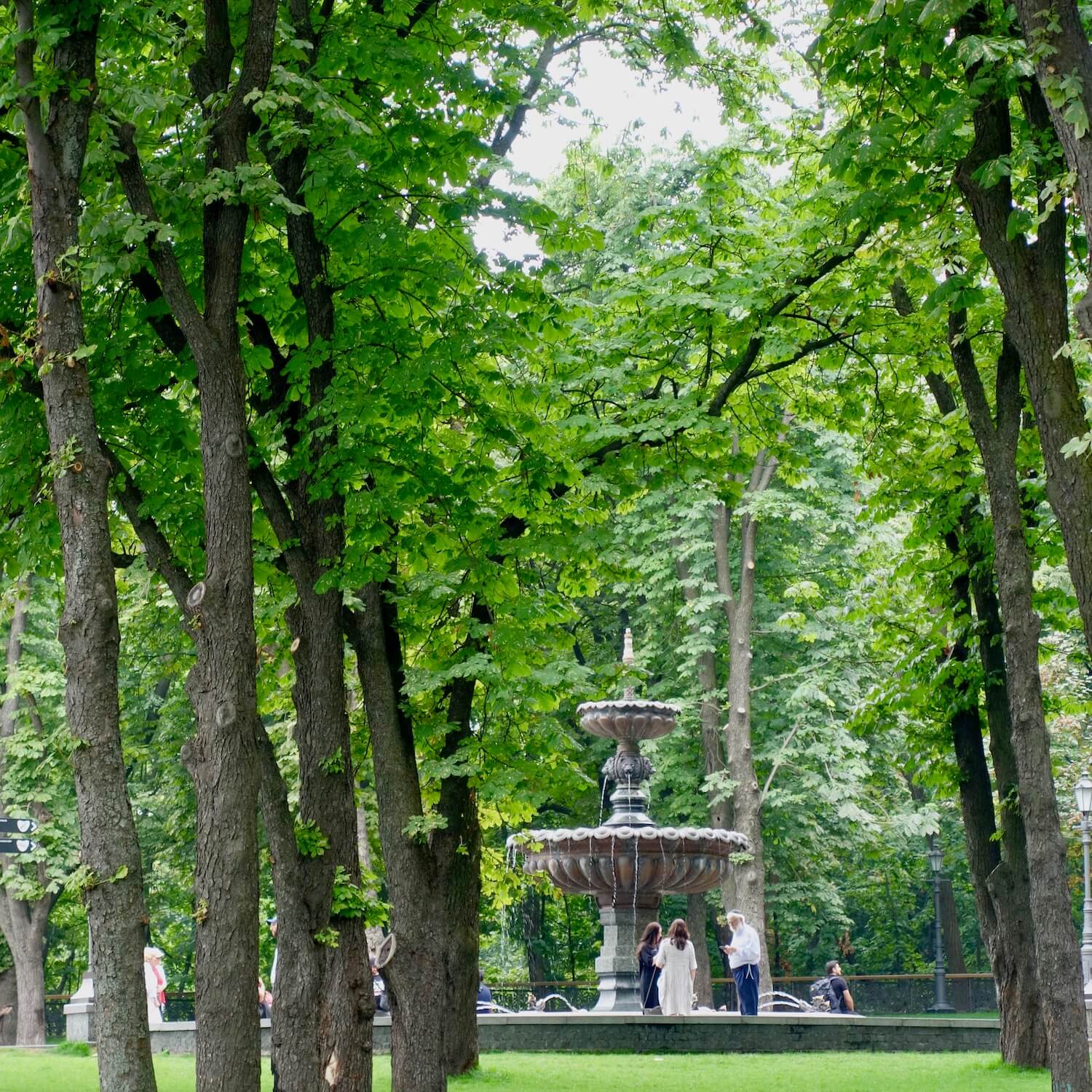 3 St. Michael's golden domed monastery
If you only have a day to experience Keiv, a visit to the central churches such as St. Michael's Golden Domed Monastery is essential. I can get overwhelmed with too many churches, but this colorful complex should be on your very short list. Once past the entrance walk through a quaint apple orchard past an older black and white church. Keep going towards the back of the grounds and suddenly the main Ukrainian baroque style cathedral rises above. The bright blue walls offer a pleasing contrast to all the golden spires rising to the heavens.
The complex dates back to the 11th century but the church of today is only 20 years old. Still, stepping through the threshold into the vestibule feels like going back in time, and the mix of frescos, candles and various icons devoted to Mary and other saints make it easy to imagine monks peacefully living out their days of generations past.
The church shop is particularly interesting with any kind of religious item available for sale. But do not take pictures!
2 Free City Tour
Free city tours are a great way to get your bearing in a new city while soaking up the highlights. Also a helpful means to meet new people, especially when traveling alone. I opted for my own free city tour but I've picked these gems up in many cities on my travels. A few options to check out include freetour.com and Kiev Walking Tours.
Depending on the guide and their comfort level talking about the state of affairs, this can be a great way to quickly gain insight into details around daily lives of the people, food and drink recommendations and more. Remember, that even though the tour is technically "free" the guides live off their tips and if you enjoyed your time you should expect to give a little something at the end.
1 Experience Kiev in one day by walking it
With only a few precious hours in this bustling city, walking is an imperative to experience Kiev in one day. I say plot a few dots on the map and set out walking. For best results with this, plan to stay somewhere central in the city or else take the subway or other transportation to the center and get going.
The feel is safe and friendly and there are all kinds of interesting buildings ranging from 19th century apartment houses to minimalist mid-20th century Leninist style. Kiev is so large and the tourist population seemingly small to a point that you really are in amongst locals everywhere you go, which feels like a fantastic way to take in the city.
Bonus Round: Day trip to Chernobyl
If you want to experience Kiev in one day, you'd technically require another day to venture to this hallowed site. If you can swing it I highly recommend heading out to Chernobyl for the day-long tour of a variety of locations inside the 1000 square mile exclusion zone. For more information check out my two other posts about the Chernobyl experience as well as why I embrace the darker side of travel.
I want more Ukraine!
My time in Ukraine was only enough to scratch the surface but I'm happy I pushed to experience Kiev in one day, making the most of my time without sacrificing my sanity. When given the choice of two days in Kiev or carving out a trip to Chernobyl, I recommend the exclusion zone trip. I had time to honor, in my own way, those involved in protecting the world from an even worse nuclear disaster while also spending some time soaking in the metropolitan flavor of Kiev.
I'm already planning my next trip to Ukraine and Kiev for the summer of 2020. Definitely more time is allocated for everything. If you'd like to come along please let me know.
Do you want more Ukraine too? Check out the Kiev Photo Gallery.
Quick and simple travel details to experience Kiev in one day
Kiev Airport Information
If you want to experience Kiev in one day, you might be traveling through, perhaps connecting on an airplane. It's helpful to know that Kiev has two viable airports.
Borspiel International (KBP). Most international flights utilize this modern airport, which is 18 miles away from the city center and costs about $30 in local currency for an Uber ride. I flew Ukrainian International Airlines, which had a convenient check-in app and seemed just as modern as any European airline. The Borspiel airport is modern and has free wi-fi throughout. An easy airport experience.
Kiev International (IEV). This airport is much smaller but only about 5 miles from the city center and $5 Uber ride. It feels like a pop-up low cost carrier terminal amongst general aviation G-4's of the oligarchs. I arrived on Belavia from Belarus and customs was very easy. If you're not connecting to longer haul and just hopping around the region, this airport is much more convenient.
Ukrainian Money
The Ukrainian currency is the Hryvnia, and (Nov 2019) one US dollar is equal to about 24 Hryvnia's. Even if you're only there to experience Kiev in one day, it seems important to have a bit of walking around cash. ATM's are widely available and credit cards are hit or miss, especially in restaurants.
One unique thing I encountered was restaurants that take credit card for the main dinner charges but not for the tip. Tips are similar to the US, so be sure to have a little cash on hand or else it might be awkward.
The prices in Kiev seemed to vary as much as in any large international city. Higher end eateries are expensive but most kiosk coffee shops and other lower key restaurants seem to provide good value on the dollar.
Cell phone/data
Ukraine has great cell phone and data service.
Transportation
Uber is the best way to get around with cabs in order to avoid getting ripped off on the price. Be aware that most will probably not speak English but you can use the app to relay and translate information from English to Ukrainian, which is super helpful.
The subway only takes cash, at least where I was located.
Walking is free.
Hotels
All the normal lodging options exist in abundance in Kiev. I stayed at a hotel just a block away from Independence (Maiden) Square, which was the perfect central location for me, especially since I was limited on time. This is the general area where the free (and paid) tours meet, including my day-trip to Chernobyl. I could set out walking in any direction to quickly reach sites, transportation and food/drink.