To read a fun story about my ambition to reach the Top of Europe attraction while snow hiking around Grindelwald, go HERE.
I was in Switzerland about 20 years ago and our aging relatives Rosie and Renee toured us all around the country. We stopped through Grindelwald briefly and I vowed I'd always return to the Alps when I could spend more time wandering in the mountains. Well that day finally came in January 2019 and the following is a photo gallery inspired by winter hiking in Grindelwald, Switzerland.
Following the family crest leads to winter hiking in the Swiss Alps: a bit of background
Newly freed up from leaving the corporate world after 25 years, I set out on an adventure to Europe in December 2018 and kicked off a year of travels all over the world. Mindful of my heritage, I spent a great deal of time in Ireland in the ancestral lands of my mom's family, in rich, damp velvety Donegal, which is a county in the farthest NW corner of the island. The next stop of my journey took me to Switzerland and to Biel/Bienne to visit some relatives. Biel is located in the Bern canton, which is known for speaking a mix of languages, including French and German and is also the home of some famous watch makers like Rolex.
The Kessi family originates in the Biel area, although I'm told that centuries ago the patriarch, Jakobi Kessi, relocated from Northern Italy, which is probably why it sounds a bit Italian. Even though my Swiss forefather emigrated to the US in the 1840's, our family still has a connection to relations living in this area. Since the brith rate in Switzerland has been in decline for years, there aren't many Kessi's left, but I had the chance to visit a few remaining cousins and then pointed to the mountains for a winter wonderland getaway.
The Swiss Alps, in particular the Bernese Oberland, cover many possibilities for a charming mountain experience, winter or summer. I focused on Grindelwald because I stopped in once upon a time and loved the vibe and the ease of transportation to/from the area. My cousin Antionette and her husband Beit were kind enough to drive me to the mountain resort area in the middle of a blizzard, which took about 2 hours. The train system back to Zurich Airport was super efficient and lasted about 3 hours, with a few connections, door-to-door.
Grindelwald is central in the country: the lay of the land
The map below displays Switzerland, and the green dot indicates the location of Grindelwald relative to the country. The purple points are for perspective: Zurich Airport is about 3 hours away by train, Interlaken is a famous stop in the mountain country and a convenient transportation hub for play in the Alps. Geneva is just for reference and Biel is special to me because of the family crest.

Grindelwald, Switzerland
The Switzerland in my mind: winter hiking made better by one snowy night
We arrived to a blustery winter storm blanketing the town with marshmallowy white. Since this was my first snow of the year it was very exciting and perfect for the images in my mind of what winter in the Alps represented. My hotel (highly recommend) was on the Main Street in town and provided a very cozy place to gaze out the window as the blizzard feverishly covered the resort town. It wasn't until the next morning that I realized I had a spectacular view of The Eiger (13,000ft) and a valley below.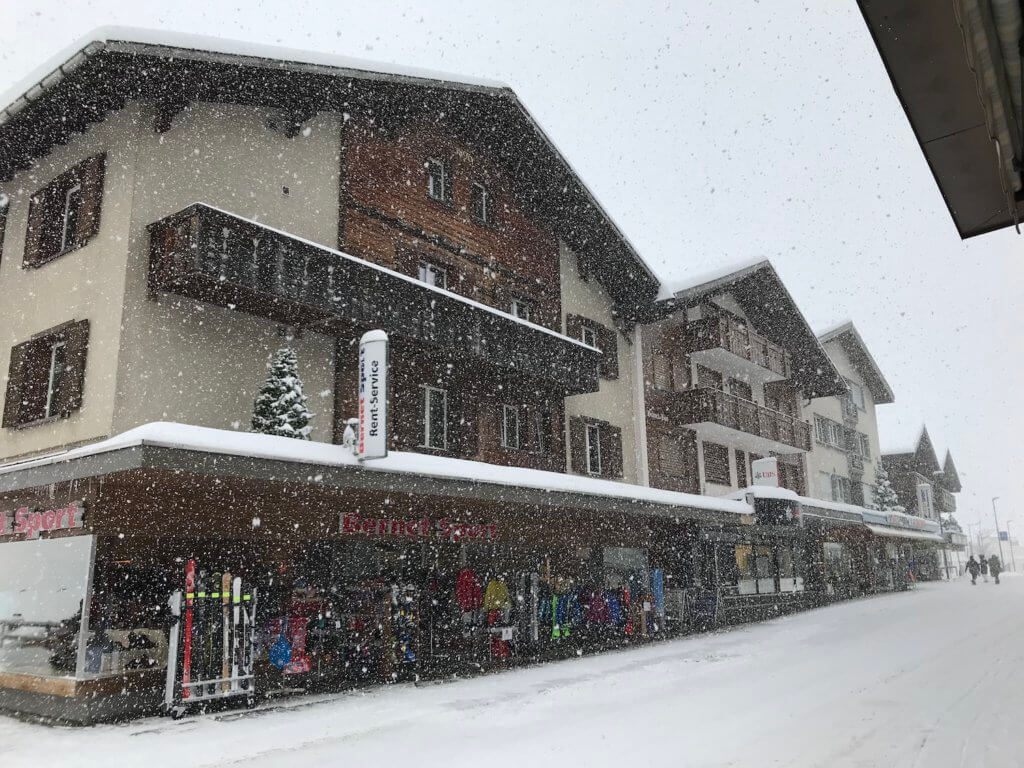 Grindelwald is prepared for visitors: a bustling town with all the amenities
The nucleus of the town provides everything for visitors; a great grocery store, equipment rental shops, restaurants, bars and in particular a charming cafe with outside seating facing the street, with protection from the snow by a covered porch area. The breakfast at my hotel was outstanding, with all my European favorites like Nutella on everything, fantastic cheeses and dense rye bread. Food otherwise in the town is good enough but won't probably win any awards. Since foreign wine and spirits are levied high tariffs, adult beverages can be disproportionately expensive. I suggest sticking with Swiss beer and/or wine.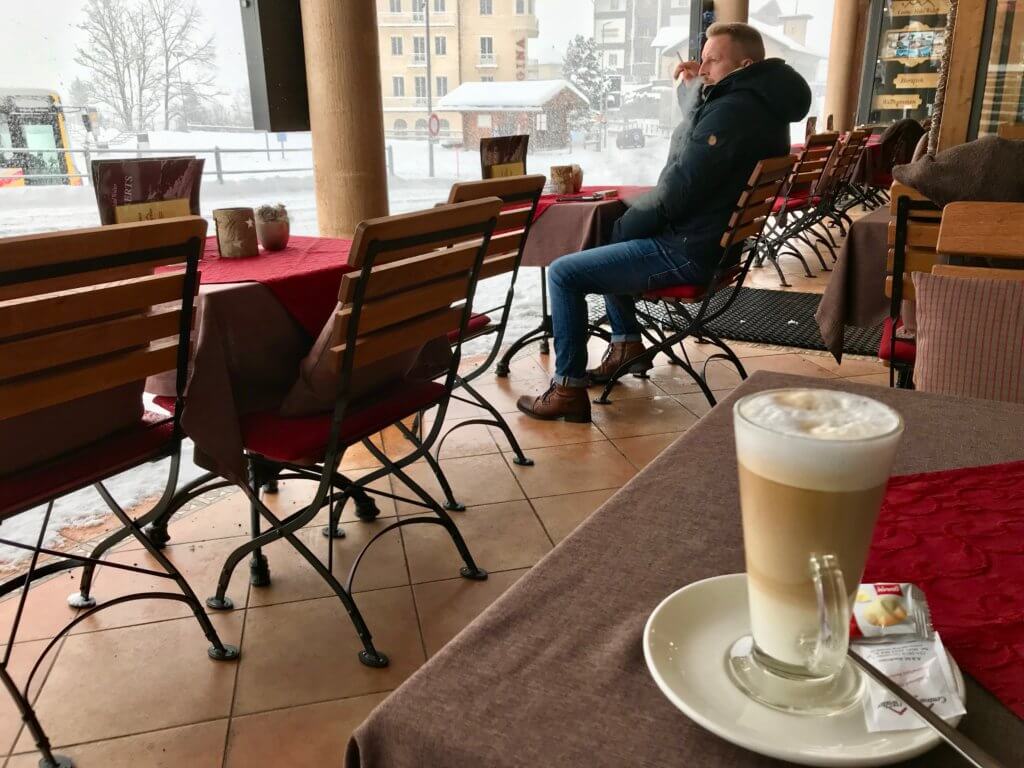 Some might call Grindelwald touristy, but I appreciated the variety of services available and the walkability of the town. Of course, there were abundant places to purchase trinkets and post cards (I still send them as a nod back to a bygone era of romance in travel), but the Swiss aesthetic created a scene that didn't detract from the feeling that this is a special place with magical mountains alive in alpine spirit. I also appreciated the attempt for a number of the shops to feature hand craft items from local artists.
Winter recreation in the thick of the Swiss Alps: so many options
Grindelwald is strategically situated near the valley floor, surrounded on all sides by mountains, and 5 peaks reach heights around 13,000 ft, including the most famous Jungfrau (13,652ft). The benefit of this arrangement is that visitors have access to a variety of mountains and terrain and can utilize several different approaches to get to the winter recreation fun. This Wengen Trail Map helps display all the options. Day one had me on a gondola from the town up towards Swartzhorn ski area. From the Grindelwald First drop-off I hiked all day in the snow, ending up on the outskirts of town; about 9 miles in all.
The mountain has many activities available beyond the obvious skiing/snowboarding. The third stop on the Gondola from town is known as Grindelwald First and in this area there is a mechanical marvel that models soaring like an eagle, known as First Flyer as well as a gridded metal walk that hovers the side of a huge chunk of mountain known as First Cliff Walk by Tissot. It's also possible to rent toboggans and snow hike along well groomed and marked trails. As a hiker I found myself in relative solitude.
Since I was on an extended trip, hiking boots were not practical, but I strapped gators to my Asolo hiking shoes, donned ski pants and was on my way with no problems. This was a great solution to traveling light while also experiencing a variety of hiking conditions throughout Europe in winter.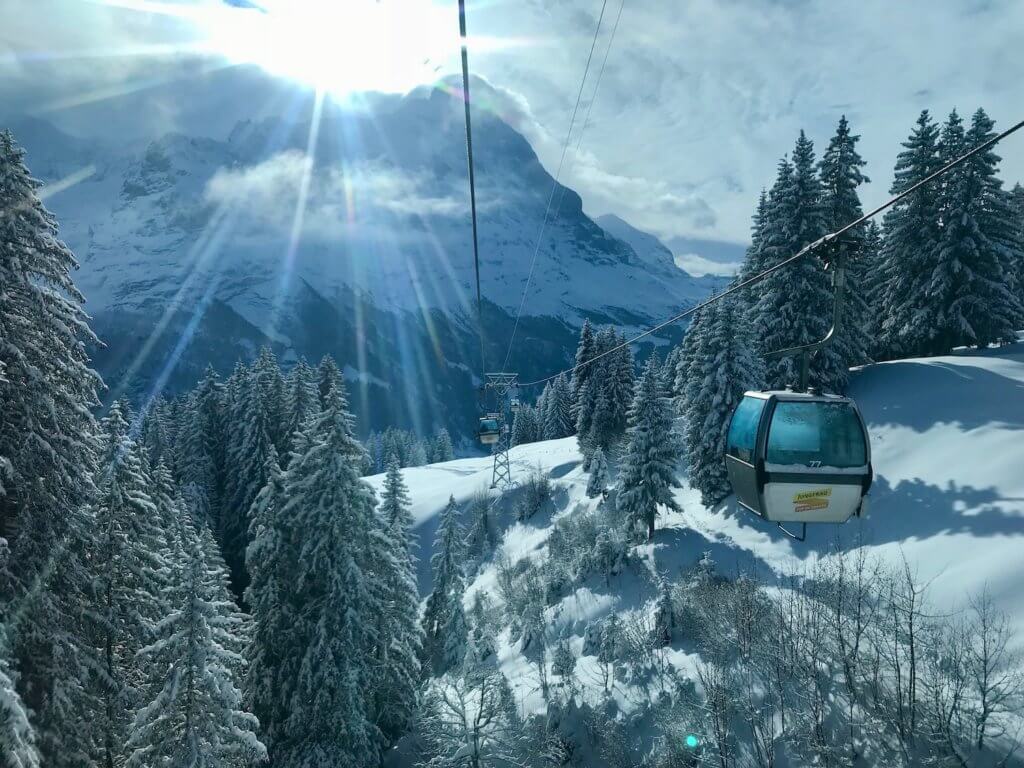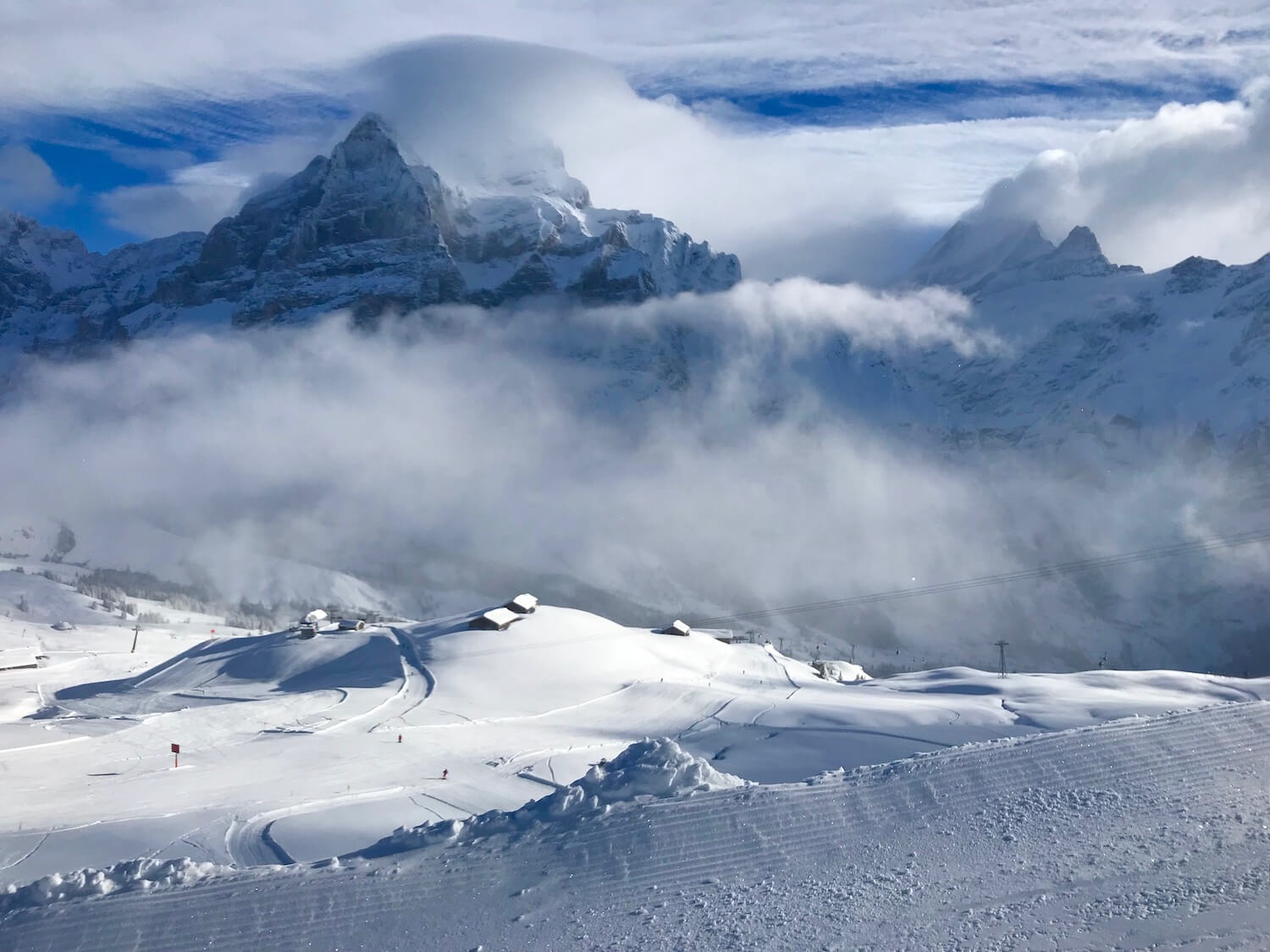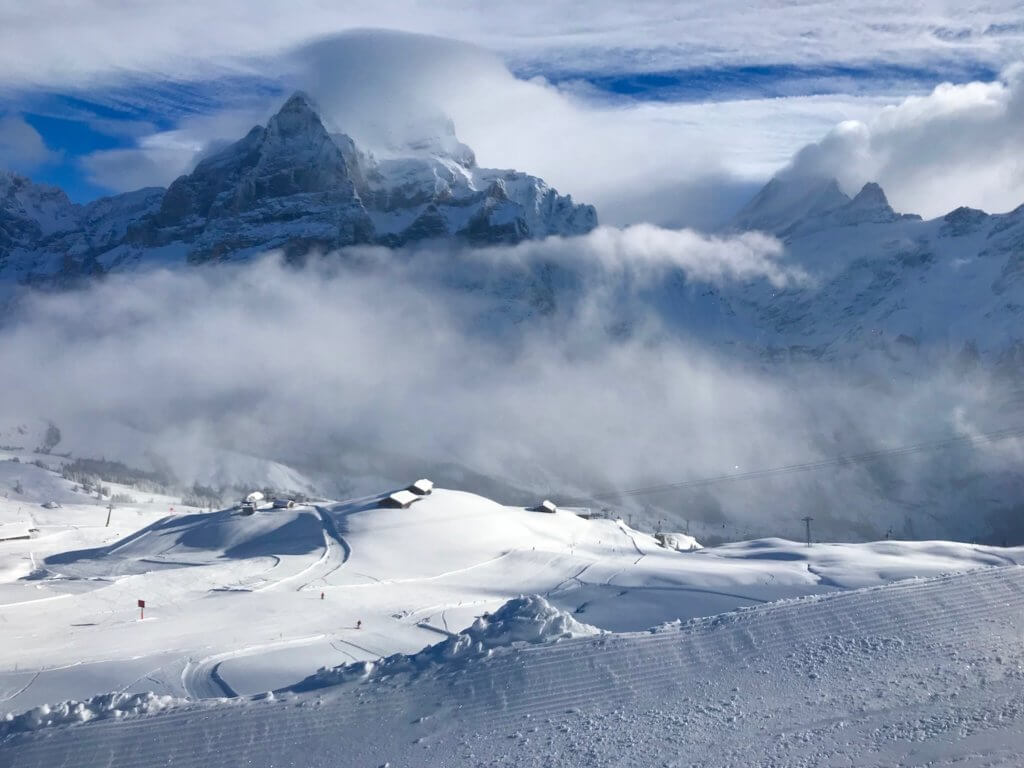 The day was brilliant, with moments of bright sun amidst a blue sky and other more brooding points with swirling clouds wrapping around the highest mountain peaks. The trails were well groomed in most places, but opportunity to frolic in the fresh power presented itself on a number of occasions. Every so often, after a hour or so of winding my way around various winter obstacles, a chalet would pop up serving all things hot, cozy and potentially boozy. Most places were open but it seems the mountain services cater more to summer-time hikers.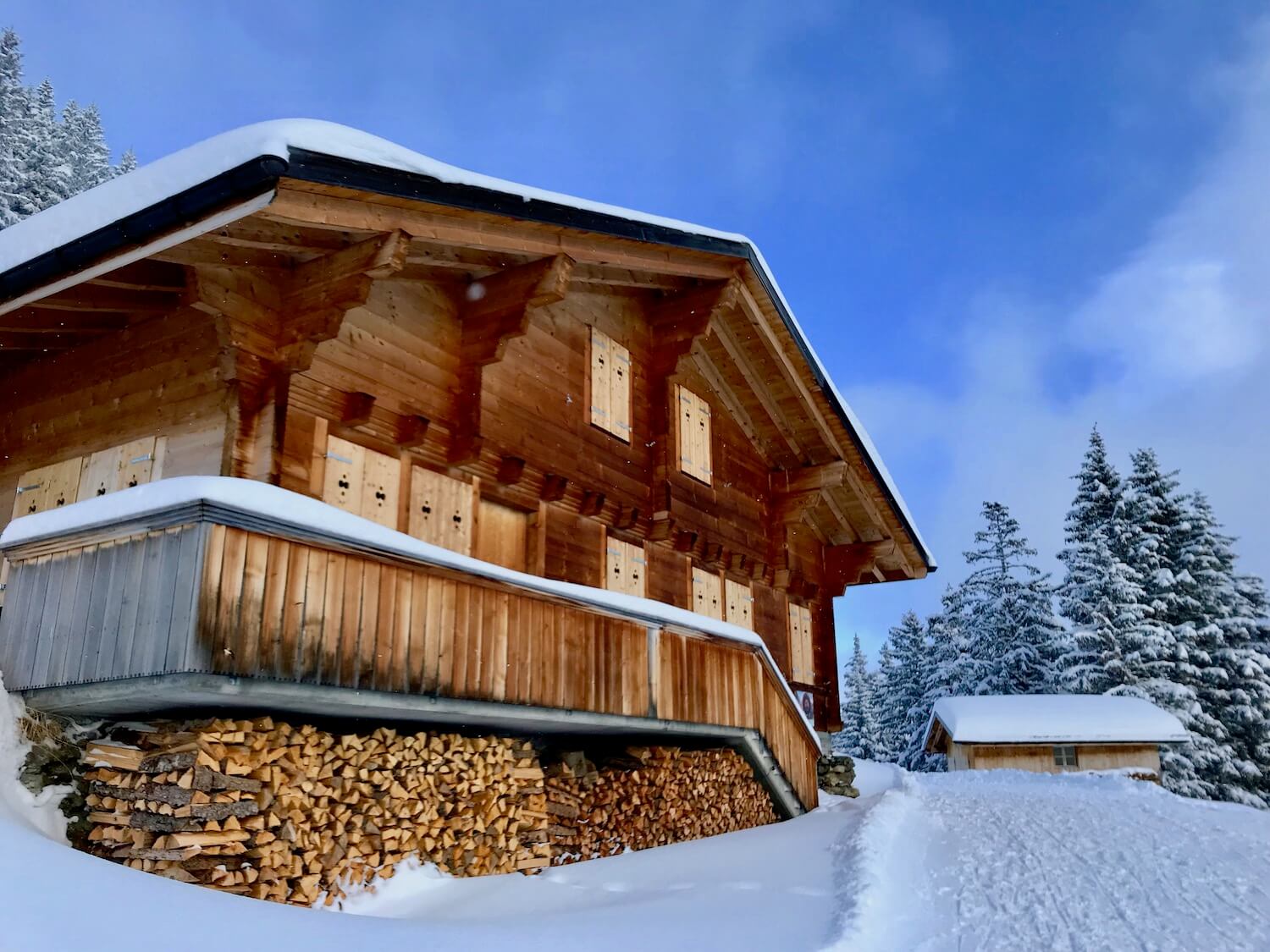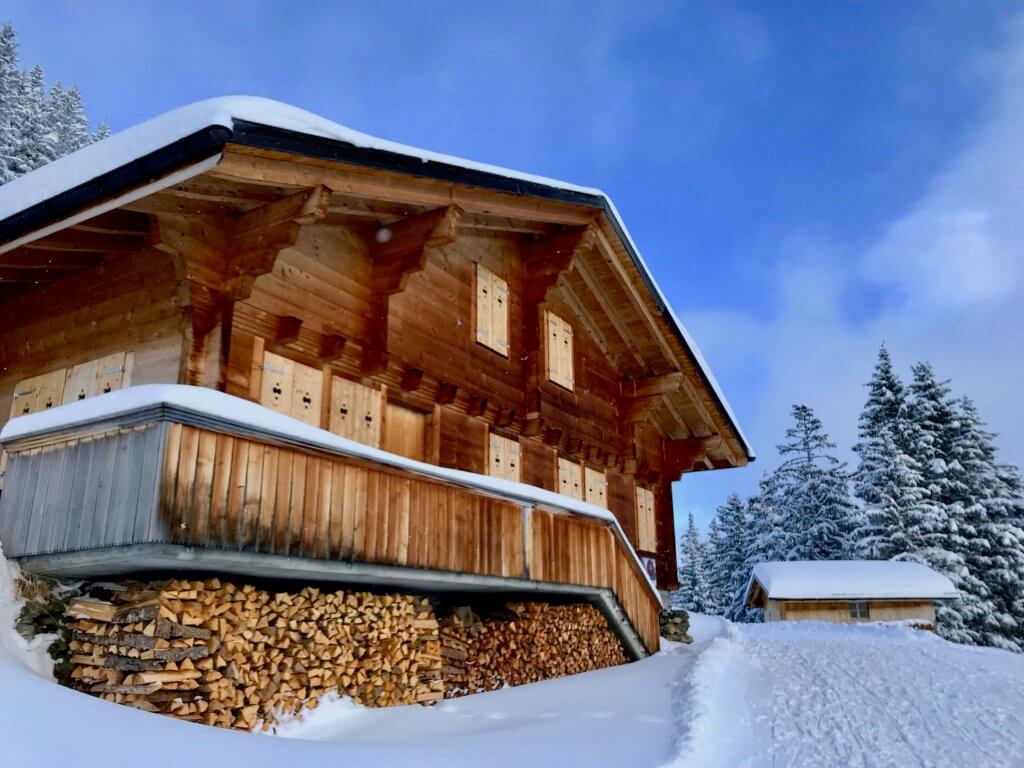 Grindelwald knows how to GO: Swiss engineering has winter recreation covered
The next day I worked my way over to the other side of the recreation area, which requires taking an amazing narrow gauge train straight up the mountain towards the alpine hub of Kleine Schienegg, where more hotels, restaurants and outdoor options exist and you can change trains to head up to Top of Europe attraction. It didn't look like the hotels were open – probably more of summer location to base for some great alpine hikes. I'd come back in the summer for sure.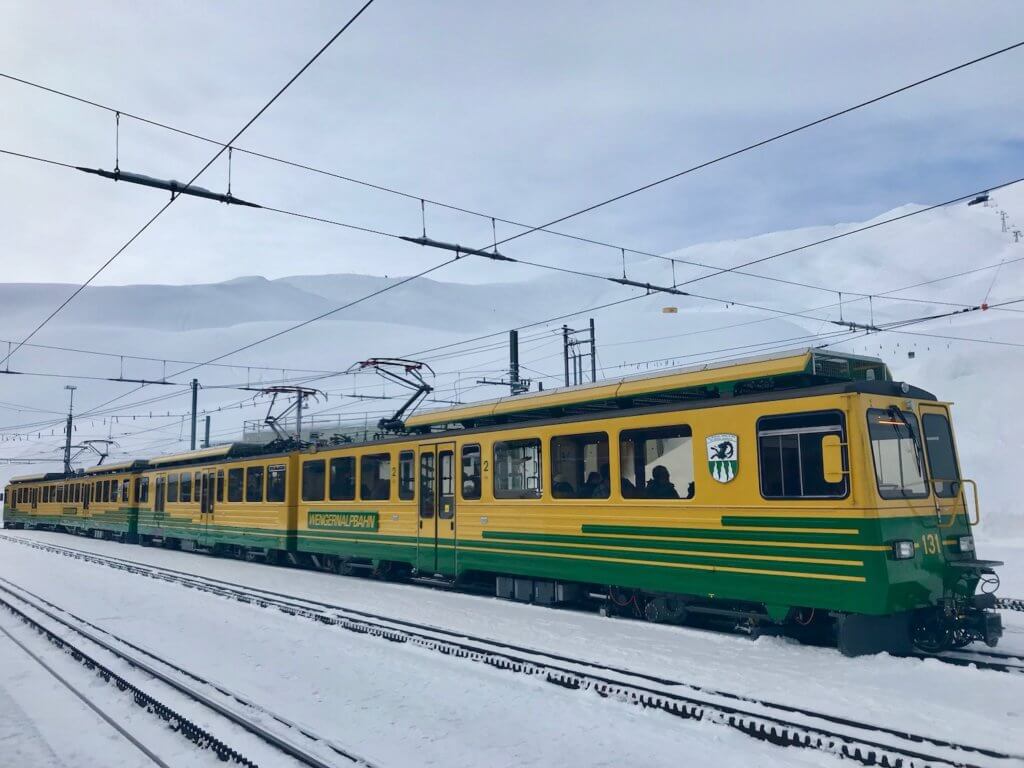 Winter wonderland getaway: in closing
I traveled to this area mid-week just after the New Year rush settled down, so there was plenty of space for me to feel as if I had my own private mountain to explore. Although I've heard it can get down right packed with people during busy holidays and in the summer, the raw and powerful beauty seems to distract from everything else. Grindelwald offers a lot to do, variety of terrain and an access to stunning beauty, no matter where you are. A day trip from Interlaken is easily doable, and the lift tickets cover everything in the area (bus, tram, rail, gondola.)
My winter wonderland getaway in Grindelwald did amazing things for my spirit, and writing about it now I can still smell the dry air with hints of fir and feel the light snowflakes hit my nose. The taste of Nutella on rye bread while looking out the dining room window at dramatic Eiger. Snow angels in two feet of powder off a trail with what seemed like no one around for miles. Sipping cocoa on a birch picnic table outside a simple mountain-side cafe while a soft wind whispered around my face. And perhaps most importantly, the space. The space to wander, physically in the snow and in my mind, heart and spirit. The space to let ideas and feelings soar.
The Swiss Alps can be the best medicine for the distractions in normal life that take us from the present to other "places" that aren't always for our greater good. My few days playing in the snow helped me level out, relax and let the world come at me. A perfect beginning to a year full of vast personal growth, global connections and soul healing experiences.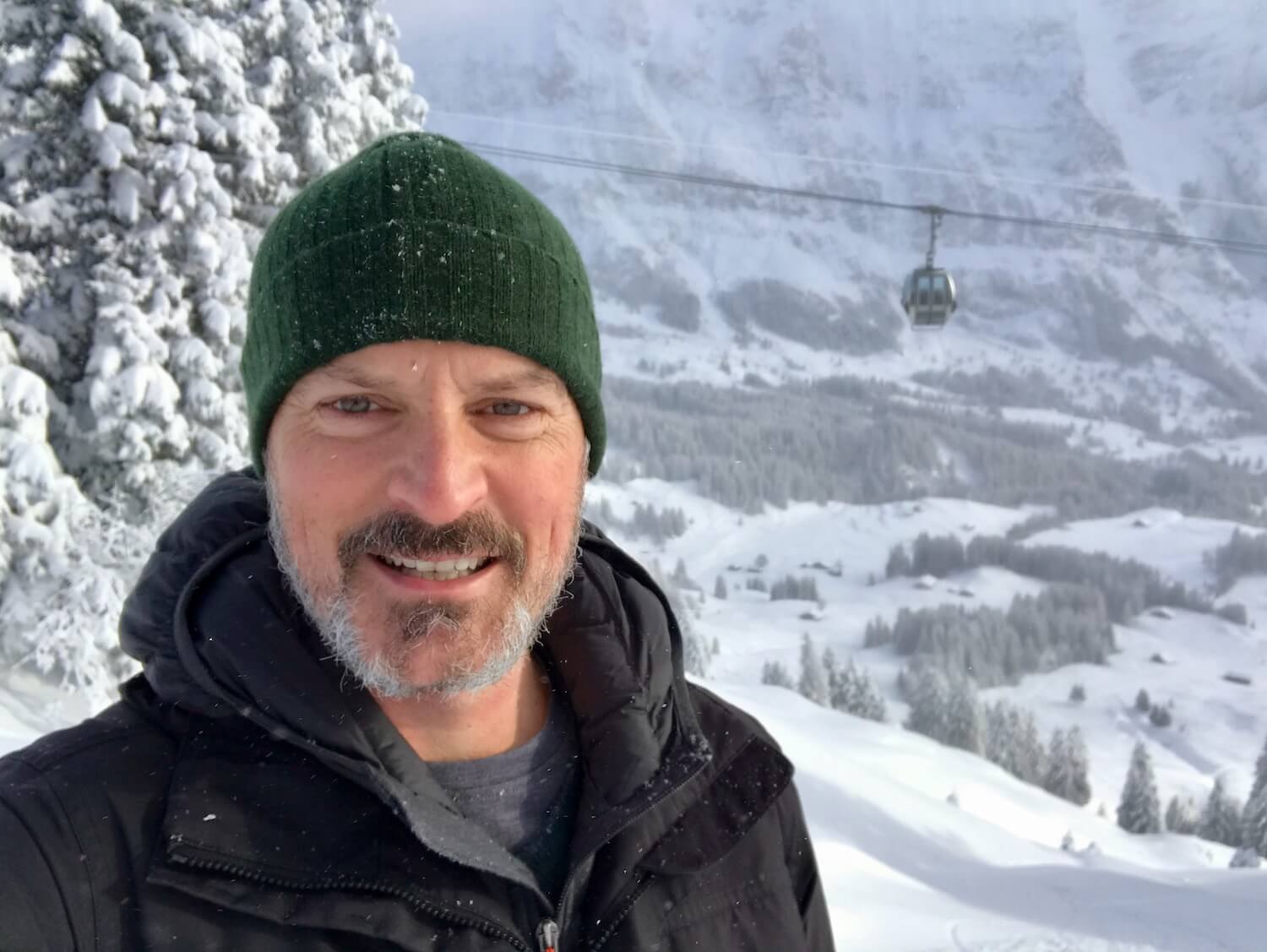 Winter hiking in Grindelwald, Switzerland: the complete gallery