To view the photo essay associated with this winter getaway, check out Winter hiking in Grindelwald, Switzerland: a photo gallery.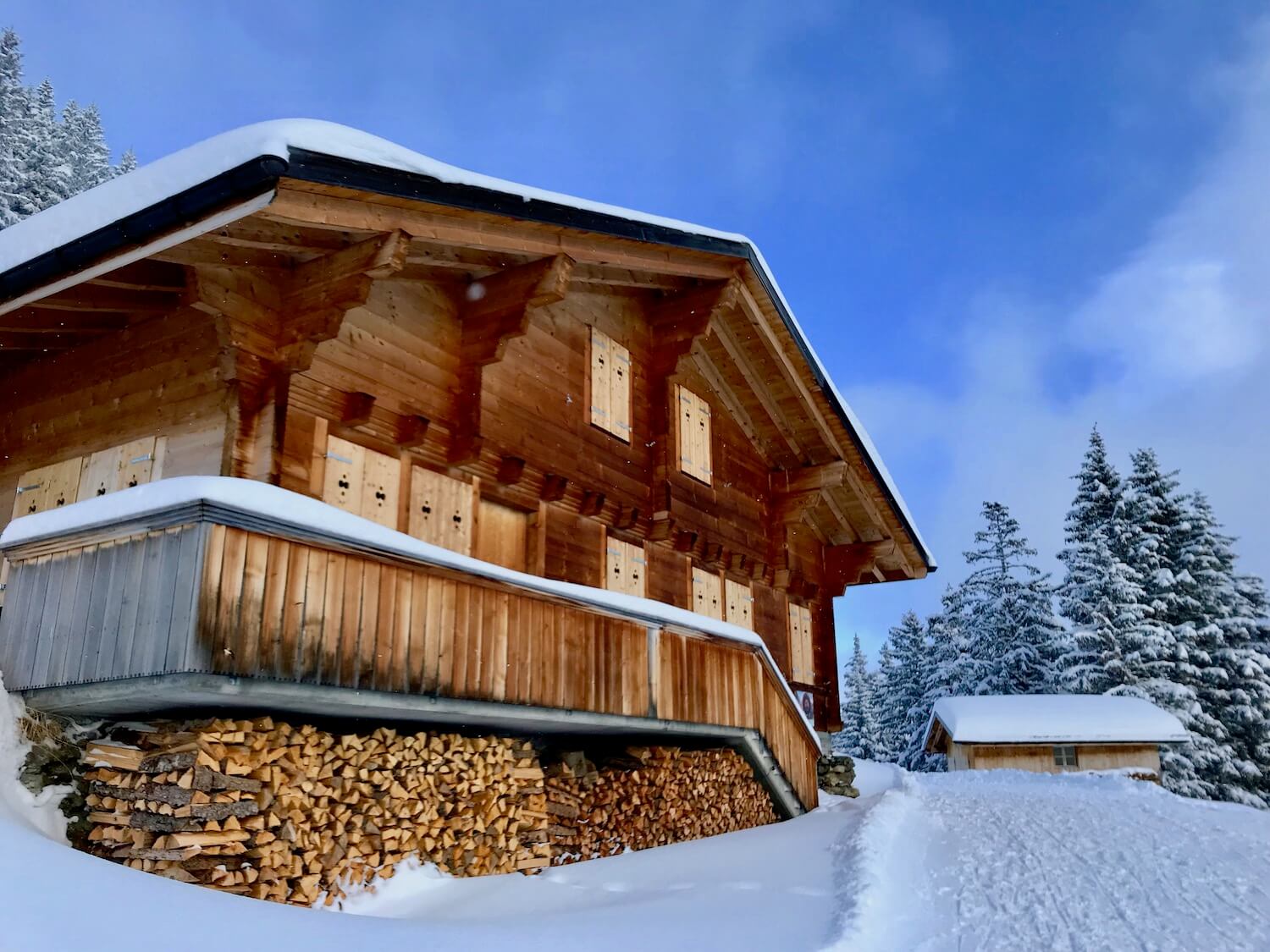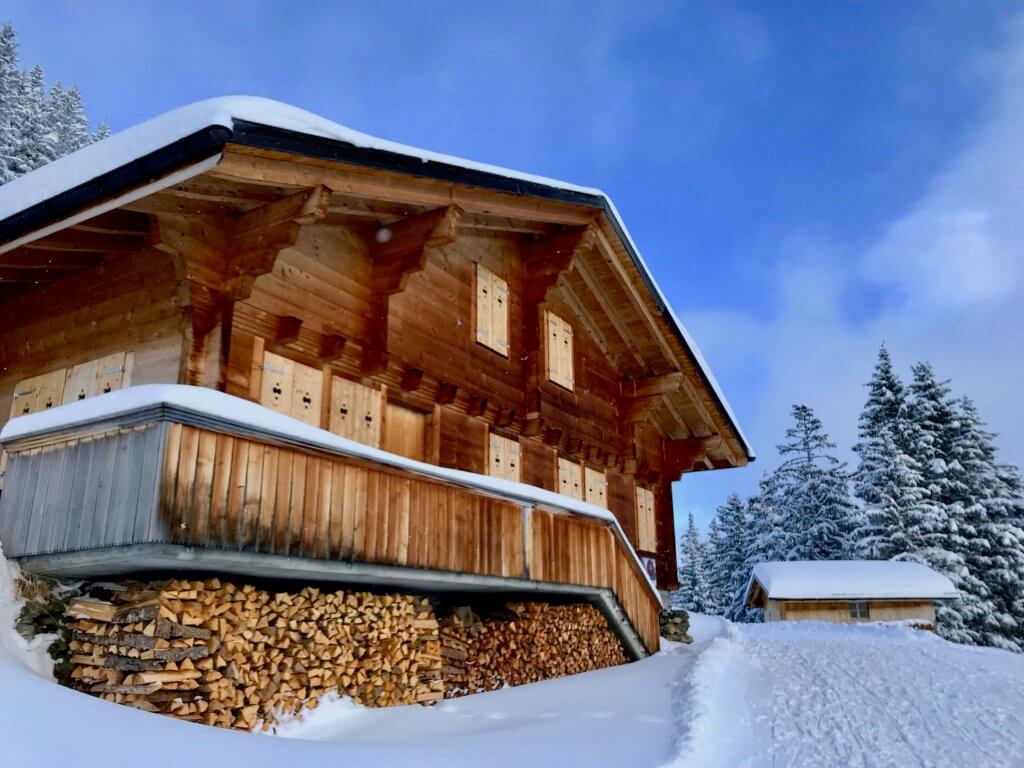 Spending the month of January in Seattle is good medicine for me to restart some routines that got lost along the way in 2019. I had a club membership but traveled so often I forgot the combination to my gym lock. Food and drink and many other things crept into my life in ways that shifted the balance away from health and fitness.
Three weeks into 2020, so far, so good. I'm treating my body right and working hard to keep on track with one overarching aspiration for the year; stay in the moment and avoid the urge to fight or resist what may be happening, in particular through the lens of travel experiences.  
A year ago I was in beautiful Grindelwald, in the middle of the Swiss Alps.  I arrived to a snow storm that dumped a marshmallow-y, glowing white cover over the mountain-side resort.  I booked a quaint hotel room (this is the place) with a charming veranda overlooking what felt like my own private audience with The Eiger (13,000ft on a clear day) and four similar jagged peaks.  In my own private Swiss Alps mind, this was it!  
In this recreation area one central transportation pass includes all modes of movement. Typically that means taking a tram, lift or narrow gauge train to the very top of a ski mountain and face down. The runs are snowy fairways, miles long, that can take an hour or two to navigate.
The Swiss understand winter tourism well, and many options beyond skiing are available, including toboggans, a contraption that simulates an eagle flying over the mountain and snow hiking. I wrapped my hiking shoes with gators and explored fantastic scenic paths around the runs and through trees and other beautiful vistas.
The premier tourist feature of this area is Top of Europe which is a massive platform perched on a vista (11,333ft) between Jungfrau (13,642ft) and Monch (13,475ft) offering sweeping views of these two peaks and many other Alps.  The marketing claim mentions being as high as one can physically go in Europe (without hiking themselves.)

There is a train that is part of the comprehensive system of ski lifts, trams and narrow gauge rail that chugs to the attraction.  At 125 Francs (roughly equal to the USD), it's relatively expensive, and my Swiss cousin Antionette mentioned to me, "It isn't worth it to pay the money unless it's a bright crisp clear day."  The first day was a blizzard that led into a spectacular second day of hiking nine miles in the snow up and down the mountains.  Truly breathtaking views in relative solitude.  And just when I had a hankering for something from the Swiss Miss commercial, low and behold a blond wood chalet (see photo below) seemed to appear with an assortment of options, some including schnapps, and outside bench seating where the crisp cool air rushed at me while gazing at views of timberline trees and snow covered peaks.  
Still on the fence about visiting the mountaintop wonder, I headed to the pool area of my hotel after a long day of hiking and ended up chatting with a Belgium man. He mentioned a way to game the system by purchasing a half-day lift ticket (after noon) for 50 Francs that would allow access to all the trams and trains, including the one to Top of Europe.
50 Francs seemed reasonable to give the trip a try and then hike back down the mountain; new terrain for me.  The next day the weather seemed clear enough to offer a chance of clarity at the peak attraction.  
At 12:01, I bought the reduced price afternoon ticket and gleefully boarded the narrow gauge train, which starts up the hill like a rocket with no fear, offering dramatic views of iconic chalets dispersed around the peaceful village. A change of trains at the alpine lodge area of Kleine Scheidegg is required. The connection was straight forward and soon enough I found myself on the final journey facing an even steeper mountain, completely surrounded by stunning beauty.
I was in a bucolic world, a snowy wonderland of breathtaking views and patches of optimistic blue sky as if the heavens were opening up for me.  All while traveling on a Swiss engineering marvel…. 
…Until the conductor informed me that my ticket was not valid for passage to the Top of Europe. Wham! Plan foiled. The woman was about as friendly as the metal wheels scraping along the tight curving rails as the train wound around the mountainside, clinging to cliffs dropping a thousand feet.

I worked a variety of approaches:

1. Play dumb (not her first rodeo.)
2. Question that no one mentioned this to me at the ticket office (she was unphased.)
3. Offer my solution to the problem – pay the difference in price between 50 and 125 (no dice.) It was full price or get off at the very last stop included with my transportation pass. Who was I to think that I could outsmart the Swiss with something to do with money?
You see, the pass does allow travel on everything EXCEPT the final last segment of the alpine train; the stretch that slowly sneaks up to the commanding attraction. Enquiring about the weather uphill proved futile and she looked away, expecting me to pony up the Francs and be done. This was the first time I looked around the train and noticed the car was filled with only tourists at this point.
I really wanted to see this attraction, and since there were already dramatic mountain views from the train, probably more for the bragging rights than anything else. A glance out the window up toward the peak revealed clouds closing in and my heart sunk. No guarantees.
The conductor was very surprised when I disembarked the train at the next (and final included) stop, where a few more advanced black diamond skiers joined me. The trail down was a bit more challenging, but beautiful and inspiring in a different way than the day before.
Not getting to view from the top stung.  I couldn't tell if it was more about bruised pride (I couldn't outsmart the Swiss) or depriving myself the chance to experience the attraction. 
There are three lessons here:  
1. Things are probably not too good to be true, especially when it comes to the Swiss and their pricing models. Lesson learned.
2. While most people you meet want to help out and offer good suggestions, it can be important to trust, but verify.
3. Sometimes the universe offers a karmic block to the best way, AS YOU SEE IT, while other options are available. After several hundred feet of downward hiking, it was hard for me to be bitter viewing mountains as far as I could gaze (see photo above.) The heavens were still there opened for me, just in a slightly different way. I was alone in my own peaceful alpine world without throngs of tourists around me, along with gates and windows. It wasn't the "highest" point in Europe but it was pretty high. That's not a sexy marketing slogan but my learning opportunity was clear. I tend to avoid playing the "what if" card, but let's just imagine my emotions if Top of Europe was socked in with clouds?
As I look forward to another amazing year ahead of travels and more importantly learning and connection with the world in meaningful ways, this story reminds me about the important priorities. Special thanks to Frau Ratchet for an early 2019 lesson, kicking off a year of vast personal growth, global connections and soul healing experiences.
To 2020 – may we all enjoy good health, happiness and the pursuit of purpose, whether that's in day to day life, or travels far and wide.  
Want to see more pictures of snow hiking the wintry Swiss Alps? There's more information on the area too. Check out the photo essay Winter hiking in Grindelwald, Switzerland: a photo gallery.
Where in the world is Grindelwald? Hover over the green dot to find the exact location. For reference, Zurich and Interlaken are shown in purple.

Grindelwald, Switzerland Narrow