Three nature packed days in Sitka, Alaska is a great idea, especially in the summer. We're on the water in a the bay outside Sitka, Alaska on a 24 foot aluminum fishing boat. The six of us include the guide and the motor is stopped as we gaze out into the icy blue waters, looking for signs of life.
I'm on the bow of the boat looking toward 11 o'clock just as a humpback whale propels its massive body entirely into the air to do a "free willy" type breach. He's probably a youth humpback whale, and only a hundred feet away.
But he's not the only show – we continue to view humpback whales surfacing as if all around us, bobbing up to blow raspy air through their holes and dunking back down again. As if they are synchronized swimmers, two on the 3 o'clock side of the boat surface to blow air and then quickly make a run for the bottom of the ocean, flapping their large tales as they go vertical, a maneuver I learned was called fluking.
After fluking these whales will be eating at the bottom of the sea for about 10 minutes, according to the guide. That's a long time to hold a breath.
A feeling of fascination sets in, and being on a small boat able to get so close is amazing, especially with no other tours on the sea around us.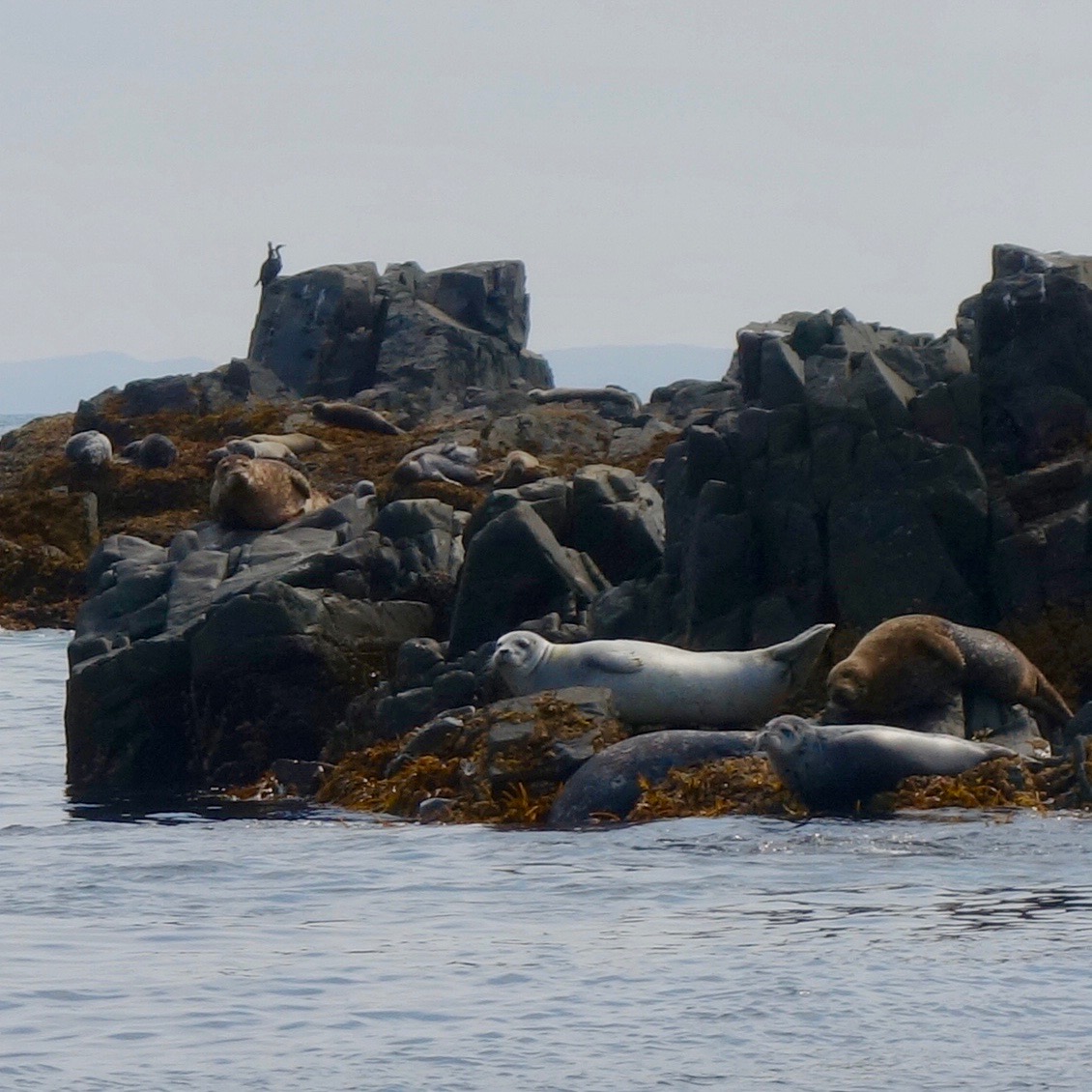 The rest of the three hours in the water allow us the chance to see puffins, sea otters, seals, sea lions and many other types of bird life, not to mention the beauty of Baronof Island from the water.
Prologue: I've been to Alaska many times and seen a variety of animals, but these three nature packed days in Sitka, Alaska felt very different.
I grew up on a farm in Northwest Oregon and spent most of my childhood around animals. Cattle, pigs, sheep, dogs, cats, chickens, deer, you name it. I especially loved pigs and eventually raised them on a small scale farm for about 10 years. The 10 year old version of me spent hours outside watching these super intelligent animals explore in their giant pen which encompassed parts of the nearby forest. When there were babies I enjoyed observing the new mothers and piglets, as they talked to one another. It was as if part of my soul was truly connected to these animals and the beauty of the farm environment.
As I got older I'm not sure what happened to shake off this spiritual connection to the animals but I bet it was to protect my heart and emotions from a constant loss. Intellectually I knew the purpose of my farm and my goals to earn money to pay for college, but in my heart it made me sad to see the animals I raised go away to slaughter.
So up til now, animal watching, like the whales in Sitka, would be interesting but at a distance from my emotions and spirit.
Part I: Arrival in Sitka and bear spray
Sitka is located in the SE handle part of the state of Alaska and is an easy 2-hour nonstop flight from Seattle. Sometimes the flights make quick stops in places like Ketchikan or Juneau, but it's relatively easy barring any weather issues.
We arrive to a bustling terminal and one of the Alaska Airlines agents, who knows my friend Elliott, calls us over to offer a can of bear spray for us to use when hiking. It seems there is a brown bear for every square mile on the island housing Sitka, and she wants us to be careful. She saw a bear on a hike just a few days before.
When considering three days in Sitka, Alaska, it's good to be prepared and keep aware of the animals around you at all times.
The scale of Sitka is one of my favorite things about this fishing hub and cruise port-of-call. The town area is compact and so close to the airport that it is an easy walk into town. I can't say that I've walked from an airport to my hotel that was in the city in many other places.
The geography of the town, nestled in a bay with hundreds of islands makes for an excellent welcome committee and we wander through the minimal group of tourist shops past the onion domed Russian Orthodox Church, which is a replica of the one built in the early 1800's when Alaska became a part of Russia. You see, Sitka was the Russian capitol of Alaska until the 1867 handover to the United States. The US purchased Alaska from Russia for $7.2M.
For three days in Sitka, Alaska, the best lodging seems to be in the city limits. During cruise season there are many tourists milling about the town, but still way less than my experiences in both Juneau and Ketchikan.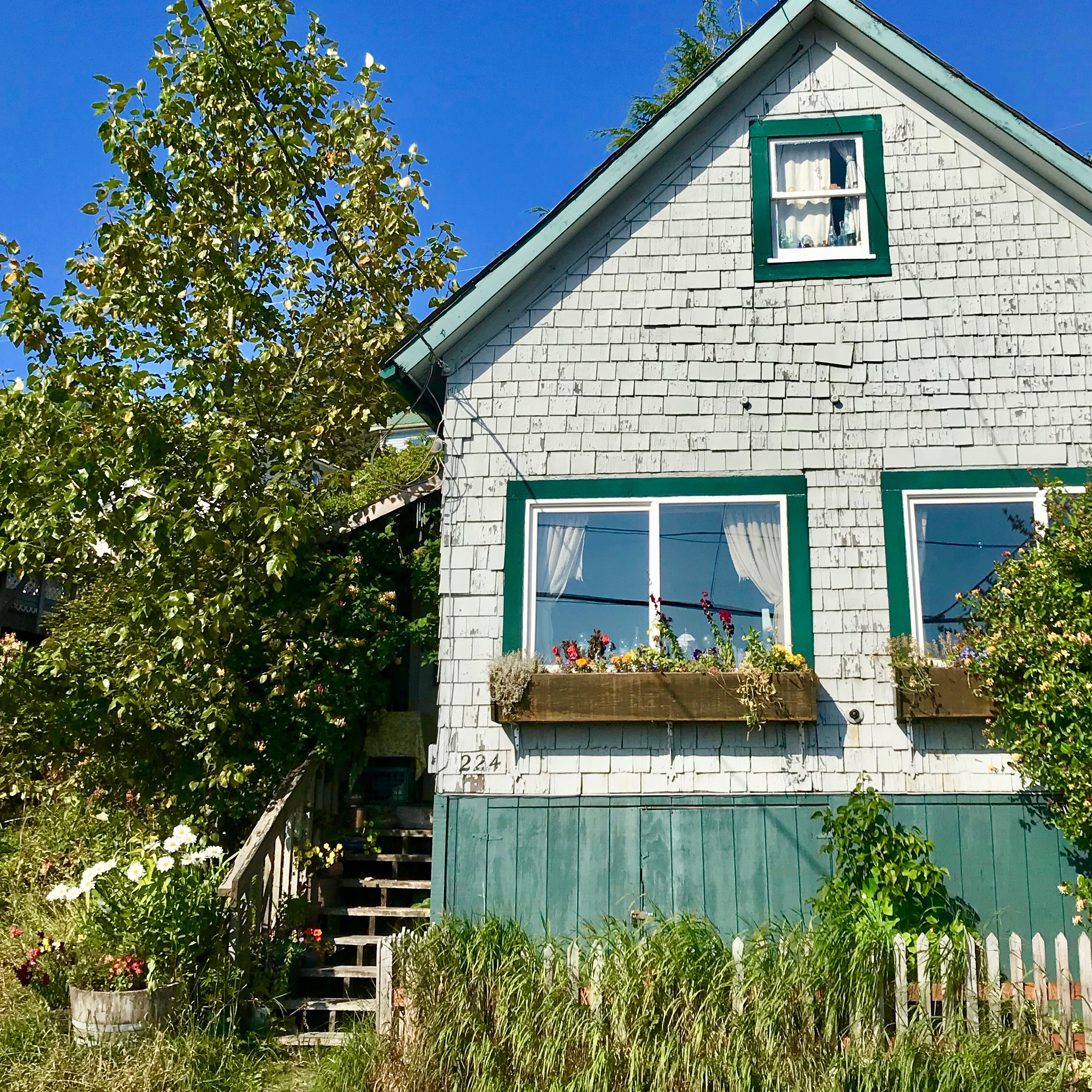 Besides the nature packed views all around us, three days in Sitka, Alaska offers a number of quaint places to stop and whet the whistle and we end up crashing a happy hour party on the back of a tugboat-turned Airbnb.
There are boats everywhere and the smell of salt water mixed with fish wafts through the pristine air. You know for sure you're in a place that depends a lot on the fishing industry.
Part II: Three days offers plenty of time to enjoy all the nature packed options that abound in Sitka, Alaska; explore in any direction.
During the day we wander south along the low tide flats of the bay, ending up at the Sitka National Historical Park, which houses an interesting totem pole walking trail amongst a thick forest of fir trees.
Ravens that must weigh 20 pounds each make their caws to us as we enter the thick woods. Although there are aggressive crows in Seattle, these buddies are massive and powerful animals. Quite talkative too.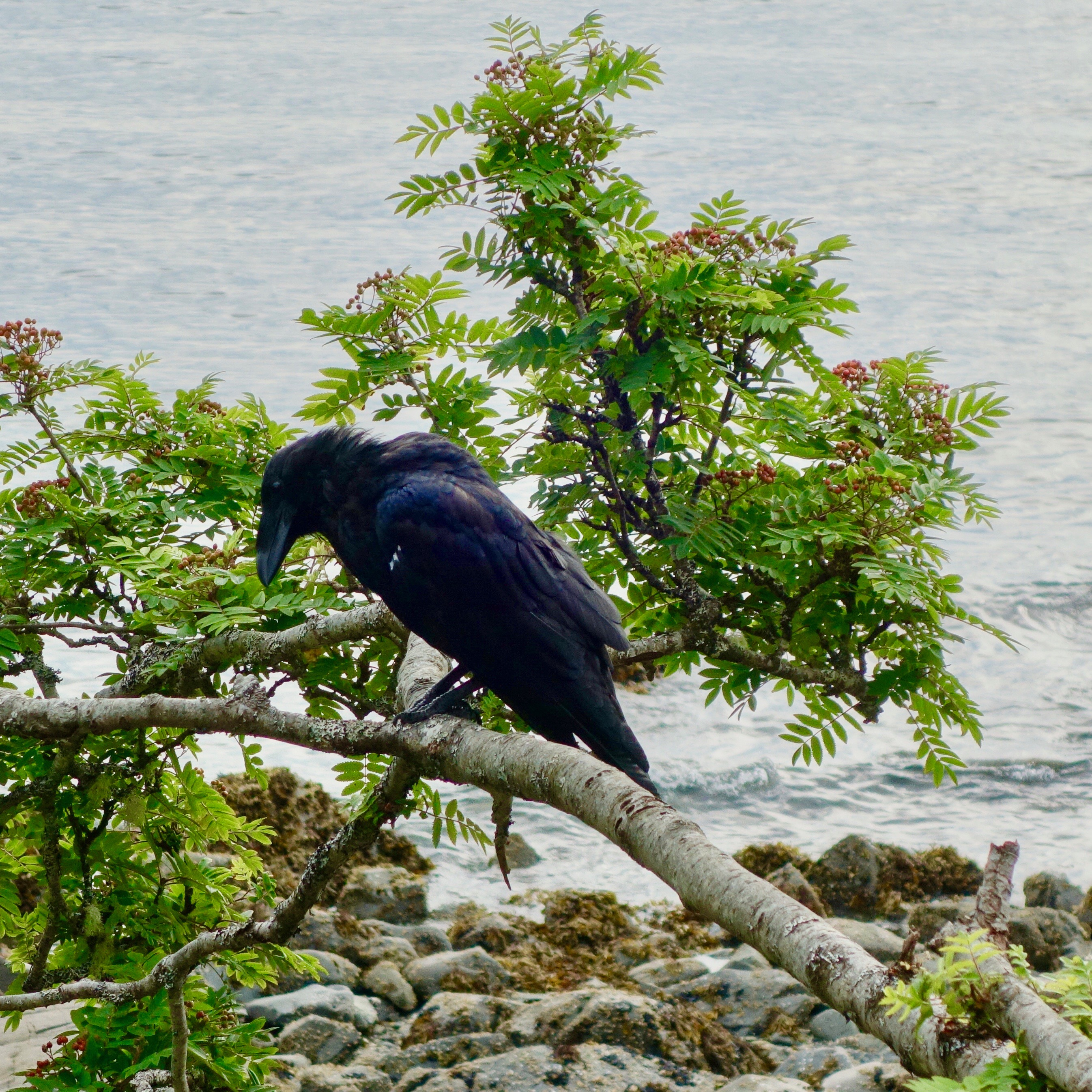 The totem park shows off the master craft of different tribes in SE Alaska, with each telling a distinct story. Animals in the woods, visiting settlers and spirits of ancestors are a few of the topics and the ornate carvings and color display to the world the deep history and culture of native peoples.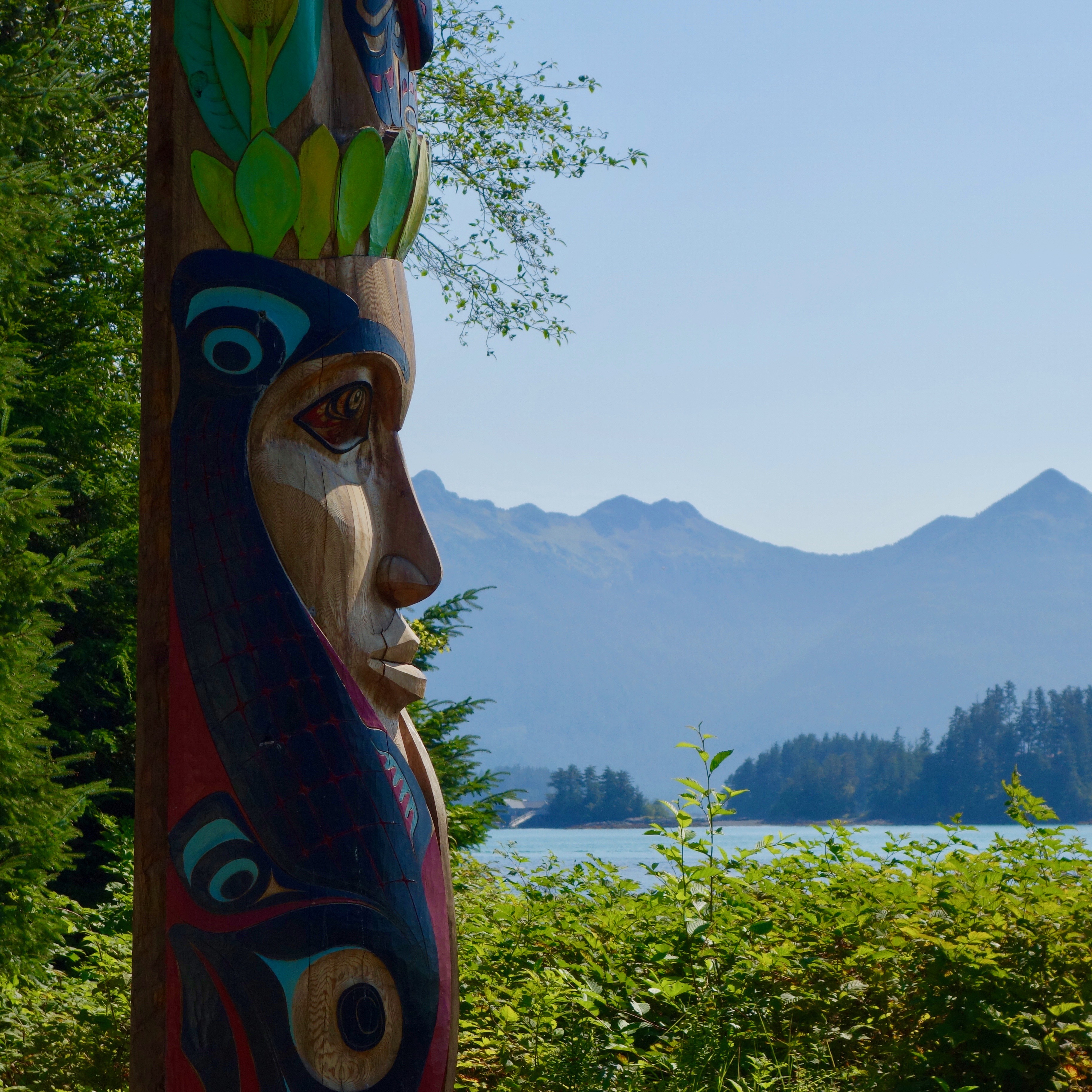 The forest is beautiful and alive with green in all directions and also evidence of death and rebirth through nursing logs that have fallen and now serve to prop up future generations of tree and plant life.
Even though we're still earshot away from the closest harbor, this is a beautiful example of the nature world working together through cycles of birth, growth, death and rebirth.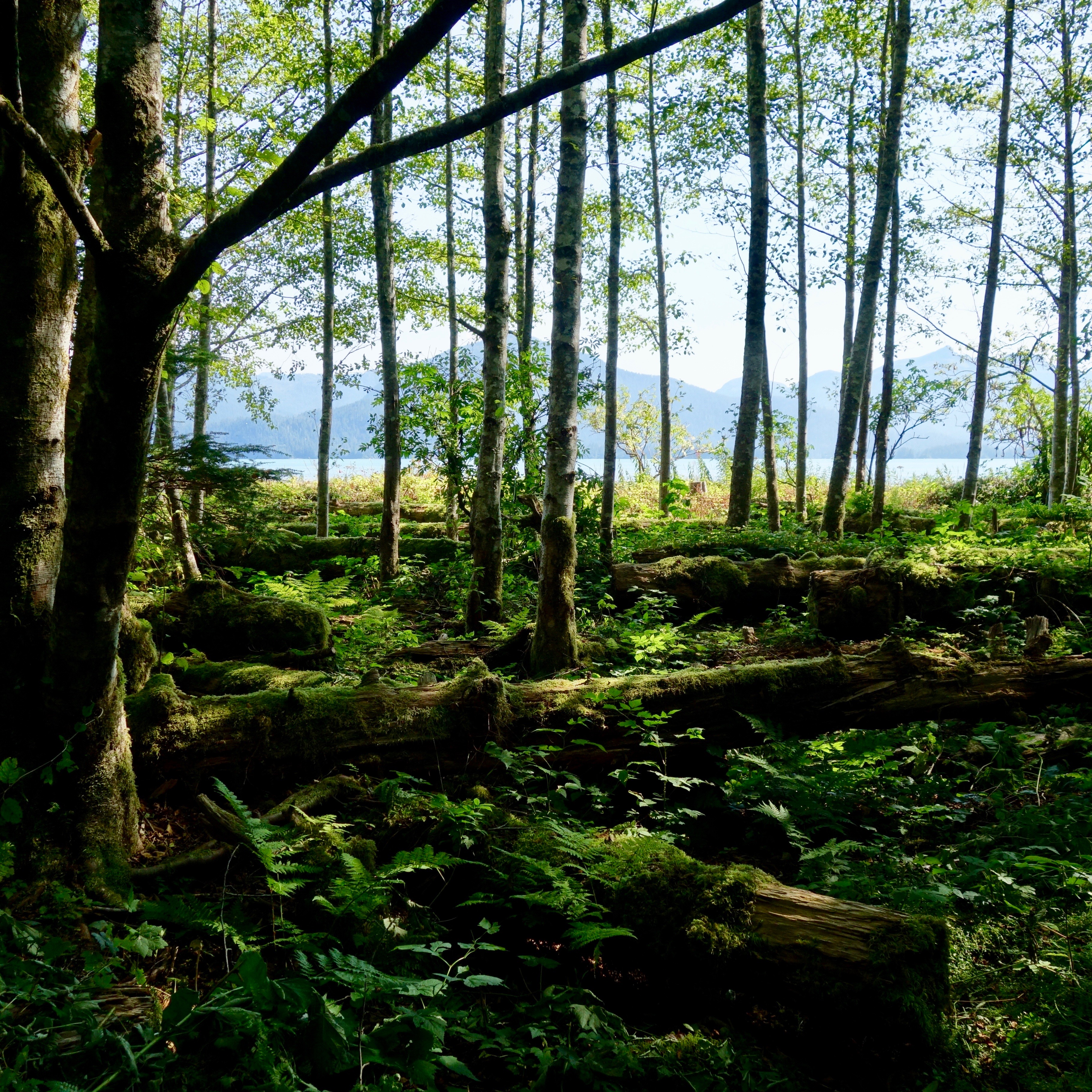 Part III: The salmon run
The next surprise and delight in our three days adventure in Sitka, Alaska is a clearing in the trees and rocky steps down to what we learn is Indian River, where the pink salmon are beginning their long journey up the river to their spawning places. Along the shore a juvenile bald ealgle munches on a salmon as the nearby raven looks on with envy. There are seagulls and other birds around as well, hoping to get a piece of the action.
When looking closer into the river, we see thousands of salmon gently swimming to hold their place in the water. They wait for the tides to rise to use all their strength to jump up the rocks to the next area of water until they reach their spawning grounds miles up the river. In the meantime, they are prey to all kinds of predators including humans, eagles and bears.
What really speaks to me is the feeling of calm from the salmon. Acting on instinct, they will all be dead within a few weeks after working so hard to bring forth the next generation of fish. They even seem okay providing themselves as food for the animals around them.
Filing in line for their turn up the river. Waiting, energizing, gently swimming. Watching the flow is similar to viewing koy fish in a pond but ten times more magical; these fish are in the wild and on a journey that's been repeated for thousands of years.
There is no mistaking what they must do – their missions are set. There is something very peaceful about this.
Over the course of the weekend we went back to watch the salmon a number of times. I never tired of this viewing experience which was the mix of quietude and action in perfect symphony.
Part IV: Well nourished
An example of this circle of life, of course, is that Sitka has a number of really excellent restaurants; places serving the freshest and tastiest seafood, including salmon. It's expensive to eat by nature of Alaska, but worth the money in this costal enclave. Some favorites below:
Beak Restaurant. We think this actually is Be Alaska. This organic eatery served up outstanding oysters and a halibut burger that was next level. So great that we returned for Sunday brunch. Can't miss it, right under the big bridge in the old telegraph house.
The Fish Eye. Organic eatery in a little strip mall that feeds you things like Acai bowls and breakfast crepes. Delicious coffee and other pastries as well. We also enjoyed this place twice during the visit.
Highliner Coffee. Definitely a local place usually with a line six people deep. The coffee quality can easily compete with the best in Seattle. Also looked like the grab and go breakfast items, like burritos, were popular and tasty.
Mean Queen. Three locations in the area. One has great pizza and salads to accompany while the second has more traditional burgers and such. We didn't eat at the third. This joint is also considered gay friendly.
Sitka Hotel. Hotel with a saloon and bar that serves good food.
Pioneer Bar. A crusty bar oozing with history. The clientele seems to change by the time of day but worth a stumble in for a drink.
Baronof Island Brewery. On the other side of the totem park off the road behind the gas station. They serve up great local brews and the people are friendly.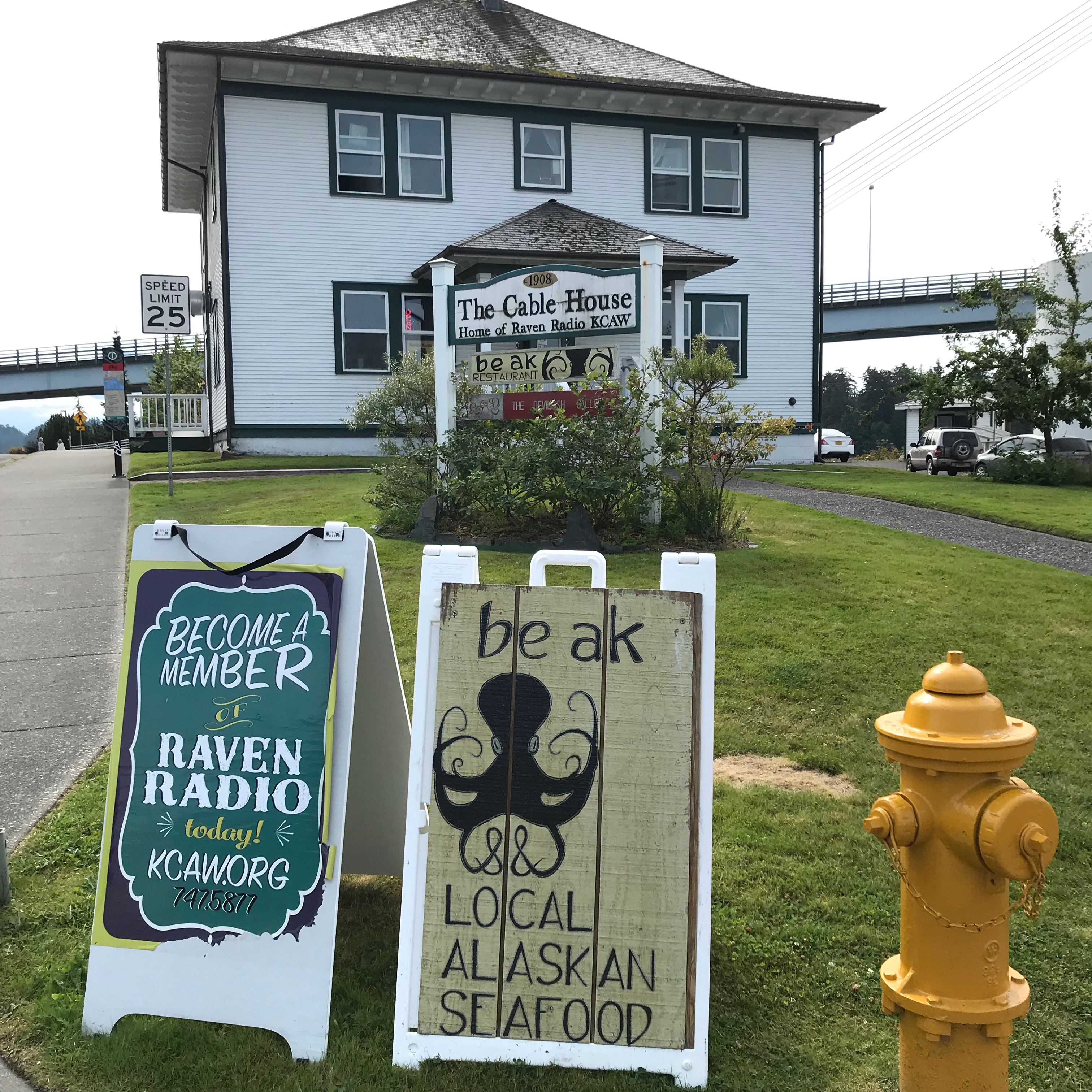 Part V: For the love of bears
Fortress of the Bear is the final piece to my rekindled love for animals. From the name I didn't really know what to expect.
The location is past about 5 miles of nature outside Sitka, Alaska along a road that hugs the side of a hill of trees and looks out upon a beautiful arm of the bay with a gorgeous aquamarine tint of water.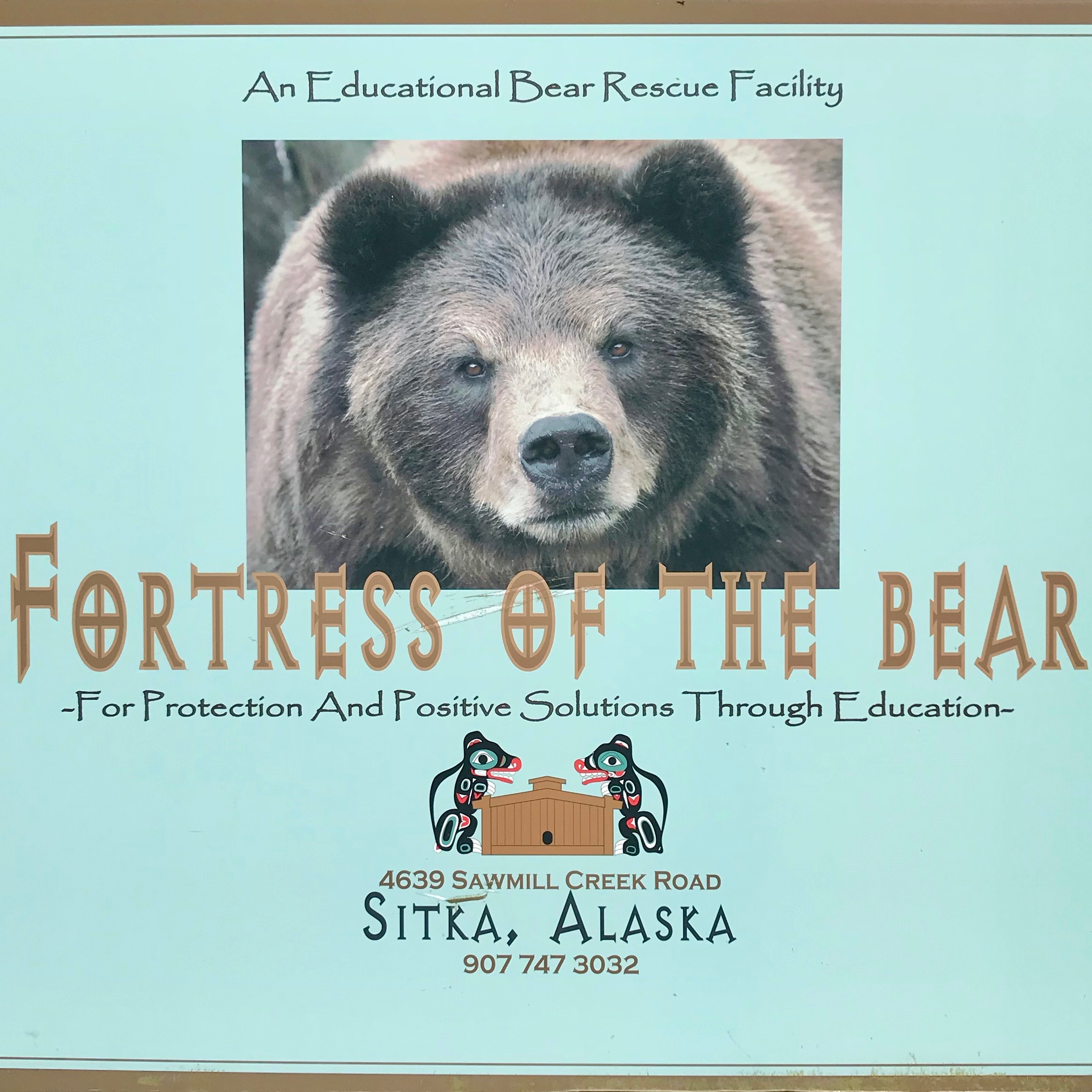 Cabs in Sitka feel sparse, but mostly because they're all engaged during the cruise season. The good news is that cabs don't have much roadway to cover, but prepared to wait at least 20 minutes. The cab to Fortress of the Bear is $20 each way, and the office can call a return cab for you since there isn't really cell service out there.
Ok, back to the bears. Fortress of the Bears was established as a refugee for orphaned bear cubs that would otherwise be shot to avoid starvation or being nuisances in various Alaskan communities. They are housed in former pulp mill mixing basins that are round, have 20 foot high walls and offer enough space for the bears to roam freely. It's $15 to enter for adults. Well worth it to me.
The lively bears are trained to follow a number of commands from the rangers in the visitor center. While there is no doubt they are captive, a real stream flows through this environment. Wild salmon are stocked in the stream in season and the bears fish naturally.
I've seen bears in many zoos in my life, but this felt very different. Or maybe I'm different now?
Either way, there was a wonderful connection with these animals, who seemed to show humor, curiosity and other emotions. Toby, the alpha bear, lifted her nose to smell something in the air that was probably the perfume of a visitor.
We were there for easily an hour, which surprised me when I finally looked at the time.
What sticks with me now as I explain my experience is Toby's final trick for the trainer. The command instructed her to make the motion for "more," which looks something like putting the paws together as if praying. When she made the motion while looking upward towards me it was as if I could feel her curiosity and emotion.
A long time dormant jolt of love for these animals came rushing back into me.
I appreciate the way Fortress of the Bear attraction offers visitors such an intimate up-close experience.
My friend Dante still had the bear spray for our planned hike, which reminded me that while these bears know tricks and are lovable, they are animals with protective instincts and vast power and their cousins in the woods are not so refined.
Part VI: Three days is more than enough time to enjoy nature packed hiking and beyond, in Sitka, Alaska.
Speaking of which, there are many great hikes in the region and I suggest using All Trails to look up the options. The locals recommend bear spray. Also, a great defense against a bear is scaring it away in the first place by talking loudly, wearing bells, or playing loud music when hiking to avoid a meeting. Or maybe all three?
We visited Sitka, Alaska for three days, between Friday and Monday, which seemed perfect to fit in many different experiences. The weather is similar to Seattle, so we wore light layers. And for the boat trip a light jacket is a must because it is much colder and windier on the open water.
I've traveled to Alaska many times, but this visit was very special in the time it allowed me to mix quiet with activity, much like the salmon waiting in the river to jump up to a higher level and continue their journey.
I'm working hard to move my world back to the wonder of the 10 year old version of me, the boy who loved to quietly hang with the animals and learn from them. Sitka was the perfect location to help me along the way.
Three nature packed days in Sitka, Alaska offered the perfect getaway. I love long weekends and have a number of suggestions available on my page IDEAS ON WHERE TO GO. Check it out.