Are there rooftop bars in Seattle? Perhaps because we are so well watered here in the Pacific Northwest, commercial real estate doesn't focus on outside seating areas, especially in the restaurant and bar scene. Still, when the sun pops out from three months worth of storm clouds, it can be nice to celebrate by sipping a favorite beverage outside, enjoying the faint Seattle rays and soaking up as much as possible as if recharging until the next graceful sighting of the big ball of fire.
These establishments are favorites that include places that feature deck-like areas with a birds eye view as well as the actual rooftop versions, which are somewhat limited. Bars with views are the emphasis although they all serve food as well.
My favorite rooftop bar in Seattle. The complete package of friendly staff, tasty food and any kind of craft cocktail, beer or wine you might desire. Quilted sleeping bag like throws are available as well as a few cozy fire pits, making a winter visit fun and, wintry. The towering structure is part of the mega building boom expansion of South Lake Union, but the views are mostly unobstructed from all angles and Lake Union is on beautiful display.
400 Fairview Ave N 14th floor, Seattle, WA 98109. Middle-east/Mediterranean menu. 4-10pm. Year-round operation.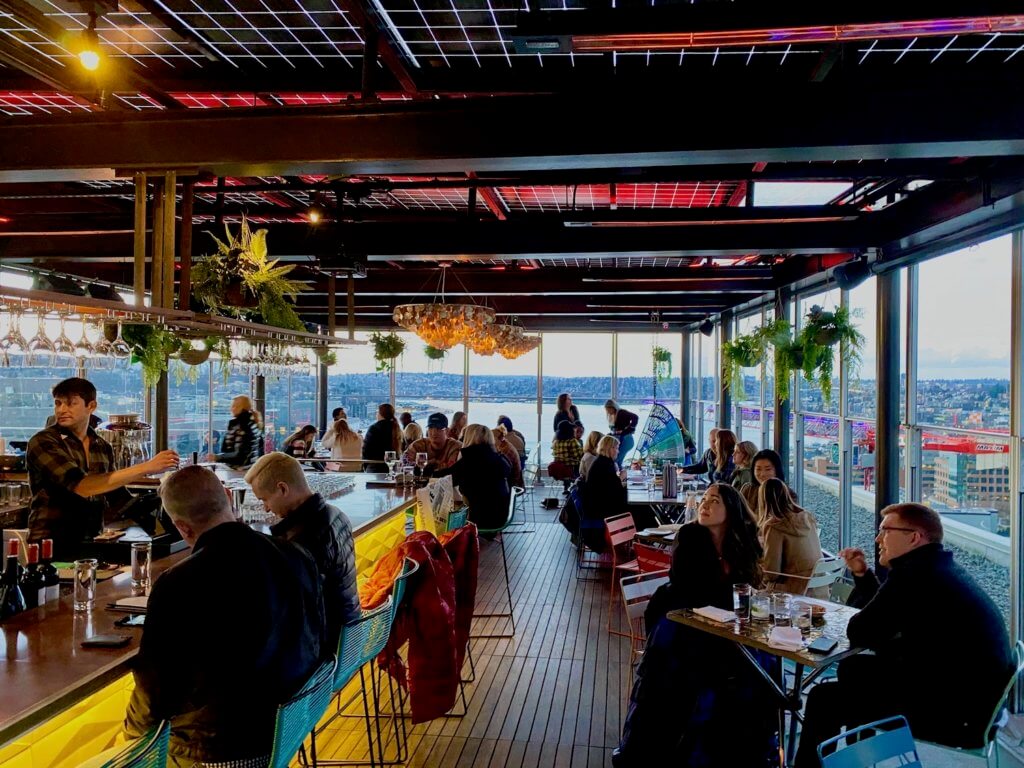 The Nest is another great perch in a city with many tall buildings but few public spaces in the clouds. The location at the top of the Thompson Hotel Seattle is conveniently close to Pike Place Market and all the hustle and bustle of the inner core. Views of the Puget Sound are framed by the majestic Olympic Mountains, so on a clear day it doesn't get much better than this.
Be warned, introverts will probably find this place outright crazy during happy hour on a nice day. Service can slow down with the crowd, but they're friendly so be patient. Drinks are top notch and food bites tasty but not substantial enough for a meal.
110 Stewart St, Seattle, WA 98101. Small bites. 5pm-12am. Year-round operation.
So let's start out by mentioning this bar is located in one of the pay per view towers in town. Attraction charge aside, there is something special about the Smith Tower that keeps me coming back. It could be the narrow railed outside deck that seems to precariously hang on the side of the 100 year old building or perhaps the craft cocktails shaken into form under the protection of a historic intricately carved and painted Chinese style wood ceiling. This spot is touristy mixed with the fascinating and true gritty history of Seattle served in an elegant coupe glass of observation restaurant and bar.
While the Smith Tower is definitely not the highest thing in Seattle, not by a lot, the location is such that nothing seems to impair the view. The Space Needle is even perfectly framed when looking north up 5th Avenue. A great place to take in a few cocktails as the sun sets. The vintage bar adds charm but not a lot of seating, so the observation deck is subject to space availability. Sunsets are popular, so get there and hold court early.
506 2nd Ave, Seattle, WA 98104. Small bites and fantastic cocktails. Check site for hours as they change between winter and summer. Year-round operation.
This is a recent development in the Univeristy of Washington area of Seattle. The Graduate Hotel Seattle opened in 2019 to provide a sophisticated option for the university community. The hip decor offers a fun nod to the early days of climbing the local peaks while gazing out at the skyline from this 16th floor post in the northern reaches of the city. Food is very simple and not particular substantial but the drinks and atmosphere are fun.
4507 Brooklyn Ave NE, Seattle, WA 98105. Bar snacks. Craft cocktails. 3pm-12am.
As a Capitol Hill local, I frequent this neighborhood bar often in the summer for the great view from the back terrace. Technically, the terrace clings to the top of a cliff, but the rooftop atmosphere combined with a great low-key view of the city makes for a fun-in-the-sun happy hour. Guests will also appreciate the friendly and understated atmosphere that lacks tourists and the prices that come with some of the other high profile joints. Bar food is basic but good and drinks what you'd expect from a good neighborhood haunt.
757 Bellevue Ave E, Seattle, WA 98102. Bar fare. 4pm-2am.
Once you make your way through the normal hallways of guitars signed by Ozzie Ozbourne and one of Stevie Nick's tasseled robes and up the stairs, downtown Seattle opens up again and all is well in the world. The rooftop terrace bar is only a few stories up, but the vantage point still opens up to great views of Pike Place Market, the Puget Sound and Olympic Mountains on a clear day. Everything else is what you'd expect in a Hard Rock, including regular music events featuring local and national artists.
116 Pike St, Seattle, WA 98101. Burgers and bar food. 11am-10pm. Deck bar seasonal.
This is another low key, local Capitol Hill establishment with a deck system budding with personality. Views of the busy city and the rushing below on Olive Way offer a kinetic, in-the-middle-of-it-all feeling. Busy days are a bit like being at a house party, mostly because there just aren't very many bars in Seattle with casual outside deck areas. Food is tasty and comes from a third party, food-truck like kitchen and there are plenty of varieties on tap. When the sun shines this place is chaotic, fun, inexpensive and local.
129 Belmont Ave E, Seattle, WA 98102. Bar food and drink. 4pm-2am.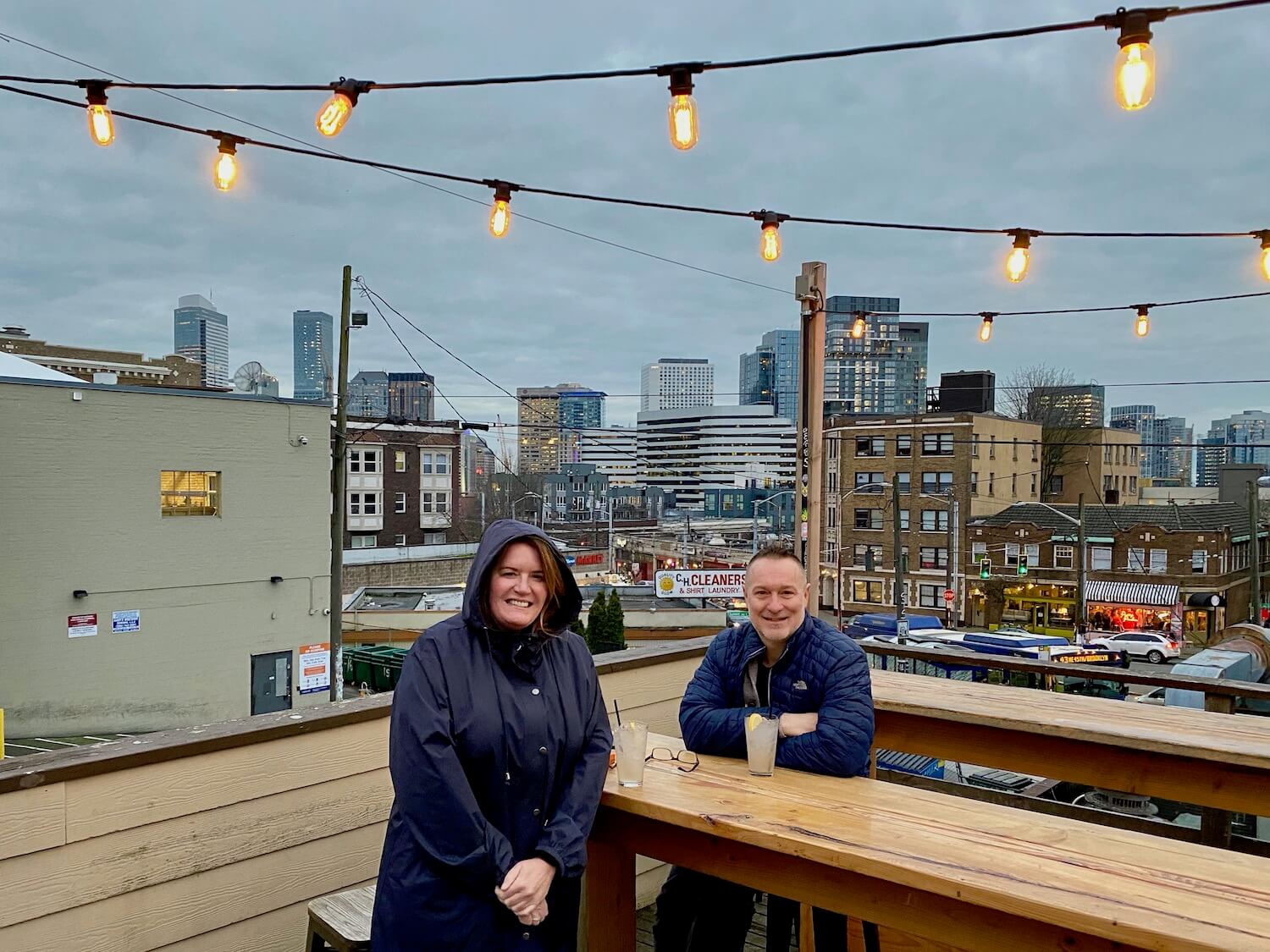 This Pike Place Market hideaway is only steps from the flying fish but you'd never know it. Push past the crowds eagerly awaiting a soaring salmon and focus on the red neon sign guiding the way to a corner post of the market that looks out to views of the newly re-forming Seattle waterfront, the Puget Sound and Olympic Mountains. Winter is cozy inside gazing out at the Seattle Big Wheel and ferries shuffling people to and from the Olympic Peninsula. Summer is airy with a charming deck open to all the elements, and some flavorful mussels and French wines. The French food is great and ambiance perfect for a sunny afternoon downtown.
81A Pike St, Seattle, WA 98101. French food and full bar. Open for lunch & dinner daily but check hours.
Little Water Cantina
Eastlake is an understated neighborhood of Seattle tucked in between the east bank of Lake Union and the roaring Interstate 5 humming toward Capitol Hill. There are numerous restaurants sprinkled about, including this great waterfront joint serving up tasty Mexican flair with a beautiful view. A local place, Little Water Cantina offers a charming perspective of the active water economy with views of Gasworks Park and boats galore. Dip chips into spicy salsa as Kenmore Air float planes take off and get a chuckle at college students drifting by in floating hot tubs as the salted rim of a margarita hits your lips.
2865 Eastlake Ave E, Seattle, WA 98102. Local and sustainable Mexican. 11:30am-10pm.
Water views with a different perspective are offered in the haven of West Seattle. Graze while watching the city from a vantage point far enough away to take it all in but close enough to be a quick 20 minutes driving. Salty's is particularly memorable not only for the wall the ceiling windows and sun deck in summer months, but also for the tasty variety of seafood that is always well prepared and makes any occasion special.
1936 Harbor Ave SW, Seattle, WA 98126. Without a car you might try the King County Water Taxi, which gets you within 1000 feet of this iconic restaurant and lounge. The last water taxi back to Downtown Seattle leaves around 7pm.
Bonus round: Westward offers great water side views and is currently closed for remodel but slated to reemerge even better by Summer 2020.
While we're on the topic of views from the water, I'm drawn to images of aidarondeck chairs circled around a fire pit stacked upon oyster shells set on the northern bank of busy Lake Union. This restaurant and bar serves up tasty local fare with a focus on seafood items and delicious craft cocktails. Enjoy brunch while the maritime world of Seattle goes about without a care. The view is sweeping and relaxed atmosphere leaves not a care in the world, except to refill your glass of rosé and snuggle tighter into the wool camp blanket offered to guests.
2501 N Northlake Way, Seattle, WA 98103. Seafood theme and delicious bar concoctions.
Seattle is a beautiful city offering inspiring views from all angles, and these particular rooftop restaurant and bar locations provide a great start to exploring Emerald City food and drink from a dramatic perch.