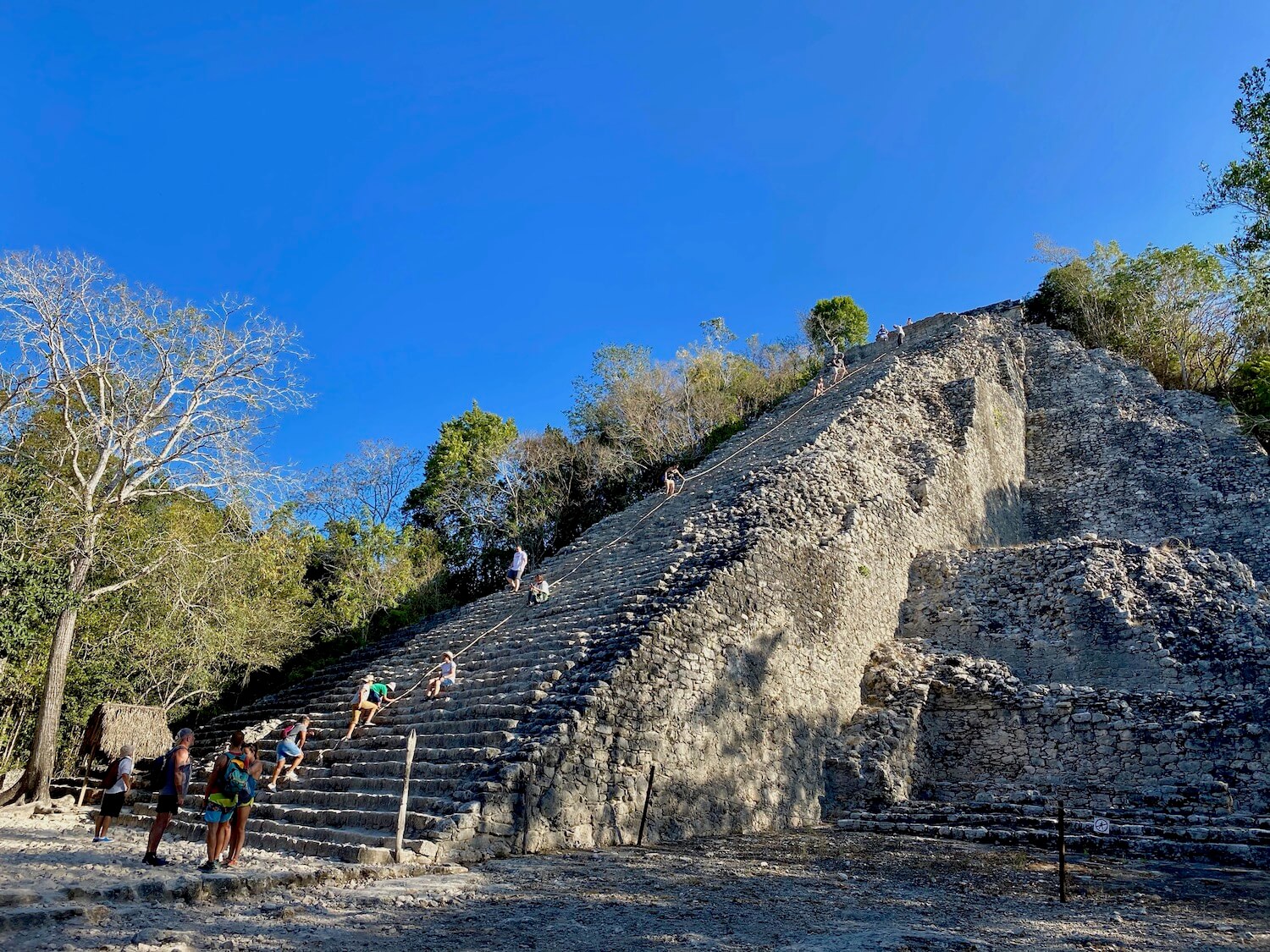 Travel tips to explore the ancient Mayan ruins of Coba
The ancient Mayan ruins of Coba spread over a vast area on the Yucatan Peninsula, where the major civilization lived for well over a thousand years until the arrival of Spanish explorers in the late 1490's. The bustling community of up to 50,000 competed with Chichen-Itza for regional dominance until a decline that virtually left a ghost town, used only for ceremonial needs by the time Europeans reached the scene. Today, the archeological gem welcomes visitors every day between 8am – 5pm. I write about my experience in the post, What it's like to explore the ancient Mayan ruins of Coba, so check it out to get a more personal read on connecting with 1000 year old Mayan whispers.
Which Mayan ruins are best to visit?
The Mayans really brought it in terms of their elaborate cities and abundance of temples and pyramids, including several outstanding historic sites like Chichen-Itza and Tulum. All are relatively convenient to reach from the Mayan Riviera (Cancun & Playa del Carmen.) Check out the map below representing Yucatan Peninsula in Eastern Mexico. The red dot is Coba. Chichen-Itza serves up a cool scale of reconstructed grandeur that doesn't require much imagination while more compact Tulum hangs out right on the beach in an amazingly beautiful scene. Tourism is locked in on both, so outside the early/late parts of opening hours the crowds can be intense.
But Coba is different. Missionaries documented accounts of the series of communities focused around Lake Macanxoc in the 1800's, but the once powerful hub remained mostly a mystery until the 1970's due to deep jungle forestation and military activity in the area. Only a small portion of the vast complex is exposed and the mostly unrestored archeological site serves up the best example of ruins integrating into the massive abundance of unabridged nature. The real Indiana Jones theme park! Bonus points go to Coba for the tallest pyramid in the region, Nohoc-Mul, where climbing the 100 or so limestone steps is allowed in order to reach the temple on top and gasp in awe at the other-worldly view.
Helpful information to visit Coba is not plentiful
Once sights are locked on Coba as the destination, gathering information can prove frustrating as web searches default to package deals, tours, and a plethora of Trip Advisor paid and non paid placements. In the case where the scenario requires independent travel, seeking more knowledge about this exciting destination is exasperating — no official site, sketchy online maps and too-general blogs.
Note: Tours can provide an affordable and logistically simple way to get around and experience things that could be prohibitively expensive, or otherwise restricted. For example, I took a great day trip from Kiev in Ukraine to Chernobyl that proved informative and vastly emotional in an important way to help honor those involved in the global debacle.
The end of this post displays a list of the different options for ways to travel to Coba. In addition, Rome2Rio is a helpful site offering excellent, comprehensive information on all the options.
Coba is easy enough to explore without a map or other information, and the dense jungle plants and animals feel welcoming. Still, some travel tips are important to avoid focus on distractions and allow for a maximized experience — exploring the dense jungle trails leading to a parallel universe of mystical connection with temples, pyramids, nature and Mayan whispers from the past.
Explore Coba travel tips:
1. Get to Cobá early or late.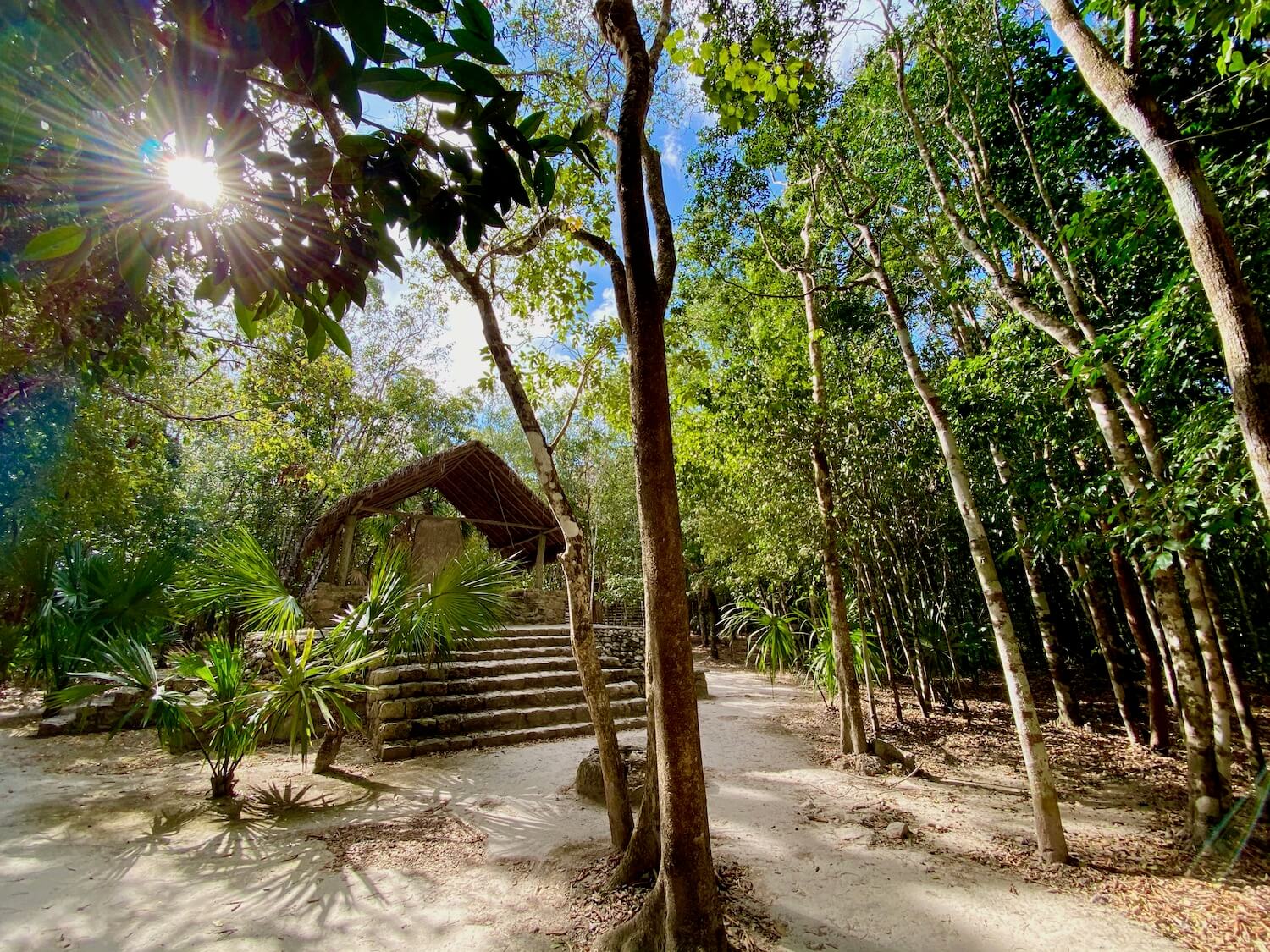 My friends Joni and Patrick turned me on to the notion to visit Coba and their experience took place late in the day, around 4:30pm (official close time is 5pm with admission usually around 4pm.) Their family of four made it to the main Mayan pyramid just in time to climb to the top, helping their 6 and 8 year olds along, with fewer other tourists. Although it wasn't yet sunset hour, the view was awe-inspiring and the kids will always remember the experience.
On the opposite end, I arrived at 8:30am and experienced a similar ease of navigation to quickly rent a bike, get to the pyramid, and climb up and down with plenty of space. Three hours later, when returning my bike, the crowds were growing and the beating sun beginning to sizzle the landscape. Everything appeared to require more time waiting, which seemed unpleasant in the heat.
Maybe the most important reason the middle of the day is not ideal is harsh, bright tropical lighting direct from above. Noon time sun creates a challenging world to both take pictures and enjoy the archeology in a flattering manner. The glows of morning or fading sun afternoons shed a gorgeous buttery jungle glow on the world.
Note: Pre-packaged tours sold by Trip Advisor and Viator offer way less flexibility on timing, but it can be possible to find the right itinerary to maximize the best possible time of day to visit Coba.
2. Buy a quality map of Cobá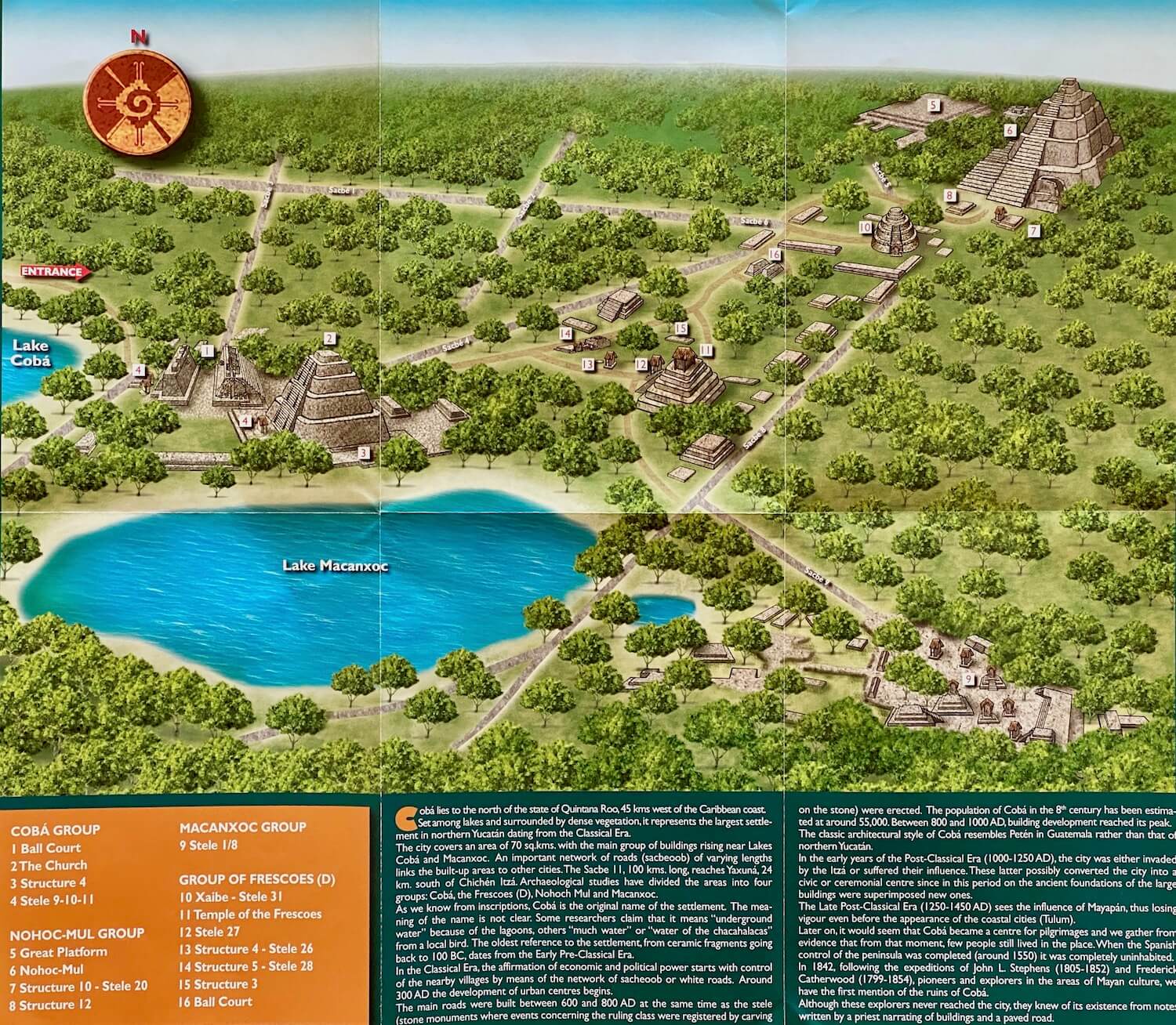 I love maps, especially to get a proper overview of the explore zone. My arrival was rather frenetic, so I went into the park before purchasing the best option in the gift shop just outside the perimeter to the archeological site. The large sign just upon entry maps the area in English and Spanish, but most of the other sections are not well marked and it's possible to struggle to get bearings deeper into the exploration.
A quick internet search doesn't seem to provide helpful information because many of the maps found online are not to scale or accurate in their naming of the various locations. It's not essential to have a map, but definitely helpful to navigate the large distances between the main groups — especially if on foot.
The gift shop near the entrance of the site sells a variety of history books and maps in English, and be sure the information is official and displays the ruins in a scaled format verses cartoon pictures.
3. Hire a guide to learn more about Coba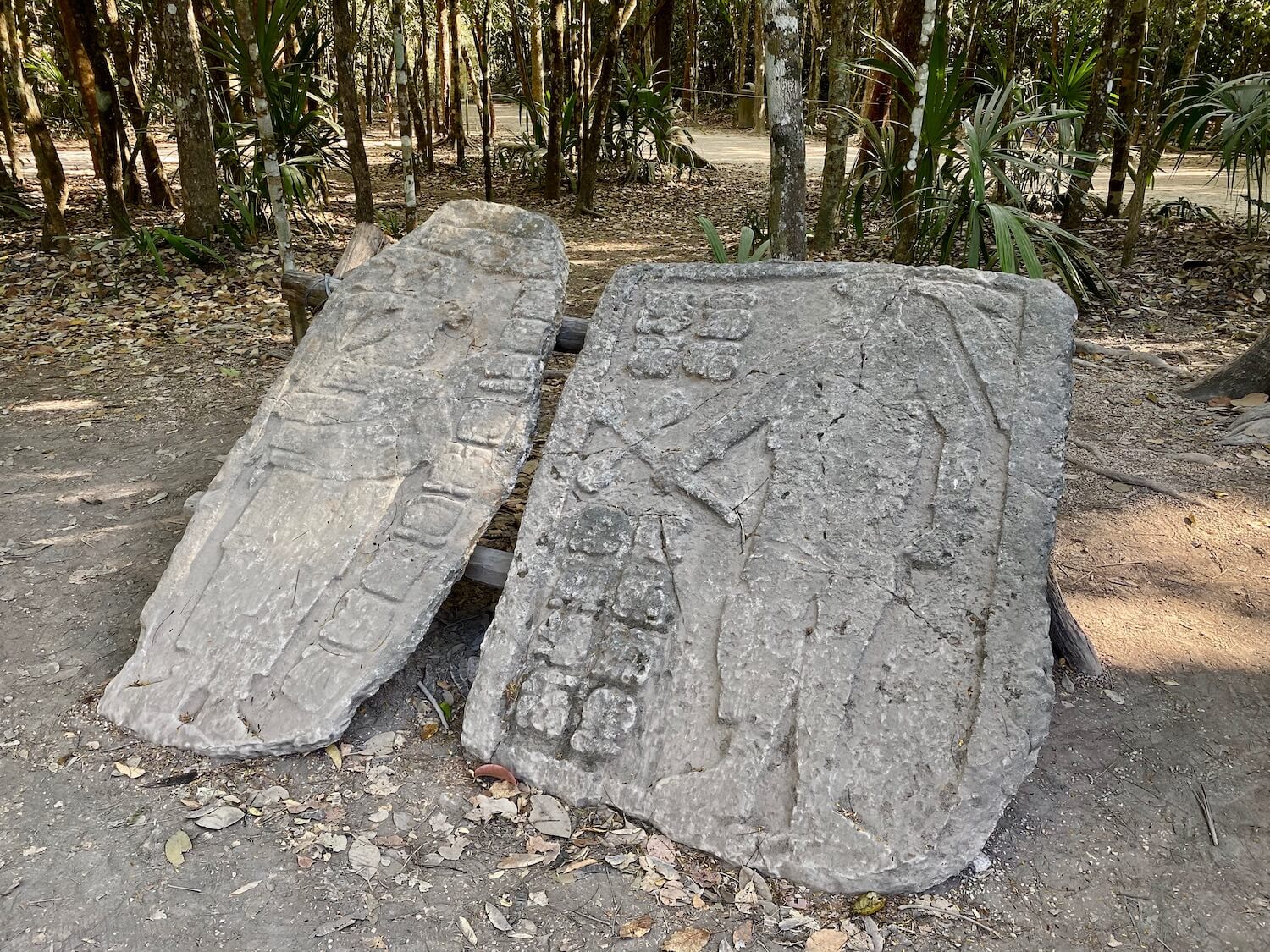 A guide would probably be a good idea, and many seem really passionate about the subject material. Pre-packaged tours of course come with this service, which can be great to enliven the ancient ruins so they don't just appear to be piles of rocks. Most of the site is not reconstructed, so the recipe is one part imagination and one part guidance. In particular the Stele are very interesting, but unless glyph reading is strong, there's no hope of truly taking in the fascinating history without proper narration.
Look for those with official lanyards around the neck. The system is straight forward, with many guides milling around outside the site and also near the bike rental area. I was confused as to whether or not I could rent a bike and also get a guide and soon enough I was peddling away on my own. Later, I noticed bicycle pairings of visitors with their experts. This would be an ideal scenario because the time requirement gets condensed.
There are pre-packaged spiels sold, but it's widely known negotiation is key in Mexico. Check for specific offerings of any amount of time or limit to the number of sites to tour with a guide.
4. Rent Bikes at Coba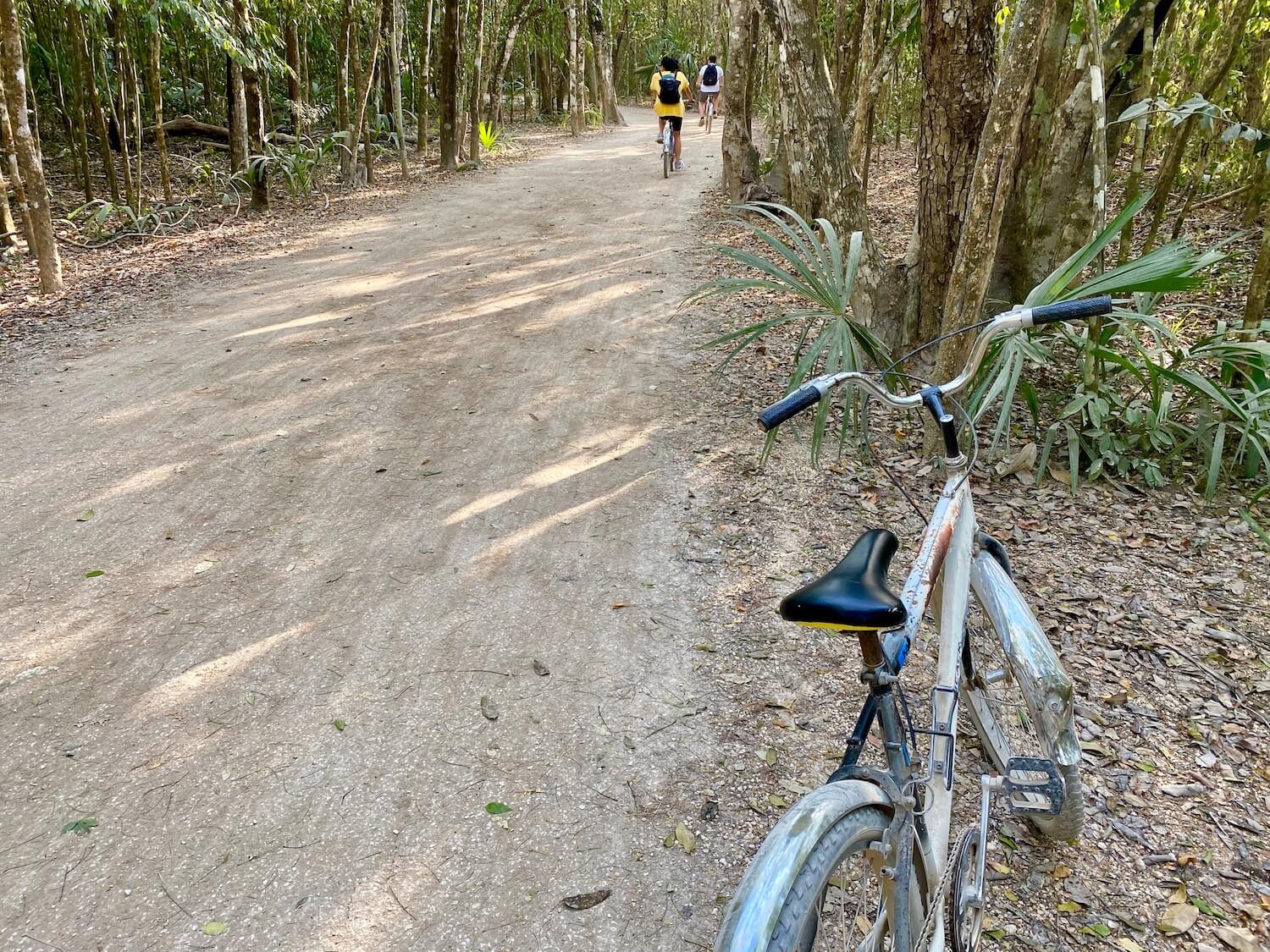 With all day to hike around, then by all means make a walk of it. However, the distances are just enough that a bike is super handy to traverse the expanse of the park. Plus, there is something really romantic about gliding through a tropical forest over white stone that was used by Mayans for everyday life over a thousand years ago. The rental is $4.50 USD, so won't break the bank. Definitely a highlight of the Coba experience.
There are also tricycle-like carts peddled by taxi drivers that seem to hold two people, facing backwards. This is another option though a longer wait is possible during busy times. The price is similar to renting a bike. Unless mobility is an issue, taking the taxi to Nohoc-Mul and walking back could be a lovely experience because there are many things to stop and see on the return trip.
5. Wear practical clothing for Indiana Jones type exploration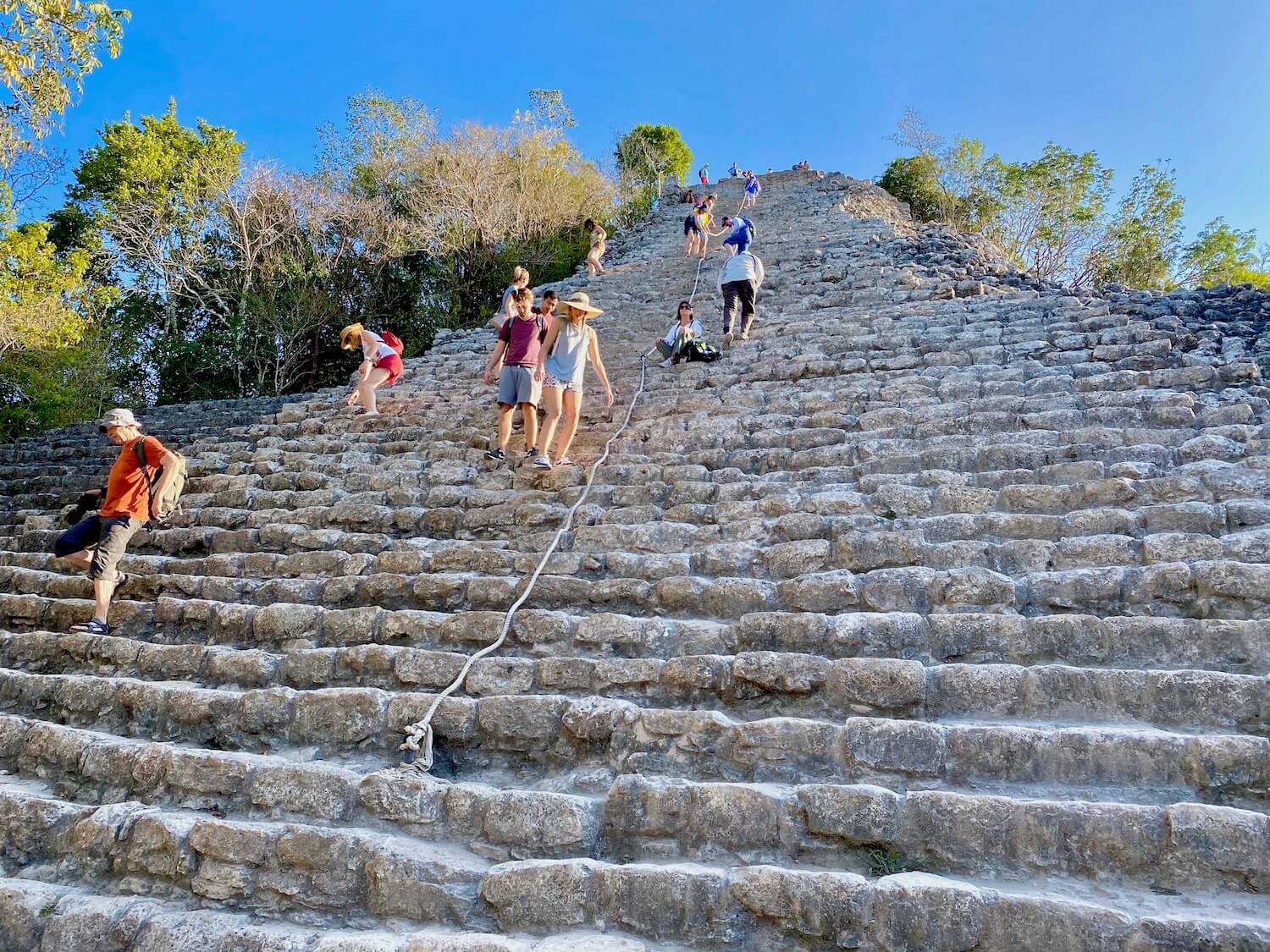 To climb the pyramid sturdy shoes are essential. It isn't really that difficult and the steps are not as narrow as other ruins I've encountered. Still, rolling an ankle or slipping is a real possibility with flip flops or other non-secure footwear. Sunshine and bugs (more in later afternoon) also make clothing that covers key parts of the body helpful.
Speaking of sun, of course sunscreen (and bug repellent) is essential because this is along the Tropic of Cancer. But a charming part of the Coba experience is the densely shaded roadways between sites that offer a wonderful reprieve from the beating sun.
A light backpack to wear is helpful, especially while biking and climbing up the pyramid.
In the dryer months it can get quite dusty on the main paths, especially when walking (or riding) behind the taxis. A handkerchief or face mask could be useful for those sensitive to such irritants.
6. Adjust crowd expectations
Coba is a breath of fresh air in an ever growing world of crowded tourist sites all over the Yucatan, but be mentally prepared to never be alone while visiting the main sites, especially climbing the pyramid. It's possible to crop out and take interesting angles in the early morning or late afternoon, but otherwise be open to going with the flow and incorporating the tourists into your experience.
Since the less hardy will likely only find the greatest hits, if you're looking for more peace and quiet head to the Macanxoc Group, which holds the fascinating Stele 1-8, which were the newspapers or "Facebook Wall" of the day. Also, many of the Sacbe, or white roads, are closed to biking and more serene — check them out if you're on foot and want some time away from the crowds.
7. Other practicalities for touring Coba
Goes without saying, but just in case it's important to keep well hydrated and snacks are helpful if planning to spend a few hours wandering, like me. There are plenty of places at the entrance to buy both, but nothing much once inside the perimeter of the archeological zone.
Similar to the concessions and gift shops, restrooms only seem to be near the main entrance, so plan accordingly.
Money is like most Mexican tourist places – they'll take USD or Pesos, but credit card handling seems questionable.
There is a zip line adventure near the entrance to the site, and a number of Cenotes in the vicinity as well.
Most surprising perhaps is the quality of cell service in the area. Usually at LTE levels, so posting selfies from the top of Nohoc-Mul can become reality.
Super helpful to investigate history of Coba and options within the ancient site before making the journey in order to focus on the best areas of the ruins to explore.
8. Ways to get to Coba
Taking a tour to Coba
There are a ton of varieties of pre-packaged tours that leave from various points on the Mayan Riviera and usually cover Coba, Tulum and a Cenote. All three are worthy of checking out and make for a full day of events. Rates for such trips from Playa del Carmen are ~$70 per person and a bit more from Cancun. Pick up and drop offer are usually conveniently from specific lodging if in a central area. The pro side is having everything planned out — guides and fees covered. The down side is having everything planned out with no significant opportunity to adjust for having two young kids, like my friends, or an extended interest in the Mayans, like me. Also, the buffet lunches are usually mediocre at best.
Rent a car to drive to Coba
My friends rented a car and visited Chitzen-Itza as well. Auto rentals are plentiful, the main roads well marked and enough consistent cell service is available to use mapping devices. Rates really vary but if there are a number of people in the party it would seem to be the most affordable and flexible option. Parking at Coba didn't seem to be much of an issue but Tulum is a zoo. Finally, consider logistics of getting the rental and dropping it back off.
Take the bus to Coba
To go the way of the people, there are busses available as well. For example, local busses between Playa del Carmen and Coba are about 2 hours and range in price from $8-$30 USD each way. Rome2Rio is a great research tool to compare all transportation options — all over the world.
Hiring a taxi to Coba
I made friends with a taxi driver on one of our jaunts while in Playa del Carmen and he offered me a rate to rent for the day, which was $180USD for the car. He was professional and drove a modern vehicle that was air conditioned and fast. Flexibility to leave earlier in the morning was appreciated, and fuel stop at Starbucks on the way essential to start the day. By the way, we made a stop at all three places normally on the regular packages: Cobá, Tulum and a Cenote. Bonus points for a driver that locks in on tasty, inexpensive Mexican food — we stopped at a little roadside place that was busy with locals and super delicious, all for 15 pesos per taco. Way better than a questionable buffet.
Coba is a fantastic experience and a favorite amongst the Mayan ruins of the Yucatan Peninsula. To save for later, Pin one of these tiles.