I'm near the India/Pakistan wall of sorts, sometime in the early part of this century.
My friends and I are on a series of three motorized rickshaw cabs, working to beat the lazy sun quickly falling beyond the horizon. We're heading to the nationalistic spectacle that's taken place at every sunset since 1959.
The famous border wall, known as Wagah, is central to an area that erupted with violence following the 1947 departure of Britain and subsequent drawing of arbitrary borders between Lahore (Pakistan) and Amritsar (India). Millions on both sides of the new political line were slaughtered and displaced.
We walk past concession stands selling pro-India paraphernalia and various delicious smelling food items. The crowd begins to assemble on a series of bleachers larger than a high school football field and we look out across a walled border to a similar scene with Pakistani citizens, covered head to toe in Muslim garb.
The sun is struggling to stay in the dusty orange sky as a dance-off of sorts begins with a group of Pakistani border guards marching just a few feet into Indian soil, as if to drop only a toe on the sovereign land. Then the Indian soldiers take their turn and soon enough everyone is pouting and stomping and kicking legs high in the air — this highly choreographed routine meant to symbolize the tense relations between the two nuclear-armed nations.
My travels have taken me to over 60 countries in the world from dusty Wagah to sweltering Cambodia and over time I've experienced many a wall — in a variety of forms.
There was the Berlin Wall, from 1961-1989, representing a divide on world views between American Capitalism and Soviet Communism and with it graffiti and murals expressing angst, anger and hope for reunification some day. Today a one mile stretch showcases art from a global community of artists that, in general, works to promote unity versus division.
Then the Peace Walls in Belfast, built in many places in the troubled city in the early 1970's to separate the more volatile Loyalist and Republican neighborhoods. Loyalists were supportive of UK rule and tended to be Protestant while the mostly Catholic Republicans were sympathetic to returning the six counties of Northern Ireland back to one unified nation.
The Troubles, as they called them, officially ended with the Good Friday Agreement signed in 1998. The area is generally peaceful and many of the walls have been demolished, albeit not with the fanfare of a reuniting Germany. But what remains are colorful murals, some chicken scratched with tourist signatures (I did sign a part of the wall myself) and others more formally painted with scenes intended to remind the world, and the citizens of Ireland about the strife that existed and still exists with oppressed people all over the world. These scenes include Frederick Douglas, Nelson Mandela and Martin Luther King Jr.
I visit these walls to touch them, read the messages and take in the energy of how important the expression of art meant to people at the time and later on after some form of resolution.
A month ago, a wall formed in my own neighborhood of Capitol Hill in Seattle. The CHOP, which stands for Capitol Hill Occupied Protest, set up a literal camp near the East Precinct Police Station of Seattle and the adjoining Cal Anderson Park. The protest was in support of the Black Lives Matter movement.
Visiting CHOP hit home for me because although I'm learning to educate myself on topics that are uncomfortable for white Americans to embrace (some call it white fragility), the layout of an actual wall provided tangible imagery of the divide in our nation. Concrete traffic dividers wrapped in wall size plywood assembled in a line to create the formation of a wall, painted with murals and messages, not unlike those in Berlin and Belfast. Although only two blocks in size and not impermeable, this monument to the cries for equity provided a fleeting glimpse at our proverbial American wall. A wall between white supremacy and anti-racism that's existed for hundreds of years.
Although emotional, it's easy to visit a place like Berlin and wonder about the way life was at the time of the wall. It's an entirely different experience to walk through something in my own neighborhood taking place in present time. An active, living monument that made news all over the world and became a symbol of different things to different people. It breaks my heart to be living in this. Because the struggle is real.
I'm glad I was wearing a mask, because it seemed to conceal the tears dripping down my face as I wandered back to my home. It feels like a modern day Belfast, or Berlin. But I'm not a tourist. I live here. A favorite LGBTQ bar is now covered with papers that say, "Stonewall was a riot, not a festival." I eat at restaurants a stone's throw from a section of the wall that painfully seemed to shout, "Each of these names 'was' someones baby," accompanied by a list of the dead at the hands of police. Sushi at a great neighborhood place will never be the same since another patch of art, steps away from the front door, wore a Will Smith quote scratched onto plywood that said, "Racism is not getting worse, it's getting filmed."
Maybe at a time like this, I wish I didn't have so many experiences traveling and witnessing the aftermath of pain and suffering in the world. Because to me, there is no mistaking the pain and suffering in our country. We are not tourists in the USA, we are citizens. We live here and we can help shape the new world to come.
It was only a matter of time before the police would reclaim their station. I hope the beautiful fabric of expression in the art and murals can somehow become a new kind of monument to represent this time in history where voices fought harder than ever to be heard — bringing meaningful change forward.
They told me that truth be told, the Pakistani and Indian guards play cards together during the day to pass the time and then head to the iron gates of the wall for the huffy ceremony. Clearly, much effort goes into practicing the moody choreography — together. The two countries definitely are at odds, but they still seem to make it work.
Berlin enjoys over 30 years of reuniting and still plays homage to the history in many honorable ways through the city in the form of museums, tours and remaining sections of decorated wall. Belfast feels mostly sleepy these days, 20 years later, and serves as the gateway to the outstanding beauty of the Antrim Coast. The post-Brexit conversation around uniting Ireland is real but still peaceful.
What will the American story be in 20 or 30 years? How will people react to seeing a mural from 2020 with the words "I can't breathe" above the lifeless body of Geoge Floyd? I hope this expressive art is still somewhere as a tribute to this moment. As a memorial to that awful, challenging year where everything seemed to run amuck in our world — but things started to change for the better. A time long ago when the fortress wall of white supremacy started to crack apart and fall down.
On June 12, 1987, amongst a packed crowd at iconic Brandenburg Gate in Berlin, president Reagan famously exclaimed, "Mr. Gorbechev, tear down this wall…"
The chants to tear down our own walls are getting louder than ever. How will we respond to this same plea today?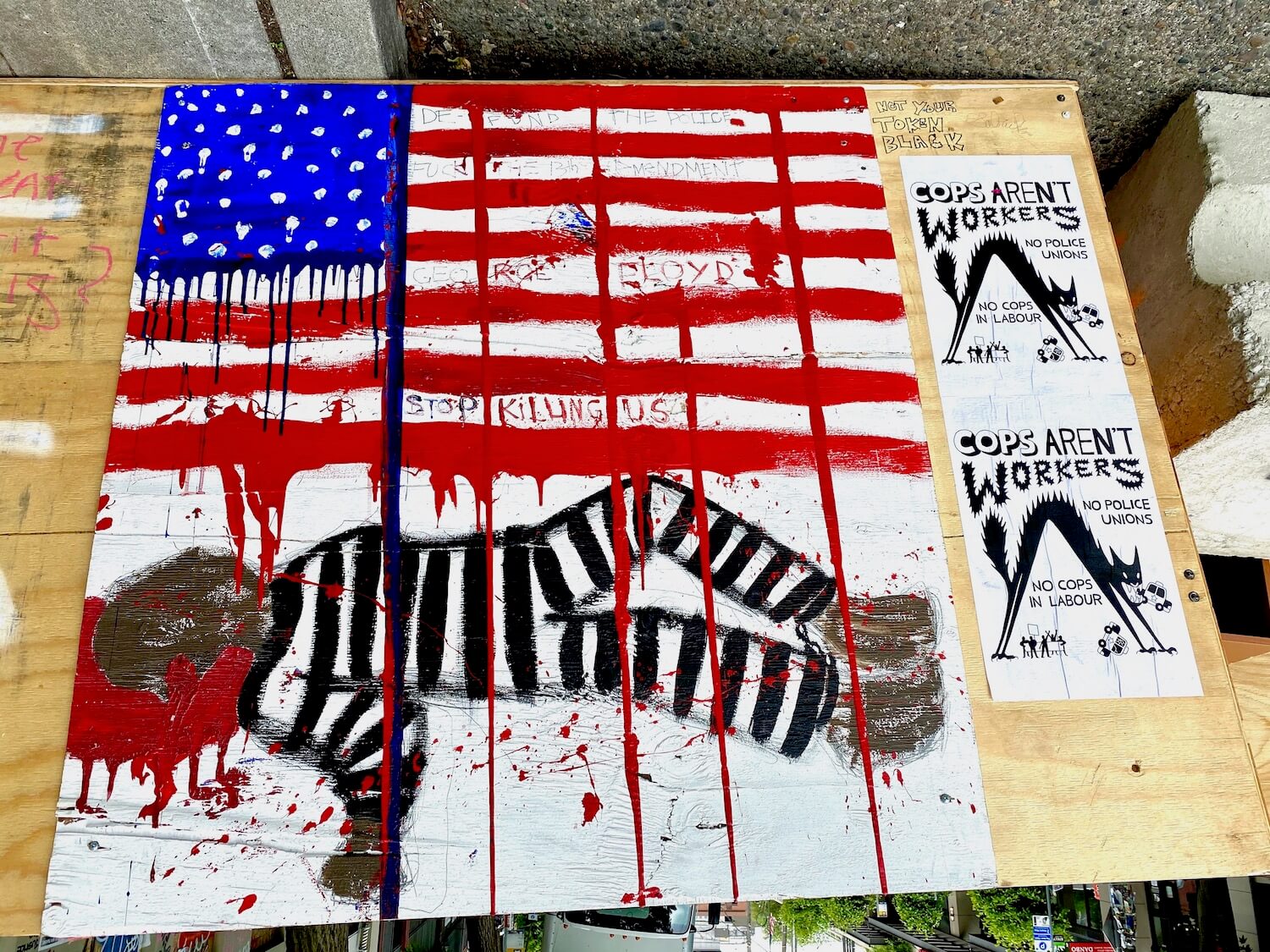 To see the full collection of photos inspired by the passionate art of CHOP, which was all presumably destroyed when the police reclaimed this section of the neighborhood, click on the BLM octopus below or go HERE.
Go to other recent blog posts by clicking HERE.