Planning a long weekend in Chicago
Know yourself and be realistic about the pace.
Location matters – stay in a central location if budget allows.
Release from the need to see it all – make a short list of 3-4 key items.
Take time to absorb the city, energy and people.
I've visited Chicago a few times in my life. Mostly O'hare airport running to connect flights. A few work trips to nondescript business parks in the suburbs, but otherwise spent little time exploring the city and understanding the layout, people and great architecture. I also have some great, fantastic long-time friends who've settled in the Windy City over the years, and it was time to pay a proper visit.
When should you visit Chicago?
I had a few inclines that winter was probably more harsh and summer hot and humid, just taking into account feedback from everyone I know who's resettled from the mid-west to Seattle. Conversely, the hotel and airbnb prices come way down in the winter and I bet you can make any time of year work in Chicago.
I also had interest in a leather competition called International Men of Leather or IML, which takes place every Memorial Day weekend in Chicago. I'm not really a leather daddy per se, but I like to support the community and learn more about various parts of this micro-section of GLBTQ world. I borrowed a harness from a friend, just in case, packed my bag and was on my way.
The weather was perfect for me over the weekend – 70's and sunny for the first four days and then heavy rains and thunderstorms the last two days. But hey, you always need a rainy museum day, right?
How long should you plan to visit Chicago?
I booked my trip based on the price of tickets, and flights were less expensive on Thursday and Tuesday of this Memorial Day weekend. It seemed to be a great amount of time, with four entire days to explore. But a more work-friendly three day weekend, like Friday to Sunday seems realistic.
On the other end, if you want to take a week there seem to be some interesting options for day trips to Wisconsin, or a bit farther away (about 3 hours) to the resort town Galena, IL.
How do you get to Chicago?
My trip got off to a great start by the fact that randomly my good friend Amy was on the same flight. Without knowing or planning, we happened to book seats across the aisle from each other. And as luck would have it, we were both upgraded to First Class, also sitting next to each other. Amy pulled her laptop out to work, but didn't have a chance sitting next to me – with pent up conversations from not seeing each other for a few months. The time flew by and soon we were in Chicago. Flights from the West Coast are about 4 hours.
Oh yeah, in case you need help getting to Chicago, just about every airline in the world flies to Chicago O'Hare airport (ORD) which is about 20 miles from the center of town (an hour drive with moderate traffic). American Airlines and United Airlines both have hubs at ORD, which mean there are probably really good flight schedule options but you may end up paying a premium for the convenience of nonstop service. If time isn't important, you'll probably get a lower fare connecting somewhere. Chicago Midway Airport (MDW) is another option, of which Southwest Airlines is the main game in town. About 10 miles from the city center and about 30 minutes driving in mid-day traffic.
It's also on my bucket list to take Amtrak to Chicago someday from Seattle. Chicago is a historical train hub, so you can get there from every part of the country on the train. I've heard the overnight sleep service is a nice way to give a nod to the days of luxury train travel.
How do you get from Chicago airports to downtown?
FROM CHICAGO O'HARE AIRPORT (ORD)
From O'Hare (ORD), taking the Chicago Transit Authority (nicknamed "L") train to the city is very easy and about 45 minutes. The Blue Line whisks you away to the city and trains seem to leave very regularly. The L system takes Apple Pay, which is convenient and helpful to avoid purchasing a travel card, which I ended up doing later when I couldn't get my Apple Pay to work. If you want to drive, I ended up taking an Uber back to the airport and it was about $40 and over an hour. Initially I was running short on time and thought Uber would be faster from where I was staying with my friend, but as it turned out, because of a slowdown on the freeway, the Blue Line train probably would've gotten me there faster.
FROM CHICAGO MIDWAY AIRPORT (MDW)
I didn't travel from Midway (MDW), but my research shows the Orange Line has a train that goes near the airport and is about a 30 minute ride into the center of town. The drive looks to be about 30 minutes as well and Uber prices out at $35 (at 5pm.)
Where should you stay in Chicago?
For the first few nights I decided to book a hotel near the IML festivities downtown. I stayed at the Palmer House, which is a Hilton Hotel. I found a rate of about $200/night. The hotel was originally a grand Chicago fixture, built in 1871 and rebuilt twice before Conrad Hilton purchased it in 1945. It's a grand old hotel with a fantastic lobby area with bar and restaurant. The rooms are a bit tired but definitely adequate. The hotel is well situated near the L system and Millennium Park, among other attractions.
The location made it easy to hop on the Red Line to run up to my friend Johnny's for a back yard BBQ in the Edgewater neighborhood. The red line train took about 30 minutes and also passes by Wrigley Field (20 minuets on the train) and a few hospitals. An Uber to that area would be about $17.
First timers should stay somewhere central in downtown. There are all kinds of places based on every budget, and you'll enjoy easier access to direct transportation to every neighborhood in the city. Probably save some coin by avoiding Ubers – plus easily get your 10,000 steps in each day. After three days downtown I stayed with my friend Paris near the Navy Pier downtown and then Alex near Boystown/Wrigley Field. The neighborhood feel is also very fun if you're not needing to see all the sights downtown.
Where to eat in Chicago?
There are a million ways to eat yourself through Chicago. I hear the pierogis are excellent as well as other Polish & Ukrainian foods. If you stay downtown it's easy to chose a neighborhood to explore, jump on the train and eat at the local hot spot. These are some of my highlights:
DINNER
First night I went to Publican Quality Meats with my friends Amy and Gaby. The food was wonderful and we sat in a pen like booth which was fun. I'm a pescatarian and enjoyed the Hake fish among the other sides and it looked like the rest of the group loved the variety of hams and pork shoulder and abundance of flavorful meat. Great craft cocktails and an endless beer menu. It's downtown about 1.5 miles and 15 minute drive from the Palmer House and in an area with a bunch of other bars and restaurants that seemed lively on this Thursday night.
BRUNCH
Another highlight was brunch at the Blue Door Kitchen & Garden with my friend Paris. The latest brunch I've ever had, at 2:57pm in the afternoon. In fact, we had to get our order in by 3pm and I was sweating it as the waiter proceeded to explain every item on the menu in great detail, as well as the story about the chef, who was originally Oprah's private chef and then worked for the Obama's before opening his restaurant. The atmosphere was so great, Paris and I escaped into a wonderful conversation as we sipped boozy coffees and got caught up on life. We were there so long that the early dinner shift showed up around 5pm and two local Chicago women in their 60's sat next to us. They were hilarious and were very curious about our plans to explore Boystown later that evening.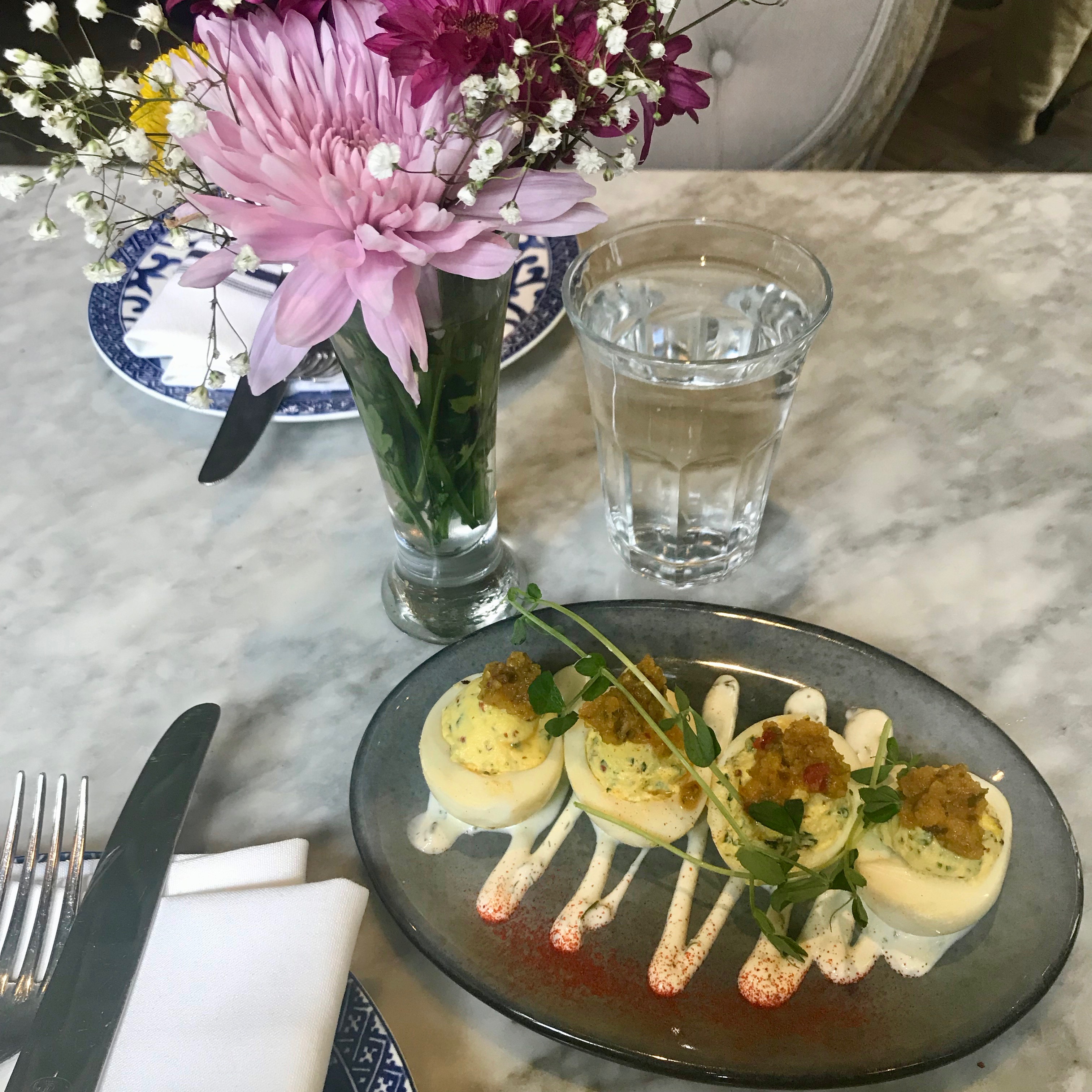 PIZZA
My friend Johnny led me to Pizano's Pizza in the downtown area. I think they have a few other locations. The deep dish pizza took about an hour to get to our table, but it was well worth it. Even the vegetarian pizza, which in other places can sometimes disappoint, was rich and creamy. Lively atmosphere of locals and tourists and great service. It was a holiday weekend, so a line did start to form after we were seated.
Release the stress from a long weekend
Long weekends can be stressful, especially if you're trying to do it all and incorporate friends and/or family. I've been guilty of letting FOMO take over my agenda for a weekend, resulting in an often frenzied state. My approach to Chicago on this particular trip helped me return home feeling rested and also enriched by my time with friends and the spirit of the city overall.
I didn't plan anything until I arrived, allowing me a lot more freedom and of course the potential down side is not being able to get into things that require book ahead tickets. But then, those things seem to work if you're open to letting go. For example, at the last minute my friend Amy offered me two tickets to the Cubs game on Saturday and while that would be fun to experience Wrigley Field, there were other things to do.
Released from the need to see it all. Every last tourist attraction.
Focused on getting a feel for the city geography and people as much as possible.
Made a short list of key experiences, including real Chicago deep dish pizza, walking along the Chicago River and visiting a few neighborhoods outside the downtown area. And some IML awareness. Everything else was surprise and delight.
I have great friends who helped me see a variety of angles of the city. But what if you don't have friends in Chicago? Hear me out on this: the social apps are actually a great way to not only meet people, but get ideas about places to see, food to eat, bars to check out and anything else you might want to know from the locals, especially in a specific neighborhood. I've used this approach in many other cities in my travels.
Things to do and see in Chicago
The outcome was a delicious weekend of great food, hearty laughs with old and new friends and a new understanding of this north/south city. A city full of life through architecture, a million things to do and interesting neighborhoods. The lists below are what I experienced on my long weekend but my friends Amy and Gaby, for example, did and saw many different things. Not to mention there are a gazillion museums to visit as well.
Chicago neighborhoods
Downtown – Millennium Park area.
Downtown – Navy Pier area
Hyde Park – Obama Home
Boy's Town – Wrigley Park
Andersonville – Antiques
Edgewater
Chicago attractions
The Bean, actually titled Cloud Gate (Millennium Park.)
Millenium Park – free concerts, climbing walls, Ice/Roller skating and people watching.
Buckingham Fountain (Millenium Park.)
BP Pedestrian Bridge (Millenium Park.)
Chicago River walk and/or boat tour.
View from the iconic Chicago Club Hotel rooftop bar/restaurant.
Navy Pier.
Chicago Aquarium.
Hyde Park Neighborhood and Obama House.
Frank Lloyd Wright houses.
Wrigley Field.
Sears Tower (Willis now)
Walking the streets under the L Tracks.
Taking the L train around the city.
Lakeshore Drive.
Antique shopping in Andersonville.
GLBTQ flair of Boystown.
Sculptures everywhere in the city.
Hancock Tower.
Magnificent Mile shopping.