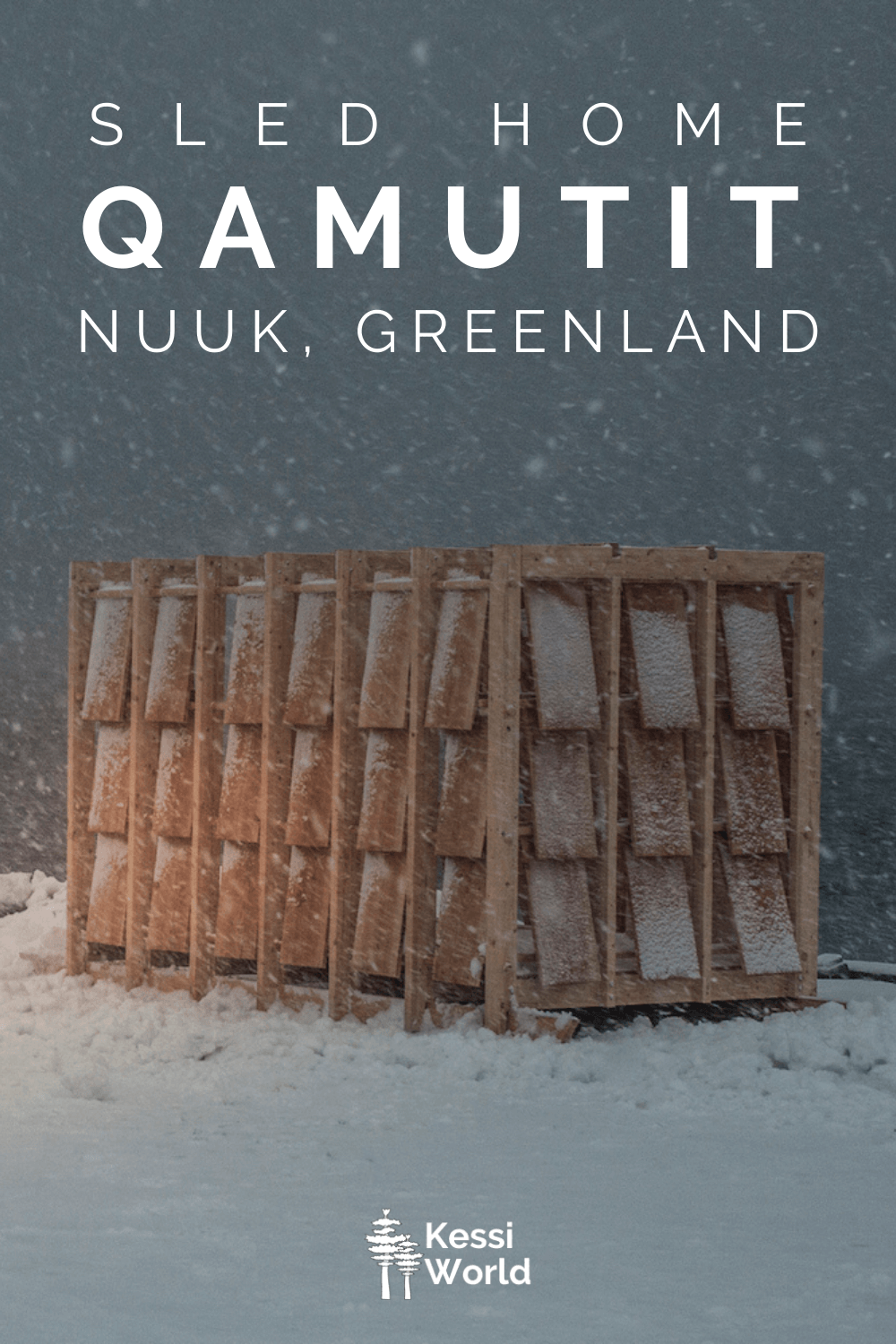 Konstantin Ikonomidis (Costa) is a bursting ball of kinetic energy — the kind that exudes creativity mixed with a playful kindness. We first met almost ten years ago while he was a student in a one-year Danish architectural exchange program at the University of Washington, in Seattle. He was seeking a room to rent and I was a recent transplant to Seattle myself, with a new house awaiting community to fill the 100-year-old space. Costa and his architecture student friends kept me feeling young, and I got to experience Seattle through the eyes of Scandinavian visitors with a value system centered around nature and aesthetics. We became close friends and, in fact, I always write while sitting in a scan-design chair too large to fit in Costa's suitcase when his program concluded. A name like Konstantin offers quite a commanding Greek presence, but the energetic architect was born and raised in Helsingborg, Sweden. His current pandemic location is with ancestral family in Thessaloniki, Greece.
Costa has always enjoyed an eye for architecture that honors the human spirit by functioning to solve practical problems. For example, he spent years helping research and design in Tanzania and The Gambia, contributing to the book Healthy Homes in Tropical Zones: Improving rural housing in Asia and Africa. In 2018 he relocated to Nuuk, which, at a population of 15,000 citizens, functions as the capitol of Greenland. I visited him in February of 2019 just as he was putting together a grant proposal to design a home that could be built on sled rails. The structure could be built in locations like Copenhagen with more cost effective resources and then transported via container to Greenland — ready to glide over the snow and ice in Winter to inland locations inhospitable to building.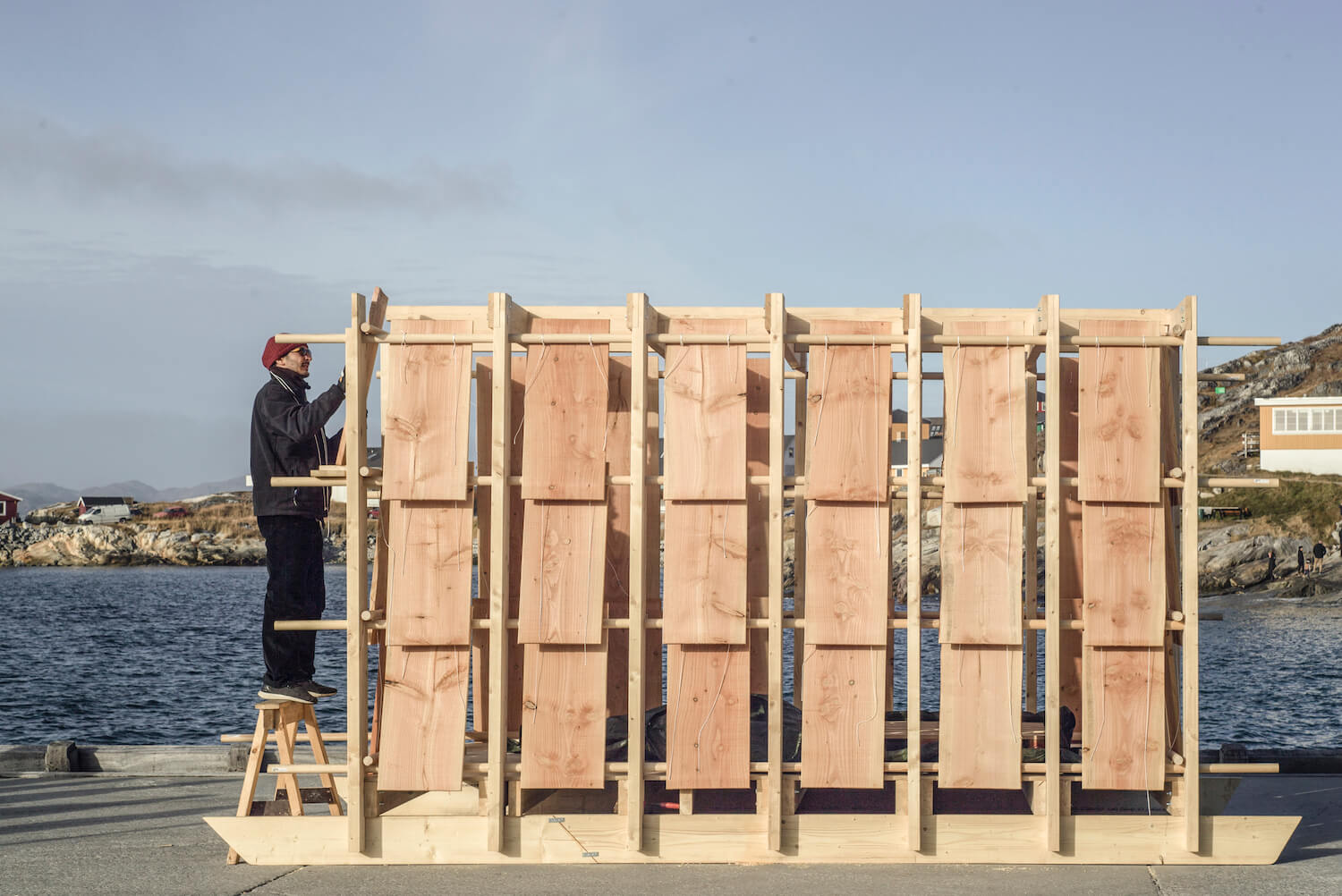 The construction of the exhibition piece is inspired by traditional Inuit building techniques, utilising the method of poles in accurately cut holes instead of bolts and screws and tying methods with lashings creating self-locking knots.Traditionally, these methods were used for maximum durability; the structurally flexible joints are ideal for travelling long distances on ice and snow through the arctic regions. The (exhibition) sledge's "timber scaffolding" structure holds a series of solid douglas fir panels, each of them with an individual's story on the subject of home and what it means to them.

Emi Bryan on behalf of Konstantin Ikonomitis
The Qamutit or "Sled House" has a practical application, but the design of the installation, which was a celebrated feature of the 2019 Nuuk Nordisk Kulturfestival, worked to provoke deeper thoughts into what really makes up a home. Costa surveyed a number of participants, including me, with one seemingly simple question, "What is home to you?" To some this might seem easy and literal — but the spirit behind this project quickly deepened to more meaningful responses. Each contributing phrase was printed on white paper and affixed to the 45 douglas fir planks added like cedar shingles on three sides of the structure, displayed near Kolonihavnen (the old harbor, first settlement in Nuuk) in October 2019.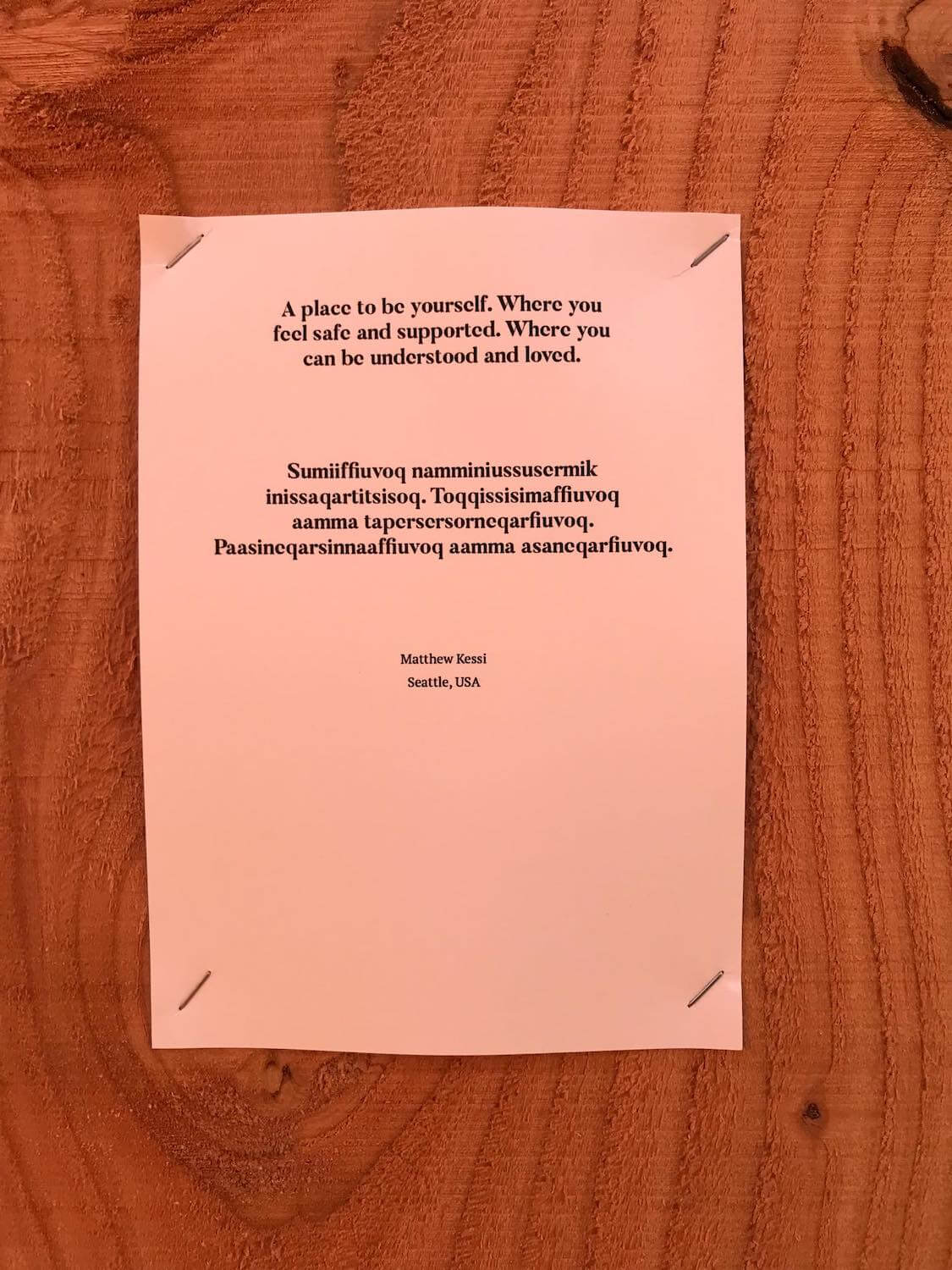 Following are photos of the exhibit, (unless otherwise noted) all taken by Costa. I also wrote another article about how this exhibit elegantly flows into pondering what "home for the holidays" means, in particular in the middle of a pandemic: What does home for the holidays mean anyway? For more information on Costa and his inspiring design work, go to Konstantin-Ik.com.